Woody Allen
The Colgate Comedy Hour - 1950 (writer)
Stanley (TV Series) - 1956 (writer)
The Sid Caesar Show - 1958 (writer)
At the Movies - 1959 (writer)
Hooray for Love (TV Movie) - 1960 (writer)
General Electric Theater (TV Series) - 1960 (writer)
From A to Z (play) - Plymouth Theater - 1960
Candid Camera (TV Series) - 1960-1961 (writer)
The Garry Moore Show (TV Series) - 1961-1962 (writer)
The Laughmakers (TV Short) - 1962 (writer)
The Sid Caesar Show (TV Series) - 1963 (writer)
Woody Allen (LP) - Colpix Records - 1964
The Wonderful Wacky World of Woody Allen (LP - reprint of Colpix) - Bell Records - 1964
Woody Allen Volume 2 (LP) - Colpix Records - 1965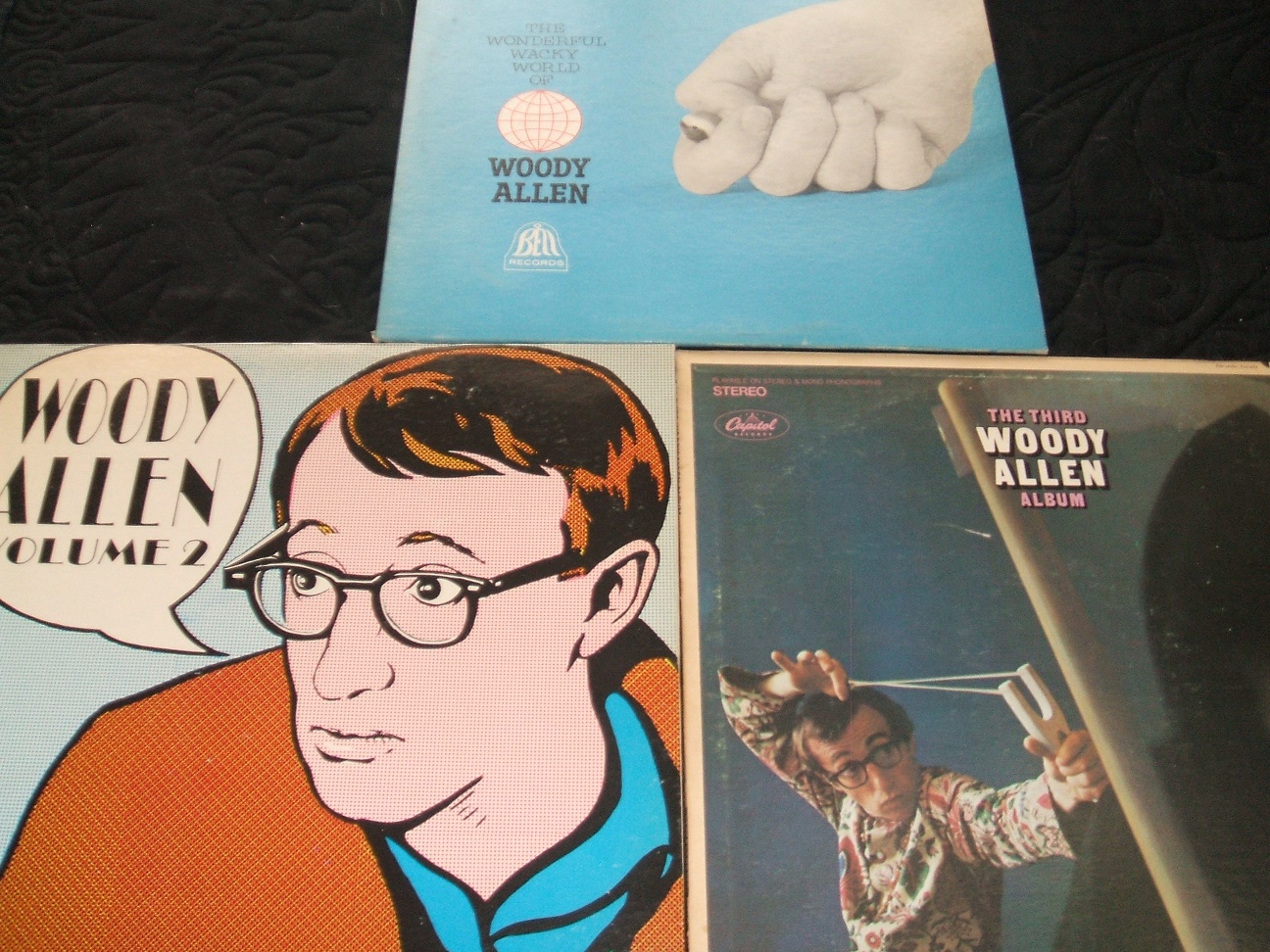 What's New, Pussycat? (directed by Clive Donner) - 1965 (actor/writer)
What's Up, Tiger Lily? - 1966 (voice actor/writer)
Phil Moscowitz (played by Tatsuya Mihashi, 1923-2004) has been hired by the Grand Exalted High Majah of Raspur to recover his recipe for egg salad that was stolen by international criminal Shepherd Wong (Tadao Nakamaru). Gangster Wing Fat (Susumu Kurobe) is also looking for the recipe. The Majah has assigned sisters Teri & Suki Yaki (Mie Hama and Akiko Wakabayashi) to assist Phil with his quest. The recipe is in a safe within a safe within a safe on Shepherd Wong's gambling ship. Fortunately, one of the Yaki sisters is an expert safe-cracker who has recently escaped from prison. The original Japanese soundtrack has been replaced by an English version overdubbed by Woody and friends including wife, Louise Lasser. Their creative plot changes include references to Saracen pigs, Miracle Whip, a Claude Rains impression, bandage comparisons, fat Lithuanian midgets and snake coffins among other things. Words on this page cannot do justice to the timing and delivery in the dubbed film. You must watch the actual product. Please ignore the Lovin' Spoonful footage that was added after Woody completed his version. Although the passage of 45 years has dated this one, "Tiger Lily" will always be considered to be one of the first, classic silly movie parodies. [JAM 6/2/2011]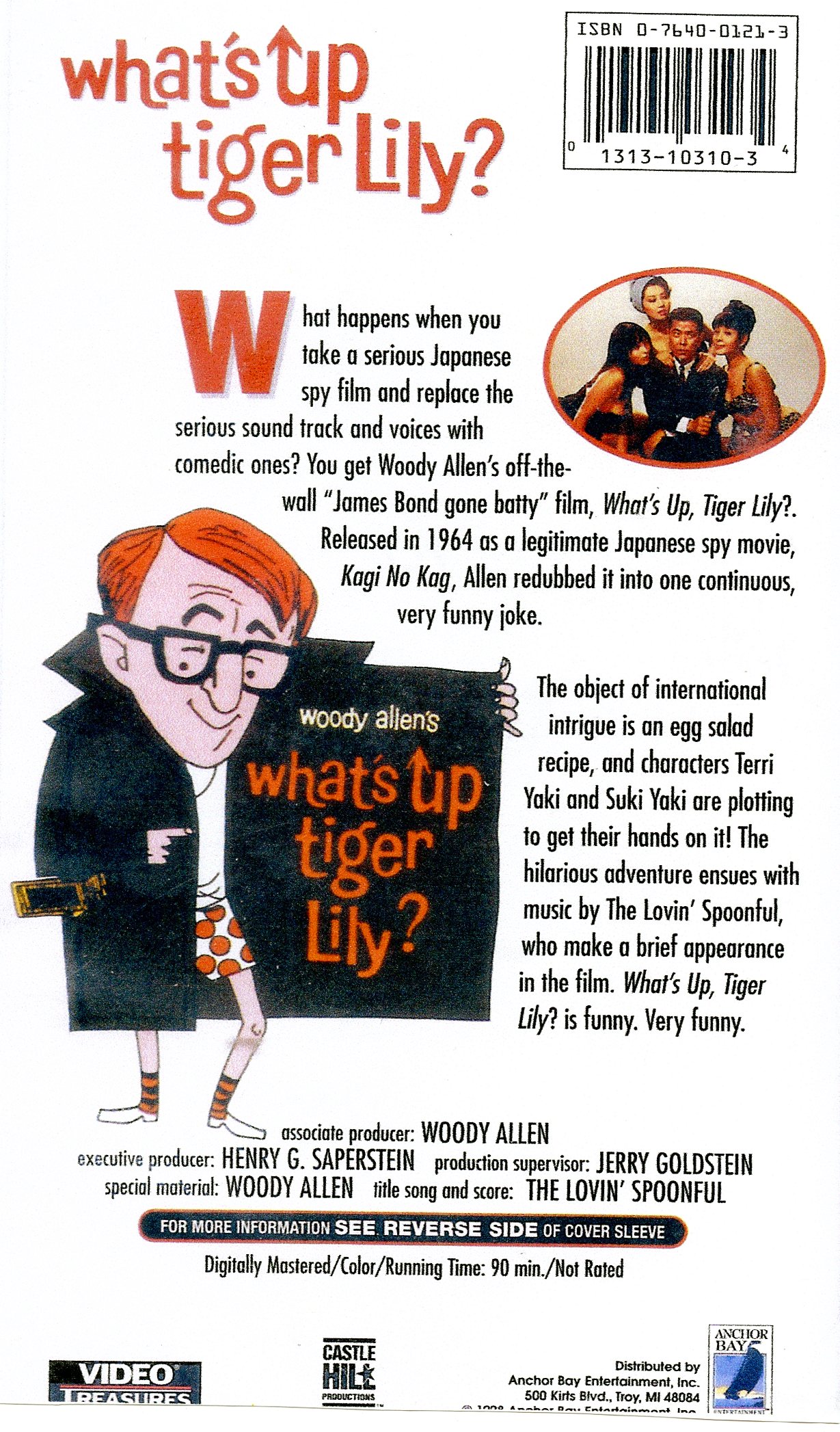 Gene Kelly in New York, New York (TV Special) - 1966 (writer)
Casino Royale (directed by Val Guest & Kenneth Hughes) - 1967 (actor/writer)
Don't Drink the Water (play -1966 - Coconut Grove Playhouse & Morosco Theatre) - (book) - Random House - 1967 - 112 pages
In his first play, Woody's character (played by Tony Roberts) is the bumbling son of the ambassador to some foreign country. A strange American couple and their beautiful young daughter (played by Anita Gillette) rushed to the embassy for safety after being accused of being spies. And then, the usual wacky stuff happens before the happy ending. [JAM 8/19/2021]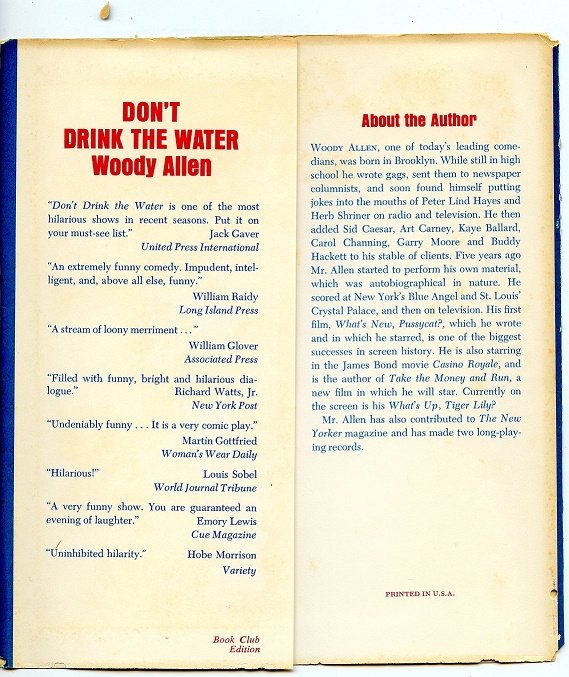 The Kraft Music Hall (TV Series) - 1967 (writer)
The World: Color It Happy (TV Movie) - 1967 (writer)
The Third Woody Allen Album (LP) - Capitol Records - 1968
Take the Money and Run (Woody Allen) - 1969
I saw this movie at a naval air base while the Vietnam War was raging. It was the funniest movie I had ever seen. After 40 years, I still love it. I believe that this was the first of the modern movie parodies. Woody spoofs all crime documentaries with the silliest of jokes and non sequitur. As a teenager, he tried to play the cello in a marching band but he kept falling behind because he had to move his chair forward. The documentary also includes film of an interview with his dysfunctional parents who are wearing fake noses and moustaches to disguise their identity.
Virgil Starkwell's life of crime is interrupted several times by various prison sentences. Some of the best jokes occur in prison. (He was sentenced by one judge who then stomped on his glasses.) During a visit with his girl friend (Janet Margolin), Virgil asks her to bake a cake with a gun it and a dozen chocolate-chip cookies with a bullet in each one. During one escape attempt, he takes the warden's daughter as a hostage. The warden asks him what the daughter was doing (kissing Kowalski) and is relieved to learn that Kowalski is not a midget. Virgil finally gets out of prison by volunteering to take an experimental vaccine that temporarily turns him into a rabbi.
Some of the jokes that were classics in 1969 are rather dated today. At one point, Virgil lies when asked if he had ever operated a high-speed, digital, electronic computer. He says "Yes" and explains that "My aunt has one." Twenty years later, his aunt probably did have one. The joke is still great in context.
The bank robbery jokes are also classics: the misspelled note ("gub"); the bank film with a boring short ("Trout Fishing in Quebec"); "Who wears beige to a bank robbery?"
The crimes ("dancing with a mailman" and "marrying a horse") and the punishment (being locked in a "sweatbox with an insurance salesman") are silly jokes that have been borrowed in similar form by many other parody movie writers. However, I think the best scenes in the movie are those with the six-man chain gang that escaped and was chased through the countryside. At one point, the guys try to convince a police office that they are just visiting their aunt for St. Abernathy's Day. He was falling for it until one of the guys had to go to the bathroom and the old lady ratted on them while all six of them left the room together. In this low budget movie, Woody did not bother to retake the scenes wherein chain gang member cannot stop laughing. I am glad that these were kept in the film.
I know that Woody does not think these early movies were very good but I think this one works perfectly as a parody. The music (by Marlin Hamlisch) is excellent. Look for Woody's second wife, Louise Lasser toward the end, and co-writer Mickey Rose as one of the convicts in the chain gang. [JAM 10/10/2009]
["... it's an OK little piece of nonsense for first effort. But I can't do that now." - Woody Allen in 2006 Conversations with Woody Allen]
["When I wrote (the screenplay), Jack Rollins didn't want me to appear in and direct a film ... And I didn't care about directing it. I just didn't want somebody to ruin it." - Woody Allen in 2006 Conversations with Woody Allen]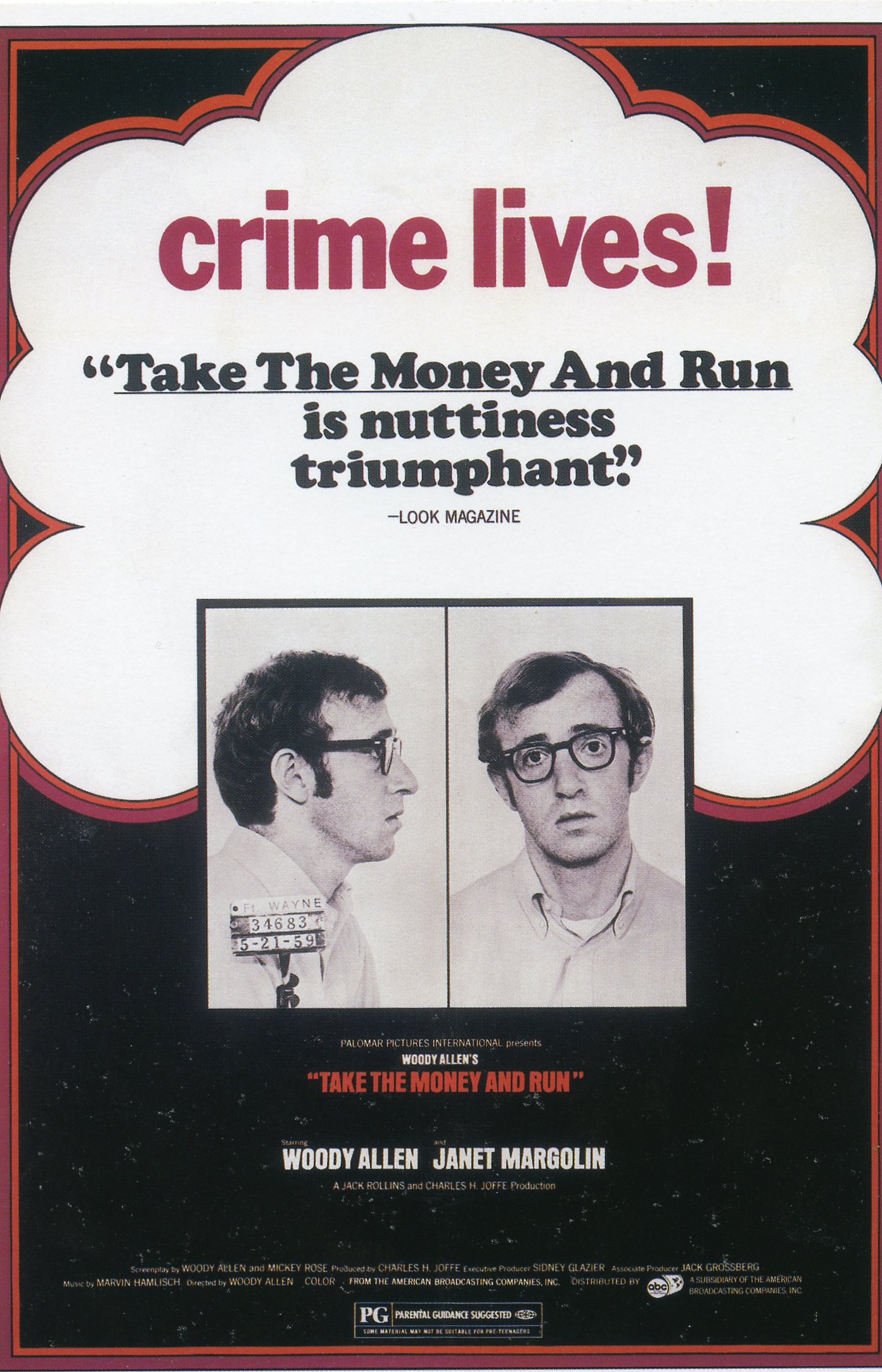 Play it Again, Sam (play - writer/actor - Broadhurst Theatre - 1969)
The Woody Allen Special (TV documentary) - 1969 (writer)
Pussycat, Pussycat, I Love You (directed by Rod Amateu) - 1970 (writer)
Bananas (Woody Allen) - 1971 (Co-written by Mickey Rose)
Woody stars as a product tester (execucisor, stereo coffin) Fielding Mellish who becomes the president (#4) of San Marcos after the rebels overthrow the government and rebel leader Esposito (El Presidente #3) loses his sanity. Esposito ("Let us sing the song of the rebels.") wanted to impose three new laws on the people of San Marcos: 1. Official language is now Swedish; 2. Change underwear every half hour and wear it on the outside; 3. All children are now 16. As the new leader, Woody dons a really bad red beard and flies to the United States to get money for the struggling country. Instead, he is tried and convicted of 12 counts of treason in a rather strange trial featuring testimony by Miss America and J. Edgar Hoover in disguise. The sentence is suspended when Fielding agrees that he will not move into the judge's neighborhood.
The movie starts and ends with Howard Cosell (1918-1995) reporting for Wide World of Sports. First he covers the assassination of El Presente (#1). At the end he does play-by-play of Woody's honeymoon with revolution-groupie, Louise Lasser (Woody's ex-wife, 1966-1969). While Cosell is reporting, the following is scrolled at the bottom of the screen: "Astronauts have landed on the moon and have established the first all-Protestant cafeteria." Woody tells Howard that he will be ready for another bout by the "late spring" to the chagrin of Louise. [Diane Keaton was with Woody during the filming of Bananas in Puerto Rico but she did not appear in the movie.]
Ms. Lasser appeared in five movies written by Woody Allen - What's New, Pussycat?, Take the Money and Run, Bananas, Everything You Always Wanted to Know ... and Stardust Memories. She was very funny in Bananas but she will always be known as the star of Mary Hartman, Mary Hartman. She was also a writer and performer in What's Up, Tiger Lily?
This may have been the first movie to be interrupted by a newscast that is interrupted for a commercial parody. The priest (Dan Frazer) is urging a man in church to switch to New Testament cigarettes. Frazer also played a psychiatrist in Take the Money and Run.
The best jokes occur in San Marcos. El Presidente (#2) is torturing one of the rebels by making him listen to the entire score of Naughty Marietta. Woody meets with El Presidente #2 wearing a suit with tailor chalk marks on it. After joining the rebels, Woody leads a few of them to a cafe where he places a take-out order of 1,000 grilled cheese sandwiches, 300 tunafish sandwiches, 200 BLTs and six wheelbarrows full of coleslaw. After the coup by the rebels, El Presidente's (#2) loyalists line up to take-a-number for their execution by firing squad.
Look for Sylvester Stallone and Danny DeVito in very small parts. Charlotte Rae plays Woody's mother. His parents are both surgeons who are still hoping that he will come into the family business. He visits them during a surgery-in-progress where he takes the scalpel but just can't get the hang of it. [JAM 10/14/2009]
["When you're doing the kind of comedy, like Bananas, that doesn't have a plot, you're dependent on doing a tour de force. You have to be hilarious from the start and hilarious again and again; an hour goes by and you don't get any payoff from stuff you planted an hour ago." Conversations with Woody Allen - June 1974]
["It was boring being in Puerto Rico. There wasn't anything to do. The food wasn't good. The weather was hot and humid. The moviehouse leaked and I found a dead mouse in my room." Conversations with Woody Allen - November 2005]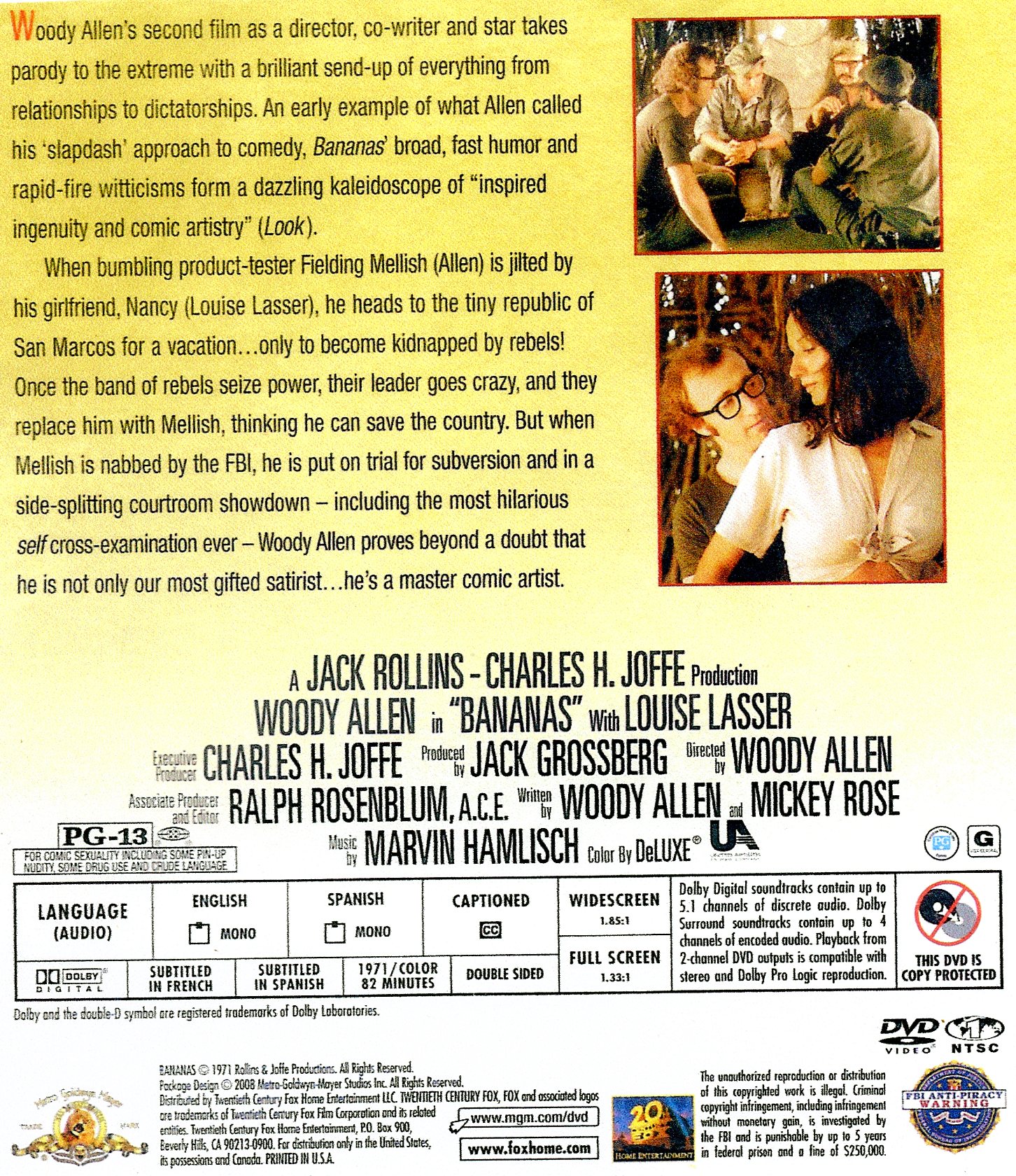 Getting Even - Random House - 1971 - 151 pages
(My Philosophy) "Not only is there no God, but try getting a plumber on weekends."
(Spring Bulletin) "Psychopathology: Aimed at understanding obsessions and phobias, including the fear of being suddenly captured and stuffed with crabmeat ..."
(A Twenties Memory) "We had great fun in Spain that year and we travelled and wrote and Hemingway took me tuna fishing and I caught four cans and we laughed and Alice Toklas asked me if I was in love with Gertrude Stein because I had dedicated a book of poems to her even though they were T.S. Eliot's and I said, yes, I loved her, but it could never work because she was far too intelligent for me and Alice Toklas agreed and then we put on some boxing gloves and Gertrude Stein broke my nose."
(Conversations with Helmholtz - on religion) "I don't believe in an afterlife, although I am bringing a change of underwear."
Everything You Always Wanted to Know about Sex (Woody Allen) -1972
This movie is a series of seven sketches very loosely based on the best-selling book by Dr. David Reuben. Four of the stories are movie parodies starring Woody Allen; one is a television game show parody; the other two are shown in standard form with Gene Wilder and Lou Jacobi starring. All were directed by Woody.
1. (King and his court - period piece) Woody is the fool/jester who does a Bob Hope stand-up routine that bombs with the king. The fool has the hots for the queen (Lynn Redgrave) bet gets nowhere until he serves her a steaming orange juice (aphrodisiac) recommended by the sorcerer. The fool slips by the queen's guards and addresses the audience ("Do you like the way I fooled those guys?). All is going well for the fool until he discovers that the queen wears a chastity belt ("heavy underwear"). The fool is able to break into the belt but makes so much noise that he wakes up the king. At one point Woody says: "If we don't hurry up, the Renaissance will be here and we'll all be painting."
2. (doctor's office) Gene Wilder is the doctor whose next patient is an Armenian shepherd who has fallen in love with a sheep named Daisy. Gene also becomes enamored with Daisy and is eventually caught in flagrante delicto by his wife. Gene loses everything and is last seen in an alley drinking Woolite.
3. (Italian movie with subtitles) Fabrizio (Woody) and Gina (Louise Lasser) get married but the consummation does not go well. It seems that Gina falls asleep during foreplay. Fabrizio tries a vibrator but it explodes like a Roman candle. It appears that the marriage could fail until Gina gets amorous in a department store and both then discover that she can only be aroused in public places.
4. (dinner party) Lou Jacobi likes to dress in women's clothing. At a dinner party, he sneaks upstairs to dress in the clothes of the hostess. He almost gets caught but jumps out the window. He is attacked by a purse snatcher and consoled by several women of the neighborhood who call the police. He tells the police that his name is Jasmine Glint but his wife recognizes him and blows his cover.
5. (television game show) The show starts with a commercial parody for Lancer hair cream. Jack Barry (1918-1984) is the game show host in the John Daly (1914-1991) role. The show ("What's My Perversion) is a parody of What's My Line? with Robert Q. Lewis (1920-1991), Pamela Mason (1916-1996), Regis Philbin and Toni Holt as panelists. The first contestant is "Bernard Jaffee" who likes to expose himself on subways. The last contestant is the contest winner, Rabbi Chaim Baumel who likes to be tied and whipped by girls while his wife eats pork.
6. (horror movie) Woody and reporter Heather MacRae visit mad scientist John Carradine and his assistant Igor. Carradine was expelled from Masters & Johnson because of his unusual experiments such as proving that a man can be rendered impotent by hiding his hat. He shows Woody and Heather some of his current experiments: transplanting the brain of a Lesbian into a man who works for the telephone company; a silicone transfusion; etc. Igor ties up Woody and John grabs Heather planning to use her in an experiment with 20 boy scouts. However, Woody gets loose and saves the girl but causes the house to explode as they escape ("Now we owe them a dinner."). As a result of the explosion, the silicone experiment goes awry creating a giant breast that terrorizes the neighborhood. Woody tricks the giant breast into a size 4000X brassiere but the sheriff warns for them to be cautious because these monsters "usually travel in pairs."
7. (war movie) Tony Randall (1920-2004) and Burt Reynolds are in mission control for Sidney, a man who has a date with Erin Fleming (1941-2003) who was the last girl friend of Grouch Marx (1890-1977). Sidney has a date with Erin. Tony and Burt think that Sidney might get lucky when they learn that she is graduate of NYU. Woody Allen is one of the sperm paratroopers getting ready for the important mission. As the sperm are parachuting out of the vessel, Woody is playing a harmonica. A last-minute saboteur (conscience) is captured and the mission is accomplished. The entire crew relaxes until they hear Erin say: "Let's do it one more time."
[JAM 10/15/2009]
["I remember when I was making Everything You Always Wanted to Know about Sex, I interviewed Lon Chaney Jr. (1906-1973). I thought, My God, it's the Wolfman! I mean, I'm sitting here in a chair and it's Lon Chaney Jr. So I never outgrew, apparently, certain childhood emotions about those people." Conversation with Woody Allen - May 2005]
["I have one significant regret on that picture. From the beginning, the opening sequence of the picture was meant to be the sperm sequence and the closing sequence of the picture was the giant breast. When I showed the picture ... nothing could top the sperm sequence. ... I, contrary to my instincts, switched and opened with the court jester and put the sperm sequence at the end, but that picture was not to be seen that way. It was meant to open with the sperm and close with the breast sequence. And I've regretted that cowardly mistake ever since." Conversations with Woody Allen - November 2005]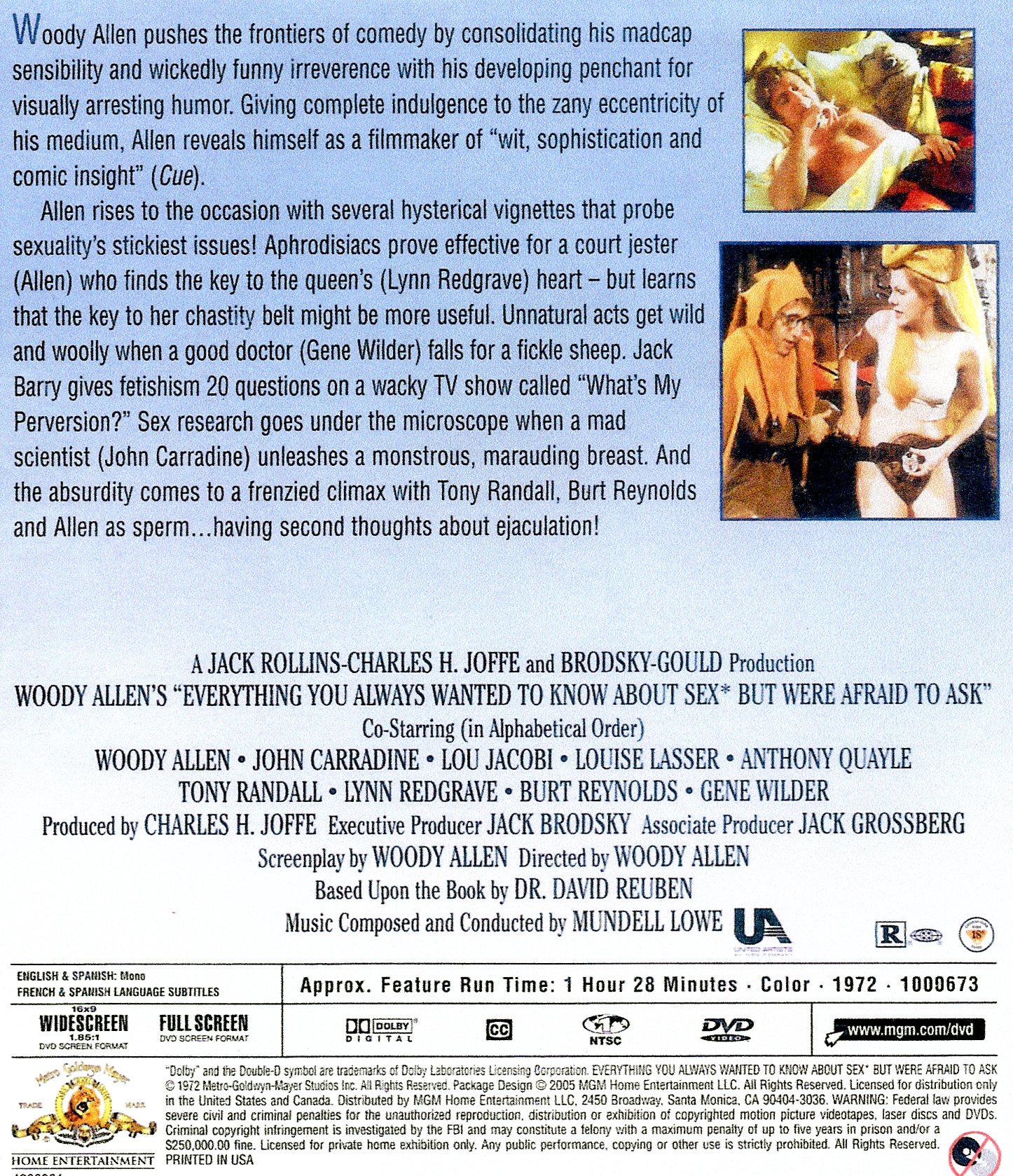 The Night Club Years 1964-1968 (LP) - United Artists Records - 1972
Men of Crisis: The Harvey Wallinger Story (TV Short) - 1972
Sleeper - (Woody Allen) - 1973
This is Woody's slapstick movie. In it, he pays tribute to the physical humor of the Marx Brothers, Charlie Chaplin (1889-1977), Buster Keaton (1895-1966) and Harold Lloyd (1893-1971). There is a great future scene with Woody being chased on a giant banana peel and then beating his chaser senseless with a strawberry. More than any of his other movies, this one relies on the physical instead of written jokes.
Woody was a health food restaurant owner from Greenwich Village who was cryogenically-frozen after a minor peptic ulcer surgery went awry. Two hundred years later, he is revived by an underground group of doctors who want him to lead their revolution against the brutal, Bib-Brother-type dictator. However, their plot is discovered by the ever-present security forces but Woody escapes disguised as a robot with glasses.
Robot-Woody was then delivered to the home of Diane Keaton, appearing in her first of seven movies directed by Woody. She also appeared in Play It Again, Sam, the Broadway play and film adaptation written by Woody. Keaton's character in Sleeper is a naive, professional poet who lives a leisure life of daily parties and modern conveniences such as the "orgasmitron" and the mind-altering "orb". She sends Woody back to the shop for a new head.
Woody escapes from the robot repair shop using a large chunk of bleu cheese and returns to kidnap Keaton while trying to convince her to join the rebels. She resists but does share a giant banana and a giant celery stalk with him. Keaton finally changes her mind when she realizes that the security forces are planning to eliminate her just because of her knowledge of the alien. She escapes to the underground but Woody is captured and re-programmed by being forced to participate as Miss Montana in a beauty contest.
The rebels free the brainwashed Woody and begin a re-programming process in the jungle. First, they recreate the dinner table of his Jewish parents. Then they perform a scene from A Streetcar Named Desire with Woody in the Blanche DuBois role and Keaton as Marlon Brando (1924-2004). When Woody is cured, Keaton sings for him the rebel song she wrote (same song that Esposito sang in Bananas). Woody and Diane then pose as clone doctors, take the dictator's nose as hostage, and go back to her apartment for some serious orgasmitron/orb action.
Along the way, Woody makes fun of Bela Lugosi (1882-1956) - "mayor of New York", Charles DeGaulle (1890-1970) - "famous French chef", Norman Mailor (1923-2007) - "donated his ego to Harvard Medical School", Howard Cosell (1918-1995) - "20th century punishment", Richard Nixon (1913-1994), Billy Graham, F.Scott Fitzgerald (1896-1940), Chiang Kai Shek (1887-1975), Joseph Stalin (1878-1953), Margaret Keane, Xavier Cugat (1900-1990), McDonalds restaurants, Volkswagens, Miss America (see also Bananas), New Jersey, the Mafia and Jewish tailors. He also learns that doctors in 2173 now know that deep fat, steaks, cream pies, hot fudge and tobacco are among the most healthful things for mankind. [JAM 10/19/2009]
["Sleeper is a picture every kid in America could see and find funny. It's exactly the kind of picture that I used to see as a kid and love. I don't want to be confined to intellectual humor, especially since I have zero intellectual cedentials." Conversations with Woody Allen - May 1973]
["At the start I had the insane idea to make it a four-hour movie with an intermission. The first two hours were to be me in New York living my life. It would hopefully have been funny. And at the end of it I was to fall into a vat of liquid nitrogen and freeze. Then there would be an intermission and after it the entire New York landscape would have changed - it would be two hundred years in the future and everything would be white and strange." Conversations with Woody Allen - November 2005]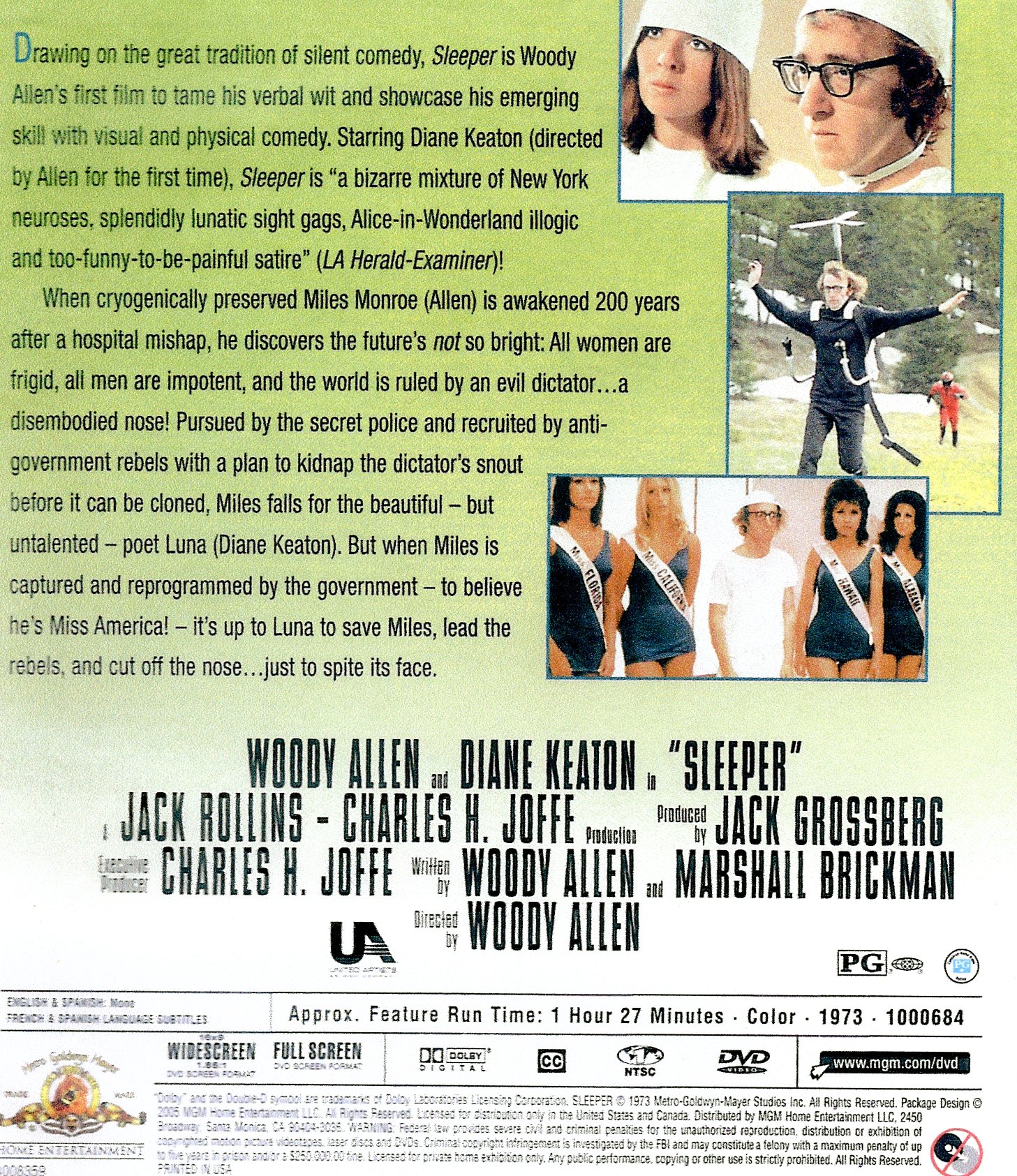 Love and Death (Woody Allen) - 1975
This is Woody Allen's Russian movie and also the last of his really silly movies. Woody and Diane Keaton and sometimes others spend a lot of time in philosophical discussions about death, religion and the human condition.
Woody is in love with Diane but she loves his brother Ivan. Ivan marries someone else so Diane marries a herring merchant and Woody takes his butterfly collection and goes off to war against the French. Woody becomes an accidental war hero and returns home to an affair with the Countess Alexandrovna. He gets challenged to a duel by the husband of the Countess (Harold Gould). Meanwhile, the herring merchant dies and Diane agrees to marry Woody if he wins the duel. He wins, they marry and they live happily for several years until Diane decides to assassinate Napoleon.
Disguised as Spanish ambassadors, Woody & Diane visit Napoleon in Moscow but neither of them can pull the trigger when the time comes. Diane escapes but Woody is captured and framed for the murder of Napoleon's double. An angel appears in Woody's jail cell and promises to save him from the firing squad. The angel was a liar. The movie ends with Woody dancing with death. [JAM 10/20/2009]
["I've always said those (love and death) are two subjects I'm interested in and it would be like War and Peace. And I wrote it in no time at all ... I shot most of it in Paris, but United Artists, in the interests of saving money, had me shoot some in Hungary ... I was freezing when we made it in Hungary. I was so cold I can't tell you ... I hated my experience in Budapest." Conversations with Woody Allen - November 2006]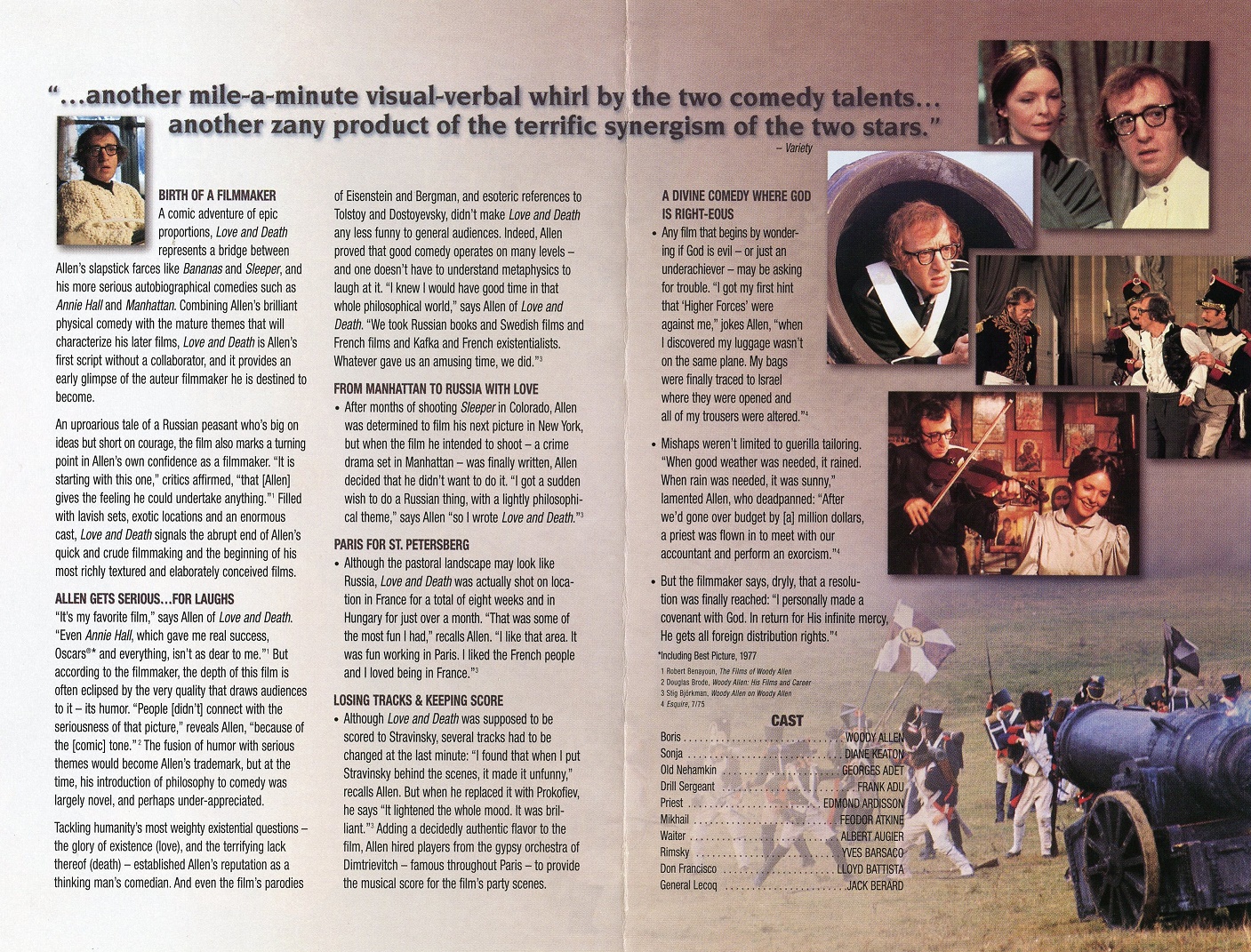 Without Feathers - Random House - 1975 - 210 pages
[Death (A Play)] Kleinman: "It's not that I'm afraid to die, I just don't want to be there when it happens ... And another thing. If there is a life after death and we all wind up in the same place - don't call me, I'll call you."
(The Irish Genius) "Viscous and Sons has announced publication of 'The Annotated Poems of Sean O'Shawn, the great Irish poet, considered by many to be the most incomprehensible and hence the finest poet of his time."
[God (A Play)] Delivery Boy: "I'm sorry. Here it is. God is dead. You're on your own. And it's signed - The Moscowitz Billiard Ball Company?"
(Fabulous Tales and Mythical Beasts) The Weal: "Astronomers talk of an inhabited planet named Quelm, so distant from earth that a man traveling at the speed of light would take six million years to get there, although they are planning a new express route that will cut two hours off the trip."
God (play) 1975 - See Without Feathers.
Death (play) 1975 - See Without Feathers.
The Front (directed by Martin Ritt) - 1976 (actor)
Annie Hall (Woody Allen) - 1977
This is the first of Woody's autobiographical movies. And, this is his valentine to Diane Keaton who was probably the love of his life. Diane Keaton's real name is Diane Hall. The story is quite simple. Woody is a comedy writer trying to be a stand-up comic. Diane is an actor trying to be a singer. After two failed marriages, Woody meets and dates Diane. Diane moves in with Woody. They break up, get back together, and then break up again. The movie won oscars for best picture, best director (Allen) and best screenplay (Allen). Diane Keaton won the best actress oscar and became a movie star. Woody Allen was nominated for best actor but lost to Richard Dreyfuss (Goodbye Girl).
Although there were many humorous lines, Woody traded silliness for style and was rewarded by the critics. In the movie, Woody used several clever devices and they all worked. He spoke to the theatre audience. He spoke to strangers on the street. He had one character (Diane) leave her body during an intimate scene. He brought Marshall McLuhan from nowhere to resolve a philosophical dispute. He also added some animation with Diane playing the wicked queen.
I watched this movie twice in 1977 and did not like it because I was expecting another classic Woody Allen jokefest. Watching it again after 32 years, I like it much better. It is a very well made movie. It established Woody as one of the great American movie makers. Some of the humor lines are still terrific. Woody tells a woman that he missed a Dylan concert because his raccoon had hepatitis. Later, he travels to California (which he hates) and orders alfalfa sprouts and mashed yeast in an outdoor cafe. The humor is there but alas, the silliness is gone - forever. Paul Simon, Carol Kane, Shelley Duvall, Janet Margolin (See Take The Money And Run), Christopher Walken and Sigourney Weaver had small parts in the movie. [JAM 11/3/2009]
[" ... Annie Hall was a much-adored picture. I mean, it's fine, but I've done better pictures than that, though it may have had a warmth, an emotion, that people responded to." Conversations with Woody Allen - Spring 2005]
["When I did Annie Hall, a number of people felt that I had sold out or made a terrible mistake because my type of film was ... that crazy kind of film. Anything less than a lot of crazy jokes ... would upset them. I remember it very clearly with Annie Hall because it wasn't just strange goofy letters coming in the mail, it was people who were acquaintances. Charles Joffe would say to me, 'Gee, my friends wonder why you're wasting time with that.' ... but I always politely say, 'I guess you're right,' and go on doing what I'm doing." Conversations with Woody Allen - Summer 1973]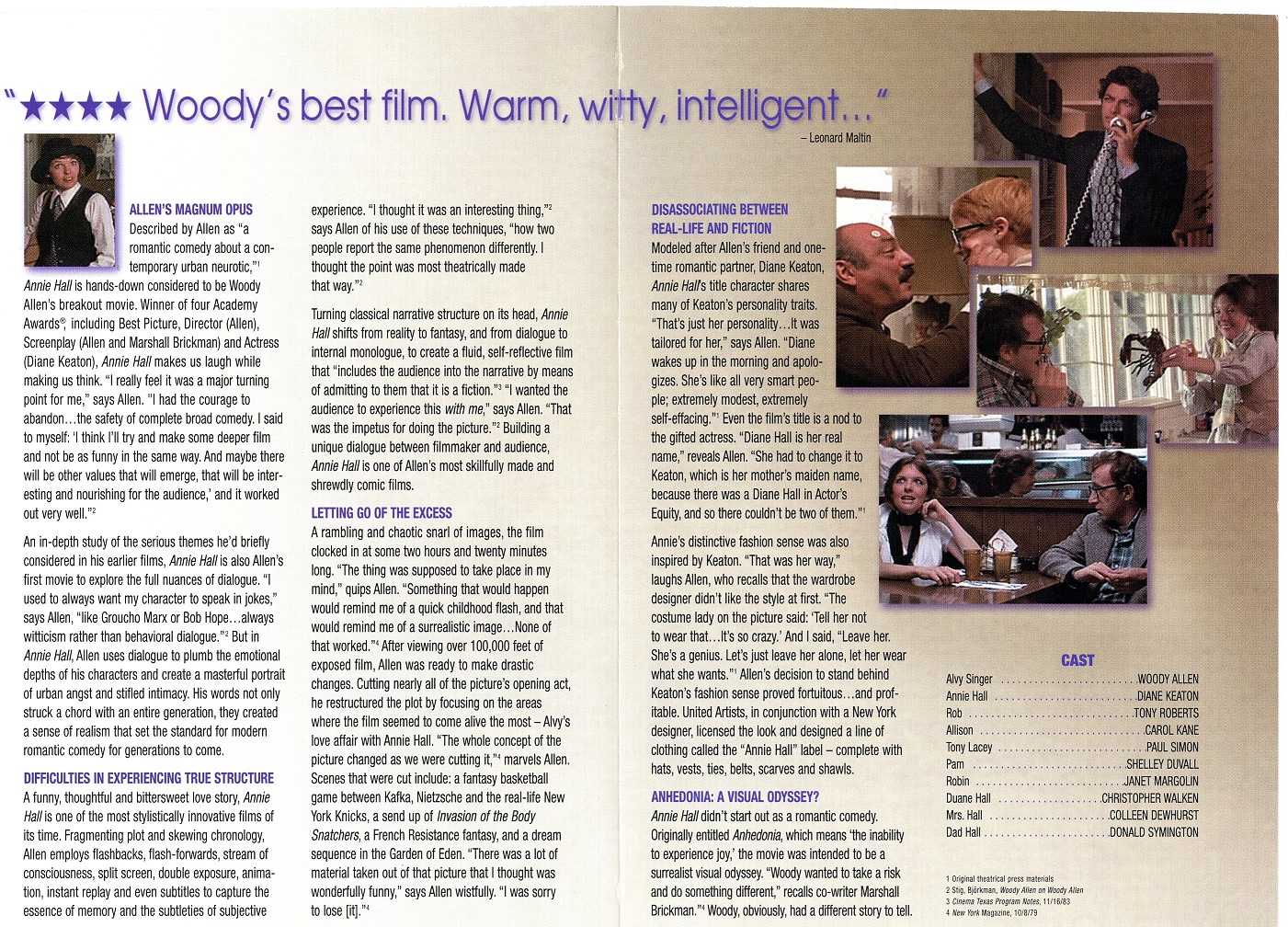 Interiors (Woody Allen) - 1978
This is a dark and depressing story about a talented but dysfunctional family. E.G. Marshall (1914-1998) is a wealthy lawyer married to a serial-decorator, Geraldine Page (1924-1987) who is recovering from a breakdown. The pair have three grown daughters played by Diane Keaton, Mary Beth Hurt and Kristin Griffith. E.G. decides to separate from and then divorce Geraldine to marry a happier woman played by Maureen Stapleton (1925-2006). During the wedding celebration, Maureen accidentally and symbolically breaks Geraldine's $400 vase. There is a lot of intellectual angst in this movie and, intentionally, a complete lack of Woody Allen humor. Geraldine Page and Maureen Stapleton won several acting awards for their performances. [JAM 11/7/2009]
[" ... I based all these people on people I've experienced in my life, and that is what they do. I may have exaggerated a bit for dramatic purposes, but it was true to life." Conversations with Woody Allen - November 2005]
["In Interiors there was a lot about how cold and incommunicative we are with each other and life is a terrifying thing and death is terrifying and nothing can help you. Add them all up and it sounds grim." Conversations with Woody Allen - November 2006]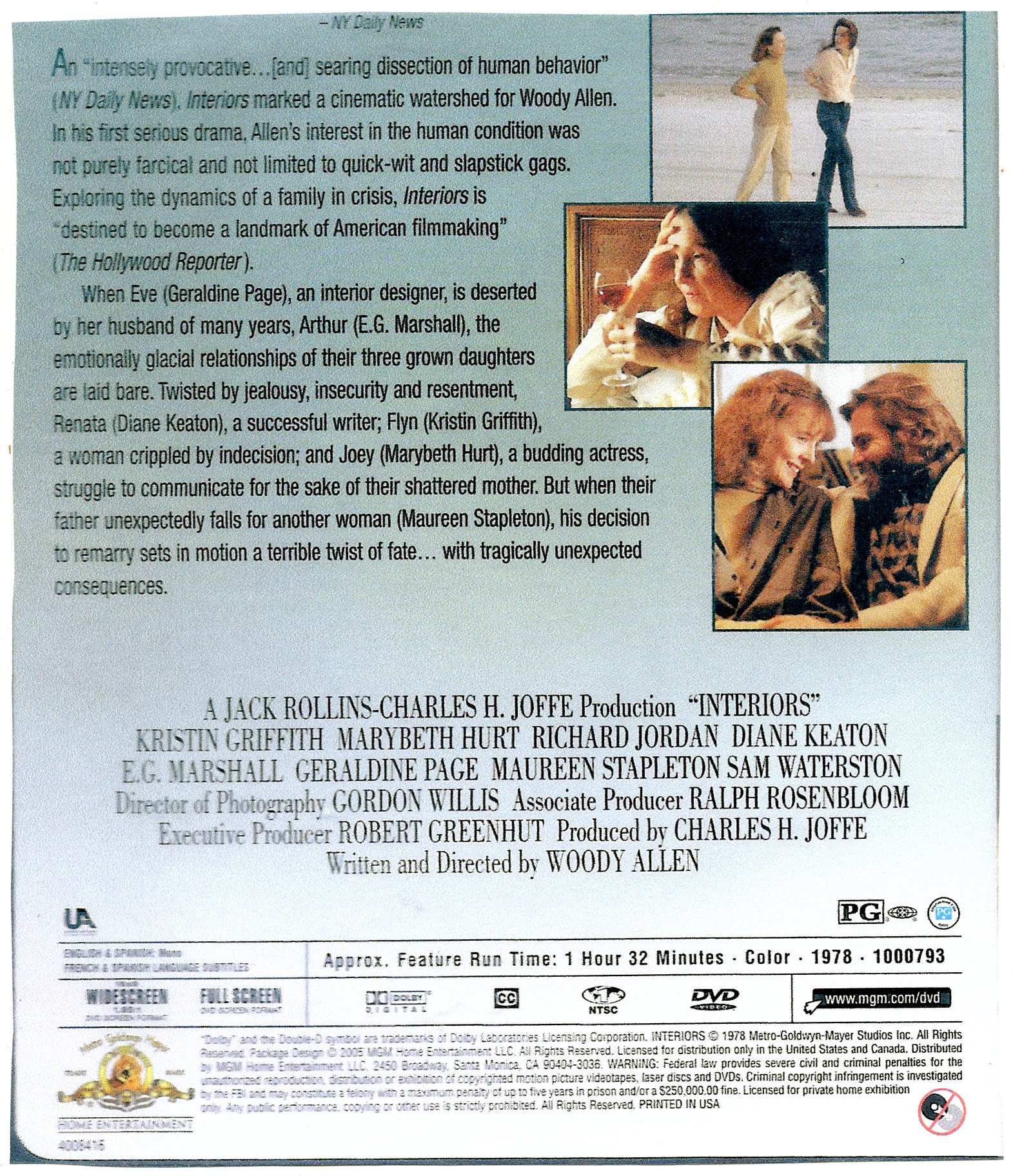 Standup Comic (LP) - Casablanca - 1978
Manhattan (Woody Allen) - 1979
Manhattan is Woody's valentine to New York, the city he loves. The film is a series of beautiful black-and-white images of the city with the New York Philharmonic playing George Gershwin music in the background under of direction of Zubin Mehta. The cinematography by Gordon Willis is stunning. I cannot think of another black-and-white movie that is as visually pleasing from start to end.
Twice-divorced Woody is a television writer who is dating a high school girl (Mariel Hemingway) who talks like Jerry the mouse and looks way-too-much like her grandfather. Woody's ex-wife (Meryl Streep) left him for another woman and is now writing a tell-all book about their failed marriage. Woody's best friend (Michael Murphy) is cheating on his wife with once-divorced Diane Keaton who is not liked by Woody at the first meeting. Murphy dumps Keaton ("I'm beautiful and I'm bright and I deserve better.") and Woody dumps Hemingway for Keaton. And then, things really get complicated.
Look for small parts by Michael O'Donoghue (1940-1994) of National Lampoon and Saturday Night Live, Congresswoman Bella Abzug (1920-1998), and Tisa Farrow (Mia's younger sister). [JAM 11/9/2009]
[" ... I had a real urge to show New York as a wonderland and I completely fulfilled that feeling in Manhattan." Conversations with Woody Allen - June 1987]
["It may be completely true that these are not real people, just as the depictions of Manhattan I've offered up are not necessarily real in the sense that they're naturalistic. But obviously there was something about the people in Manhattan that resonated everywhere - France, Japan, South America." Conversations with Woody Allen - April 2005]
[" ... In Manhattan I had the music first and was sometimes doing the scenes to fit the music ... I wrote specifically to accommodate music. I knew I wanted a block of musical indulgence, and a number of times I would stretch things out so I could leave myself a lot of room to do a big dose of Gershwin ... I very consciously extended scenes to create space on the screen to play it." Conversations with Woody Allen - November 1989]
["The fact is, when I first chose to portray New York as a character in a movie in a significant way, in Manhattan, I made the film in black and white because most of those movies I grew up on were in black and white. In those films you would see nightclubs and the kind of streets we've been talking about; actors would be walking on Riverside Drive or on Park Avenue, or coming out of their houses with furs on and getting out of cabs ... where Jimmy Stewart goes through the park in that movie ... is exactly where I placed the scene with Mariel Hemingway and myself in the horse-drawn cab ... I feel I owe nothing to reality in my movies in that sense. That's my vision of the city and I'm creating a work of fiction, and that's what I want to create." Conversations with Woody Allen - February 2006]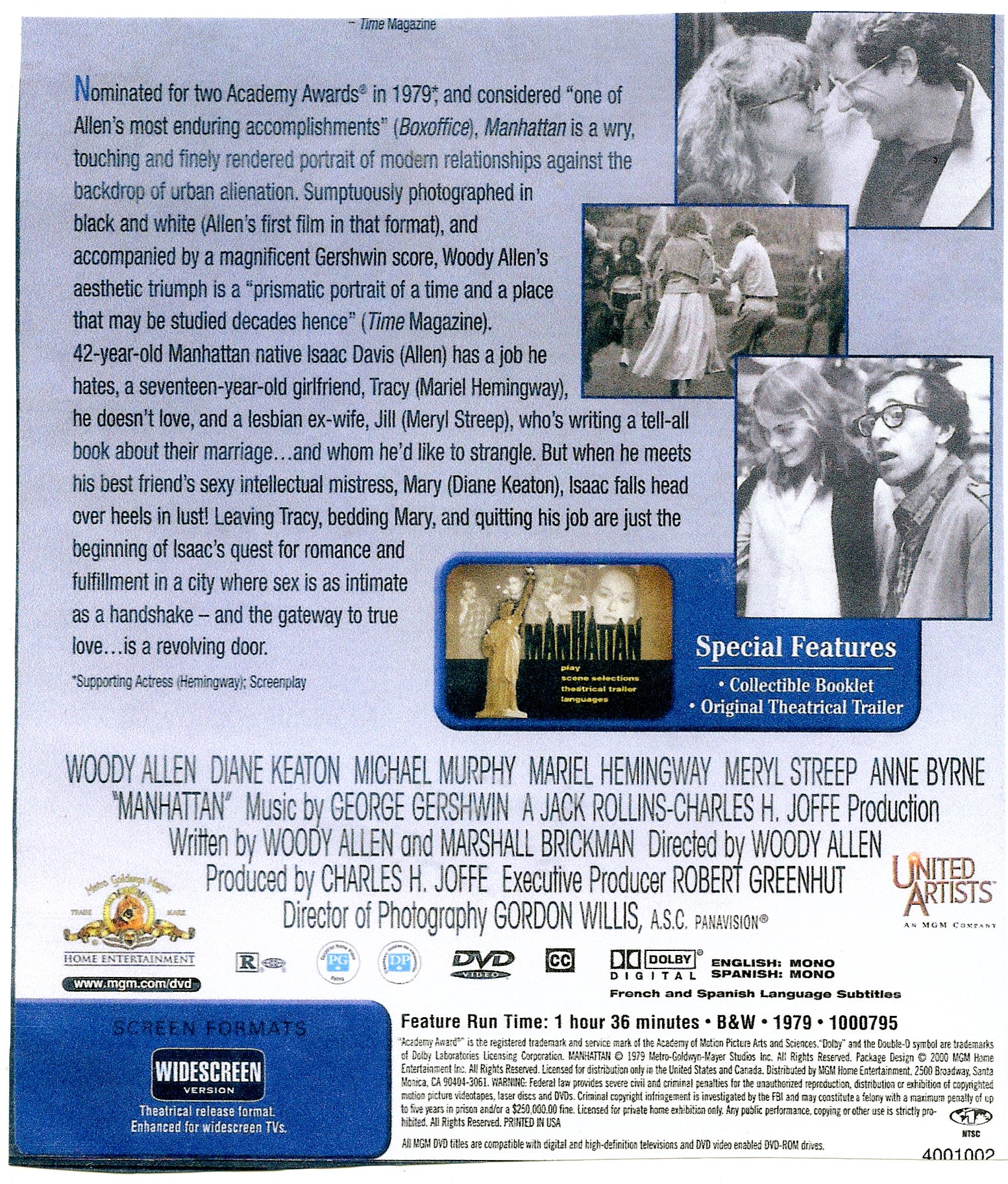 Stardust Memories (Woody Allen) - 1980
With his second consecutive black-and-white movie, Woody presents his ultimate autobiographical story. He is the successful comedian and director who doesn't want to make funny movies anymore. He is besieged by fans and opportunists who want his autograph, his time and his approval. In the present, there is no story except for his relationships with Charlotte Rampling, Marie-Christine Barrault and Jessica Harper. His life between movies is interspersed with flashbacks and dream sequences revealing his numerous neuroses. All of this is a movie within a movie that starts and ends in a theater. The photography by Gordon Willis is excellent and almost as spectacular as in Manhattan.
The 22-year-old Sharon Stone made her first movie appearance as the unattainable woman in the other train. Woody Allen regulars Tony Roberts and ex-wife Louise Lasser had small parts. In a very large cast of fans and acquaintances, Brent Spiner ("Data"), Daniel Stern, Laraine Newman (SNL), Jack Rollins (real-life agent & producer), Judith Crist (film critic) and many others pop in and out of scenes.
Although the movie is about a film maker who does not want to make funny movies anymore, there is terrific Woody Allen humor throughout - mostly in the flashback scenes. Woody complains to his maid/cook that: "I don't eat rodents" when she tries to feed him rabbit. He also comments that: "pigeons are rats with wings." In one non sequitur dream sequence "Sidney Finklestein's hostility has escaped." His sister's husband has a bell on his exerciser. Woody counters a comment about his atheism with: "To God I'm the loyal opposition." He also communicates with aliens who travel by balloon and complains that his parents would not buy him an elephant. He can't help it. [JAM 11/22/2009]
[" ... Stardust Memories put people off and over the years the audience got more and more uncomfortable with me, unsure of what my next movie might be and less assured they'd enjoy it." Conversations with Wood Allen - January 2000]
[" ... Stardust Memories preceded John Lennon (1940-1980) getting shot, because I felt there was that ambivalent feeling between the audience and the celebrity. The audience worships the celebrity and on the one hand cuts the celebrity much more slack than the celebrity deserves, merits, or earns ... They idolize them and they're also dangerous." Conversations with Woody Allen - February 2006]
["Gordon and I liked to work in black and white and I wanted to make a picture about an artist who theoretically should be happy. He has everything in the world - health, success, wealth, notoriety - but in fact he doesn't have anything, he's very unhappy. The point of the story is that he can't get used to the fact that he's mortal and that all his wealth and fame and adulation are not going to preserve him in any meaningful way - he, too, will age and die. At the beginning of the movie you see him wanting to make a serious statement even though he is really a comic-filmmaker." Conversations with Woody Allen - November 2005]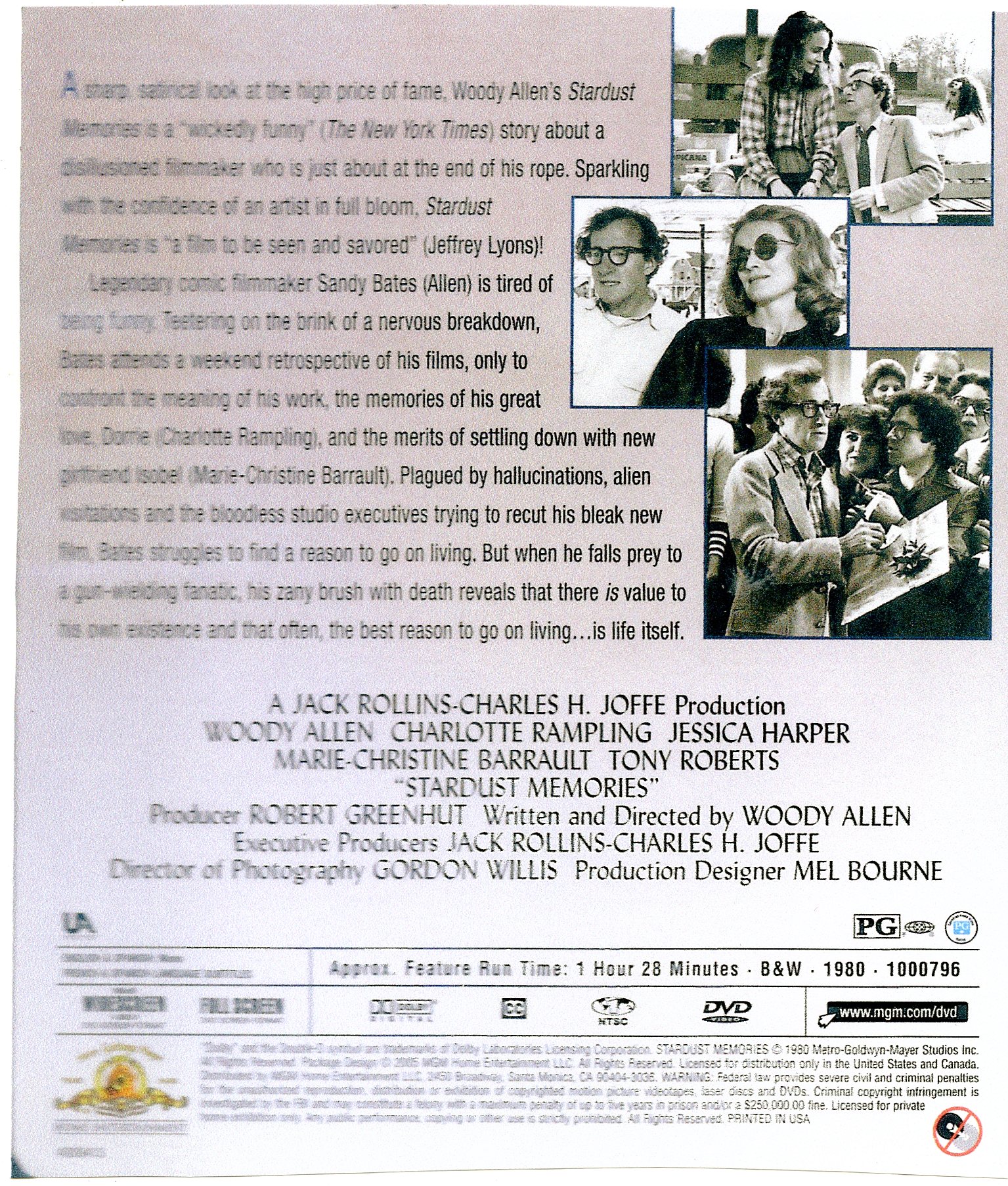 Side Effects - Random House - 1980 - 149 pages
(The UFO Menace) "The most frequently asked question about the UFOs is: If saucers come from outer space, why have their pilots not attempted to make contact with us, instead of hovering mysteriously over deserted areas? My own theory is that for creatures from another solar system "hovering" may be a socially acceptable means of relating ... it should also be recalled that when we talk of "life" on other planets we are frequently referring to amino acids, which are never very gregarious, even at parties."
(The Lunatic's Tale) "Suddenly, and with a clarity one usually associates with LSD, my course of action became apparent. I had taken Olive to see a revival of a Bela Lugosi film at the Elgin. In the crucial scene, Lugosi, a mad scientist, switches the brain of some unlucky victim with that of a gorilla, both being strapped to operating tables during an electrical storm. If such a thing could be devised by a screenwriter in the world of fiction, surely a surgeon of my ability could, in real life, accomplish the same thing."
(Retribution) "Past successful campaigns suggested instantly the proper route to take. I would steer her t Trader Vic's, that dimly lit, foolproof Polynesian den of delights where dark, promising corners abounded and deceptively mild rum drinks quickly unchained the fiery libido from its dungeon."
Funny People - (Steve Allen) - 1981 - pages 15-49
The Subtle Concept (Short) - 1981 (writer)
The Floating Light Bulb - (play - Vivian Beaumont Theater - 1981) - (book) Random House - 1982 - 88 pages
The entertainment industry was shocked when Woody Allen wrote and directed Interiors in 1978. This was a serious and often depressing story without Woody's signature sense of humor. The Floating Light Bulb play is another example of a sad and depressing story about a dysfunctional family. Although the play was performed in 1981, it certainly never achieved the success or acclaim of his earlier plays: Play It Again, Sam & Don't Drink the Water. But this did not matter to Woody. He had reached the point in his career when he could do the stories he wanted to do. Woody had always explained that he wrote jokes and silly movies because that was the quickest way for him to get into show business. His preference was always to emulate the movies and music of the 1930s. And, for 40+ years he has continued to make the movies he wanted to make, humorous or serious. Like many writers, Woody has stories that swirl around and live in his brain. Those stories occupy precious brain space until they are written out on paper; or in Woody's case - performed on stage or screen. [JAM 9/8/2021]
Four Films of Woody Allen: Annie Hall, Interiors, Manhattan, Stardust Memories - Random House - 1982 - 387 pages
A Midsummer Night's Sex Comedy (Woody Allen) - 1982
Woody is an inventor who is married to Mary (Steenburgen) who once had a fling with Doctor Tony (Roberts) who lusts for Mia (Farrow) who is supposed to marry Professor Jose (Ferrer 1912-1992) who makes a pass at Julie (Airplane) Hagerty who is Tony's nurse. And there's more. Woody invented a machine that releases spirits into the New York countryside circa 1900. The movie is pleasing to the eye and ear except when Jose Ferrer is singing.
This was the first of 13 Woody-Allen movies for Mia Farrow (Zelig, Broadway Danny Rose, The Purple Rose of Cairo, Hannah and Her Sisters, Radio Days, September, Another Woman, New York Stories, Crimes and Misdemeaners, Alice, Shadows and Fog and Husbands and Wives). This was also the fourth of six Woody-Allen movies for Tony Roberts (including Play It Again, Sam directed by Herbert Ross). [JAM 11/28/2009]
["I thought it would be fun to get some people in a country house and just celebrate summer, and make it very beautiful, with butterfly nets and badminton courts and picnicking and butterflies." Conversations with Woody Allen - March 1988]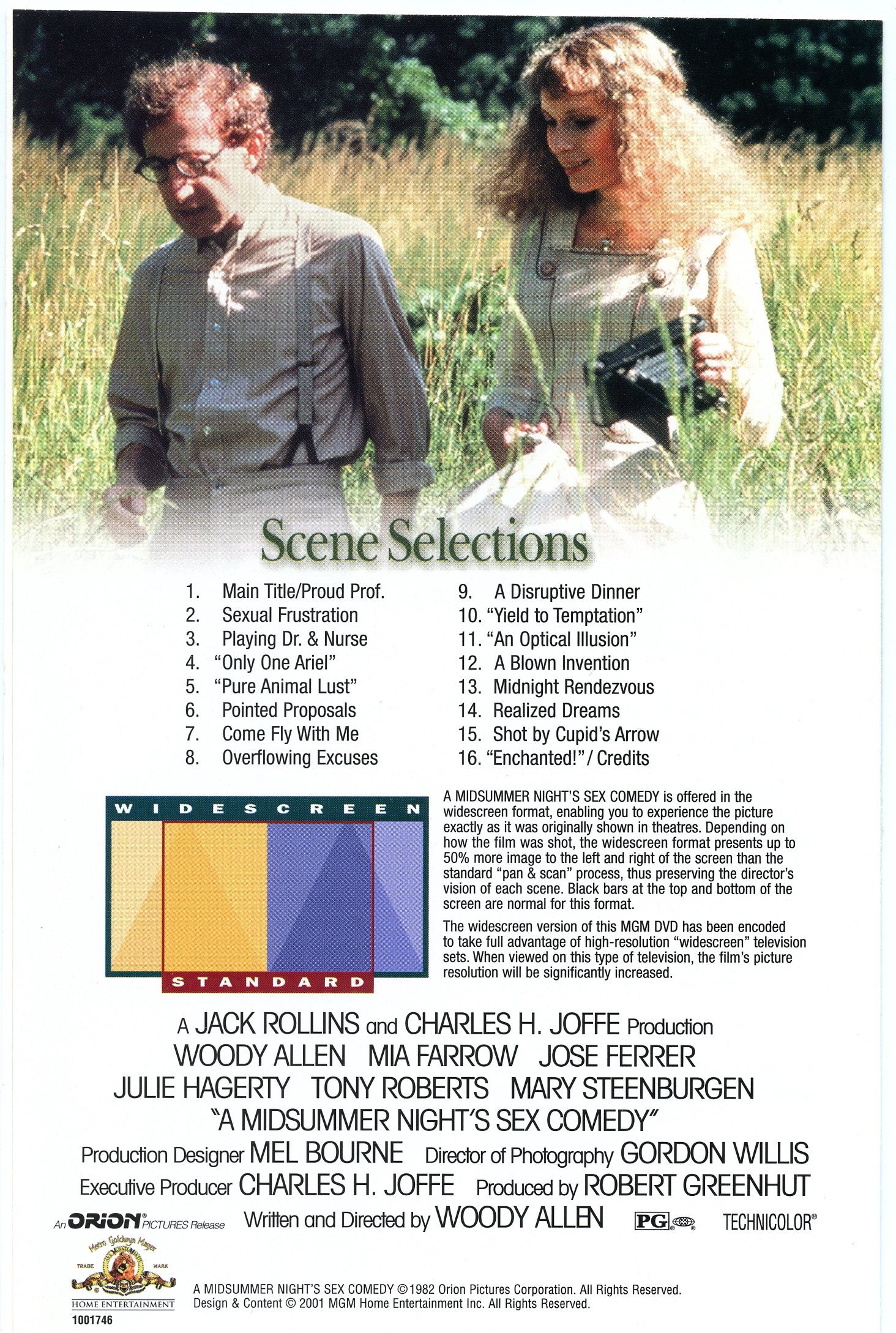 Zelig (Woody Allen) - 1983
Leonard Zelig is the ultimate conformist who quickly assumes the physical and mental characteristics of any group in his vicinity. The movie is filmed in a documentary style using mostly black-and-white footage from the 1920s. The narrator is British actor, Patrick Horgan who also appeared in The Curse of the Jade Scorpion. Horgan is character actor who is also a veteran soap-opera performer. Some modern (color) commentators were also used including Susan Sontag (1933-2004), Irving Howe (1920-1993) and Saul Bellow (1915-2005). Mia Farrow played Woody's psychiatrist and love interest.
Zelig's personality disorder caused him to become an incredible photo opportunity hog seeking company with Herbert Hoover, Calvin Coolidge, Lou Gehrig, Adolf Hitler, Pope Pius XI and many others. Zelig also seemed to have selective amnesia regarding numerous marriages, medical operations and house paintings that ended poorly. His disorder may have been the result of a dysfunctional childhood led by a father whose only advice to him was "to save string."
This film is an enormous accomplishment and history lesson that brings all of the major events of the 1920s into one picture with Woody Allen woven into the fabric of the documentary in a respectful manner. [JAM 12/8/2009]
Stephanie Farrow became the third of four Farrow sisters to act in a woody Allen movie. [JAM 12/21/2009]
["Zelig was fun to shoot. We didn't have to set up for elaborate lighting, just shoot. But there was a lot of work in postproduction. We ordered TV equipment and did all the newsreel footage on cassettes. We had hundreds of thousands of feet of Nazi footage and other historical things." Conversations with Woody Allen June 1987]
[" ... I don't have any doctrinaire point of view in making up fiction about analysts or Jews, women or Americans - it's whatever serves the story ... if Zelig suddenly went crazy and stabbed Dr. Fletcher, or if Dr. Fletcher suddenly flipped out and went away and broke his heart, and that was the most effective ending for the movie, then that would have been the ending." Conversations with Woody Allen November 2006]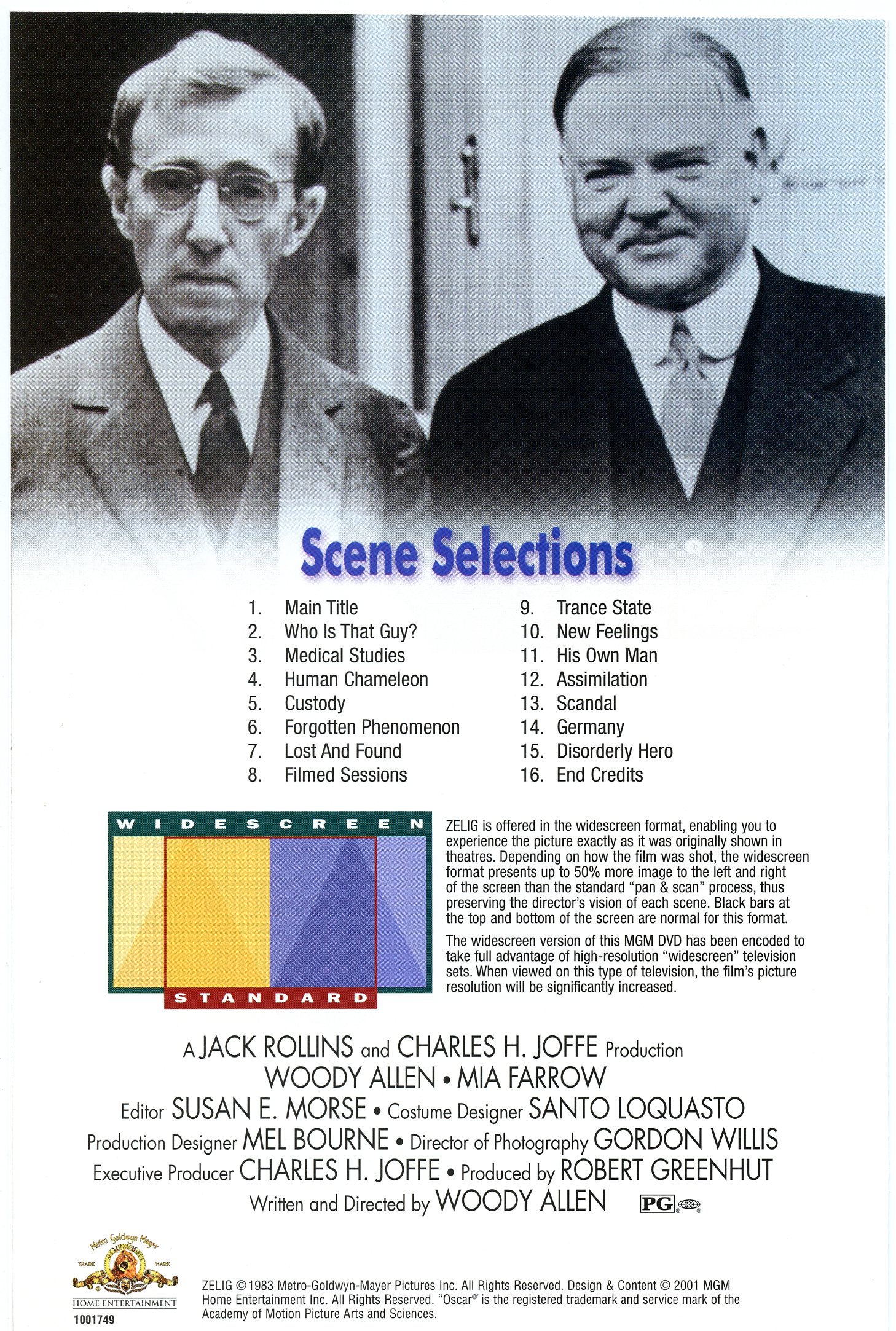 La recontre (directed by Jean-Michel Folon) - 1983 (actor)
Broadway Danny Rose (Woody Allen) - 1984 - (black-and-white)
Six men are telling stories around a table in a smoke-filled room. One of them, Sandy Baron (1937-2001) tells a story about failed-comedian Danny Rose (Woody) who became a theatrical agent representing third-rate acts such as balloon-folders and musical water-glass players. His most marketable act is singer Lou Canova played by entertainer Nick Apollo Forte in his only appearance in a motion picture. Danny gets Lou a major gig to sing for Milton Berle (1908-2002). However, Lou can't perform without his girl friend (Mia Farrow) in the audience and insists that Woody bring her so Lou's wife will remain unaware of the affair.
Woody chases Mia to convince her to attend the show but Mia's fortune teller, Angelina (Olga Barbato 1914-2003) tells her to go see her family. Mia was married to the mob and is now being pursued by mobster Johnny Rispoli (Edwin Bordo) who is rejected by Mia and then drinks iodine and accuses Woody of stealing his love. Johnny's mother cries "vendetta" and sends Johnny's brothers to break Woody's legs or worse. Woody and Mia get caught but escape by sending the mobsters after Barney Dunn (Herb Reynolds), a ventriloquist who stutters. The show goes on. Lou is a hit after Woody gets him sober. Then Lou drops Woody for another agent, divorces his wife and marries Mia who becomes unhappy because she really wants Woody (this being a common theme in many Woody Allen movies).
Other story-tellers with Sandy Baron are Corbett Monica (1930-1998), Jackie Gayle (1926-2002), Morty Gunty (1929-1984), Will Jordan, Howard Storm and Woody's producer, Jack Rollins. Howard Cosell (1918-1995) also appears in the movie in the audience with Milton Berle. [JAM 12/16/2009]
[" ... I saw that as a black-and-white Italian comedy. And that's probably why I made it in black and white. Because people said to me, 'I don't know why you're making it in black and white because the characters, what they wear, they'd be so much better in color. You'd see their shirts and jackets. Why give yourself the headache of black and white?' But for some reason I saw it in black and white because I wanted to make a 1950s Italian movie. And Gordon Willis understood instantly. He said, 'It just feels better to me in black and white, too.' " Conversations with Woody Allen May 2005]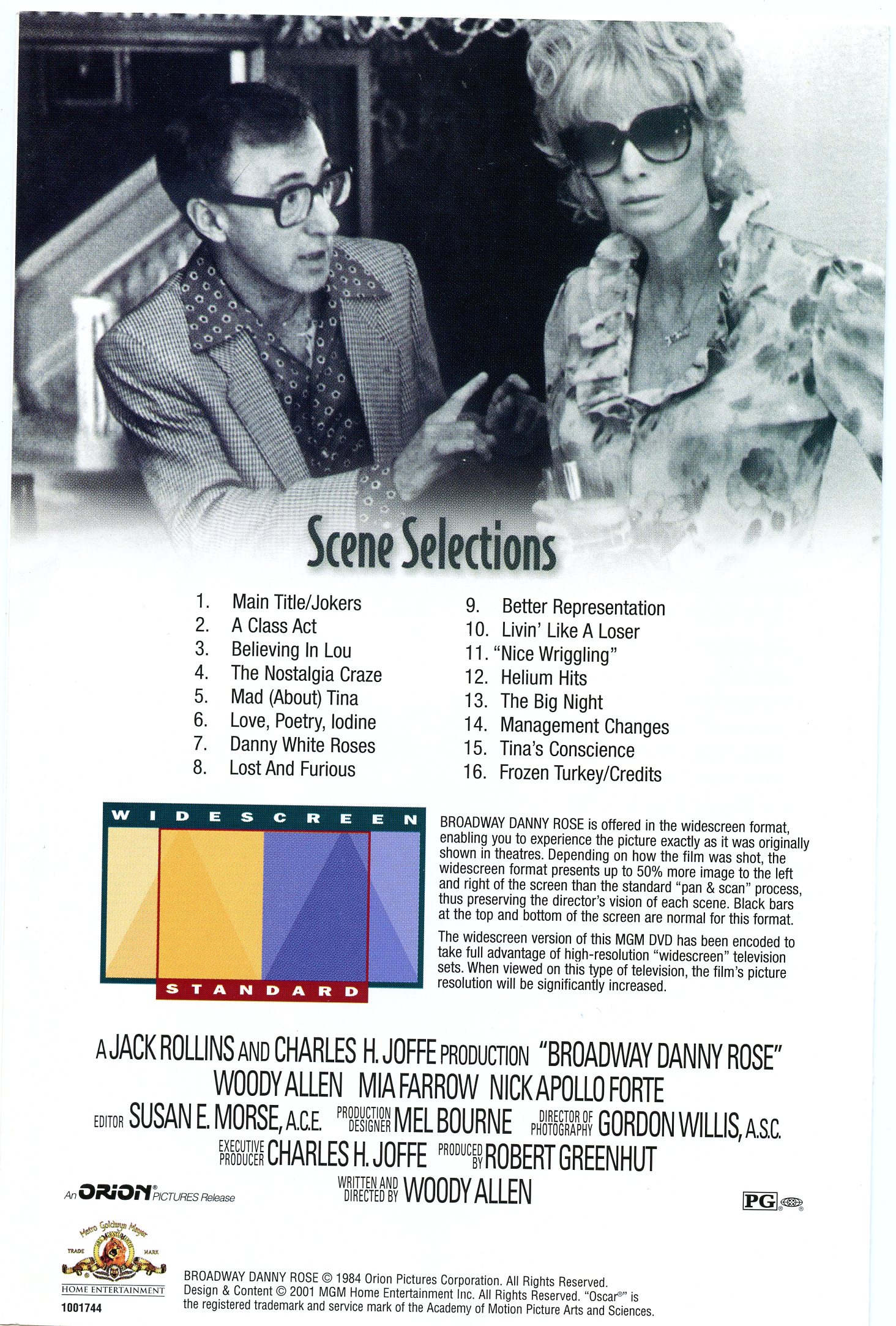 Halal (TV Movie) -1984 (writer)
Purple Rose of Cairo (Woody Allen) - 1985
Mia Farrow and her sister Stephanie love the movies but their families and employers just do not understand the attraction. In the middle of the Great Depression in New Jersey, the Jewel Theater is a place where one can escape the hard times. "The Purple Rose of Cairo" is playing at the Jewel and the theater manager cannot shut off the projector because one of the actors is missing.
From the creative mind of Woody Allen, Jeff Daniels (character name Tom Baxter; stage name Gil Shepherd; cabbie name Herbert Vardebedian) is allowed to fall in love with the woman (Mia) in the audience and to leave the movie to experience the real world. Meanwhile, the other actors are stuck without a story line. They remain on the screen arguing with the audience and theater management while they wait for Baxter to return. The real trick of this movie is the coordination of the two-dimensional, black-and-white actors with the color characters on the other side. Woody does it flawlessly.
At one point, in response to a comment about her complicated life, Mia says: "He's fictional but you can't have everything."
Prudence Farrow (inspiration for Dear Prudence on the untitled "white album" by the Beatles) acted as "art department coordinator" for the movie, thereby becoming the fourth of the four Farrow sisters to work on a Woody Allen movie. [JAM 12/21/2009]
["When I first got the idea, it was just a character comes down from the screen, there are some high jinks, but then I thought, where would it go? Then it hit me: the actor playing the character comes to town. After that, it opened up like a great flower. Cecilia had to decide, and chose the real person, which was a step up for her. Unfortunately, we must choose reality, but in the end it crushes us and disappoints. My view of reality is that it has always been a grim place to be, but it's the only place you can get Chinese food." Conversations with Woody Allen November 1987]
[" ... it was the Kent Theater (Brooklyn), which was very important to me in my childhood because it was, as we always used to say, the last outpost. When a film left the Kent, it went into the archives, into the time capsule. And you would always hear the freight train in the Kent. You'd be watching a movie and you'd hear a freight train go by for five minutes." Conversations with Woody Allen May 2005]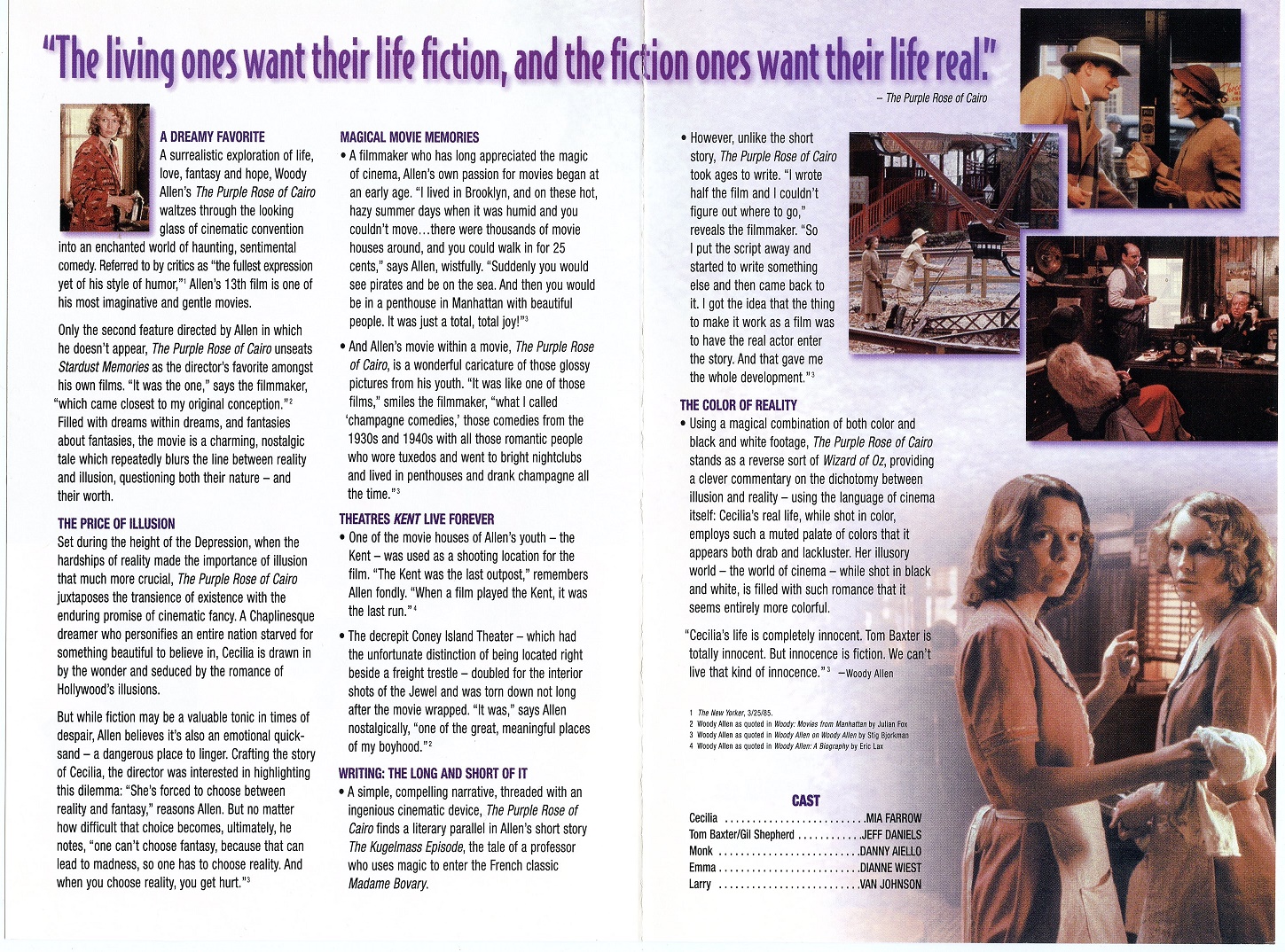 Hannah And Her Sisters (Woody Allen) - 1986
Hannah (Mia Farrow) is the rock of the family but her sisters (Dianne Wiest and Barbara Hershey) are rather flakey. Mia's second husband (Michael Caine) has a thing for Barbara who is living with a reclusive painter (Max von Sydow) but then falls for Michael. Woody is Mia's ex-husband and is also a hypochondriac and a television producer (in that order). The parents of the sisters are played by Lloyd Nolan (1902-1985) and Maureen O'Sullivan (1911-1998). This was last movie for Nolan who died before it was released.
Dianne is a former drug user who is trying to be an actor and a caterer but is failing at both. She finally finds some success writing screenplays about her dysfunctional family. She had one bad date with Woody but they met again much later under better circumstances.
After two near-death experiences, Woody tries to find religion by converting to Catholicism or Hare Krishna to the chagrin of his Jewish parents. He recalls the words of Tolstoy ("life is meaningless") and Nietzsche ("life is repetitive") who remind him that he does not want to live through the Ice Capades again. Woody finally realizes that life is worth living during a Marx Brothers movie. He also tried analysis but was disillusioned when his analyst installed a salad bar to boost revenue.
This was one of Woody's most successful movies. Michael Caine and Dianne Wiest won oscars for their supporting performances. This is really a movie with a fine ensemble cast and no true leads. This was the second of four Woody Allen movies for Dianne (Purple Rose of Cairo, Radio Days, Bullets Over Broadway). Sam Waterston, Lewis Black, Julia Louis-Dreyfuss and Soon-Yi Previn had small parts. [JAM 1/2/2010]
["Hannah was a character neither Mia nor I understood at the start, and at the finish. We could never figure out whether Hannah was indeed a lovely, nice person who was the bulwark of the family and the spine who held everyone together, or whether Hannah was not so nice." Conversations With Woody Allen February 1989]
["In Hannah, Michael Caine's part wasn't written for an Englishman. But there is no American actor who could be a regular man who is an accountant. American men are dangerous and potent. Michael has the James Mason (1909-1984) approach. He loves to work and never stops. He gets a great kick out of playing a CIA agent or a comic role." Conversations With Woody Allen October 1987]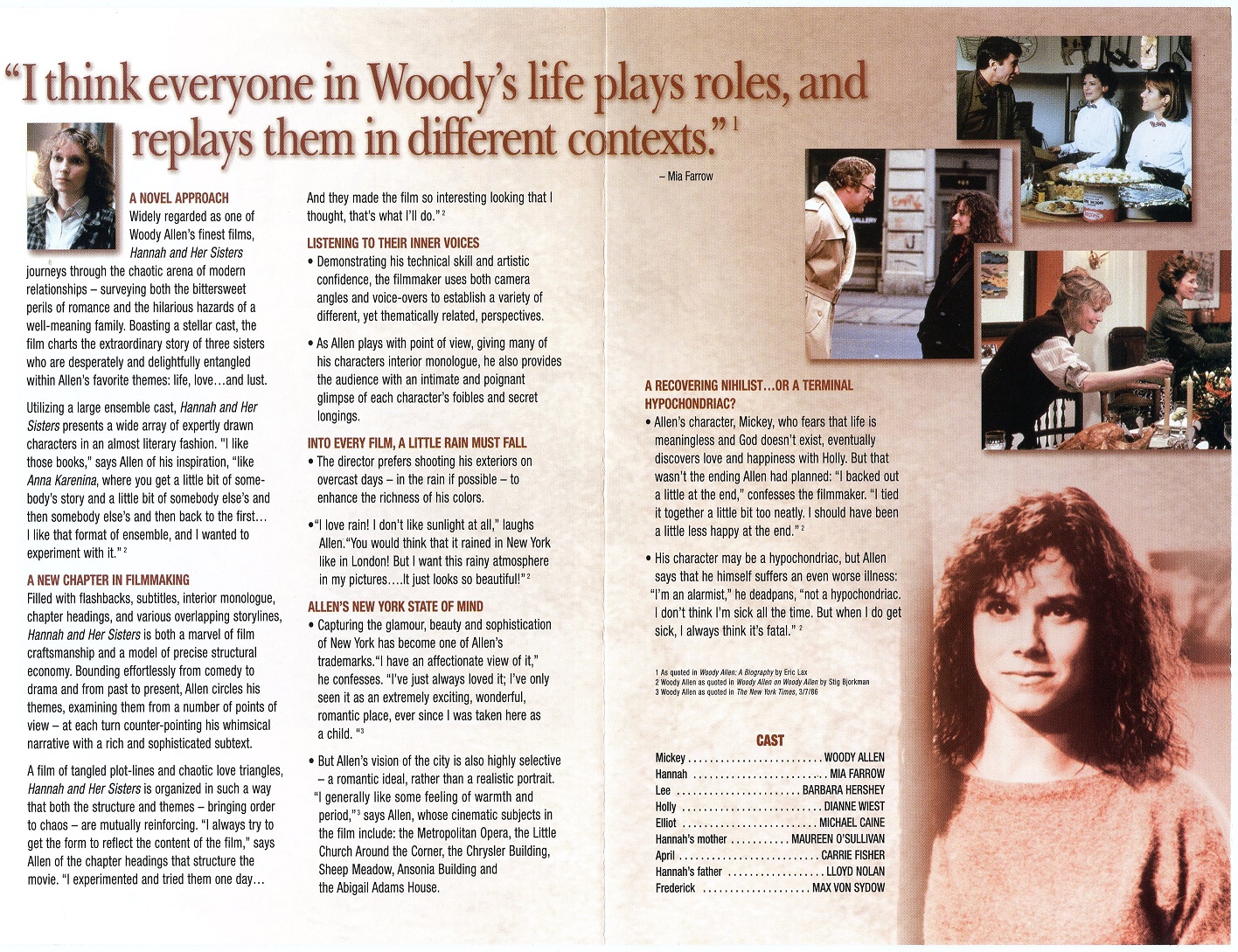 Radio Days (Woody Allen) - 1987
Woody narrated but did not appear in this movie about his childhood (1938-1944) in Rockaway, New Jersey, and the culture of radio. Woody's parents (Julie Kavner and Michael Tucker) live with the extended family and regret that their son is not a Whiz Kid. Aunt Bea (Dianne Wiest) can't get a man but did win $50 on "Guess That Fish." Woody loved radio shows and always wanted a Masked Avenger Secret Compartment Ring but never had the fifteen cents.
Woody does a great job of taking you back to the post-Depression and World War II lives of middle-class, East Coast Jewish families. Woody's paramour, Mia Farrow plays the cigarette-girl/hat-check girl who eventually breaks into radio after trading her annoying, high-pitched voice for a more soothing one. In a terrific scene on New Year's 1944, Mia accompanies Wallace Shawn, voice of the Masked Avenger to the party. The movie is a collection of radio stories from the era with little attempt to connect them. Jeff Daniels, Danny Aiello, Diane Keaton, Kitty Carlisle (1910-2007), William H. Macy, Tony Roberts and Larry David had small parts in the movie. [JAM 1/7/2010]
["I wanted to do a whole movie of scenes based on memories of songs of my childhood ... It was that kind of nostalgia; self-indulgent pleasure that one gets re-creating one's childhood atmosphere ... It really isn't my childhood exactly, but there are many aspects of my childhood that I've put in for fun ... It's not a big, heavy plot movie. It's a movie of anecdotes and the atmosphere of what the kids did when I was younger - went to the beach and looked for German submarines." Conversations With Woody Allen April 2005]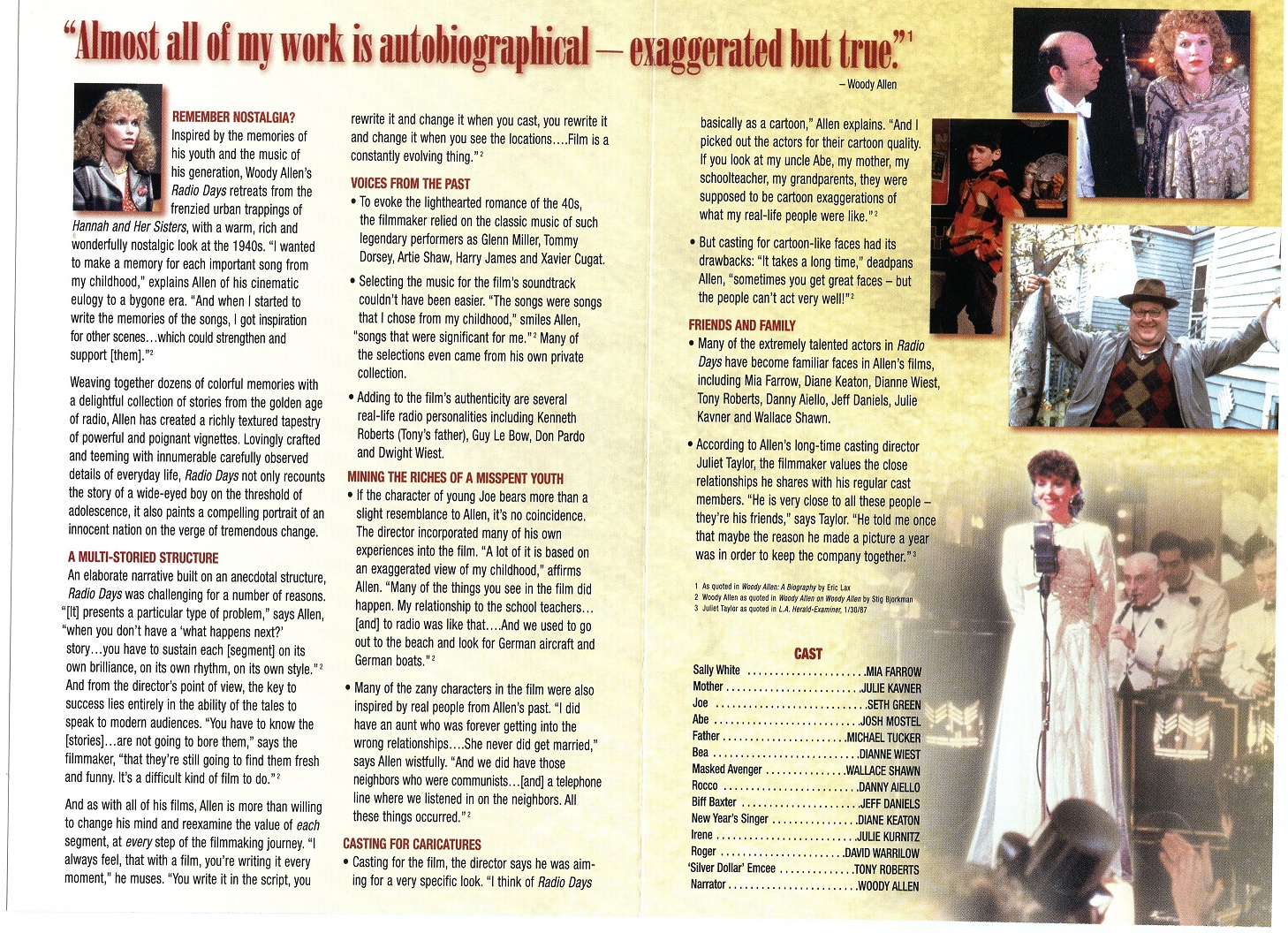 September (Woody Allen) - 1987
In the middle of his Mia-phase (1982-1992), Woody wrote and directed this depressing story for her about some very depressing (and selfish) people who were spending the summer in a big house in Vermont. Veteran actors Elaine Stritch, Jack Warden (1920-2006) and Denholm Elliot (1922-1992) joined Woody's stock actors (Dianne Wiest and Sam Waterston) for the small-cast drama. Mia's character has lived a tortured life since she was fourteen because of an event that occurred between her mother (Stritch) and a dead boy friend. However, if you drink too much, Mia will make coffee for you. [JAM 1/18/2010]
["... Joel Schumacher - a friend with my good at heart - said to me about September, 'Why would you want to make a film like that?' I guess it's inexplicable to many people why I'd want to do something that's so far from what I'm recognized as doing all the time that I can't do well, and that there's no market for even if I bring it off. They have a point, but I always politely say, 'I guess you're right,' and go on doing what I'm doing." Conversations with Woody Allen 2006]
[" ... we have Woody Allen, whose humor has become so sophisticated that nobody gets it anymore except Mia Farrow. All those who think Mia Farrow should go back to making movies where the devil gets her pregnant and Woody Allen should go back to dressing up as a human sperm, please raise your hands. Thank you." Dave Barry's Greatest Hits]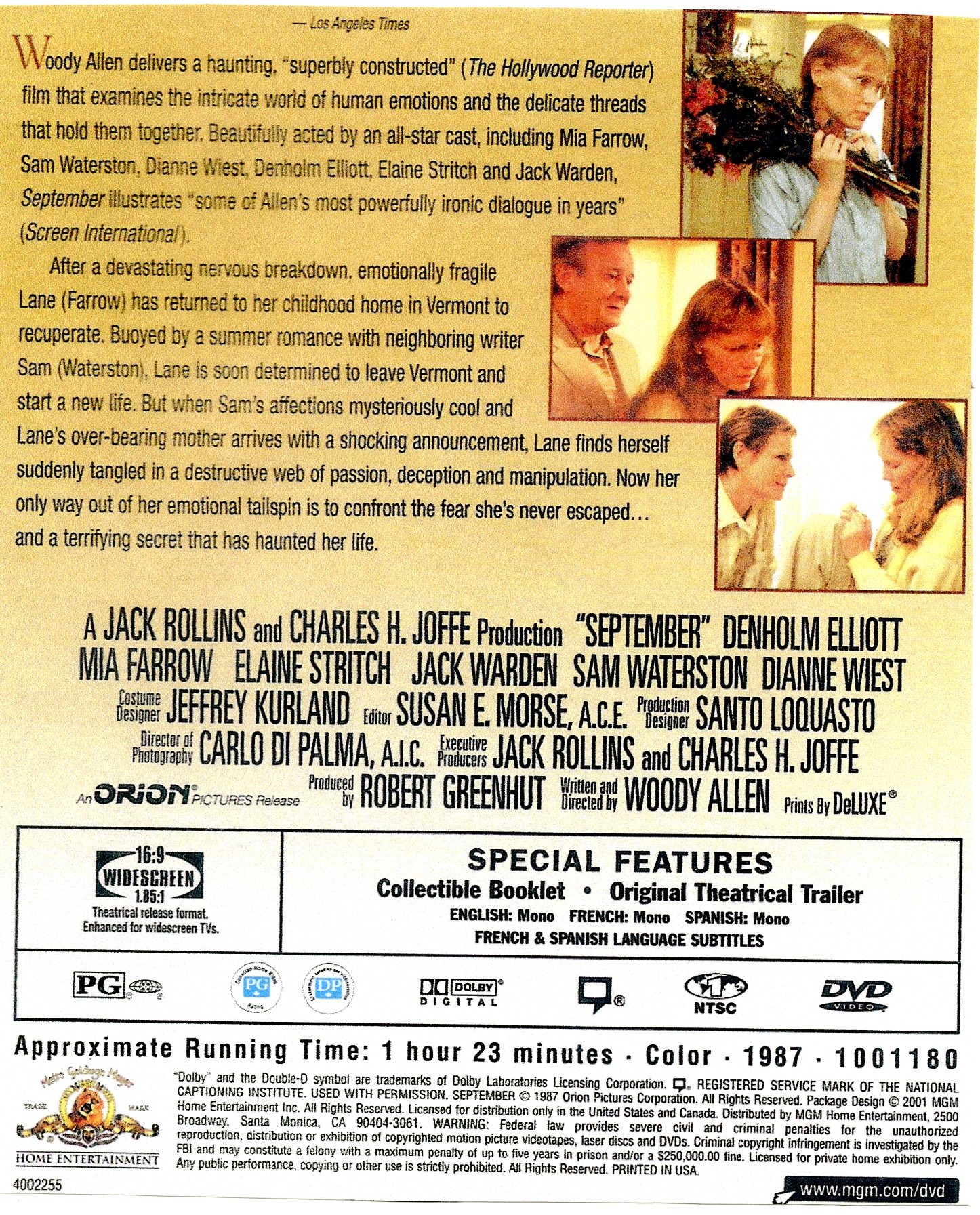 King Lear (directed by Jean-Luc Godard) - 1987 (actor)
Three Films of Woody Allen: Zelig, Broadway Danny Rose, The Purple Rose of Cairo - Random House - 1987 - 473 pages
Another Woman (Woody Allen) - 1988
The title of this movie should have been "Everybody Hates Gena." Ms. Rowlands plays the attractive professor of German philosophy who eavesdrops on the conversations of her psychiatrist neighbor and cannot understand why nobody likes her. Woody has packed this story with every possible negative situation and embarrassing conversation. This was the last movie for the great John Houseman (1902-1988) who died in the same year as the movie was released. Gene Hackman, Blythe Danner and Sandy Dennis (1937-1992) had small parts. [JAM 2/8/2010]
["... originally I thought Marion would be a cold person surrounded by nicer people. But that wasn't the impression that was formed as we filmed ... At first it occurred to me that this was even more interesting than I had planned because she's not as one-dimensional. So I started to add scenes to show her depth." Conversations with Woody Allen November 1987]
"It was the kind of drama that interested me, that kind of odd, poetic, metaphoric drama. It was hard to handle. I did the best I could with it. I had such a great actress in Gena Rowlands, and Ian Holm was tremendous." Conversations with Woody Allen November 2005]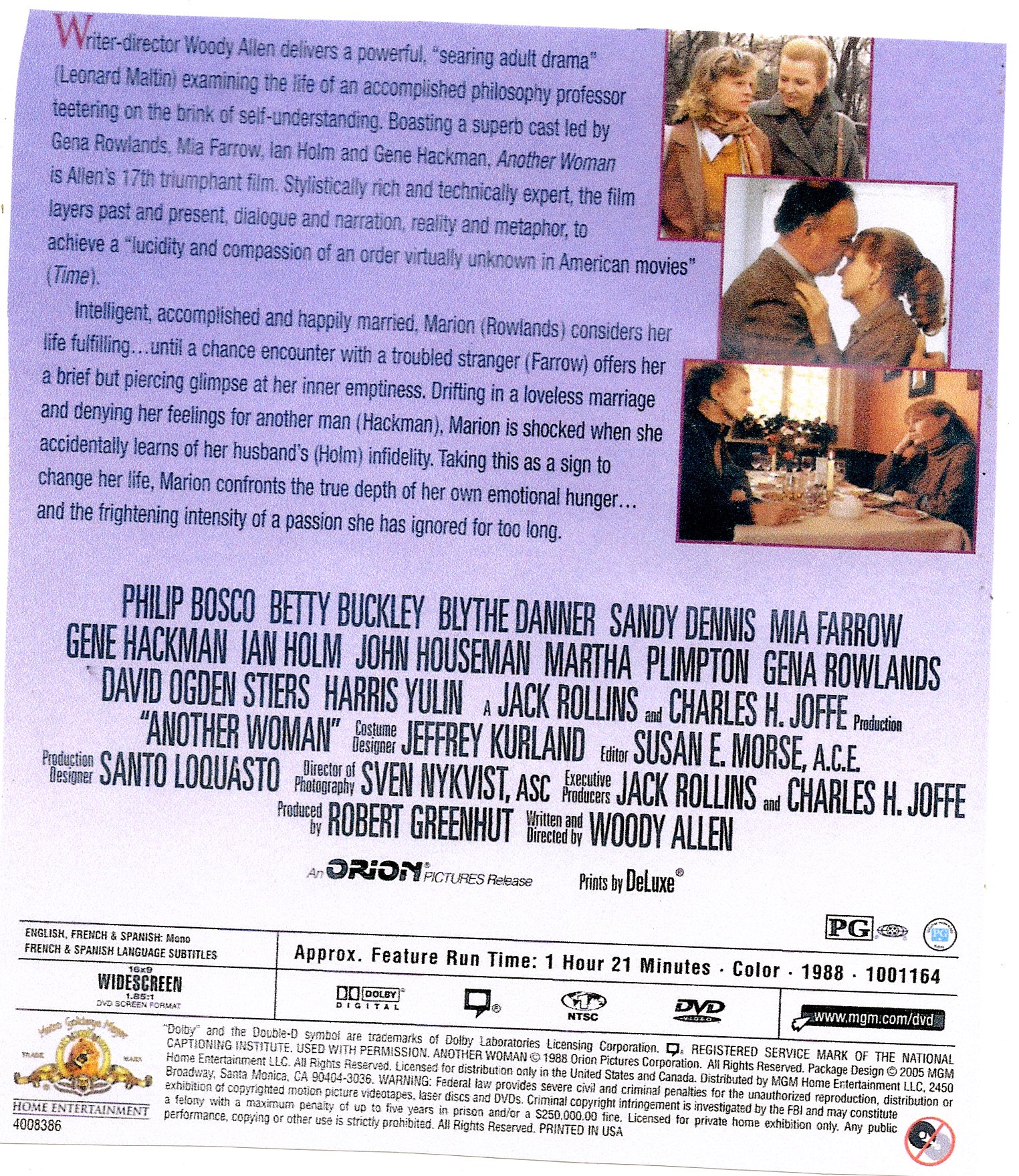 New York Stories (1989)
This movie consists of three 30-minute short stories in a New York setting. The best is Oedipus Wrecks directed by Woody Allen. The other two are tied for worst.
Life Lessons (Martin Scorcese) - Nick Nolte is the acclaimed loner artist of monstrous murals who smothers one assistant/girl friend at a time. Rosanna Arquette is the expendable assistant and aspiring painter who finally escapes the grasp of the dysfunctional lion. Kirsten Dunst, Deborah Harry, Jo Jo Starbuck and Peter Gabriel have small parts.
Life Without Zoe (Francis Coppola) - Precocious Zoe (Heather McComb) lives in a hotel and regularly takes a taxicab to school since her wealthy parents are always traveling. Don Novello (Father Guido Sarducci and Laszlo Letters) is her valet and sitter. This movie suffers from way too many 12-year-olds who cannot act a lick. Adrien Brody and Chris Elliot have small parts.
Oedipus Wrecks (Woody Allen) - Woody's Jewish mother (Mae Questal 1908-1998) is a constant nagger and pain-in-the-neck who disapproves of his fiance (Mia Farrow). Woody wishes that his mother would disappear and a local magician makes it happen. However, three days later she comes back as the giant Mom-in-the-Sky. Woody's mom proceeds to speak to people in the street and generally tells the entire population of NYC about his shortcomings. Woody finally hires a Jewish psychic (Julie Kavner), who did laundry for Genghis Khan in a past life, to exorcize his mother from the sky. Meanwhile, Mia tires of the criticism and departs and Woody falls in love with Julie's boiled chicken. Mom then comes back down from the sky because she approves of the new girl friend who could be her clone. The film features many nice photos of New York including a skyline showing the World Trade Center twin towers. Mayor Ed Koch and Larry David have small parts. [JAM 2/16/2010]
["Any time I made films with special effects prior to digital technology I really had to labor because I never had any money for experiment and no flair for it, either, but now I can do it much better. I still don't have the money, it's still expensive. I know it cripples the front office when I come in and need some of those effects." Conversations with Woody Allen February 2006]
Crimes and Misdemeanors (Woody Allen) - 1989
This movie is about two stories that do not seem to have anything in common until the protagonists meet at a wedding at the end.
Optometrist Martin Landau has a problem. His girl friend (Anjelica Huston) wants to meet his wife (Claire Bloom). Landau's good conscience (Sam Waterston) tells him to come clean with his wife. His brother and bad conscience (Jerry Orbach 1935-2004) tells him to eliminate the problem. In the end, the Waterston character loses his battle with his ocular disease.
Documentary filmmaker Woody also has a problem. He wants to end his loveless marriage and get together with soul-mate Mia Farrow. Mia likes Woody but is also attracted to megalomaniac Alan Alda who wears pink sweaters. Alda hires Woody to make his biopic but gets upset when Woody's first cut compares Alda to Mussolini. Go figure.
Woody uses several of his movie-making tricks including ample tie-ins with black-and-white movie clips seen during his many trips to the local cinema with his niece (Jenny Nichols) and Mia. There is also a very creative scene where Landau goes back to his childhood home and has a conversation with his family at the dinner table, interrupting their discussion of religion versus truth.
As usual, the dialog is excellent. There were two comments that seemed to be the running themes: 1. "History is written by the winners" and 2. "We define ourselves by the choices we make." There are no easy answers in Woody's movies. [JAM 3/3/2010]
["To me it's a damn shame that the universe doesn't have any God or meaning, and yet only when you can accept that can you then go on to lead what these people call a Christian life - that is, a decent, moral life. You can only lead it if you acknowledge what you're up against to begin with and shuck off all the fairy tales that lead you to make choices in life that you're making not really for moral reasons but for taking down a big score in the afterlife. So the film inspired a lot of talk in that area and I'm glad. I'm glad it wasn't regarded just as a suspense murder mystery ..." Conversations with Woody Allen February 2006]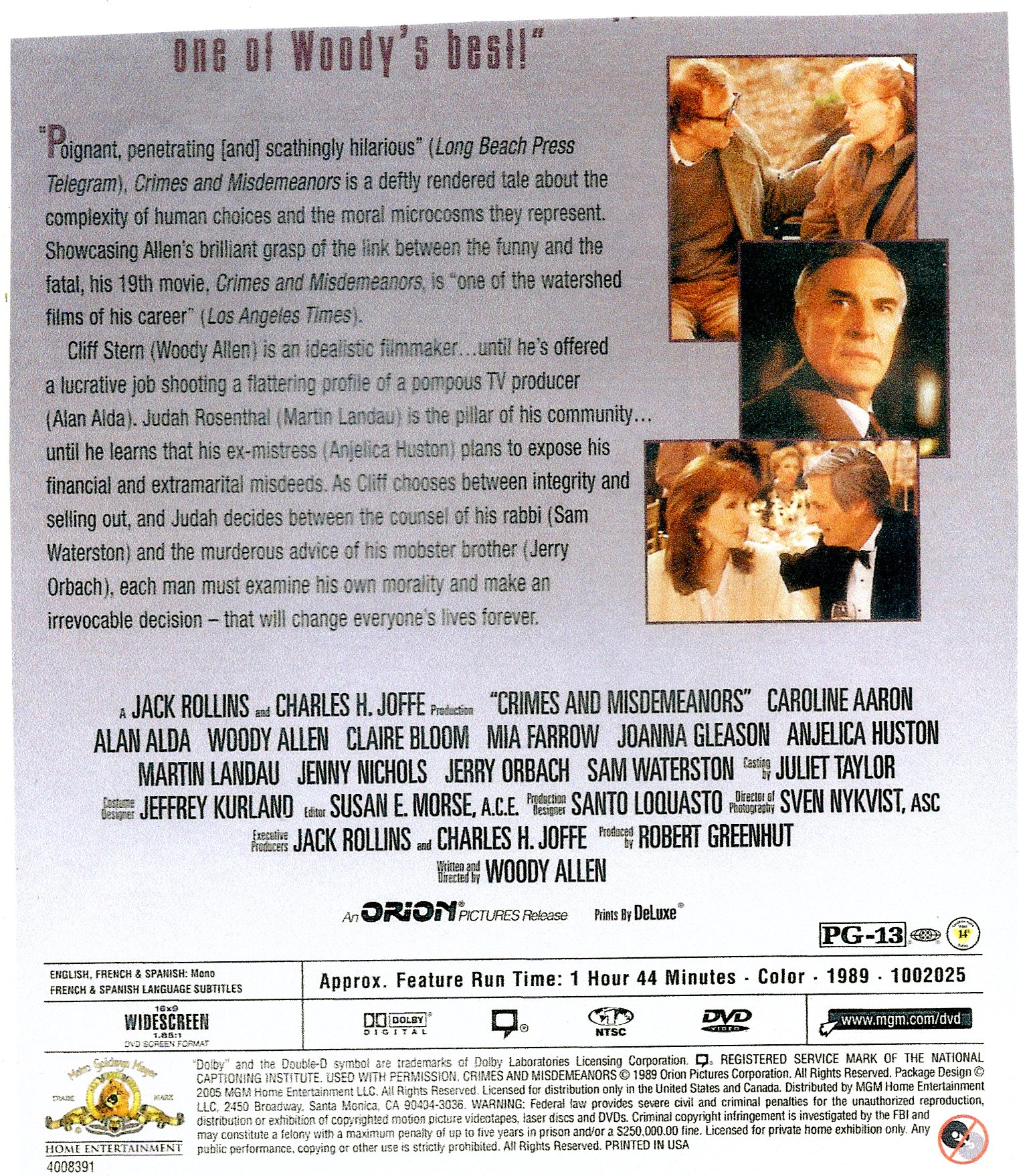 Somebody or the Rise and Fall of Philosophy (Short) - 1989 (writer)
Alice (Woody Allen) - 1990
Woody's "Alice" (Mia Farrow) lives in a wonderland of wealth and privilege, but she wants more - namely a lover and a career. Mia's character is the poster child for insecurity, self-doubt and self-deprecation. She cannot decide whether she should continue to be the rich, loving mother of two healthy children with a cook, nanny and chauffeur, or go to Calcutta and live in filth with Mother Theresa. Fortunately, she has friend in Dr. Yang (Keye Luke 1904-1991) who has a cabinet full of mind-altering herbs. However, Mr. Yang's tricks also prove not to be enough for this vapid woman. I think that Woody was running out of ideas for Mia as lead actor in 1990. Unfortunately for Woody's fans, there are two more Mia movies (Shadows and Fog and Husbands and Wives to come before the breakup. Love that red hat though. [JAM 3/11/2010]
["I wanted to do something about a rich Upper East Side lady ... like the kind I used to see when I took Dylan to school. I would see these mothers in sneakers and running suits with a Blackglama sable or mink coat over it and I always got a kick out of that. Now, there are people who resent that kind of thing. I'm not one of them. I am amused by it, affectionately. There is a line in Alice that I don't exactly remember but it is about if the kid doesn't get into the right preschool he won't get into the right college. That whole world interested me." Conversations with Woody Allen February 2006]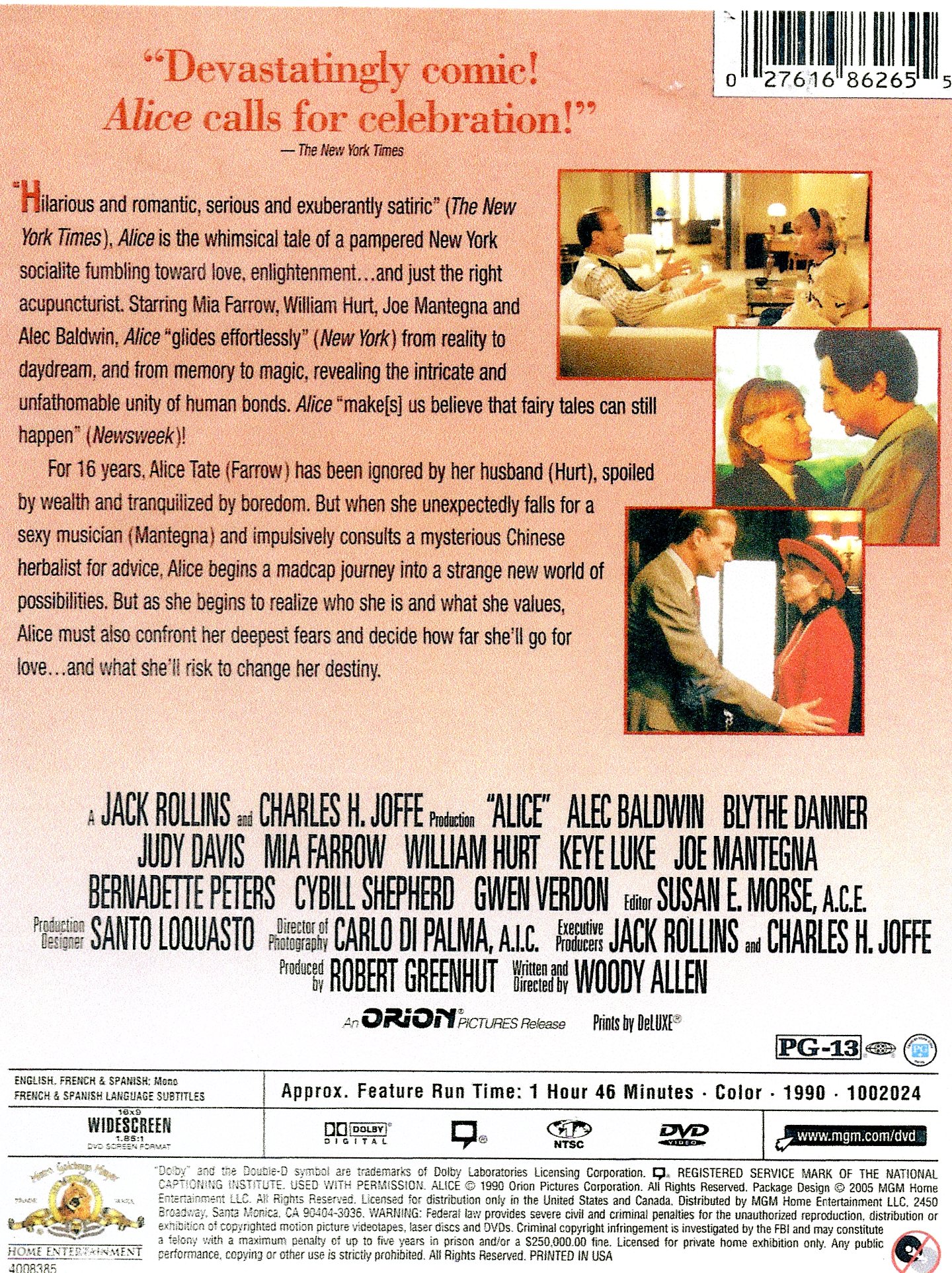 Shadows and Fog (Woody Allen) -1991
This movie was filmed in black-and-white and entirely at night. So, it is mostly black. Lovers of black-and-white photography will appreciate this production or what they can see of it. The entire movie was filmed on a 26,000 square foot indoor set. Woody is a milquetoast clerk in a town full of paranoiacs. He is drafted by a vigilante group to help trap a strangler who sometimes slits throats. Mia is in the circus visiting the town. She is the sword-swallower living with a cheating clown (John Malkovich). Mia flees the circus and meets John Cusack in a brothel that is also home for prostitutes played by Lily Tomlin, Kathy Bates and Jodie Foster. Woody and Mia join forces at the police station where they are treated like common criminals. The purposes of this story are to show what fear can do to normally-decent townsfolk and to let Woody explore the intricacies of darkly-framed fog scenes. David Ogden Stiers, Madonna, Donald Pleasence (1919-1995), John C. Reilly, Fred Gwynne (1926-1993), William H. Macy, Julie Kavner, Wallace Shawn and Kenneth Mars have small parts in this all-star cast. [JAM 3/24/2010]
["... the picture is in the writing, and people weren't interested in the story. You know when you're doing a black-and-white picture that takes place in a European city at night in the twenties, you're not going to make big bucks. Nobody liked the picture ... It just looked great. There was pleasure in the way it was photographed. Again, I make these films to amuse myself, or should I say to distract myself. I wanted to see what it would be like making a film all on a set, outdoors being indoors. And setting it during one night and having all these characters and this old European quality to it. The hope always is that others will enjoy it when I'm finished ... It fulfilled that desire that keeps me working, that keeps me in the film business. I do all my films for my own personal reasons, and I hope that people will like them and I'm always gratified when I hear they do. But if they don't, there's nothing I can do about that because I don't set out to make them for approval - I like approval, but I don't make them for approval." Conversations with Woody Allen - February 2006]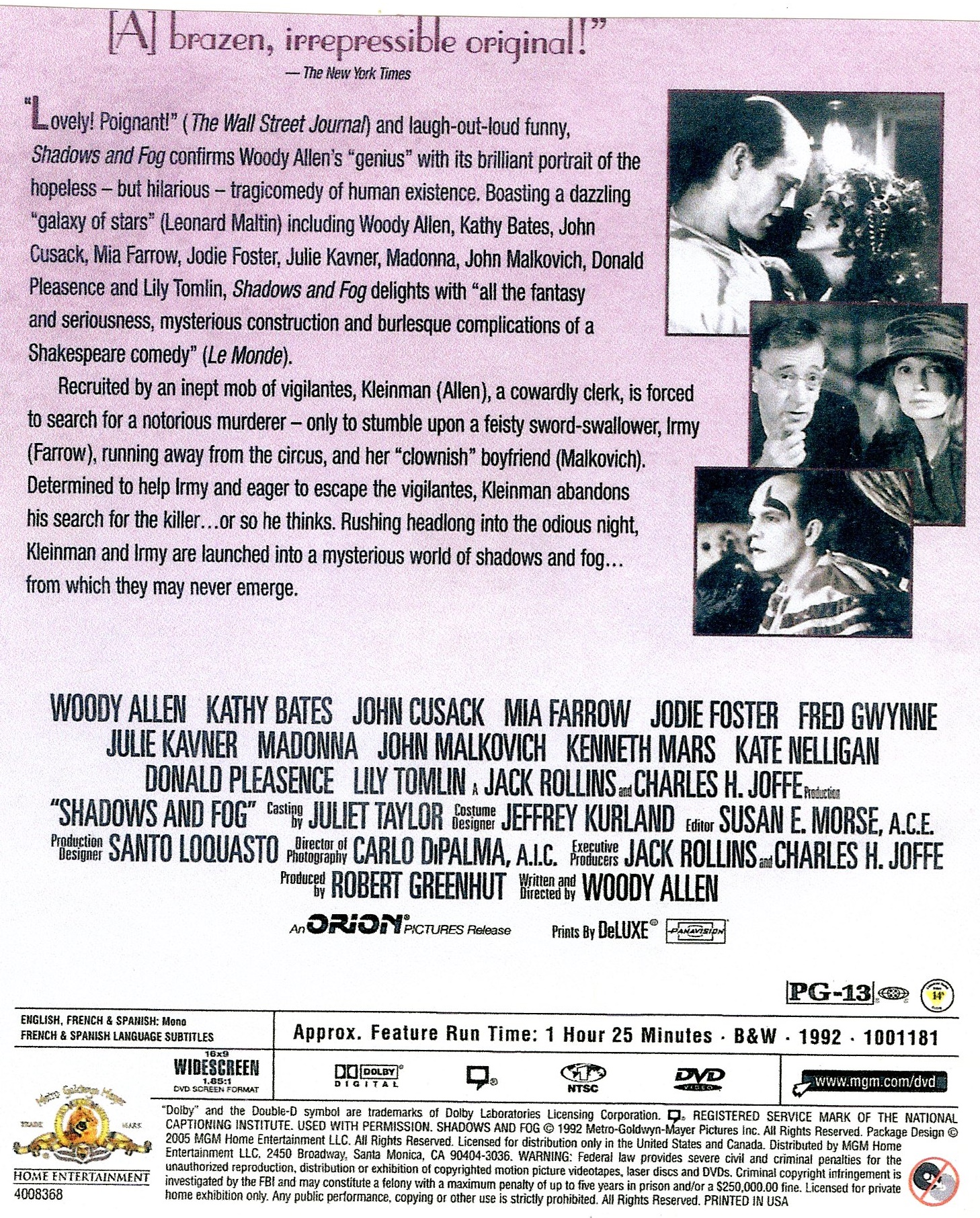 Scenes from a Mall (directed by Paul Mazursky) - 1991 (actor)
Husbands and Wives (Woody Allen) - 1992
This was the 13th consecutive and last Woody Allen movie for Mia Farrow and we all know why it was the last. Filmed in a semi-documentary format, the movie examines marriages and relationships, many of which mirror Woody's experiences at the time. He seems to be sending Mia a message with the lines he wrote for her. Mia's character describes herself as a "dull wife" and asks husband Woody leading questions such as: "Do you ever hide things from me?" and "Do you think we'd ever break up?" and "Are you unhappy in our marriage?" and "Do you want somebody new?" Woody and Mia's best friends are played by Sydney Pollack (1934-2008) and Judy Davis who are intentionally irritating in over-the-top performances. While their friends are separating, Woody is flirting with a young student (Juliette Lewis) and Mia is being very nice to a co-worker (Liam Neeson). Finally, in separate scenes, Mia says "It's over and we both know it." and Woody says "Is this over?" This movie was as hard to watch as their relationship was at the time. [JAM 3/30/2010]
["Husbands and Wives was written two years before things happened with Mia. There's no correlation. I was experimenting. I felt that with the documentary style it should be open, sexually and cinematically ... She [Mia Farrow] is a wonderful actress. Any differences we had were personal. It was a pleasure to work with her. I found her very professional. I like writing for her because I was aware that she could do things that she wasn't getting a chance to do ..." Conversations with Woody Allen - February 2006]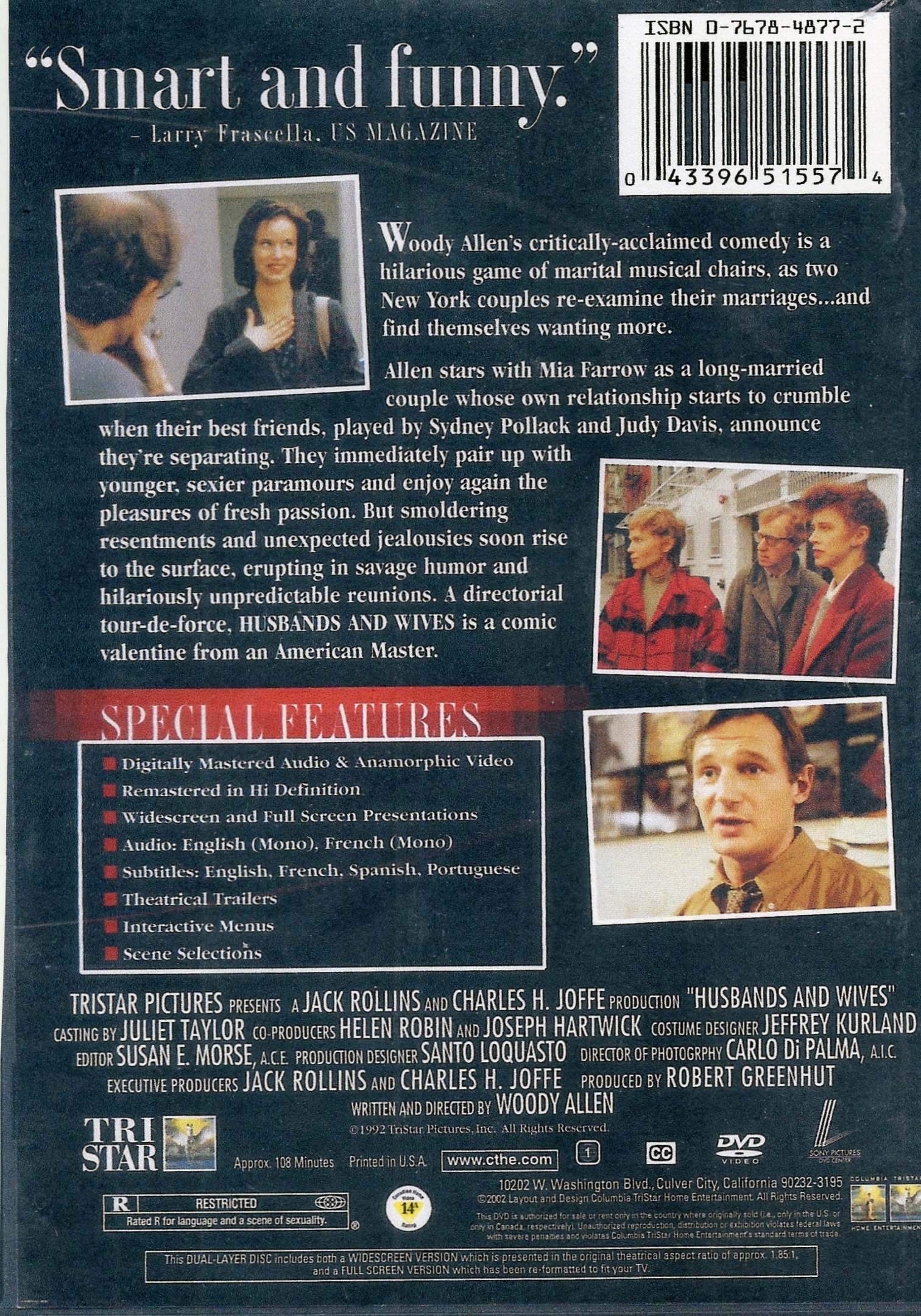 Manhattan Murder Mystery (Woody Allen) - 1993
Diane Keaton (replacing the estranged Mia Farrow) appeared in her seventh Woody Allen movie (Sleeper, Love and Death, Annie Hall, Interiors, Manhattan, Radio Days). She also appeared on stage in the Broadway play, Play It Again, Sam (written by Woody) and the movie based on the play directed by Herbert Ross. As Woody's spouse in this movie, Diane suspects a neighbor of foul play and begins to investigate to the chagrin of Woody. As the trail gets hotter, Alan Alda and then Anjelica Huston join in the fun. This was the second Woody movie for both who also appeared in Crimes and Misdemeanors. Diane and Woody continue their ad-lib banter throughout the movie that they started in Sleeper. Zach Braff appeared in his first movie as their teenage son. Woody's best line was: "I'm a detective. They lowered the height requirement." He also suggested that "Prozac and a polo mallet" would be a good substitute for psychiatric analysis. The juxtaposition between the movie plot and Lady From Shanghai in the mirrored movie-theatre ending is worth the price of admission.
The story was part of the first draft of Annie Hall. This was the fourth screenplay collaboration between Woody and Marshall Brickman. Others were Sleeper, Annie Hall and Manhattan. Brickman is a professional writer who also worked for Johnny Carson and Dick Cavett. [JAM 5/24/2010]
["... I developed this idea years ago and decided that Marshall should write it and direct it and I'd be in it. He got sidetracked in the writing and it didn't work out. So I said, 'Look, you can keep the script and if you can sell it elsewhere, it will be yours.' But he didn't. Then it just lay dormant. Then years later I said to him, 'Why don't we fool around on that script? Why don't you give it back to me and see if I can write it?' I really knew what I wanted to do with it. He agreed and I did a version for me and shot it and that was that. But we collaborated on it in the planning, which for me - and for him and for any writer - is the tough part. The actual writing of the thing I like to do for myself because I want to write dialogue I can say ..." Conversations with Woody Allen - January 2000]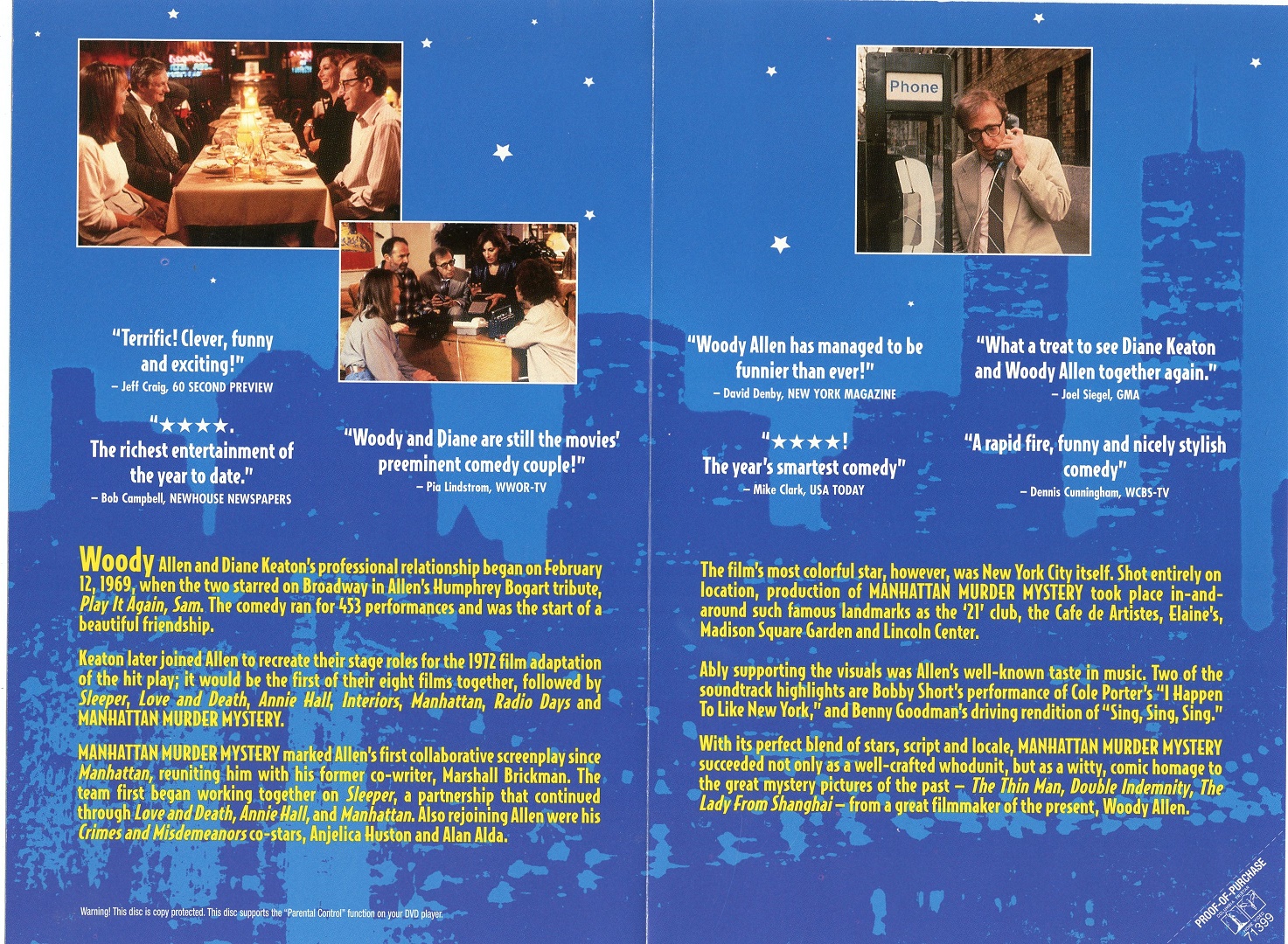 The Illustrated Woody Allen Reader (Linda Sunshine) - Alfred A. Knopf - 1993 - 288 pages
Bullets Over Broadway (Woody Allen) - 1994
This is Woody's little morality play wherein he contemplates art versus reality. John Cusack is the playwright who allows the mob goon (Chazz Palminteri) to change the play ("God of Our Fathers") that is financed by the mob boss (Joe Viterelli 1937-2004). The movie received seven Academy Awards nominations. Dianne Wiest won the Oscar for her role as the lead actress in the play. Her signature line ("Don't Speak!") lives on as a talk radio sound bite. Ms. Wiest has appeared in five of Woody's movies (September, Radio Days, Hannah and Her Sisters and The Purple Rose of Cairo). The movie was set in the Roaring Twenties with an all-star cast including Jennifer Tilly, Mary-Louise Parker, Jack Warden (1920-2006), Rob Reiner, Edie Falco and Tracey Ullman. [JAM 5/26/2010]
["I have a very realistic view of myself. Some people think it's too much or even fake humility when I say I haven't made a great movie. When I dramatize my observations of life, they say it's cynicism. But in neither case is it either. I'm telling the truth. I don't see myself as an artist. I see myself as a working filmmaker who chose to go the route of working all the time rather than making my films into some special red carpet event every three years. I'm not cynical and I'm far from an artist. I'm a lucky working stiff." Conversations with Woody Allen - January 2000]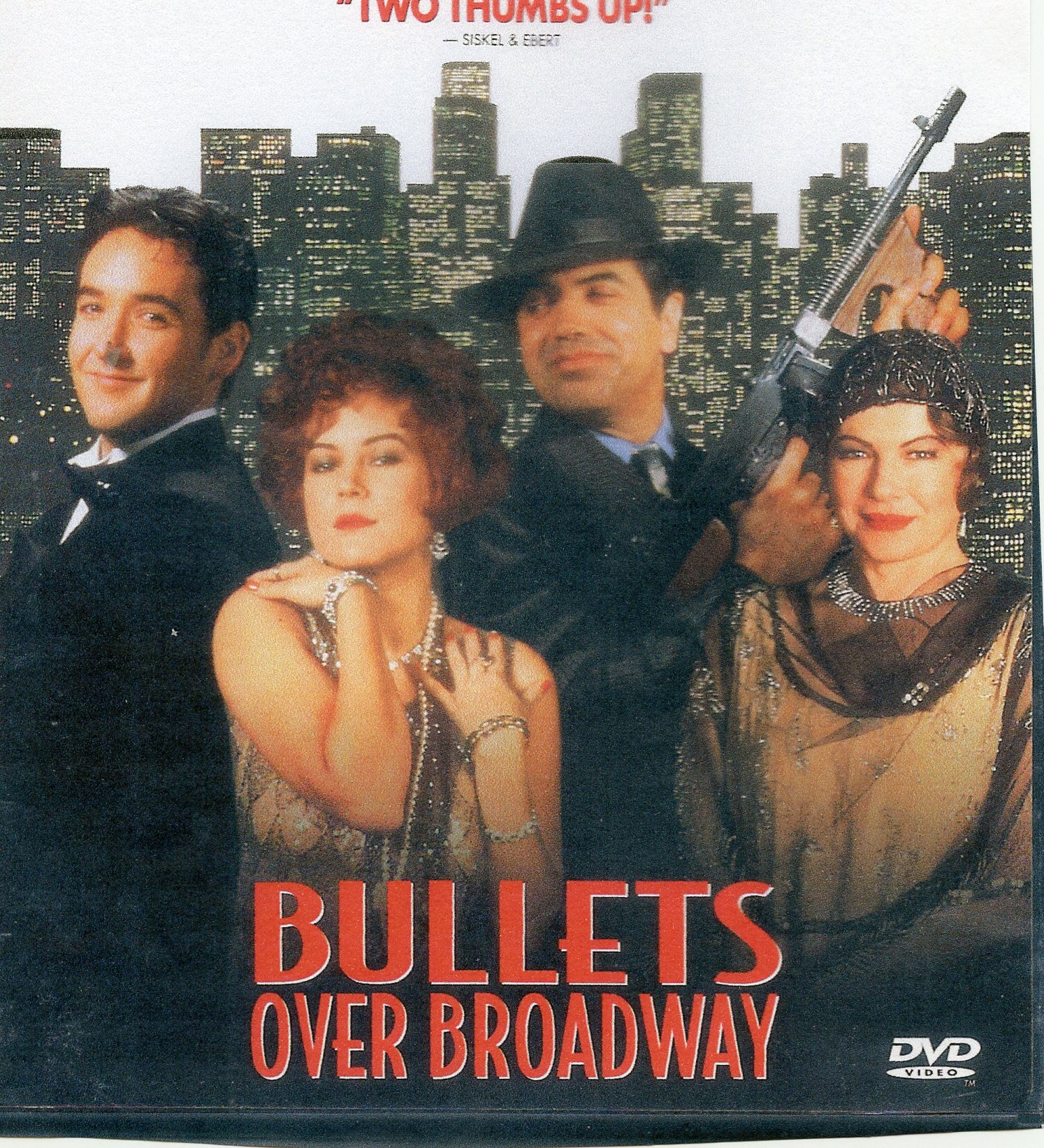 Don't Drink the Water (TV Movie) - 1994
Mighty Aphrodite (Woody Allen) - 1995
Woody had fun with the Greek chorus in this comedy. He argues with the chorus and gets lots of advice from them. Towards the end, the chorus performs some show tunes with choreography. Mira Sorvino won the best supporting actress Oscar for her portrayal as the unsophisticated, porn actress/hooker. Woody and his wife (Helena Bonham Carter) decide to adopt a son. They name him Max after ruling out Woody's suggestions that included "Groucho" and "Earl the Pearl." Woody then proceeds to track down Max's real mother that turns out to be Mira to his chagrin. Eventually, Woody comes to admire Mira and helps her exit the hooker life by trading Knicks tickets to Mira's pimp for her freedom. Jack Warden (1920-2006) has an excellent cameo turn as Tiresias, a blind man who can sometimes see quite well. [JAM 6/21/2010]
["Part of the credit for taking the edge off the profanity in Aphrodite goes to Mira. She brought a lightness to it, she played it like such a cartoon. That voice was all her. I had some uneasy moments about it during shooting, which I didn't share with her, though I thought, My God, if they don't buy in to the voice, I'm really in trouble." Conversations with Woody Allen - January 2000]
[" ... I thought I should do that with my Greek chorus. Then the idea occurred to me for the ending, which really made the idea for me, that she would have my child and I would have her child and neither of us would know it. The whole thing came together as a Greek story and I did it with the chorus. I put it together years before I made it." Conversations with Woody Allen - February 2006]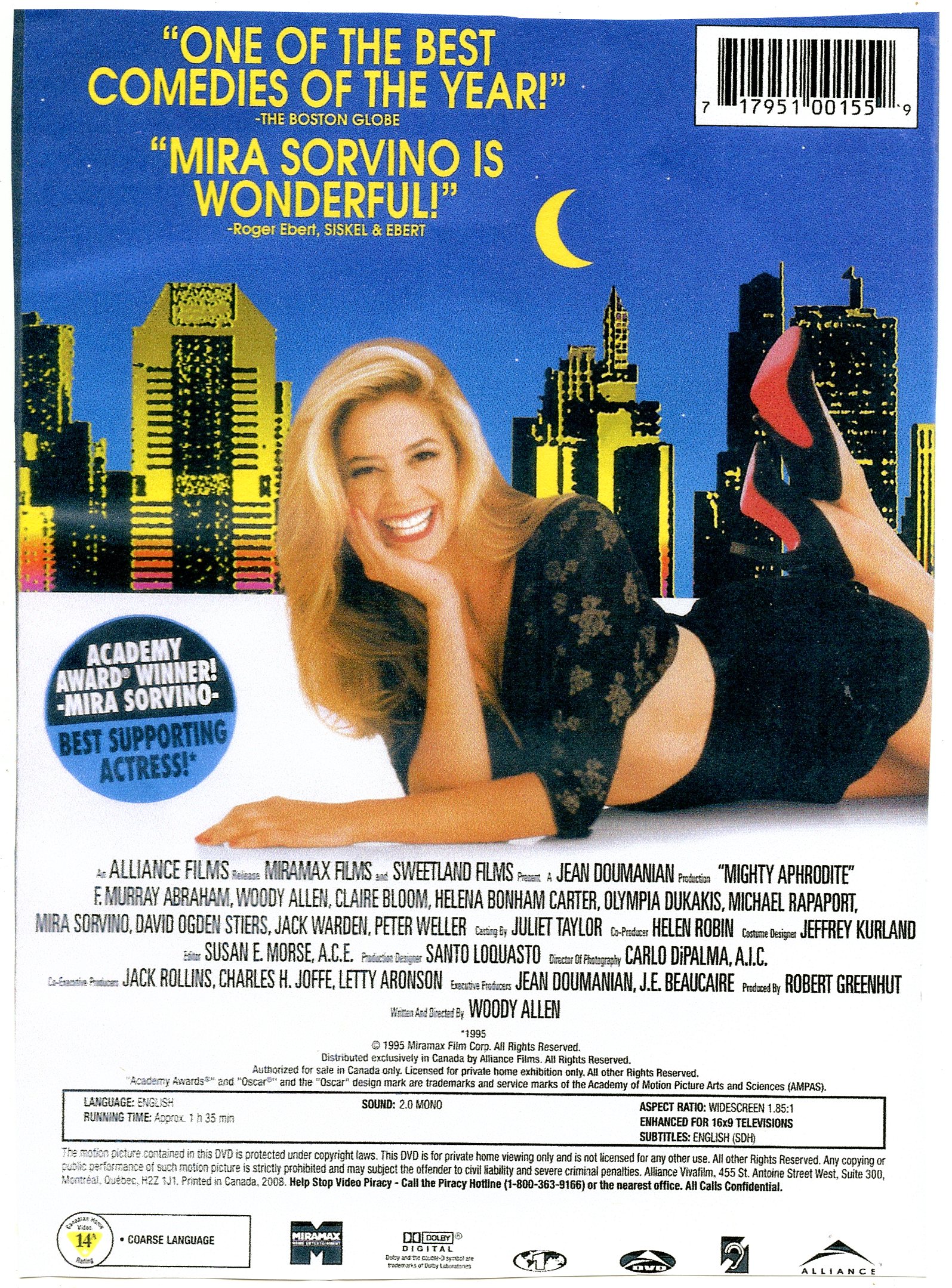 Death Defying Acts: Central Park West (play) - Variety Arts Theatre - 1995
Une aspirine pour deux (TV Movie) - 1995 (writer)
Everyone Says I Love You (Woody Allen) - 1996
This is Woody's musical. It's another all-star cast and everyone must sing. Woody (really can't sing) is a writer living in Paris. His ex-wife, Goldie Hawn (great singer and dancer) lives in New York with her second husband, Alan Alda (not a bad singer). The movie is narrated by Natasha Lyonne who plays the daughter of Woody & Goldie. Natasha has several flings including a short one with Billy Crudup in his second movie role.. Alda & Hawn have four kids. The oldest, Drew Barrymore (not her singing) is engaged to Edward Norton (can't dance) but then has a fling with an ex-con, Tim Roth (good singer). Drew has the best line in the movie: "I've never been kissed by a sociopath." The son, Lukas Haas is the conservative Republican in a house full of liberals until he is diagnosed with a blood clot that was restricting the flow of blood to his brain [Thanks, Woody]. The twin daughters are played by Gaby Hoffman and 14-year-old Natalie Portman (who can sing a little). Natalie loses the first guy to Gaby but later meets a "guy named Guy." Woody goes to Venice where he wins but then loses Julia Roberts (can't sing either). The grand finale is the Groucho party in Paris on Christmas Eve where the Groucho dancers perform "Hooray for Captain Spaulding." There really is not much of a story here but it's all about the music. [JAM 7/5/2010]
["It never occurred to me to tell anyone (about singing) because I wanted to do a musical paying no regard to whether people could sing or not." Conversations with Woody Allen - January 2000]
["There are people who adore and revere voices like Frank Sinatra and Barbra Streisand. These are miraculous voices of our time. But there are other people like myself who get a kick out of Jimmy Durante's voice and Jerry Lewis singing. And then there are people who walk down the street singing or who sing in the shower, and it's perfectly fine listening to them - for me. Someone else can hate it but I don't, so I made a film of that. It fulfilled the desire that keeps me working." Conversations with Woody Allen - April 2006]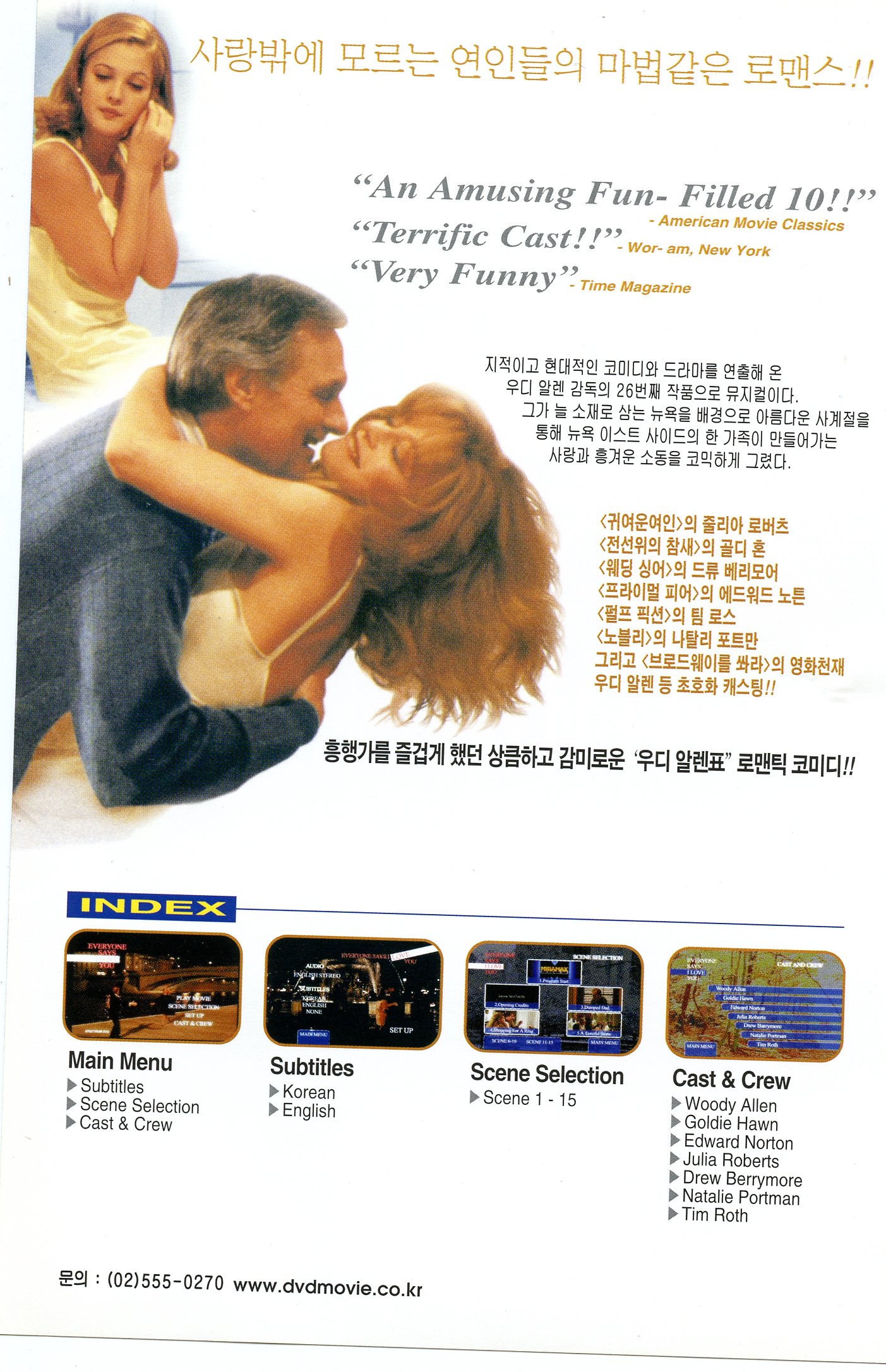 The Sunshine Boys (directed by John Erman) - 1996 (actor)
Deconstructing Harry (Woody Allen) - 1997
Woody is a neurotic writer again in this movie with writer's block. He keeps running into some of his fictional characters including Robin Williams who is always out of focus, devilish Billy Crystal who once ran a Hollywood studio, and an ax murderer (Hy Anzell 1923-2003). And as usual, Woody's character has a lot of trouble with ex-wives and girl friends. Everyone in the movie seems to have a potty mouth including Woody who sometimes seems to be mumbling the f-word. The basic plot involves a road trip to his former college where he is slated to get a lifetime achievement award for his writings. His companions for the trip include a hooker, his kidnapped son and a friend (Bob Balaban) who is not at all well. The trip does not go well and one point Woody takes the elevator to hell to rescue his former girl friend (Elizabeth Shue) from the devil (Crystal). The elevator operator identifies the denizens of the lower floors including lawyers and right-wing radio hosts. Another clever scene is the Star Wars themed bar mitzvah. It is sometimes hard to separate reality from fiction but the ride is fun with many of Woody's film devices. Annie Ross delivers an excellent version of Joni Mitchell's Twisted for the opening and closing credits. [JAM 8/17/2010]
["... he's a writer with writer's block - that immediately disqualifies me - who is willing to kidnap this kid, something that I lack the courage to do; sits home and drinks; has problems in his life; has hookers come to his house every night; his mother had died in childbirth. It just wasn't my life. It was a fictional character I made up. I tried to get somebody else to play it - I tried to get everybody else to play it. But I knew if somebody else played it they'd say it was me anyway. Still, I thought it could be played better than I could play it. I first went to Robert De Niro. I went to Dustin Hoffman. I went to Elliot Gould. I went to Albert Brooks. I spoke to Dennis Hopper. I couldn't get anyone to do it for one reason or another. One person wasn't available, one person wanted too much money, somebody else didn't want to play it because he thought he was too young. Finally, maybe less than two weeks before shooting, I said I'd play it." Conversations with Woody Allen - January 2000]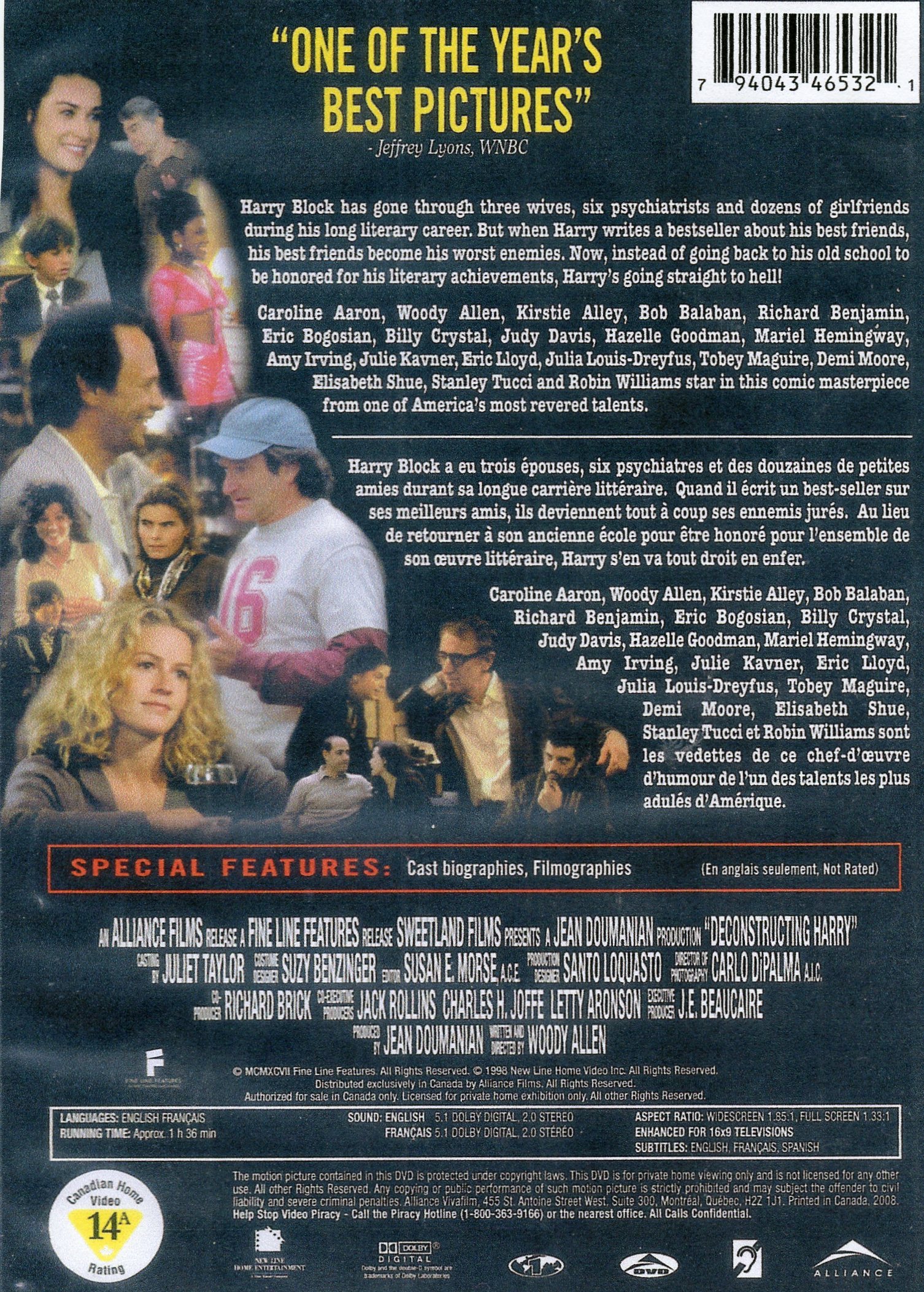 Count Mercury Goes to the Suburbs (Short) - 1997 (writer)
Celebrity (Woody Allen) - 1998
Kenneth Branagh, who seems to be imitating Woody, is a writer/interviewer who is obsessed by the celebrities he meets on the job. So, he dumps his dull wife (Judy Davis) and begins a string of affairs always looking for greener pastures. Meanwhile, Judy meets a great guy (Joe Mantegna) who gets her a job in show business. The irony is that Kenneth's ex-wife becomes the celebrity that he seeks. This is a rather long, black-and-white movie that employed scores of excellent actors. Melanie Griffith, Winona Ryder, Charlize Theron, Debra Messing, Bebe Neuwirth, Leonardo DeCaprio, Allison Janney and many more take their turns on Woody's stage. Vanessa Redgrave's scene was cut from the movie. [JAM 8/30/2010]
["I had fun doing Celebrity but people were very critical. My own feeling is that they didn't like the movie and they were searching for a reason - not consciously but emotionally - and they pinned in on that. Because the truth of the matter is, Kenneth Branagh is very different from me as a natural personality, and even if he was imitating me, which he wasn't, so what? ... The movie was a look at celebrity in our society: the obsession with fame, celebrity, the perks that it brings, the power that it brings and the whole obsession with how people respond to it and what a cushy life it leads to. Celebrity also leads to some annoying things, but my opinion is that the perks far outweigh the negatives." Conversations with Woody Allen - February 2006]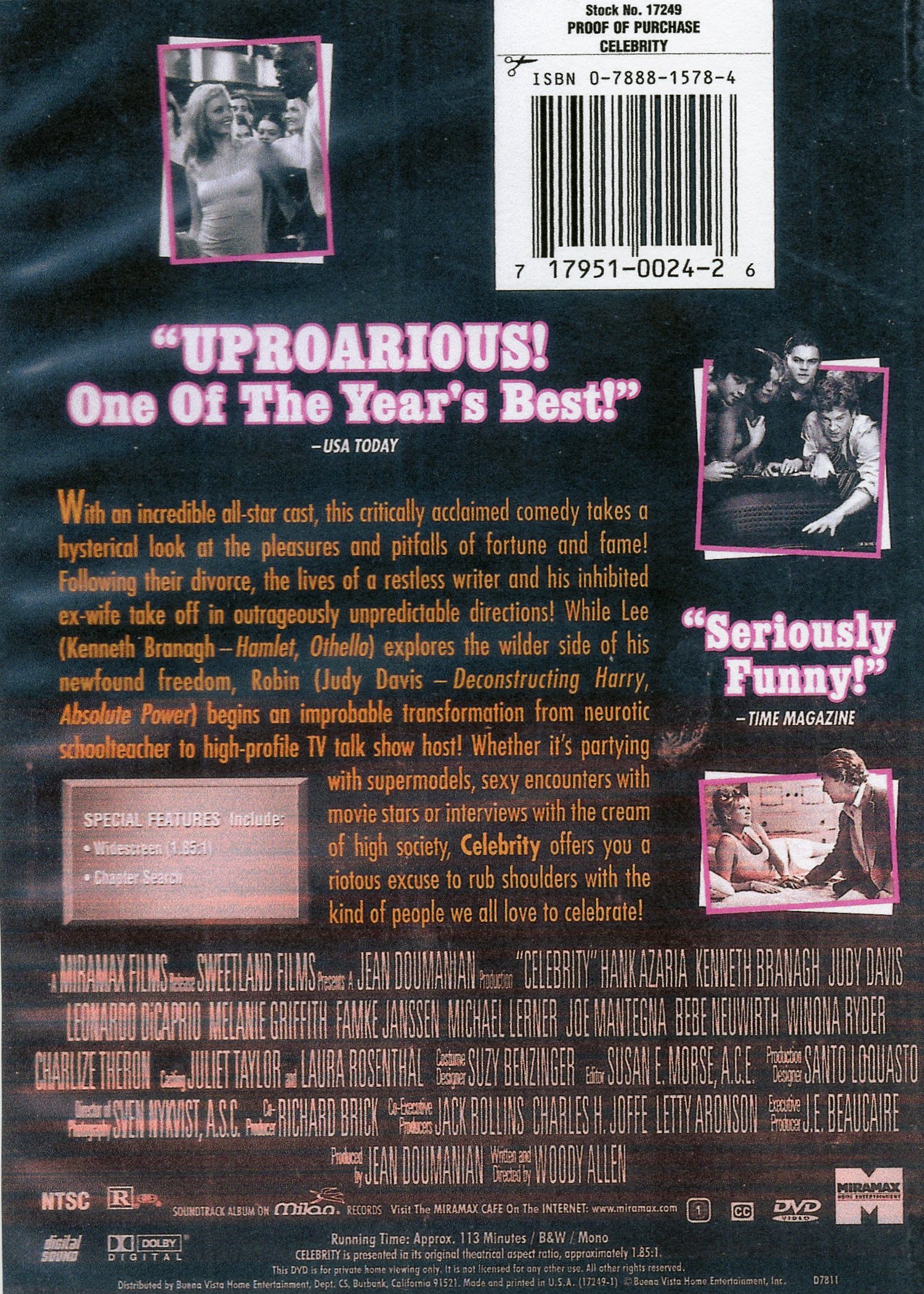 Wild Man Blues (CD) - RCA Victor - 1998
The Imposters 1998 (directed by Stanley Tucci) - 1998
Antz (directed by Eric Darnell & Tim Johnson) - 1998 (voice actor)
Sweet And Lowdown (Woody Allen) - 1999
Sean Penn plays the weasely, fictional character (Emmet Ray) who considers himself to be the second best guitar player in the world. The film is set in the 1930s and shot in a semi-documentary style. Penn/Ray is a dysfunctional artist/kleptomaniac who has trouble meeting his musical and financial obligations but seems to have plenty of time to shoot rats at the dump and watch trains pass. Samantha Morton delivers a terrific performance as Penn's mute girl friend (Hattie). Penn and Morton were nominated for Academy Awards. Woody's guitarist, Ray is mesmerized by the talent of Django Reinhardt (1910-1953) who makes a brief appearance (played by Michael Sprague) toward the end of the movie. This is one of Woody's best movies. The stars are jazz guitarist Howard Alden and musical conductor, Dick Hyman. As ever in Woody's movies, the music-lover is not short-changed. [JAM 9/8/2010]
["I was going to play in The Jazz Baby (original title), and so it would have been lighter. I would have brought a lighter sensibility. Thank God I didn't play it because it's much, much better the way Sean did it. Sean is a billion times the actor I am and a hundred times deeper and more complex and more interesting. He made the picture an interesting story. I would have made it amusing in spots, but he infused it with some impact." Conversations with Woody Allen - February 2006]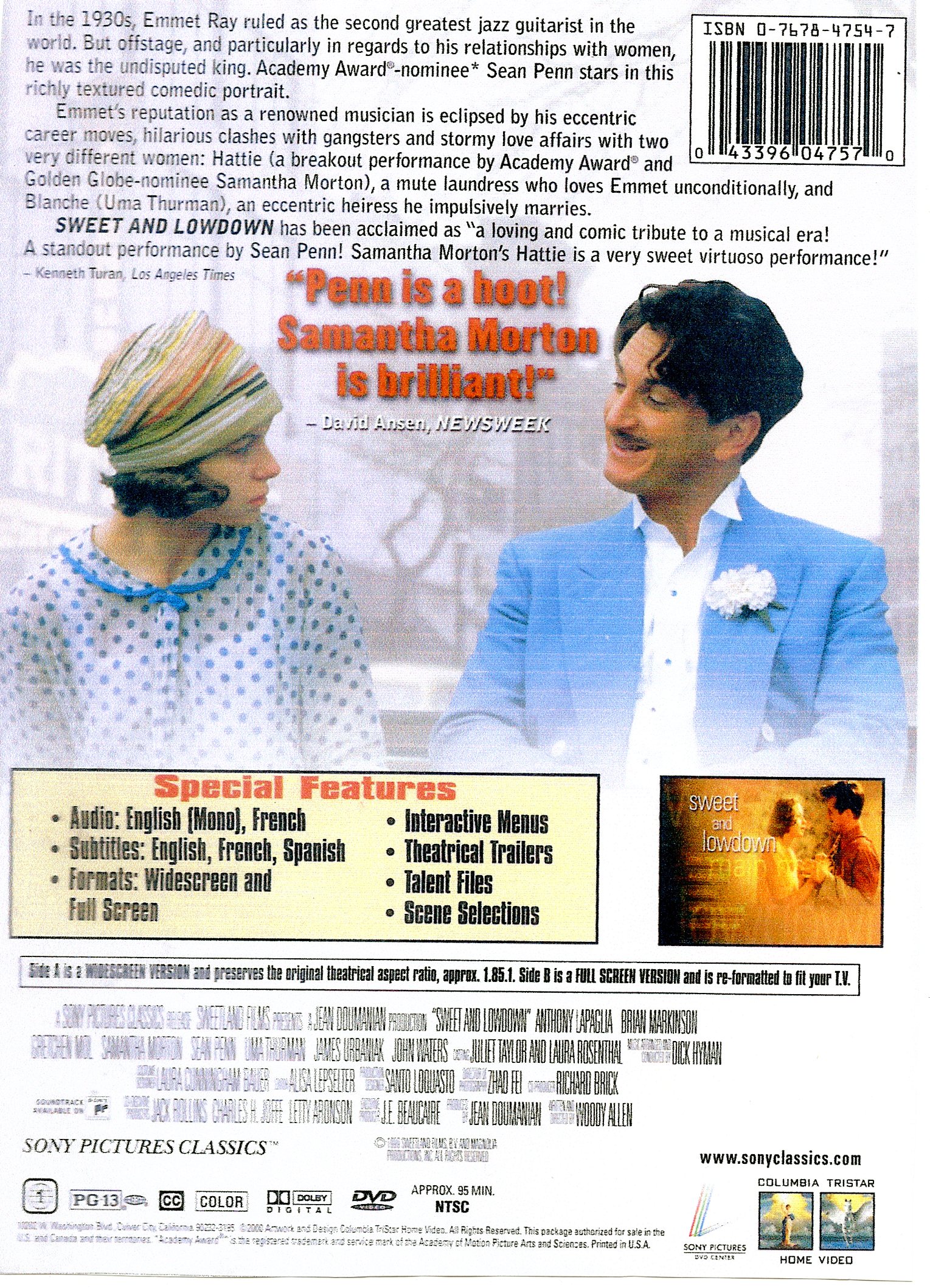 Small Time Crooks (Woody Allen) - 2000
This is Woody's rags-to-riches-and-back-to-rags movie. He plays a career criminal who is married to a former topless dancer (Tracey Ullman) who is his reluctant partner in crime. Woody plans an underground bank heist with a cookie store as a front. As you might imagine, cookie sales are wildly successful and the bank robbery is a bust. Woody & Tracey become extremely wealthy with the cookie franchise known as "Sunset Farms." They try to upgrade their circle of friends and become more cultured by holding parties for the upper class and attending boring plays and art shows. Woody wears a series of bad suits and tells his low-class jokes at the parties ("Did you hear about the Polish carpool? They meet at work."). Elaine May is excellent as Tracey's ditsy cousin, in what may have been her last acting performance. When Tracey goes to Europe with Hugh Grant, Elaine subs for her in Woody's latest scheme (jewelry theft). She also reminds Woody that: "There's more to life than turkey meatballs." Sunset Farms goes broke when the accountants take the money and run to South America. When Hugh discovers that Tracey is broke, he dumps her and goes off to work with Renee Zellweger in Bridget Jones's Diary. And, Woody & Tracey live happily ever after without all that money. [JAM 10/9/2010]
["I named the character May when I wrote it and Elaine was the first choice, as was Tracey. Zero problems with Elaine. She shows up on time, she knows her lines, she can ad-lib creatively and is willing to. If you don't want her to, she won't. She's a dream. She puts herself in your hands. She's a genius, and I don't use that word casually. It's in her voice. Tracey's also a massive comic talent - limitless in her ability. Two hilarious women." Conversations With Woody Allen - January 2000]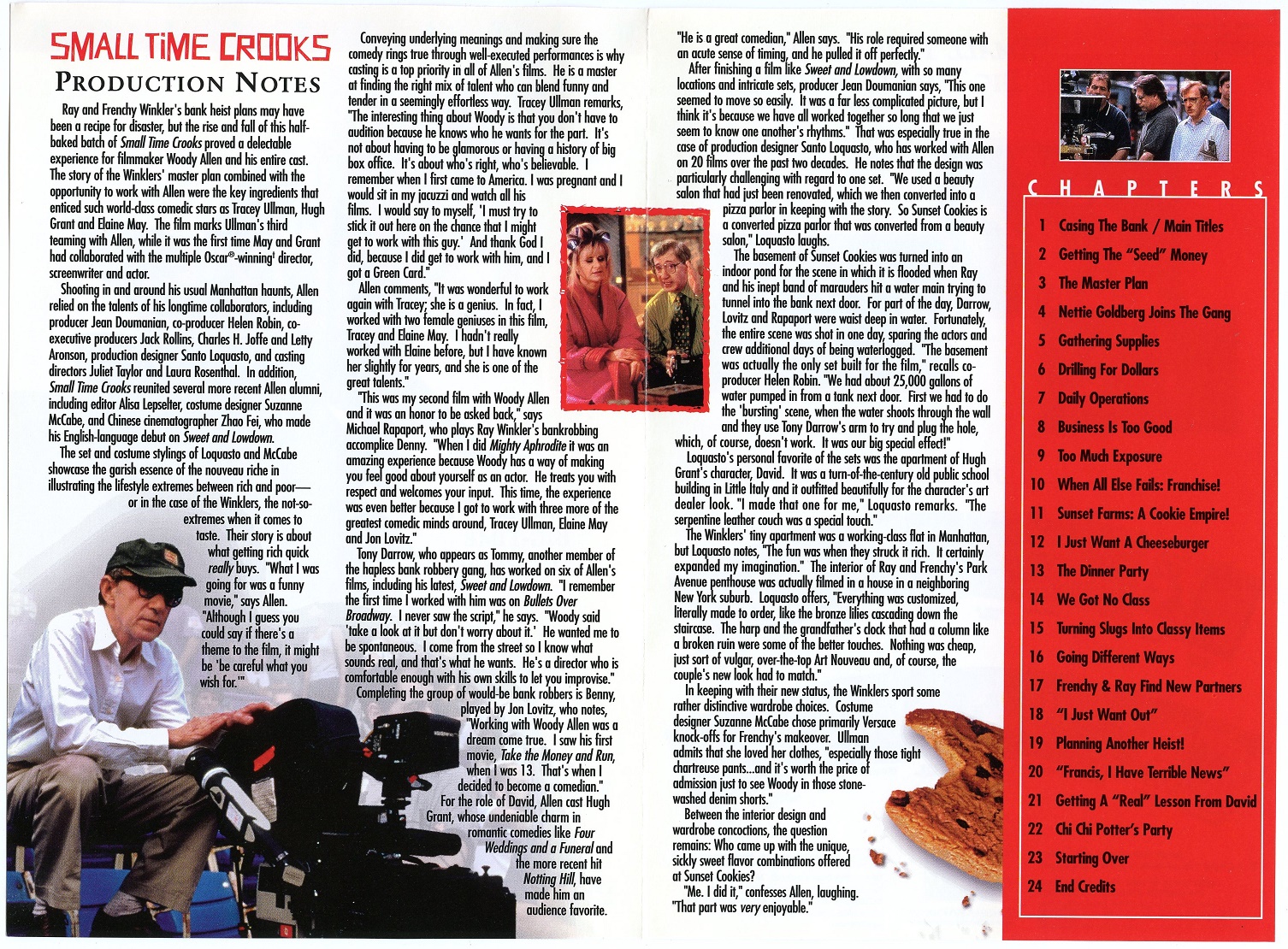 Company Man (directed by Peter Askin & Douglas McGrath) - 2000 (actor)
Picking up the Pieces (directed by Alfonso Arau) - 2000 (actor)
The Curse of the Jade Scorpion (Woody Allen) - 2001
Woody is the star investigator for North Coast Casualty & Fidelity in his romantic comedy set in 1940 when the men were all chain-smokers who wore short ties. He has a hate/hate relationship with efficiency expert, Helen Hunt who is having an affair with the boss played by Dan Aykroyd. All is well until Woody and Helen are hypnotized by magician/jewel thief (David Ogden Stiers) who uses them as stooges for his larceny. As usual, Woody employs several great character actors including Wallace Shawn as the insurance detective/amateur magician, and Irwin Corey as the not-so-blind beggar and informant. This may have been the last performance for Corey who is now 96. The music is good. The sets and costumes are great. And, Woody manages to get himself into deep trouble and then to resolve the mystery in short order. The verbal duels of Woody and Helen Hunt are worth the price of admission. [JAM 11/9/2010]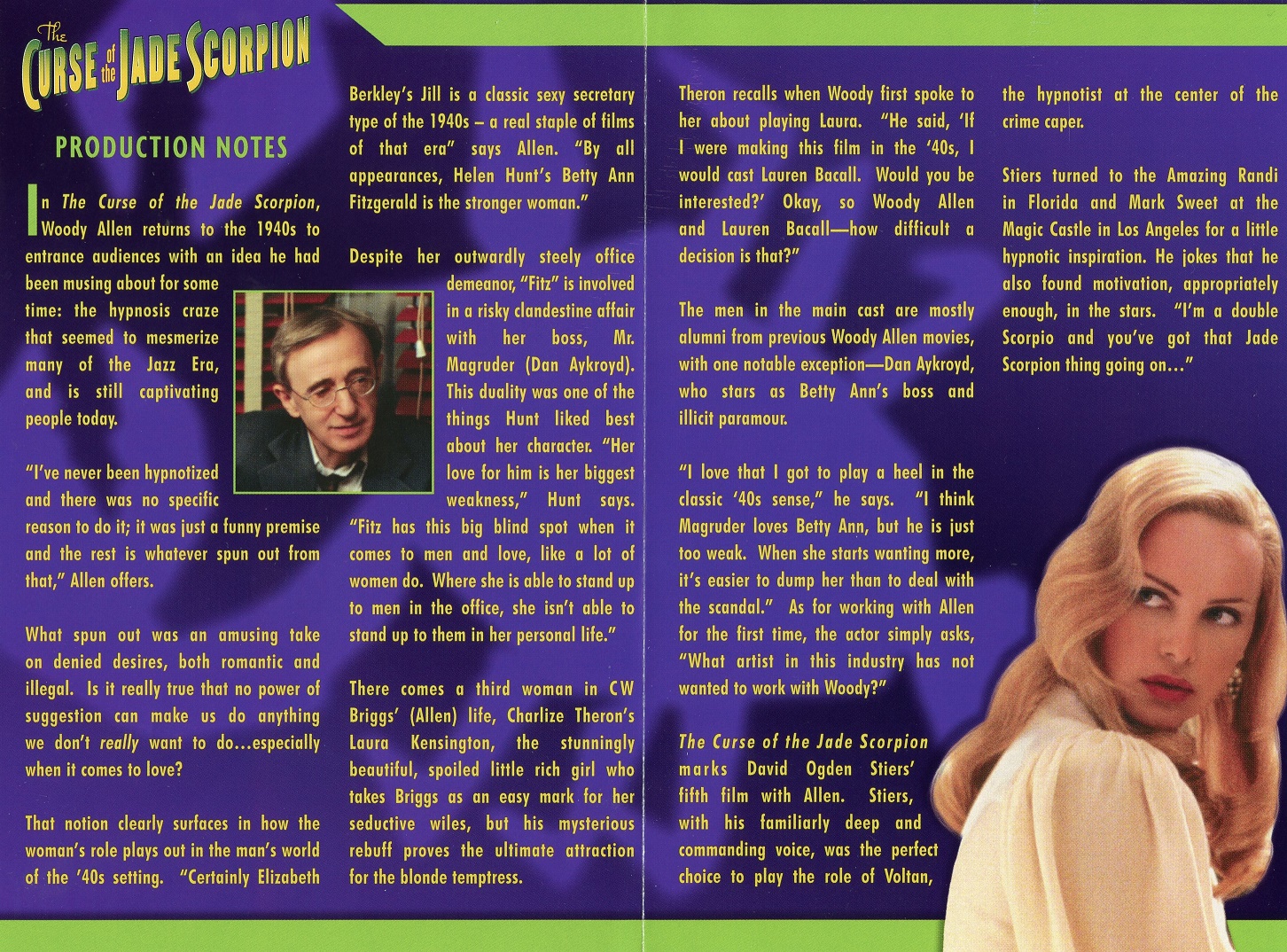 ["I had the ideas for Small Time Crooks, Curse of the Jade Scorpion, and Hollywood Ending, all three on the desk. And I said, 'Hey, I'd like to knock off these three comedies and get them off my desk.' And I did them one after the other. There were people who said, 'Gee, he's doing trivial movies. He's doing these lightweight comedies.' But I don't think that way. I just think, I want to do this one because it's on my desk. That's the idea I wanted to do at the time." Conversations with Woody Allen - November 2006]
[" ... I, from my personal point of view, feel that maybe ... it may be the worst film I've made." Conversations with Woody Allen - February 2006]
The Concert for New York City (TV Documentary) - 2001
Sounds from a Town I Love (TV Short) - 2001
Hollywood Ending (Woody Allen) - 2002
This movie suffers from too much of Woody trying to act like a blind man. He plays a neurotic hypochondriac and movie director who has recently lost directorial jobs and his second wife (Tea Leoni) because of his poor work habits. He also has an estranged son from his first marriage who has green, spiked hair and has changed his name to "Scumbag X." Basically, this is a bad movie about a director who makes a really bad movie. However, it seems that movies made by blind directors are popular in France. Hence the title. George Hamilton is excellent as Ed the studio executive. [JAM 11/22/2010]
[" ... the biggest personal shock to me of all the movies that I've done is that Hollywood Ending was not thought of as a first-rate, extraordinary comedy. I was stunned that it met with any resistance at all. I thought it was a very, very funny idea, and I thought I executed it absolutely fine, and that I was funny ..." Conversations with Woody Allen Spring 2005]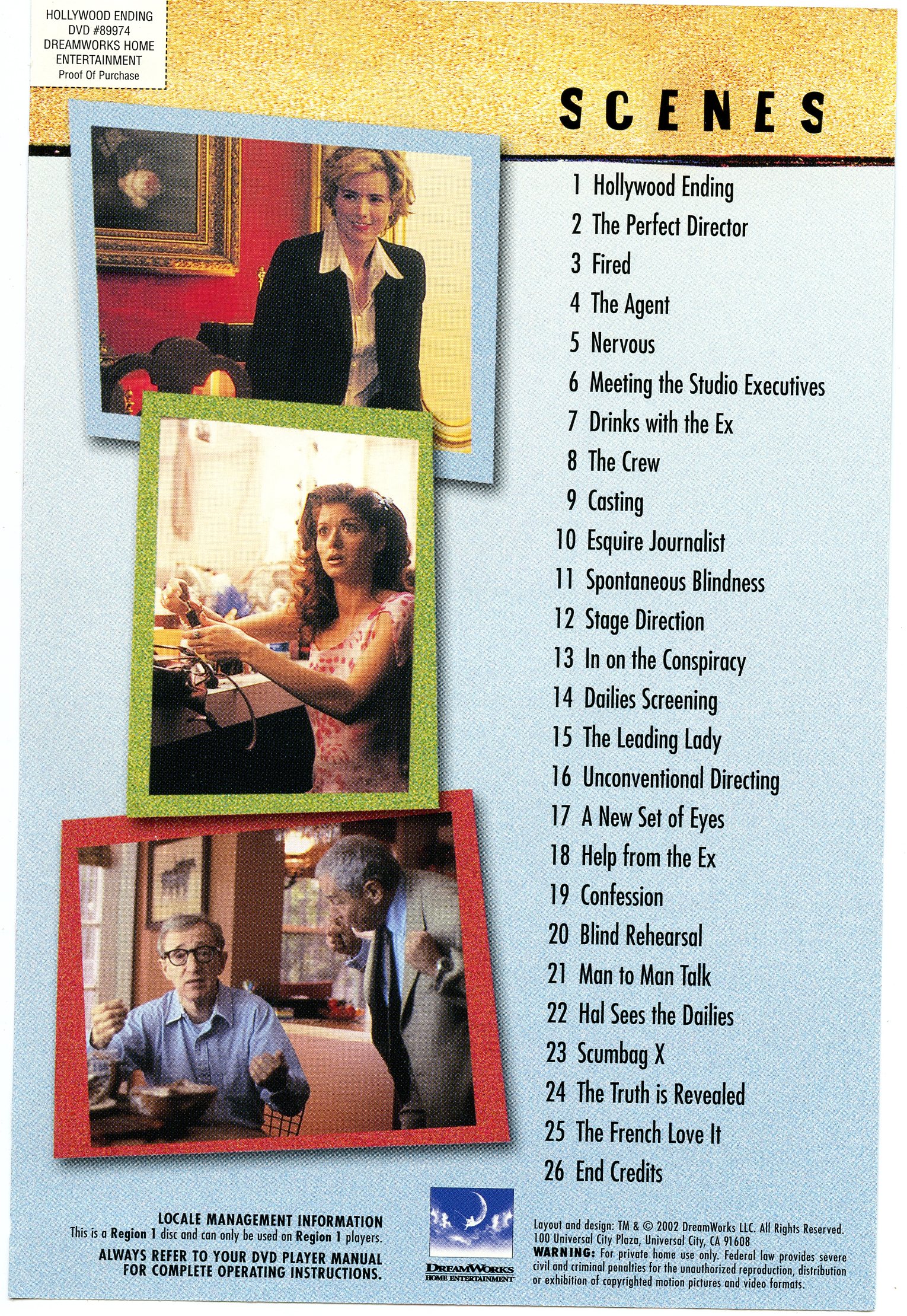 Montreal Writer (Soundtrack) - 2002
Anything Else (Woody Allen) - 2003
Jason Biggs fills the lead role as the Woody-clone who has a chain-smoking girl friend (Christina Ricci) who has been in a bad mood for six months. He also has become the victim of an over-priced agent (Danny DeVito), a mute psychiatrist (William Hill) and an annoying almost-mother-in-law (Stockard Channing) who are are all hindering his ability to be a successful comedy writer. Woody plays a supporting role as a mentor for Biggs who uses unconventional methods such as tergiversation to solve problems. Woody and DeVito have an excellent short scene in a restaurant. [JAM 12/7/2010]
["... I had the impulse to do Anything Else because the idea had been floating around in my mind for years, about an older guy who's really crazy and has a crazy view of the world and is advising a younger kid about his life, and the kid idolizes the older guy and is taking lots of advice from him. But the older guy turns out to be ... practically a psychopath. I make what I feel in the mood for at the time and I hope people enjoy it. If not, I still do what I want the next time out and hope again. I suppose if no one ever enjoyed my films I'd have been out of work long ago, but I luck out often enough." Conversations with Woody Allen - November 2006]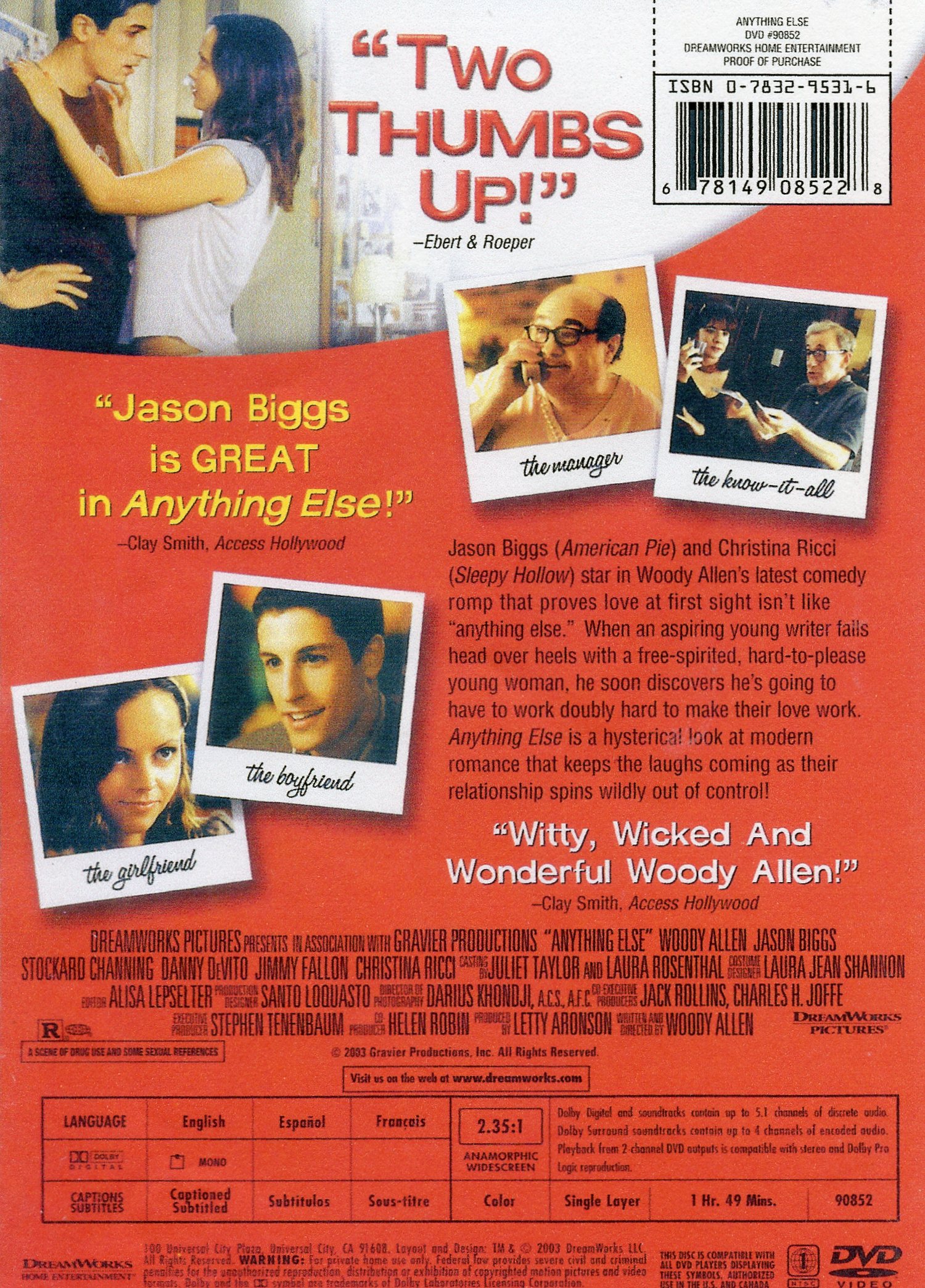 Old Saybrook (play) - Atlantic Theatre Company - 2003
Riverside Drive (play) - Atlantic Theatre Company - 2003
Last Laugh (TV Movie directed by Jeff Mazzola) - 2003 (actor)
A Second Hand Memory (play) - Atlantic Theatre Company - 2004
Melinda And Melinda (Woody Allen) - 2004
Woody demonstrates his skill at writing and directorial gymnastics with this movie that intertwines two stories, one a tragedy and the other a comedy. The central character is nutty Melinda (Radha Mitchell) who arrives unannounced by bus in the rain. Melinda wants to be an art historian but she really needs to find the right man to replace her cheating husband who she killed with a bullet. Wallace Shawn (comedy) and Larry Pine (tragedy) play the two writers who are telling Melinda's stories. Woody proves his point that similar story components can be used to make either a sad tragedy or an amusing comedy with a happy ending. But who really cares? Movie historians will appreciate this exercise for years to come. [JAM 12/29/2010]
["... the comedy part of it was not a problem for me in any way. You know, the guy likes the girl, he's downstairs and he takes her out and he's jealous, he's nervous; it's just simple as pie to me. But the dramatic part, I'm hoping when I write it - I'm having fun writing it - that it is going to have the effect I want. I got lucky in that film. I got an actress who said the material the way I heard it in my mind's ear, so I felt good about that. But I don't know what the effect's going to be when you just look at ten straight lines in a row. I don't know if anybody's going to enjoy it or get with it or be moved by it or get caught up in it - or think, Hey, when does this end so we can eat?" Conversations with Woody Allen - May 2005]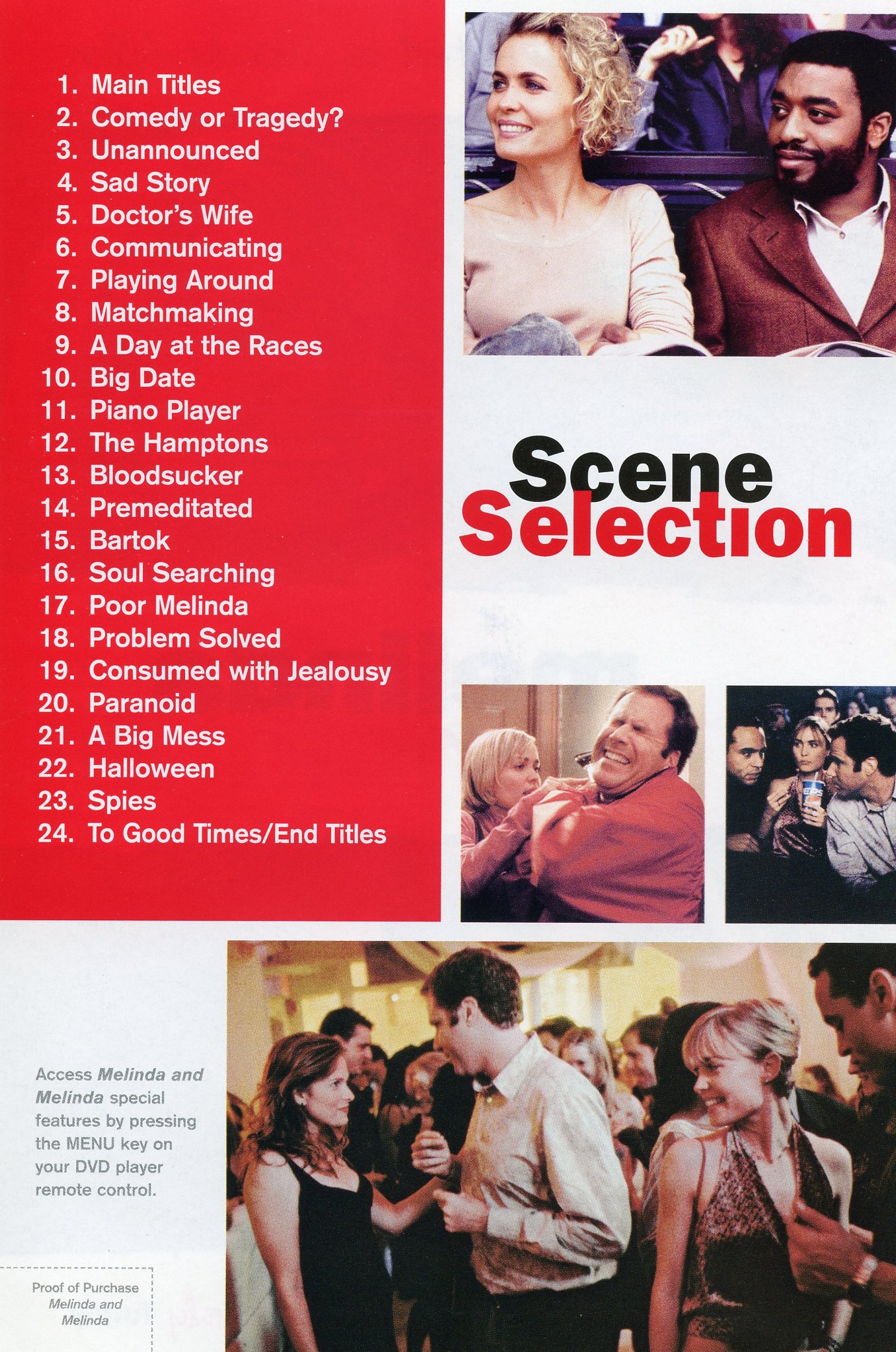 Match Point (Woody Allen) - 2005
This is Woody's movie about "luck." The title refers to a close tennis match wherein the final winning point could go either way depending upon the luck of the players. This story involves a young tennis pro (Jonathan Rhys Meyers) who lucks into a job and a marriage within a wealthy family. Although he lusts for the fiance (Scarlett Johansson) of his wealthy friend, Meyers struggles with his desires and eventually chooses the life of luxury. Sometimes it seems that crime does pay, if you are lucky. This has been the most successful of Woody's movies in which he did not appear. The cinematography is excellent and Woody's script is fine as always but it helps to have Scarlett Johansson on screen with the promise of an "R" rating. [JAM 3/2/2011]
["... I read an article someone sent me that a Catholic priest wrote about the movie. It was very nice, but he made a wrong assumption. The assumption was: if, as I say, life is meaningless and chaos and random, then anything goes and nothing has any meaning and one action is as good as the next. And it immediately leads someone with a religious agenda to the conclusion, Well you can murder people and get away with it if that's what you want to do. But that's a false conclusion. What I'm really saying -- and it's not hidden or esoteric, it's just clear as a bell -- is that we have to accept that the universe is godless and life is meaningless, often a terrible and brutal experience with no hope, and that love relationships are very, very hard, and that we still need to find a way to not only cope but lead a decent and moral life. People jump to the conclusion that what I'm saying is that anything goes, but actually I'm asking the question: given the worst, how do we carry on, or even why should we choose to carry on? ... Anyhow, religious people don't want to acknowledge the reality that contradicts their fairy tale. And if it is a godless universe, they're out of business. The cash flow stops." Conversations With Woody Allen - February 2006]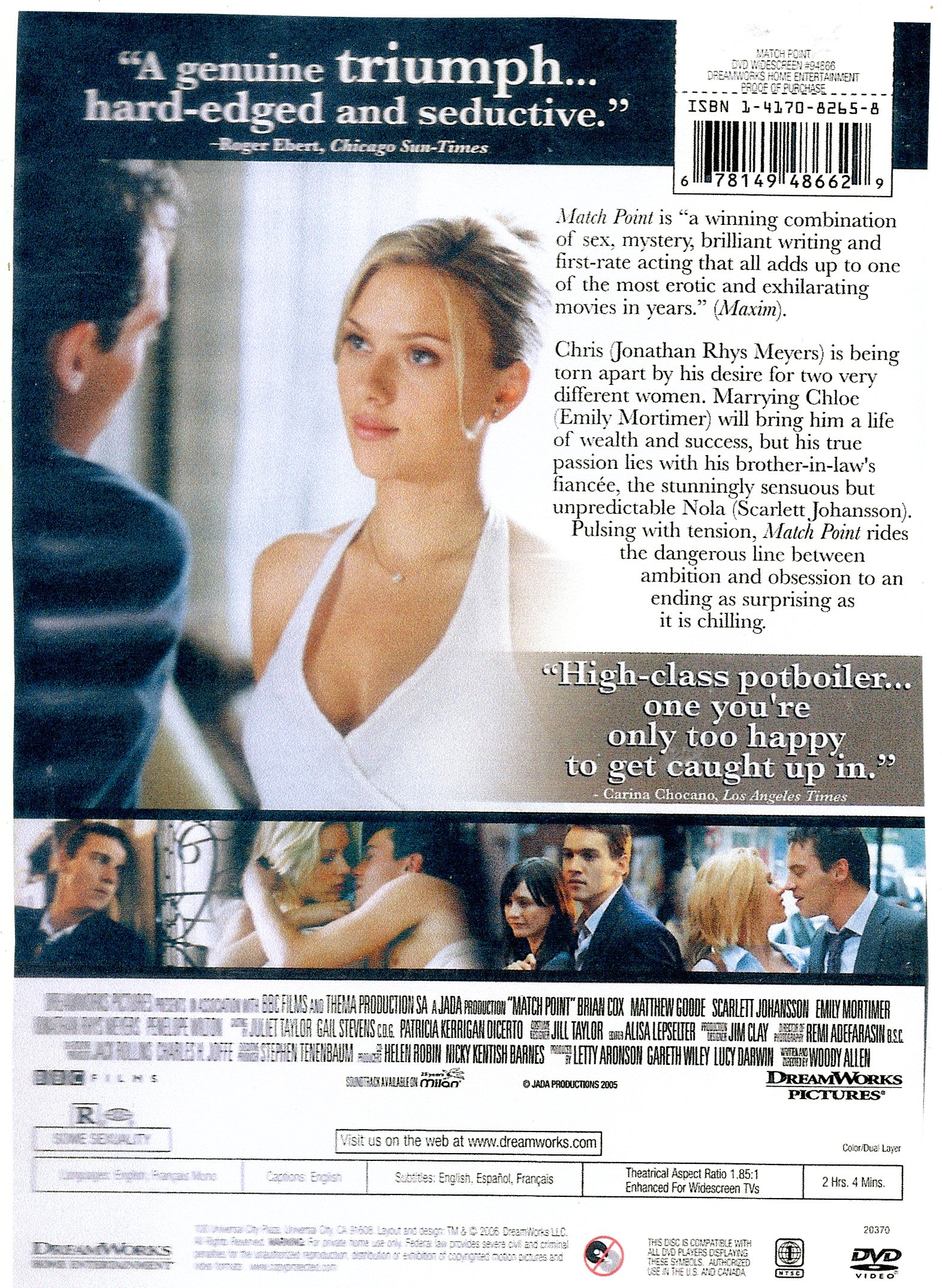 Scoop (Woody Allen) - 2006
Death has always been one of Woody's favorite subjects. In many of his movies, he has taken a humorous look at the man in black with scythe who collects the dead. Ian McShane is the veteran journalist who finds himself on the death boat after a coronary thrombosis. McShane learns about a serial killer from another passenger and decides to jump ship and tell his story to Scarlett Johansson and the magician, Splendini (Woody). Scarlett and Woody then go after Hugh Jackman, the wealthy, English suspect. In his second consecutive English production, Woody takes advantage of filming locations around London. The English countryside is the star of this show. [JAM 3/5/2011]
["... I found myself with four weeks to go and no script. I had to do what I did when I was a television writer; I had to go into a room and sit down and come up with a script. There was no fooling around, no self-indulgence; I couldn't walk the streets and wait for inspiration and ponder. I had to get to the typewriter, soon. And I did." Conversations With Woody Allen - April 2005]
["When I wrote Scoop I put myself in it because I felt, I haven't been in a film in a while. I should do it. But I really dislike the experience of having to make sure if I'm in it that there is a Woody Allen character. So I vowed that I wouldn't do that ... Maybe never again. It limits me when I'm conceiving a project to have to think that there needs to be a Woody Allen character, because that immediately requires it to be a certain type of movie." Conversations With Woody Allen - February 2006]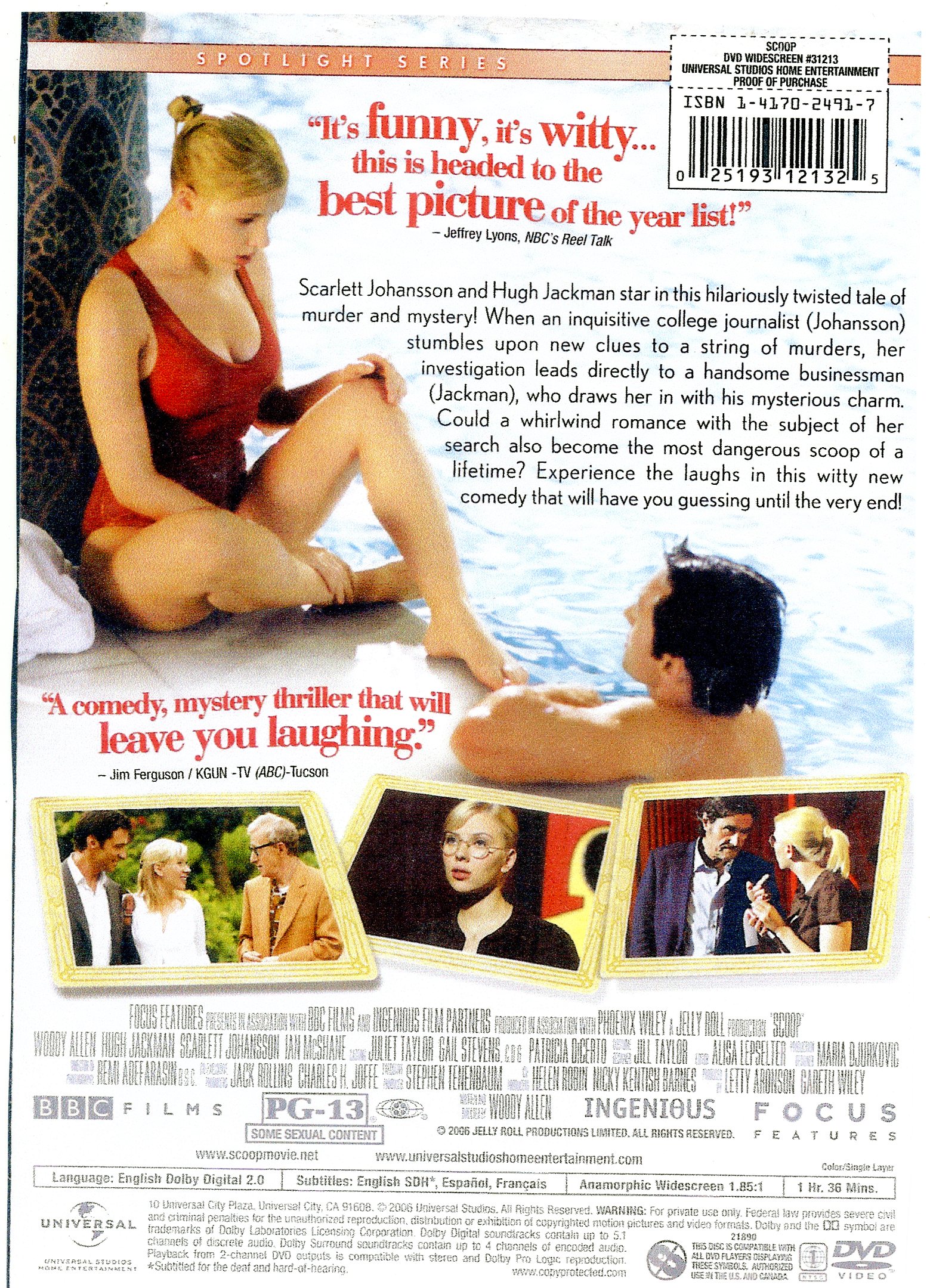 The Films of Woody Allen (edited by Charles L.P. Silet) - The Scarecrow Press - 2006 - 339 pages
I can guarantee that Woody Allen has not read this book. He does not care about reviews. In his autobiography (Apropos of Nothing) he admits that he does not watch any of his movies after he makes them. For him, the process of making the movies he wants to make is his reward. Woody Allen is one of the world's great story tellers. He is a student of film. Although he claims that he is not an intellectual, the authors of the 24 essays in this book would generally disagree with him. For whatever Woody would think of these scholarly essays, the Editor Silet has done an excellent job of collecting a variety of reviews that examine the various aspects of Woody Allen movies. The essayists have studied his use of schlemiels, narrators, parody, irony, fantasy, ethics, morality and various other forms of humor to relate interesting stories. Woody asks question about theology and myth in general, as well as Judaism in particular. He emulates Bergman, Fellini and Kafka. And at the same time, he experiments with sets, scenes, locations and techniques. Although most of us thought that Woody Allen was a comedian who made wacky comedies; it is quite clear that there is much more to him than that. This collection takes us from Take the Money and Run to Scoop. Since then, Woody has made 13 more full-length movies. Is is time for Volume II? [JAM 6/2/2020]
Cassandra's Dream (Woody Allen) - 2007
In a city (London) where everyone smokes, two brothers (Ewan McGregor and Colin Farrell) reach adulthood without learning how to comb their hair. Farrell is the gambler who drinks too much and is dependent upon pills. McGregor is the schemer who is willing to take big risks. Together they make a deal with Uncle Howard (Tom Wilkinson) to solve all of their problems. Still filming in Europe, Woody fills this movie with more beautiful scenery and creative shots.[JAM 3/7/2011]
["It was a good idea and a good script. It's harder to get a good script than it is to execute it. I usually know where I'm going and I write the whole thing out. Then when I'm rewriting, things occur to me that get embellished ... I take the time to develop their characters, their family, their feelings, so it isn't a genre picture where the plot itself is the star of the picture and the characters are cardboard cutouts. You want these things to be about people and that's what I always feel makes it interesting." Conversations With Woody Allen - November 2006]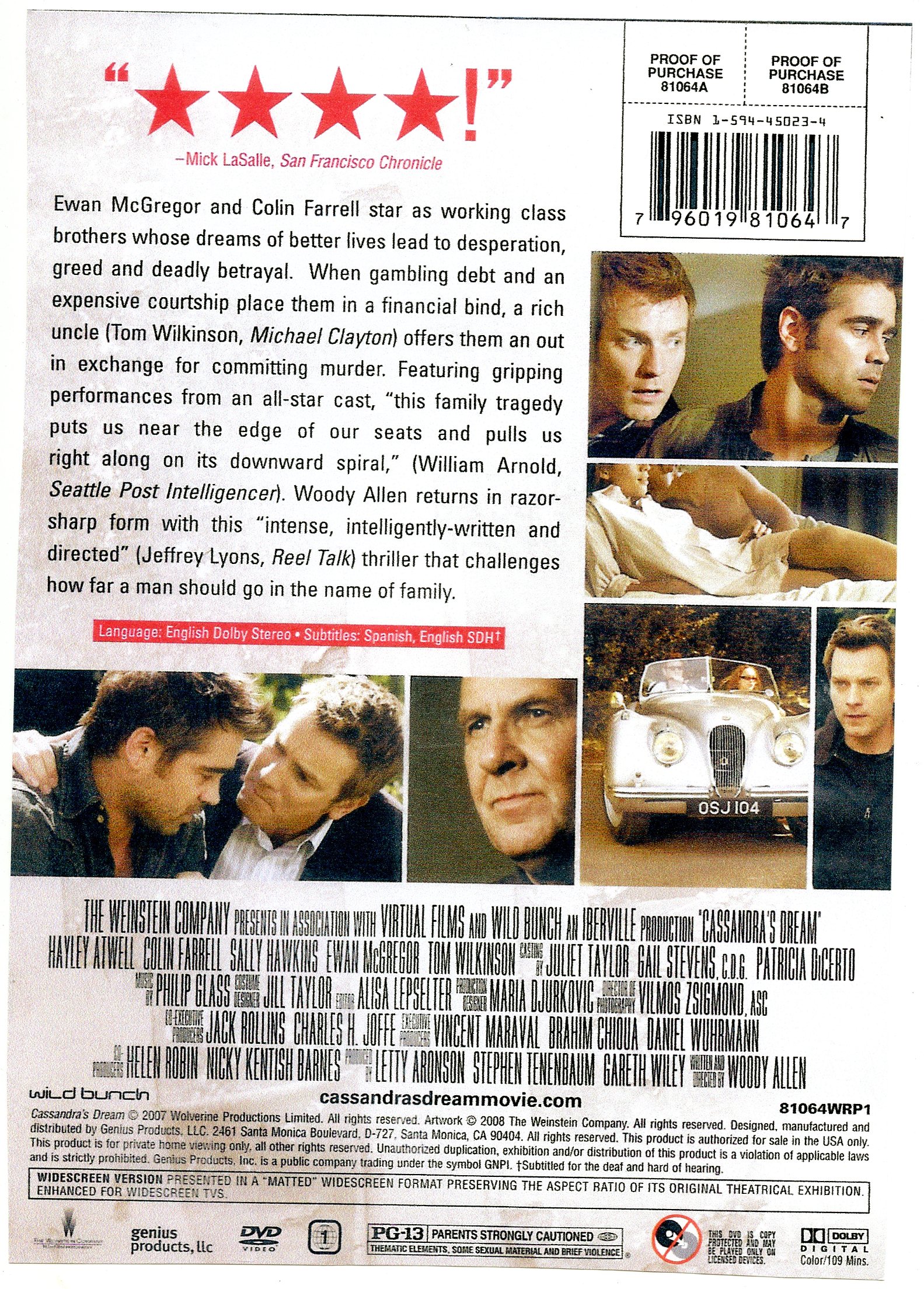 Mere Anarchy - Random House - 2007 - 160 pages
The Insanity Defense - 2007
Conversations with Woody Allen (Eric Lax) - Alfred A. Knopf - 2007 - 396 pages
It's Good To Be The King - (James Robert Parish) - 2007
"Woody will feel something and then disguise it skillfully and issue it. I know what I do best and I am theatrical. Woody is not theatrical. He's shy and very private, almost academic ... I chose not to be philosophical or intellectual. I choose to tap dance as much as I can. I think of it as a job, not a mission and not an artistic endeavor." - Mel Brooks
Vicky Christina Barcelona (Woody Allen) -2008
A better title for this movie would be "Everybody Loves Javier" (Bardem) who gives the best performance. Penelope Cruz won the Oscar for her performance as the psychotic ex-wife but I just do not get it. Her part was small and she mostly spoke Spanish which seemed to be natural for her. Barcelona is a beautiful city and the Woody's cinematography is excellent again but the story seemed to move slowly. Vicky (Rebecca Hall) is a Catalan scholar and Cristina (Scarlett Johansson) is a failed film-maker. The American women are spending a summer vacation in Spain without obvious sources of income. I understand that Woody was under contract to make a movie in Spain and this one filled the bill. Although I do not pretend to know how young women are affected by Latin lovers, my advice to them would be: "Get over it!" [JAM 3/17/2011]
["In style, Vicky Cristina is almost more of a French movie. When I first saw it, it reminded me of the French films I saw in the late 1950s and early 1960s ... Right now I'm doing a group of pictures with some Spanish people, not necessarily in Spain. There's no contingency about where I do them. I could do a veritable United Nations tour of filmmaking. You know, sometimes it can be a lifesaver from a financial point of view ... I have to consider it from a livability point of view. Can I exist three months on lard and gruel? But it hasn't been that bad so far, so I can go someplace nice. People in Italy have spoken to me, and in Sweden ... South America." Conversations With Woody Allen - February 2009]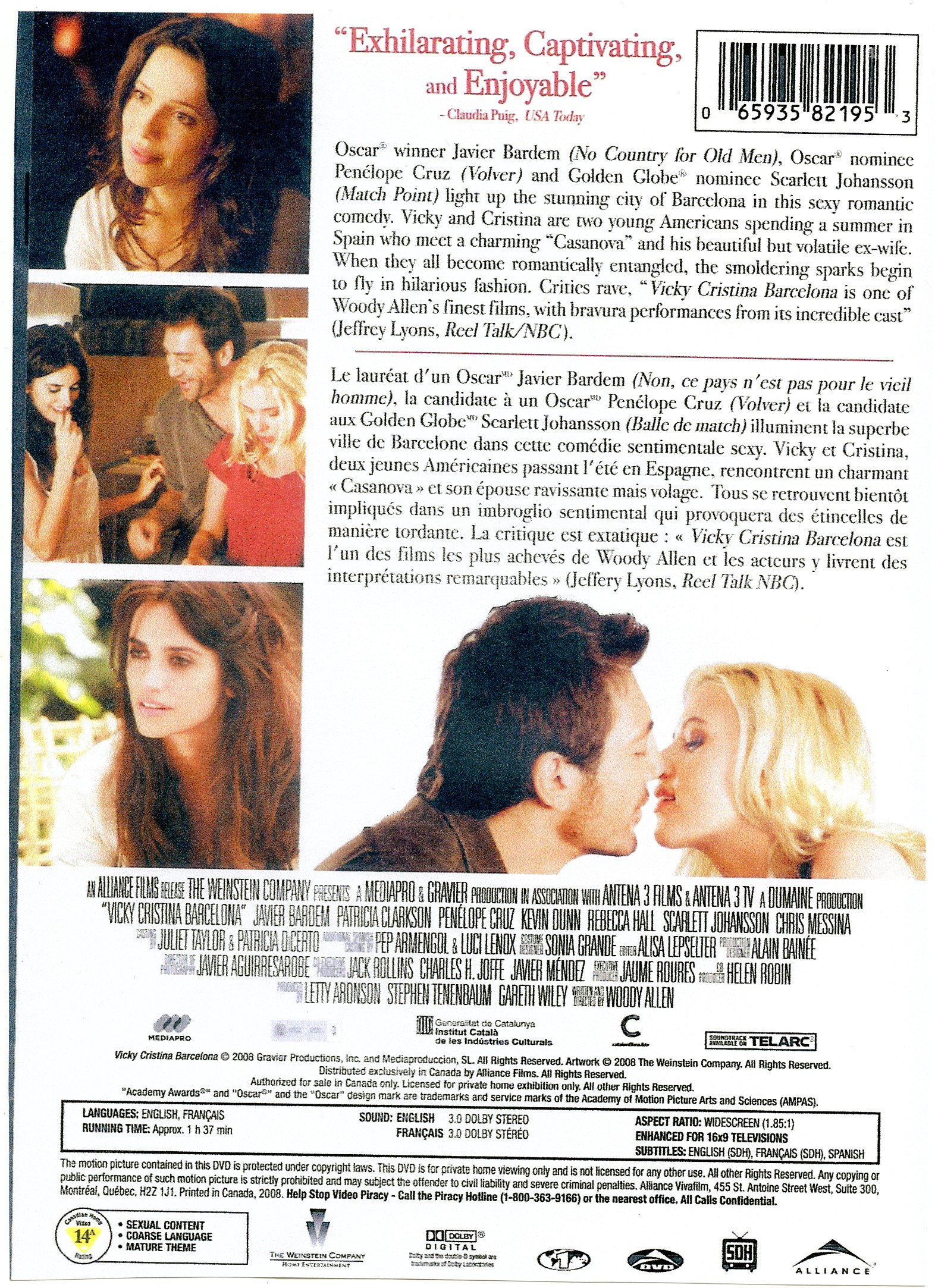 Gianni Schicchi (play) - Dorothy Chandler Pavilion - 2008; Teatro Real - 2015; La Scala - 2019
Whatever Works (Woody Allen) - 2009
This is a Woody Allen movie with Larry David ("Boris") playing Woody's part. Boris is a physicist and full-time curmudgeon who was once "almost nominated for a Nobel prize" but now makes his living (in New York City) teaching chess to children. Larry/Boris spends much of his time talking to the audience (that only he can see) about life, love, death, religion and the human condition. He has a chance encounter with a homeless beauty queen (Evan Rachel Wood - "Melody") from Mississippi who inexplicably falls in love with him. Eventually, Melody's separated parents arrive separately disapproving of her new lifestyle and then undergoing the types of transformations that can only occur in Woody's New York. The central theme of the movie is: life is transitory and you should grab love wherever you can find it - a philosophy that has worked so well in Woody's life. This is a very rich serving of the Woody Allen wit and wisdom lacking only his voice in the dialogs. If this is not your cup of tea, you can always go to the theater next door and catch the riveting conversations between Shia LeBeouf and Optimus Prime. [JAM 7/5/2009]
Sdelka (Short) - 2009 (writer)
You Will Meet A Tall Dark Stranger (Woody Allen) - 2010
By now you should realize that Woody is just messing with your mind. He makes movies that interest him and does not care who else likes them. In this movie, we meet two dysfunctional couples whose lives are not going to get better. Anthony Hopkins and Gemma Jones have divorced after 40 years of marriage. Hopkins wants more excitement in his life and Jones wants someone who has all the answers for her. Their daughter (Naomi Watts) is married to a real loser (Josh Brolin) who somehow finished med school but prefers to be a writer. The four of them are all going in their own directions and we are dragged along for the ride. I didn't like any of these people but I do appreciate how Woody puts the pieces of a story together. He is the master of the low-budget relationship movie. The movie was filmed entirely in England and many local character actors were employed. What's next, Woody? [JAM 10/20/2010]
Midnight in Paris (Woody Allen) - 2011
Owen Wilson has discovered a time machine in Paris that takes him back to the days when Ernest Hemingway and F. Scott Fitzgerald occupied the city. Owen is a writer who loves the city and the rain. He is an American traveling with the parents (Kurt Fuller and Mimi Kennedy) of his fiance, Rachel McAdams. The creative mind of Woody Allen takes us back to the 1920s when you could not enter a building without bumping into a famous artist. Gertrude Stein (Kathy Bates), Pablo Picasso (Marcial Di Fonzo Bo) and Salvador Dali (Adrien Brody) are never far away in this dream world. Allen manages to include every major talent of the time and then dips into the 1890s for more. This movie is a treat for wannabe time travelers and an adventure for those of us who enjoy the adventure of not knowing where a story will go. Corey Stoll is exceptional as the young Hemingway. And, love interests McAdams and Marion Cotillard are radiant in their roles. As budget restrictions have moved Woody Allen into the "European phase" of his directorial career, he continues to make movies that emphasize dialog and scenery over explosions and green-screen magic. [JAM 5/30/2011]
["The lead was a more East Coast character in the original script ... Julie Taylor suggested Owen Wilson. I had always been a fan of his , but always felt that he has a very West Coast persona. He belongs very much at home on a beach or with a surfboard. So I rewrote the script, making the character a West Coast character. I sent it to Owen and I was very lucky he wanted to do it ... I'm happy to do it if I can get an actor like Owen, who is a strong person to play something. Then I am perfectly willing to rewrite a character if I can rewrite it. Of course, there are some characters that you could never change. That would ruin the story. But very often you can adjust a character. If you have a strong personality, sometimes it requires an adjustment." Woody Allen interview with The Hollywood Reporter 5/10/2011]
Honeymoon Hotel (play) - Brooks Atkinson Theatre - 2011
To Rome with Love (Woody Allen) - 2012
A better title for this movie would be "Everything You Always Wanted to Know about Rome, But Were Afraid to Ask." This is a film consisting of four short stories that never intersect. All are set in Rome with mostly Italian actors. Alec Baldwin acts as a muse for Jesse Eisenberg, trying to convince him not to get involved with an actor (Ellen Page). Roberto Benigni is a clerk who gets his fifteen minutes of fame but nobody really knows why. Alessandra Mastronardi and Alessandro Tiberi play a young married couple in awe of the majesty of Rome that includes hookers (Penelope Cruz) and actors (Antonio Albanese). The fourth story places Woody in the city to meet his future in-laws including Italian tenor Fabio Armiliato. Woody discovers that Fabio is a great opera singer but only in the shower. This talent is taken to the absurd as only Woody can do. None of these stories could fill the 102 minutes and Woody surely knew that. Many of the typical Woody Allen jokes can be found here but this film would never have seen the big screen without Woody's name on it. [JAM 7/7/2012]
Paris-Manhattan (directed bu Sophie Lellouche) - 2012 (actor)
Blue Jasmine (Woody Allen) - 2013
Cate Blanchett (not to be confused with Mrs. Bernie Madoff) loses everything when her husband (Alec Baldwin) is caught stealing investment money. The indignity of poverty and the lack of any marketable skills cause her to move in with her plain but honest sister (Sally Hawkins). Hawkins endures an unending barrage of insults from Blanchett regarding her lifestyle and her choice of male friends. This is the most depressing of all of the Woody Allen films. Ms. Blanchett carries the movie with an excellent dramatic performance as her character takes dysfunction to a new level. Allen's sharp dialog is here but his sense of humor is missing in action. Some of those in the audience laughed at certain points but their reaction always seemed inappropriate to me. This one will not make money in America's malls. [JAM 8/15/2013]
Fading Gigolo (directed by John Turturro) - 2013 (actor)
Magic in the Moonlight (Woody Allen) - 2014
Colin Firth and Emma Stone deliver the Woody-Allen dialog with class. Set in 1928 in the south of France, the story involves a magician (Firth) who is recruited by a friend (Simon McBurney) to debunk the clairvoyant (Stone). As expected, the photography and sets are excellent and music perfectly fits the period. In the Allen manner, some games are played with lighting and set positions but it all works well and the casting is appropriate for the era. Although the plot seems to be simple and benign, Allen manages to infuse it with metaphysical discussions re religion, optimism and the paranormal. In the 21st century where dystopian entertainment is the norm, it is refreshing to view a coherent film with intelligent dialog and without zombies, vampires and graphic violence. [JAM 8/16/2014]
Bullets over Broadway (play) - St. James Theatre - 2014
Irrational Man (Woody Allen) - 2015
In his later years, Director Woody Allen has resorted to the making of films that tease his audience with puzzling situations. The lead character (Joaquin Phoenix) for this one seems to be borrowed from The Stranger by Albert Camus. The visiting philosophy professor is a brooding nihilist who was once a social activist but became disaffected by the endless number of unfortunate people in this world of seven billion plus. To my amazement, two beautiful & intelligent women on campus (Parker Posey and Emma Stone) are immediately attracted to this depressing lump of coal. The professor contemplates suicide while trying to avoid interaction with others, including the women who are desperate to leave their stable male partners. Out of the blue, Joaquin decides to commit an irrational act to help another person he has never met. Becoming a caped crusader makes the professor a happier person who has finally found his lot in life. But, Emma puts two and two and two and two together and decides that this is not the lump that she wants to carry for the rest of her piano-playing life. A better title for the movie would be "Immoral Man". Woody chose soft jazz instrumentals for the movie led by In Crowd written by Billy Page in 1964. The sets, scenes and film editing are excellent as always in Woody Allen movies. Irrational Man was filmed in several Rhode Island locations including the campus of Salve Regina University. [JAM 3/6/2016]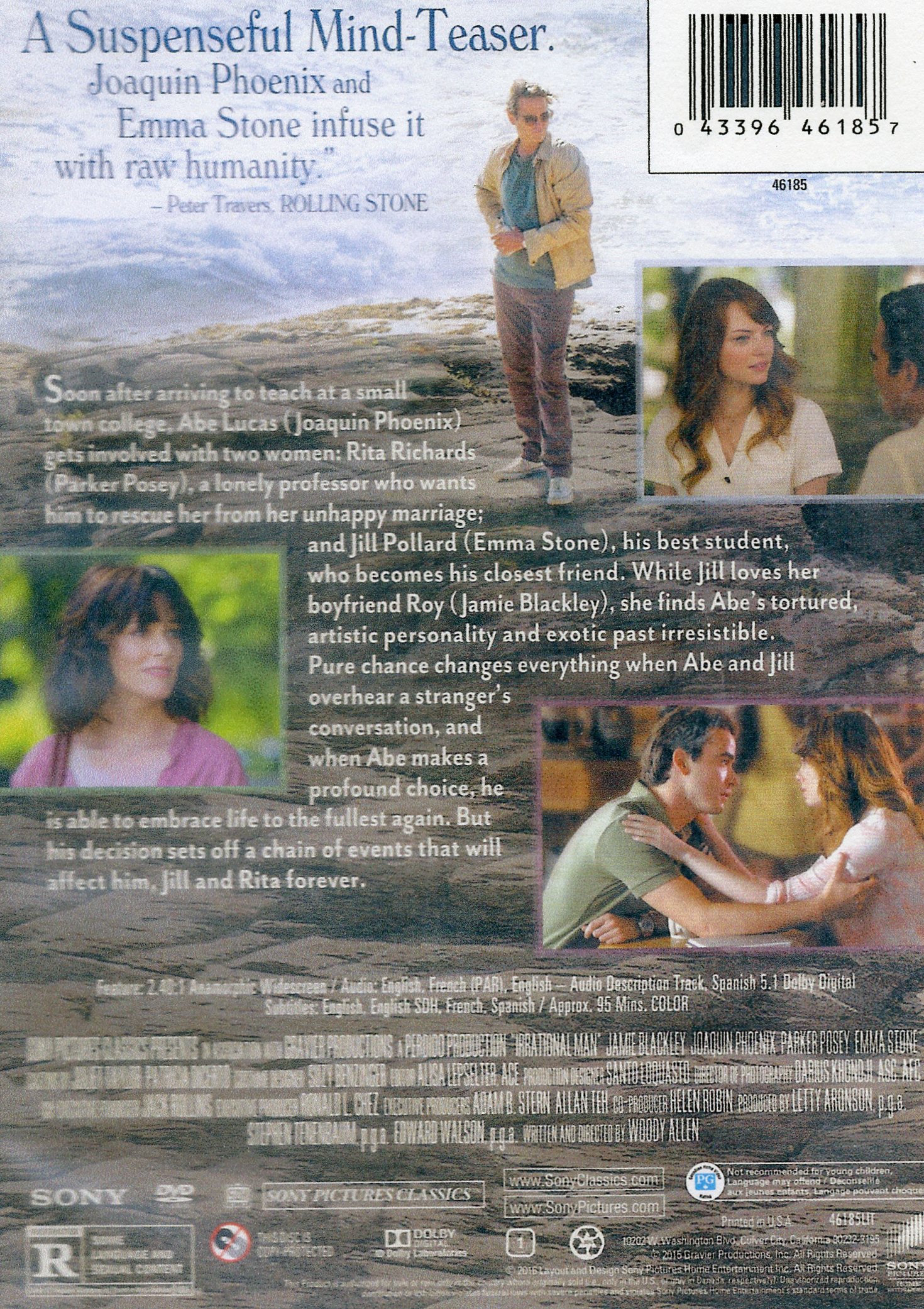 Annie Hall Spider Scene (Video Short) - 2015 (writer)
Cafe Society (Woody Allen) - 2016
This is Woody's bi-coastal movie. Circa 1930, members of a Jewish family find love and difficult decisions in Hollywood and Manhattan. The sets and scenes are nearly perfect as in most of his movies. In this one Woody seems to be paying special attention to different types of lighting and muted colors. A scene by candle light is very well conceived and delivered. Because of the changes in time and location of scenes, the story required narration. Woody served as narrator and did a competent job without bringing attention to himself. There is a lot of dialog in this movie as in most of his movies. There is probably too much dialog but it is needed to move the story along and complete it in 96 minutes. The story is complicated and hurried at times but the actors flow with it. Jesse Eisenberg did his best Woody Allen impression albeit less frantic and neurotic than the original. [JAM 8/4/2016]
Crisis in Six Scenes (TV Series) - Amazon - 2016
Wonder Wheel (Woody Allen) - 2017
Jeff Bezos gave Woody $25 million to make this movie and he used the money to recreate a Coney Island scene from the 1950s. This is a beautiful film in which the director explores the use of a series of unusual lighting situations including colors red & blue, and scenes in which the lighting is constantly changing. Throughout the movie, Woody's expert crew met every challenge. Although the cinematography is excellent, the story is quite depressing. The only comic relief involves pyromania. The lead characters played by Kate Winslet and Jim Belushi start out seeming like Audrey Meadows and Jackie Gleason (The Honeymooners) and end up channeling Kim Hunter and Marlon Brando (A Streetcar Named Desire). This really does seem like a Tennessee Williams play with most of the cast involved in an unhappy love quadrangle (pentangle?). Wonder Wheel might have been a popular movie in the 1950s but certainly fell flat with Generations X, Y and Z. But, as we all know, Woody makes the movie he wants to make and Amazon came through with the bucks for some reason. [JAM 5/15/2019]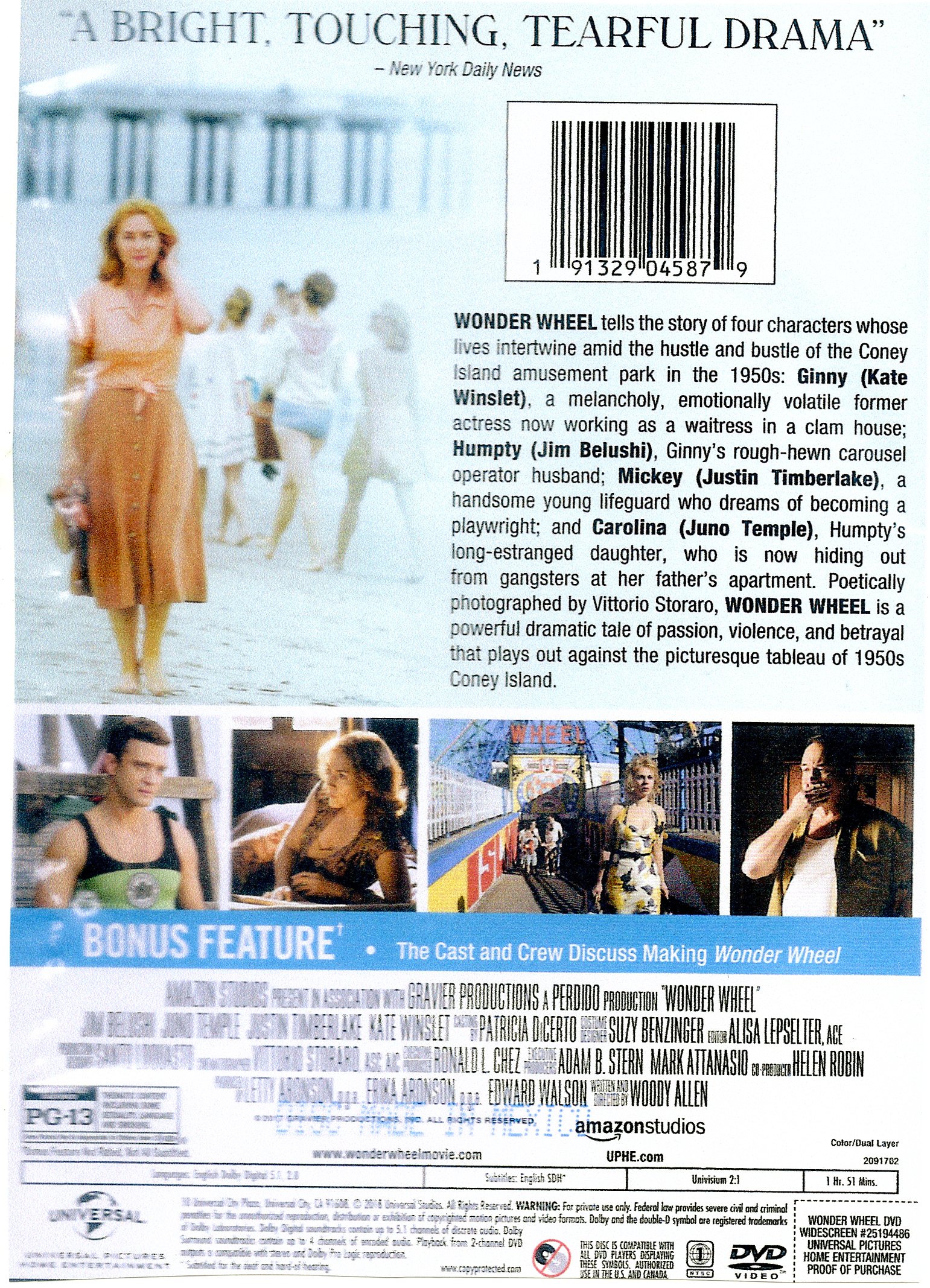 Start to Finish (Eric Lax) - Vintage Books - 2017 - 353 pages
A Rainy Day In New York - 2019
Apropos of Nothing (book - autobiography) - Arcade Publishing - 2020 - 392 pages
This is the book I have been waiting to read. I was not sure that he would ever write it. Woody Allen does not like to write about himself. And when he did, it was always in a humorous, self-deprecating manner. But this is the real deal. You can throw away all of the books written about Woody. He tells the whole story in these pages. Woody is a truth teller. How did he get from joke writer to television writer to stand-up comic to writer/actor/director? It is all here and so much more. More importantly, Woody finally has taken the time to tell his side of the wild accusations made against him by former girl friend, Mia Farrow with respect to his adopted daughter, Dylan. I have no doubt, based on this book and other accounts I have read, that Farrow is the actual liar, monster and child abuser. Woody cites the facts with clarity. In fact, Farrow v. Allen dominates this autobiography but it is an important story to tell. The facts are on Woody's side. And, his legacy will outlive hers. [JAM 4/19/2020]
Rifkin's Festival - 2020