Wallace Wood (1927-1981)
I met Wallace Wood in the pages of Mad magazine in 1957. At the time, I knew nothing about the Harvey Kurtzman-Will Elder origin of Mad as a comic; their departure from publisher Gaines; the Comics Code; etc. I just knew that these wonderful, humorous drawings were coming from his magical brush. What follows on this page will be an evaluation and an appreciation of (primarily) the post-Mad work of Wallace Wood. He was certainly a talented artist with a complex personality. I will focus on his artistic output and pay little attention to his personality disorders. He preferred to be known as "Wallace Wood" for his artwork. He did not like the nickname "Wally". To his close friends, he was known as "Woody". As a comic artist, Woody had a distinctive style, but he could also mimic the cartooning style of others. In my mind he was the greatest of them all. [JAM 6/24/2017]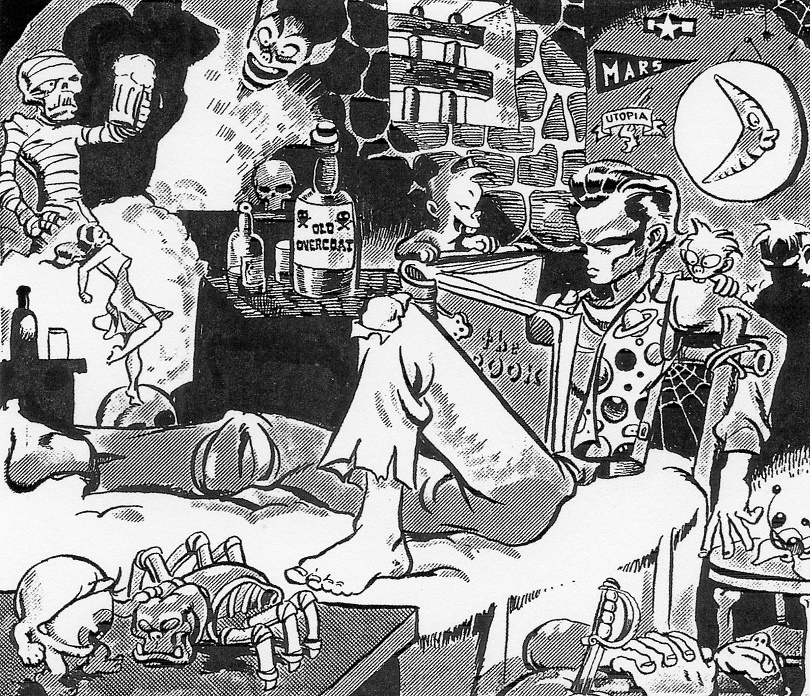 Burning Romances (1949)
Chief Ob-stacle - The Woeful Indian (1949)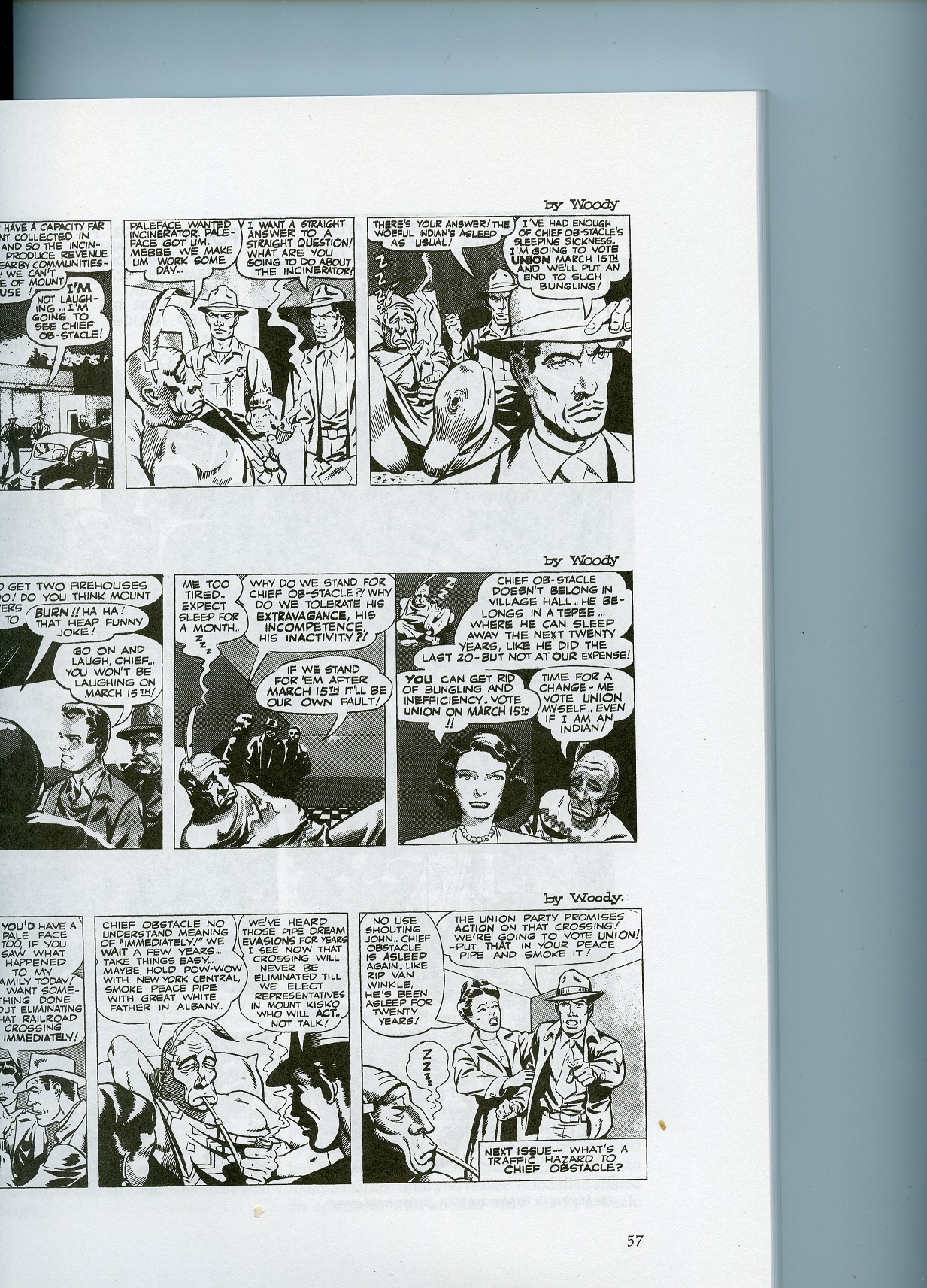 My Confession/Past Confessions (1949-1950)
My Desire (1949)
My Life (1949)
My True Love (1949)
True Crime Comics (1949)
My Experience (1949-1950)
My Love Affair/Memoirs/Secret/Secret Love/Secret Life/Secret Romance/Secret Story/Secret Affair (1949-1950)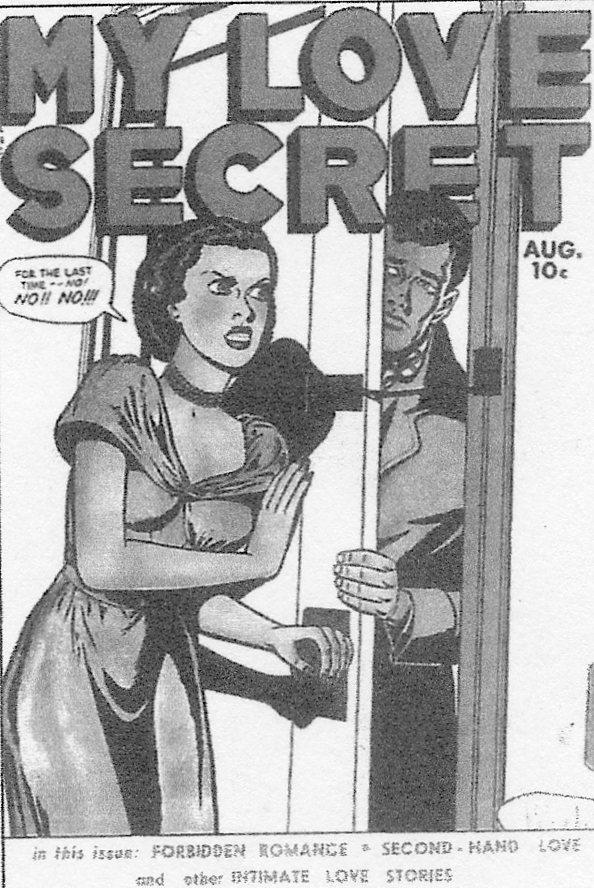 A Moon, A Girl ... Romance (1949-1950)
Amazing Adventures (1950)
Atomic Spy Cases (1950)
Bold Stories (1950)
Candid Tales (1950)
The Crypt of Terror (1950)
Dorothy Lamour - Jungle Princess (1950)
Feature Presentations Magazine (1950)
Frontier Romances (1950)
Inside Crime (1950)
Judy Canova (1950)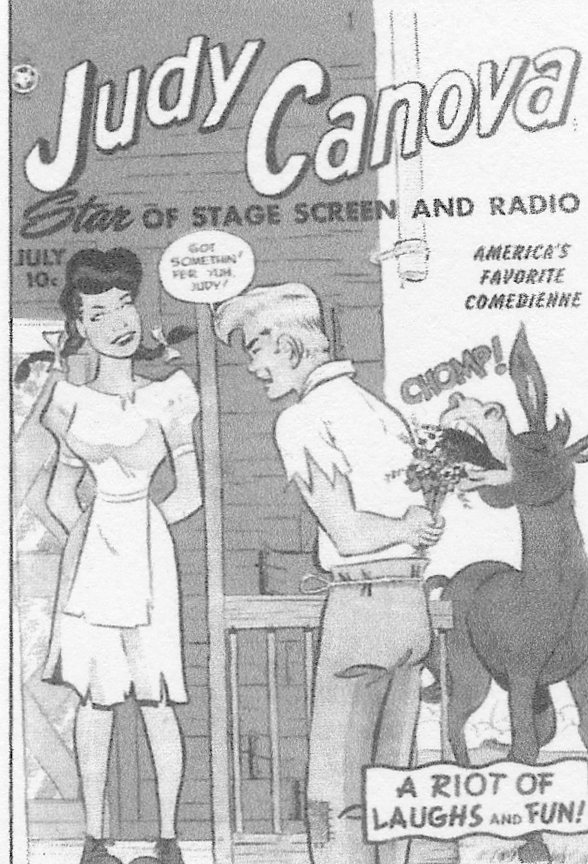 Jungle Jo (1950)
Life Story (1950)
Love Stories/My Love Story (1950)
March of Crime (1950)
Martin Kane, Private Eye (1950)
Modern Love (1950)
Pedro (1950)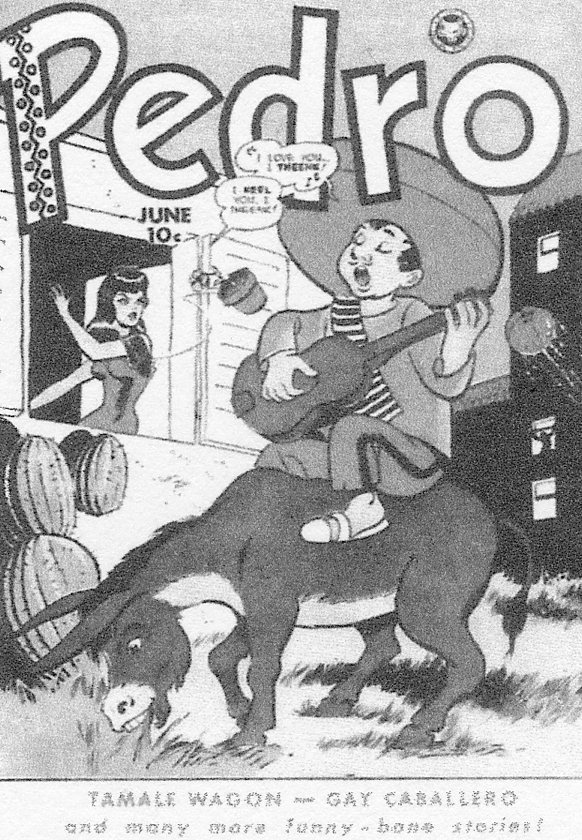 Sabu, Elephant Boy (1950)
Romantic Thrills (1950)
Saddle Romances (1950)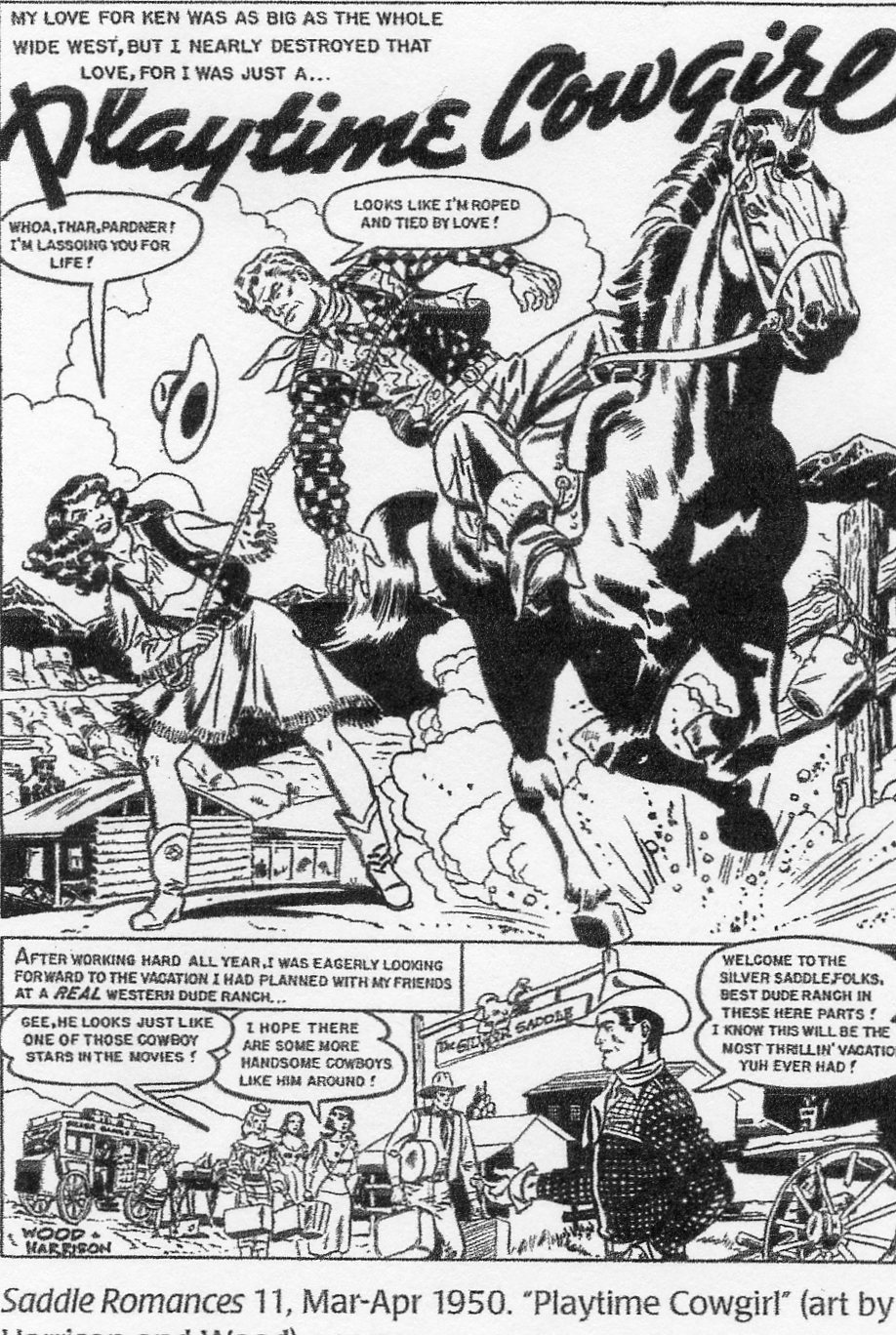 A Star Presentation (1950)
Sweetheart Diary (1950)
Teenage Love (1950)
True Sweetheart Secrets/Tales of Romance (1950)
Vault of Horror (1950)
Haunt of Fear (1950)
Women in Love (1950)
Gunfighter (1950)
Hoot Gibson Western (1950)
Captain Science (1950-1951)
Crime SuspenStories (1950-1951)
Popular Romance (1950-1951)
Flying Saucers (1950-1953)
Weird Fantasy (1950-1953)
Captain Steve Savage (1950-1955)
Weird Science/Science-Fantasy (1950-1955)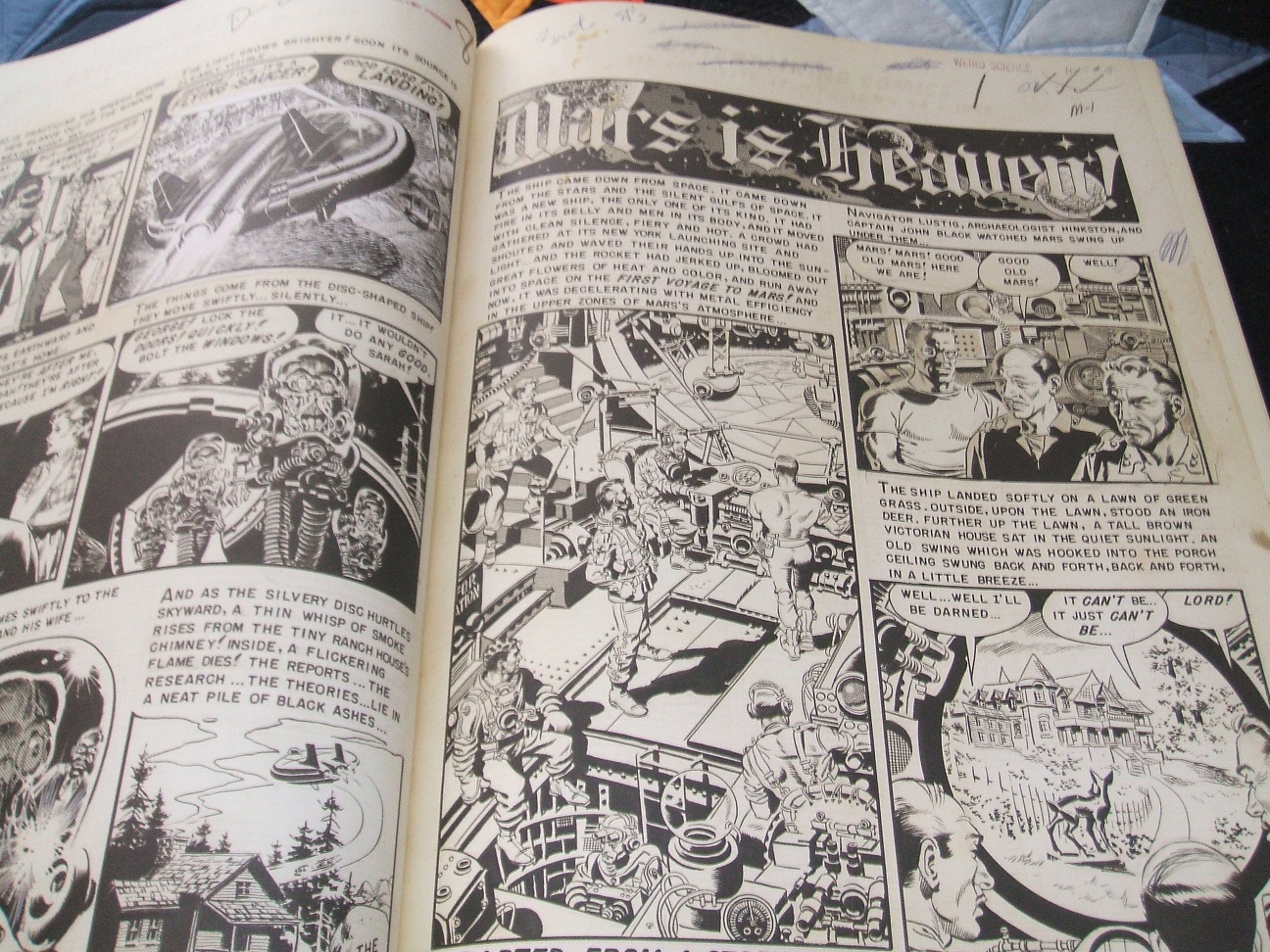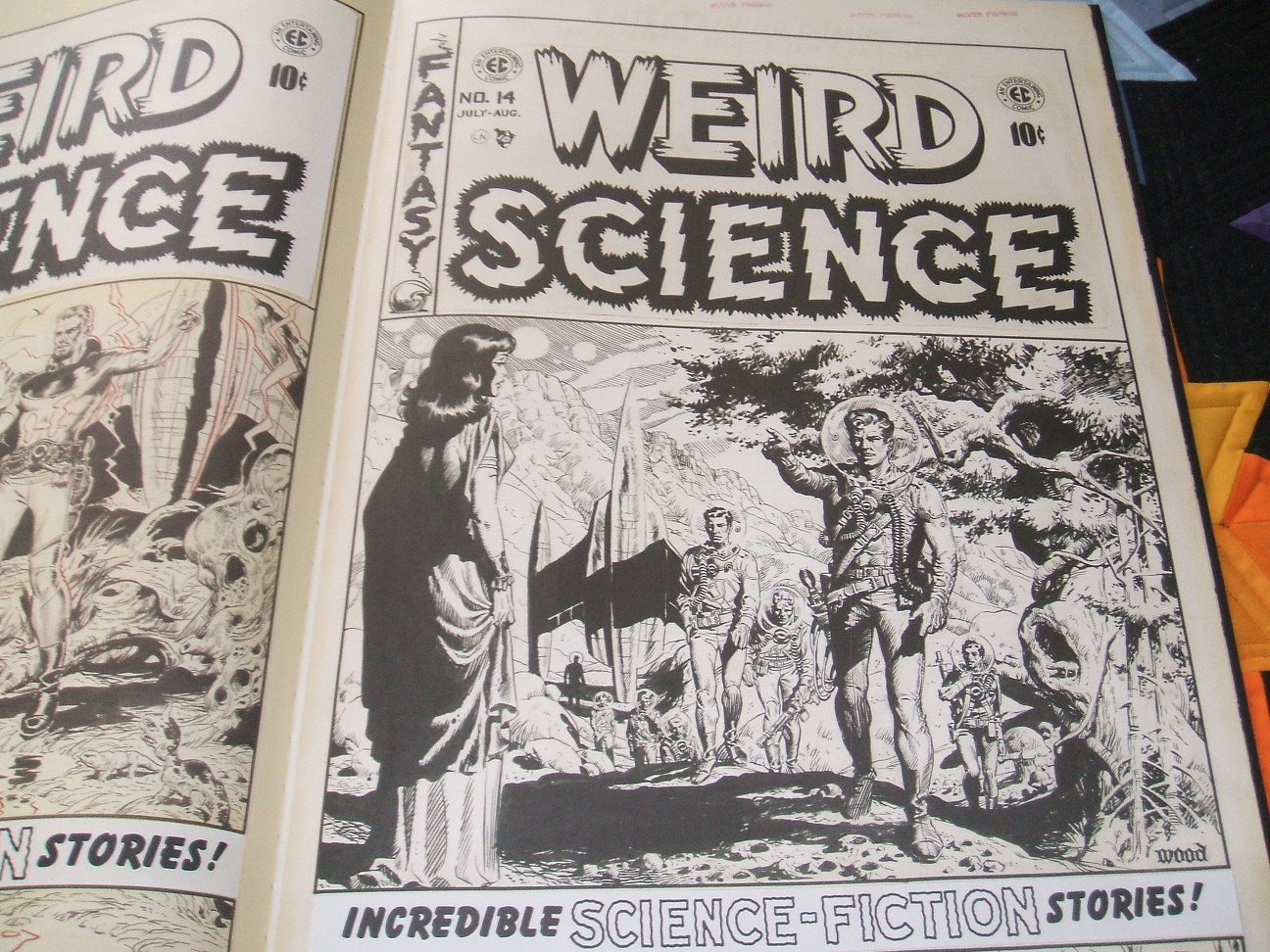 Two-Fisted Tales (1950-1955)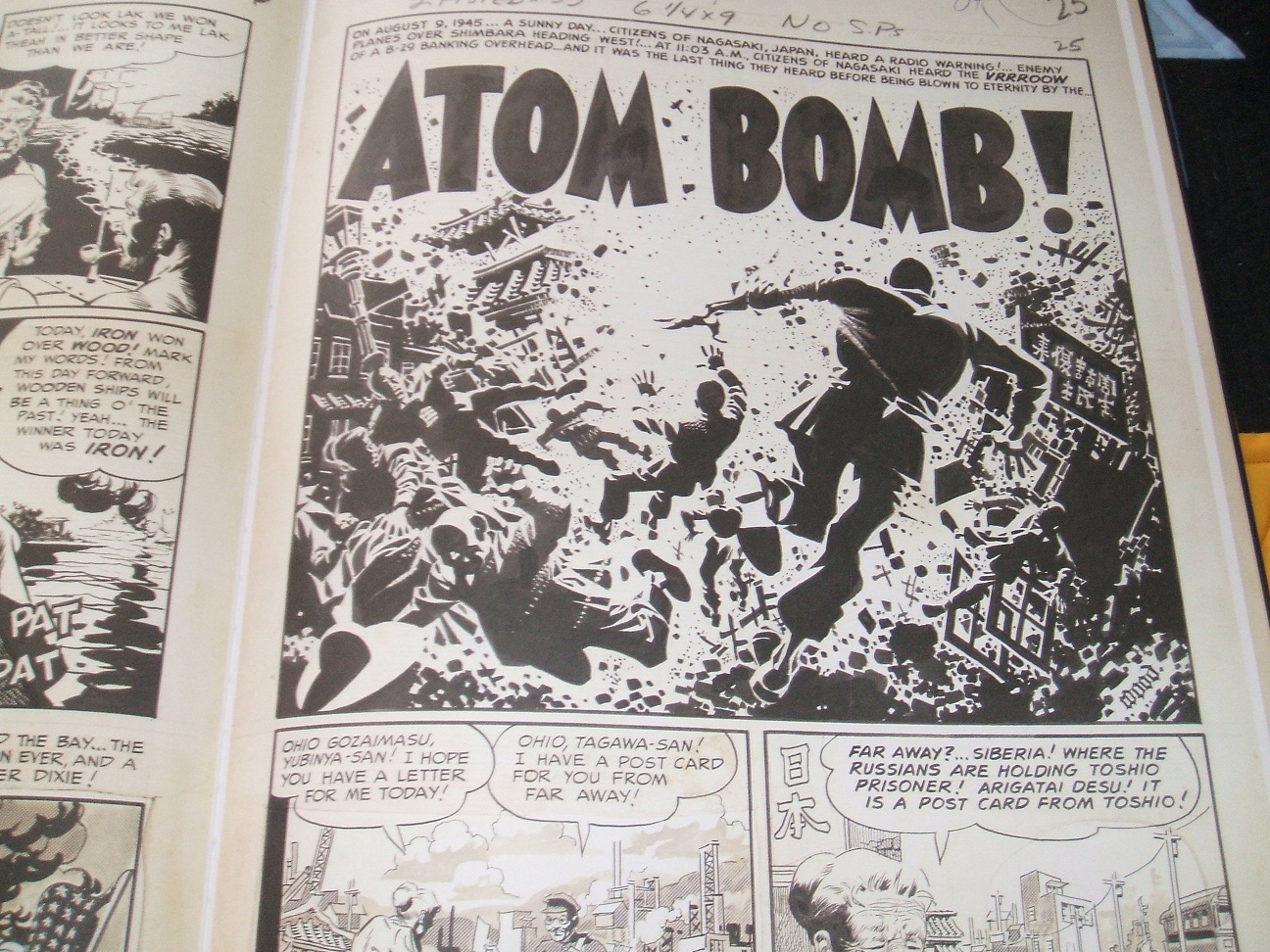 Attack on Planet Mars (1951)
Crime Smashers (1951)
Dark Mysteries (1951)
An Earth Man on Venus (1951)
Famous Gangsters (1951)
Forbidden Worlds (1951)
Gangsters and Gun Molls (1951)
Jed Powers (1951)
Jesse James Gang's Prison Break (1951)
The Mask of Dr. Fu Manchu (1951)
Murderous Gangsters (1951)
Police Line-up (1951)
Rocket to the Moon (1951)
The Saint (1951)
Space Detective (1951)
Thrilling Romances (1951)
With the U.S. Paratroops Behind Enemy Lines (1951)
Eerie (1951-1952)
Prison Break! (1951-1952)
Strange Worlds (1951-1952)
Tales from the Crypt (1951-1952)
Western Crime Busters (1951-1952)
Frontier Combat (1951-1954)
Top Love Stories (1951-1954)
Jiggs and Maggie (1952)
The Spirit (1952)
Outlaws of the Wild West (1952)
Witchcraft (1952)
Mad (1952-1971)
Editor Al Feldstein was lucky to have Wallace Wood as a contributor when he became editor of Mad. Between Feldstein and Wood, Mad was saved as a commercial product and became a great success; although it was not the same product that creator Harvey Kurtzman had envisioned. Wood was well-compensated by Mad but he probably felt that he was under-appreciated by the management of Mad. I think the best illustration of his situation occurred in 1958 (Mad #41). At the same time as Feldstein & company were starting to promote Don Martin (1931-2000) as "Mad's Maddest Artist", the National Cartoonists Society was presenting their most prestigious award ("Best Comic Artist of 1957") to "Wally Wood" (page 4). Although I have the greatest respect for the humor and art of Martin, he was never in the same league as Wood. As almost any comic book expert would agree, Wood could draw like Martin but Martin could never draw like Wood. He was one of the original Mad artists, contributing to 85 of the first 86 issues; and then only two more.
#1 "Blobs!"
#2 "Gookum!"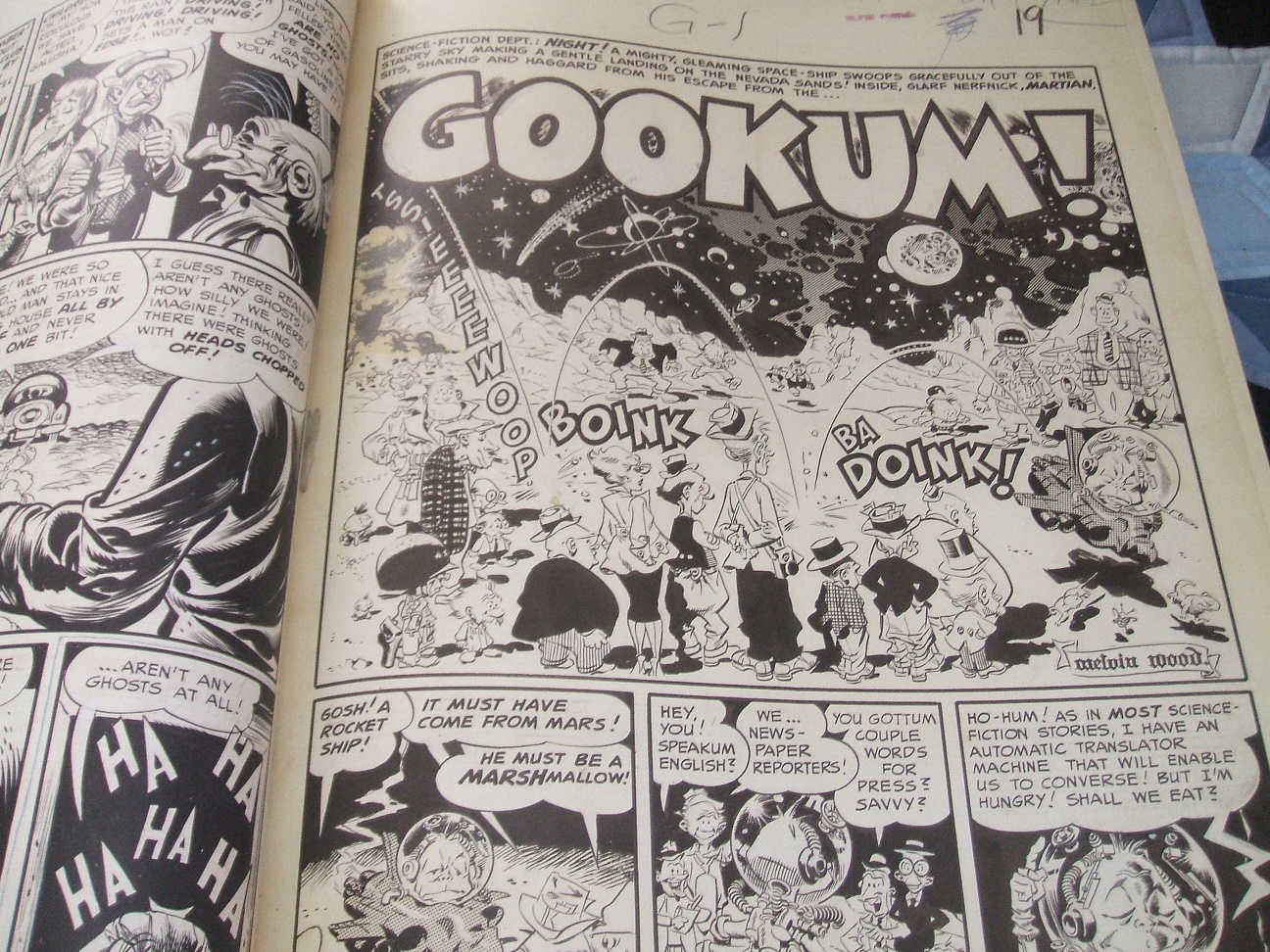 #3 "V-Vampires!"
#4 "Superduperman!"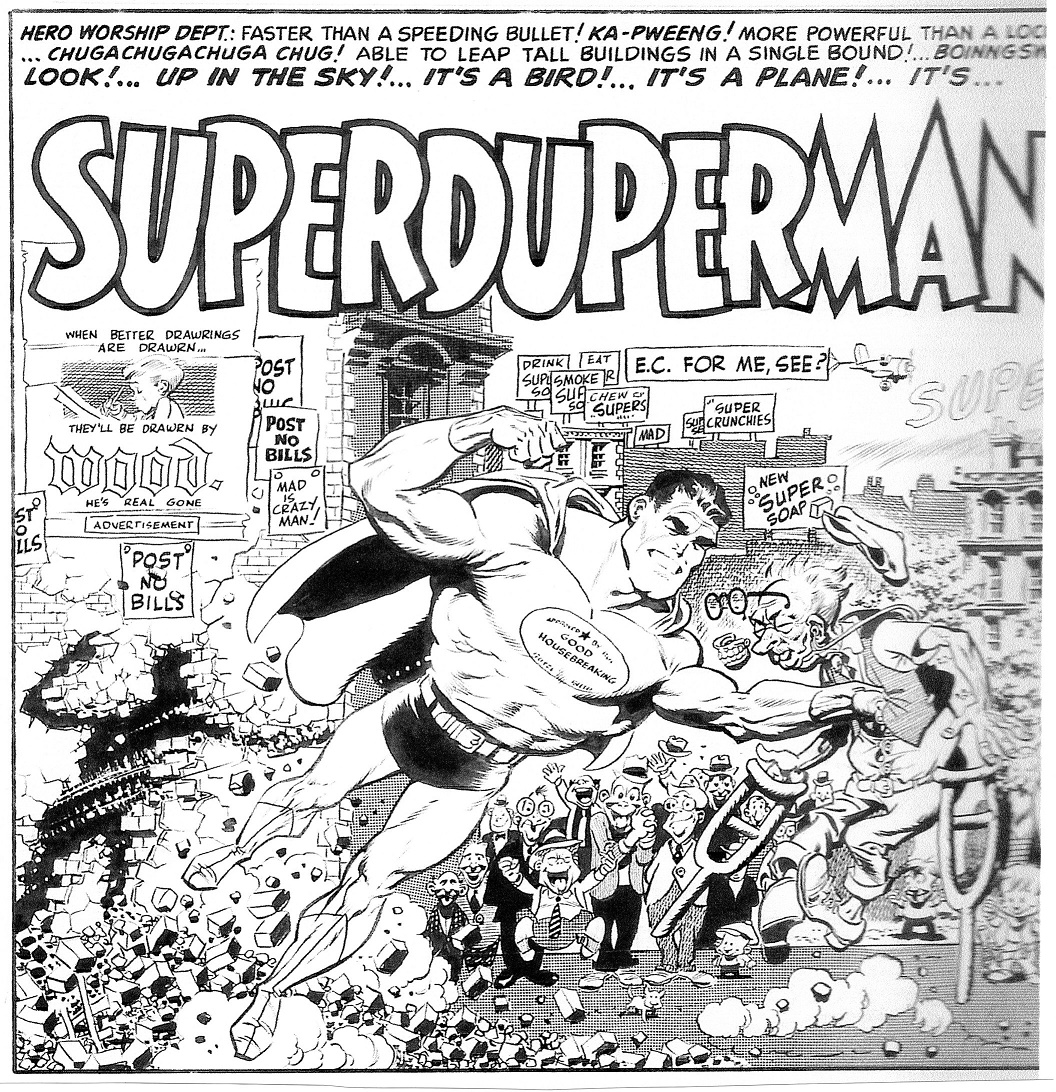 #5 "Black and Blue Hawks!" (reprinted in #28)
#6 "Teddy and the Pirates!"
#7 "Smilin' Melvin!"
#8 "Bat Boy and Rubin!"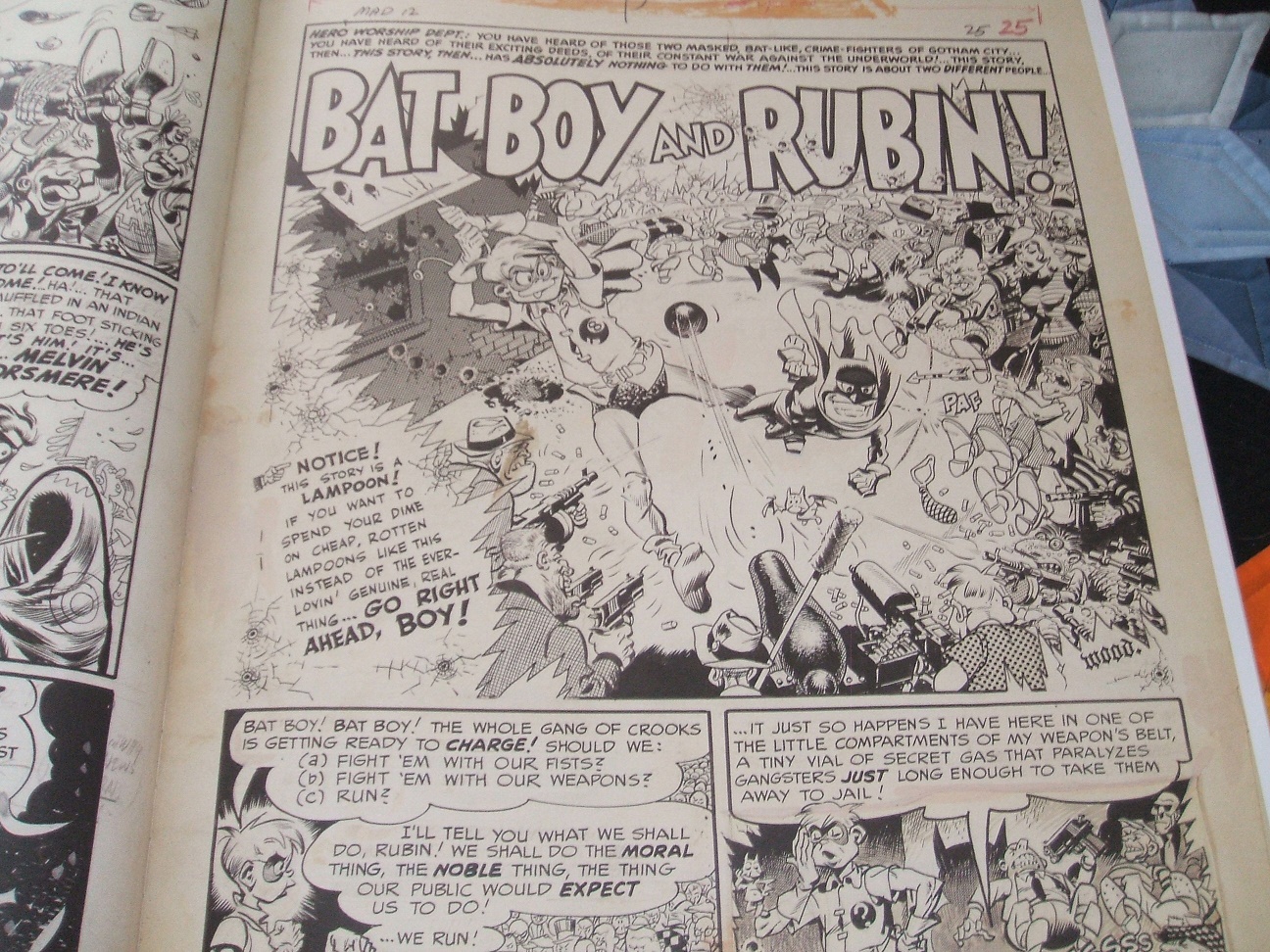 #9 "Little Orphan Melvin!"
#10 "G.I. Shmoe!"
"E.C. Fan-Addict Club" (ad)
#11 "Flesh Garden!"
#12 "3-Dimensions!"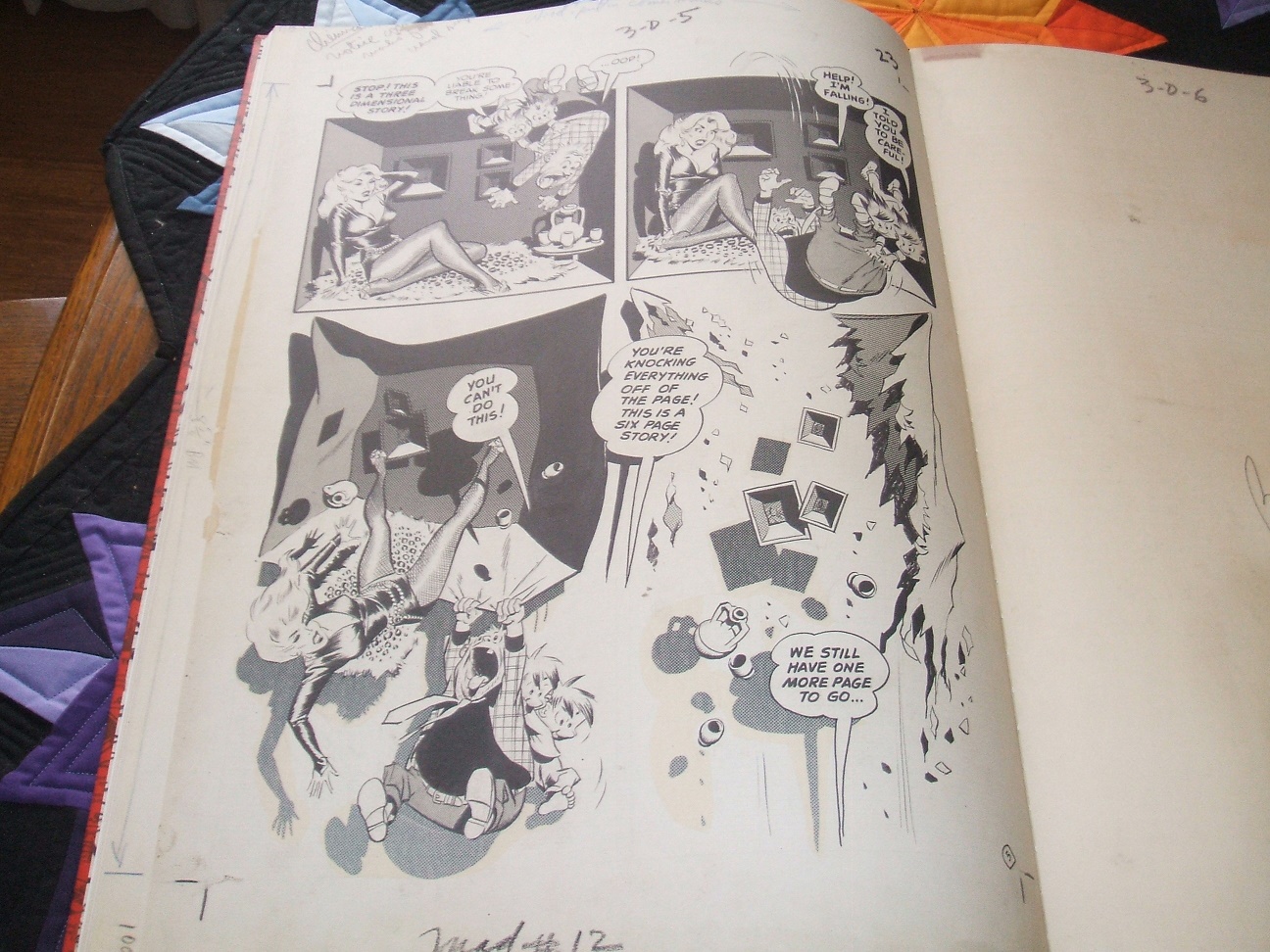 #13 "Prince Violent!"
#14 "Movie ... Ads!"
#15 "Wild 1/2"
#16 "Wreck of the Hesperus"
#17 "Julius Caesar!"
"Bughouse ... Whack" (12 comic book titles)
#18 "Stalag 18!"
#19 "The Cane Mutiny!"
#20 "Sound Effects!"
#21 "Under the Waterfront!"
#23 "Gopo Gossum!
"Ripup's Believe It Or Don't!"
#24 "Gluggle!"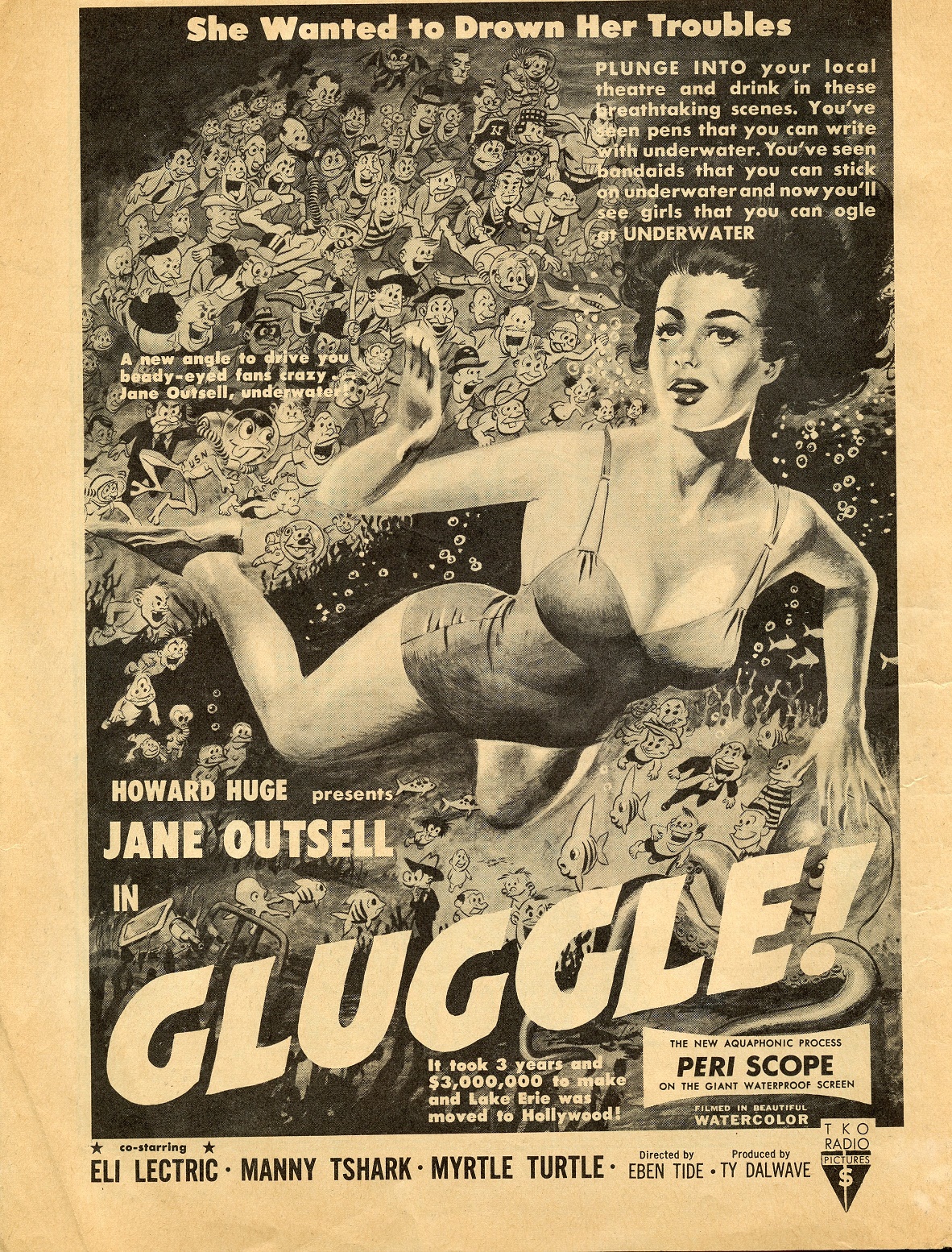 "Is a Trip to the Moon Possible?"
#25 "The Jackie Glisten Story"
"Anyone for Wrist Slashing?"
"They Built Their Dream-House Singlehanded"
"The Blackboard Jumble"
#26 "The Satellite" (cover)
"The Conquest of Tillie's Lookout"
"The Prodigious"
"At Home with Lorelei Latour"
#27 "How To Be Smart"
"Uninterrupted Melody"
"Ulysses"
#28 "Spring Issue" (cover)
"He Rose Tattooed"
"Super Guided Missle"
"Talk"
#29 "3 Ring Circus of Fun" (cover)
"Ethel Gasoline"
"The New Expandable Severolet"
"Free Fall Ferris"
"Convention Forecasts"
"Real Estate Ads"
#30 "Old Comic-Strip Characters' Home"
"Morbid Dick"
"A Medal for Horatius"
"Walt Dizzy Presents Dizzyland"
#31 "The New Marylin Marone"
"What's All This Jazz About Jazz?"
"A Cultural Look at Comic Opera - Featuring Don Giovanni"
#32 "Nansy - How Other Artists Would Interpret Ernie Brushfiller's Comic"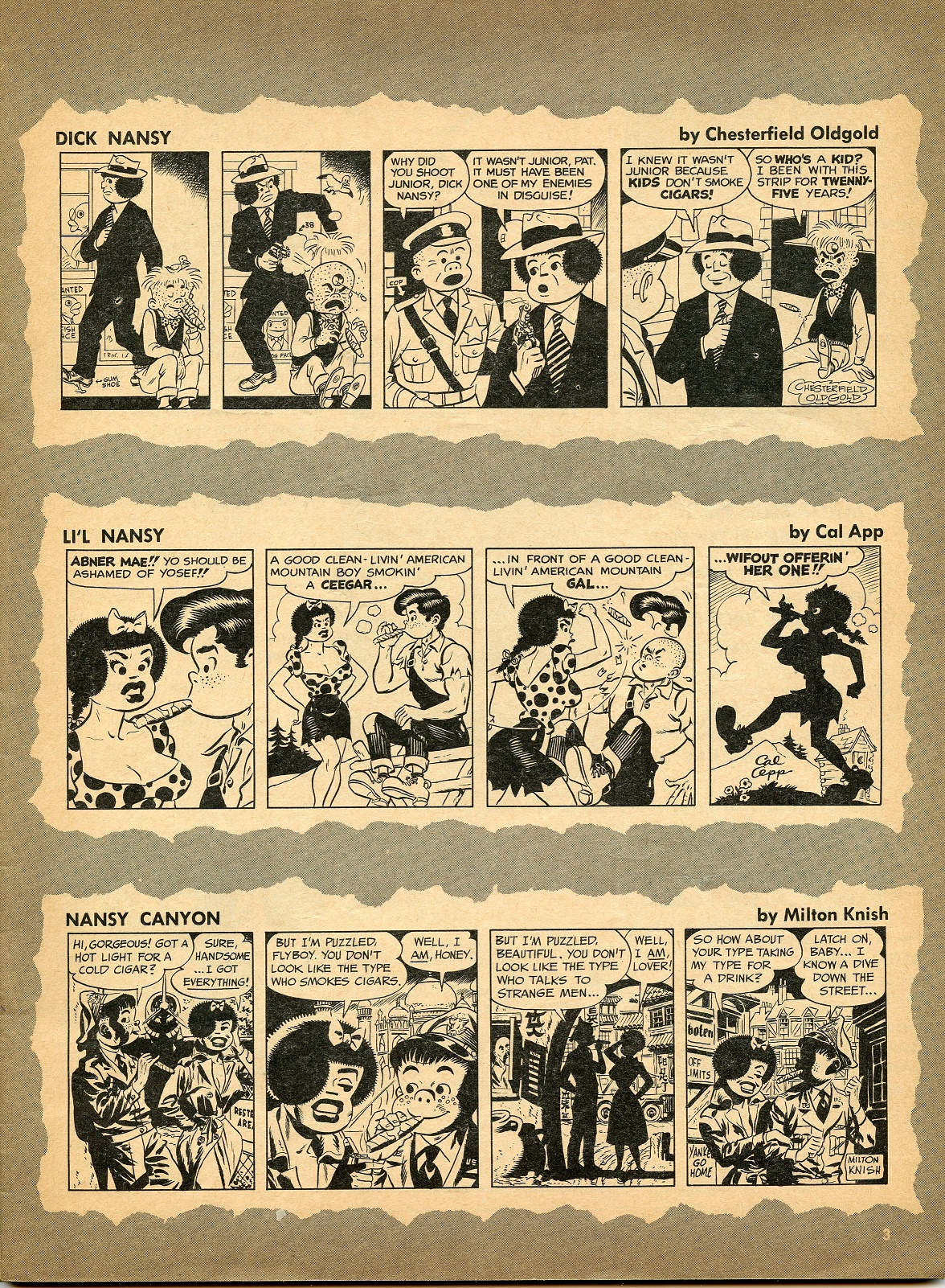 "It's Gonna Be a Mad Mad Year!"
"Maiking a Paper Eucalyptus Tree"
"Movies Are Longer Than Ever"
"The Night People vs. 'Creeping Meatballism'"
"Mad Record Labels" (back cover)
#33 "Mad Contains Concentrated Humor - An Effective Stomach Acid Neutralizer!" (ad)
"The English Titles Don't Quite Match the Action in Foreign Movies"
"The Russian Titles Don't Quite Match the Action in Russian Movies"
"Strangely Believe It!" (2)
"The Truth About Cowboys"
"The Potrzebie System of Weights and Measures"
#34 "We're Looking for People with Ability to Draw" (ad)
"Wedding Album"
"Baseball Is Ruining Our Children"
"The Two Chinese Fellows Who Go to an American Restaurant Routine"
#35 "If Comic Strip Characters Answered Those Little Ads"
"How To Crop a Photo"
"Sin-Doll Ella"
#36 "TV Movies with Built-In Commercials"
"Mad Visits Corny Island"
"Home Movies"
"Mr. Morgan Tells the Story of the 12 Bottles"
#37 "Secret Sportalk"
"Strangely Believe It!" (3)
"Report to Russia"
#38 "Strangely Believe It!" (2)
"Nobody Has Any Fun at Parties"
"Bitter Homes and Gardens"
#39 "How to Make America's Kids Science Conscious"
"Party Games"
#40 "Eccchh, Teen Age Son of Thing"
"Strangely Believe It!"
"Pravda Translated"
"Coast-to-Coast for $16.75"
#41 "Bet Telephone System"
"Rare Old Magazines"
"The New, Improved Rotten Circus"
"One Day's Advice Columns, The Next Day's Headlines"
"Strangely Believe It!"
"The National Osographic Magazine"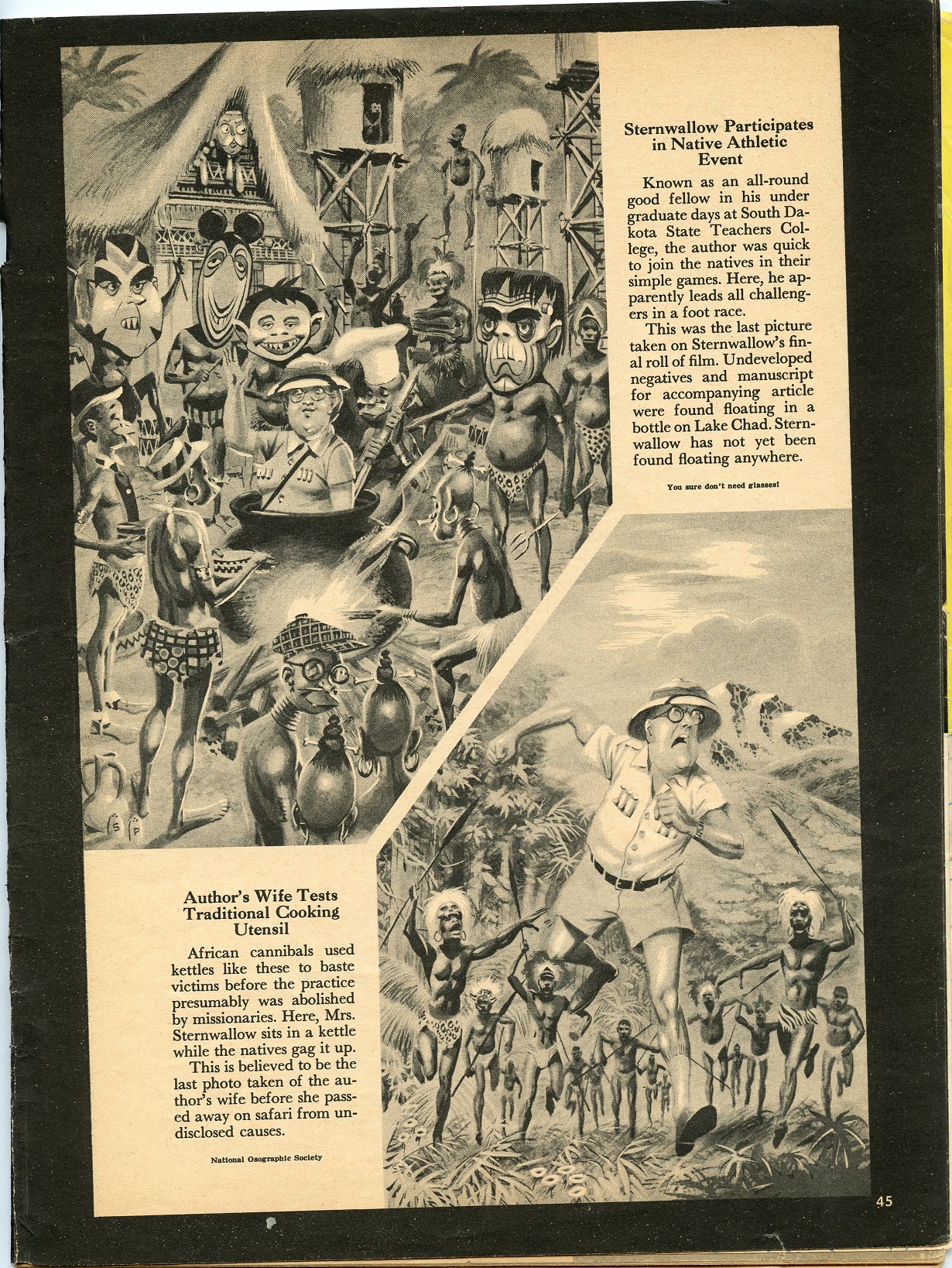 #42 "I'm Five"
"Strangely Believe It!"
"Credits/Professional Names for the Common Man"
"Scenes We Never Get to See"
#43 "The End of Comics"
"If Hollywood Directors Staged Advertising Photos"
"The New Baby"
"The Bathtub Admiral"
#44 "The Coming Attractions Don't Always Show Exactly What's Coming!
"Junior Editions"
"Alfred E. Neuman's Family Tree"
#45 "First Annual Awards for 'Worsts' of 1958"
"If Comic Strip Artists Drew Editorial Cartoons"
"Gook"
#46 "Authentic Sounds in Stereo"
"The Hip Persuaders"
"If Famous Authors Wrote the Comics"
#47 "The Professor Lectures on Space"
"Announcing ... The Greatest Missile Ever Built"
"The American Mad Cross First Aid Handbook"
#48 "Comic Strip Heroes Taken From Real Life"
"How a Television Script is Born"
#49 "The Mad Horror Primer"
"A Bestseller Hits the Commercial Trail"
"Vic Tinny Gyms"
#50 "Spot That Plug!"
"The Mad Time Capsule"
"Blue Confessions"
#51 "Advertising Slogans Will Replace Everyday Conversations"
"Testing Civilians for Space Flight"
#52 "The Mad 1960 Calendar"
"The Truth About Before and After Ads"
"Mad's Up-to-Date Version of The Night Before Christmas"
#53 "New Movie Monsters from Madison Avenue"
"Mad Goes to an Alfred Hatchplot Movie"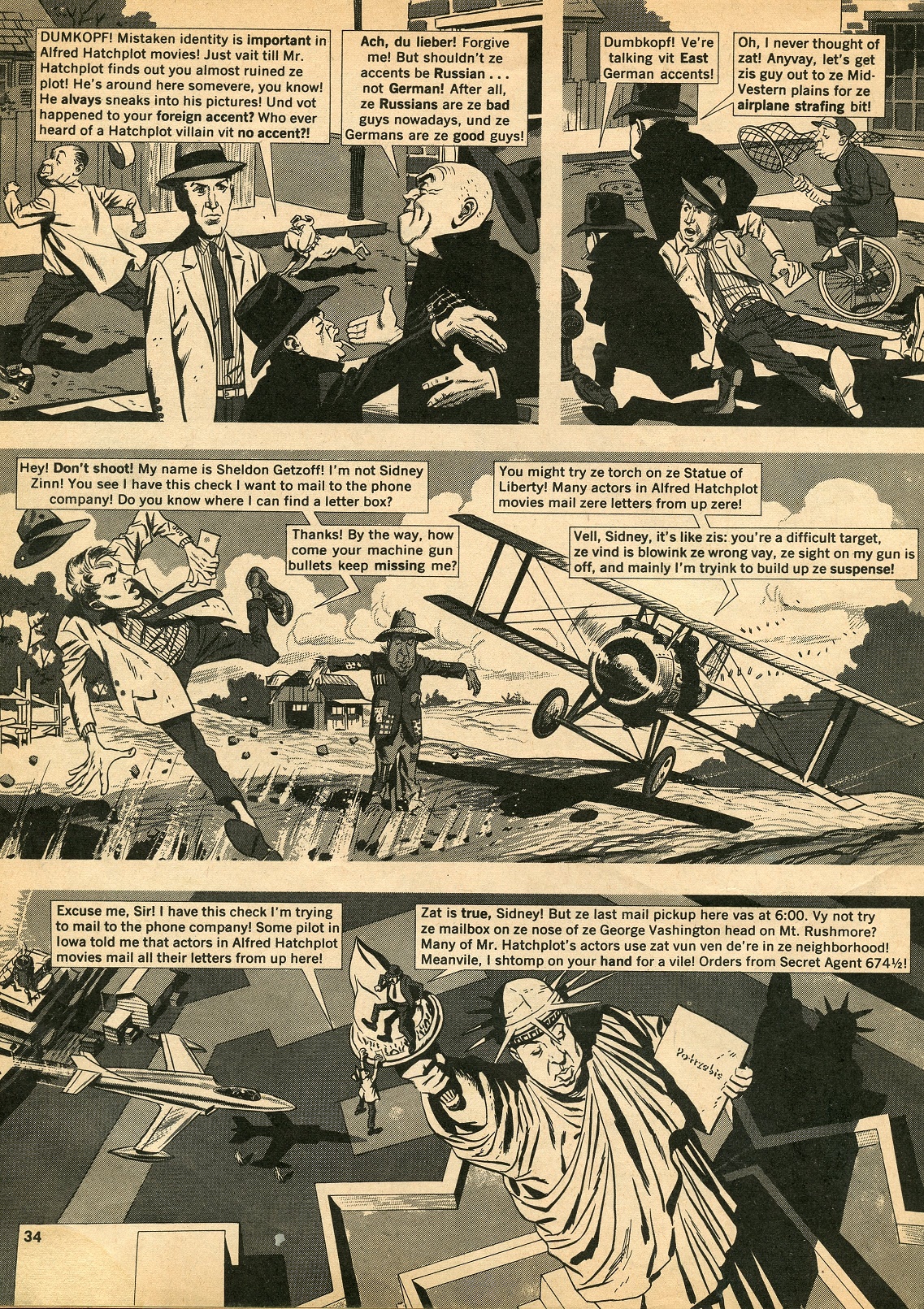 #54 "Around the World with U.S. Television"
#55 "The Mad Madison Avenue Primer"
"The Jackie Talented Story"
#56 "The Mad 'Comic' Opera"
#57 "If Magazines Carried Comic Strips"
"Gangster Movie Preview"
#58 "Mad's 1960 Political Alphabet Book"
#59 "The Parent from the Ages of 21 to 60"
#60 "The Mad Shakespeare Primer"
#61 "Guest Shots"
#62 "How To Make Dull Reading Matter Interesting"
"Tomorrow's Parents"
#63 "Adult TV Cartoons"
#64 "Bedtime Stories as Told by 'Job-Conscious' Fathers"
#65 "Television Programs Aimed at Late, Late, Late Audiences"
#66 "Comedy Albums by Musical Artists"
#67 "Open Office Week"
#68 "The Comic Strip Characters' Christmas Party"
"What Do You Do for a Living, Daddy?"
#69 "If Babies Could Take Parent Pictures"
#70 "Museum of Madison Avenue"
#71 "Mad Investigates the Sordid Business of Gambling"
"The Big Bad Wall"
#72 "If Comic Strip Characters Were as Old as Their Strips"
"A Mad Look at the Eating Habits of Animals"
#73 "What If Products Only Worked Under Demonstration Conditions"
#74 "TV Ads We'd Like to See"
"The Mad Celebrity Primer"
#75 "Celebrities' Home Movies"
#76 "Seeing Isn't Always Believing When You Look at Newspaper Photos"
#77 "Why Did the Chicken Cross the Road?"
#78 "The Emergency"
#79 "TV's Effect on Children"
"Mad's 'Discount Center' Owner of the Year"
#80 "Mutiny on the Bouncy"
#81 "If Comic Strip Characters Behaved Like Ordinary People"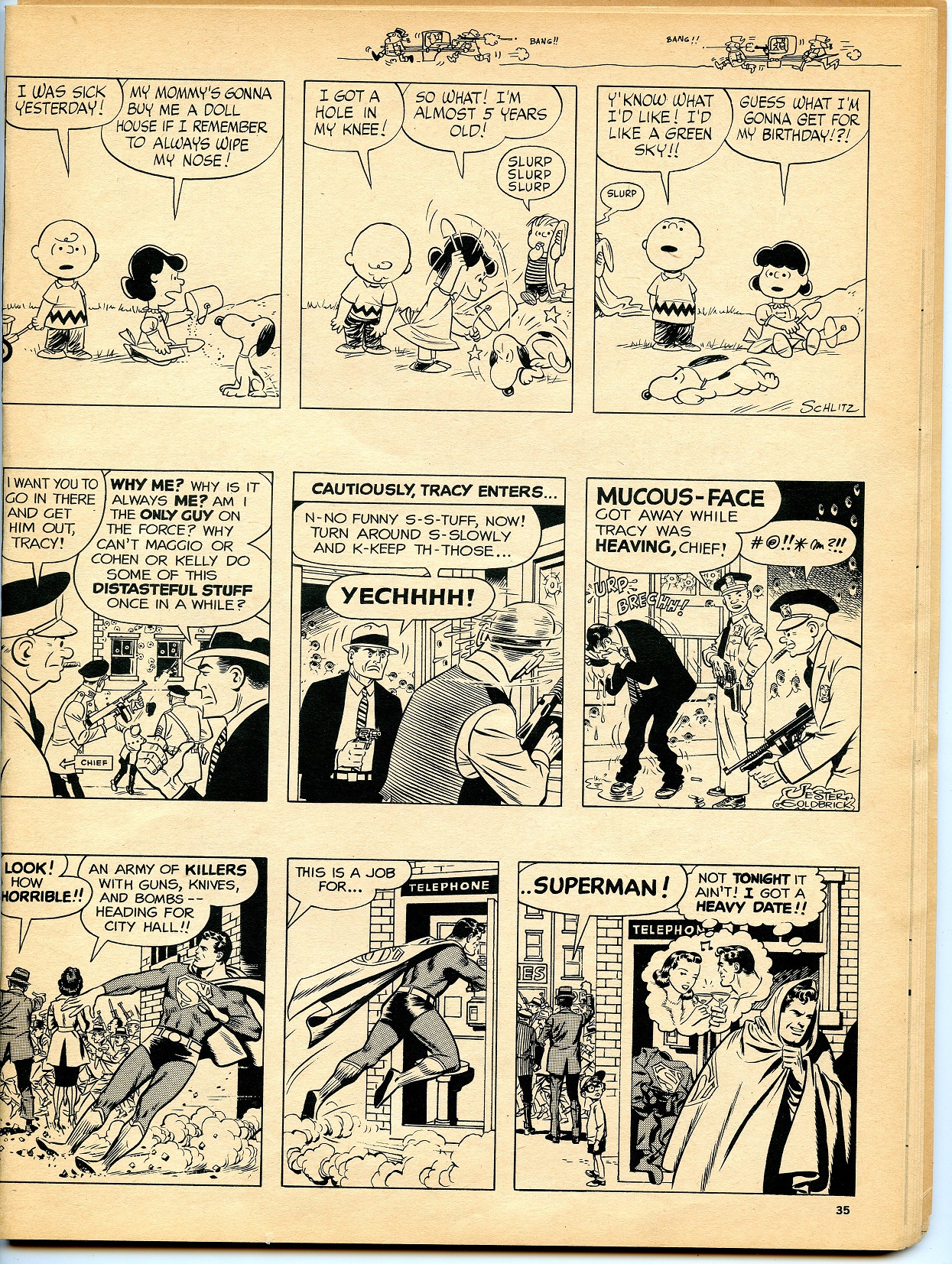 #82 "Comicland"
#83 "The Labor Union Manual"
#84 "Trademarks Resulting from Future Mergers"
#85 "Future Educational Comic Pamphlets"
#86 "When This Trend Toward 'Understanding' Gets out of Hand"
#90 "An Incident at a Red Light"
#143 "Altar Ego"

Galaxy Science Fiction (1952-1967)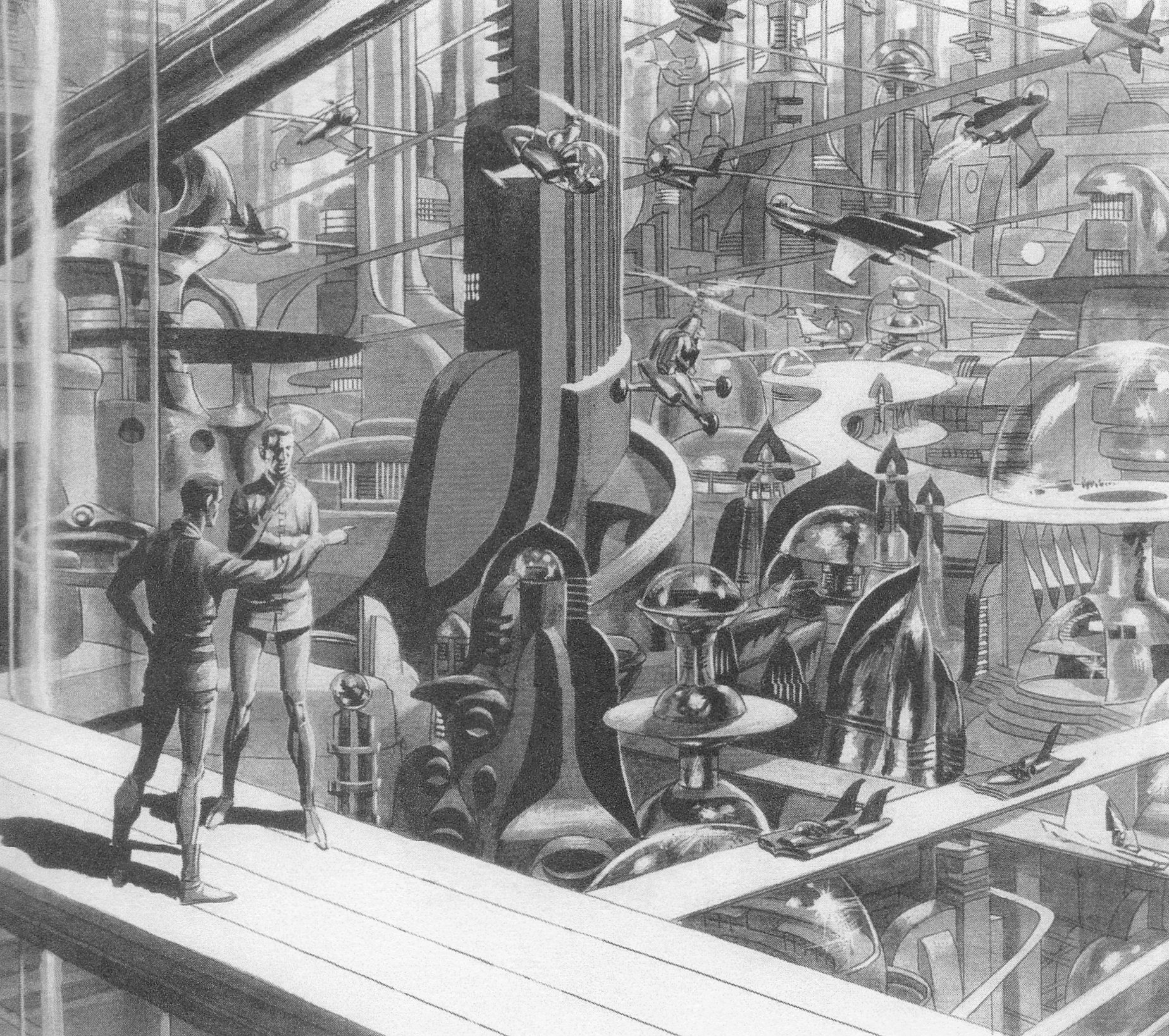 True-to-Life Romances (1952-1954)
Ace McCoy (1953)
Blue Bolt (1953)
Jungle Stories (1953)
Popular Teen-Agers (1953)
Spook Detective Cases (1953)
Planet Stories (1953-1954)
All-True Detective Cases (1954}
Panic (1954-1956)
At the same time as he was drawing for Kurtzman's Mad comic, Wood began illustrating stories for Al Feldstein's Panic comic, the EC in-house Mad competitor. There is no doubt that Kurtzman and Feldstein has different approaches (and disagreements) during the period, but Wood's work did not suffer as a result. Wood's work appeared in ten of the twelve issues of Panic. All were multi-page movie parodies. [JAM 6/26/2017]
#2 - "African Scream"
#3 - "The Quite-A-Man"
#4 - "Hindu"
#5 - "20th Sensuous Wolf Presents You Too Can Hook a Zillionaire"
#6 - "Executive Seat"
#7 - "Them*There*Those"
#8 - "Gone With The Widow"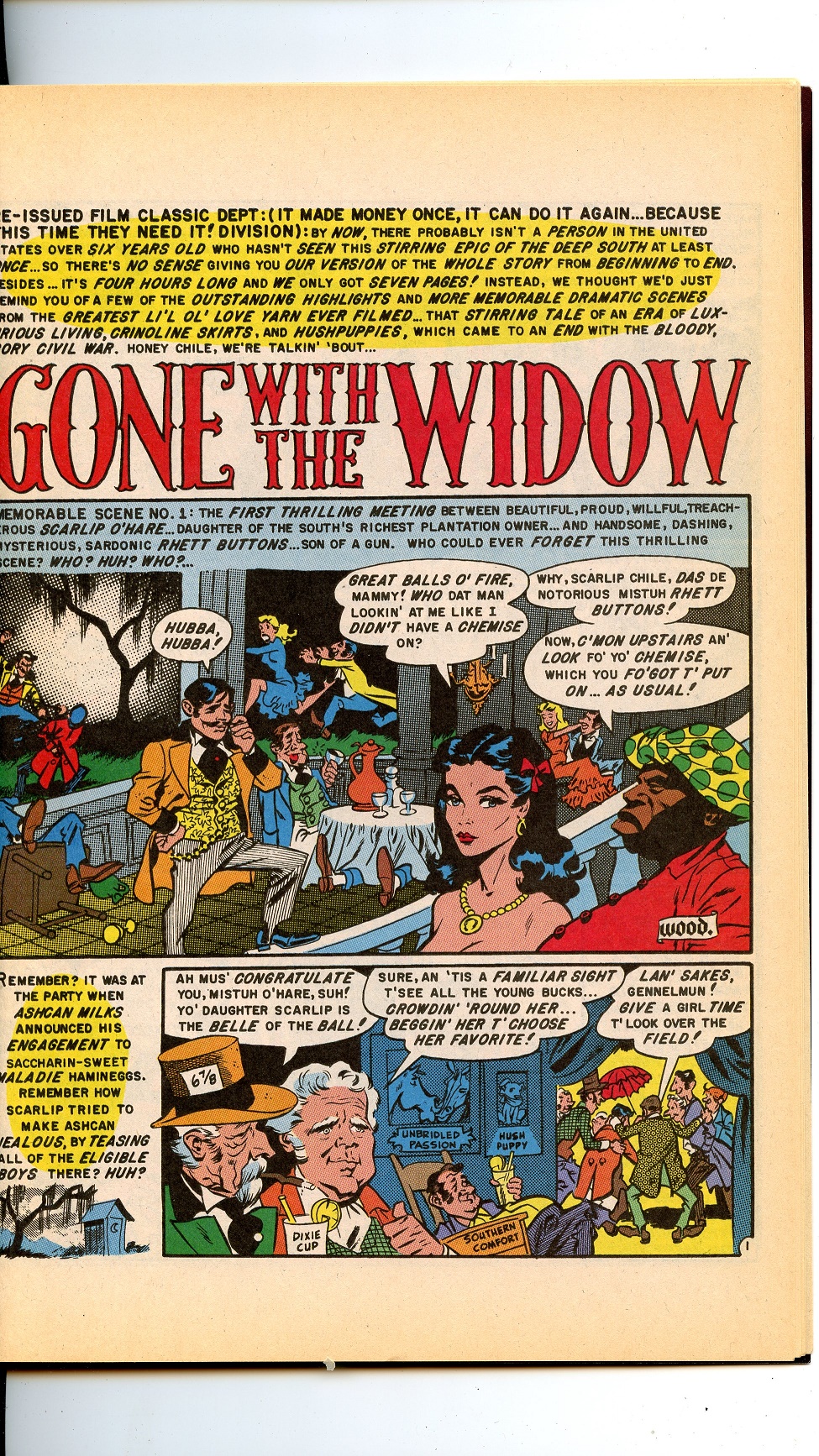 #9 - "Bo Bummel or Much Ado About Clothing"
#11 - "20,000 Leaks Under the Sea"
#12 - "'S a Tragic Air Command"
Confessions of Romance (1954)
Piracy (1954-1955)
Aces High (1955)
Valor (1955)
The Thorn of Rosehill (1955)
Incredible Science Fiction (1955-1956)
All-American Men of War (1956)
Colonial Survey (1956)
Confessions Illustrated (1956)
Mystic (1956)
Our Fighting Forces (1956)
Western Gunfighters (1956)
Journey into Mystery/Unknown Worlds (1956-1959)
Playboy (1956-1963)
Marvel (1956-1971)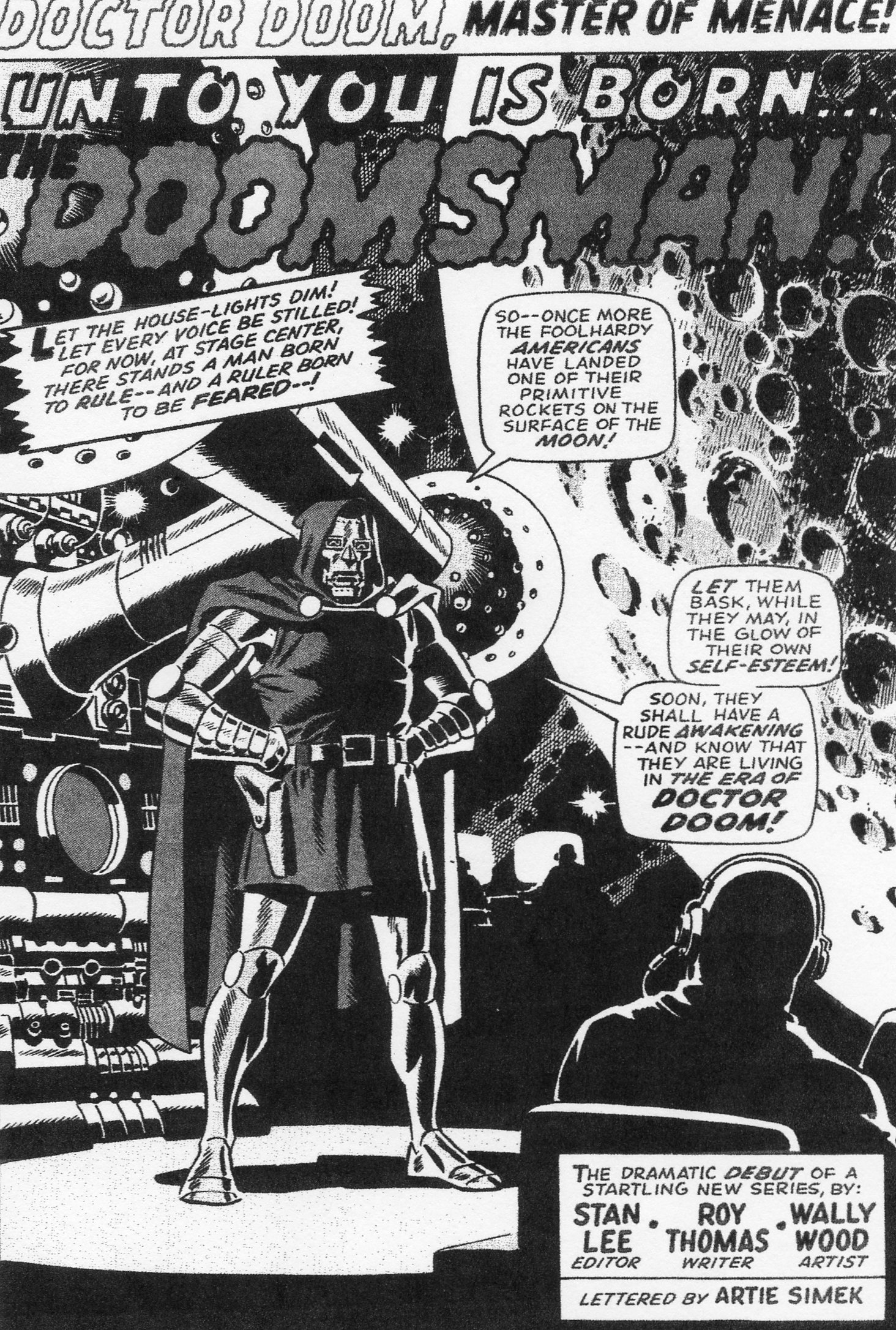 Trump (1957)
Wallace Wood was an important part of Harvey Kurtzman's grand experiment with Playboy Publisher Hugh Hefner. However, Wood's drawings appeared only in the first of the two issues of Trump. Following are some notes from Playboy Trump: The Complete Collection (Denis Kitchen 2016). [JAM 6/26/2017]
"This 'Hansel and Gretel' spoof as an animated Walt Disney feature is beautifully rendered by artist Wally Wood. His versatile style captures the cute, flatly rendered Disneyesque kids and creatures in the foregrounds alongside suitably macabre backgrounds. After this and two other contributions to Trump No. 1, Wood would not return. In the tug of war over Wood's exclusive services, Bill Gaines and MAD prevailed. Kurtzman summarized his feelings to Wood in an undated 1956 letter: 'Dear Wally: I have wanted to get in touch with you for some time now, but didn't because I haven't had anything positive to say. After our last meeting, I went home and thought and no matter how I sliced it, I couldn't think of a method to give you work in a way that would be fair to the others that work with me ... to say nothing of comprimising [sic] my other convictions regarding competitors. Judging by results I am getting with TRUMP I am firmer than ever in my belief that TRUMP has to be turned out by a 'closed-circle' of people, much as we used to believe when we all worked together at EC. The only happy note coming from this whole situation is that it may comfort Bill [Gaines] that democratic processes are still at work in the satire magazine field where people can elect to work where they chose despite his fears. Our own sources of information indicate that TRUMP is selling very well, but these sources are niether [sic] accurate nor conclusive. I'm still hoping that we will be able to work together again in the future. My regards to Tartjana [sic]."
#1 "Personality of the Month: Elvis Pretzel"
"Candid Camerapix"
"Movies: Hansel and Gretel"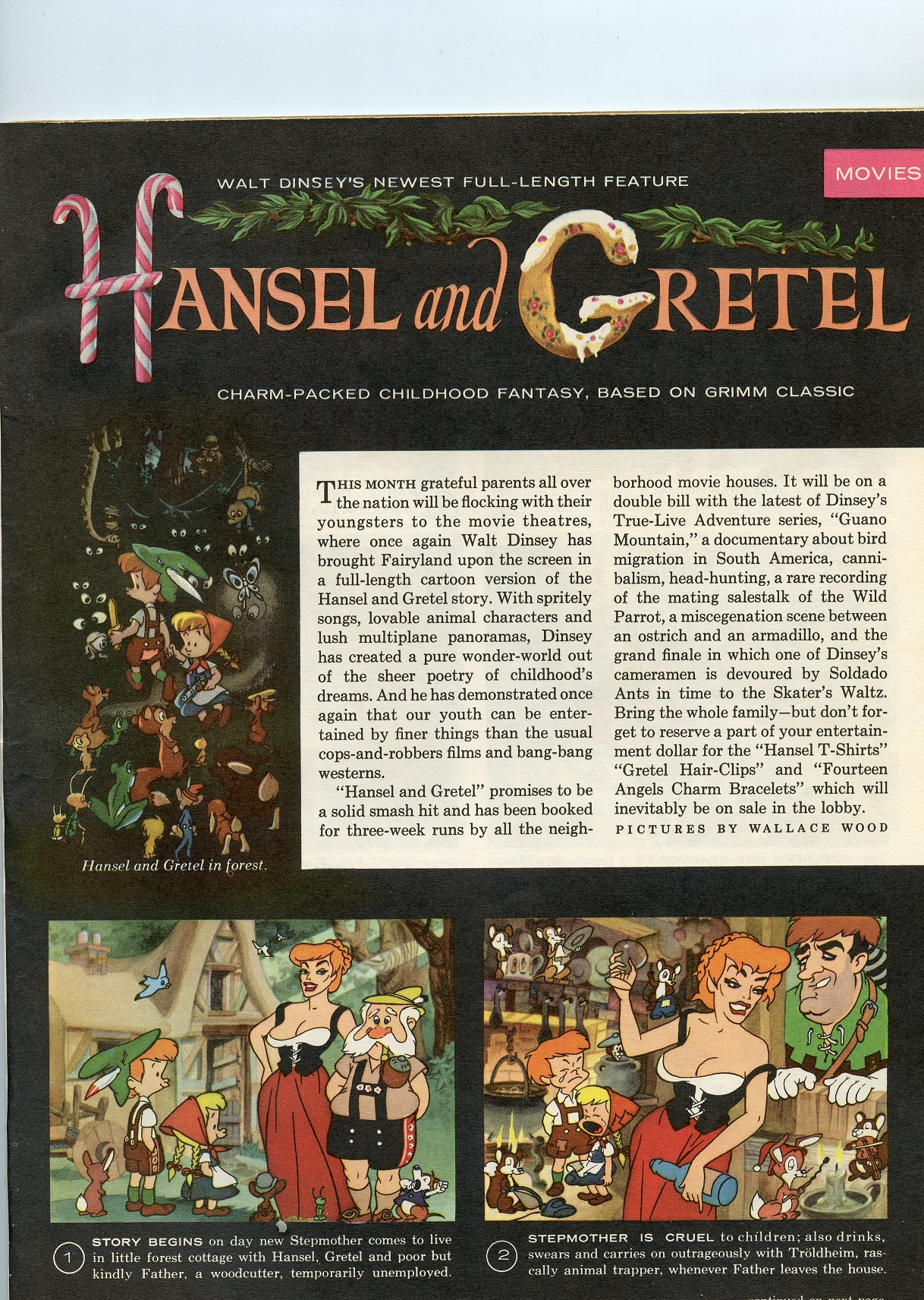 Humbug (1957)
#1 Self Portrait
"Science: Discovery Explains Atom Fusion"
These wonderful drawings by Wood were reduced to ridiculously small size in Kurtzman's Humbug. This may have been part of the problem that caused Wood to quit contributing to Humbug. This excellent magazine suffered from poor financial support and did poorly on newsstands because of its small size and weird coloring. [JAM 7/24/2021]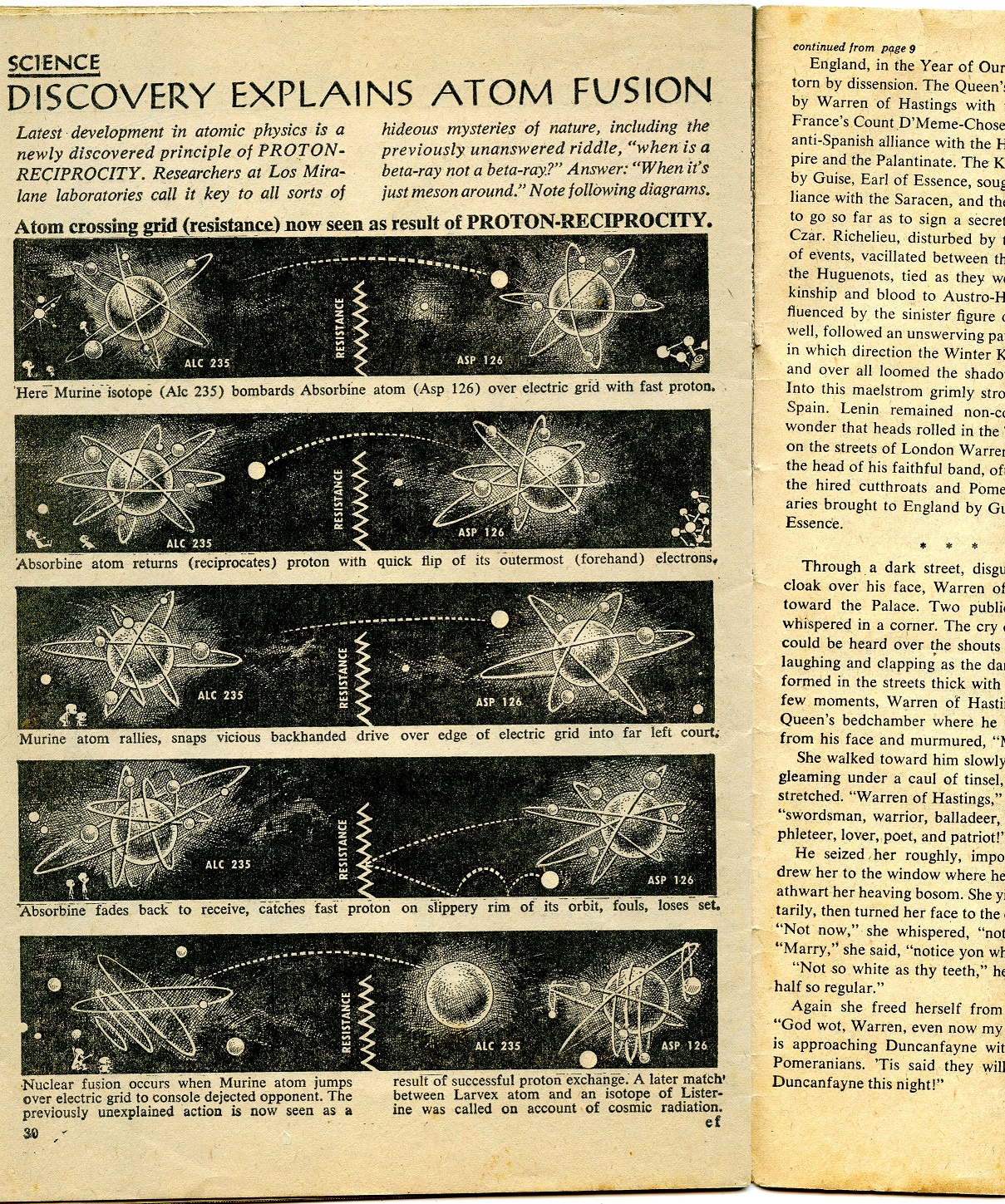 Dude (1957)
Gent (1957)
Mechanix Illustrated (1957)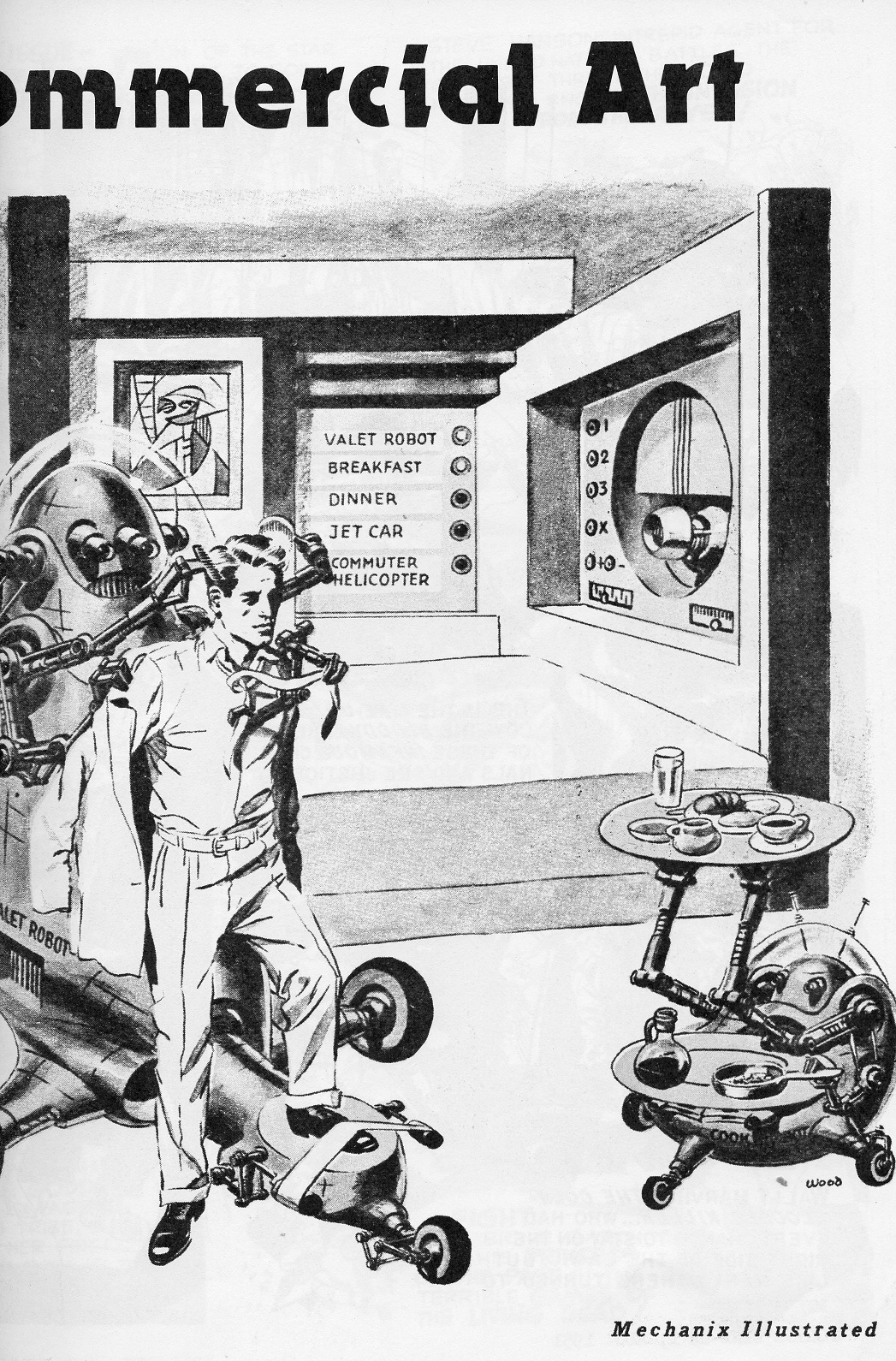 The Return of Conan (1957)
The Shrouded Planet (1957)
Nugget (1957-1963)
Amazing Stories (1958)
Art Linkletter's Picture Encyclopedia for Boys and Girls (1958)
Surf Hunter (1958)
Undersea City (1958)
Challengers of the Unknown 4-8 (1958-1959)
Sky Masters of the Space Force (1958-1960)
Childhood of Famous Americans (1959)
The Original Science Fiction Stories (1959)
If (1959-1968)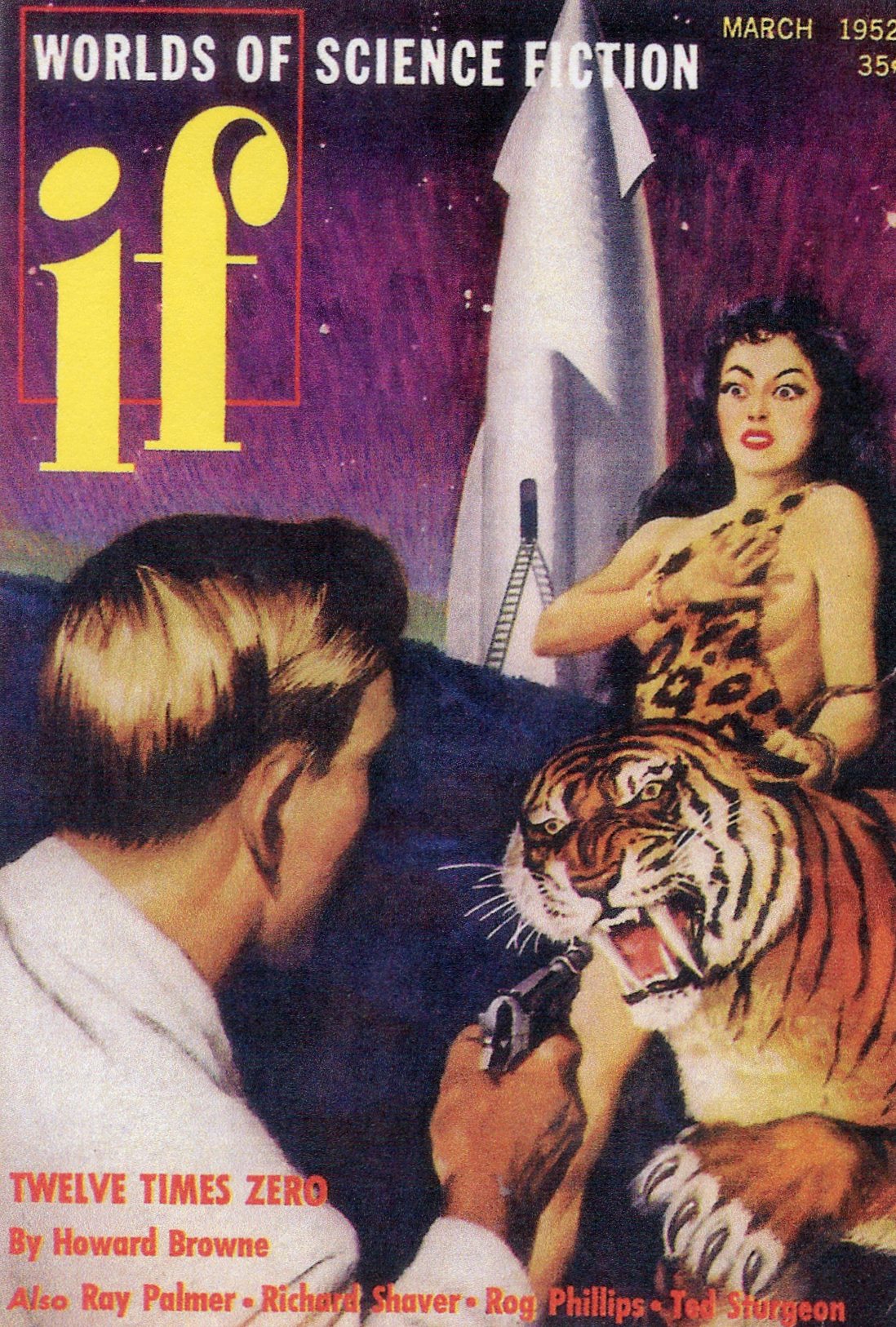 Sweethearts (1960)
Fourth Annual Edition of the Worst from Mad (1961)
Sunday Comic Section
"Blondey"
"Li'l Abneh"
"Mary Worthless"
"Prince Violent"
"Ripup's Believe It Or Don't" (reprinted from Mad Nos. 37, 38, 41, 42)
"Pogum"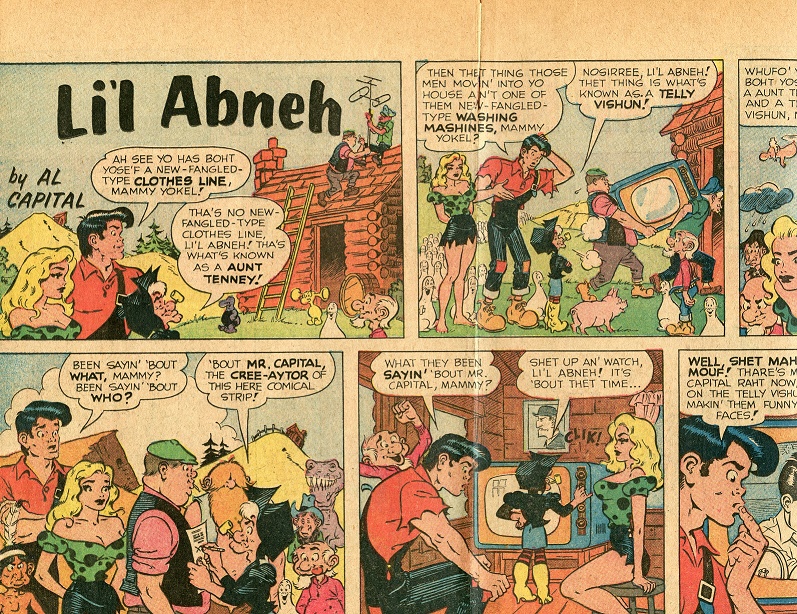 Topps (1961-1976)
Twilight Zone (1962)
This Is the Week to Remember (1962-1963)
Strange Adventures (1963)
Worlds of Tomorrow (1963)
D-Day (1964)
Dr. Fu Manchu (1964)
Mars Attacks (1964)
Monster World (1964)
Pageant (1964)
Peter & Penelope Poof Have a Party (1964)
U.S. Paratroops (1964)
War and Attack (1964)
Horror of Party Beach (1964)
Daredevil 5-11 (1964-1965) 164 (1980) - "Script and Art by Wally Wood"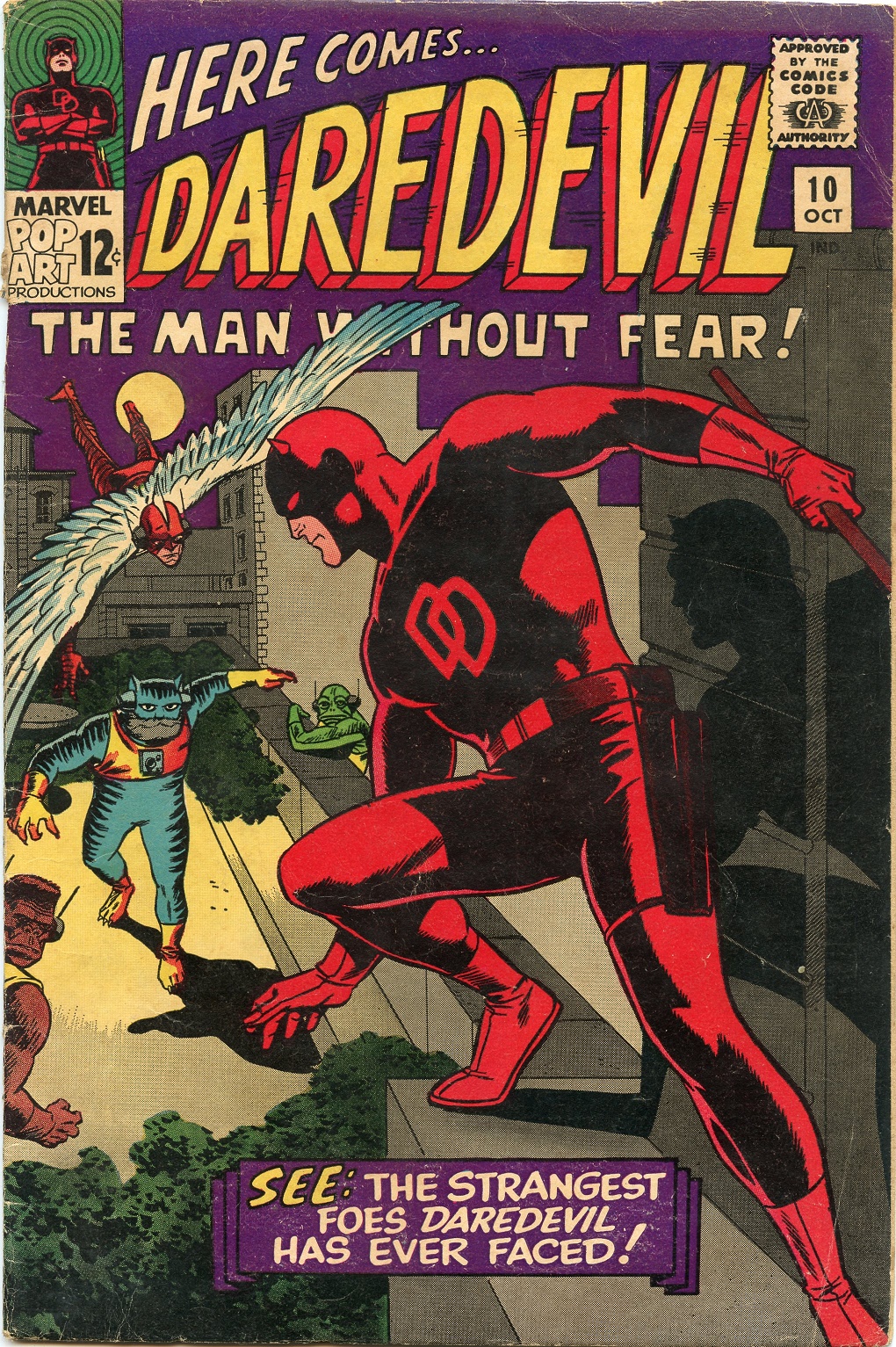 Avengers (1965)
Boris Karloff Tales of Mystery (1965)
Fantastic Four (1965)
Laff Magazine (1965)
Ripley's Believe It Or Not (1965)
Strange Tales (1965)
Tales of Suspense (1965)
Total War (1965)
Cavalcade (1965-1967)
The Munsters (1965-1968)
X-Men (1965-1968)
T.H.U.N.D.E.R. Agents 1-20 (1965-1969)
Blazing Combat (1966)
Isis (1966)
M.A.R.S. Patrol (1966)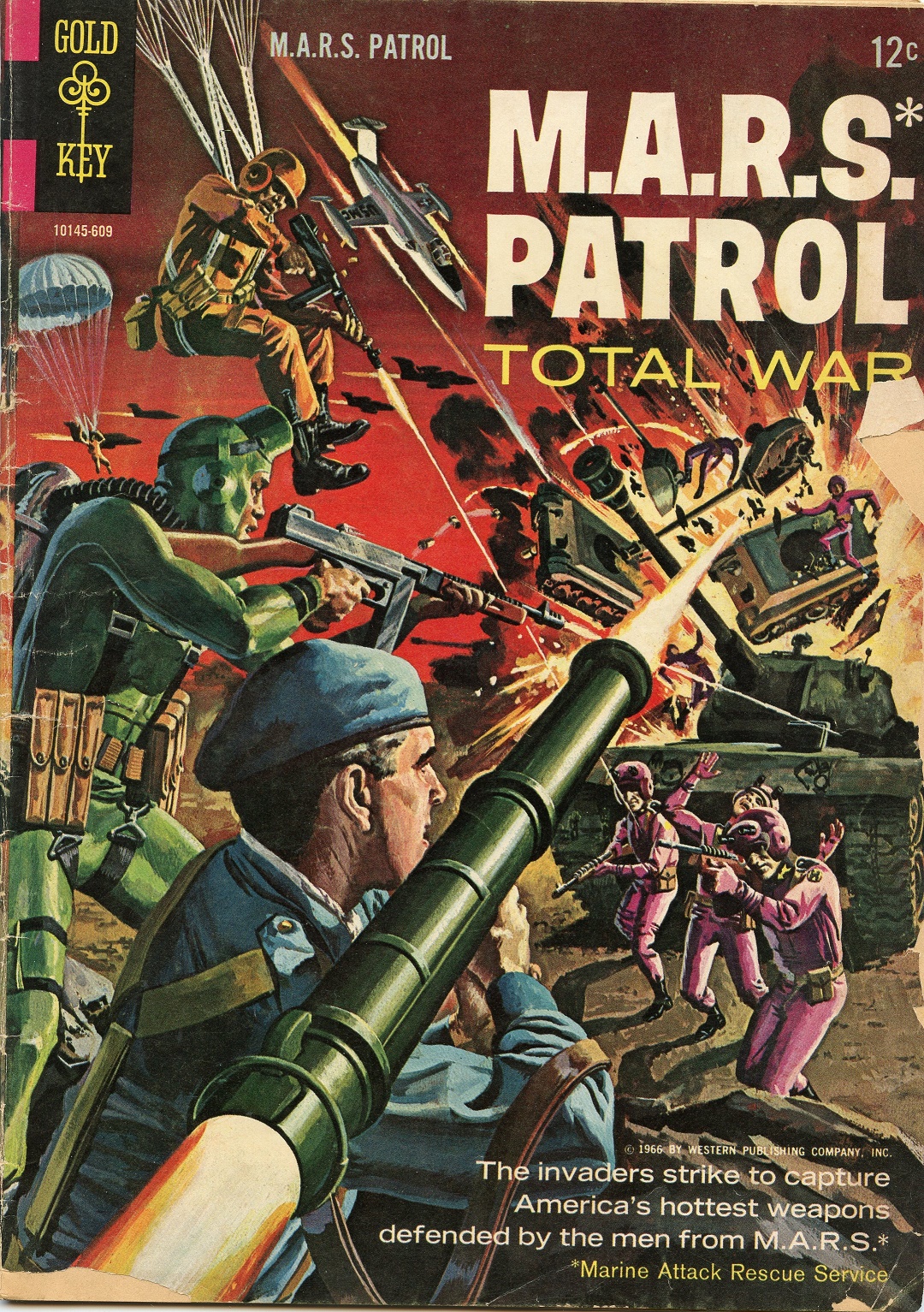 The Phantom (1966)
Unearthly Spectaculars (1966)
Noman (1966-1967)
Warfront (1966-1967)
Eerie (1966-1974)
Dynamo (1966-1967)
Creepy (1966-1977)
witzend (1966-1985)
"Statement of NO Policy: Our only aim is to make this magazine the best, most entertaining one we possibly can. Our theory is that an artist is his own best editor, and left to his own devices will turn out his best work."
#1 Cover drawings
Character reading "Statement of NO Policy" to ten friends in the woods
"Bucky Ruckus" ("Forthcoming in the foreseeable future.")
"Animan" (7 pages)
Joan of Arc
With encouragement from his fellow artists, Wally Wood started this publication in 1966 (orinigal title - Et Cetera) to display original, unedited artwork, and to allow the artists to retain the copyrights for their work. The Fleagles (Al Williamson, Frank Frazetta, Angelo Torres, Roy Krenkel) produced the first story ("Savage World!") with Williamson signing for the final artwork. Buster Crabbe (1908-1983) is apparently the lead character as Frazetta's portrait of Crabbe fills the back cover. The second multi-page story ("Sinner") is a cautionary tale by Archie Goodwin (uncredited). The major effort by Wood is the first episode of "Animan" - a jungle story with classic brushwork by the best comic book artist of them all. The volume ends with the clever ten-page "Moon Critters" by Jack Gaughan (1930-1985). This ambitious new publication was well-received by those who read it but Wood & Co. lacked a nationwide distribution system. In the first issue, Wood calls for orders one issue at a time since the publication schedule may be sporadic, quarterly if all goes well but possible just an annual. [JAM 2/1/2015]

#2 Cover
"Animan" (9 pages)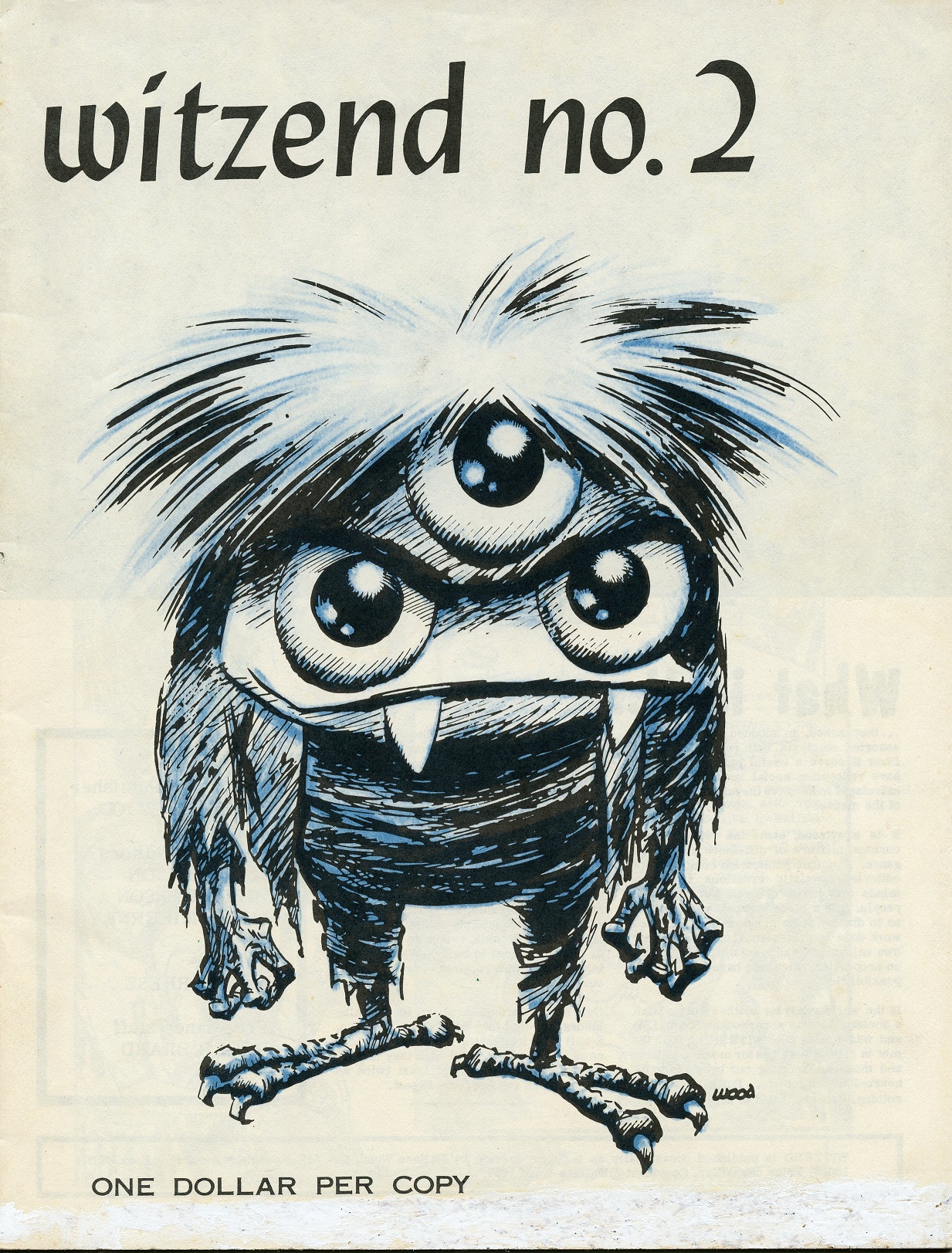 #3 Cover
"Pipsqueak Papers" (3 pages)
#4 "Pipsqueak Papers" (4 pages)
"The Rejects" (3 pages)
"The World of the Wizard King" (5 pages)
#5 "The World of the Wizard King" (5 pages)
"Pipsqueak Papers" (5 pages)
#6 "The Spawn of Venus" (8 pages)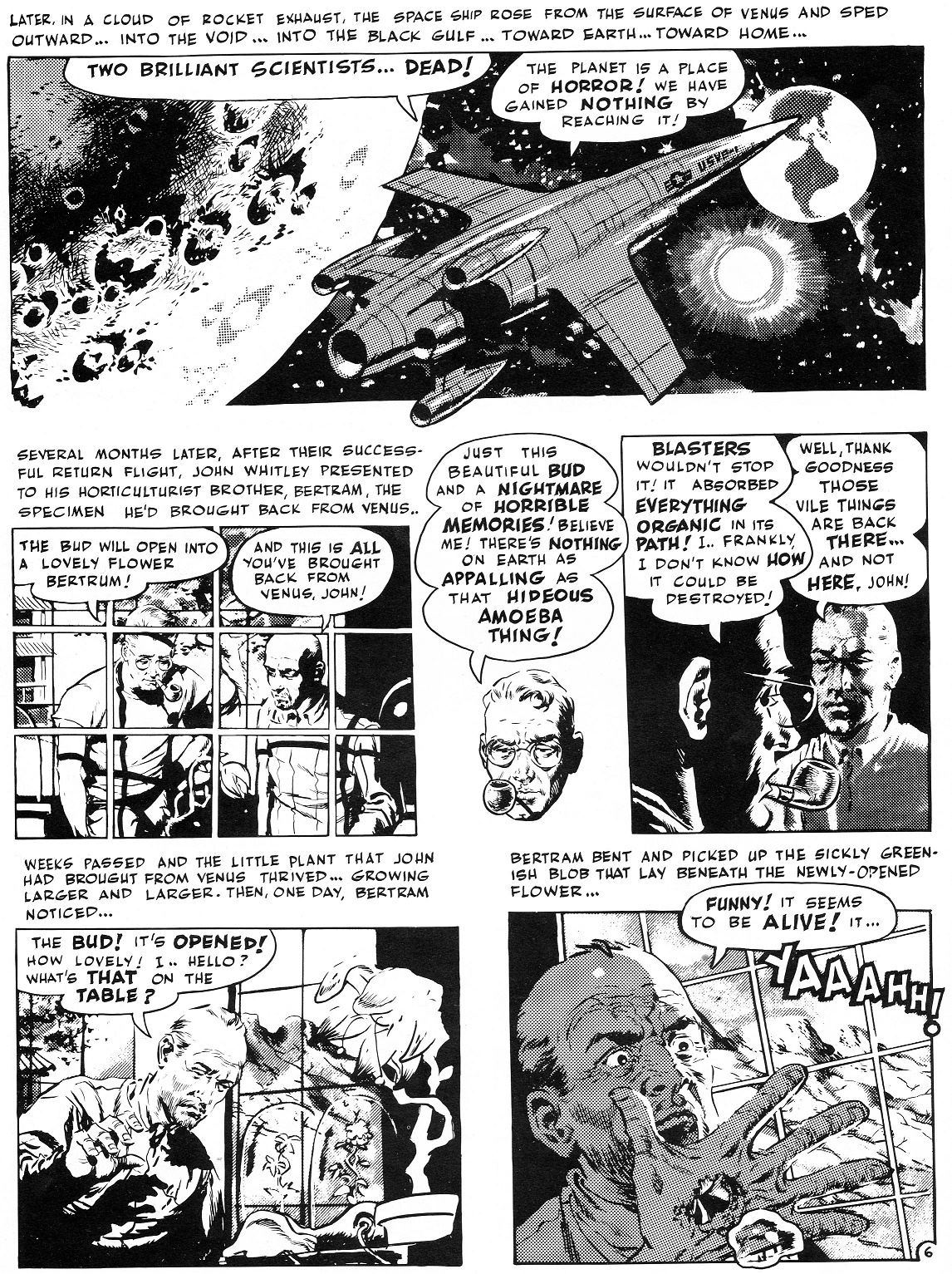 #8 "The World of the Wizard King" (5 pages)
#10 Cover
"Sally Forth" (6 pages)
#11 "The Wicked World of the Wizard King" (4 pages)
"The Wanton World of the Wizard King" (4 pages)
"The Welcome World of the Wizard King" (4 pages)
#12 "Lunar Tunes" (12 pages)
"Wallace Wood 1927-1981 (Wizard King drawing with cartoon border)
#13 (aka "Good Girls") Title Page
"Whistler slugging his mother" (And "inked spoof" of Whistler's painting) - (page 20)
"Girl pointing the pistol" (page 21)
Preliminary Screw cover sketches (pages 26-27)
Proposed witzend cover (page 37)
Krazy Little Comics (1967)
The Topps Company, Inc. was founded in 1938 in Brooklyn, New York by the Shorin family. In 1950, Topps started to sell their bubble gum with trading cards. Wallace Wood started to do jobs with Topps in 1961 with Crazy Cards. In 1962, he did layouts for the popular Mars Attacks series. Wood continued with various projects for Topps through 1976 (Wanted Poster Stickers). In my opinion, his best and funniest art for Topps is the 16, eight-page Krazy Little Comics that featured parodies of DC and Marvel super-heroes. This concept did not sell well in the test market so Topps did not distribute them nationwide, thereby creating rare collectibles. These 128 pages, if expanded to book size and published on quality paper would certainly be a best-seller among classic comic book art fans.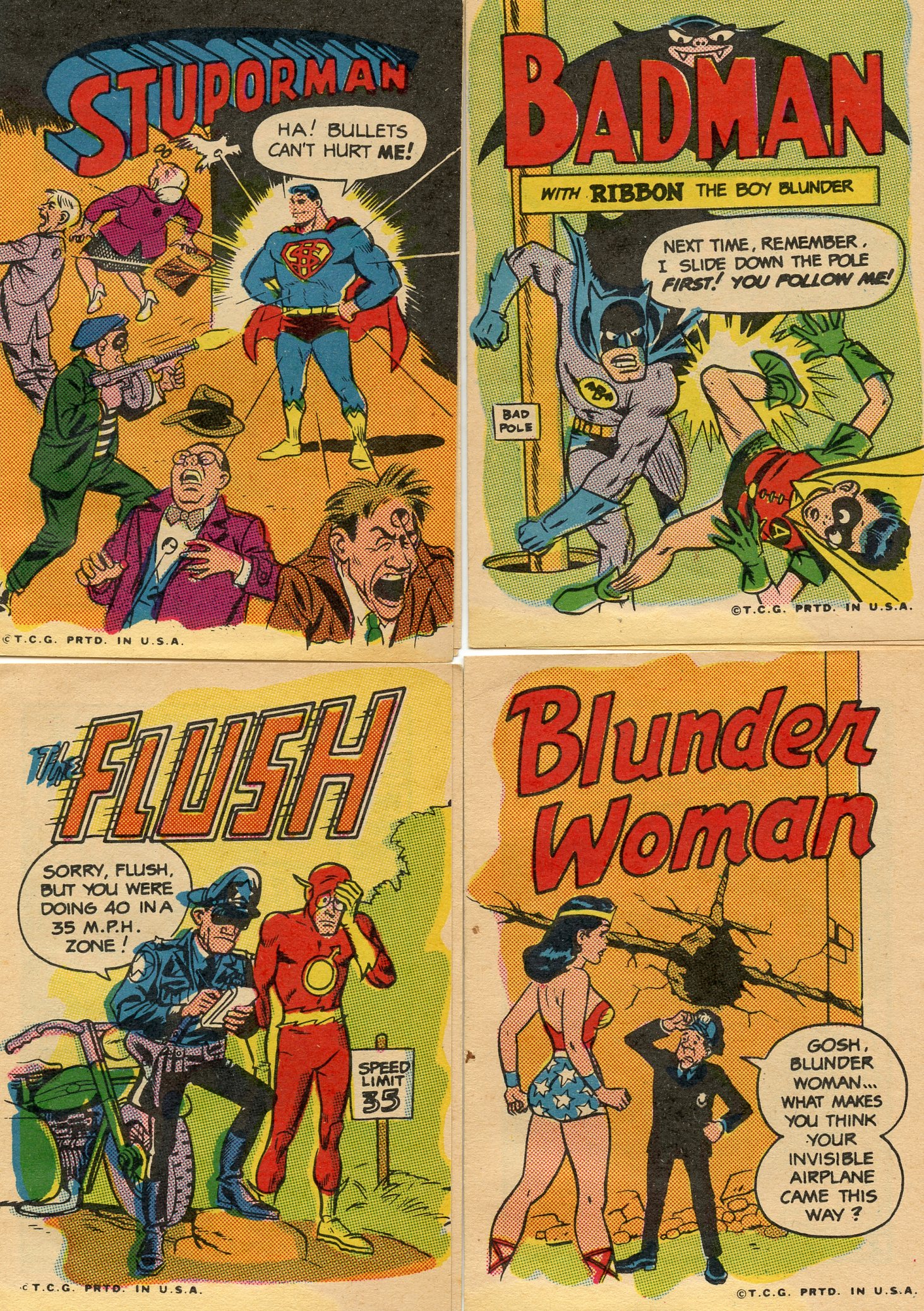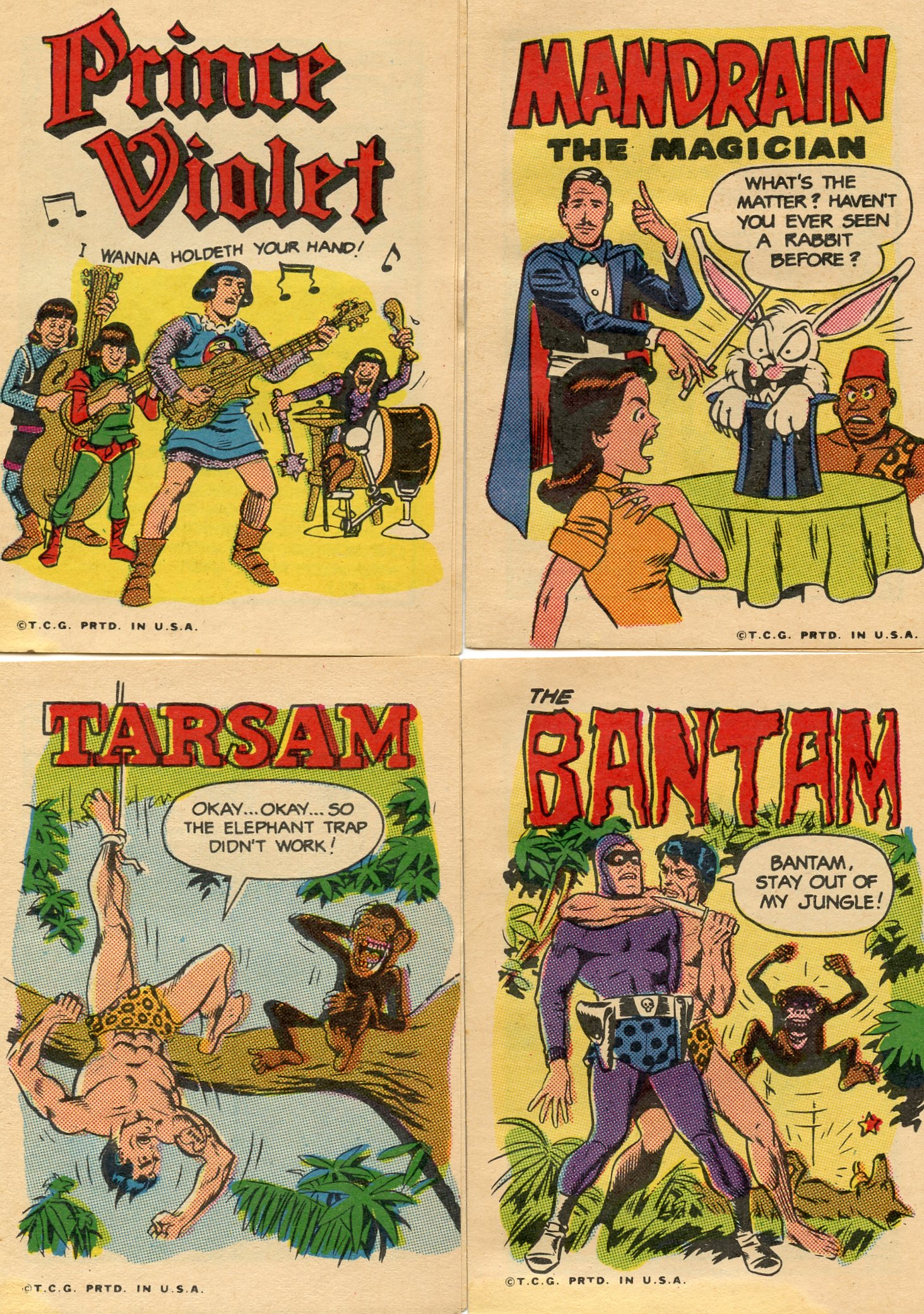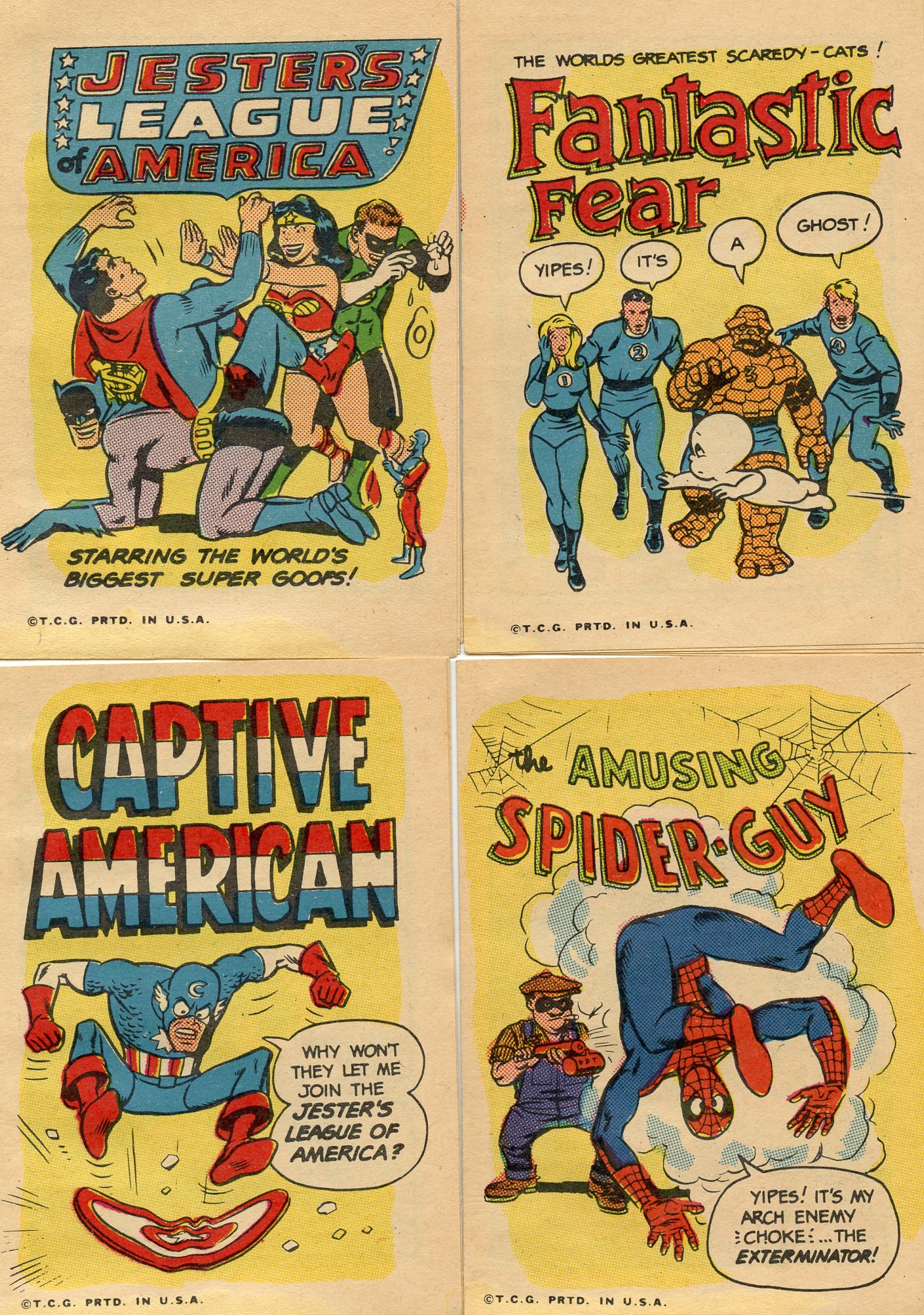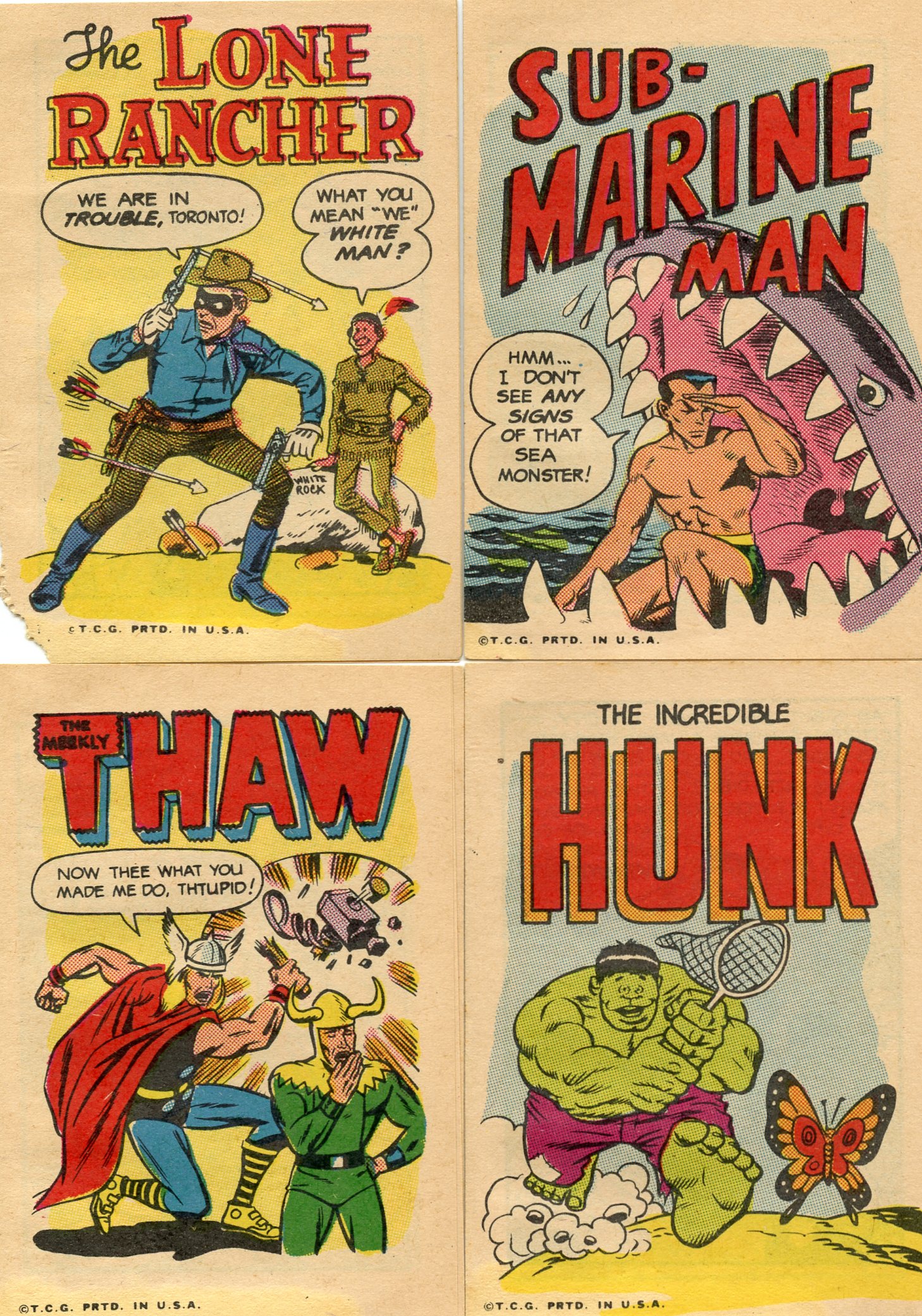 The Realist #74 (1967)
With the "Disneyland Memorial Orgy", Editor Paul Krassner and Artist Wallace Wood thumbed their noses at the litigation-prone Disney people by publishing a double-page centerfold of 50+ Disney characters in unusual positions. Woody demonstrated his absolute mastery of the Disney style of comic art. [JAM 7/7/2017]
Bucky's Christmas Caper (1967)
Cosmopolitan (1967)
Fantastic Voyage (1967)
Fantasy Illustrated (1967)
Fight the Enemy (1967)
Movie Comics (1967)
Undersea Agent (1967)
Wham-O Giant Comics (1967)
Alka-Seltzer (1967-1968)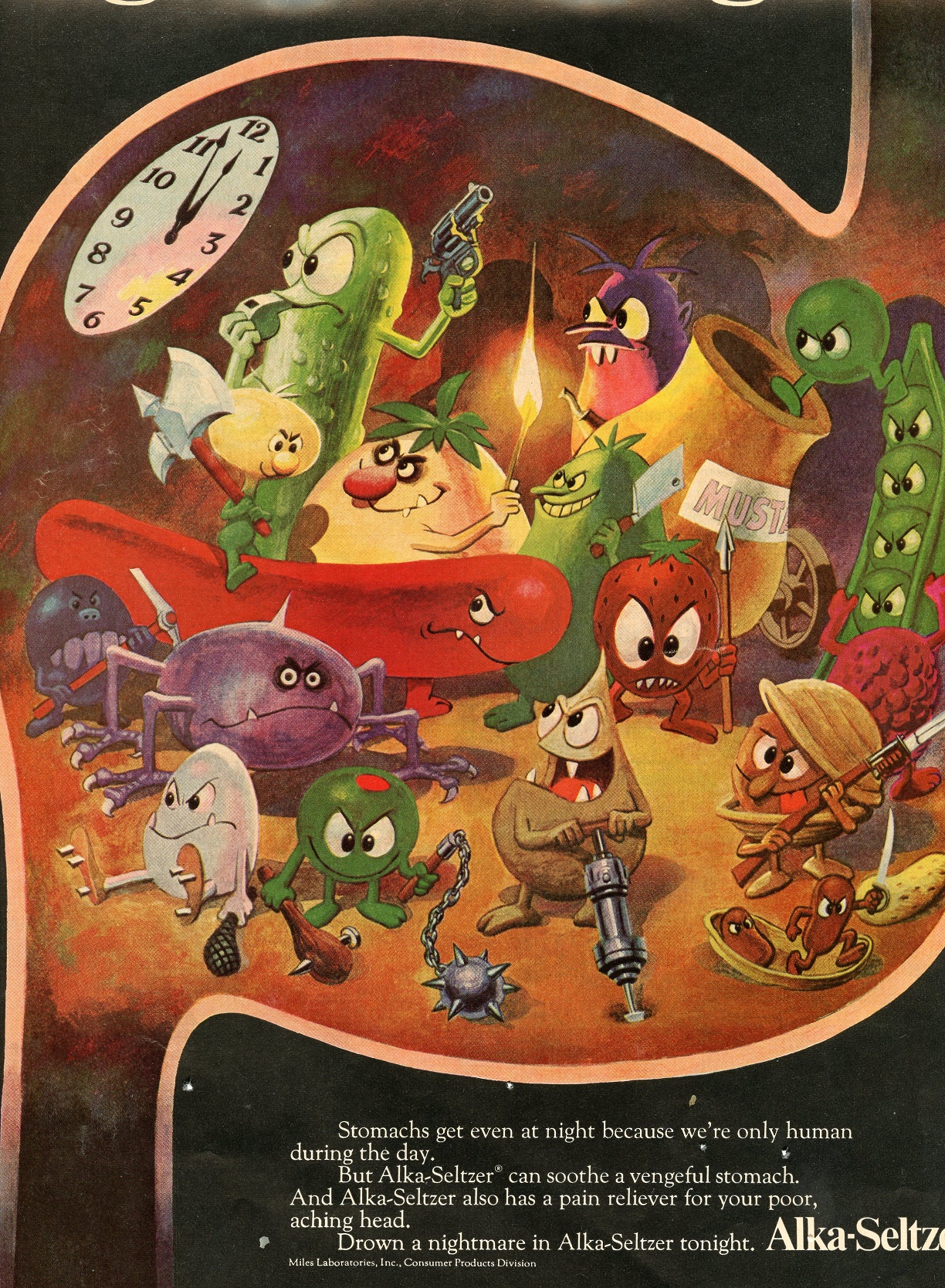 Jungle Jim (1967-1969)
Chicago Mirror (1968)
Pussycat (1968)
TV Guide (1968)
Gosh Wow! (1968)
Superboy (1968-1970)
Wallace Wood Portfolio (1968)
According to The Wallace Wood Checklist: "A self-promotional book, created for distribution to art directors, displaying 23 WW illustrations, including comics ('Pipsqueak Papers,' 'The Battle of Britain!'), book illustration (Bobbs-Merrill), advertising art (Scandinavian Airlines, Chemstrand, American Airlines, Alka-Seltzer), toys and games (Red Riding Hood, Sea Hunt), comic strips (Bucky's Christmas Caper) and magazine illustrations (Mad, Galaxy, witzend)."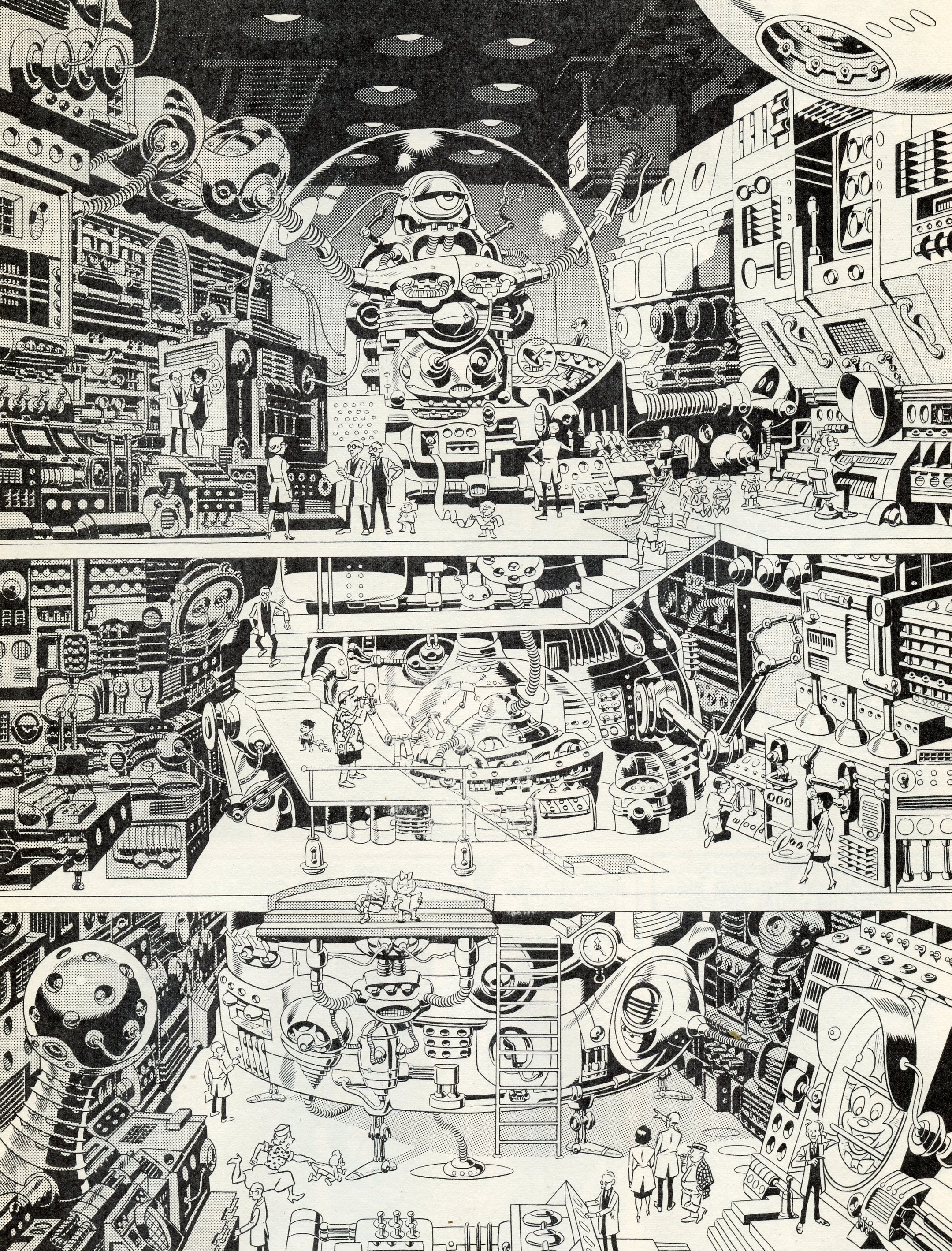 Sally Forth (1968-1978)
While Harvey Kurtzman and Will Elder were creating Little Annie Fanny comic strips for Playboy, Wallace Wood was writing and drawing a similar comic strip (Sally Forth) for Overseas Weekly. Both had one mandate - make sure that the heroine (Annie/Sally) appears naked in each episode. Wood had a smaller budget and shorter deadline (weekly vs. monthly). The writing is not the best and many of the jokes are lame but the artwork is classic Woody. If you ignore the words (and the naked woman in the room), these 131 black-and-white weekly comic pages some of the best ever produced. Wood was in top form displaying his knack for humorous art by sending Sally through a series of adventures in which she encountered many characters including Q.P. Dahl, Wild Bill Yonder, Kicky McCann, Hairy James, Captain Meno, Snork the Martian (aka Snorky, Snorkimer, General Greps and Field Marshal Veiikko Snorkkinnenn), The Omnivor, Queen Fertilda, Pheelia, Gale Garden, Dr. Farkoff, Flashy Gorgonzola, Mung the Mirthless, Rock Buggers, General Torpor, Count Meoff of Rottenbad, Gratz, Archduke Skrude of Microslavia, Jeeves the Butler, Count Vernacular, Larry Talbot, Igor, Major Krysis, Lord Gray Stripes/Starzan, Sheema Queen of the Jungle, Witch Doctor Captain Spaulding/Gaucho Mark, Agent Schwartz, Juan Peon/Luis Bodega/Katherine Peon, Col. Estaban Martinez y Jose Alfonso Mario y Ortega Kupperberg, Jose Espanol, Alfonso Jose ricardo, y Estaban Jaime Peon, Big Belle Lee, Libby Forth, Boobarella, Admiral Riddler, Tiny, Angel Pyggo, Head Pounder, Walter Concrete, Sherman Q. Verman, Major Asburn, Frank N. Stein, Professor Bogus, Crazy Ass Robinson, The Incredible Shrinkmann, Dr. D.K. Dent, Lois Lame (Sally), Superbman/Clark Coward, Perry Whine, Billy Ratson/Captain Marvin, Dr. Low, Orphan Annie, and various aliens, dinosaurs, apes and mice. All 131 pages have been collected in order (The Compleat Sally Forth) as edited by Bill Pearson. [JAM 7/4/2017]
Eposodes #1-13 - "The Co-ed Commandos Meet Captain Meno"
#14-24 - "Flashy Gorgonzola and the Planet Mungo"
#25-40 - "Microslavian Adventures"
#41-46 - "Monster Mayhem"
#47-52 - "Gorilla My Dreams"
#53-65 - "Starzan of the Jungle"
#66-80 - "Revolting Revolutionists"
#81-92 - "Feminists Liberation Blue"
#93-120 - "Boobarella"
#121-131 - "Superbman"
Squa Tront (1968-1983)
#2 - Reprint of Weird Science 9 cover
#3 - Avon stories, illustrated with covers for Captain Science 4, Captain Science 5, Space Detective 2 and Strange Worlds 5.
#5 - "3-D: Many Levels"
Pencil splash of "Spawn of Venus"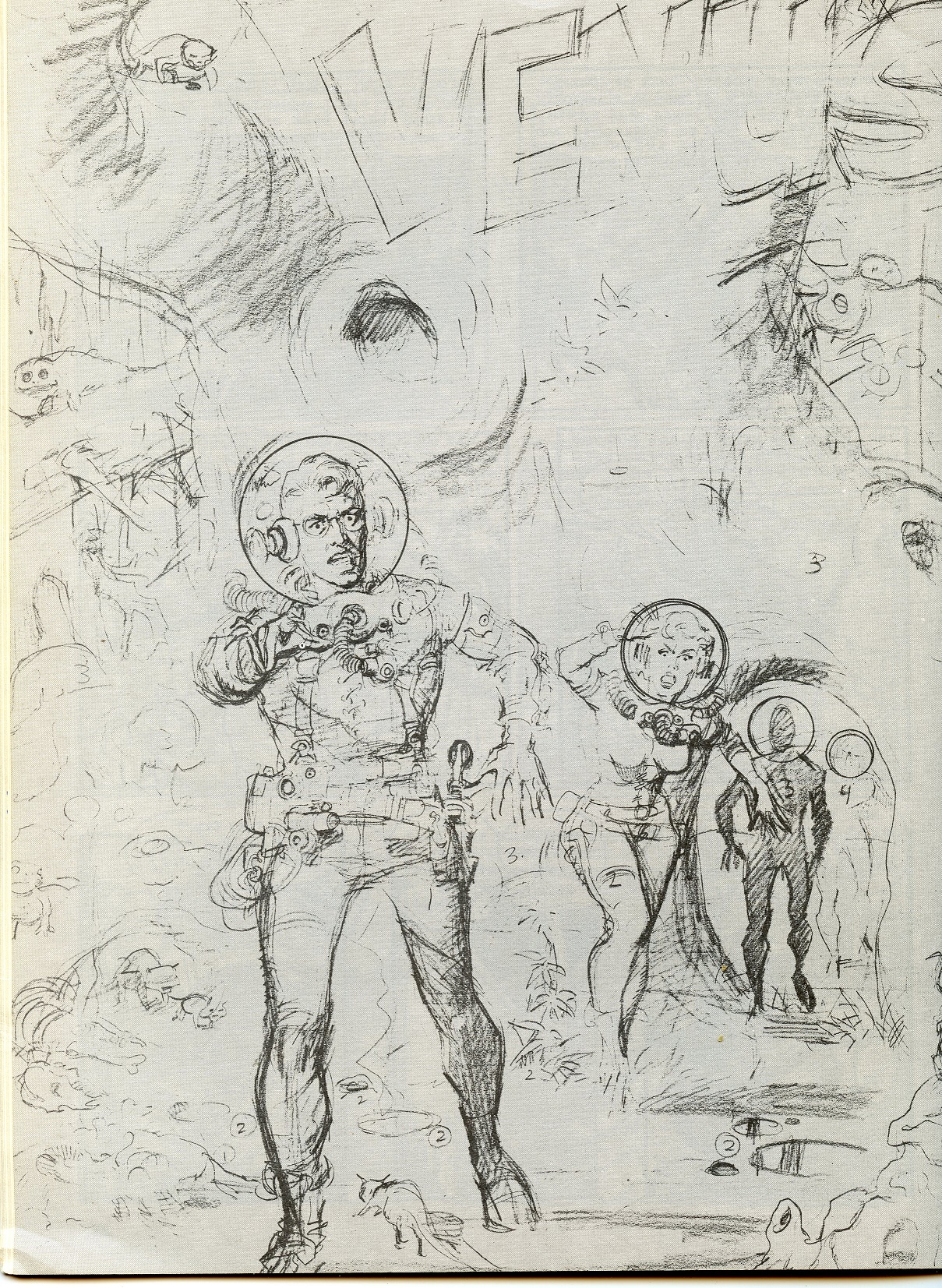 Street scene
Two-panel step-by-step build-up
#8 - "Barbarian Struggle"
"1972 EC Con/Transcripts"
"Good Lord! It's Alive!"
#9 - Inside front cover reprint from Planet Stories
Caricature from 1955 EC Christmas Party
Self-Portrait for EC staff thank-you poster to Bill Gaines
"Early Wood" portfolio
"The EC Writers" scripts for EC
"Cover Ideas from the Wood File"
Self-Portrait with his mother in the background
"In Memoriam, Wallace Wood"
Cover rough for Frontline Combat
Science fiction drawing in pencil and ink
Pencil art for page two of "Dark Side of the Moon" for Weird Fantasy 15
"A Rogue's Gallery"
Jungle Stories illustration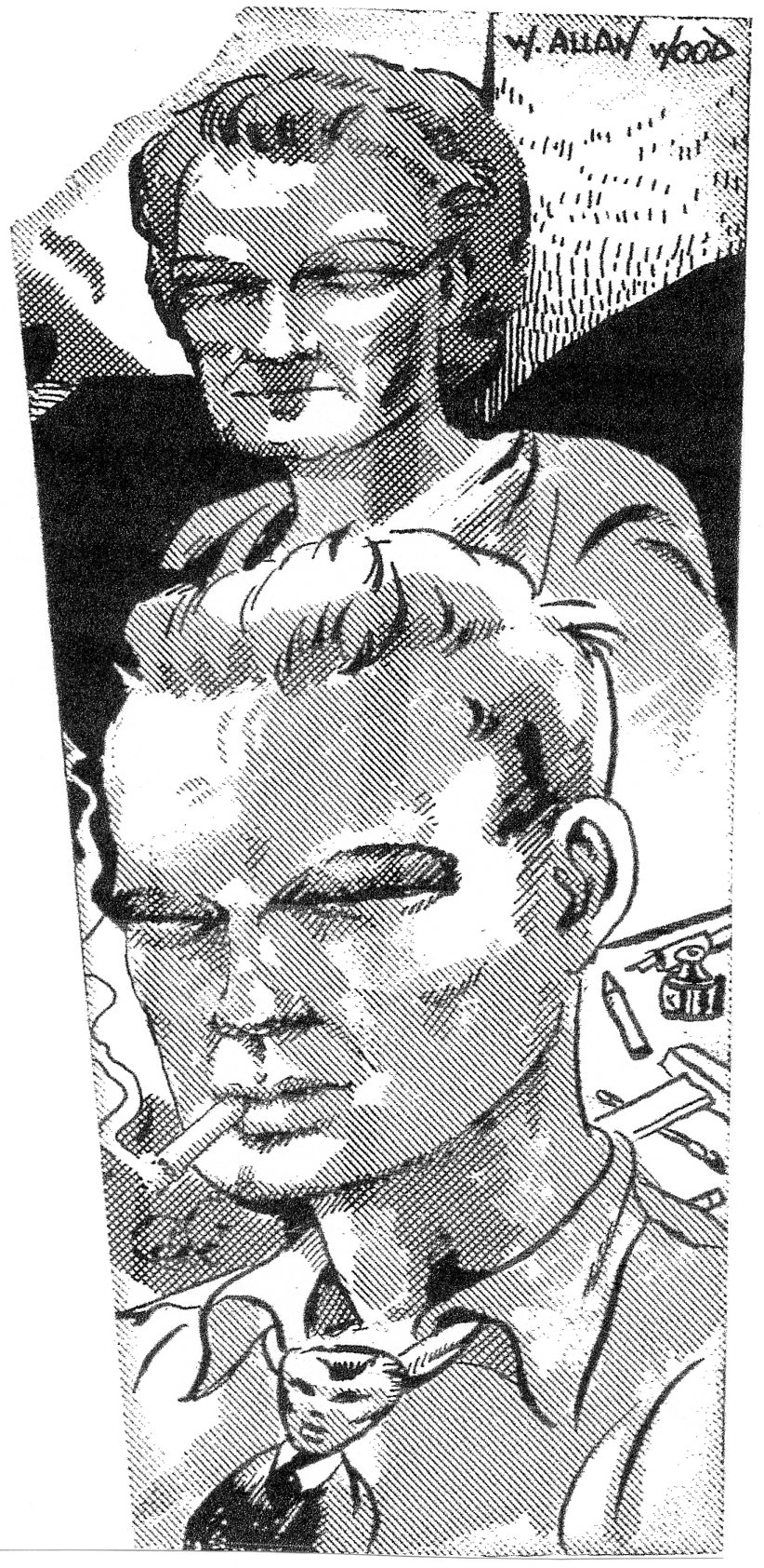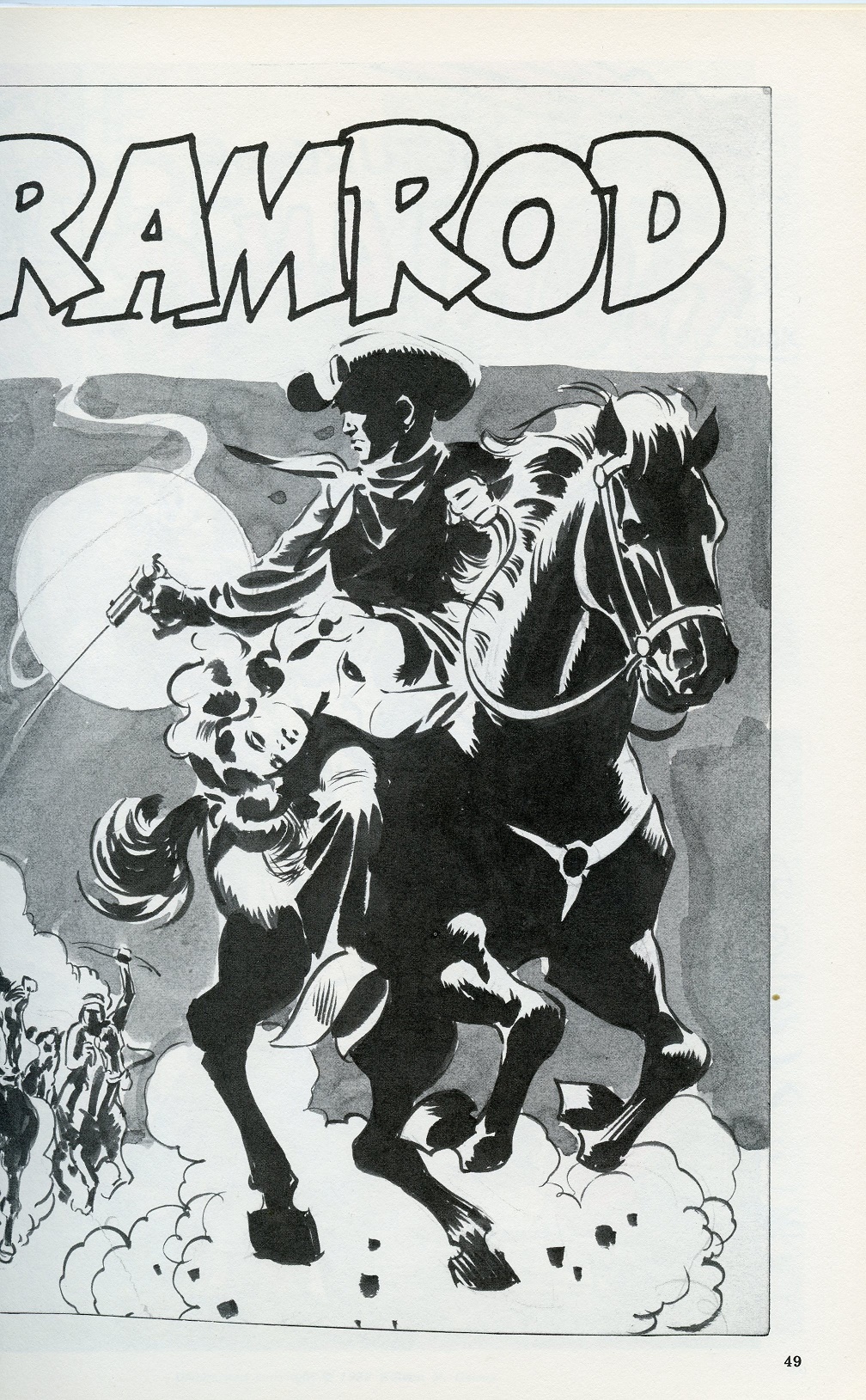 Captain Action 1,2,3,5 (1968-1969)
This short comic book series was based on the Ideal Toy Corporation actions figures. Wood is credited for doing four of the five inks and pencil for #1 with Gil Kane doing all of #4 as well as the other pencils. As always, the quality of Wood's art outshines the mediocre stories. [JAM 1/15/2021]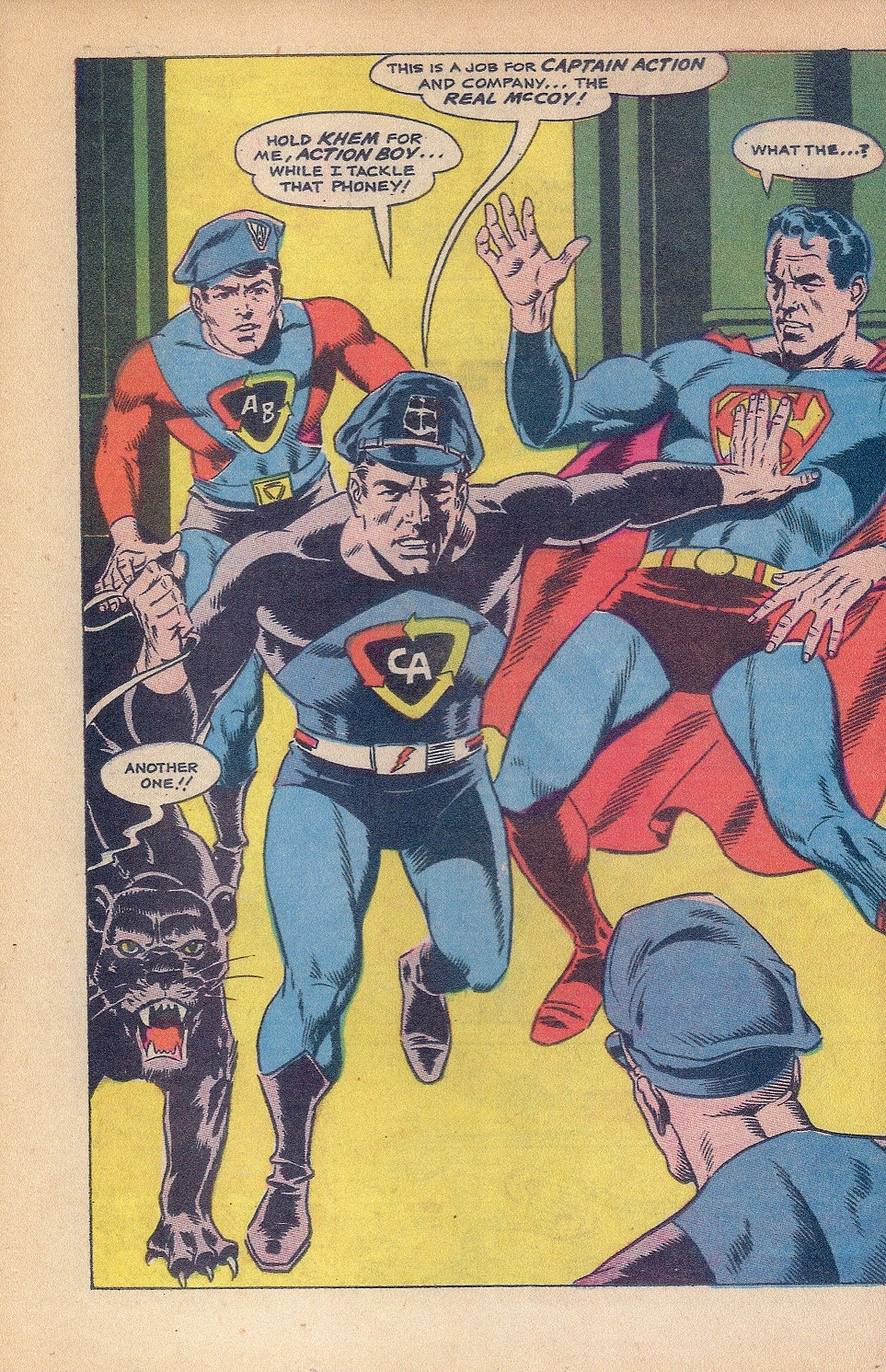 Angel and the Ape (1969)
Anthro (1969)
Capt. George's Comic World (1969)
Falling in Love (1969)
Meet Angel (1969)
Teen Titans (1969)
Trumpet (1969)
Hawk and Dove (1969)
Girl's Love Stories (1969-1970)
House of Mystery (1969-1977)
Heroes, Inc./Cannon (1969-1976)
Woody wrote, inked and edited the Heroes, Inc. comic book with help from Steve Ditko, Ralph Reese and Ron Whyte. Two of the articles (Dragonella & Misfits) were copyrighted by "Wally Wood." He had plans to make this a long-running comic book but he was only able to get financing for two issues. [JAM 9/18/2021]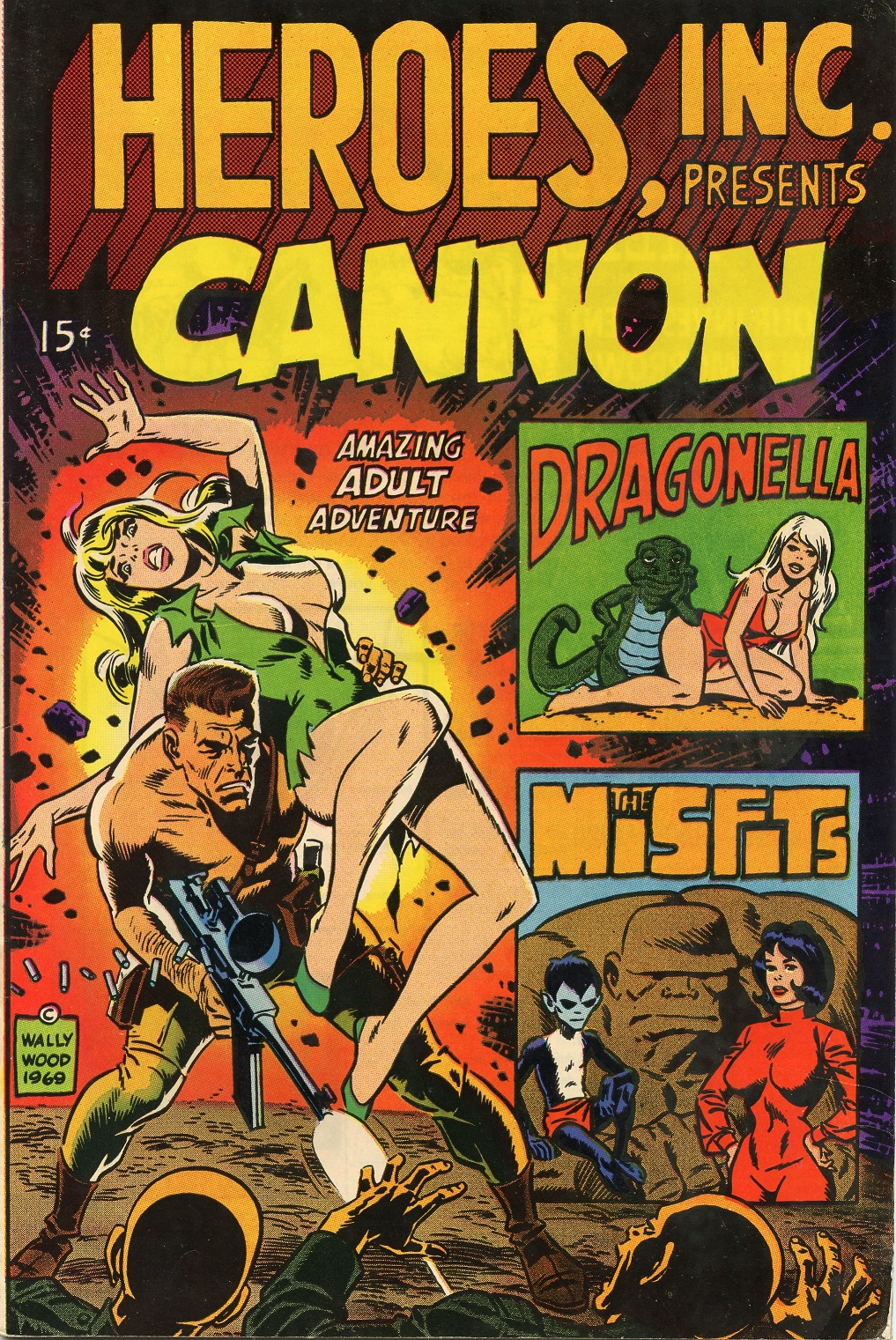 Agent John Cannon first appeared in the Heroes, Inc. armed forces comic books in 1969. A second, large-format comic book was finally published in 1976 two years after the run of 131 strips had been published in Overseas Weekly. The Cannon strips appeared in the same OW issues as the 131 Sally Forth strips. In 2014, Fantagraphics brought all of Cannon into one hard-bound book edited to appear as a graphic novel. Cannon could easily be viewed as a parody of the James Bond-type spy novels but it was not intended as such. It was primarily drawn as a vehicle to present drawings of naked women to horny servicemen. The artwork by Wood is spectacular but the stories are generally manipulated to display the female drawings. In many cases, storylines are simplified and contrived to match action with sexual situations. As with Sally Forth, the reader is advised to ignore the words and just enjoy the art. Woody did find room to include many of his cohorts (Pearson, Reese, Evans, Eisner, etc.) in the stories. And, he placed himself ("Finn O'Hara") in a long series of the strips as one of Cannon's fellow agents. [JAM 7/22/2017]
Captain America (1970)
Peter Max Magazine (1970)
Prince Valiant (1970)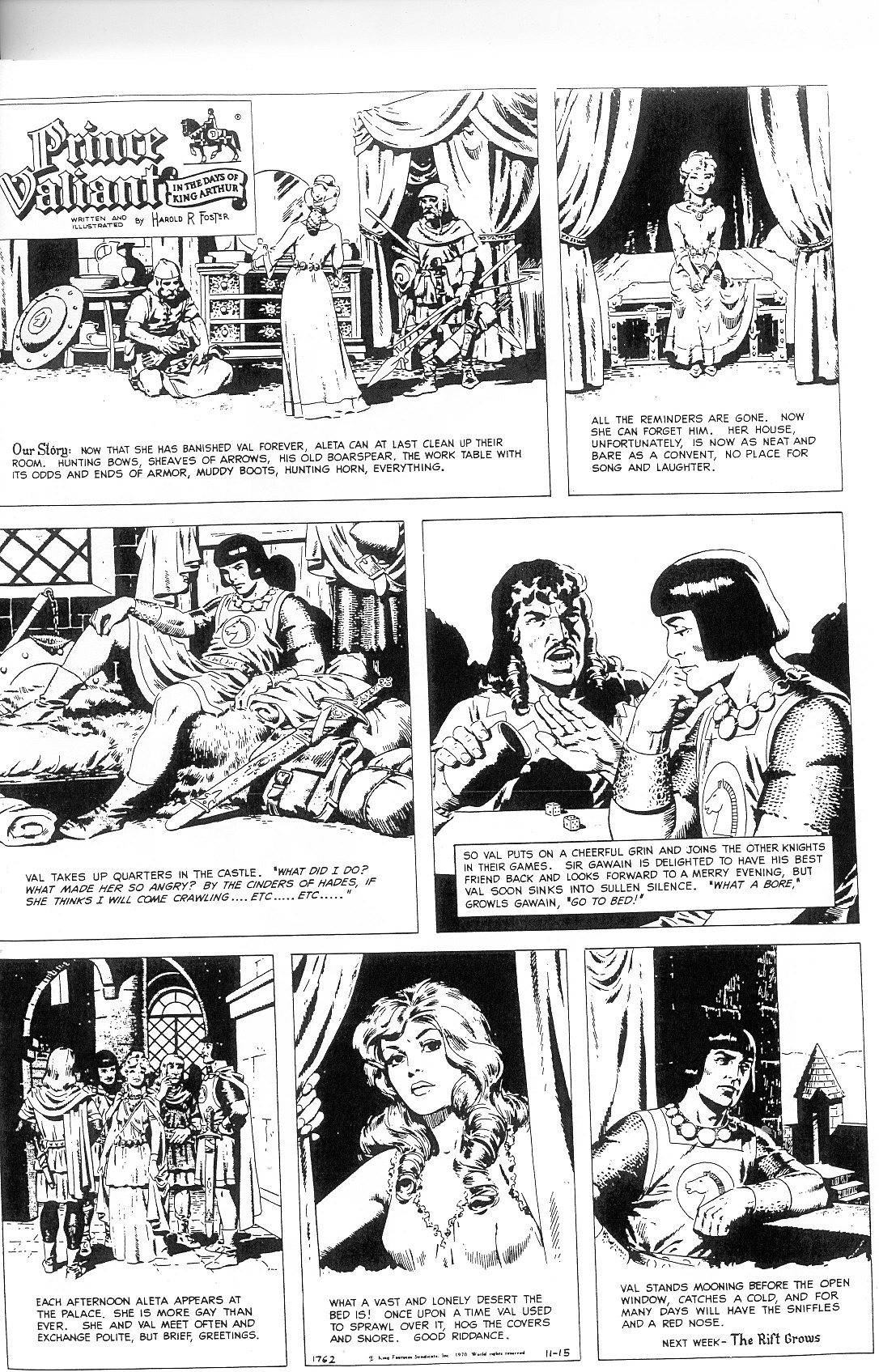 Tower of Shadows (1970)
Green Lantern (1970)
Astonishing Tales (1970-1971)
Ghosts (1971)
Kull the Conquerer (1971)
Witching Hour (1971)
Graphic Fantasy (1971)
Graphic Illusions (1971)
House of Secrets (1971-1972)
The Unexpected (1971-1972)
Vampirella (1971-1972)
Shattuck (1971-1974)
This sexy Western comic strip was a curious chapter in Wood's independent phase. Wood created the characters and concept but not do much of the work for it. Wood's friends have said that the comic strip was designed for his friend and fellow artist Syd Shores (1913-1973). But Shores did not want it and may have been too ill to do any work at the time. The earliest strips show copyright by "W. Wood and Richter, Inc." and sometimes just "By W. Wood." Most of the later strips were signed by Dave Cockrum (1943-2006) and Jack Abel (1927-1996) without the copyright. Howard Chaykin is generally credited as the author of the series but Wood assistant Nicola Cuti also dis some of the writing. The series appeared in Overseas Weekly in 1974 with Wood's last series of the Sally Forth and Cannon strips for the publication aimed at active military personnel. [JAM 8/1/2017]
Wonder Woman (1971-1980)
This was Wood's final job for DC.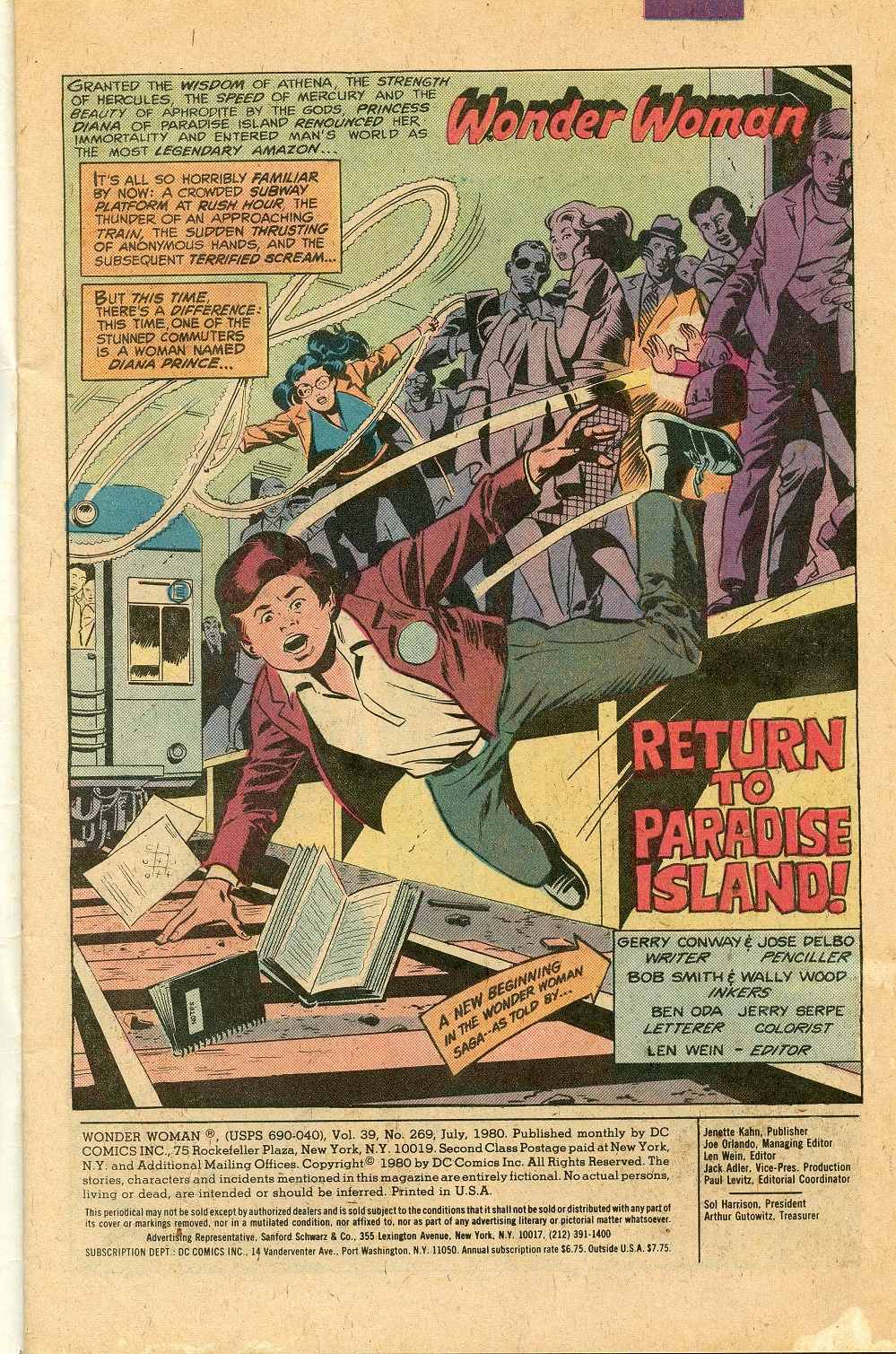 The Cat (1972)
Ghost Manor (1972)
Our Army at War (1972)
Heritage (1972)
Comix International (1973)
Forbidden Tales of Dark Mansion (1973)
Graphic Story Magazine (1973)
Red Circle Sorcery (1974)
Big Apple Comix (1975)
Flo Steinberg (1939-2017) served as Stan Lee's secretary at Marvel Comics from 1963 to 1968. She became a legendary female figure in the comic book industry and was the first to bring the San Francisco underground comics industry to New York City by publishing Big Apple Comix in 1975. The success of BAC was largely due to the efforts of Wallace Wood who designed the cover; wrote and drew the best article ("My Word"); and provided contacts with his colleagues and assistants to fill the pages. The cover shows two dinosaurs battling in a typical New York traffic scene with characters drawn in the unmistakable Wood style. The feature Wood article is a parody of his "My World" from Weird Science #22 (the last issue of the comic) written by Al Feldstein in 1953 just before the Comics Code destroyed the market for EC. In "My Word," the splash page is loaded with Wood characters including the "Wagon Kid" who walked through so many of his classic Mad drawings, and the gang of muggers with dinosaur teeth, wearing sunglasses and berets. The final panel shows artist Wood (as "Snorky") explaining that: "... I am a troglodyte. My name is spafon gool." with the final two words in Wood's signature style. Other Wood contributions are "The Tube" drawn by Al Williamson and "Lotsa Yox" perfectly inked as only Woody could. Big Apple Comix would have been lost in the miasma of the underground comix revolution if not for the distinctive marks of the most versatile comic book artist of them all. [JAM 8/13/2017]
The Destructor (1975)
Weird Mystery Tales (1975)
Kull and the Barbarians (1975)
Wulf the Barbarian (1975)
Amazing World of DC Comics (1975-1976)
Richard Dragon, Kung-Fu Fighter (1975-1976)
Stalker (1975-1976)
Hercules Unbound (1975-1977)
DC Specials (1975-1978)

Plop! (1975-1976)
Wallace Wood helped his old friend Joe Orlando with some content for Orlando's DC "Magazine of Weird Humor." The most significant of Wood's contributions to Plop! is "The King of the Ring", an excellent parody of the Tolkien trilogy (Lord of the Rings) that appeared in Plop! #23.
#13 - "Multiple Mouth McCardy" cover
#14 - "Wednesday's Child"
#15 - "Roarin' Rodney Roadrunner" cover
#16 - "Twin Kiss" cover
"Love is a Dandy"
#18 - "Plopular Poetry A,B,C"
#19 - "Smokin' Sanford" cover
"Plopular Poetry D,E,F"
#20 - "Plopular Poetry G,H,I"
#21 - "Famous Four-Eyes 'Bo' Garth"
"Plopular Poetry J,K,L"
#22 - "Plopular Poetry M,N,O"
#23 - "The King of the Ring"
"Plopular Poetry P,Q,R"
#24 - "Plopular Poetry S,T,U"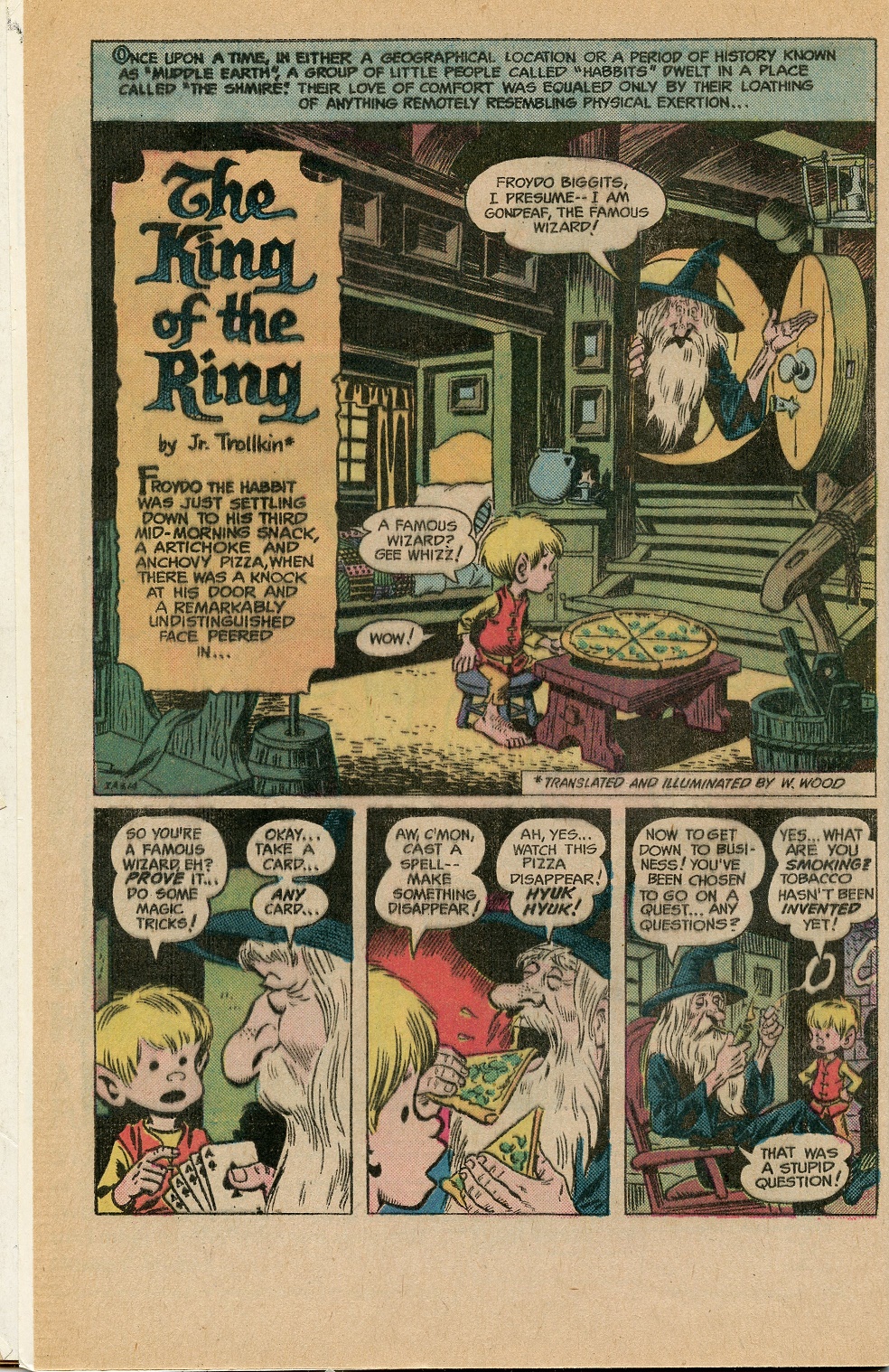 Malice in Wonderland (1976)
During the later phase of his "independent" publishing years, Wood sold numerous comic strips for the adult market. He did these mainly to "pay the bills" while he was working on long-term projects (Wizard King, etc.). Four episodes of "Malice" were published in Al Goldstein's National Screw magazine in 1976-1977. The series was eventually repackaged for the European market as "Alice in Blunderland". In 1993, the four episodes of Malice were combined with three episodes of "The Wizard of Ooz" to create an Eros comic book with the title "Wallace Wood's Malice in Wonderland". The Malice stories are parodies of the Disney-style cartoon movie that was based on Lewis Carroll's classic books: Alice's Adventures in Wonderland (1865) and Through the Looking-Glass and What Alice Found There (1871). The Wood version is not for the kiddies. While it is not as nasty as some of the underground comics available at that time, it does make sure that all of the Disney/Wonderland characters have cartoony sexual organs and carnal attitudes. [JAM 7/31/2017]
The Sandman (1976)
Super-Team Family (1976)
Screw (1976-1978)
All-Star Comics 58-65 (1976-1977)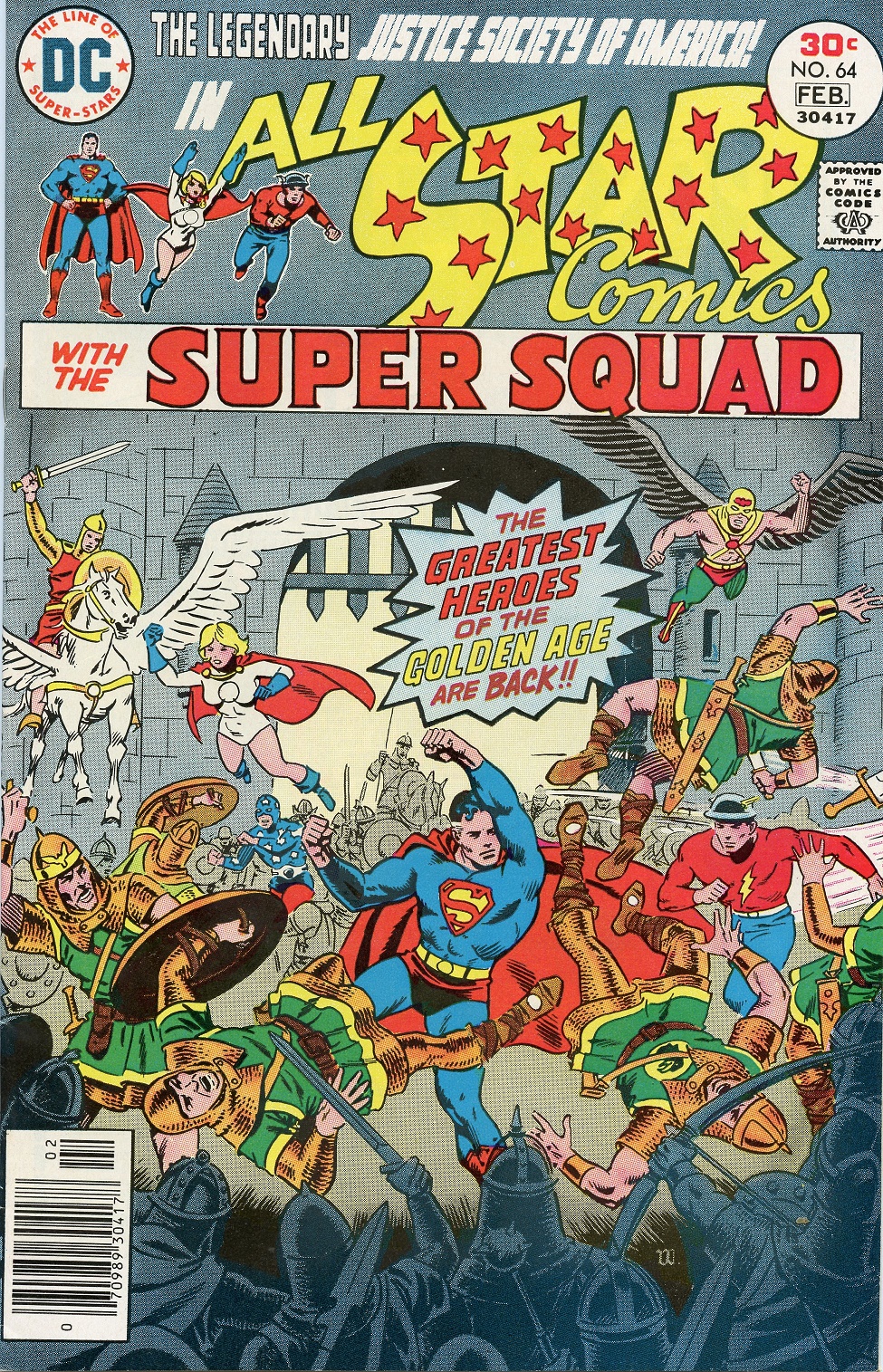 In the 1970s, Woody did an enormous amount of inking work for comic books "to pay the bills" while he also worked on his own project - Wizard King etc. Following is a partial list of the comics work listed alphabetically.
Amazing World 6, 13 (1975-1976)
Astonishing Tales 1-4 (1970-1971)
Captain America 127 (1970)
The Cat 1 (1972)
DC Special - Flash Spectacular 11 (1978)
The Destructor 1-2 (1975)
Foom 18 (1976)
Forbidden Tales of Dark Mansion 13 (1971)
From Beyond the Unknown 13 (1971)
Ghost Manor 8 (1972)
Ghosts 2 (1971)
Green Lantern 69 (1970)
Hercules Unbound 1-9 (1975-1977)
House of Mystery 180, 183-185, 187, 189, 251 (1969-1977)
House of Secrets 91, 96 (1971-1972)
Isis 1 (1976)
Kull the Conquerer 1 (1971)
Marvel Spotlight 1 (1971)
Mystery Comics Digest 2 (1972)
Our Army at War 249 (1972)
Richard Dragon, Kung-Fu Fighter 4-8, 11 (1975-1976)
The Sandman 6 (1976)
Stalker 1-4 (1975-1976)
Super-Team Family 1,3 (1975-1976)
Super-Villain Team-Up 15 (1978)
Tower of Shadows 5-8 (1970)
The Unexpected 122, 137-138 (1971-1971)
Unknown Worlds of Science Fiction 1 (1974)
Weird Mystery Tales 23 (1975)
Witching Hour 12, 15 (1971)
Wonder Woman 196 (1971) 269 (1980)
Worlds Finest Comics 251 (1978)
Wulf the Barbarian 2 (1975)
The Wizard King (The King of the World) (1978)
Biographer's have concluded that the idea for the "Wizard King" fantasy came to Wallace Wood during his pre-adult years before he became a professional artist. He tinkered with a "trilogy" similar to Lord of the Rings throughout his life and never quite completed it before his untimely death in 1981. The first outlines of the story were published in 1968-1971 in three of his self-publications of his low-distribution magazine (witzend Nos. 4,5 and 8). The expanded, hardback version was published in 1978. The stories have been reprinted in various formats many times since 1978. [JAM 7/6/2017]
Wallace Wood (1978): "It's impossible for me to say when I started to work on The WIZARD KING. I thought of the title 'King of the World' (which I used for the French version) before I was 10 years old, and by that time I had a little hero named Elvin, later named Elvor. That was Odkin's original name, and would have remained so had I sold it earlier."
Bill Pearson (2004): "This book of The Wizard King titled The King of the World was intended from the beginning to be the first of a trilogy, and there are many loose ends and unanswered questions at the finish. Sadly, real life delivered another blow, this one too serious to be overcome completely. A stroke left Wood, before his 50th birthday, with only one good eye. Inexperienced assistants gave their best attempts to help him finish the second book, and it was published in a small edition, scarcely distributed, which left even more of the story unresolved. I received the 44 pages of the third volume, to letter for him, in the summer of 1981. But before I could even begin, the news of his death stunned us all. With half the panels blank, but many others fully inked, it was obvious he'd made a gallant effort to see the project through to the end. I put away the pages and script, and barely mentioned them to anyone for 20 years. When word got around that there existed a rough version of the third book, Vanguard's publisher, J. David Spurlock, committed to having the third volume completed, turning Wood's trilogy dream into reality. But that's still to come."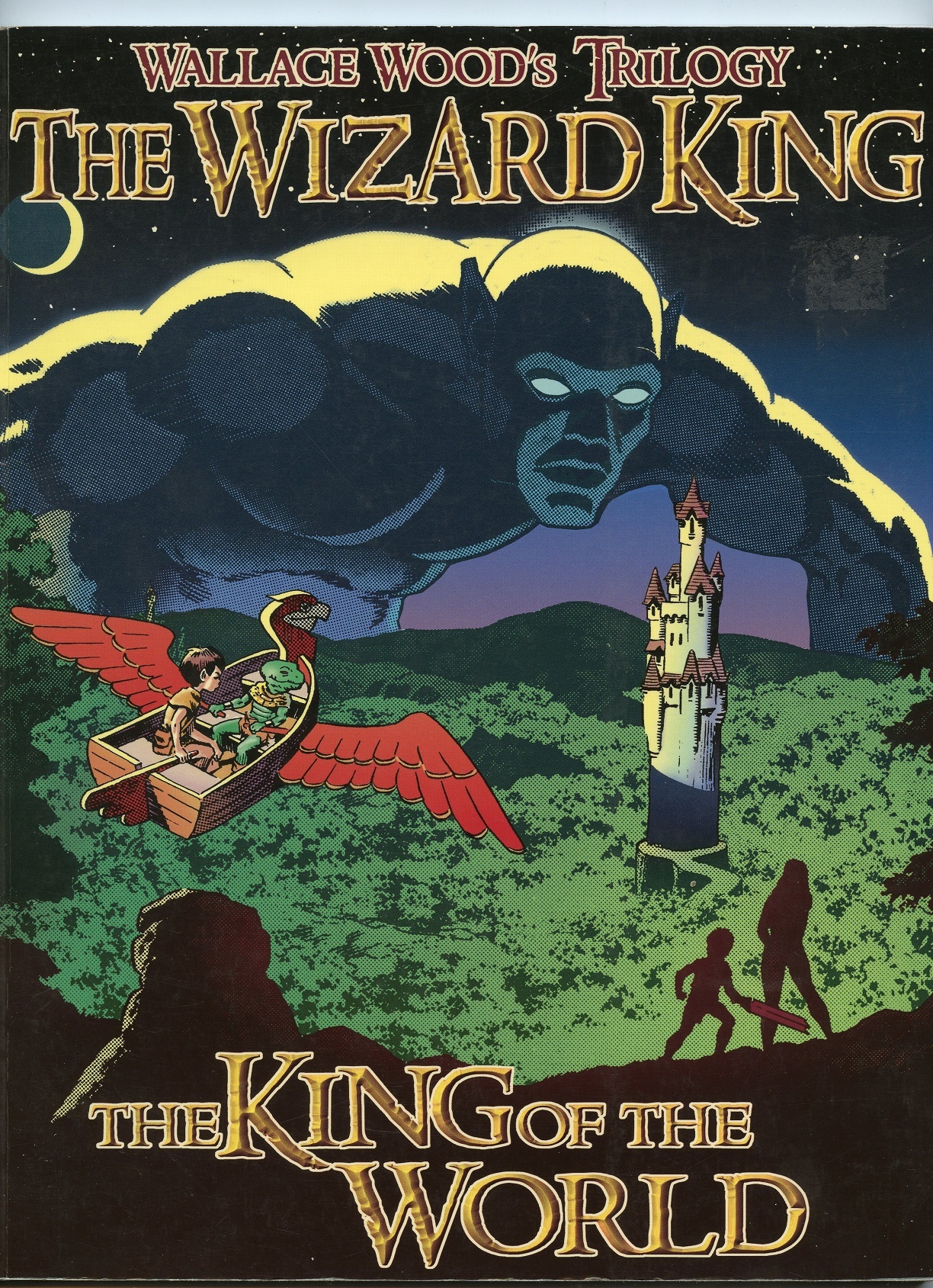 1984 (1978-1979)
The Woodwork Gazette (1978-1980)
#1 (June 1978) - "The Word From Wood: It seems that nothing ever turns out the way you plan it. I should be getting used to that fact by now. This journal, for example, is turning out much more elaborate than I had imagined. And WARP is developing into something else ... I had ideas for stories other than SF or fantasy, for example a super-hero (not just another super-hero, this is THE super-hero) and it was either leave them out, or change the nature of the book. So I decided, what the hell! Every story is a fantasy right? And so I'm not going to limit myself to any narrow category of story. After all, that's the mistake the major companies make, and I'm not going into publishing just to make the same mistakes that they do. I may as well admit it ... I'M A FAN. Why else am I publishing fanzines? I have a theory that all pros are composed of part fan and part hack. And somehow, the fan part is the GOOD part. It's the part that cares, that wants to do something good, better than anyone's ever done it before. In a way, it's surprising to me that I didn't take this step long ago. But I guess I wasn't ready. It was just a couple of weeks ago, when I was preparing to go out and try to line up some work from Marvel or D.C., that I suddenly realized LIFE IS TOO SHORT! I have better things to do than ink another dumb comic book for the kind of money they pay. So I guess my big news is that I'm through with comics - for other people, anyway ... All I know is comic artists have been ripped off for so long they don't even know they have rights ... And no one has anything to look forward to except being poor in their old age ... So stay tuned friends ... the best is yet to come! WARP will be out as soon as I can put it together, and the WIZARD KING is already in the works. I have the whole thing written - in my head ..."
#2 (Fall 1978) - "In case you didn't know, the determined little fellow on this issue's cover is Odkin ... Odkin the Sly, hero of the Wizard King saga."
"One thing ... In all these years, Richard, didn't I ever tell you that I HATE the name Wally? Ever since I was a kid it's been 'Woody' ..."
[This issue of Woodwork Gazette includes a complete, 12-page Wizard King story titled "The End". This enclosure is black-and-white comic art at its best!]
#3 (Spring 1979) - "I'm happy to report that the first book of the Wizard King is out ... and it's beautiful! This has been a long time in coming ... the copyright on the first page originally said 1974. So this book has taken five years ... The last version, in WITZEND, was about 1968 ... and I had the first ideas for it when I was 10 ... (I made up the sky boats and some of the other ideas then) ... so it has already been my life's work! 42 YEARS ... And I finally see a book printed ..."
"The Wizard King cover, (and indeed, the whole book) was colored by Tatjana Wood (my first wife, and still my best friend). The color originals are still in France, but someday ... (If I can afford it, there may be an edition in color.)"
"Phil, that's not the reason I quit working for comics. Nor is what Warren did to 'The End' ... nor even Joe Orlando's comment 'does it have to have those little people?' ... I just realized that there was nowhere to go, and nothing to do in comics ... five years ago I wrote and drew a story for Kubert, without editorial interference of any kind. That will never happen again ..."
[This issue of Woodwork Gazette includes the first four pages of the Wallace Wood Checklist (Ace McCoy through If Magazine).]
#4 (1979 with "Gazette" removed from title) - "My problem has been how to afford to work for at least six months (with no income) to do another book on the Wizard King, and still have enough money at the end of that time to pay for printing it. Well, that's solved ..."
"I'm afraid I did mean it [Wizard King is final, and finest project]. But don't panic yet ... I've been looking forward to this for a long time, and I figure it's going to take me at least 20 years to tell the story of the Wizard King. I thought I could do it as a trilogy. Then it just grew ... I've figured out the story (roughly) to issue No. 4, and it's just beginning to get interesting at that point ..."
[This issue of Woodwork completes the first draft of the WW Checklist (If Magazine through Youthful Romances).] - "... Bill Pearson remarked that he thinks it's impossible to make up a complete checklist on me ... I've done so many different jobs ... But we can try, right?"
#5 (1980) [This final issue of the Gazette showed that Woody still had many projects in mind even though his health was failing. He also has something to say about "Stanley" (i.e. Stan Lee).]
"Dear FOO: Guess what? I've decided to try to revive FOO. I've made too many friends to give up on it now ... besides, I'd like to sell you some books ... The reasons I had to call it quits were (1) I had no help. I was doing EVERYTHING myself and (2) I've had some bad luck .. My kidneys are failing, my blood pressure is up, I've had 3 minor strokes so my left eye and left hand are fairly useless. But now I have helpers .. I'm working on book 2 of the Wizard King, and I just finished writing book 3 ... It will be a trilogy, but after I do a couple of other books, I will probably return to it ... In fact, I have ideas already for book 4 ... so it'll probably turn out like a series by Michael Morecock."
"WHAT MAKES STANLEY RUN? Once upon a time, many years ago a young man, born the son of a famous comic book publisher, decided to become rich and famous. He had no idea of how to go about this at first, lacking both the brains and talent to achieve this goal. But he was driven by one emotion, rather TWO .. ENVY and HATE. Envy for the people who were responsible for his enviable state, and hatred for the people who could DRAW. Comics are, after all, an artist's medium. I've never read a story in comics that I'd bother with if it were written in novel form. Did I say Stanley had no smarts? Well, He DID come up with two sure fire ideas ... the first one was 'Why not let the artists WRITE the stories as well as draw them? .... And the second was ... ALWAYS SIGN YOUR NAME ON TOP ... BIG'. And the rest is history ... Stanley, of course became rich and famous ... over the bodies of people like Bill and Jack [Kirby]. Bill, who had created the character that made his father rich wound up COLORING and doing odd jobs. And Jack? Well, a friend of mine summed it up like this .. 'Stanley and Jack have a conference, then Jack goes home, and after a couple of month's gestation, a new book is born. Stanley gets all the money and all the credit ... And all poor Jack gets is a sore ass hole.'"
"The first thing I noticed was my left eye .. things began to vibrate, then I couldn't see clearly enough to drive at night ... By the time I went to an eye doctor, I couldn't read .. OR DRAW, By the time I went to a GOOD eye doctor, it was so bad I couldn't use my left eye at all .... I had to put a piece of tape over the left lens of my glasses. My left eye was still strong, but the image was so distorted I couldn't bring them together. The eye doctor took my blood pressure and put me right in the hospital. My BP at that time was 210 .. I don't know how long it had been that high, or how high it had been. This was in Jan. 1978. The next thing that happened was that I had a 'small' stroke ... I found I couldn't type with a manual typewriter any more .. or play the guitar. And then I noticed I was limping. And then I fell down for the first time. I've fallen 100 times at least in the past 2 years. Once so badly my leg was swollen from the knee to the ankle for a week. Things have gotten better .. twice. And then I had another stroke .. I've had at least 4 so far. The worst though is the side effects from the medication .. I've taken a dozen kinds of pills so far, and each one has side effects. I'm now on 2 kinds for my BP and taking 3 others to counter the damn side effects ... a total of 11 pills a day. One made me so tired I couldn't climb out of bed in the morning. Another gave me a bellyache for 3 months .. every day, all the time. Which led from diahorrea [sic] to hemorrhoids .. to bleeding hemorrhoids. That's a real shock, to look down and see a bowlful of blood. And they all have curbed my ability to make love. Now I find that my kidneys are failing .. A doctor in New Haven told me they're only operating at about 10% of capacity. And that I'll need dialysis or a kidney transplant soon."
Archie's Super-Hero Digest (1979)
Puritan (1979)
Art-Fantastique (1979)
The Wallace Wood Sketchbook (1980)
This first "Sketchbook" ("a limited edition of 1500 copies") contains some early drawings (The Dweller in the Cellar, Tales of Heads, Dynamo, Boy Gladiators, etc.) and many preliminary sketches that were never intended for publication. The totality of this collection, edited by Bill Crouch and designed by Bill Pearson), illustrates the talent of the artist to the extent that non-artists (like me) will never be able to comprehend. The following comments by Pearson on page four provide a small example of that artistic genius: [JAM 7/14/2017]
"How do you begin to describe a genius? I never expected to meet my childhood idol, or be able to work at a desk next to his, and be able to watch over his shoulder as he applied pencil and ink to paper. We tried to learn some of his tricks, those of us who apprenticed of collaborated with Woody, but somehow the elusive master touch was beyond our reach. I remember once interrupting him at his board to show him a drawing of a two-headed centaur I'd been laboring over. He scanned it briefly, then with his still wet brush, on his blotter, with one continuous line, he sketched an obviously superior version of my once grand two-header centaur. We tried to find it for this book, but couldn't turn it up in the dozens of file folders we searched ... through hundreds of scraps of sketches. Wood has never kept a sketchbook, but doodles on the phone, while working, or at any time an idea comes to him. He also produces several preliminary drawings for complicated works, from thumbnail sketches through tight comprehensive versions. Many of these are also included here. We're not going to attempt to identify any of the drawings, or when they were done, except to say the first pictures were created by a child who already possessed a fantastic imagination, and the suggestion of his future distinctive style. Over the years he developed a kind of shorthand layout technique, using little more than stick figures, to go along with his longhand script on a sheaf of typewriter paper ... or even occasionally right on the strathmore paper he'll use through to finished art. Once, while I was lettering a page in the studio, Wood called me into the living room, where he sat in a comfortable chair, several pages ahead of me, writing the Wizard King. He was really churning along, and pleased by a particular sequence. 'See,' he pointed to an empty panel on the bottom of the page, 'Here's Odkin and Zendak sitting by a fire.' He put down a couple of marks with his pencil to indicate the two figures. 'And the giant statues are looming over them, all in shadow ...' His pencil passed over the page again, leaving a few more subtle but key lines on the paper. 'It's midnight,' he continued, almost as though the scene already existed, and he was peeling away layers of fog. Then I realized suddenly, miraculously, that I could see it too! Bill Pearson Feb. 1980"
Woodwork #1 (1980)
Although Wood turned over editorial duties for witzend to Jim Pearson after four issues, he retained his interest in self-publishing. He started the Woodwork Gazette in 1978 promising the 800+ members of "Friends of Odkin" (FOO) an original Wood drawing and discounts for future Wood books. Woodwork #1 is the first book offered to the FOO gang. The 48-page book is essentially a reprint of original Wood art first published the the witzend fanzine. The art includes "Pipsqueak Papers", the first three volumes of the Wizard King (WK) series in picto-fiction format (Chapter One: The Reluctant Hero; Chapter Two: Shadows with Eyes; Chapter Three: King of the World), The Rejects, Animan and the cover drawings of witzend numbers 1, 2 and 3. At the end of the WK trilogy, Wood promised "... an expanded version to appear in another form and another place." Volume 1 of WK with full comic strip art had already been issued by a French publisher in 1978 (Les Editions du Triton as The King of the World). The second volume (Odkin Son of Odkin) was published in 1981. Both volumes of the "trilogy" were published in hardback (limited) and trade versions. Before he died, Wood delivered a rough draft of volume 3 to his collaborator, Bill Pearson but for various reasons, the third volume has not been published to date and may never be published. Vanguard (J. David Spurlock) has the publishing rights for volume 3. Woodwork #1 also includes a two-page "history" of witzend and how it came to become a Wood fanzine. The copyright page of Woodwork #1. The "Statement of NO Policy" page states: "The plan is to alternate publishing Woodwork with The Wallace Wood Sketchbook." per Bill Crouch, Jr. [JAM 7/13/2017]
The Wallace Wood Treasury (1980)
Greg Theakston has produced work for Mad, National Lampoon, Marvel, DC, and many others in a long career in the comics business. His "Treasury" series of fanzines were crude self-publications that paid tribute to his idols and possibly provided an easy source of income during his formative days. Wallace Wood knew that this fanzine existed and he was a bit upset that he had not been contacted in advance for permission. The WW Treasury acknowledges Wood's copyright for material but also proves that Theakston had no idea about copyright laws. In the same volume, he acknowledged Bill Gaines for permission to use "Blackboard Jumble", "Prince Valiant" and "Sound Effects". He also documented vague copyrights for material grabbed from Galaxy, Tower, Playboy, Warren, and King Features. It is not likely that any of these publishers were contacted since all copyright dates are incorrectly shown as "1980". This book borrows most of its pages from Woodwork Gazette including the 16-page checklist. There are also four short interviews with Wood associates Joe Orlando, Ralph Reese, Dan Adkins and Paul Kirchner. Since it is apparent that Wood and Theakston never met each other, the WW Treasury adds little to the historical record of the great artist. [JAM 7/29/2017]
Gangbang! (1980-1981)
The Wallace Wood Sketchbook II (1981)
The second sketchbook was also published in limited edition (1500) with a foreword (dated Feb. 1981) by Wood assistant & co-writer/artist Nicola Cuti. [JAM 7/14/2017]
The Wizard King (Odkin Son of Odkin) (1981)
The second book of the Wizard King "trilogy" was published (limited edition of 1,000 copies) in the year of Wallace Wood's death. The third book was in progress at the time but never completed. In the 2007 (Vanguard) reprint, Contents included a Prologue, "Chapter One: Table Top Land", "Chapter Two: Odkin's Death", "Chapter Three: ... And Resurrection" and "Chapter Four: The End" (also known as "Author's Alternate Telling"). The editorial note on the copyright page states: "The End ... 1978 Wallace Wood. Originally published as a special edition of the Woodwork Gazette and was later reprinted with altered script as 2 stories appearing the magazine 1984 (issues 1 and 2) and again in the Eclipse collection, World of Wood."
Wallace Wood had many adventures of the Wizard King/Odkin in his head but he was always revising and repackaging the stories. He had been influenced and inspired by J.R.R. Tolkien and his Lord of the Rings. If Wood had lived longer and enjoyed better health, he may have eventually captured these stories in an organized manner that would be more satisfying to current readers. However, it appears that much of Wood's fantasy world died with him. Fans of classic art must therefore be thankful for the art of Wood that exists. His creativity as a writer was always interrupted by his need to produce art to support his lifestyle. [JAM 7/15/2017]
Comics Journal #69 (1980)
On page 8 of "Newswatch", the headline was "Wally Wood Dead at 54". Comics Journal devoted four pages to the Wood obituary including a photograph, obit by J.M. Catron, ten drawings, tributes (Joe Orlando, William Gaines, Nicola Cuti, Gil Kane, Tom Gill), and a brief history ("The Greatest Science Fiction Artist There Ever Was").
Figment #3 (1981)
The editor, writer and artist (Rick Stoner) of Figment was a fan and personal friend of Wallace Wood. He used the third issue of his self-published comic book as a tribute to Wood shortly before Wood's death.
[Stoner] "When I was a kid, I used to go out and collect money from the people on my paper route so I could get all the new comics. My favorite was MAD. My favorite MAD artist was Wally Wood. I started collecting all the Wood art that I could find. If it wasn't for him, I probably would have lost interest in comics. All of his strange little creatures, alien skies, planets and beautiful women totally amazed me. I would say about 90% of my inspiration to be a cartoonist came from Wally Wood. On April 14, 1978, I met Wally Wood. For three days in April I fulfilled one of my childhood dreams, and got to know a really great man ... Woody had a dream to become rich and famous ... Wood's average work day for years has been 12 hours, 7 days a week, and sometimes 36 or 48 hours straight ... He has been screwed out of copyrights for his creations, his work has been cut up, rewritten and turned into garbage that makes HIM look like a degenerate. He has taken more than his share of crap from the system because he loves to draw pictures. But a man can only take so much crap. Woody has taken all he can and is through with comics (for other people). He still works on his own projects because he still loves to draw pictures. I've never met a nicer guy. He is a very generous and trusting person. A little too trusting, unfortunately. Woody is a legend, and deserves a hell of a lot more than this dedication in this little book. His eyesight is failing him, and in a recent letter he told me 'I am not doing too well. My blood pressure keeps going up, and I found out my kidneys aren't working. I will have to get on dialysis pretty soon, and eventually I'll need a kidney transplant.' Wally Wood still has that dream. I hope he makes it."
Comics Journal #70 (1982)
One of Wood's assistants, Bhob Stewart (1937-2014) wrote a very personal account of his time with. This essay with examples of Wood art served as a fitting memoir of the great artist. Stewart's comments about the progress of "Wizard King" follow: [JAM 7/15/2017]
"Woody sat on the sofa and outlined it to me - a Tolkienesque, Arthurian saga of great complexity which he wanted me to write ... I took notes at a mad pace, but no sooner did I get one of his plot ideas down than he would backtrack, interrupting with a different approach or restructuring. I left, notes in confusion, and returned the next night, emptyhanded. 'The problem here,' I said, 'is that you have so many ideas that it's just a matter of getting it down in the sequence you want - which I can't figure out and can't do. I can't catch up with you. And whatever I come up with, you're almost certain to change - since this is your story and you feel so strongly about it. The solution is you've got to write this yourself. I really don't think you'll ever get what you want any other way.' ... During the next few days, Wood spent little time in the studio. Then, at the end of the week, he reappeared, clutching a stack of paper. He was excited. 'I've got it,' he said enthusiastically, handing me the stack. 'It's all there , Bhob.' This was only a handful of notes, plot fragments, ideas, long lists of character names - but yes, it was all there, and, as he talked out the interweaving plotline, I saw he now had the beginning for a work of scope and ambition. 'I intend ti be working on this for the rest of my life, Bhob.' He called it Wizard King, and it appeared originally in witzend with appropriately rough-hewn illustrations accompanying chapters in a written text form."
And, from a letter Stewart received from Wood: "I'm doing the Wizard King over - in comic strip form. It was to be my big contribution to my magazine, and someday may be my BOOK - and at last, I'm happy with it. Each time I do it, it gets better."
Qua Brot #1 (1985)
Inside Front Cover sketch
Ray Bradbury: The Best of Two Worlds
Trial by Arms!
Wood Galaxy Folio
Inside Back Cover sketch
Comic Book Marketplace #44 (1997) - "The Amazing World of Wally Wood!" - pages 26-47 & 52-63
Link Yaco wrote: "Once one of the best known comic artists, now he is known only to a few." ("The Forgotten Master: Little-Known Works And Moods of Wally Wood"). Also in this volume: "Wood All Over The Place" by Lou Mougin; "Wally Wood Cover Gallery"; "Second Time Around ... Wally Wood" by Shawn Hamilton; "Heck ... Wally Wood Must Have Been An Alien!" by Roger Hill; "Diary of a Wally Wood Fan" by J. David Spurlock. There are some excellent rare photographs in this collection. The Mougin article does a great job of following Wood through the 1960s after he departed from MAD. [JAM 9/12/2021]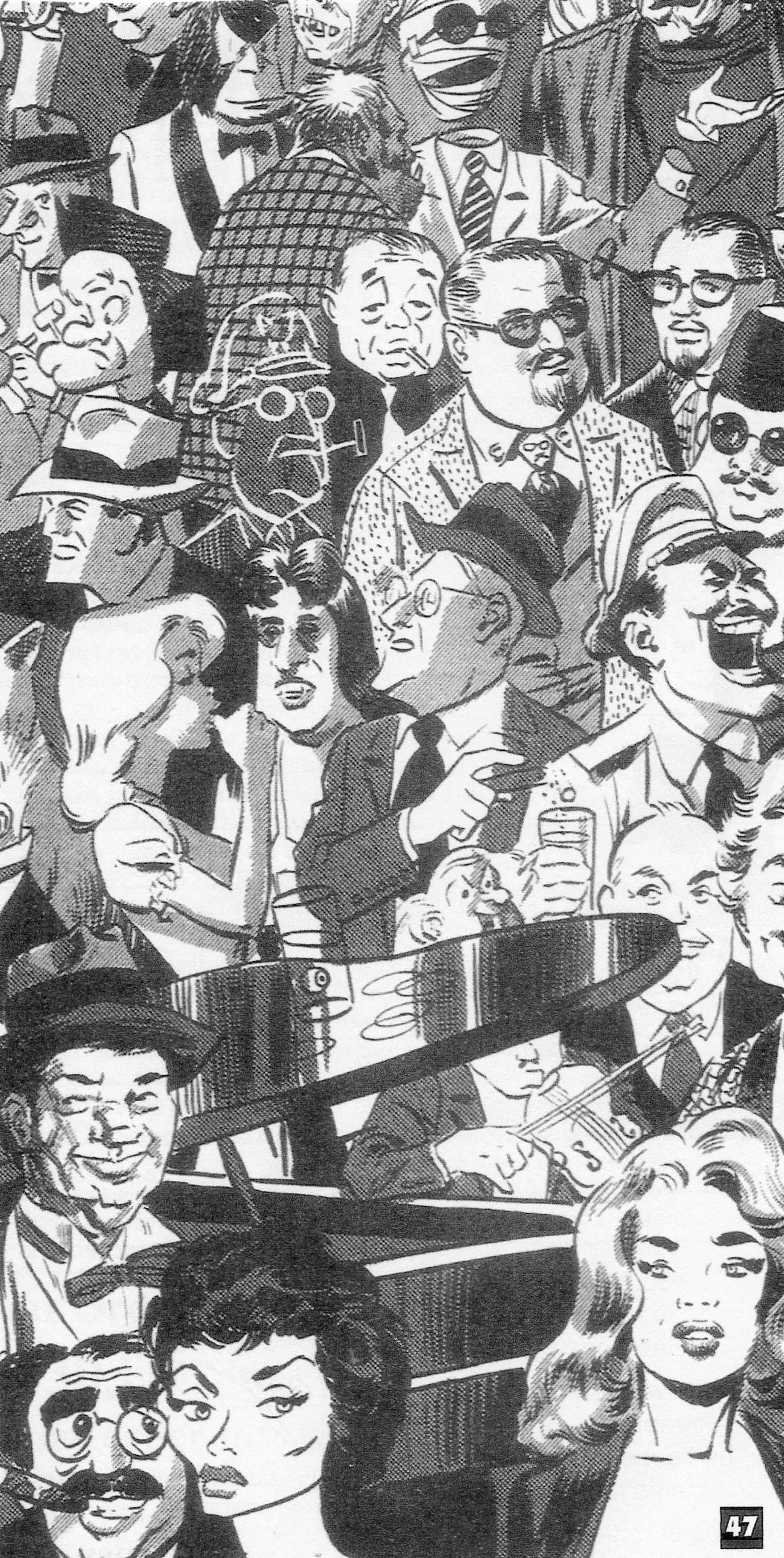 Comics Journal #197 (1997)
After Wood's sudden death in 1981, there seemed to be years of silence about his artistic career and volume of work. It appeared that many of his former colleagues and assistants wanted to see a high-quality biography produced. Finally, author and former Wood assistant, Bhob Stewart pitched an idea to Fantagraphics Books for a bio that would mainly consist of testimonials, anecdotes and analyses from various experts who had known or worked with Wood. The working title was "Against the Grain". From the beginning, the were differences between Stewart and the Fantagraphics handlers of the project. In 1997, Comics Journal began a "serialization" of the book with short articles from Stewart, Bill Mason, Ralph Reese and Fershid Bharucha. Mason's article is an excellent, articulate account of Wood's pre-Mad work and the marvelous art art he created in conjunction with Kurtzman, Feldstein, Gaines and the creative gang at EC. The articles by Stewart and Reese are standard fan accounts. But, the entire purpose of the CJ197 piece may have been to test the quasi-pornographic/underground aspect of Wood's later work where his abandoned mainstream comics (DC, Marvel, etc.) and explored riskier, comic art. In 1977, Wood traveled to Paris to receive an award for "Best Foreign Work" for Sally Forth. The last Wood article in the issue consists of a short interview with Wood in Paris and some examples of Wood's art of that time including two pages from the "X-rated" Malice in Wonderland. If this was a test, it did not go well. Fantagraphics eventually put the project on a back burner and allowed Stewart to publish Against the Grain with another publisher (TwoMorrows) in 2003. Following are some quotes from the 1977 interview with Wallace Wood. [JAM 7/24/2017]
"Relations between men and women, for example, is a subject that fascinates me: I think women are responsible for wars because they only respond to aggressive men - thereby ensuring the survival of aggressive men. So that we don't need a new man: what we really need is a new woman, who'll respond to different things from the women we know today."
"Nowadays I feel a much stronger need to write than to draw. I've made a resolution to write four hours a day before picking up a pencil."
"I find it disheartening and incomprehensible that people can't or won't do anything of value, anything really original, with comics ... Comics are a legitimate art form that's never been used, and I feel a bit self-conscious that I should be the one to attempt this experiment (King of the World)"
"Most American comics are the work of slaves who take orders from publishers. There are two big companies, Marvel and DC. Both of them are fascist states, and I've been trying to escape from them all my life ... And that's why I'd like to come and work in France. I'll give you an example: I did 'Malice in Wonderland' for the French market, and then I had a very hard time getting it accepted by Screw. I've been in this business for 35 years, and I couldn't even get 'Malice' accepted without a fight. That really discouraged me, and that's why I still believe that I've been a slave for 35 years, except for short period when I was working for myself or for a few rare people who were daring enough to let me do what I wanted. American publishers don't care about the quality of their comics; all they care about is keeping people from saying what they want to say. They'd rather have power than do things well. I don't have anything much to add. Let's talk about communism or something."
"I haven't actually read a comic book in 10 years or so. I'd rather use my time to read books."
"What really interests me is what's going to happen [to the world]. Atomic war is impossible, which means that the world will be overpopulated by the year 2000. There won't be enough to eat and there's nothing anyone can do to avoid it."
[The following comments were written by Bill Pearson in February 2014 as part of an obituary for Bhob Stewart.] "Bhob and I shared a common interest, the admiration of a genuine genius we knew and worked with as assistants, both as writers and artists, named Wally Wood. His book, Against the Grain, was many years in various stages of production, held for years by a particular publisher [Fantagraphics] who somehow never got it into print. Finally released back to Bhob, he placed it with another particular publisher, who insisted it would contain no nudity or improper content. Finally in print, it garnered wide acceptance. Years later, the book, long out of print, revised and updated, is soon to be released by the original particular publisher, which will probably contain too much nudity and improper content. But that's the publishing world. Everybody has their own perspective."
Hogan's Alley #5 (1998)
[Wood] "I don't consider myself a 'success.' This is a profession that, like any other, demands dedication and hard work. It probably demands more than other jobs."
Wally Wood Sketchbook (2000)
While Bhob Stewart was trying to get Against the Grain published with Fantagraphics, Bill Pearson and J. David Spurlock published their tribute to Wood in the form of sketchbook with Vanguard. The sketchbook opened with a very good timeline account of Wood's life by Jim Steranko. The Steranko account does not contain details of the last decade of Wood's work other than The Wizard King. In effect, Vanguard also blocked the "improper content." After Steranko is possibly the best interview (Joe Orlando) in existence by a close friend of Woody. This is certainly the best account of Wood's most productive years. It is appropriate that the Orlando interview is introduced by a full page of the sketches from The King of the Ring (page 46), the Tolkien parody that Woody drew for Orlando's Plop! #23. (Note that the names of Woody's dwarves "Slothful" and "Retardo" were changed to "Shlepo" and "Harpo" for publication.) Interview with Wood (circa 1978), Len Brown, and Al Williamson. The Wood interview was previously published in Woodwork Gazette. A second edition of Wally Wood Sketchbook was published in 2001 with a different cover.
In the Woodwork/Friends of Odkin days, Wood had planned to publish an annual sketchbook from his vast collection of sketches for his fan club. Two of these, edited by Bill Crouch and Bill Pearson, were published as The Wallace Wood Sketchbook before his death. [JAM 7/25/2017]
The Rare Wood (2000)
Wood fan and publisher, Richard Pryor (not the comedian) published this collection of drawings, letters and memories mostly from the 1977-1980 period when Pryor was helping Woody to get some of his copyrighted work into print. Pryor was driven to share this material after he found it in his warehouse. Much of the material has been published elsewhere but this is a good look into Wood's private life. [JAM 7/27/2017]
Alter Ego #8 (2001)
Another biography of Wood ("The Wondrous But Weird World of Wally Wood") was publish as one-half of the Roy Thomas fanzine. Publisher TwoMorrows is the same publisher that would eventually publish Stewart's Against the Grain two years later. One of the Alter Ego articles ("Avon Calling" by Roger Hill) would be reprinted with the Stewart bio in 2003. The main story of Wood's life is told by Michael T. Gilbert ("Total Control: Brief Biography of Wally Wood") in 16 parts plus a long postscript. Most of Gilbert's article is a retelling of the known bio with credit given to the Pearson/Spurlock Sketchbook and Wallace Wood's Woodwork Gazette. These 48 pages were delivered with the full cooperation of the executor of Wood's estate, Bill Pearson who provided numerous sketches, comments and an interview (re witzend) for the magazine. The interview with artist and former Wood assistant Dan Adkins ("A Dream Come True") is an excellent account of Wood's middle period (i.e. post-EC and into the witzend experiment). It is curious that Adkins was not included in Against the Grain. For me, the most interesting section of "Wondrous But Weird" is "Bill Pearson: The witzend Interview" by Associate Editor Bill Schelly. Pearson was extremely generous with his factual account of the making of witzend as he was with quotes about Wood's "last days". Following are some of Pearson's comments. [JAM 7/26/2017]
"Woody was intelligent, but he was also naive. He actually believed in anarchy. He believed there shouldn't be any laws or rules of society. If the material was presented well, Woody didn't care what philosophy the author espoused. That was his idea of a no-policy."
"We (witzend) had a loosely-assembled monthly group that got together for years. We met either at my apartment in the city or at Roy Thomas' apartment. No booze, no drinks at all, just conversation and camaraderie. All kinds of people came. All artists or writers of some sort, with their wives and girlfriends occasionally. Even Stan Lee showed up once, curious to see what was going on."
"I'm a lousy businessman and Wood was worse. That's not the reason it failed; it's just the reason we stayed with it long after any normal businessman would have realized it would never make any money."
"I started with him as a ghost writer, assistant editor, became his friend, then his letterer and general assistant. Ended up his parent ... telling him 'no' more often than 'yes' when he wanted to do something self-destructive. It's odd how relationships change over time. For the last few years of his life, I wrote his letters, screened his calls when possible, talked to publishers and tried to make them believe he was still a functioning artist when he was close to complete disability. For several years after his death, I tried to protect so many secrets ... It's not easy to be a genius, and he was a genius. For all his faults, I loved the man."
"My relationship with Wallace Wood has had more impact on my life than any other person, living or dead."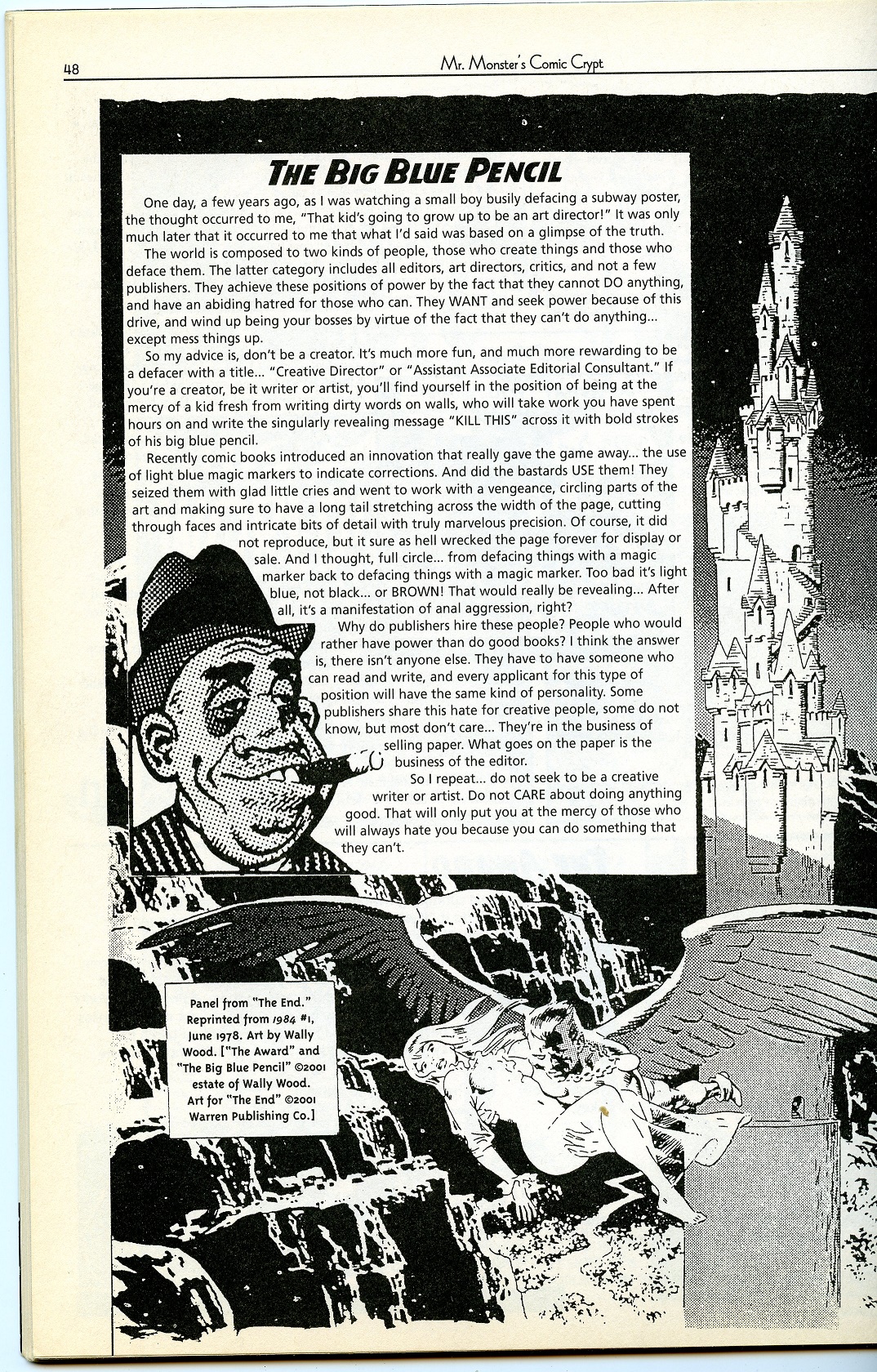 The Journal of MADness #11 (2001)
"Remembering Wally Wood" by Rick Stoner
"Little Wally Wood and Me" by Wally Wood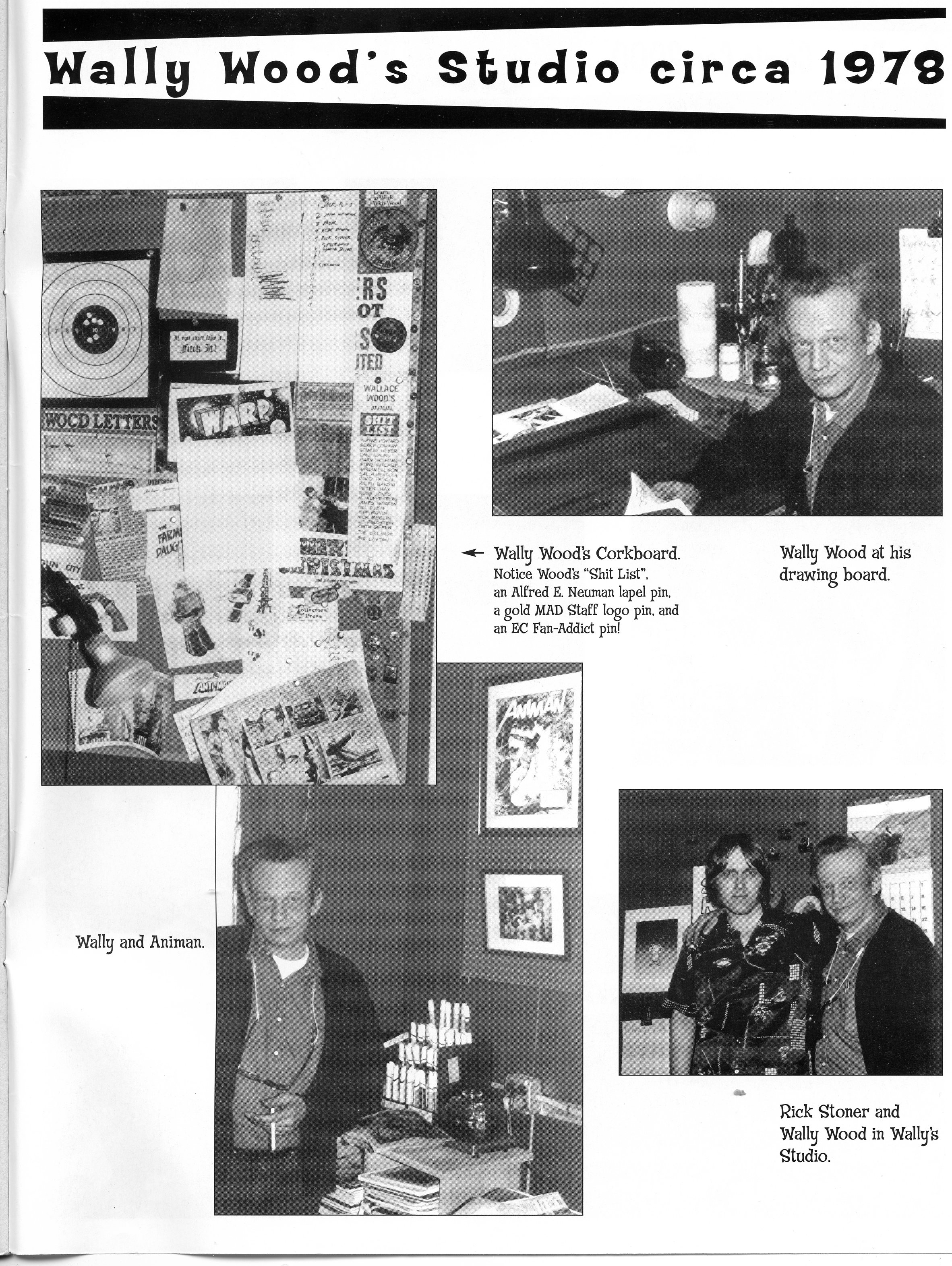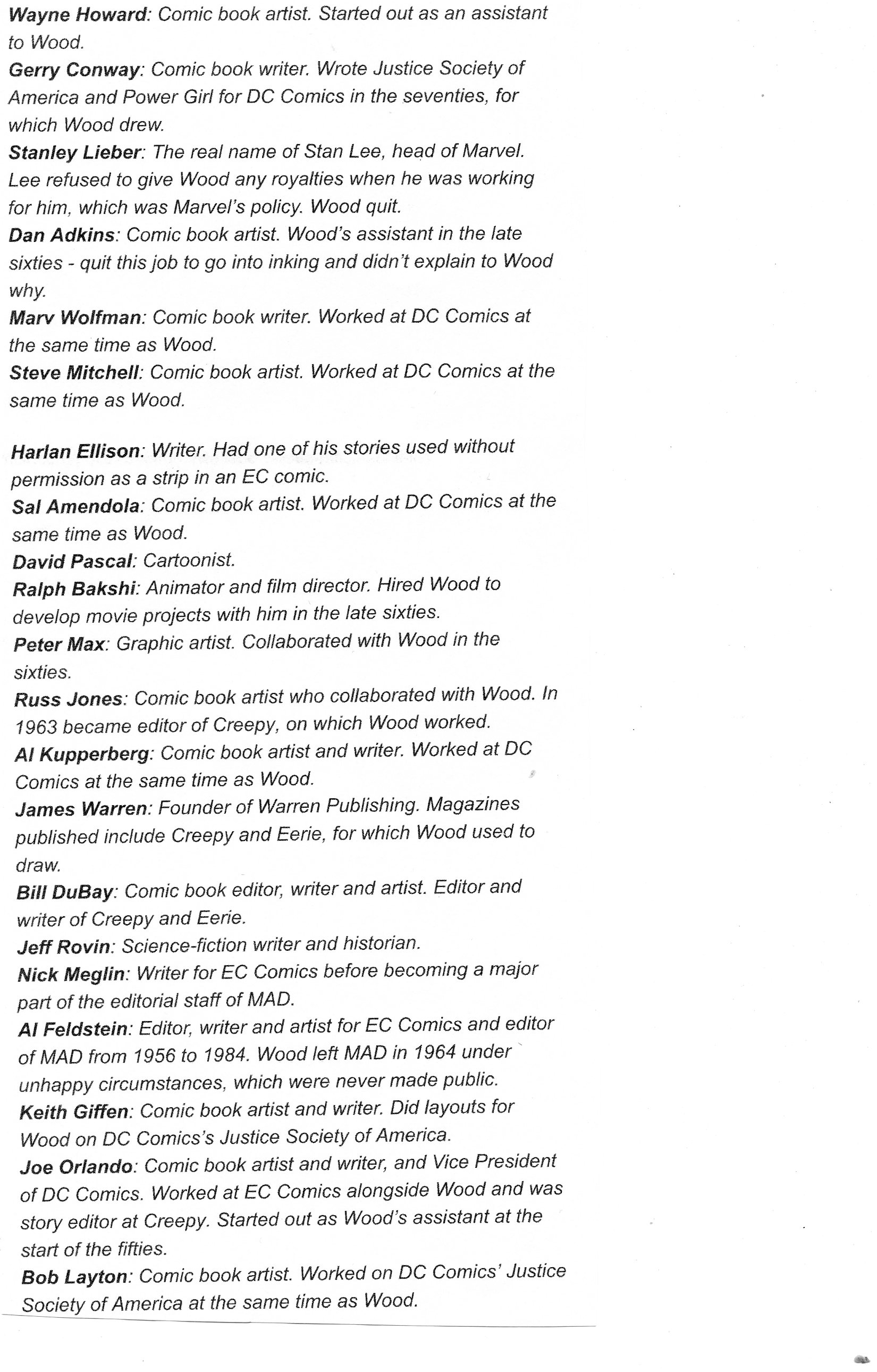 The Wallace Wood Checklist (2003)
In conjunction with the biography, Bhob Stewart published the checklist (with Jim Vadeboncoeur) with TwoMorrows. There have been many attempts to capture the list of Wood art, including Woodwork Gazette, but this one is the most comprehensive to date. While Stewart performed a great service for Wood fans, there is still the one book that everyone wants - the giant book (or volume of books) that contains all of Wood's published art.
For the record, I actually participated in one of the items listed (Totally MAD) on page 53. In 1998, I worked as a consultant and indexer under contract to help develop this software package for The Learning Company under the direction of Ellen Brodsky. [JAM 7/28/2017]
Following are Stewart's comment about the making of the checklist: "Aside from the quality of his artwork, Wally Wood has to be in the running for champion in the quality category. Before he was out of his teens, he had produced more drawings than most artists do in a lifetime. Only a small fraction of his childhood and teenage drawings have ever been printed anywhere, and there are piles of preliminary Mad magazine drawings still in his files or in the collections of former assistants and friends. When he wanted to take a break from the comic book page he was working on, he'd doodle on anything handy at the side of his board, often the paper placed there to test the volume of ink in his brush. When he got tired sitting at the board, he'd sit in an easy chair and draw in a sketchpad. It's doubtful a day passed that he didn't produce something on paper, even when he was ill or on a rare vacation. That's a statement impossible to prove, but it sure seems that way. Every effort has been made to index all of his published artwork in this Checklist, plus every reprinting. Incidental products that have reproduced his images, authorized and unauthorized, are also listed along with descriptions of some unpublished art plus notations on offbeat items. Potrzebie bounce, and bibliographic data abounds, running the gamut from A to Z. Surely we've missed something, perhaps a lot, but this is the most complete list attempted until now, and we hope it helps you find those elusive items you need for your personal collections. If you're not collecting, just curious as a devotee, or researching for your own reasons, say no more. This is the definitive database from the Woodwork out. Crawl inside. You'll find more than a few startling surprises. Enjoy and share. Our motto: WOOD FOREVER!"
Against the Grain: Mad Artist Wallace Wood (2003)
The ultimate biography of Woody was finally published by TwoMorrows years after Bhob Stewart first pitched the idea to Fantagraphics. The bio is written primarily through first-person accounts from various artists, assistants and publishers who knew him during various phases of his career. Unlike his test-marketing in Comics Journal, Stewart did not push the more controversial drawings that were a major part of Wood's post-EC days. As Bill Pearson has verified, there are stacks and stack of Wood art, sketches and finished work, that has never been seen by Wood fans. The consensus is that he was the greatest comic artist who ever lived. His work has a life of its own. We continue to be amazed by it decades after his death. [JAM 8/1/2017]
Lunar Tunes (2005)
This is generally known as Wood's last "completed" work. Some of it had appeared in witzend. By 1980, Wood was suffering from poor vision and limited use of his drawing hand due to a series of strokes. Although Lunar Tunes consists of Wood characters and concept, the final drawings do not look like his inking. As much of his work in the 1978-1981, this was probably drawn by assistants under Wood's supervision. Like Wizard King, this spacey tale has a good introduction, disjointed middle, and a rather unsatisfying ending. Wood had many ideas in the later years but lacked the ability and/or financing to bring them to completion. Lunar Tunes contains some interesting cultural diversions but is nothing more than a 48-page postscript finally published 24 years after his death, [JAM 8/2/2017]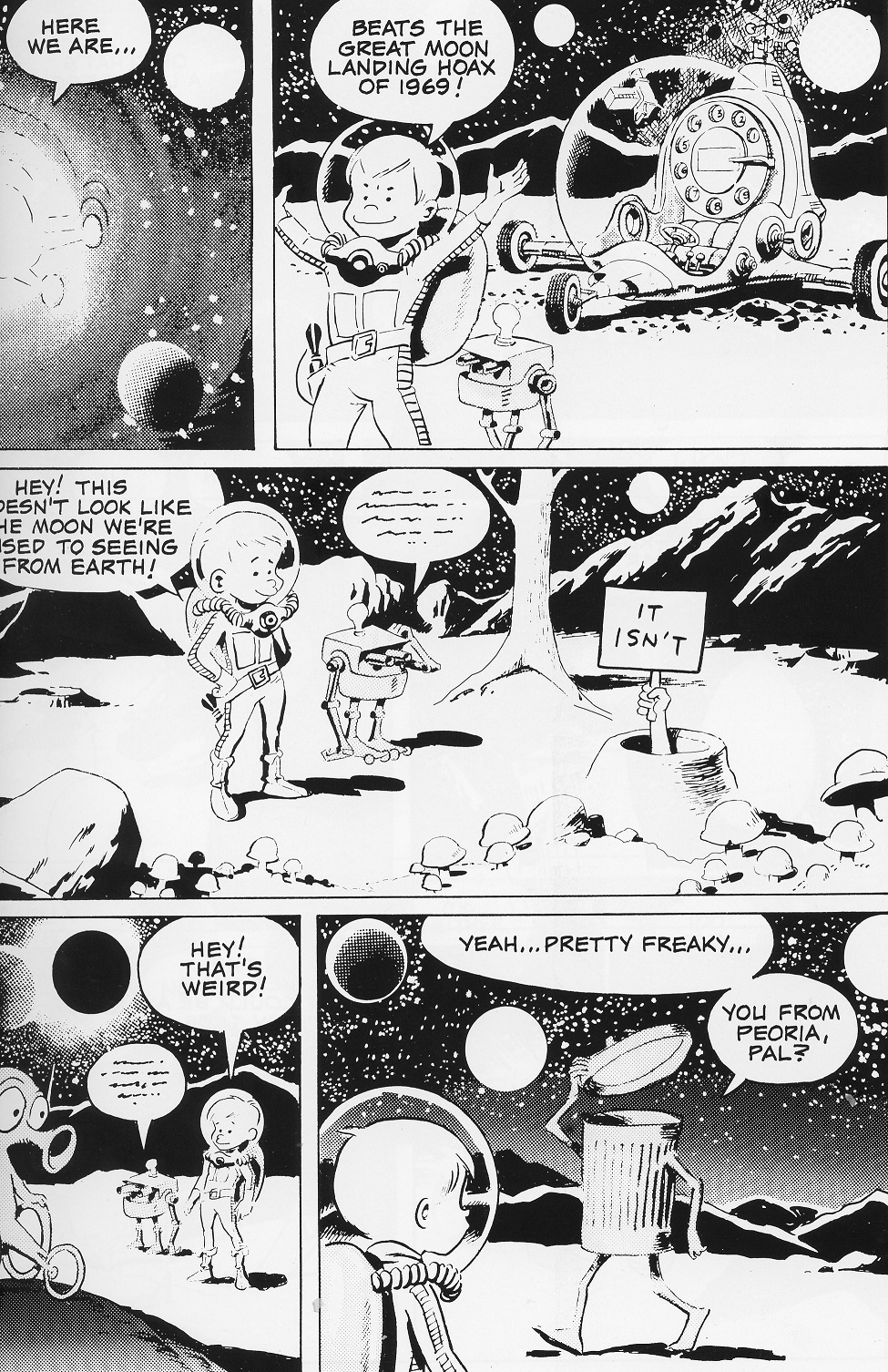 Wally's World (2006)
This is the best and most complete biography of Wood I have read. It presents his whole life giving equal space to each phase in the traditional style. The book includes an excellent selection and presentation of Wood's drawings. Since the editor has mentioned the possibility of a second edition, corrections to the following pages have been requested. [JAM 8/12/2007]
9 - Add the word "ground" to the last sentence on the bottom of the page.
11 - "him self" should be one word.
14 - "onto" should be two words.
17 - There should be a period at the end of the last paragraph.
38 - "wasas an ativist" should be "was an activist." and period should be deleted after "locales,"
63 - "akind" should be two words.
68 - Will Elder's drawings for the Goodman Beaver series were in Help! magazine not Playboy.
85 - The word "The" in the first sentence should not be capitalized.
87 - The name "wally" in the next to last paragraph should be capitalized.
97 - "Crime Patrol molted into The Vault of Horror" should be "War Against Crime molted into The Vault of Horror."
99 - "Doll" should be "Doll Man" with a period at the end of the paragraph.
108 - "Al Feldstein tell" should be "Al Feldstein tells."
129 - "too keep EC alive" should be "to keep EC alive."
140 - "Al Jaffe" should be "Al Jaffee."
166 - Add "was" between "reunion" and "amiable."
167 - "The Craeture Within the Volcano" should be "The Creatures in the Volcano."; "marvel" and "lee" in second column should be capitalized.
170 - 'headaches and stopped" should be "headaches had stopped."
171 - "Dollman" should be "Doll Man."
172 - The "Not Brand Echh" comics did not have an exclamation point (!) in the title; "Larry Ivy" should be "Larry Ivie."
179 - "Big Apple Comics 1 1960" should be "Big Apple Comix 1975."
190 - Add the word "to" between "assistant" and "the doctor" in the first sentence.
211 - Delete the word "he" between "ink" and "that" in the third sentence; delete reference to "the third and final Wizard King volume from Vanguard in 2007."
212 - "West Cost" should be "West Coast."
218 - "Frannk Frazetta's 213" should be "Frank Frazetta's 213"; "Frazatta" should be "Frazetta" in the text.
219 - Delete one "Mad" from "It's a Mad, Mad, Mad, Mad, Mad World."
220 - "feature" should be "featured."
221 - Delete the word "is" between "Wizards" and "at least" in the first column; add the word "as" between "as well" and "his heroic fantasy" in the second column.
222 - "illustrates" should be "illustrate"; "The Complete Sally Forth" should be "The Compleat Sally Forth"; "The Complete Cannon" should be "Cannon."
Woodwork (2012)
In September 2010, a retrospective exhibition of the art of Wallace Wood was displayed in De Palma, Spain. This excellent book, written in English with a Spanish translation, is an outgrowth of that exhibition published on high-quality paper (24cm x 32cm) by IDW CasalSolleric (FundacioPalmaEspaid'Art). Woodwork is the most complete examination of Wood's art presented to date. This beautiful biography is focused on the comic book art as opposed to the personality defects that fill too many pages in other volumes. Editor Florentino Florez stated the following in his introductory remarks: "We associate happiness with a certain conservative vision and modernity with problematization and a critical vision of reality. Wood demonstrated that it is possible to be absolutely modern and positive at the same time. He invented science fiction as we know it today, or at least almost up until today. His comic stories generally revolve around worlds far removed from the pill-popping boozer that many biographies insist he was." It is somewhat odd and sad that Wood's talents were appreciated to a greater degree in Europe than in his native United States of America. The Spanish art lovers deserve much credit for their wonderful exhibition and for these 343 pages that celebrate Wallace Wood, artistic genius. [JAM 8/15/2017]
Strange Worlds of Science Fiction (2012)
Wallace Wood was generally known as the greatest science-fiction comic book artist of all time. In this volume, Vanguard Publishing reprinted over 200 full pages of Wood art including 20 complete stories from 1950-1951 before he became a star at EC. Reading these for the first time, I had several observations that I shared with the "Wallace Wood" facebook group. [JAM 8/25/2017]
What is Vanguard's policy regarding the correction of original text errors for reprint editions? For example, on page 18, second panel of "The Flying Saucers" the word for the alien weapon is missing from the text but the letterer had left room for it. The correct word is "tube" which is similar to the Star Trek "phaser." The letterer may not have known the word at the time but it was also not added during the original edit. I would think that the original editor, the artist and the letterer would all want the word added for any reprints. It does not detract from the art to do this but the reading of the story is interrupted without. I would expect the reprint editor to note errors in the original text. This is pretty good evidence that Wallace Wood was the inventor of the concept of the Star Trek phaser in 1950. Apparently, he did not have a name for the alien weapon when the panel introduction was lettered. Then, they forgot to go back and add the word "tube" after the panel was inked and lettered. Wood certainly was a science-fiction pioneer.
Luana in Captain Science #4 in 1951 seems to be a "swipe" of a famous Marilyn Monroe pose from her pre-Playboy modeling career. Otherwise, this would be an odd sitting position for a lab assistant. Obviously, the CS4 drawings were inked by Joe Orlando over Wood pencils. The Orlando-Wood team wisely reversed duties in future stories. Examples fro the extensive Wood swipe-file can be seen throughout this story since Orlando did not have the inking skills of Wood.
Woody had many skills but a knowledge of mathematics was not one of them. In CS5 he wrote: "infinity over pi minus the two quadrants cubed ..." Anyone with a moderate understanding of math knows that you cannot perform mathematical operations on "infinity." And what is "two quadrants cubed"? The whole calculation is pure nonsense.
In "An Earth Man on Venus" on page 86, panel 2 there is another intro with missing words. The letterer did not know what to call the alien spaceship. And then on page 89 Wood's Marilyn Monroe swipe returns with better inking this time. These 26 pages are excellent examples of Wood's genius with ink that needs no coloring. In this world, the worse thing you could call someone is "mathlab." Apparently, not Woody's favorite subject in school.
In "Renton of the Star Patrol" (also sometimes shown as "Space Patrol" in the text) Renton suddenly has torn sleeves in panel six (page 173) of "The Vampires of the Void" but the sleeves are magically restored in panel 7. Throughout this story, the sleeves alternate between torn and untorn. This sequence must have been a challenge for the colorist.
Artist's Edition (2012)
This volume from IDW shows the splendor of the original inking of 15x25-inch artboards that were shrunk and colored on standard 6x9-inch comics. There are eleven EC science fiction comic stories, six EC war stories and twelve EC covers plus a short bio and The Spawn of Venus written and drawn by Wood in 1953 but until Bill Gaines gave permission for witzend #6. In large format from original boards, this presentation shows publisher notes, artist border drawing and some special techniques like Zip-a-tone and 3-D (Spawn of Venus). The true genius of Wood is on display in these 153 pages. [JAM 8/27/2017]
Galaxy Art and Beyond (2016)
For the first time, all of Woody's science-fiction and fantasy illustrations from 1953-1068 are gathered together in one beautiful volume. Roger Hill supervised and organized this important collection for fans of the art of Wallace Wood. The book also includes a history of the sci-fi magazines and an excellent index of the art. [JAM 8/30/2017]
The Life and Legend of Wallace Wood Volume 1 (Bhob Stewart and J. Michael Catron) - Fantagraphics -2017 - 256 pages
Woody was the greatest comic book artist of them all. I knew him in the pages of Mad magazine that I purchased at Al Andersen's Liquor Store on Studebaker Road in Norwalk, California from 1957 to 1964. I did not know that he had done other stuff before Mad and I did not know what had happened to him after 1964 until I began researching the classic comic artists later in my life. I just knew that the drawings of Wallace Wood (1927-1981) were the best I had ever seen and that Mad was never the same for me without them. The idea for this book came from writer Bhob Stewart (1937-1981) who was an assistant to Woody and remained a great fan of comic art throughout his life. The heart of "Life and Legend" (that was originally to be titled Against the Grain) is the biographic material written by Stewart on pages 19 through 59. Stewart's research into the early life of Woody has preserved a piece of comic art history that could have been lost to the ages. At the age of eight, young Woody was making comic books before they existed on newsstands. The early art shown here provides evidence that Woody was meant to draw comics. He was driven to do this and only this. Woody's Mad years are chronicled by Grant Geissman ("When Better Drawrings Are Drawrn") and Steve Thompson ("Mad Man"). But the Mad Years (750 pages) are only a small sampling of the work of a prolific artist who drew for science fiction publications, trading cards, advertisers, armed services publications, himself (Witzend, etc.) and many, many comic book titles (EC, DC, Marvel et al.) - all discussed in this excellent biography. The Fantagraphics Life and Legend of WW is the first book that tells the whole story in one volume. [JAM 12/15/2016]
Contents
Introductions (Howard Chaykin and Maria Reidelbach)
Wood Paneling (John Workman)
Against the Grain (Bhob Stewart)
From Here to Nudity (Bhob Stewart)
Wood's First Comics Job (Bhob Stewart)
Avon Calling (Roger Hill)
A Thousand Rays in Your Belly (Bill Mason)
Into the Woods (Larry Stark)
The Best Damn Artist in the Business (Al Williamson)
Geronimo! (John Severin)
When Better Drawrings Are Drawrn (Grant Geissman)
Traveling Through the Galaxys (Roger Hill and Larry Niven)
Waking Up From the American Dream (Thommy Burns)
Mad Man (Steven Thompson)
Good Humor Man (Ronn Sutton)
Quote 'n' Unquote (Colonel Art Moger)
Chocolate-Covered Wood (Bhob Stewart)
Wood Bounces (J.D. King)
Still Crazy Cards After All These Years (Rick Keene)
Our Gypsy Camp (Diane Dillon)
West 74th Street (Russ Jones)
When in Doubt, Black It Out (Ralph Reese)
Old Ink, New Ink (Larry Hama)
The Man Without Peer (Mark Evanier)
A Leprechaun, A Giant (William Gaines)
The Life and Legend Vol. 2 (2018)
This book completed the two-volume biography-by-testimonials that was initiated by Bhob Stewart 30+ years ago. Although he did not live to see it, Bhob would be proud of the final product that pays tribute to the artistic genius and enormous quantity of quality drawing that flowed from the brush of Wallace Wood. Woody was a private individual who did not like interviews. However, his assistants and colleagues have filled the gaps in the life of an artist who reached the highest level of competence with a distinctive style during golden and silver ages of comic books. [JAM 4/10/2018]
The PS Book of Fantastic Fictioneers: A History of the Incredible (Volume One) by Pete Von Sholly (2019)
A biography of Wood by C. Courtney Joyner is included among the 120 "fictioneers."
"Wally Wood's artwork was so tight that Harvey Kurtzman said that his figures looked 'welded' into position. At his peak Wood was one of the grandmasters of comic art. He had a sign over his desk that said, 'There's only one Wally Wood and I'm him!' His work was supremely controlled and his monsters and spaceships rock solid and lovingly rendered. And he drew some of the sexiest women ever captured in pen and ink. He never hit the jackpot monetarily for his talent, a true tragedy and typical of an industry that didn't take care of its own." - Von Sholly
True Believer by Abraham Riesman (2021)
[Wood] "I enjoyed working with Stan on Daredevil but for one thing. I had to make up the whole story. He was being paid for writing, and I was being paid for drawing, but he didn't have any ideas. I'd go in for a plotting session, and we'd just stare at each other until I came up with a storyline. I felt like I was writing the book but not being paid for writing."