Mel Brooks
Separate Rooms (play - casting/actor) - 1947
Admiral Broadway Revue (consultant) - 1949
Your Show of Shows (writer) - 1950-1954
"Sid's (Caesar) comedy was not a bunch of one-liners, but a satire of the human race. He loved that my comedy also had to do with people and their stories, not a series of punch lines. And I loved his comic take on everything in the world. We were instantly on the same page ... If there was no Sid Caesar, there never would have been a Mel Brooks." (All About Me!)
New Faces of 1952 (playwright) - Royale Theatre - 1952
New Faces (writer) - 1954
The Imogene Coca Show (writer) - 1954-1955
Caesar's Hour (writer) - 1955 to 1957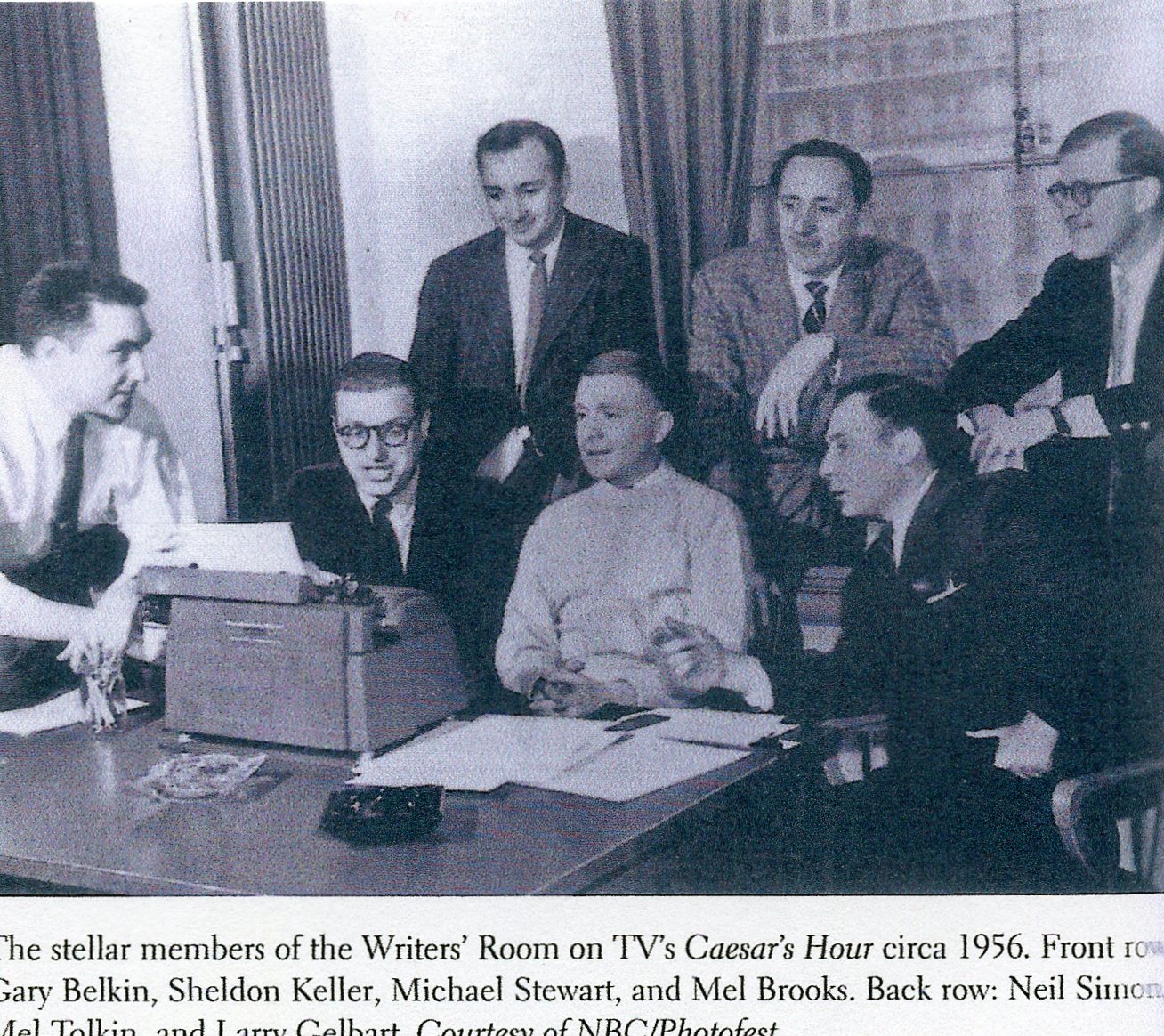 Shinbone Alley (playwright) - Broadway Theater - 1957
The Polly Bergen Show (writer) - 1957
Sid Caesar Invites You (writer) - 1958
The 2,000 Year Old Man (with Carl Reiner) - 1960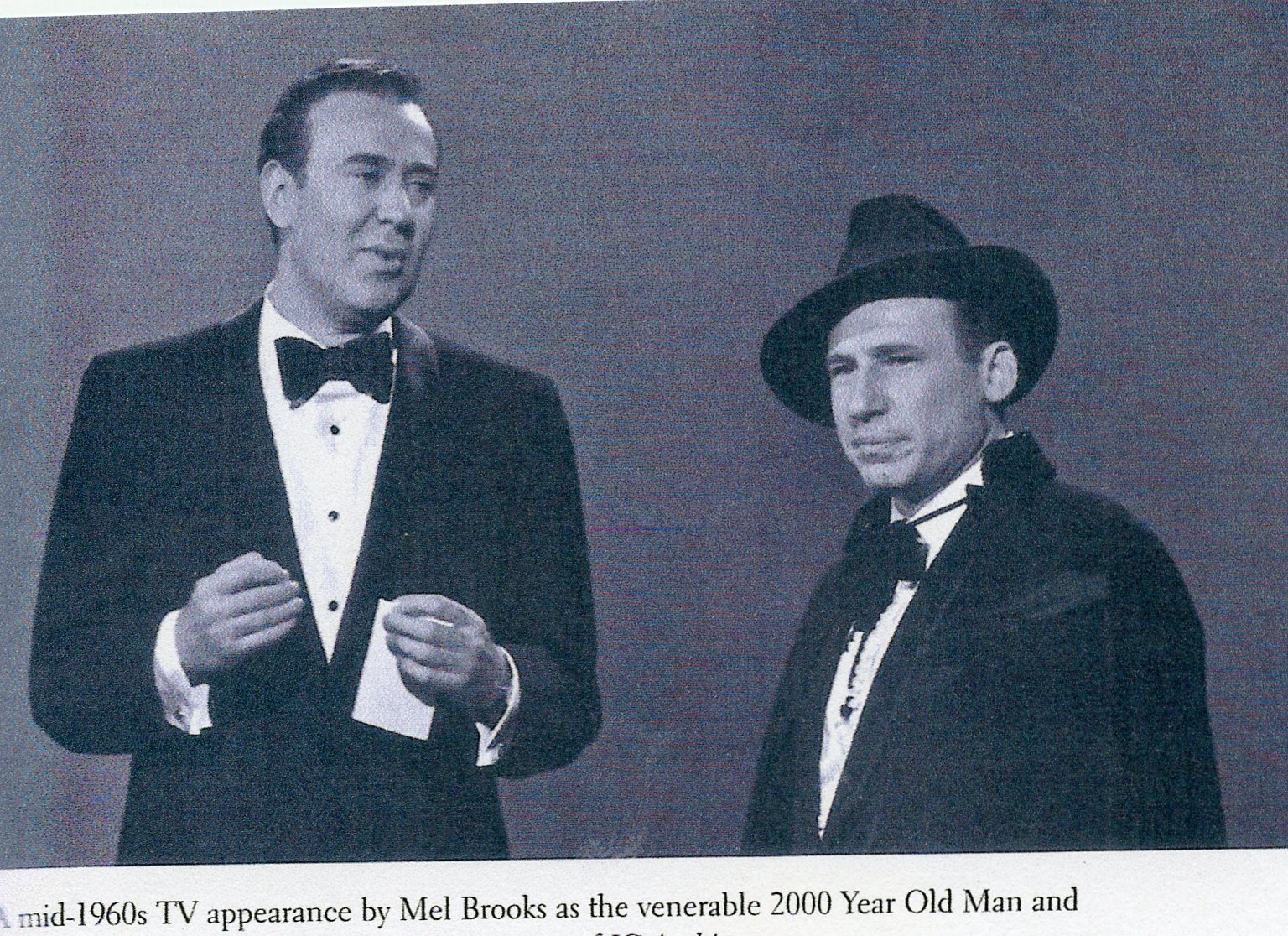 "I've worked with many great people in my life, but there will never be another Carl Reiner." (All About Me!) - 2021
The New Steve Allen Show (actor) - 1961
The All-American (playwright) - Winter Garden Theater - 1962
The Tonight Show (guest) - 1962 to 1992
The Critic (narrator) - 1963
Get Smart (writer) - 1965 to 1970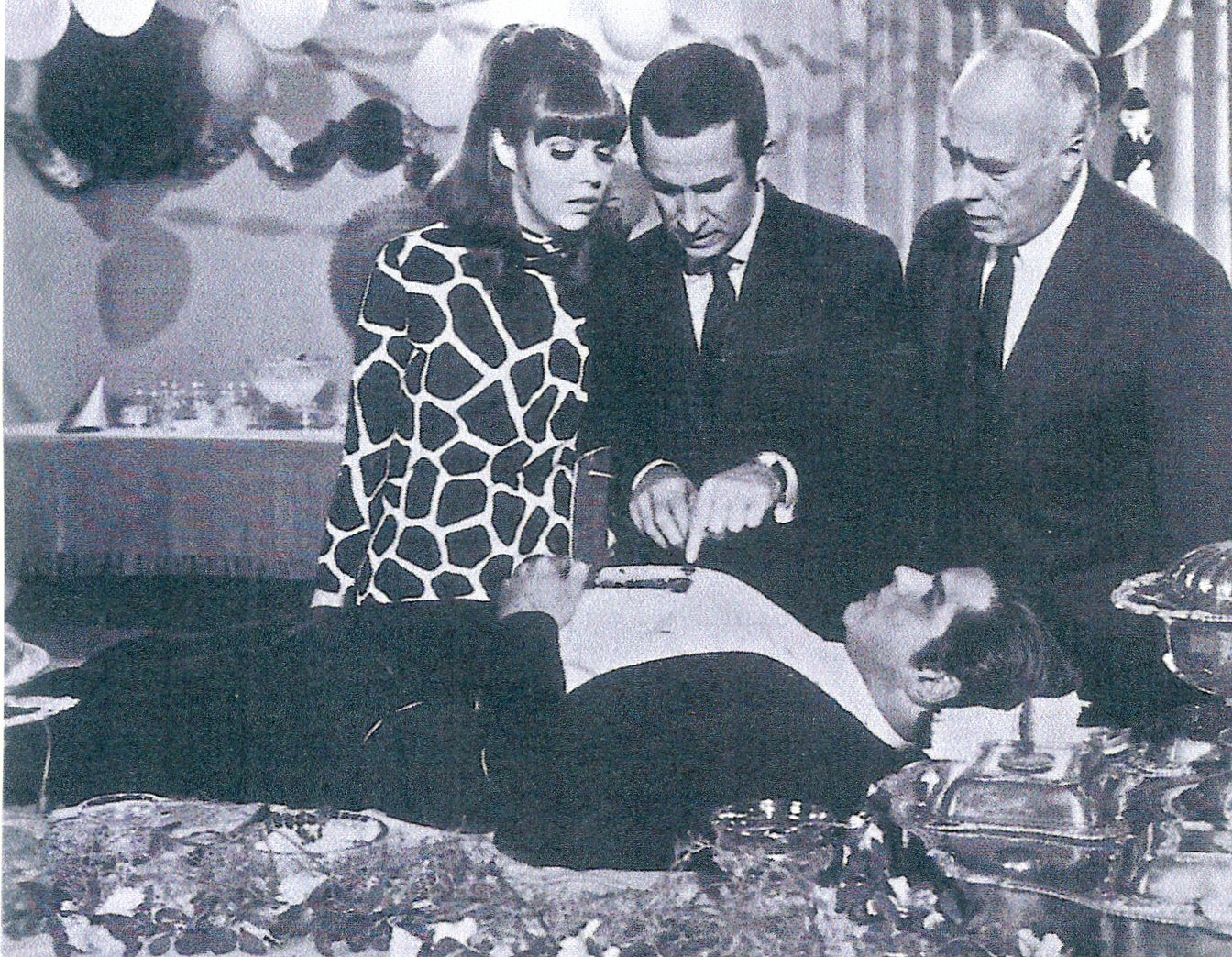 "I was called by one of the partners of a successful showbiz company called Talent Associates [in 1964]. His name was Danny Melnick. He ran the company with David Suskind ... I created the shoe-phone that Max [Smart] used to field calls. One day, every phone in my office started ringing. I took off my shoe and pretended to answer it. I thought the most bizarre place to put a secret telephone would be in the heel of your shoe, and I thought we could have a lot of fun with that. If you got a very important call, you had to stop and take off your shoe. One wrong step and the phone breaks. For years afterward, Don [Adams] couldn't eat in restaurants without grateful patrons taking off their shoes and saluting him with them like they were toasting him with wine." (All About Me!) - 2021
The Producers (1967)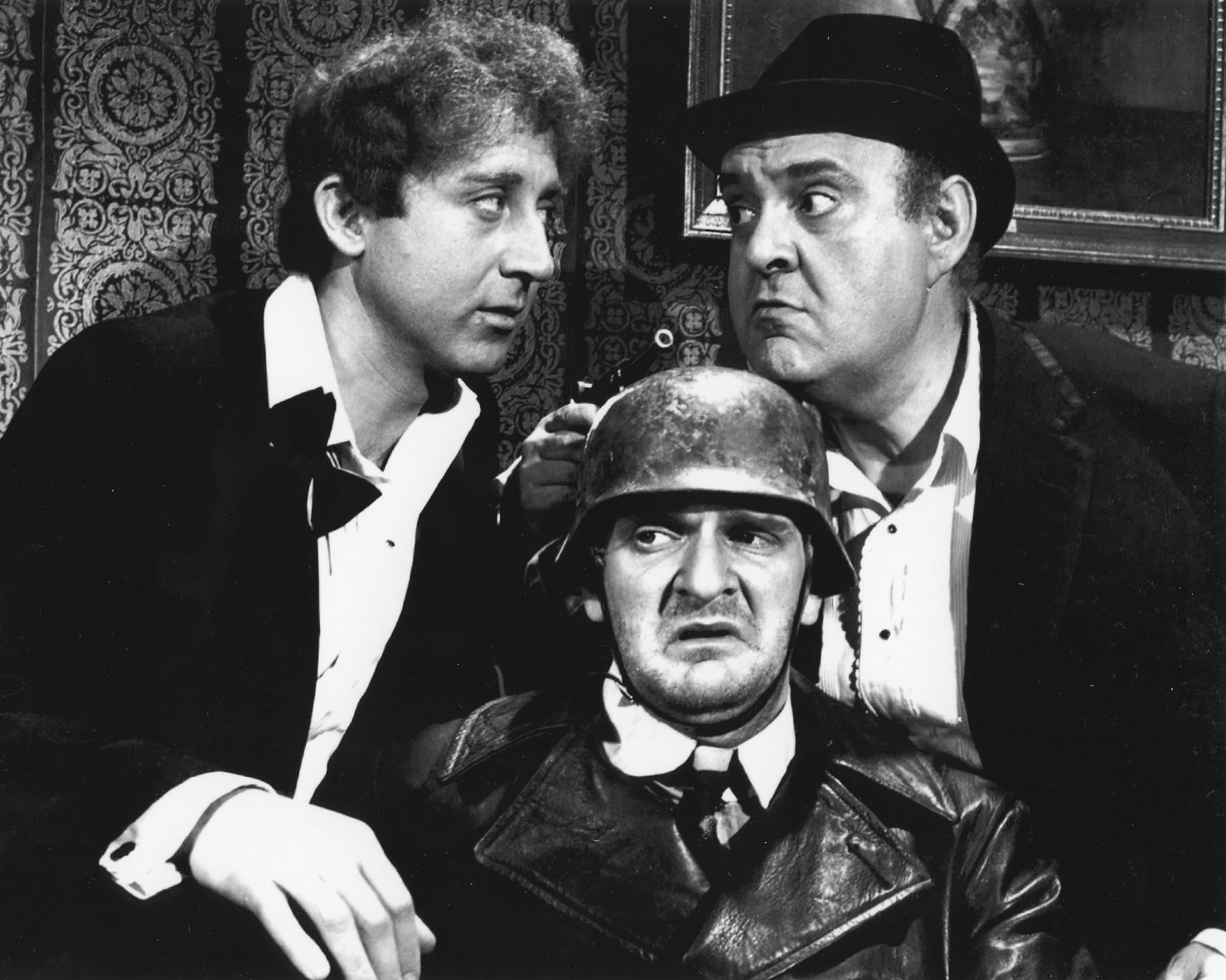 "For Franz Liebkind, I had originally considered a young actor named Dustin Hoffman. He wasn't famous yet. He actually lived on my block in Greenwich Village on Eleventh Street, between Fifth and Sixrg avenues ... Dustin read Franz Liebkind for me, and he was absolutely spot-on ... But life is funny and ... often stranger than fiction. One night at about two in the morning I was awakened by pebbles being tossed against my bedroom window ... There down on the street was Dustin Hoffman (who said) ... 'I just got a call from Mike Nichols in L.A. .... He wants to audition me for the part of Benjamin Braddock (in The Graduate)' ... Two days later he called to tell me he got the part. He had already signed a contract with me, so I could have bollixed up everything by legally stopping him, but I let him go and wished him luck." (All About Me!) - 2021
"It turns out that Peter Sellers had by accident seen a pre-release screening of The Producers, ... every Saturday night he would gather some of the cast and crew and the screenwriters of the film (I Love You Alice B. Toklas) and rent the Aidikoff screening room in Hollywood and have a movie night ... one of the screenwriters ... was the writer/director Paul Mazursky. Paul told me that they were supposed to see one of Fellini's early films ... but the projectionist ... couldn't find the movie. (Sellers told him to run the pre-release of The Producers) ... Paul Mazursky said that the movie was a flat-out hilarious success. Peter never stopped laughing ... (and) he paid for a big ad in Variety that read: 'Last night I saw the ultimate film ... "The Producers," or as it was originally titled "Springtime for Hitler." Brilliantly written and directed by Mel Brooks, it is the essence of all great comedy combined in a single motion picture. Without any doubt, Mel Brooks displays true genius in weaving together tragedy-comedy, comedy-tragedy, pity, fear, hysteria, schizophrenic-inspired madness and a largess of lunacy of sheer magic. The casting was perfect. Those of us who have seen the film and understand it have experienced a phenomenon which occurs only once in a life span.'" (All About Me!) - 2021
The Sid Caesar, Imogene Coca, Carl Reiner, Howard Morris Special (actor) - 1967
The Hollywood Squares (panelist) - 1968 to 1978
Putney Swope (actor) - 1969
The Twelve Chairs (1970)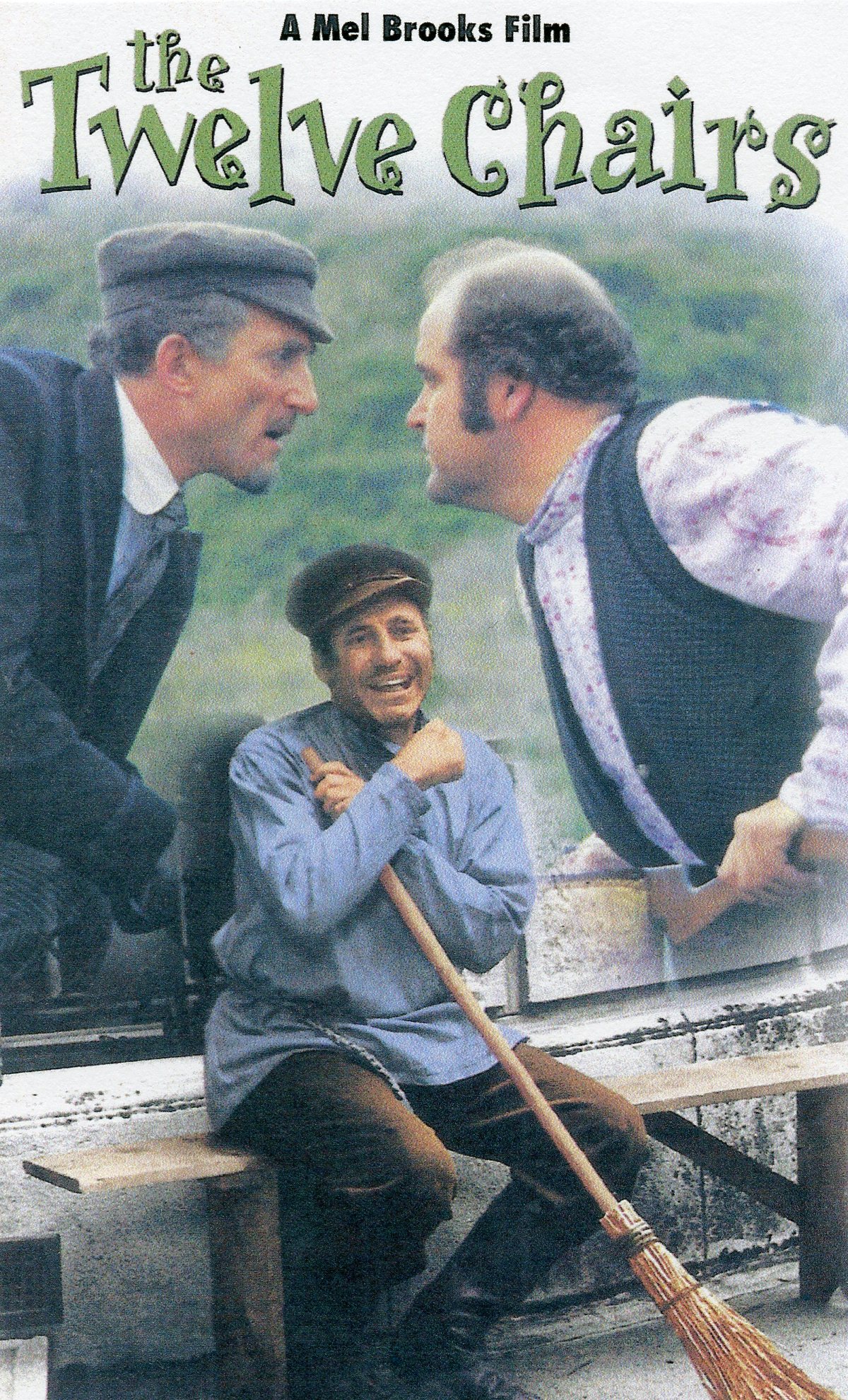 "I went all over Yugoslavia mimicking Russia. Having seen pictures of Moscow, I was able to duplicate those same architectural features in Belgrade. It really worked. I created a street sign that I thought should have been posted somewhere in Russia at that time. The oldest part of the sign is faded and overgrown by ivy and used to read CZAR NICHOLAS AVENUE. Underneath it is a newer sign that reads MARX, ENGELS, LENIN & TROTSKY ST. -- but Trotsky is crossed out. It's my own private joke, in one single street sign I covered the entire history of the Russian revolution.'" (All About Me!) - 2021
Shinbone Alley (1971)
The Electric Company (voice actor) - 1973 to 1977
2,000 and Thirteen (with Carl Reiner) - 1973
Blazing Saddles (1974)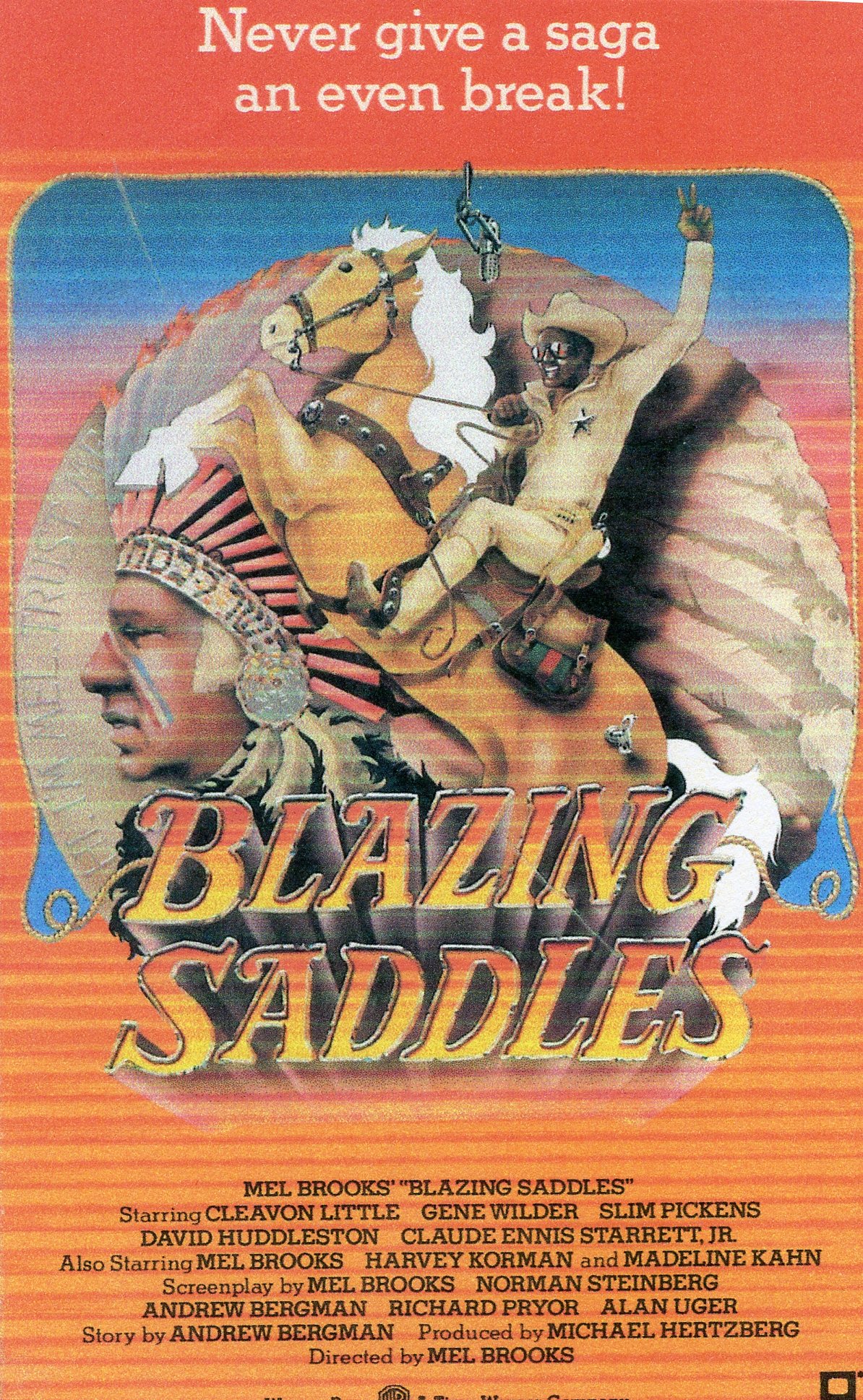 "I had worked for close to two years on both The Producers and The Twelve Chairs and only made fifty thousand dollars for each film to write, direct, and act. I had my doubts about making a living in the movie business. I still hadn't had a real commercial hit. The Producers and The Twelve Chairs together didn't make me enough money to buy a new car. Then came David Begelman (talent agent, Creative Management Associates)." (All About Me!) - 2021
Young Frankenstein (1974)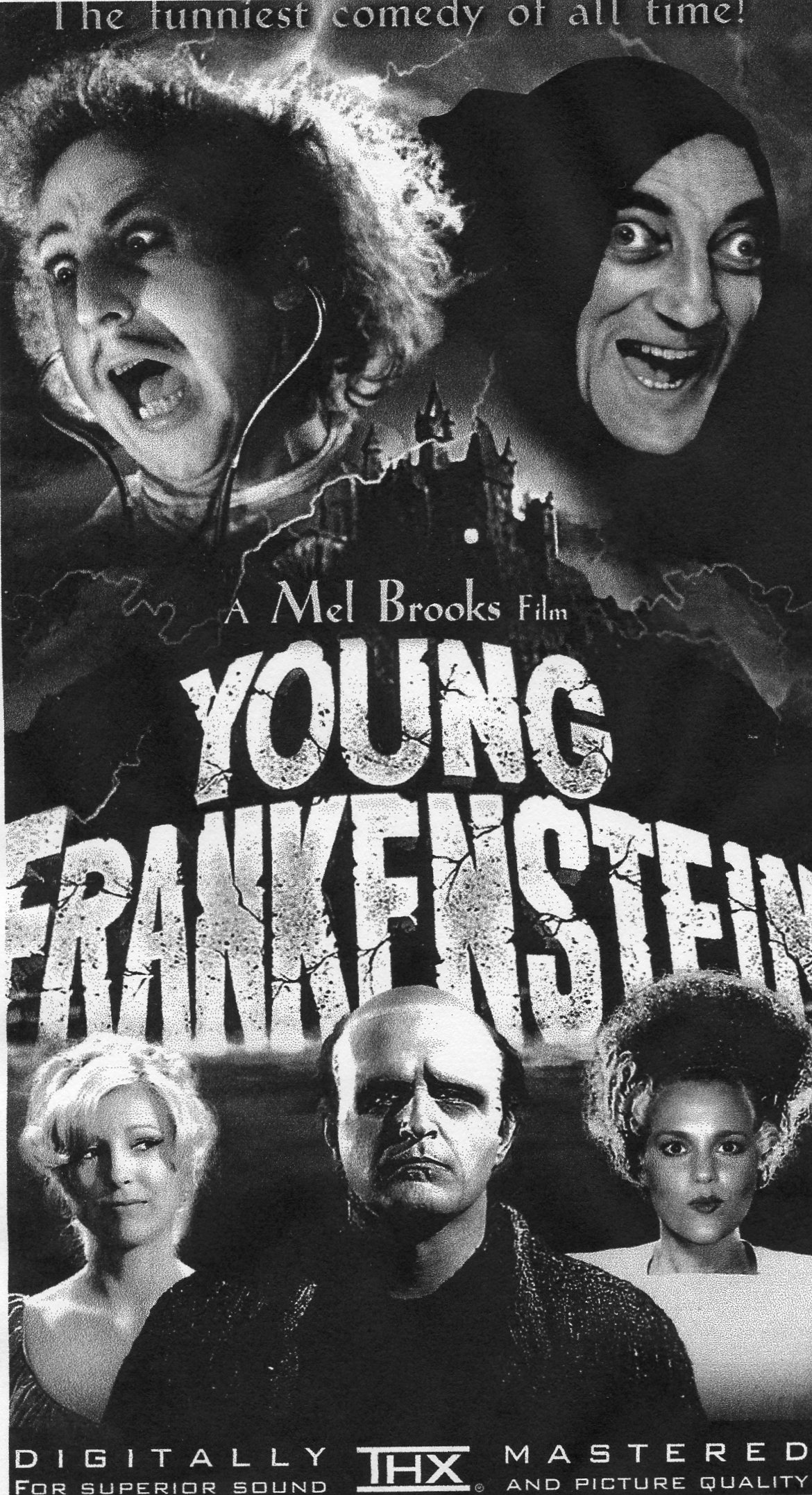 "One day on the Western town set of Blazing Saddles, when we broke for lunch I noticed Gene Wilder leaninh against the sheriff's office and scribbling something on a pad propped up on his knees ... He said, 'I have this idea for a movie about Baron Frankenstein's grandson.'." (All About Me!) - 2021
"So looking back at that fateful year of 1974, which started with Blazing Saddles -in February and ended with Young Frankenstein) in December, I can honestly say, it was a great year. And I can honestly say that 1974 was a much better year for Mel Brooks than it was for Richard Nixon." (All About Me!) - 2021
Free to Be ... You and Me (voice actor) - 1974
The 2000 Year Old Man (writer & voice actor) - 1975
When Things Were Rotten (writer) - 1975
The Adventurers of Sherlock Holmes' Smarter Brother (voice actor) - 1975
Silent Movie (1976)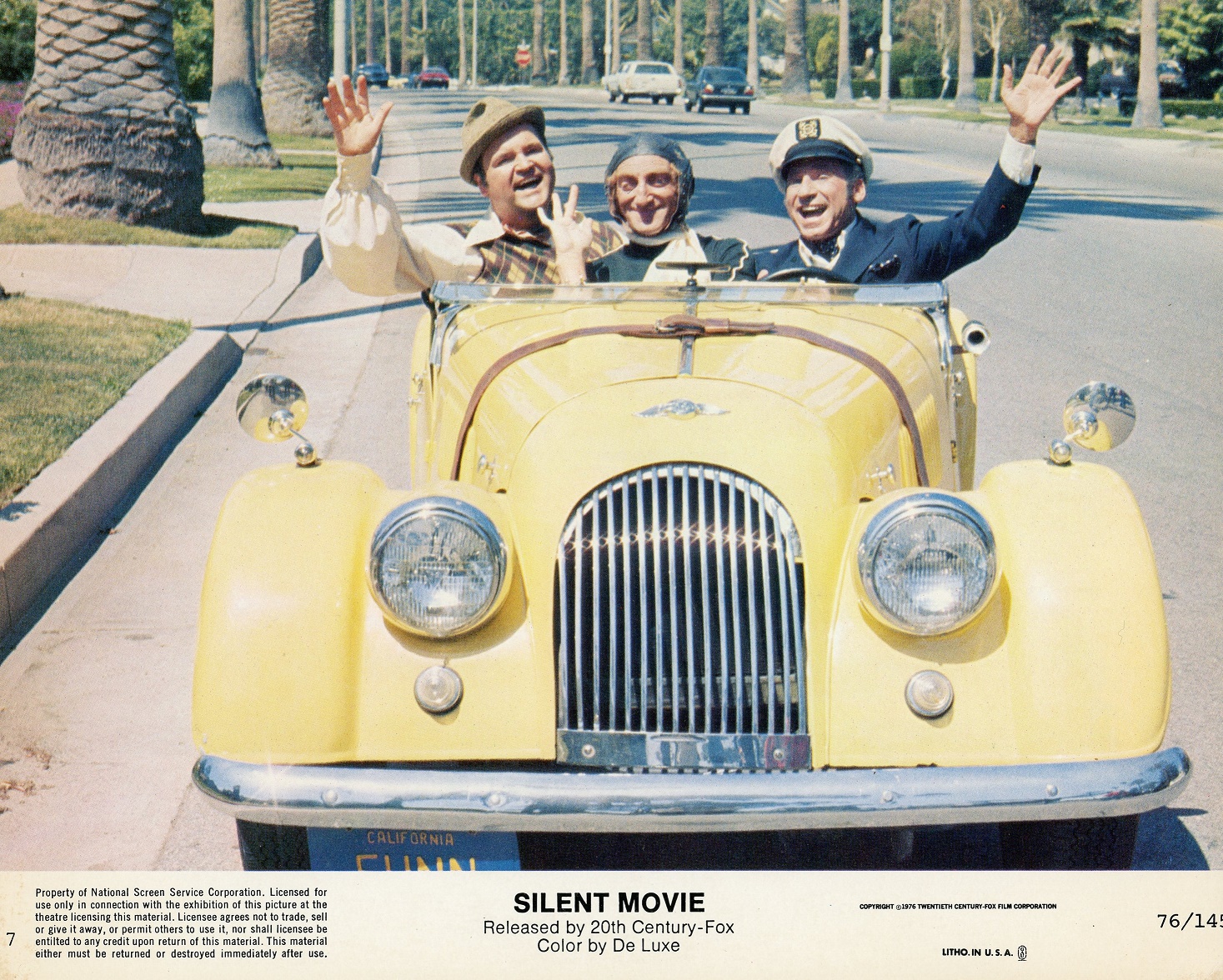 "Our final star cameo was really a huge star at the time -- the great Paul Newman. I found out that he loved a beer called St. Pauli Girl. So I sent him ten cases of it, with a letter that explained why I wanted him to guest star in our film. We knew that Paul was an avid racing fan, and even drove his race car in real high-speed races ... Shooting the Paul Newman wheelchair chase scene was one of the happiest on-set movie experiences of my life. We actually sped flat out doing our best to catch him in his chair, but we never could. Really! He was too damn good." (All About Me!) - 2021
High Anxiety (1977)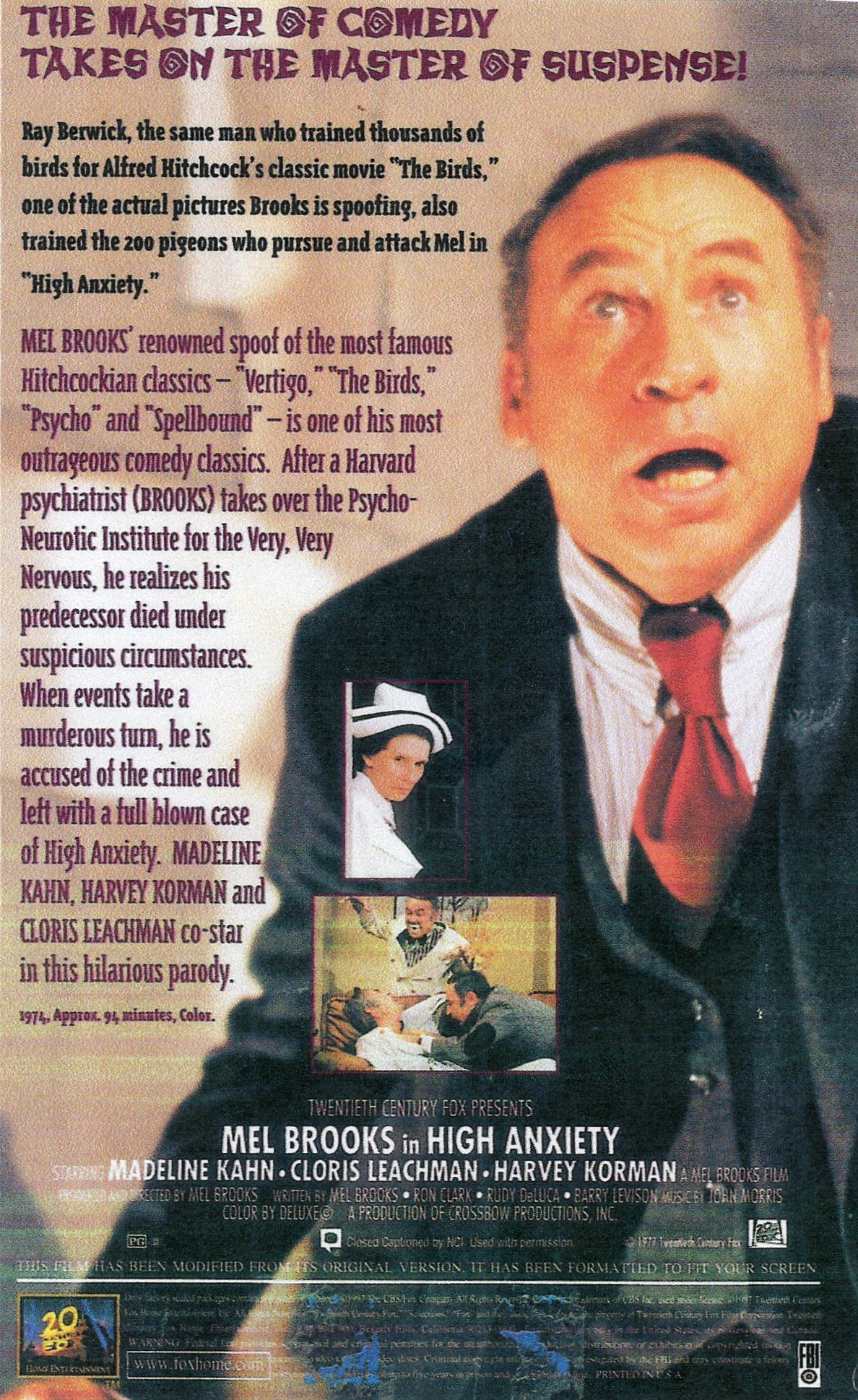 "I was a fierce devotee of Alfred Hitchcock. He could do anything -- drama, comedy, tension, suspense, excitement, and beauty. He had the amazing ability to cut the film in his mind. He didn't waste time shooting a lot of film and then choosing the right takes. His movie editing mind was like a Moviola, Avid, and computer combined. He saw the movie as it progressed scene after scene until it arrived at one of his climactic endings. He was, film for film, the best movie director that ever lived." (All About Me!) - 2021
The Muppet Movie (actor) - 1979
The Nude Bomb (co-creator with Buck Henry) - 1980
Method in Madness: The Comic Art of Mel Brooks (Maurice Yacowar) - St. Martin's Press - 1981 - 193 pages
What is the purpose of this book? I tried to answer that question as I read through these pages full of psychoanalysis. Certainly, this is not a biography. Chapter Two ("The Life") skims over 15 pages of biographical material but then ends with: "It's time to leave off the Mel Brooks biography and turn to the analysis of his works." These were 15 totally useless pages unless you just got off of boat from Borneo. Author Yacowar then proceeds to delve deeply into the performances and directed films of the artist. He spends 40 pages on the two 1974 films (Blazing Saddles and Young Frankenstein) retelling and explaining every joke in the screenplays and some that were cut from the movie. He also makes sure to recount the early reviews of various newspaper critics. It seems like so much filler to me. These movies are genre parodies (Western, Horror, Hitchcock, etc.). We get the jokes. We do not need the detailed psychological babble. Post-20th century parodies rely on inspired silliness while retaining respect for the original. The purpose is to entertain and sell popcorn. Obviously, this book is not a complete retrospective. Brooks was in the middle of his productive career in 1981. Several more movies (Spaceballs, Life Stinks, Robin Hood: Men in Tights, Dracula: Dead and Loving It) would be made in the coming decades. In his epilogue, Yacowar asks us to buy this book so he would be compelled to write "Book Two." Buyer beware. [JAM 10/25/2020]
When reading books about great artists, I try to find significant quotes from the artist. In this book I found only one that bears repeating: "In good comedy, there's always a scintilla of reason. In my films I suppose you can say that behind the laughs there's an examination of good and bad, of greed, rottenness, pettiness. It's important for me to have a philosophical base, even though I may disguise it."
History of the World: Part I (1981)
History of the World: Part I - Warner Books - 1981 - 64 pages (plus record)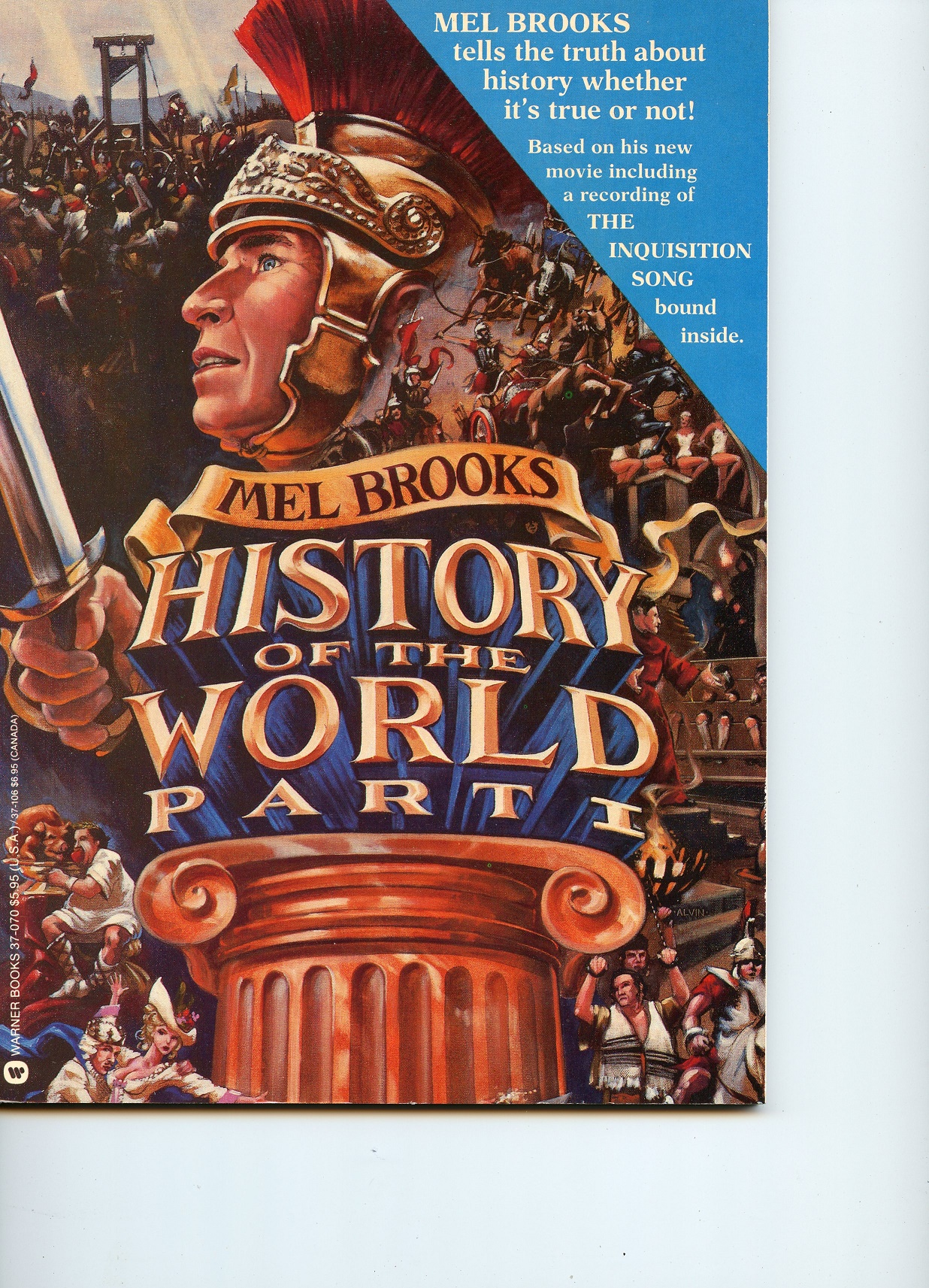 "It was a thrill to meet Orson Welles. He was so generous with his compliments of my movies. I returned the favor and told him how much I loved Citizen Kane), The Magnificent Ambersons -, and Touch of Evil. Orson had some strange requests: First, he wanted his fee in cash, and second, he wanted to have equal say as to what takes of his narration would be used in the final cut. Of course, I trusted his judgment and dutifully met both requests. I got Fox to give me his fee of twenty-five thousand dollars in cash. I put it in a paper bag and gave it to him on the first day of recording ... Orson Welles was going to record the voiceover narration between nine A.M. and four P.M. every day for five days. He started Monday morning at nine A.M., and by three o'clock ... he had recorded the entire narration ... Twice. Perfectly." (All About Me!) - 2021
Mel Brooks and the Spoof Movie (by Nick Smurthwaite & Paul Gelder) - Proteus Books - 1982 - 96 pages
To Be Or Not To Be (actor) - 1983
An Audience with Mel Brooks (1983)
Spaceballs (1987)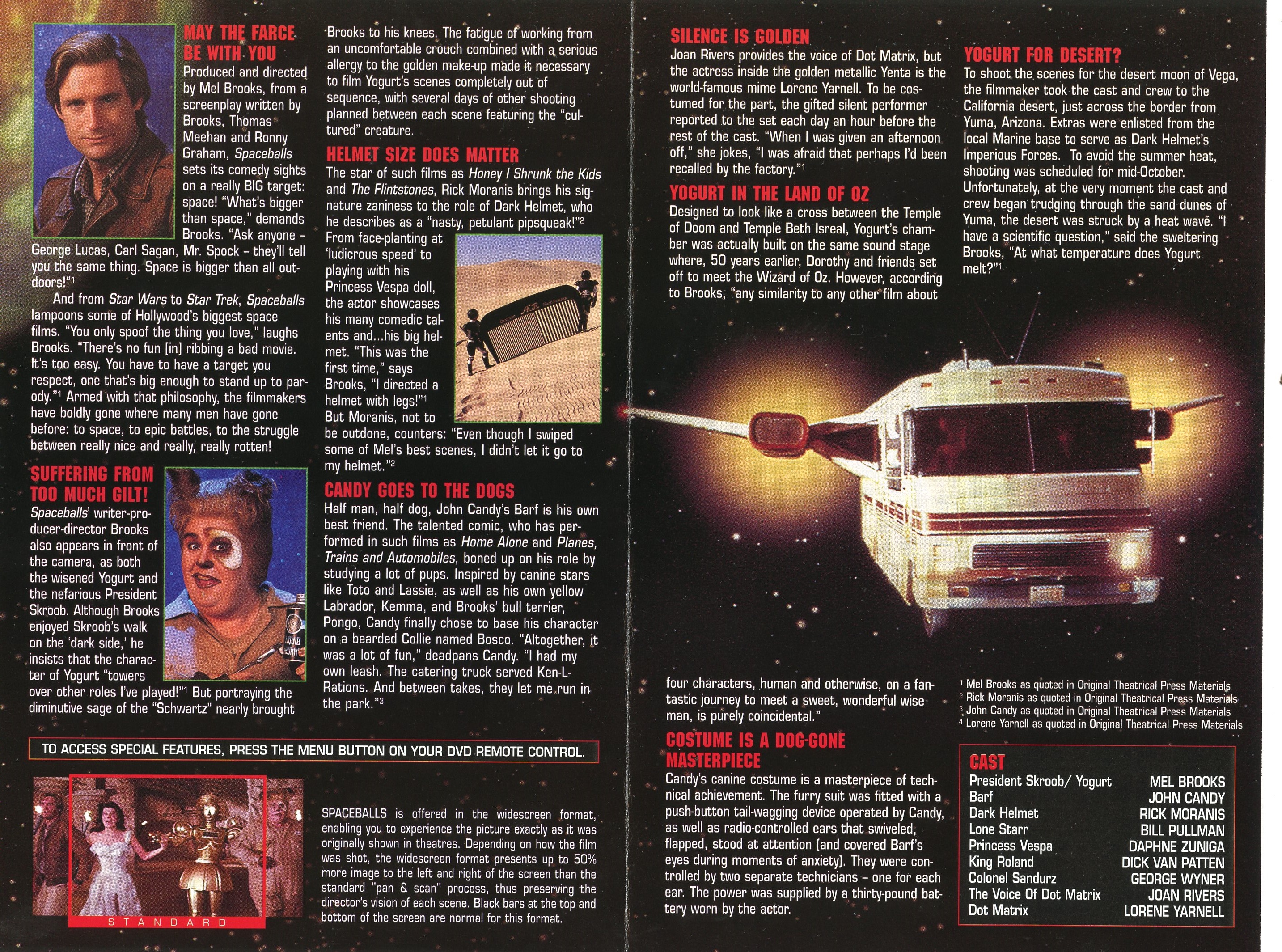 "I sent the Spaceballs script to Star Wars creator George Lucas. If not to get his blessing, then certainly to give him a heads-up on what I was doing vis-a-vis Star Wars. He was kind enough to read it and respond. He said he had seen Blazing Saddles and Young Frankenstein and was a big fan. He enjoyed the script, and only had one real caveat for me: no action figures." (All About Me!) - 2021
The Nutt House (writer) - 1989
The Tracey Ullman Show (actor) - 1990
Look Who's Talking Too (voice actor) - 1990
Life Stinks (1991)
Mickey's Audition (actor) - 1992
Robin Hood: Men in Tights (1993)
Frasier (voice actor) - 1993
The Silence of the Hams (actor) - 1994
The Little Rascals (actor) - 1994
Dracula: Dead and Loving It (1995)
The Simpsons (voice actor) - 1995
Get Smart (co=creator) - 1995
Mad About You (actor) - 1996 to 1999
The 2000 Year Old Man in the Year 2000 (with Carl Reiner) - Cliff Street Books - 1997 - 127 pages
The Prince of Egypt (voice actor) - 1998
Screw Loose (actor) - 1999
The Kids from Room 402 (voice actor) - 2000
Sex, Lies and Video Violence (actor) - 2000
The Producers (playwright & composer) - St. James Theatre - 2001
It's a Very Merry Muppet Christmas Movie (voice actor) - 2002
The Adventures of Jimmy Neutron: Boy Genius (voice actor) - 2003
Jakers! The Adventures of Piggley Winks (voice actor) - 2003 to 2007
Curb Your Enthusiasm (actor) - 2004
Robots (voice actor) - 2005
The Producers (voice actor) - 2005
It's Good To Be The King: The Seriously Funny Life Of Mel Brooks (James Robert Parish) - John Wiley & Sons - 2007 - 325 pages
"Nothing good comes out of going for the money. If you do something lovely from your heart, you might get lucky and make some money. But if it doesn't come from your heart and soul, if you don't believe in it from your fingertips to the tips of your toes, it's not going to be good. You've got to do it because you love it." - Mel Brooks 2004
This author does a good job of following the career of Mel Brooks chronologically through 2006. He also itemizes the performances of Brooks's spouse, Anne Bancroft (1931-2005). Although it is generally recognized that Brooks burst upon the comedy/parody movie scene in 1974 with two blockbuster hits, the author concludes that the subject's career was downhill from then because of lower critical reviews and box office receipts. Nothing could be farther from truth. Mel Brooks has been a genuine treasure of comedic talent for seven decades. Although Mr. Parish is an excellent writer and researcher, his opinions regarding the metrics of show business success do not align with those of most humor fans. [JAM 10/15/2021]
"You can win a conditional victory, I think [against death]. It all boils down to scratching your name in the bark of the tree. I was here. When you do that -- whatever tree you carve it in -- you're saying, 'Now there's a record of me!' I won't be erased by death. Any man's greatness is a tribute to the mobility of mankind, so when we celebrate the genius of Tolstoy, we say, 'Look! One of our boys made it! Look what we're capable of!'"
Young Frankenstein (playwright & composer) Hilton Theatre - 2007
Get Smart (consultant) - 2008
Spaceballs: The Animated Series (voice actor) - 2008 to 2009
Glenn Martin, DDS (voice actor) - 2010
Ruby's Studio: The Feelings Show (voice actor) - 2010
Special Agent Oso (voice actor) - 2011
The Paul Reiser Show (voice actor) - 2011
Mel Brooks and Dick Cavett Together (2011)
Comedians in Cars Getting Coffee (actor) - 2012
Mel Brooks Strikes Back (2012)
Jeopardy! (clue presenter) - 2014
Dora the Explorer (voice actor) - 2014
Mr. Peabody and Sherman (voice actor) - 2014
Mel Brooks: Live at the Geffen (2015)
The Comedians (actor) - 2015
Underdogs (voice actor) - 2015
Hotel Transylvania 2 (voice actor) - 2015
Leap (voice actor) - 2017
The Guardian Brothers (voice actor) - 2017
Hotel Transylvania 3: Summer Vacation (voice actor) - 2018
To Tell the Truth (2018)
Funny Man: Mel Brooks (Patrick McGilligan) - Harper Collins Publishers - 2019 - 624 pages
This unauthorized biography of actor/comedian/director Mel Brooks could be alternately described as thorough or tedious, depending on your degree of interest in the biographical subject. Author McGilligan's research is exhaustive covering nearly every year of the man's life. It seems that everyone who had come in contact with Brooks has been interviewed except for his close friends. Mel Brooks struggled to find his place in show business in the early years eventually working for Sid Caesar as a junior "writer" on Your Show of Shows. But Brooks was an actor not a writer. He had great ideas and energy but not the discipline to put words on paper. The first 200+ pages portray Brooks as a womanizer, dead-beat dad and in general, a jerk who made his own rules. He led a dysfunctional life until he married his second wife (Anne Bancroft) in 1964 and then became a successful director in 1974 with smash-hit movies, Blazing Saddles and Young Frankenstein. For me, this book spends too much ink on his personal life, on the opinions of media critics, and on the financial success of various movies, plays, etc. Brooks will go down in entertainment history as one of our greatest comedy minds. For all of its detailed accounts of this complicated individual, McGilligan's book fails to be as entertaining as the man. [JAM 7/28/2020]
Toy Story 4 (voice actor) - 2019
Blazing Samurai (voice actor) - 2021
In Residence (actor) - Lunt-Fontanne Theatre - 2019
Forky Asks a Question (actor) - 2019
All About Me!: My Remarkable Life in Show Business (Mel Brooks) - Ballantine Books - 2021 - 460 pages
This is the long-awaited autobiography of Mel Brooks (nee Melvin Kaminsky), the great writer, actor, director, composer and humorist. There have been many biographies written about the life and career of Brooks but, he adds much more detail about his career in this volume. However, Brooks wrote very little about his private life and fails to name his first wife (Florence Baum) at all. His only reference to that marriage appears on page 116 with the following comment: "I was always in a bad mood. I must have been absolute hell to live with, that's probably what led to the end of my first marriage. It was one of the worst periods of my life." To his credit, Brooks does not blame Florence Baum for the failure of the nine-year marriage. Ms. Baum, who died in 2008, raised three of his four children. In spite of this omission, the autobiography is an excellent account of his "remarkable life in show business." [JAM 12/21/2021]