Lohman & Barkley
KFI - September 19, 1970
Al - "Well, it's twelve minutes past six here on Saturday Serenade. That was Burt Bacharach and he says: Bond Street."
Roger - "It's 6:13 in the morning this Saturday the 19th day of September at the world's biggest radio station. Delighted to report and how unusual it is that the entire Lohman & Barkley staff is assembled here this morning. (heavy breathing; door slams) You almost didn't make it; did you, W?"
Al (as W, Eva Schneider Bologna) - "Oh. Oh no. Oh boy."
Roger - "Ted's been here for half an hour."
Al (as Ted J. Bologna) - "Yes, I know it."
W - "I got lost between here and the parking lot. That can happen; now don't look at me and give me that silly know-it-all grin. It can happen."
Roger - "I don't see how it can happen though, W. You've made the walk now for two years from the parking lot to the door."
W - "I's darker now. It's darker. It is darker."
Roger - "It's darker but it's a case of just walking down the sidewalk and taking a left up the sidewalk."
W - "I took a right down the sidewalk."
Roger - "But you took a right down the sidewalk and you ended up at Lee's Bars & Stools."
W - "I got some nice bar furniture and I'm ready to go and find my function here on the program and that is to be the voice of poetry on Poet's Corner."
Roger - "We'll get to that a little later on this morning. That's just one of the many things we have to look forward to."
Ted - "I'll be telling some of the interesting human interest stories that I've accumulated in my people files over the years."
Roger - "Things that will be happening here as the Lohman & Barkley ... continues this morning."
Al (as Cecil Hoodspith) - "And I'll be critiquing everything that I've observed. I'm the critic at large and I ..."
Roger - "You know too often on this show; I must say this; there's more promised than there is fulfilled."
Ted - "We just started this show and you're in a nit-picking mood."
Roger - "I would like to see you actual poet, human interest, critique ... and do the things you said you would do. So would you get at it please."
Ted - "Oh would you get off our back."
Roger - "Now it's fifteen minutes past ..."
W - "Who's got a pencil?"
(commercials)
Roger - "Tony Bennett finds himself in a threatening musical mood this morning."
Al - "What does he say?"
Roger - "He says: 'you'll never get away from him,'"
(promotion)
Al - "Now all you Monday morning quarterbacks and armchair coaches; KFI's Jack Angel wants you to listen to his show to get more details."
Roger ; "... and I know a play that would do it,"
Al - "What would you do?"
Roger - "The Barkley Special. The play that we used when I was a junior in high school ..."
Al - "You might want to write this down and send it in."
Roger - "... center on the Odebolt Trojans. We were to face Manila, Iowa."
Al - "The dreaded Manila Morons."
Roger - "Sissies. They were Sissies then; they're Morons now."
Al - "They changed the school colors and everything."
Roger ; "Now here it is. I was the center. You get the football."
Al - "You got over the football."
Roger - "No. Well no it starts before that. It's a two-play play."
Al - "How's it work now?"
Roger - "The thing you must do first is get the football to the sideline as near as you can get to the sideline. In other words, on the markers that run down the side of the football field for ten yards."
Al - "Yeah right"
Roger - "You get the ball over to that area. Then you run a play. It's actually a three-play play."
Al - "You line up there and run a play."
Roger - "You're shooting your whole wad on this one play. Your whole three downs. You rin a play from that thing over to the center of the field."
Al - "I see."
Roger - "Now the rest of the team or the team huddles where the ball used to be ..."
Al - "Over on the side ..."
Roger - "... over where the ball was the play before."
Al - Don't the Manila Sissies begin to suspect something?"
Roger - "No they don't because it's not obvious yet, you see."
Al - "Well if they're all lined up where the ball is in the center of the field and you're huddling way over the edge ..."
Roger - "There's only maybe ten to fifteen yards difference anyway. They just think the center calls where the huddle is to be anyway. So he just figures the center's dumb."
Al - "I see. And that was probably a good assumption when you were playing that position."
Roger - "Now you have your huddle. The team breaks straight forward to where the ball used to be ... and lines up."
Al - "I see. But there's no ball there. The ball is over in the center of the field."
Roger - "That's right. The center runs over to where the ball is. Gets down in his center position."
Al - "Now here's the picture. You are in the middle of the field all alone over the ball. Opposite you are eleven Manila Sissies crying for blood and way over the side of the field are the other ten,"
Roger - "On my team ... the other ten lined up in a whatever formation. Now I get down over the ball and then as if to realize that my team has erred, I stand up and say: 'Hey fellows, the ball is here.' Pick up the ball and with an underhand pass, throw it over to a halfback and the team then just goes down the side of the field and makes a touchdown."
Al - "And that worked?"
Roger - "The center gets clobbered because there's ten guys there ..."
Al - "Everybody's mad at him."
Roger - "But it works. It works once."
Al - "Now as a center, can you pick the ball up?"
Roger - "You can pick the ball up and underhand it."
Al - "You don't have to snap it off the ground?"
Roger - "Well you are snapping it off the ground. You see, you bent down beside it and have slid it off the ground with an underhand pass."
Al - :"Oh I see, but not through your legs."
Roger = "Oh no no. You couldn't do that. You see ..."
Al - "And it really worked?"
Roger - "It worked. Six points. The final score was 39 to 6. Avoided a shutout."
Al - "Did you ever try it again?"
Roger - "Tried it again about two weeks later and unfortunate we had been scouted and I as the center was almost killed."
Al - "You never got it off the ground."
Roger - "No. They were on me so fast."
Al - "As soon as you said: 'Hey fellows.'"
Rogers - "That was the end of it. The last thing I rememebered until about track season which came next spring."
(commercials)
(sound of phone ringing)
Roger - "Let's get to our busy phone."
Al (as man on phone) - "Hi."
Roger - "Yours truly, Lohman & Barkley."
Man on phone - "Why'd you call?"
Roger - "Yes ma'am. Oh we called you?"
Man - "Sir. I called you."
Roger - "Thank you. Goodbye."
Man - "No, don't leave me."
Roger - "What is it?"
Man - "I'm Ralph Cranberry Rot, Junior."
Roger - "Mr. Rot Junior. Are there any little Rots? Is there a Mrs. Rot?"
Man - "Yes there are. Startle Rot Junior."
Roger - "Is that the little lady?"
Man - "That's the wife. There's Dewey Flesh Bald Rot Junior."
Roger - "That sounds disgusting."
Man - "I know. I didn't realize until I said it."
Roger = "Mr. Rot?"
Man - "Just going down the funny name list."
Roger - "Well that's probably enough little Rots, anyway."
Man - "Oofty Goofty Rot Junior. Trevor Munch Rot."
Roger - "Thank you very much for calling.:
Man - "Icee Fornelia Crill Rot."
Roger - "Where do you hail from?"
Man - "We're out Gardena way."
Roger - "The Rots of Gardena?"
Man - "Yes, it's a great movie, I think. We were sitting around me and my loved ones. Me and little Oofty Goofty ..."
Roger - "Yes, no need to recount all the little Rots and Mrs. Sparkle."
Man - "We was wondering when you would be announcing the names or the name of the 'Name the Mayor Daley Lookalike Contest.'"
Roger - "The Mayor Daley lookalike contest? I wasn't aware that we were running a Mayor Daley lookalike contest."
Man - "Oh. I see. Well I'm sorry to bother you."
Roger - "Well that's quite all right no bother at all, Mr. Rot. Get off our phone."
Man - "That's fine. I certainly will."
Roger - "Goodbye."
(commercials)
(sound of phone ringing)
Al (as woman on phone) - "Hello there."
Roger - "Yes, ma'am."
Woman - "My name is Startle Rpt Junior."
Roger - "We just heard from your hubby I believe."
Woman - "Just wondering why don't you guys start a Mayor Daley lookalike contest?"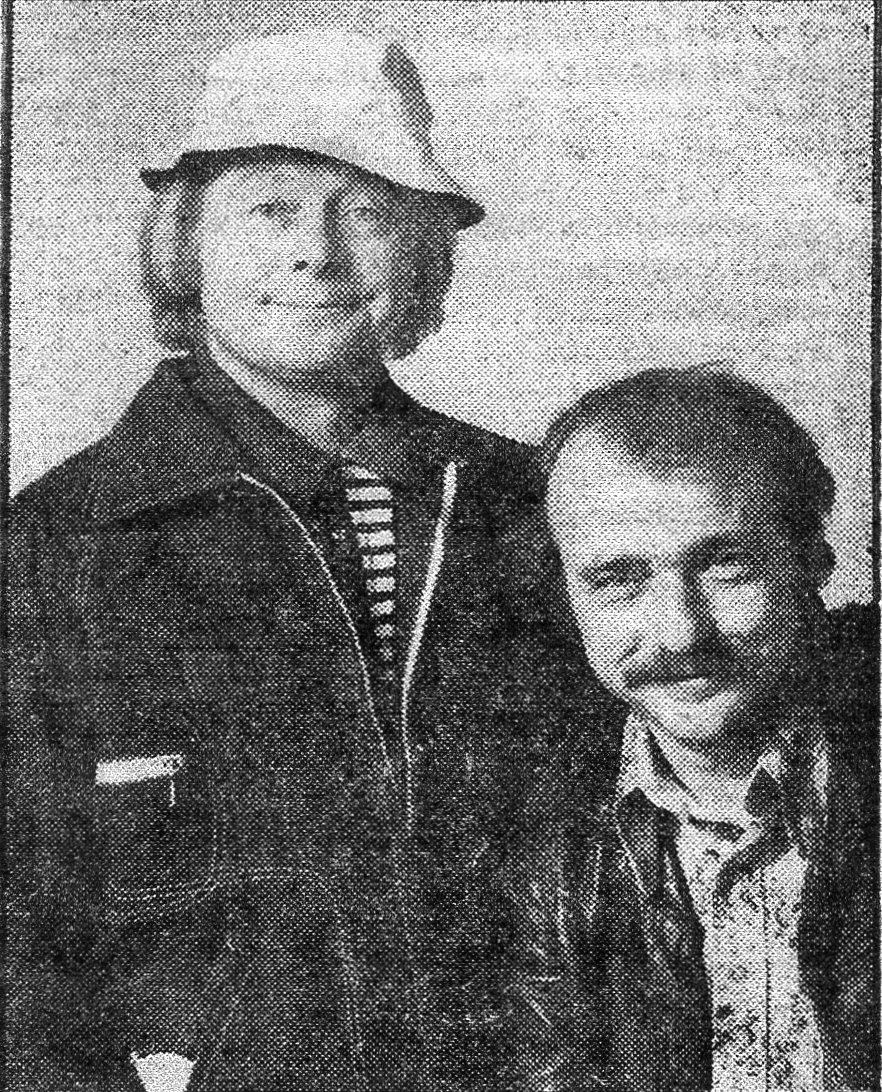 The comedy team of Alfred Ellery Lohman Junior (1933-2002) and Roger "Popcorn" Barkley (1936-1997) ruled the morning, drive-time radio in Los Angeles for 25 years (1962-1986) - primarily on KFI. I was first exposed to the team in 1962 on KLAC when Lohman wrote and performed the Gunsmoke parody: "Matt Dilbert, Frontier-on-the-job-training-marshall" that included characters Lester, Miss Catty and Old Doc Fink. Barkley was the program director. My friends and I would gather around a working radio in 1962 during first-period, high-school Electricity for the latest wacky adventure of Marshall Dilbert.
Lohman & Barkley recorded three comedy albums (two for the soap-opera parody: "Light of My Life") and had a wonderful local television show for a short time. However, their ad-lib style of humor worked best on radio. I call it "silly but clever." Lohman did voices and Barkley played straight (but also contributed a few voices). Following is a partial list of the L&B "staff." Names will be added to the list as they are recalled. I also plan to add some transcripts of self-recorded shows. [JAM 2/24/2009]
Lohman & Barkley Staff
Rear Admiral Bruno I. Abernathy (deceased), Mrs. Abernathy (widow), Mrs. Dickie (Vern) Bansback (Barkley voice), Judge Roy Bean, Has Bean (Roy's wife), Bigfoot the Beast, Ted J. Bologna (human interest man), W. Eva Schneider Bologna, Roscoe Boscoe (good tooth fairy), Rodney Bowersocks (trainee), Nolo Contendre (staff attorney), Dean Dean Dean Dean, Daffy Duck, Duke (agent), Otis Elevator, Maynard Farmer (farm reporter), Eglit "Four-Eyes" Fulwood (freak), Willie "Proudeagle" Garcia, Yih Gooen (sports), Doctor Hogoboom, Cecil Hoodspith (reporter), Captain KFI (announcer), Kathy Joanna Kravits Jr. (mistress), Leonard Leonard (cook and food critic), Trixie Liebler (gargling grandmother), Leon Lights (always singing "Memories"), Nurse Delvina Lockhard, Dominic Longo (Toyota dealer), Lulu (back in town), Marvin (counter spy), Miles & Martha Mehell (studio audience & counter agents)), The Amazing Mr. Noid, Marybeth Peyton (nincompoop with accompanying soap-opera music), Nils (Swedish recording), Organ Phil, H.R. (Powell) Spradling (security), Pastor Starmer, Corwin Chester Sternhill (security), Superman, H. Grinstaff Trillingham (lawyer) and Nicolai Vulgarian (spy). Also - wife (Duck) and children (Mousebreath & Birdkiller).
[Los Angeles Times - Charles T. Powers - 3/7/75]
"Al Lohman and Roger Barkley have been on the radio together almost 12 years, most of that time on KFI ('the world's biggest radio station,' as they used to call it) in Los Angeles, the city that - as KI management likes to point out - is the 'big apple' of American radio.
"Lohman & Barkley are on the air from 6 to 10 every morning except Sunday. In radioland, this time slot is known as 'the morning drive,' and the competition here is very tough because the stakes, in terms of advertising revenue, are very high. About 75 radio stations saturate the airwaves of the Los Angeles listening area, and most of those stations pull in the biggest chunk of their advertising revenues during the morning drive. KFI is on the air 24 hours a day, but during that period of the morning when people are rising to the good news of another glorious day on the planet, splashing water on their faces and driving off to work, Lohman & Barkley will rake in approximately 40% of KFI's ad income.
"For years, Lohman & Barkley have led in the ratings in the morning drive period - or bobbed from the top of the list to fourth place and back again, continually fighting it out with Dick Whittington of KMPC and CBS' all-news station, KNX. Radio rating surveys are expressed in terms of so many thousands of listeners per average quarter hours. Lohman & Barkley usually run between 150,000 and 200,000. Assuming that few listeners have more than half an hour or 45 minutes to give to the radionin the morning, it would mean that over a four-hour period almost a million people listen to them every day.
"So they are, in a way, an important part of the community, and they help impart a feeling of community. Many Lohman & Barkley fans tell stories like this: You are in your car, stuck in the 8:30 flow of steel molasses on the Santa Monica Freeway, and you are listening to Lohman & Barkley. You are laughing. You look in the next lane, and there is another driver, also alone, also laughing. He looks around, too, perhaps with the natural impulse to share a joke, and sees you laughing; and there is that flash of recognition.
"They are fans, and possibly even addicts. They have joined a kind of family and peered into a tiny universe, like the inside of an old-fashioned Easter egg seen through a pinhole, that is crazy-but-not-quite. It is one part human zoo in microcosm; one part mental sandpile for adults, The world of Lohman & Barkley is a world that is just a notch more out of whack than the one we live in, and sometimes it seems a lot more real.
"Some people, in fact, claim to have listened to Lohman & Barkley for as long as a year, believing all the while a staff of about 47 slightly (but not completely) screwy folks (possibly actors) actually gathered every day in a tiny studio to produce the show. A few people may even hope to catch a glimpse someday of Lohman & Barkley's staff Human Interest Man, the redoubtable Ted J. Balogna, driving in on the San Bernardino Freeway on his fire truck (he commutes daily from Brawley) with his wife, W. Eva Schneider, poetry editor, hanging on the back.
"Among Lohman & Barkley's more sentient fans (that is, those who think they already have seen Ted roaring to work on his fire truck), other questions remain. For example, the mythology is that Lohman & Barkley work their madness, weaving it around records and news and commercials, without the help of a script - but can it be true? And how have they managed to stay together for so long, withstanding the inevitable pressures of the solo ego? Do they even like each other anymore? How does the whole thing work?
"Lohman & Barkley think of it like a marriage. Ah, sweet mystery.
"It is 6:05 a.m. The first record of the morning is playing. Barkley is there, leaning over the table, headphones on, cigaret smoke curling into his eyes. Barkley is 37 years old with thinning brown hair, a mustache and blue eyes that manage to twinkle even at this hour of the day. He is wearing a white nylon jacket and red-and-white checked pants and red socks. Barkley is nervous, his foot constantly jiggling. He gives the impression of being a worrier. An efficient worrier. For example, Barkley is never late for work.
"Lohman, however, is. As usual.
"The record ends, Barkley says good morning, a word about the weather and mentions something about being here alone at the moment. 'Welcome to the Lohman or Barkley,' he says, cueing the engineer to play another record. Off the air, Barkley speculates that Lohman will arrive in 'about 45 seconds.' He is off by about three minutes.
"Lohman, tall, almost gangling, wearing a rain hat pulled down over his ears, white jeans and a denim jacket, arrives just in time to grab his headphones and help Barkley read a commercial. Lohman is 42, blond - his hair sticking out like straw under the brim of his hat - with a blond's complexion. His eyes look almost black, like dark spots on an underexposed photograph. Sitting down, he seems to make himself small, scrunching forward, legs coiling. He reads.
"Buy nicely trimmed crisp iceberg lettuce at 19 cents a head for even more savings. Perk up Lenten menus with frozen turbot fillets for a mere 69 cents a pound ...'
"During the recorded jingle that follows, Lohman says, 'My God, those are the first words I've spoken today - except for 'Give me $2 worth of ethyl.' I almost ran out of gas. You know gas stations are pretty scarce at 6 o'clock in the morning. By the way, what's a turbot?'
"As it turns out, Lohman & Barkley both have freeway scare stories to tell. Barkley almost rear-ended a stalled truck on the way in from his home in La Canada. Lohman almost ran out of gas. This gets them going.
" 'Ted,' Barkely says at last, 'with that long commute from Brawley, you must run into a lot of problems on the freeways.'
"Lohman scrunches himself two inches closer to the table, his hands clasped, and goes into it. Ted's voice sounds a lot like Milburn Stone, the man who plays Doc on Gunsmoke.
" 'Yesh,' Ted says (Ted mushes his 's' sounds), 'thish morning we ran into a herd of elk.'
" 'A herd of elk. My goodness.'
" ' Yesh, it was about 10 miles out of Indio. You know, elk panic easily.'
" 'I saw them first, I saw them first.' This is W., Ted's wife, speaking.
" 'Why yes, of course, W.,' Barkley says, 'being higher up on the back of the fire truck, you would see them first.'
" 'Yes,' W. says. 'I fell off and got trampled.'
" 'Oh, no.'
" 'Yesh,' says Ted, 'but I'm glad nothing really scary happened, like Al almosht running out of gash.'
"Bang. Cut to a record. It wasn't much, maybe, but for 6:15 it wasn't that bad and it got the world turning again, reaffirming for another day that Ted and W. live.
"The curious thing about the Lohman & Barkley characters is that after a time, they do become real people with distinct personalities and real pasts. Their pasts, however, come only from bits that emerge over the years on the radio. Lohman & Barkley do not go off into some office after the show and dream up a histroy for them. They grow organically, if perhaps backwards, out of momentary on-the-air inspiration. Lohman & Barkley never keep records; they never write anything down. In fact, they tend to forget certain characters and the things they've done. Occasionally, a character will disappear from the show for weeks at a time.
"An almost eerie quality surrounds the reality of the characters. For example, Lohman & Barkley claim that sometimes they actually see them.
" 'I'd been seeing Ted for some time,' Lohman explained one day recently. 'I'd be doing Ted, and I'd actually see him. One day Roger said to me, 'You know, when Ted's talking, I look over and see him sitting there.' I told him I was glad there was someone else in here as crazy as I was. What's he look like?'
" 'Oh, Ted's kind of formal, you know. Wears a dark suit and a vest. A mustache. A gold watch chain. Looks like he's been around a lot.'
" 'I guess Ted and W. are our favorite characters. They're the most fleshed out, the most real. I mean, they have a place to live, they go home every night.'
"Some of the other characters, Lohman & Barkley must regard with a sort of mystery. Cecil Hudspith (sic), a frequently used character, is the staff mobile reporter, who travels around to interview people in his Hudspithmobile, out of which he also operates a lending library and a mobile dog spaying clinic. Apart from his appearances on the scene of some nonevent, Lohman says, 'I really don't know much about Cecil.'
"But Ted's history, befitting a Human Interest Man, is rich. He has been a lecturer, author, poet and pirate. He was also president for a month, his brief administration sanwiched (sic) between the Coolidge and Hoover presidencies. During his time in office, Ted decided to have a war with Spain, but, since it was his own idea, he decided to buy all the bombs himself, believing it unsportsmanlike to ask the public to pay for the president's personal amusements. He soon tired of the job and stepped down.
"Ted was formerly married to Salome Balogna, but when he joined the Lohman & Barkley staff, he met W. Eva Schneider. 'These people work in pretty confined quarters,' Barkley explains, 'so there might have been a little hanky-panky. Anyway, we were quite startled to find out one day that they had run off to Las Vegas and gotten married.'
"For a while, Ted and W. lived in a hole in Encino. They planned to build a house over the hole, but then Ted got tired of living in the city and decided to move to the suburbs. He settled on a tree house in Brawley and bought a used fire truck to make the drive.
"Ted now has vast holdings in Brawley. He owns the T & R Baloney Income Tax Service. ('Reason number 48 why you should choose ush,' Ted says, ' we cheat.') He operates Balogna Lawn, the cemetery where he buries people standing on their heads in clown suits to make funerals happy. There is also Balogna Airlines, featuring daily 747 service between Brawley and El Centro, and, of course, the Balogna Chinese Theater, where Ted refuses to bother with putting mere footprints in concrete and concentrates on putting the celebrities themselves in cement. Rory Calhoun can be seen there now in an indefinite engagement.
"By 7 a.m., two newspapers are scattered on the floor of the ratty little studio where Lohman & Barkley work. It is hard to believe that the sound from one of the powerhouses of local radio issues from a room about twice the size of a walk-in closet. Wires crawl around the legs of the old table where they work and a collection of random junk is piled around the room. Lohman's chair, as he leans back with his feet on the table reading the paper during a record, is losing its stuffing.
"While Lohman reads, Barkley talks to their engineer, Henry Valasco, lining up the next few minutes of commercials, jingles, weather and traffic reports. It is always Barkley who performs this necessary work, as if his natural tendency to worry drives him to attend to the task of making everything operate smoothly. Lohman, on the other hand, gives the impression of being slightly undisciplined, the sort of man who might get sloppy with technicalities.
" 'OK,' Barkley says to Valasco, who sits on the other side of a glass panel. 'We'll go to Bruce (Bruce Wayne, KFI's traffic reporter), then the weather and then Longo.'
" 'Longo' is Longo Toyota. This is a commercial, but it is more than a commercial. It is a rich peice of satire and parody that works on several levels. Apparently it also works as a commercial because Longo is one of the longest-running advertisers on the show.
"Lohman does the voice of Dominick Longo, the car dealer, in a voice that is a caricature of Marlon Brando in 'The Godfather.' Dominick (who is supposedly calling in on the telephone) is a very gentle, benevolent guy, but kind of dumb. 'If you come in Washington's birthday,' he says, 'we'll give you an honest deal.'
"Like the rest of the characters, Lohman & Barkley have created a whole mythology about Longo Toyota. It is Giant Longo Toyota, located in Giant El Monte. If you come in, one of the giant salesmen will wait on you, possibly sell you a giant Toyota. And, of course, there are the 40 service stalls ('Stall No. 18 is where they tell you we don't have the part and we've got to send to the factory for it.,' says the innocent Dominick).
"The service stalls are staffed by courteous Happy Merry Workers ('The Happy Merry Worker in stall No. 32 was sent home today for grumbling,' Dominick reports). And, naturally, like Cal Worthington, Dominick has a dog, Pal. Except that Pal is vicious and once cornered Dominick in his office for more than a week. And then the following week had puppies all over Dominick's desk.
"Advertisers often approach KFI's time salesmen, asking Lohman and Barkley to make a bit out of their commercials. Sometimes they do, sometimes they don't. It depends on whether or not anything hits them. They generally make subtle fun of their advertisers, but they say they've never lost one for being irreverent.
"One of their most successful ads in recent months has been Lohman's uncannily accurate impersonation of Henry Kissinger selling Mercedes-Benz cars for Jim Slemons Imports in Newport Beach.
" 'I don't know how we started doing it,' Barkley says. 'Al had the Kissinger voice, and it just seemed kind of funny to have Henry Kissinger selling German cars. It also gave us a chance to do a few Kissinger jokes.'
"Like their other bits, Kissinger is completely unrehearsed and unwritten. When Lohman hears Barkley tell the engineer that Slemons is coming up, he rummages around on the floor, finds the paper and looks to see where Kissinger is. As the record ends, Kissinger can be heard muttering in the background, unaware that his microphone is turned on. He is usually in the process of offering Israel to the Syrians, then turning and presenting Syria to the Israelis. Lohman & Barkley's Kissinger also suffers from jet lag and occasionally severe depression. During his honeymoon, bored, Kissinger called Lohman & Barkley to ask if there was war going on any place. Told there was not, he hung up, discouraged, and went back to his bride.
"One of the most useful characters for commercials is Leonard Leonard, the Lohman & Barkley staff Glutton. Lohman does Leonard by leaning close to the microphoneand squeezing the sides of his mouth, achieving a muffled, wheezing delivery that sounds suspiciously like Mike Roy, the jovial gourmet chef who does a radio show on KNX. Leonard, too, has a history.
"He comes from Food, Penn., and joined Lohman & Barkley after retiring from the paratroops. He is a former football player - in fact, he was the entire offensive line for the Food semi pros. In addition, he is the author of a couple of well-known books, 'Eat, Eat, Eat,' and "Eat, or You Will Die.'
"Naturally, he is adept at food commercials. He was once pressed into service for the California Beef Council, which had launched a campaign during the holiday season to urge consumers to put beef on the table instead of turkey at the traditional Thanksgiving and Christmas dinners. Leonard, unleashed, told of his efforts to cross a turkey and a cow. Things were working out fine, but he couldn't figure out what to call the mutation, a cowkey or a turcow.
"Stymied for a day, he presented his recipe for cow. First, you had to go out and shoot one. Then you brought it home and shaved it, stuffed it and put it on the table. The image Leonard created was that of a whole cow resting in the middle of the table, hooves in the air, presided over by a 'mouth-watering chef.'
"During the same era, Leonard gave his special recipe for boullion. 'You get a big tank of boiling water and then you get the bull and then you run.'
" 'Why do you run, Leonard?'
" 'Because the bull doesn' want to go in the water.'
"Leonard once spent weeks searching for the correct wine to go with peanut butter and toast. Drawing on his military connections, Leonard once got a wonderful deal on 40 tons of army surplus chipped beef so that he could fix 'Stuff on Toast' for the staff every morning. He does it to this day, although for variety he sometimes whips up a batch of 'stuff on a muffin.'
"Throughout the morning, various staff members make their contributions. Maynard Farmer, the farm reporter, has been kidnapped (for the sixth time, a world's record) by a Mr. X - whose voice on the telephone is a dead ringer for Sam Yorty's - whose ransom demand is that Lohman & Barkley buy lunch at Mateo's for all the lawyers in Beverly Hills.
" 'I don't believe that's acceptable, Mr. X,' Barkley says.
" 'Well then, what would you think about buying lunch for all the doctors in Encino?'
"Maynard's major distinction on the show is that he is a bootlicker. He's always saying things like, 'You guys sure have a dynamite act.'
"To which Lohman & Barkley respond, 'Why Maynard, that's a wonderful thing to say, thank you very much. And by the way, you can expect a little extra something in your pay envelope this week.' At this point, W. can usually be heard in the background shrieking in outrage. Maynard's salary, at last accounting was up to $300,000 a year.
"W., on the other hand, is a volunteer, forced to work for nothing because she is a woman. Of course, W. has never learned to read, despite the fact that she is the Lohman & Barkley poetry editor and that there is a junior high school in her home town of Moline, Ill. named for her. Even her presidency of the Brawley chapter of Mensa carries no weight.
"W. doesn't complain much, but there are signs she is becoming another restive female of the '70's. When Lohman & Barkley play the Theresa Brewer songs about the joys of being a housewife, W. complains that the song gives her a headache and she has to go in her room and close the door.
"W.'s life has been further violated by the sudden presence of Judge Roy Bean in her treehouse in Brawley. Roy Bean, staff musicologist and classical actor (he once played Lady Macbeth at the Royal Opera), comes from Texas where he once led a polka band (the Beans on the Plate Orchestra featuring Beanie and the Beanettes), which he recently reformed and took to Las Vegas, receiving really terrible reviews. ('The best thing in the show is the cold steak.' said one critic.)
"Roy Bean is divorced from his wife, Has, who now retains custody of their children, Pork 'n' and Cherry Berry. For a while he lived with his Uncle Navy and Aunt Refried but he has since moved into the Balognas' treehouse, which is becoming quite crowded because of the watch moose that also has taken up residence there.
"In fact, everyone sleeps in the same bed, including the watch moose. W. is forever getting bumped out of bed, which means she also gets bumped out of the window of the treehouse. After all, as Barkley says, she's only a woman.
"(The watch moose, by the way, joined the household when Ted and Roy went on a hunting trip but didn't have the heart to shoot the moose, which they thought bore a striking resemblance to Bambi.)
"This strange little paradise, free as it is from guilt and serious consequence, is naturally not without its real-life complications. In more than a week, offand on, spent hanging around with Lohman & Barkley, neither man spoke an unkind, ungenerous word about his partner. Even in the show-business world of hype and grease, that sort of record is unusual. And both say they have never (outside of those momentary flashes when they'd like to kill each other) considered splitting up.
"Still and all, Al Lohman and Roger Barkley are two men with distinct and very different personalities. Perhaps, as they and other people suggest, that's what made the combination work so long. But that doesn't always make it easy.
"Al Lohman's sense of humor, for example, is cut through by a deep-running streak of anger, even outrage. Given free run, his humor tends toward bitterness. Lohman knows it and Barkley knows it, and it is Barkley who throws on the brakes just as Lohman is about to issue his final pronouncement on the human condition. There's a dash of preacher in Lohman.
" 'I guess I am sort of an angry man,' he said one day in the studio, shuffling through the paper while a record played. 'But there's a whole lot of BS in the world, you know. I heard the other day that the Queen of England is getting paid $84,000 a year by the United States government for not planting cotton on a plantation she owns in Georgia. Isn't that nuts? I think I heard that on Paul Harvey.'
"A few minutes later, on the air, he brought it up again. 'You know, Rog,' he said, 'I have a theory that all humor is based on anger.' Barkley listened to this for a minute, then threw the floor open to Ted J. Balogna.
"That same week, Lohman got wound up on the subject of a certain brand of encyclopedia - a set that he owns.
" 'They're really not bad encyclopedias,' Lohman said. 'They're not the greatest, but they're ok. What bothers me is that they've got a trick-sell gimmick.'
" 'Well, Al,' Barkley said, 'I don't think this is the proper place to ...'
" 'I don't care. It makes me mad.'
" 'If you own a set, it must have worked,' Barkley said.
" 'I guess do,' Lohman said, looking faintly surprised.
" 'Well,' said Barkley, 'don't knock it then.'
"Lohman & Barkley try to resist the label of satire, yet much of their work cuts with a satirical edge. Back in the months just prior to the 1973 Meat Crisis, when prices were skyrocketing but the meat counters were not yet empty, they did about W. lamenting over the theft of her meat jewelry. Someone had apparently broken into the treehouse and stolen her sirloin necklace and her tenderloin brooch.
"During the early days of the Ervin Committee Watergate hearings ('Before Watergate got to be such a terrible tragedy,' Lohman says), they conducted the Lohman & Barkley Watercress Hearings. Naturally enough, the Watercress hearings grew out of a real incident. A KFI secretary left her lunch, a bologna and watercress sandwich, in a refrigerator in the office and someone took it. 'We finally pinned it on the president of the broadcasting company,' Barkley recalls.
"And two weeks ago at the height of the local madness between Supervisor Baxter Ward and Sheriff Peter Pitchess, when each was promising to resign if the other would, Lohman & Barkley offered to resign if both Ward and Pitchess would quit ('This offer expires at midnight,' Lohman said).
" 'I wouldn't call what we do satire,' Lohman said one afternoon last week over a long pitcher of beer in a pizza parlor. 'It's a sort of funny nihilism. It's the idea that we shouldn't get too uptight about things because it's all pretty funny. This sounds pompous, I guess, but I like to think of it as intelligent farce. We're farceurs. Satire can be awfully heavy stuff. Our basic outlook, I think, is that somehow the world will bumble by.'
" 'Personally, I'm not always sure I feel that way. I told my wife, Mary Ann, the other day that I wished I was the guy people heard on the radio, because he's a better guy than I am.'
"Roger Barkley is unlikely to put himself through such an analysis, at least for public consumption. Lohman's theories make him edgy. He explains it with lines like, 'I guess we're just nuts.'
"To the public, Barkley may be the more underrated performer in the partnership, since most listeners know that Lohman does the voices and comes up with most (but by no means all) of the jokes. But Barkley has what sometimes seems like a supernatural ability to read Lohman and draw him out and make a piece of absolute nonsense work. And his sense of understatement is the perfect counter to Lohman's inclination to overstate, overact and go on too long.
"Barkley comes across on the air as the more mild-mannered of the two, and it upsets Lohman greatly that when hate mail comes, it's nearly always directed at him, not Barkley. In some ways, in the past, Barkley has seemed particularly long-suffering. There was a period a few years ago when Lohman frequently arrived an hour or two late for the show or sometimes Lohman would simply fail to show up at personal appearances, behavior which would drive Barkley as close as he ever gets to total rage.
"Barbara Francis, who used to work as a producer for Lohman & Barkley, recalls that twice a year, regularly, Lohman would come down with laryngitisand not show up for a week.
" 'He would admit it was purely psychosomatic,' Francis said (and Lohman does admit it). 'For some reason, he just didn't want to work. Barkley hasn't missed more than two days' work in 10 years.'
"Francis worked with the team almost three years. It was, she said, 'a fascinating study.'
" 'I think Al used to see himself as sort of the tempermental artist. Some mornings he'd come in to work and say he didn't feel good. 'I can't do the characters,' he'd say, 'I feel terrible.'
" 'But Roger is fantastic. He'd just start reading a commercial and then stop and say, 'Ted, would you like to help me on this?' And Lohman would do Ted. And then Roger would say, 'And Roy Bean, could you read a line?' One by one, Roger would take Lohman through the whole staff and pull him out of his funk.'
"Francis said it was rare that Lohman and Barkley really got angry with each other. 'But if you work with someone 12 years,' she went on, 'there are bound to be those times. When it happened, they always worked it out on the air. When they were really in a snit, they'd step on each other's punch lines.'
"But more important than temporary irritations, the 12 years together have brought a bond between them that is sometimes almost telepathic. Barkley says it is a fairly common occurrence for him to be waiting for the end of a record and find himself with a mental image of one of the characters. Sure enough, when the record is over, Lohman will start doing that character.
"The same sense extends to their mental images of the characters, - who have never really been described. Both see W. Eva Schneider as a lady of about 40, wearing a print housedress. 'She might have her hair in a bun,' Lohman says. 'Literally in a bun,' Barkley adds.
" 'What makes Roger so good,' Lohman says, 'is that he goes straight in. That's what makes humor - another theory here; Roger would probably shoot me - the ability to take it straight while there's madness all around. Ernie Kovacs used to do that. Woody Allen does it in all his movies, just stands there straight-faced in the middle of chaos. And Roger's like that. He accepts these characters. He accepts the fact that Ted has dematerialized while lighting his cigar.'
"Ted's 'disappearance' happened earlier that day, and it provided a good example of the way they work together. Barkley, as he often does, asked Ted to comment on something. Lohman's mind - or voice - was temporarily out of gear, and for a second he couldn't find Ted's voice. He simply said, 'I don't see Ted.'
"Then, as Ted, he said, 'I'm over here. I think I've disappeared.'
" 'My gracious, Ted,' Barkley said, 'how did that happen?'
" 'Oh, it's an old trick I picked up in the Orient. I didn't really mean to do it. I was just lighting my cigar and it happened.' For the rest of the morning, Ted's disappearance was a running bit, perfectly in character for the worldly Ted J. Balogna, and somehow it worked, although it all started by accident.
"What makes it last?
" 'I don't know,' says Barkley. 'It's like a marriage.'
" 'I don't know,' says Lohman, separately. 'It's like a marriage. We work things out. Probably a lot of marriages would last longer if the husband and wife had to do four hours of radio every morning.'
"There is no indication of the partnership coming unglued, but there are signs of restiveness with the radio business. For two guys who came from small towns in Iowa, Lohman & Barkley have come a long way, but there are times when they wonder just where they are and where they may be going.
"Both are fascinated with the idea of being nightclub comics (they are currently doing a two-week engagement at the Playboy Club), and Las Vegas maintains an unearthly appeal for them. Barkley, especially, is getting tired of getting up at 4:30 in the morning. 'It never gets easier,' he says. And Lohman candidly admits he'd like to be a star. 'I'd like to walk down the street and have people recognize me,' they (sic) says. He laughs, but he is quite serious.
"They recently negotiated a three-year contract with KFI, and their salaries average out to be about $100,000 (with even more income from personal appearances). Financially, they are set but, at the prime of their careers, they want more.
"A few years ago, they had a local variety show on television, as well (sic) a network game show in the afternoon. Neither of them can quite figure out why the networks did not offer them a contract for a prime-time comedy and variety show. (They made a pilot for ABC, but nothing came of it.) The final admission Lohman faces with another pitcher of beer. 'I guess it just wasn't funny enough.'
"Lohman thought about that for a moment, a war of conflicting moods raging under his battered rain hat, and went on.
" 'We haven't hit it beg (sic) yet, but I think we'll get another shot at it, and I think we'll make it. I'd like to be a big star. I'd like Lohman & Barkley to be a big star.'
"Pause. A countering attack of resignation.
" 'But I don't worry about it as much now as I used to. When you get past 40, your ego levels out. I'm even surprised we're a big radio act. I'm always surprised that people like us because what we do is sort of special.'
" 'Let's be honest about it. That sort of fey image of a guy driving from Brawley every day with a woman hanging onto the back of a fire truck - it just isn't funny to everybody.'
"There was another pause and another shift, and Lohman & Barkley went on.
" 'But I gotta say it is to me. To me, it's funny as hell' "
[Los Angeles Times - James Brown - 3/5/75]
"Al Lohman and Roger Barkley aren't accustomed to crowds and staying up late. Familiar turf is a crawlspace broadcast booth at radio station KFI, where, for the past seven years, Lohman & Barkley created their own, inimitable comedy world, performed six days a week during the unlikely laugh hours of 6 to 10 a.m.
"Monday, however, found a different scene. There was a stage, an audience, and the relative open spaces of Century City's Playboy Club, where Lohman & Barkley opened a two-week engagement, their first nightclub appearance in three years.
"Apart from the obvious concern of putting a new act together, there was the question of style, transposed from one medium to the next. Lohman & Barkley are radio people, wrapping a comedic flow around music, news and traffic reports. In a club, there would be no interruptions.
"And would such treasured Al Lohman creations as Ted J. Bologna, W. Eva Schneider Bologna, Judge Roy Been (sic), Maynard Farmer, Leonard Leonard and assorted others be the people we imagine them to be, sight and sound?
"Yes, indeed they are. Unfortunately, too little time is given to them. Monday's first show found Lohman & Barkley concentrating on more structured material. Some of it worked well, especially an extemporaneous bit with Lohman as Tony Bennett, age 94, trying to belt out 'I Left My Heart in San Francisco.'
"However, most of these longer sketches - a parody of talkradio, a comic with a loud conscience, 'The Impossible Dream' sidetracked into a discussion of impotence, and two hicks cruising seamy Santa Monica Blvd. - were funny in part, but did not hold up as entire pieces of material.
"The best moments were the short ones. Lohman donned his Henry Kissinger disguise, speaking, as he does on KFI for a Mercedes dealership. There was also a visit to 'Bologna Lawn,' where people are buried upside down in clown outfits because funerals shouldn't be all sad. And there was Lohman's one bit of good news for our strife-torn world: 'We don't see as much of Mark Spitz as we used to.'
"Monday's second show was more like that - informal, spontaneous and much funnier than the opening set. Perhaps it took that first show to get Lohman & Barkley back to the things they do best. It is really what the people came to see."
[Los Angeles Times - James Brown - 3/24/74]
"If God had intended us to streak, we would have all been born without clothes on! That's nonsense, of course, because everyone knows we're born wearing cute little pink and blue things with disposable diapers." - Al Lohman, from Streaker Central, 1974
"Such invaluable discourse on life is not uncommon during a typical morning ride with Lohman & Barkley. It is radio as Oz - a crypt of incredible dialog, amazing characters and absolute madness Monday through Saturday on KFI from 5:30 to 10 a.m.
"For many, the world is not a particularly funny place at 5:30 a.m. Seeing the sun rise is overrated - especially if it's through a rear view mirror on some clogged freeway, or under the painful glaze of a terminal hangover. Nonetheless, perseverance and some ample jolts of caffeine deposited this wreck at KFI to observe how Lohman and Barkley make things a little less miserable.
"The program was already in progress. Al Lohman had become Maynard Farmer, one of his many characters, reporting from a remote battle station on a sudden influx of turkey buzzards. Lohman and Barkley perking up the bird watch! What happened in Maryland won't happen here! Or could Hitchcock be right?
"The broadcast booth resembles a dwelling once inhabited by Ratso Rizzo. Printed messages, posters and assorted graffiti adorned the walls. The equipment was vintage Marconi with a dash of Dr. Frankenstein's laboratory, and Lohman and Barkley barely had enough room to lean back in their chairs without hitting the wall.
"But alone in this quaint atmosphere, except for engineer Jim Marple who quadruples as the program's producer, director, monitor and cheerleader, Lohman and Barkley create their own unique colony of weirdness - 'And now, the energy czar Carly Simon, singing ...'
"Actually, it isn't that difficult to do comedy for radio," said Roger Barkley, during one of the news breaks. 'We've been doing this sort of thing for over 10 years, and it's sometimes frightening how closely our minds are in synch. We don't actually need an audience because we've created our own world in here.'
"The world of Lohman and Barkley began in 1963 at KLAC. They are fond of referring to their career since then in terms of the disastrous effect it sometimes had on others. 'We went to KFWB and it soon went all news,' Barkley said. 'Then we appeared at the Cocoanut Grove and it closed. And soon after that, we were on the Ed Sullivan Show and it was cancelled.'
"In between these so-called disasters, however, was a television show - a local program which ran for 70 weeks on KNBC and was probably the funniest 90 minutes that ever happened to Los Angeles television. It won two Emmys, it introduced that grand inept magician, the Great Metrano, and it was cancelled. 'We wanted to do the kind of show for television that we did for radio,' said Barkley. 'But after a while, the cost of the show just got too big to be done locally.'
"The news break ended and the scene shifted to the eminent Ted J. Baloney (sic). Ted has dropped by to play his narration of an old Simon Sez contest. There seemed to be a dozen people in the room - Lohman as Baloney, a contestant, the crowd and as himself - 'Simon Sez lift your right arm. No! No! Mrs. Schwartz, you moved your left arm and you're out of the game!' While all of this takes place, Barkley is describing the action in tones of a golf commentator reverently whispering as Nicklaus lines up a putt. It was an absolutely hilarious intermingling of conversation - somehow making sense of the nonsensical. And they do this every day.
"Time was running short. There was a backlog of commercials to dispose of and a report from Bruce Wayne's (1934-1986) KFI in the Sky. This featured Roy Bean and his seldom-heard wife Has performing the Campbell Soup jingle. 'Mmmmmmmm Good! Mmmmmmm Good!' Lohman and Barkley are rehearsing as Roy and Has - sounding like Louis Prima and someone else who can't sing that well.
"With the comedy finished and a sign-off, Lohman and Barkley retired to another studio to tape their Saturday program. In this booth, which seemed far more modern and spacious than the previous one, sat six cases of dog food and nothing else.
"Somehow, there didn't seem to be anything unusual about that, at all."
Tenth Anniversary Show - August 4, 1973
Judge Roy Bean (Al Lohman): (singing) "Zip-a-dee-doo-dah, zip-a-dee-ay ..."
Roger Barkley: "Oh yeah by golly. Anniversary day for Lohman & Barkley."
Roy: "... wonderful feelings goin' my way."
Roger: "Would you believe? Is that what you're talkin' about huh?"
W. Eva Schneider Bologna (Al): "Uh well we were talking about the parade. We're going to the parade ..."
Roger: " ... the parade in Avalaon. Well, that's a part of the anniversary. Ten ..."
W: "You guys going to have an anniversary?"
Roger: "W ..."
Al: "W ..."
W: "W, ha ha ha."
Roger: "Ten years ago, either today or tomorrow, or possibly Monday ..."
Al: "Yeah, maybe Monday."
Roger: "Or maybe it was even ten years ago yest ..."
Al: "I gotta feeling, probably, if we researched it, it would turn out to be Monday."
Roger: "But this is the day, the anniversary day of Lohman & Barkley. Among the big celebrations today will be the big parade in Avalon (laugh) and that'll take place I think some time in the early afternoon over there. So we're just excited and delighted and if Al and I get a little misty-eyed during the course of today's program, why you'll know why. It's because ..."
Al: "It's because we're hung over."
Roger: "(laugh) Don't feel too well this morning?"
Al: "No."
Roger: "It's about nine minutes past six. It's Saturday at KFI."
(commercials)
Roger: " ... morning on KFI (bell ringing) a quarter past six now. Let's get to our busy telephone. Hello."
Caller (Al - deep voice): " Hello Lohman & Barkley. My name is uh ..."
Roger: "That's a beautiful voice you have."
Caller: "Thank you very much ... Joe Bennett Crusenshimer."
Roger: "Has your voice ...? Are you trained? Is your's a trained instrument?"
Joe: "What? My voice?"
Roger: "Yes. Your voice. You just have such a mellifluous sound."
Joe: "Oh no no. It's natural ... um it ... I come from a ... everybody in the family has this nice speaking voice."
Roger: "How many in your family, Mr. Crusenshimer?"
Joe: "Oh there's Daddy and Mommy and bruver Jim and Sis-Sis."
Roger: "Sound's like a wonderful family."
Joe: "They all have nice voices too."
Roger: "Why did you call, sir?"
Joe: "Well, I got sort of uh, what's the word? Nostalgic, I guess. I live out here in Norco, H-12."
Roger: "Uh huh."
Joe: " ... mentioning your anniversary, which it could be today, right?"
Roger: "Well, could have been yesterday, maybe tomorrow, but along about this time of the year ... ten years ... a decade of fun ago."
Joe: "Ten years of excellent."
Roger: "Right."
Joe: "Well, it has a special meaning for me, Lohman & Barkley, because I was born on that day ..."
Roger: "How so, sir?"
Joe: " ... ten years ago."
Roger: "You're a ten-year-old."
Joe: "That's right and of course it's a special day here. Mommy and Daddy and bruver Jim and Sis-Sis are all planning I think a surprise party for me and maybe get me a new bicycle."
Roger: "(laughing) A surprise birthday party for you and I suppose maybe during the course of your birthday celebration a kind word can be said for Lohman & Barkley."
Joe: "I'll certainly make sure that it is."
Roger: "Because, as you know, many many communities today are having giant Lohman & Barkley celebrations, but so are some private individuals holding open houses throughout this weekend."
Joe: "Well, out here in Norco they've combined Norco days with the Lohman & Barkley celebration and it started last night and it's continuing right through the weekend ..."
Roger: "It sounds wonderful. Well it's just ..."
Joe: : " ... people getting drunk and making passes at other people's wives and driving funny."
Roger: " ... the way Lohman & Barkley have lived their lives certainly this past ten years and that's an appropriate-type celebration."
Joe: "Well, happy anniversary Lohman & Barkley."
Roger: "Thank you youngster for calling Lohman & Barkley."
Joe: "That's all right."
Roger: "We enjoy hearing from the younger generation."
Joe: "OK."
Roger: "It's about seventeen minutes now past uh six o'clock ..."
Joe: "Play more wock & woll will you?"
Roger: " ... (laugh) at KFI."
(commercials)
Roger: "This is ... this is the tenth anniversary of Lohman & Barkley ... anniver ... tenth ... that's an important milestone in any relationship."
Leon Lights (Al): "(singing) Oh how we danced on the night we were wed ... (humming)"
Roger: "And so at this time see what ... how you respond to this question: In the ten years, off the top of your head, the first memory that comes to mind?"
Al: "Of you or of the show?"
Roger: "Of our ... the relationship ... ten years of excellence ... a decade of fun. The reason I ask is because after eight o'clock this morning the last two hours will be spent for the most part reminiscing. We'll talk about the highlight and all the lowlights of wh ... of the Lohman & Barkley, but for just now ..."
Al: "I uh ... I gotta remember the uh radio station manager Jack Fayer who brought us into his office and um he was a new manager over at KLAC. We'd been working there. He just got into town. He became the new manager."
Roger: "We'd been there what? A couple of years."
Al: "Yeah. He brought us into our ... into his office and started to say uh ... tell us a story about seeing a Broadway show that was ill-prepared, ill-conceived and bad and we thought: Why is he telling us this story? And we found out that it was not a story he was telling but rather it was a parallel to what he thought of our show and then he started getting red in the face and jumped up on his desk and screamed at us ..."
Roger: "Stood. Actually stood on his desk."
Al: " ... to make his point and uh totally berated Lohman & Barkley."
Roger: "Yeah. Those two nice guys from Iowa. Come to the Big Apple to try to make a buck. That was a memorable moment."
Al: "Now that would be my ..."
Roger: "Not only memorable but frightening."
Al: "Yeah. Now that's the first. That's off the top of my head. I ... If I had a moment to think I could perhaps come up with a more pleasurable incident. Now how about you?"
Roger: "I'll give you several moments. Well that's a good one. We'll let it rest there but after eight o'clock this morning ... Lohman & Barkley will bore you ..."
Leon Lights (Al): (singing) "Oh how we danced on the night we were wed."
Roger: " ... with reminiscences about a decade of fun and now ..."
Al: "Thank you, Leon."
Roger: "Here's Olivia Newton-John."
(music)
Dominic Longo (Al): " ... caliente del sol (hums) quando caliente del sol."
Roger: "Here's our friend Dominic Longo, owner of the fabulously successful automobile dealership that bears his name."
Dominic: "What do you want to hear now?"
Roger: "In El Monte: Longo Toyota, the nation's number one Toyota dealership, Longo. Mr. Longo, we have you on the air now."
Dominic: "Hi Lohman & Barkley. Happy anniversary."
Roger: "Thank you. That's very nice of you."
Dominic: "And of course I just wanna mention in passing the big Longo Toyota Happy Lohman & Barkley Anniversary Sale thta is going on right now in our giant showroom at 10501 Valley Boulevard in El Monte."
Roger: "Yes, you've been telling us about that the last couple of days that there were big plans afoot at Longo Toyota for a giant Lohman & Barkley celebration there at Longo Toyota. Specially priced cars. Is that a part of the celebration?"
Dominic: "Well, uh ..."
Roger: "Balloons for the kiddies?"
Dominic: "Balloon."
Roger: "Balloon?"
Dominic: "We have a balloon and uh ... and refreshments."
Roger: "Oh, what kind of refreshments are you offering the car-buying public?"
Dominic: "Wa ... water. We have some water here."
Roger: "You have water and a balloon."
Dominic: "Come in. Look at our balloon. Have a drink of water and buy a car; and we would hope that you would buy one of the hundred used reconditioned cars because I'm gettin' tired of lookin' at 'em. They're mostly economy cars ..."
Roger: "They look pretty nice. You do sell them."
Dominic: "Oh, they do look nice."
Roger: "Got that nice big used car spread there right next to the new car showroom. I was impressed with the display and the cleanliness of the automobiles."
Dominic: "Thank you very much. When we get a used car we're gonna sell, we make sure that that car is gone over boy. That it's cleaned inside and that it's polished and washed and looks good on the outside. We make sure of that so that that'll gloss over the deficiencies of the inside."
Roger: (laughs) "That's ..."
Dominic: "No, it goes through the service department."
Roger: "I'm sure it does and you have a big service department."
Dominic: "It goes whoost right through it."
Roger: " ... big service department there. It's all at 10501 Valley Boulevard in El Monte. Longo Toyota."
Dominic: "C'mon out and see our balloon."
Roger: "The nation's number one Toyota dealer. In fact, you should be having an anniversary yourself."
Dominic: "Pretty soon now, yeah."
Roger: "About six years. I would imagine you've enjoyed that."
Dominic: "Six years being number one Toyota dealer in the United States."
Roger: "OK. Longo, thanks for calling."
Dominic: "Happy anniversary, Lohman & Barkley."
Roger: "In a moment we're going to hear on KFI from Frank Sinatra."
Leon: "Oh, how we danced ..."
Roger: "But first ..."
(commercials)
Roger: "Very quickly, Roy where you'll be today?"
Roy: "I'll be in Seal Beach."
Roger: "Seal Beach, California?"
Roy: "Right. I'll be Grand Marshall of the big Seal Beach parade in honor of Lohman & Barkley's tenth anniversary."
Roger: "Very good. You in that area will certainly want to line the parade route and also maybe go watch Roy and others I'm sure in their celebration."
(music)
Roger: " ... into hour two of Lohman & Barkley. It's anniversary day. Ten years ago, would you believe ..."
Roy: " ... Delvina, I can't tell you. We just picked them out of a hat, Delvina."
Roger: "How did it happen do you suppose?"
Leon: (singing) "Oh how we danced ..."
Roger: "That's fine Leon ... appreciate that you would set the mood ..."
Nurse Delvina Lockhart (Al): "It's too hot down there."
Roger: " ... each time that we begin to reminisce a bit about our anniversary but how did it happen? ..."
Roy: "We pulled these out of a hat."
Roger: " ... that two guys ..."
Al: "Would you be quiet Delvina and Roy?"
Roger: "Pardon me folks ... two madcap zanies got together. You would think that maybe one wouldn't have been a madcap zany. Maybe would have been a merry mirth-maker."
Al: "But once fed the information into a Univac computer and the odds against two madcap zanies teaming up at any one given time are 168,750 to one."
Roger: "My gosh."
Al: "So it's a it's a it's a fluke. Generally speaking in two-man teams, as Roy said, one will be a madcap zany; the other won't. In the unfortunate cases, neither one is a madcap zany."
Roger: "You know I think back ..."
Al: "Then you have Huntley and Brinkley."
Roger: " ... two-man team in oh where was it? I think it was in Pittsburgh some years ago."
Al: "Oh yeah. What were their names?"
Roger: "Fullenwider and Muffet."
Al: "Yeah."
Roger: "Muffet was a newsman; Fullenwider was an incredible madcap zany."
Al: "He was just a total flake."
Roger: "But it's just ... it didn't really ... well, they were together for years and years and years."
Al: "Yeah. I imagine about 15, 20 years."
Roger: "But that's one example certainly of how fortunate this radio station is ..."
Delvina: "It's too hot."
Roger: " ... and I hope that they appreciate it that two madcap zanies ..."
Roy: "Don't complain to me, Roy. I'm Roy."
Roger: " ... would come in here (laugh) every morning and do this."
Roy: "Don't complain to me, Delvina."
Roger: "Now folks, what seems to be the problem?"
Roy: "Nurse Delvina Lockhart is unhappy over the community in which she is to be Grand Marshall today. I tried to explain that you just pulled the names out of a hat."
Roger: "Each of the members of our staff have been assigned to a particular anniversary celebration. Who'd you get, Nurse Lockhart?"
Delvina: "I got Desert Hot Springs."
Roger: "Ooh boy. Oh yeah that ..."
Delvina: "It's too hot. I don't wanta go."
Roger: "It could be tough out there. No but you're assigned to it and they're counting on you."
Delvina: "Send Superman there."
Roger: "Nurse Lock ... no Superman has another assignment I think."
Al: "Everybody has an assignment just picked out of the hat. Grinstaff. Dr. Grinstaff Trillingham is happy. He's going to Costa Mesa. Roy, you're talking to Roy. Roy'll be Grand Marshall in Seal Beach."
Delvina: "It's cool there isn't it?"
Roger: "Probably fairly nice in Seal Beach."
Nils (Norwegian recording): "Nilstalma sedina fenuga."
Roger: "Nils will be in Oslo ..."
Nils: (laughs)
Roger: " ... for their Lohman & Barkley celebration and ..."
Al: "You'd better get on your tush there."
Roger: "Yeah. Maybe he better even take an airplane."
Al: "Yeah. That would probably be faster."
(commercials)
Roger: "I don't know if you heard Bruno in there or not. Bruno Abernathy, our staff sailor, rear admiral, soothsayer. He today is appearing, as are the rest of the members of the staff, in the various community celebrations."
Al: :Where's Bruno? I don't have him up there."
Roger: "He's at the marina."
Al: "Oh good."
Roger: "He'll be appearing out there in their parade. They're having ..."
Al: "That's a nautical parade."
Roger: "Well, it's a nautical parade and then a big swap meet. So it'd be quite an affair for Bruno I'm sure and for all of our fine listeners out in that area."
Al: "You know we just sold Western's leg space and you don't think about that much I guess until you get on an airline where they really pack ya like sardines."
Roger: "And there is a difference."
Al: "You bet there is. Now, I was on one. I took one ... a short hop from London to Paris in an airline that ..."
Roger: "Oh boy I gotta hear about that."
Al: "Here's my pictures."
Roger: "Flying around Europe."
Al: "See here's me in front of the airport."
Roger: "Oh yeah, that's in London."
Al: "And there's my kids getting into the airplane."
Roger: "Oh yes oh boy."
Al: "There's my kids getting airsick and throwing up."
Roger: "Uh huh."
Al: "And you gotta picture of that."
Roger: "See a picture of me here renting a car in Omaha."
Al: "Oh that's nice (both laugh) anyway ..."
Roger: "Go ahead."
Al: "It was ... I hate to mention their name because they're a sponsor occasionally on this show, but I think I will because I'll name names. Cramped Airlines. You ever flown them? It really was awful man you know. in order to get twenty more people on they just decided to have you sit with your knees under your chin and so Western's gotta good thing going. That's ... I heartily approve of that."
(commercials)
Al: " ... smuggle the narcotics past the custom's agent see ..."
Roger: "Oh yeah and there they are busting her."
Al: "Yeah. That's the next picture. A good picture of them busting her."
Roger: "Good pictures I should say. I'll tell you what ..."
Al: "I took that with a flash."
Roger: "Flash camera? OK. I'll look at some more while our listeners enjoy another one of them old records."
(music)
Al: " ... back on the air."
Roger: "Everybody seems to be involved in some sort of conversation."
Al: "Ms. Bansback, I think I was talking to Cecil Hoodspeth."
Verne (Ms. Dickie) Bansback (Roger): "Yes. I was ... we were just ... you know just talking about the celebrations today."
Cecil Hoodspeth (Al): "Oh."
Roger: "Don't do that, Cecil."
Nils: (Norwegian)
Roger: "Could you hold it, Nils just a moment. We'll try to tune in on what ..."
Al: "One person at a time or it becomes sort of a cacophony in here and you can't really understand anybody."
Roger: "Yeah. We're trying to understand right now what Verne Bansback was talking to Cecil Hoodspeth."
Al: "You seemed quite animated Ms. Bansback. What was it about?"
Verne: "Well, we were talking about the celebration today going on in the various ..."
Cecil: "Huh?"
Verne: "... communities."
Roger: "She's right, Cecil. That ..."
Cecil: "Huh?"
Roger: " ... is irritating. You go: 'Huh?' a lot."
Cecil: "I'm sorry. I didn't notice that. I go: 'Huh?' a lot. Huh?"
Verne: "You're a very likeable man."
Cecil: "Oh well thank you."
Verne: "That is a bit annoying."
Al: "Well anyway, Ms. Bansback?"
Verne: "I was saying the last time I was in a parade and I'm in one of course this year again."
Al: "Yeah. Which town do you have?"
Verne: "Oh my, I'm in Hollywood."
Al: "You got the Hollywood?"
Verne: "The Hollywood parade."
(applause)
Roy: "Very good, Ms. Bansback."
Roger: "That was by chance too."
Roy: "I got Seal Beach."
Roger: "Roy reached into a hat."
Al: "Yeah. It was just a matter of chance."
Verne: "Anyway, the last time I was in a parade I was Miss Roto Rooter."
Al: "Now when would that've been?"
Verne: "That goes back a long time, Lohman & Barkley, into the mid-50s."
Al: "About the time they were coming out with this amazing new invention ..."
Verne: "That's right."
Al: " ... and this man for you to call."
Verne: "As so many products do you know they try to have some person to represent the product and go about to the various trade shows and one thing another."
Al: "Now where was this that you actually were in a parade as Miss Roto Rooter?"
Verne: "That was in Schleshwig, Iowa."
Al: "It started there and then. What did you do? Represent the firm?"
Verne: "For one year."
Al: "And travel all over?"
Verne: "I was Miss Roto Rooter. It came to be known as that."
Al: "I didn't realize that. That somehow is not in our dossier on you that we got from John Dean."
Verne: "Oh but it is in the brochure that I gave you of my life."
Al: "Well, that's a fascinating story."
Verne: "There it is ..."
Al: "There's a picture of you."
Verne: " ... the banner across my bod says ..."
Al: "It was a wonderful choice."
Verne: " ... 'Roto Roo.' Then if I turned around, it says 'ter' ..."
Al: "The other side of the picture. I see it."
Verne: " ... other side there."
(Roto Rooter commercial)
Cecil: "I just ... you know ..."
Roger: "You're on the air."
Cecil: "Whoops ... tell you that the microphone ... is it actuated?"
Roger: "We're hearing you on the radio show. Sergio Mendes ..."
Cecil: (Cecil sounds) "Testing." (Whoo, whoo)
Roger: " ... Where Is the Love?"
Cecil: "Testing." (Whoo, whoo)
Roger: " ... about 22 minutes before eight o'clock. Cecil Hoodspeth, our roving reporter and our action reporter too ... multi-faceted talent on this program talking here right now."
Cecil: "I realize that this is the weekend of your anniversary and that's a big deal I feel."
Roger: "It is ten years."
Leon: (singing) "Oh how we danced ..."
Roger: "Leon, you don't need to do that each time its mentioned. But every now and then it is appropriate."
Cecil: "I was in Washington covering the Watergate hearings and I had to come all the way back from Washington just to be Grand Marshall in the parade in Temecula."
Roger: "Yeah. Well everyone on the staff ..."
Cecil: "I don't mean to complain."
Roger: " ... has been assigned to a parade and there were so many communities that had planned ..."
Cecil: "Couldn't you find a surrogate for me?"
Roger: "Well, we tried to find a stand-in, but no such luck."
Cecil: "That's an idea too."
Roger: "Each of these communities had written of their intentions to celebrate the day and so it was necessary of course to bring you back from Washington. We appreciate that you would do that and appear in Temecula today in their parade."
Cecil: "It's all I can to Grand Marshall in Temecula and then get my body on a plane and get back to Washington for the hearings on Monday."
Roger: "But we will of course be having you on the air Monday from the hearing there in Washington."
Cecil: "Why didn't I get ... I wanted Hollywood. How come you didn't give me Hollywood?"
Roger: "Ms. Bansback got Hollywood, Cecil."
Cecil: "How'd she get it?"
Roger: "It was pure dumb luck."
Al: "All names went into a hat."
Roger: "It was a drawing out of a hat there and each of your names in one hat and a community in the other."
Ted J. Bologna (Al): "I'm sort of confused."
Roger: "Ted?"
Ted: "I don't know this community, Dobbs."
Roger: "You're in Dobbs?"
Ted: "Yeah. Now where would that be?"
Roger: "Um boy."
Ted: "Let's see Dobbs ..." (pages turning)
Roger: "Let's see. W is not in that one. You're in one alone. Dobbs is not on our map."
Al: "Let me see it, Ted. No, that's the label from the hat, Ted that you have there."
Roger: "Oh he got the ... (laughs) There must still be one town left in the hat."
Al: "That's what that is. Ted, if you put your hand in the hat again."
(commercials)
Al: " ... they will be appearing today in the various community Lohman & Barkley anniversary parades. Roy Bean will be appearing in Seal Beach. Dr. Grinstaff Trillingham will be the Grand Marshall in Costa Mesa. Nurse Delvina Lockhart will be in Desert Hot Springs."
Delvina: "It's too hot."
Al: "I know. Nils will be in Oslo, Norway. The Amazing Mr. Noid will be in Stanton. Bruno I. Abernathy out at the marina. Superman will be on the planet of Krypton. Cecil Hoodspeth in Temecula. Ms. Dickie Bansback in Hollywood. Captain KFI in San Marino. Keep tuned to this radio station to find the whereabouts of your favorite personality."
(music)
Roger: "I don't know if Marybeth Payton even knows of her assignment. She spends most of her time in the hallway here outside our studio. Ted?"
Ted: "Yeah."
Roger: "Would you like to go get Marybeth and bring her in here please?"
Ted: "I certainly will." (walking and door sounds)
Al: "How many years have we worked out of this studio."
Roger: "Five years."
Al: "You'd think the people wouldn't do that anymore."
Roger: "It says 'closet' on there too."
(Marybeth Payton soap opera music)
Ted: "Marybeth, Lohman & Barkley want to see you."
Marybeth Payton (Al): (soap opera music) "All right. (walks in and closes door) Hello. It is I, Marybeth."
Roger: "Marybeth, as you know this is the anniversary of Lohman & Barkley celebrating a decade of fun, ten years of excellence, and each of the members of our staff has been assigned a community at which they will be appearing today. We, ourselves will be in Avalon on Catalina Island for this big parade with Daffy Duck later in the day ... and you ... (laughs)"
Marybeth: (music) "I'm sorry I won't be there I suppose but I'd sure like to see Daffy."
Roger: "No. You have your own assignment for today I believe. Don't you?"
Marybeth: (music) "With my tough luck ... I suppose I reach into the hat and draw one here."
Roger: "Oh, you haven't even drawn yet from the hat. Oh OK fine yeah. That's exactly what you do to get the community at which you'll be appearing."
Marybeth: (music) "I suppose all the good ones are gone like Hollywood and Oslo, Norway."
Verne: "I have Hollywood."
Roger: "Marybeth Payton?"
Marybeth: (music) "Yeah. I knew with my luck I'll reach in there and get something dumb like Rowena, South Dakota so I'm not even gonna draw. You have better luck than I, Roger. Why don't you draw it out for me?"
Roger: "If you prefer. I'll be happy to do that. You want to hand me the hat, W?"
W: "Yes. It's right here. Ted's wearing it."
Roger: (laughing) "It'll be hard to draw. All right I've closed my eyes and I've reached now into the hat."
Ted: (giggling) "Wait. That's my shirt pocket."
Roger: "Oh, I'm sorry. Ted put the hat over here. I can't see with my eyes closed."
Ted: "Here's the hat. Take your hand and put in right on top of the hat." (muffling sounds)
Roger: "Oh. Marybeth Payton."
Marybeth: (music) "Yes, what is it?"
Roger: "Rowena, South Dakota." (both laugh)
Marybeth: (music) "I knew it. Well, I better go pack up."
Roger: "May I suggest you try to be happy please as you ride the parade route. Wave and say: 'Merry Lohman & Barkley everybody' and be as happy as you can."
Marybeth: (music) "I will but I just know with my luck I'll fall out of the car and get killed."
Roger: "Let me hear you try it. Could we please be happy?"
Marybeth: (happy music) "Merry Lohman & Barkley everybody! Happy Lohman & Barkley!"
Roger: "That's fine. OK. Thank you. (sound of door closing) Celebrating a decade of fun, tens of excellence."
Leon: (singing) "Oh, how we danced on the night we were wed. We were both in love."
Roger: "Could you do that back? It's a nice mood. Leon Lights, the voice of show business."
Leon: "I'd certainly be very happy to do that."
Roger: "You know Leon has been with us nearly the entire ten years and ..."
Leon: "Yes, I have. Do you realize that I have been a one-joke for ten years."
Roger: "That's right. You have."
Leon: "In the old Guiness Book of Records ... very few ten-year-old one-jokes."
Roger: "Well, we have about thirty of them on this show as a matter of fact. Everything here is kind of a one-joke."
Leon: (singing) "Oh, how we danced ..."
Roger: "But we will in this remaining two hours of the Saturday Lohman & Barkley ..."
Leon: (singing) " ... on the night we were wed."
Roger: " ... devote our full attentions to reminiscences, seseses about things that have gone before."
Al: "Yes. I remember now one night ho ho who knows how many years ago. I'll never forget it was Donna Benson there I was ..."
Roger: "Al, that goes too far back."
Al: " ... parked out in the Chatawque Park."
Roger: "You're talking about when you were in high school, right? You used to neck with Donna Benson."
Al: "Yeah."
Roger: "I thought we'd just talk about the last ten years."
Al: "Oh, nothing's happened." (Roger laughs)
(commercials)
Roger: "Whoop. What was that?"
Leonard Leonard (Al): "That was Corwin Chester Stirnhill fainting."
Roger: "Corwin of our staff?"
(uh thump thump)
Roger: "What was that?"
Leonard: "That was Kathy Joanna Cravits."
Roger: "Fainting?"
Leonard: "Stack them up if you will."
Roger: "Hey, wait a second Leonard Leonard. Just a moment here at about 8:14 on a Saturday morning. Why are people dropping like flies?"
Leonard: "It's lack of protein. With the price of meat and everything noone has been able to get any protein. So there goes another one." (thump)
Nils: "Oh boy."
Leonard: That was Superman. He just fainted there."
Roger: "Good heavens! When it gets to Superman you know you've got a real serious problem."
Leonard: "So I Leonard Leonard, the cook am cooking up something."
Roger: "I hear it sizzling there on the griddle."
Leonard: "We can't obviously afford meat here at the kitchens of Leonard Leonard."
Ted: "My pants are falling down."
Leonard: "So I'm fixing ..."
Roger: "What are you fixing for the folks? Pardon me. Excuse me one moment."
Leonard: "I heard someone. Ted, was that you?"
Ted: "My pants are falling down."
Roger: "Your pants are falling down."
Leonard: "So, today approaching break, we're cooking Ted's belt."
W: "When's it going to be ready, Leonard?"
Leonard: "Pretty soon W. I want to baste it a little bit."
Roger: "You have a recipe for belt?"
Leonard: "Yes, I use ... start with a little Mazola oil in the pan ... and then I add flavoring ... I use a little touch of cloves ... a little rosemary and thyme and a touch of oregano and I chop a little onion or scallion in there and to that I add one clove then I fix up a little butter-and-milk sauce and pour it over the belt."
Roger: "How many will Ted's belt feed."
Leonard: "Well, unfortunately Ted's down to a 32 belt. A 36 belt we felt could feed perhaps 18 ..."
Roger: "So maybe ... feed twelve?"
Leonard: "Maybe twelve."
Roger: "So those of you who feel most weak on our staff get in front of the line and we'll try to parcel it out as best we can."
Leonard: "Soup's on!"
W: "OK."
Roger: "Thank you, Leonard Leonard."
(commercials)
Al: "We've played a lot of music."
Roger: "We're going to play a lot of our favorites today that we recall from the past ten years on Lohman & Barkley."
Al: "And since I imagine there's some curiosity on the part of listeners saying: 'Of all the records you've played, Lohman & Barkley, what what would be your favorite?"
Roger: "I'd have to say this is."
Al: "This is it, the Lohman & Barkley favorite record of the past decade of fun."
("Itsy Bitsy Teenie Weenie Yellow Polka-Dot Bikini")
Roger: " ... Ted's belt. He gave you the recipe. Well he was talking about the recipe. Perhaps he could make that available."
W: "I didn't copy it down."
Leonard: "I'll start with a little Mazola Oil ..."
Roger: "No. Don't go through the whole recipe once again Leonard Leonard. You'll have to take care of that off the air. We're delighted though now that ..."
Amazing Mr. Noid (Al): "That was amazing, Leonard."
Roger: " ... you've had some nutrition in your bodies as we continue this program for a Saturday morning, August fourth."
(commercials)
Walter Alston recording (Al): "This is Walter Alston known as the old ..."
Roger: "Skipper."
Walter: " ... of the Los Angeles ..."
Roger: "Dodgers."
Walter: " ... with a reminder that the baseball ..."
Roger: "season"
Walter: " ... is drawing to a ..."
Roger: "midway point"
Walter: " ... mid point ..."
Roger: "midway midway"
Walter: " ... point ..."
Roger: "Could you stop that tape?"
Walter: (tape stopping sounds)
Roger: "Let me explain this. Years ago, Walter Alston, the old skipper recorded an announcement but he left out words that could be recorded live during the course of a promotional announcement you see and so we're playing that now."
Walter: (tape sounds continue)
Roger: "Do you want to pick it up there at any point, Jim and we'll continue with it."
Walter: "Hi. This is Walter Alston known as the old ..."
Roger: "Skipper"
Walter: " ... of the Los Angeles ..."
Roger: "Dodgers"
Walter: "Well, the baseball season is reaching the ..."
Roger: "Midway"
Walter: " ... point. And it's a close race ..."
Roger: "Certainly is."
Walter: " ... with the Los Angeles ..."
Roger: "Dodgers" (laughs)
Walter: " ... only about ..."
Roger: "Oh about three games, three-and-a-half, four games"
Walter: " ... behind ..."
Roger: "No. Ahead."
Walter: " ... ahead. So every game is very very ..."
Roger: "Important."
Walter: " ... to us ..."
Roger: "You bet."
Walter: " ... you bet. So get your ..."
Roger: "Fannies"
Walter: " ... out to the old ball ..."
Roger: "Park"
Walter: " ... and enjoy the ... "
Roger: "Dodgers"
Walter: " ... when they play ..."
Roger: "The Giants"
Walter: " ... which won't be her in ..."
Roger: "Los Angeles"
Walter: " ... but rather up there in ..."
Roger: "San Francisco"
Walter: "Thank you."
(commercials)
Roger: " ... ten years duration."
Leon: (singing) "Memories ..."
Roger: "Leon Lights, our voice of show business."
Leon: "Memories ..."
Roger: "Every time we begin to reminisce, he starts singing that god awful song. Leon, it does help set the mood and we deeply appreciate it."
Al: "We don't wanna be ingrates, Roger. Yeah, we do appreciate it. Roger wants to get serious for a moment."
Roger: "Remember that day ten years ago by golly ten years ago yesterday it was on the third of August."
Al: "Today, ten years ago today, the fourth of August."
Roger: "1963."
Al: "1962."
Roger: "When the president said that he would like to put two men in a studio and get them back safely."
Al: "Um huh."
Roger: "It hadn't been done."
Al: "No, it never had. There was a lot of fear at the time that some Russian station would be able to do that ahead of us."
Roger: "And so the nation was committed and the nation needs to be committed."
Al: "Yes, more so now than perhaps then, ten years ago in 1962."
Roger: "Three."
Al: "Three."
Roger: "Yes."
Al: " .. on the fourth."
Roger: "No, the third."
Al: "The fourth ..."
Roger: (laughs)
Al: " ... of August."
Roger: "And so Lohman & Barkley went into extensive training in preparation. At that time now radio executives who were called upon to uh figure uh out how you do this really had no idea how you put two guys together, get them into a studio and out safely."
Al: " It uh was to our advantage that of course that our background we were test disc jockeys and uh so we had uh a good background from which to spring. Here's the important thing we did in preparing ourselves for the goal and the accomplishment thereof was to sign a big fat contract with Life magazine to take pictures of our wives."
Roger: (laughs)
Al: "I don't know I suppose we had that negotiated sometime in July."
Roger: "Yeah."
Al: "1964."
Roger: "Sure it was. Three."
Al: "Three."
Roger: "1963."
Al: "On the fourth."
Roger: "Ten years ago yesterday."
Al: "Yes, well we made it."
Roger: "Yes, we made it in and back safely and that was important."
Al: "And now nobody seems to think anything about it. It's, it's ... Hudson and Landry teamed up and nobody even said anything."
Roger: "Fairly routine anymore, isn't it?"
Al: "Kinda sad in a way. KRLA went all two-man team."
Roger: "You remember in the early days how exciting it was. How truly thrilling awesome to watch those two guys as they'd leave their pad ..."
Al: "Yep."
Roger: " ... and head for the old studio."
Al: "I think in retrospect I wish we would have developed a recovery system that would have put us back on land becuse even to this day after the show in order to get back safely, we have to go jump in the ocean."
Roger: (laughs)
(commercials)
Al: " ... boring today and I am afraid we are with our reminiscences. I ... you just must understand this is sort of an emotional day for us and that uh we just sort of naturally and reflexively think back upon the origins of this team."
Roger: "Yes indeed you can't help but do that certainly after ten years time."
Al: "Do you remember the day that we decided to do a two-man team?"
Roger: "Yeah."
Al: "Do you?"
Roger: "I remember yeah sure I can almost hear it."
Al: "That's funny I can too. Let's see I was ... I was alone ... no, I was ..."
(flashback music - 'El Condor Pasa')
Al: "All right now people. His name ... He's coming in right now."
Roger: "Pardon me, Mr. Lohman?"
Al: "Uh, Yes."
Roger: "My name is Roger Barkley."
Al: "Mr. Barkley. My name is Al Lohman. How are you?"
Roger: "Nice to meet you, sir."
Al: "I'd like you to meet some people here that I have assembled. This is uh W. Eva Schneider."
Roger: "How do you do?"
W: "How do you do?"
Roger: "Miss Schneider? Miss Schnei ..."
Al: "And Ted J. Bologna."
Roger: "Mr. Bologna?"
Ted: "Yes, very nice to meet you. I'm a human interest man. What is your line of work?"
Roger: "I'm a disc jockey."
Al: "I'd like you to meet also, a Mr. Maynard Farmer. He's in agriculture."
Roger: "How do you do?"
Maynard: "How do you do?"
Roger: "Mr. Farmer?"
Maynard: "Mr. uh ..."
Roger: "Barkley."
Maynard: "Barkley."
Roger: "Roger Barkley."
Maynard: "I detect something in your voice. I bet you're a farm boy yourself, ain't ya?"
Roger: "Well, I grew up in a small town in the Midwest. Certainly did, Mr. Farmer."
Al: "Now there's one other person I'd like you to meet and that would be Mr. Roy Bean. He's a hanging judge."
Roger: "Oh, yes. Mr. Bean."
Roy: "How do you do, Mr. Barkley?"
Roger: "I'm wondering, Mr. Lohman."
Al: "Ah yes. You saw the ad did you?"
Roger: "Yes indeed I did. I would like to leave my resume here."
Al: "You have some prior experience, do you?"
Roger: " ... a dull picture of me. I don't have any glossies."
Al: "That's a very nice one there. It makes you look a little older. It's a very nice picture of you. You say your resume is here? You ..."
Roger: "My resume is ... Well, it's on just on that little card there. I haven't really done all that much yet."
Al: "I see. How about your education? Have you gone to a radio disc jockey school and things of that nature?"
Roger: "Yes yes. I'm a graduate of a radio broadcasting school in Minneapolis, Minnesota."
Al: "Mr. Barkley, I'll be perfectly honest with you. We are obviously interviewing many many people."
Roger: "I'm sure you are. I see a whole bunch of them in the lobby outside your office, Mr. Lohman."
Al: "But we have absolutely no set mind in this. We have an open mind. We are gonna consider all applicants and uh we'll notify you one way or other by telephone within the week."
Roger: "Well thank you very much."
Al: "Thank you. Very nice meeting you."
Roger: "My phone number there is ..."
Al: "Yes, thank you. I've got that."
Roger: "Mr. Bologna. Ms. Schneider."
Ted: "Yes, nice meeting you, Mr. B."
W: "Bye."
Roger: "Thank you. Mr. Bean. Mr. Farmer. (door closes)
W: "That's the biggest stiff I've ever seen. I don't know how you people think about him."
Ted: "It's just uh ... I don't think he can cut it myself."
Al: "Maybe we're being a little premature you know. I tell ya why don't we look at the other people and then uh well you know go over his resume again later ... (music) There's something about him."
Roger: (back in the present) "You know I've always wondered what you people talked about after I left that day. The day I came in for ... you remember I brought in a picture and a little brief resume with me?"
W: "Yes, I was there. Ted was there I think. Roy and Maynard."
Roger: "Yeah, I believe that was ..."
W: "I have absolute recall of that day. We were really impressed with you."
(commercials)
Roger: " ... to do it. We were thinking back over ten years."
Al: "All the music we have played. The many many records."
Roger: "How many records?"
Al: "Beautiful music has been our trademark as you know after all these years."
Roger: "Let's spin in one of our favorites, shall we?"
Al: "This is our absolute favorite."
Roger: "The one that we recall with the most fond memory I'm sure."
Al: "That we hope that you enjoy it."
('Teen Angel')
Al: " ... has not only been our own personal interrelationship between Lohman & Barkley, but the really enjoyable time that we've spent with the different people who worked for us."
Roger: "Oh absolutely. Think how empty our lives would be without these people."
Al: "Yeah. We ... I uh look back very fondly on the first encounter that we had with many of these people. I was thinking just the other day of the time that Nils came to work for us ... come in to audition."
Roger: "Oh sure yeah."
Al: "You remember that?"
Roger: "Darn right I remember that."
Al: "Do ya?"
Roger: "Yes, that was here at KFI."
Al: "Yeah. Nils is really about our latest addition to the staff."
Roger: "Well, he and Captain KFI and Marybeth Payton I think they were all kind of in about the same period of time. But oh boy you mentioned Nils."
Al: "We were quite impressed."
Roger: "I gotta tell ya we were. I can almost hear it."
Al: "I can too if I close my eyes."
(flashback music)
Al: "Now look I know we don't want to hire a Norwegian but the Civil Rights Commission has said you've got to hire a Norwegian on the staff ..."
Roger: "I know that."
Al: "So we're stuck."
Roger: "We ... we ran the ad you know ... in the ..."
Al: "This fellow's coming in."
Roger: " ... Sardine Weekly."
Al: "Yeah."
Roger: "And uh ..."
Al: "His name is Nils I guess."
Roger: "Nils?"
Al: "Yeah."
Roger: "Hmmm."
Al: "I haven't seen him or anything."
Roger: "Perhaps we can find a good Norwegian name for him."
(knocking on door)
Roger: "W, do you want to let whoever it is in there?"
W: "Oh yes here he is right now. Lohman & Barkley will see you. Come on in."
Roger: "How do you do, sir?"
Nils: (Norwegian recording)
Al: "That's right. This is the place. We ran the ad and we are looking for a Norwegian for our staff. Have you had any experience in Norwegian?"
Nils: (Norwegian)
Al: "Yes ..."
Nils: (laughs)
Roger: "Good sense of humor."
Al: "Yeah."
Roger: "I like that."
Al: "What line of work have you been in prior to uh ... What was your last job? Do you have a reference at all?"
Nils: (Norwegian)
Al: "Ernie? That's fine. We can check with Ernie and find out if that's true or not."
Roger: "Pretty good background really. Do you have a bio on yourself there?"
Al: "A little something. A picture or something."
Nils: "Well!" (Norwegian)
Al: "Oh that's all right even if it's old. That's fine just something we can put in our files."
Roger: "Yeah. So ..."
Al: "Yeah."
Nils: (Norwegian)
Al: "Yeah."
Roger: "OK Well ..."
Nils: (laughs)
(Lohman & Barkley laugh)
Roger: "Nils."
Al: "I think you have a very good chance to get the job, Nils ..."
Nils: "Oh boy."
Roger: "Yeah. Thank you very much for uh we'll get back to you."
(music - return to present)
Roger: "Yep. I can almost hear that as if it were yesterday."
Al: "Yeah."
(commercials)
Farmer John (Al): " ... challenge all right."
Roger: "You're sure to be surprised, deliciously so. What do you find in there, Farmer John?"
Farmer: "You find a fortune. I put a little fortune in there."
Roger: "No, you don't either find a fortune ..."
Farmer: "They're fortune wieners." (laughs)
Roger: (laughs) "Fortune wieners."
Farmer: "Yeah. That's what we're working on. Gonna be a big one."
Roger: "No, these are the firm, meaty wieners ..."
Farmer: "Oh the ones there yeah they're tender, juicy. They're not soft and mushy like some ..."
Roger: "Farmer John, I think also you go easy on the salt, don't ya?"
Farmer: "Yeah, I sure do."
Roger: "Make sure that your wieners aren't too salty and you're just as careful on the seasoning."
Farmer: "Yeah, I add my costly natural herbs and spices with meticulous accuracy. So package after package my wieners ..."
Roger: "Farmer John wieners."
Farmer: " ... are always seasoned just right and never over- or never under-seasoned."
Roger: "Farmer John, you smoke your wieners long ..."
Farmer: "Do you want to smoke one right now?"
Roger: " ... lazily ... (laughs) No, not right now."
Farmer: "I've got an extra pack out in the car. (both laugh) Smoke your wieners humor."
Roger: "Long and lazily ..."
Farmer: "Yeah."
Roger: " ... to give them a hearty western flavor."
Farmer: "Do you know what?"
Roger: "What?"
Farmer: "Do you know what?"
Roger: "What?"
Farmer: "Some wieners simply have smoked flavor added."
Roger: "Oh boy that's kind of a cheap cheap way out, isn't it?"
Farmer: "Yeah. I uh I don't do that."
Roger: "Huh?"
Farmer: "I don't do that. I don't do that. I smoke mine."
Roger: "No, I believe you."
Farmer: "Make your next wieners the meat wieners from me."
Roger: "Farmer John."
Farmer: "Regular size or the ten-inch extra long."
Roger: "Get a package today right, Farmer John?"
Farmer: "Sure."
Roger: "Where are your fine products featured this week?"
Farmer: "Oh, all over the place."
Roger: "Hey uh excuse me, today they're parading as you know in Avalon uh who all is it? Porky Pig there? No, Porky Pig isn't in this one."
Al: "No. A good many of the really big names will be in town."
Roger: "Yosemite Sam. I remember that ..."
Al: "Yeah. Daffy Duck and Sylvester the Cat ..."
Roger: " ... will all be parading down the streets of Avalon."
W: "I'll be in Pear Blossom."
Roger: " ... apparently for the celebration of the tenth anniversary. Others of our staff have been assigned to a variety of communities."
Al: "Those of you in Stanton will want to see the big parade with the Amazing Mr. Noid as grand marshal as an example."
Cecil: "I'll be in Temecula."
Roger: "Yeah. Cecil Hoodspeth came in from Washington where he's covering the Watergate hearings for us to parade in Temecula."
Al: "Ms. Bansback, where are you going to be?"
Verne: "Oh my goodness. Where am I going to be? I'd forgotten. Oh, I'm in Hollywood. Yes, I'm in the Hollywood parade. They're having their celebration today."
Captain KFI (Al): "This is Captain KFI. I'll be grand marshal in the big Lohman & Barkley parade in San Marino."
Roger: "Would you open the door please and quit crashing through there, Captain KFI? It's getting very expensive."
Captain: "I'll be riding my horse and wearing my sequined suit and after the parade you can talk back to me and Hal Fishman."
Roger: (laughs) "So it's an exciting day all over the southland and the northland and the eastland and even the westland."
Al: "No. It's not a very big day there."
(commercial)
Al: "A lot of times people say of all the beautiful music you've played, Lohman & Barkley, and of course beautiful music is your trademark, what is your favorite record?"
Roger: "Happy to spin it in for you right now."
Al: "I think you'll enjoy it as much as we do."
("Alley Oop")
Miles Mehell (Al): " ... my wife, Martha ..."
Martha Mehell (Roger): "Hello."
Miles: " ... who wanted to know which one was the Round Mound of Sound."
Roger: "The Round Mound of Sound is over here."
Al: "That's me."
Roger: "Al."
Al: "Yeah. The "Platter Pirate ..."
Roger: "The Platter Pirate is over here."
Al: "I said if you just looked for the parrot on the shoulder of uh ... you would immediately recognize Jolly Roger also the uh ..."
Roger: "The eye patch."
Al: "The eye patch is a give-away. The sunflower seeds that are on your shoulder there ..."
Roger: "That's of course to feed the parrot."
Al: "Of course."
Roger: "Yeah and the Round Mound of Sound ..."
W: "Yes of course he's rounder and moundier somehow."
Roger: "Recognizable ..."
W: "Yes."
Roger: "OK. You got it straight?"
Miles: "Well, yeah it's like a baseball game. It's more fun if you sort of identify with the players."
Roger: "You know what's fun, speaking of baseball games? I've never done this before because I didn't think I knew how to do it. But, I actually scored the game the other night when I was out at Dodger Stadium. In their program they have uh ... I'm digressing now, Mehells. Excuse me."
Miles: "That's all right."
Roger: "They have ..."
Miles: "You can have the mike back now, Mr. Bologna."
Roger: "Ted, thank you very much for taking that over there. They have in the program ... Have you ever noticed this?"
Ted: "Yes, I do ... a little line score ..."
Roger: " ... you make in these boxes as you score the game and so ..."
Al: "Uh huh. I've never done that."
Roger: "I did actually do ... I did about six-and-a-half innings out at Dodger Stadium the other night and I hope maybe by next week I'll be able to score at home."
Al: "Well, I heard Jerry [Doggett] mention that you know for those of you who are scoring at home uh that's six-to-four-to-three."
Roger: "Yeah."
Al: "So in the future when I hear Jerry say that I'll know he talking to you so direct ..."
Roger: "Yeah, I can assume that as well. Anyway, I suppose we are here at 21 minutes before ten o'clock on the ..."
Leon: (hoarse singing) " ... danced all night."
Roger: " ... final and concluding day of the incredibly long it seems Lohman & Barkley anniversary celebration."
(commercials)
Leon: (singing) "Memories. Memories."
Roger: "We've sure been whompin' up the memories here ladies and gentlemen, Lohman & Barkley and their tenth anniversary broadcast for KFI. In about a minute we'll get back into some of our reminiscences about many of the highlights of the uh the firsts."
Al: "I'd like to reminisce about the first commercial and we'll do that right after this commercial."
(commercial)
Al: " ... those of you who are listening to Lohman & Barkley know we have too many commercials but it wasn't always that way."
Roger: "No indeed. It's really I guess a compliment to have too many commercials, isn't it?"
Al: "We started from humble beginnings. We didn't have a commercial when we started. Remember the first, the day, the excitement ..."
Roger: "No, wait ..."
Al: " ... of the very first commercial? Can you remember?"
Roger: " ... think back. I can almost hear it."
Al: "I can almost hear it too. So long ago ..."
(flashback music)
Roger: "Good morning everybody. This is Lohman & Barkley."
Al: "Rog!"
Roger: "Yes, Al."
Al: "I can't close the door. The balloons are in the way. Slam it." (door closing)
Roger: "Well, that's all right, Al. It's the first real problem we've ever had on our new Lohman & Barkley Show."
Al: "No, we've always had a problem, Rog."
Roger: "Why?"
Al: "We've never had any commercials."
Roger: "Well, that is a problem but that's a different kind of problem than having balloons tied to your door so you can't slam it."
Al: "But we've been on the air two years now without any commercials and if we don't get some pretty soon, they're probably gonna fire ..."
Roger: "But we have one."
Al: "We have a commercial?"
Roger: "We have our very first commercial."
Al: "Somebody saw fit to buy advertising time on our radio broadcast?"
Roger: "Apparently they have because look."
Al: "What?"
Roger: "We now have for the first time a actual program log."
Al: "Oh! Lemme see it. Lemme see it. Lemme see it."
(package opening)
Al: "Oh! I can hardly wait to tell my family when I get home tonight."
Roger: "Our very first commercial. Let's listen."
Al: "All right."
("Preparation H" commercial)
(music - return to present)
Al: "Yeah, I can ... Funny I can't remember what the first commercial was for but I remember the day of the first commercial."
Roger: "How excited we were. Had our first program log actually just like the big shows."
Al: "Yeah, it was a big moment for Lohman & Barkley."
Roger: "OK. Let's see here."
Al: "Let's move along. We'll do another commercial and we'll play a record."
(commercials)
Roger: "... Barkley here this Saturday. It's August fourth."
(heavy breathing sounds throughout)
Roger: "Pardon me. Somebody's breathing heavily into a microphone."
W: "I have a complaint."
Roger: "What is it, W?"
W: "How long have I been with the show?"
Roger: "Well, you've been here almost the full ten years. What's the problem?"
W: "Equipment. Equipment."
Roger: "What do you mean?"
W: "Huh?"
Roger: "Why?"
W: "Well it uh that uh ... How can I say it to you?"
Roger: "I don't know but please hurry."
W: "I need a new lavalier string."
Roger: "Oh, your microphone is too tight. See we have for each member of our staff what they call the lavalier microphone which is the one like they use on tv and they hangs around your neck on a string and it's very small microphone."
Al: "Usually concealed uh in a tie for a man."
Roger: "And once in a while either the string breaks and so you have to uh shorten it."
W: "Over ten years mine has broke so many times now that I have it all little bitty knot here. It's right under my nose."
Roger: "So uh sometimes you know I remember once Ted went swimming with his on and the string shrunk. And we have a similar problem."
Ted: "Maybe you could have mine."
Roger: "So make a note please somebody to get a new string ..."
Al: "We will buy you a new string."
Roger: " ... W's microphone."
Al: "On Monday you'll have a new lavalier string."
(commercials)
Al: " ... to a party oh I don't know when old friends call on the telephone and invariably they say Lohman & Barkley beautiful music is your trademark. You play beautiful music now for a decade of fun, ten years of excellence. Do you have a particular favorite?"
Roger: "We're always happy when someone asks that question because obviously we do and it's ..."
Al: "It's an immediate response too, isn't it? You don't even have to think about it."
Roger: "Course not after all these years and you think of all the records we have played."
Al: "Thousands, I imagine."
Roger: "But there is one that is indeed our favorite among all those."
Al: "So we're gonna play it for you now and we hope you enjoy it as much as we always have."
("The Book of Love")