Kurtzman and Elder
Harvey Kurtzman (1924-1993) was an accomplished comic artist but his skills as a writer distinguished him from others in the field. At EC, Kurtzman realized that Will Elder (1921-2008) and others had better artistic skills. They met at the High School of Music and Art in New York City in 1939. Together, Kurtzman and Elder formed a writer-artist team that was the best in the business; and one that survived numerous changes and challenges through their productive cheers. This website page will focus on the marvelous work that they created as a team. [JAM 8/30/2017]
Two-Fisted Tales (1950-1955)
The team of Will Elder and John Severin created art for issues 19 through 29, 31, 33 and 36.
Elder (1972): "Harvey was a very good talker. In the early stages of the war comics he would sit down with most of the artists and describe the story to them panel by panel, and he'd go through the sound effects ... and before you knew it you got very absorbed in the story and it became very interesting ... and eventually you saw the thing laid out as he described it, and before you knew it you were very much involved."
Frontline Combat (1951-1954)
The team of Will Elder and John Severin created art for issues 2 through 11.
Kurtzman (1972): "All our stories really protested war. I don't think we thought war was very nice generally. The whole mood of our stories was that war isn't a good thing. You get killed. And 'Big If' is about a soldier who happens by coincidence to be in a certain place at a certain time and a shell explodes. He could have been several places, but he just happens to stop and gets killed. That's the way war is; you get killed suddenly for no reason."
Mad (1952-1956)
William M. (Bill) Gaines inherited his father's comic book company (EC) in 1947. The new publisher was not happy with the educational and religious themes of the company's products. He quickly transformed EC into a major producer of horror comics with titles such as Tales from the Crypt and The Vault of Horror. EC also published war comics edited by Harvey Kurtzman.
In 1952, Kurtzman presented an idea to Gaines for a comic that would be a satire of other comics. Known as the "first satire comic," EC's Mad also proved to be adept at parodies of periodicals, movies, popular culture and itself. The first issue of Mad featured a parody cover of a house haunted by "Melvin!" The first story ("Hoohah!"), illustrated by the legendary Jack Davis and written by Kurtzman, was actually a parody of EC horror comics. The joke of the parody is that, in an old, dark house on a stormy night, nothing happens.
Artist Davis began the tradition of bonus humor (non sequitur, chicken fat, etc.) on page three of Mad #1 where the terrified Galusha can be seen holding with both hands the border between comic strip panels. This would be the first of many times when Mad would parody the comic style by breaking out of the panels.
Other parodies in Mad #1 target science fiction ("Blobs!" drawn by Wallace Wood), crime stories ("Ganefs!" drawn by Will Elder) and westerns ("Varmint!" drawn by John Severin). All were written and edited by Kurtzman.
Mad #2 parodied popular culture with the Tarzan-parody "Melvin!." The ape-man, with a bandage on his foot, is first seen sitting in a tree grooming an ape that is reading The Crypt of Terror. Melvin swings through trees, battles natives and communicates with animals. Jane cooks hominy grits and wields a machine gun. Melvin's jungle is populated with skunks, pigs, dragons, dodos, St. Bernard dogs and whales. Even the ants know when Tarzan is in trouble.
Today, Mad is known for its classic parodies of movies and television shows. However, before its first movie parody appeared, Mad parodied the radio show Dragnet with Kurtzman's "Dragged Net!" (Mad #3). Kurtzman parodied the show from his childhood memories of his family sitting around the radio. The Kurtzman parody includes the detective small talk ("How's your Mom, Ed?"). Artist Elder provided the "chicken fat" jokes that filled every panel with parodies of anything he could imagine. The combined genius of Kurtzman and Elder is a humor form that rivals any that has ever existed. Sergeants Joe Friday and Ed Saturday get their man (after playing tic-tac-toe on his back) but end up in the booby hatch wearing Napolean hats and cutting out paper dolls. Tic-tac-toe, Napolean, paper dolls, black bombs, eight balls, false teeth and Elder-style chicken-fat were jokes that would run through Mad for decades.
With the classic Superman comic book parody by Harvey Kurtzman and Wallace Wood, sales of Mad #4 established the EC title in the comic market. Comic characters have served as easy targets for Mad artists. In "Superduperman!" Clark Bent empties the spittoons and Lois Pain collects pearl necklaces. Although Clark's alter-ego, Superduperman eventually defeats Captain Marbles, Lois can still tell that he is a creep.
Editor/writer Kurtzman continued to find ripe parody subjects in subsequent issues: movies (Mad #6), magazine covers (Mad #11), 3-D comics (Mad #12), television shows (Mad #14), newspapers (Mad #16), racing forms (Mad #19), comic book advertising (Mad #21) and Ripley's Believe It or Not (Mad #23).
"Ping Pong!" written by Kurtzman and drawn by Will Elder, was the first of hundreds of movie parodies by the Mad staff. The ability of the print medium to parody a movie is limited, but Hollywood would soon begin to produce its own parodies.
Kurtzman wrote only two stories for Mad #9 ("Little Orphan Melvin!" and "Hah! Noon!"). He was beginning to change the format of Mad just as this very successful comic was becoming a monthly publication with an in-house, bi-monthly companion (and competitor): Panic. Although the Mad readers really enjoyed the original format, they would soon have many surprises and treats as the restless Kurtzman stayed several steps ahead of the competition.
Mad readers must have been totally surprised by the Life magazine cover (with background photograph shot from Mad's Madison Avenue office window) of number eleven. Kurtzman was willing to take the risk that Mad fans would would still be able to find their favorite comic on the newsstand. The Basil Wolverton drawing taught them to expect the unexpected from Mad. The competition was left in the dust.
Kurtzman continued to challenge the competitors with his second magazine parody cover and with a first-ever 3-D comic parody in Mad #12. Wallace Wood's parody drawing for "3-Dimensions!" represents the most innovative portion of the issue. The story starts with two pages of red-and-blue 3-D humor then switches to black-and-white sequences wherein the characters break through a page, fall through several panels and knock everything off a page, leaving the last page blank. In 1954, Mad readers never knew what they were going to get.
Mad #14 contained Mad's first parody of black-and-white television ("The Countynental"): "... a t.v. program for ladies ..." complete with the lines on the screen.
Kurtzman used his brilliant newspaper parody to satirize his (and publisher Gaines's) problems with the Comic Book Code in Mad #16. The cover shows three cartoonists being arrested and a publisher selling banned comic books on the street corner. Mad's legal battles are well-documented in the Mad World of William Gaines (Frank Jacobs) and Completely Mad (Maria Reidelbach). The newspaper article was the first to depart from the comic book format. Mad was already starting to look like a magazine.
By issue number seventeen, Mad was a comic book in size only. It would take Kurtzman six more issues to convince publisher Gaines that Mad had evolved to a higher form. The story format (Mad #1-10) was completely gone. The first article ("Bringing Back Father!") looked at the comic strip as viewed by the parody cartoonist (Elder) and the serious cartoonist (Bernard Krigstein) who uncovered a seriously dysfunctional family. The second article was a combination parody of the Army-McCarthy hearings as a game show.
The fourth article in Mad #17 ("Cut Your Own Throat Dept.") presented a how-to lesson for those who would copy the Mad style. Mad again proved that nothing was sacred as a humor subject by doing a parody of its own style. However, Kurtzman knew that competitors (including Panic) could only parody Mad's "old style." The real Mad was now a moving target that had discovered a whole universe of parody, satire and lampoon subjects.
The classic feature of Mad #21 is the six pages of comic book advertising parodies which included the cover. Get out your magnifying glass and read every word. The cover also features the first appearance in the comic of the idiot kid who was to become the symbol of Mad magazine as "Alfred E. Neuman."
With plans for graduation to the magazine form, it would be understandable if the last issue of the Mad comic was not up to par. Such was not the case. Mad #23 was an excellent platform for the transition from comic to magazine. Wallace Wood and Jack Davis were in fine form, but Will Elder was absent. This would be the only EC satire comic (Mad or Panic) without an Elder drawing. He was probably busy drawing some of the 18 pages of his that would appear in the first issue of the 64-page Mad magazine.
Kurtzman brought back Mad names "Melvin" and "Galusha" that appeared in Mad #1. He also introduced the "Believe It or Don't" parody, drawn by Wood, which would become the source of numerous Ernie Kovacs jokes in future Mads. Wallace Wood proved that Elder was not the only Mad artist who could do a newspaper comic parody ("Gopo Gossum!"). [JAM archive]
#1 Ganefs!
#2 Mole!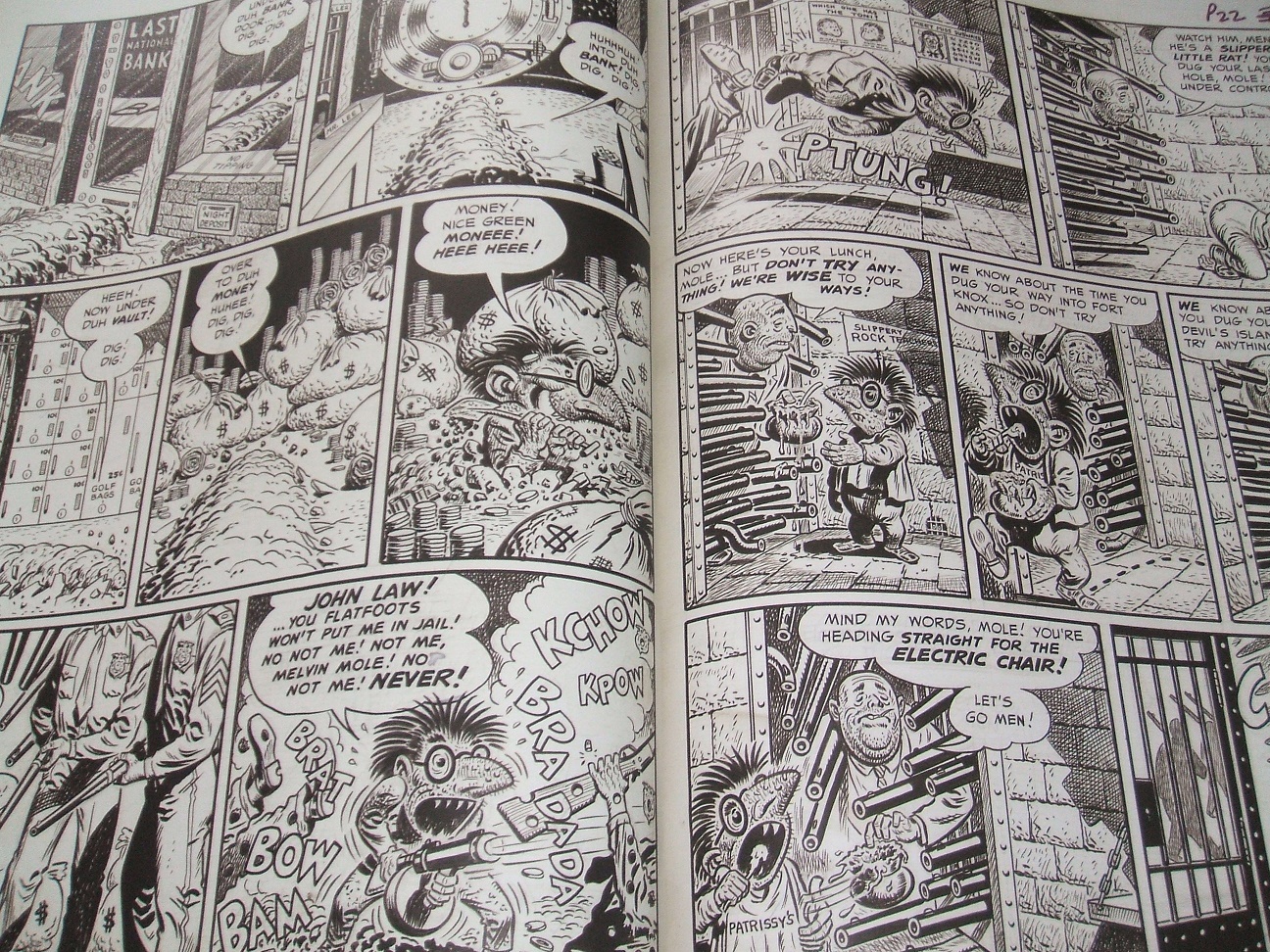 #3 Dragged Net!
#4 Shadow!
#5 Outer Sanctum!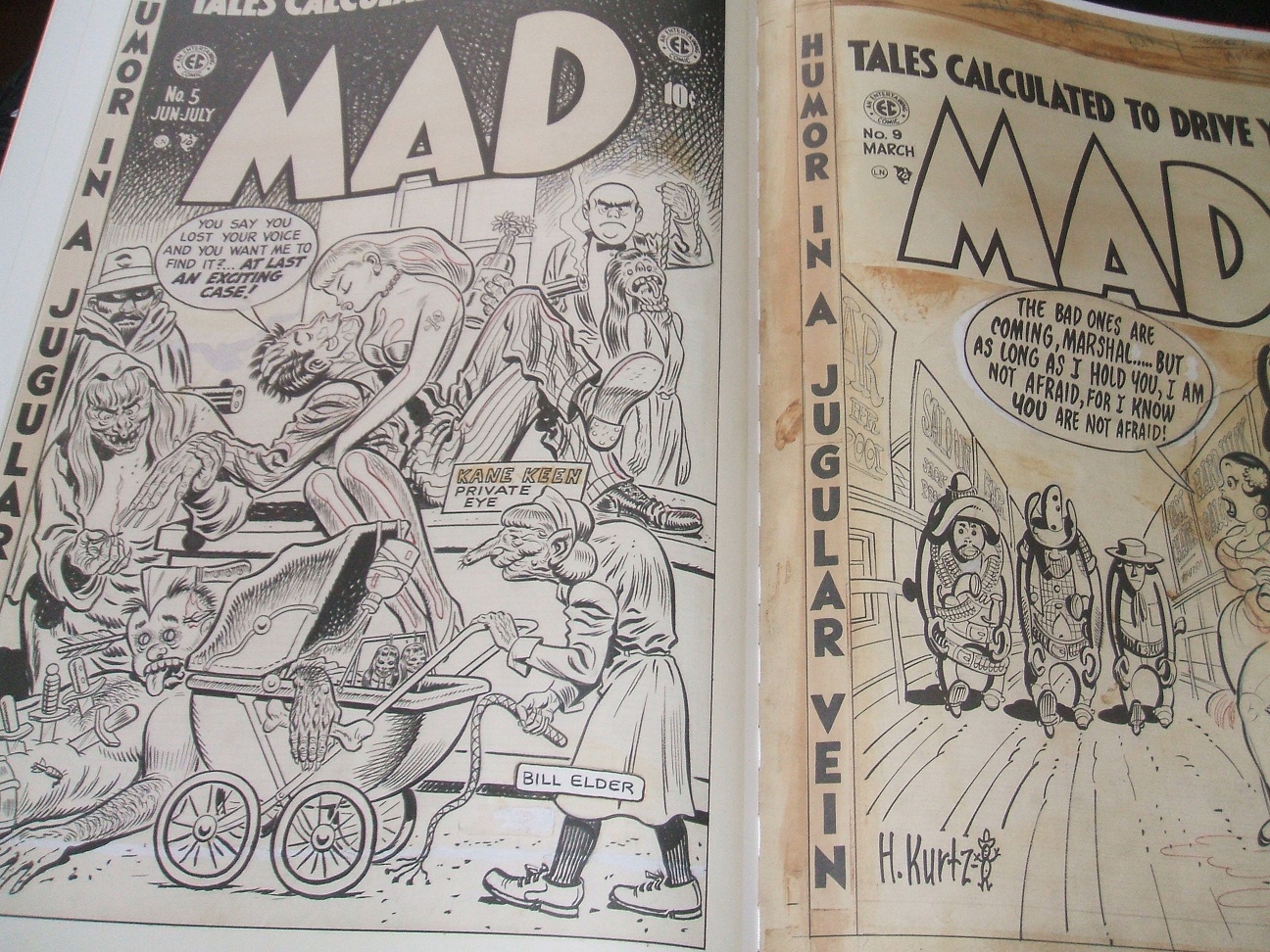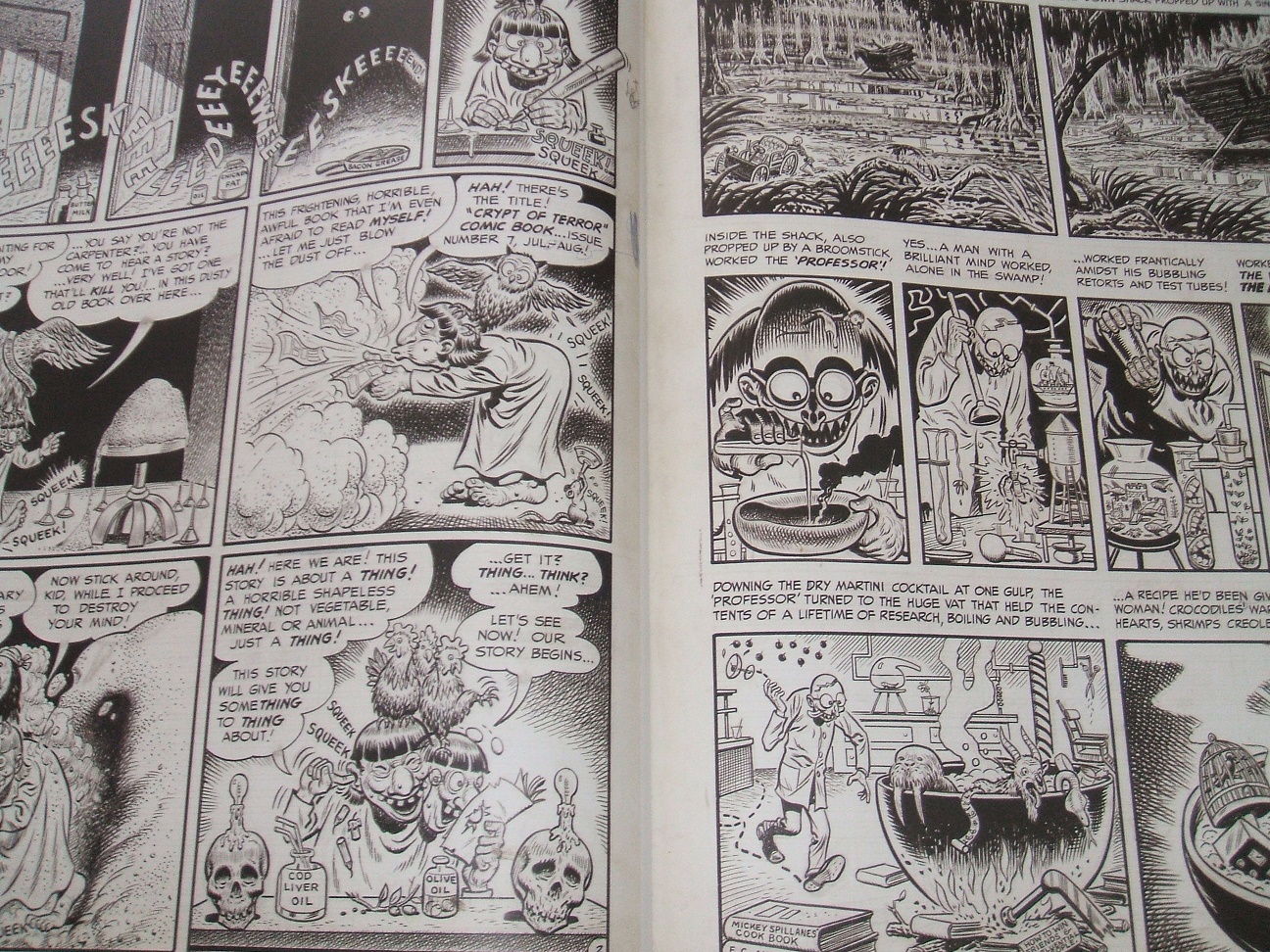 #6 Ping Pong!
#7 Shermlock Shomes!
#8 Frank N. Stein!
#9 The Raven
#10 Woman Wonder!
#11 Dragged Net!
#12 Starchie
#13 Robinson Cruesoe!
#14 Manduck the Magician
#15 Gasoline Valley!
#16 Shermlock Shomes in the Hound of the Basketballs!
Restaurant!
#17 Bringing Back Father!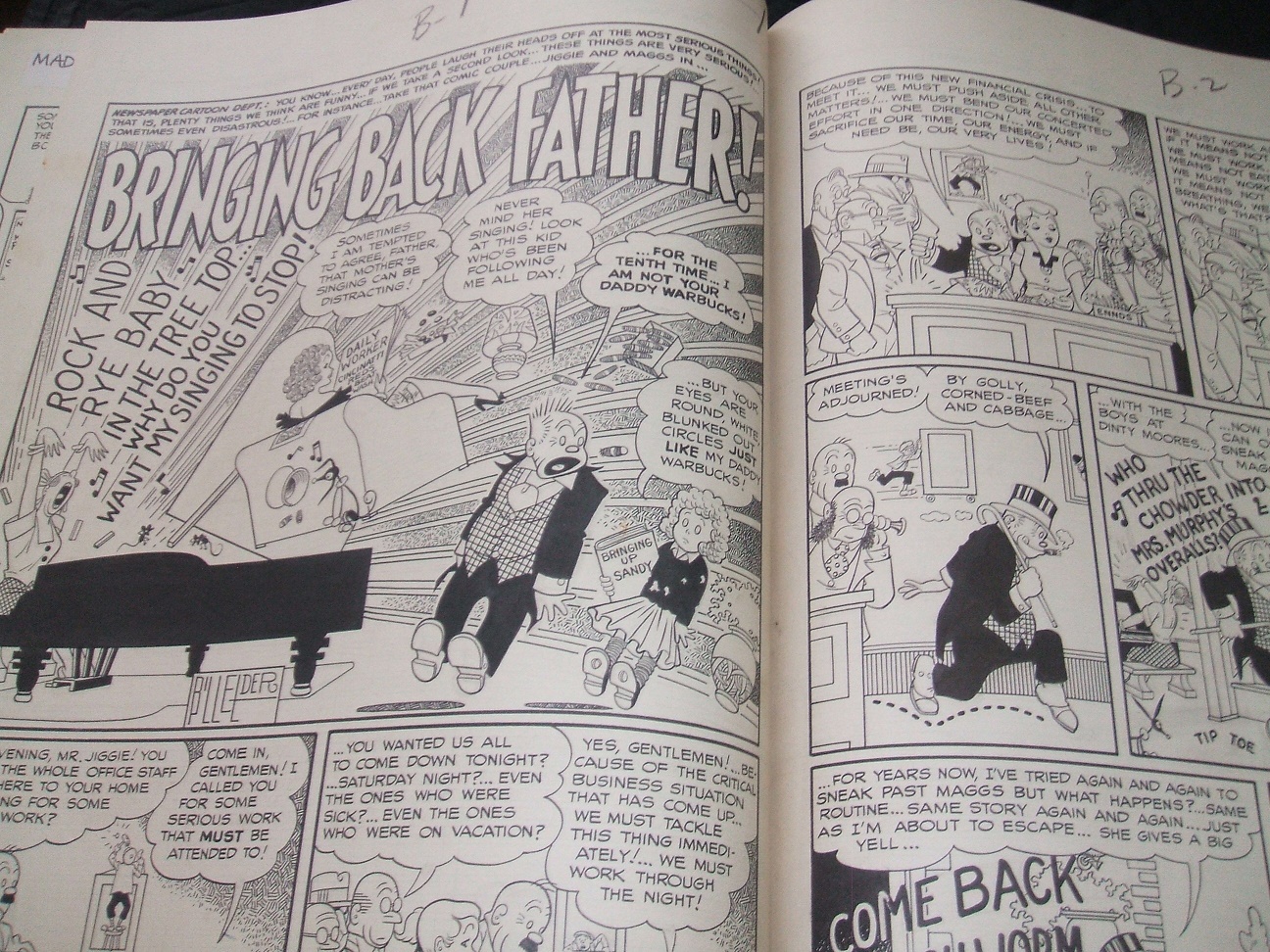 Meet Miss Potgold
#18 Howdy Dooit!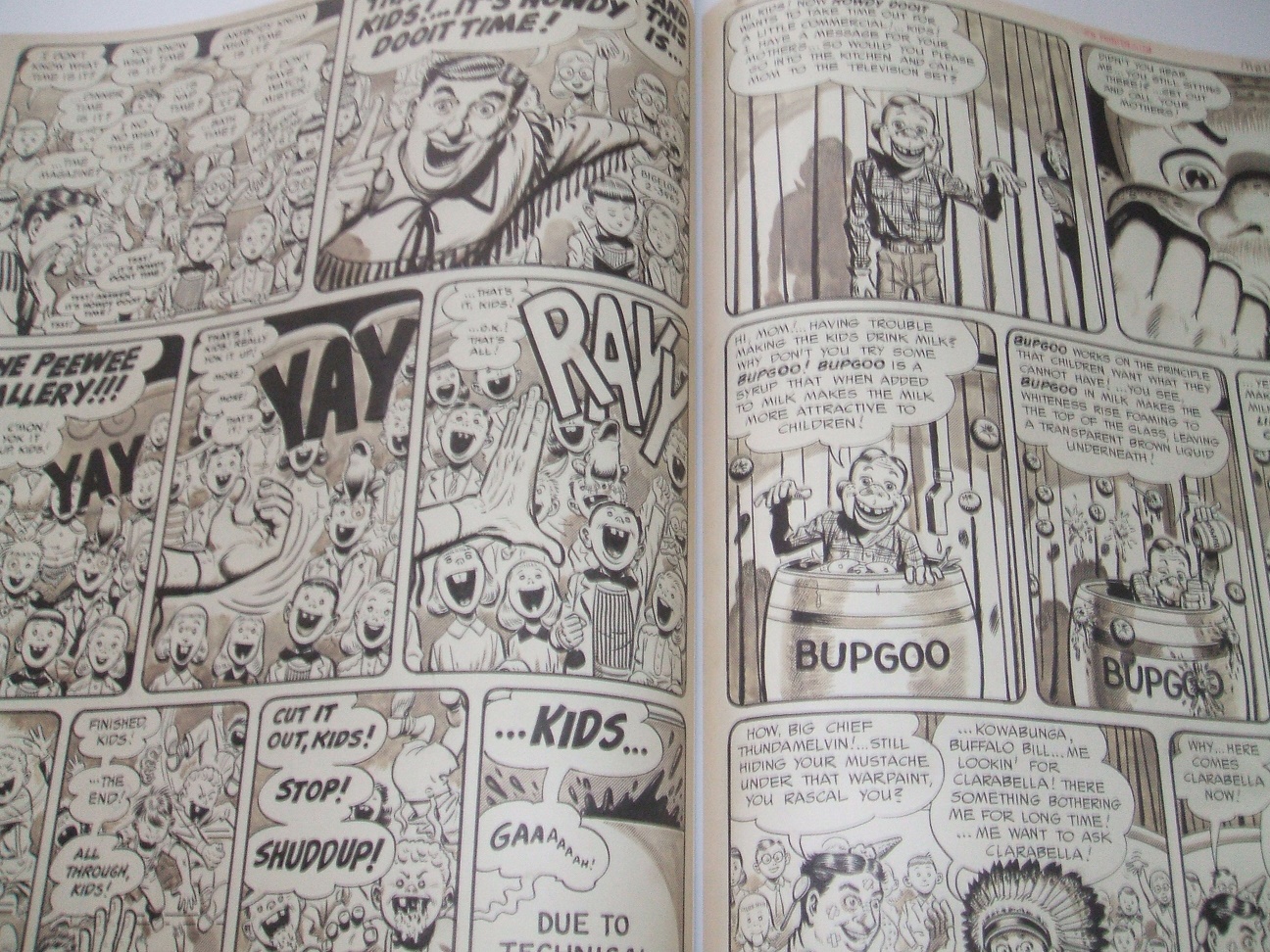 #19 Mickey Rodent!
Puzzle Pages!
#20 Katchandhammer Kids!
#21 Poopeye!
Comic Book Ads!
#22 Special Art Issue
The Child!
The Boy!
The Young Artist!
The Commercial Artist!
The Old Pro!
Mole! (reprint)
Senility!
#24 Bofforin
Mmboy Cream Deodorant
Newspaper Comics
Classy Crimes #138: Who Put the Strichnine in Mrs. Murphy's Husband?
Is This Your Life?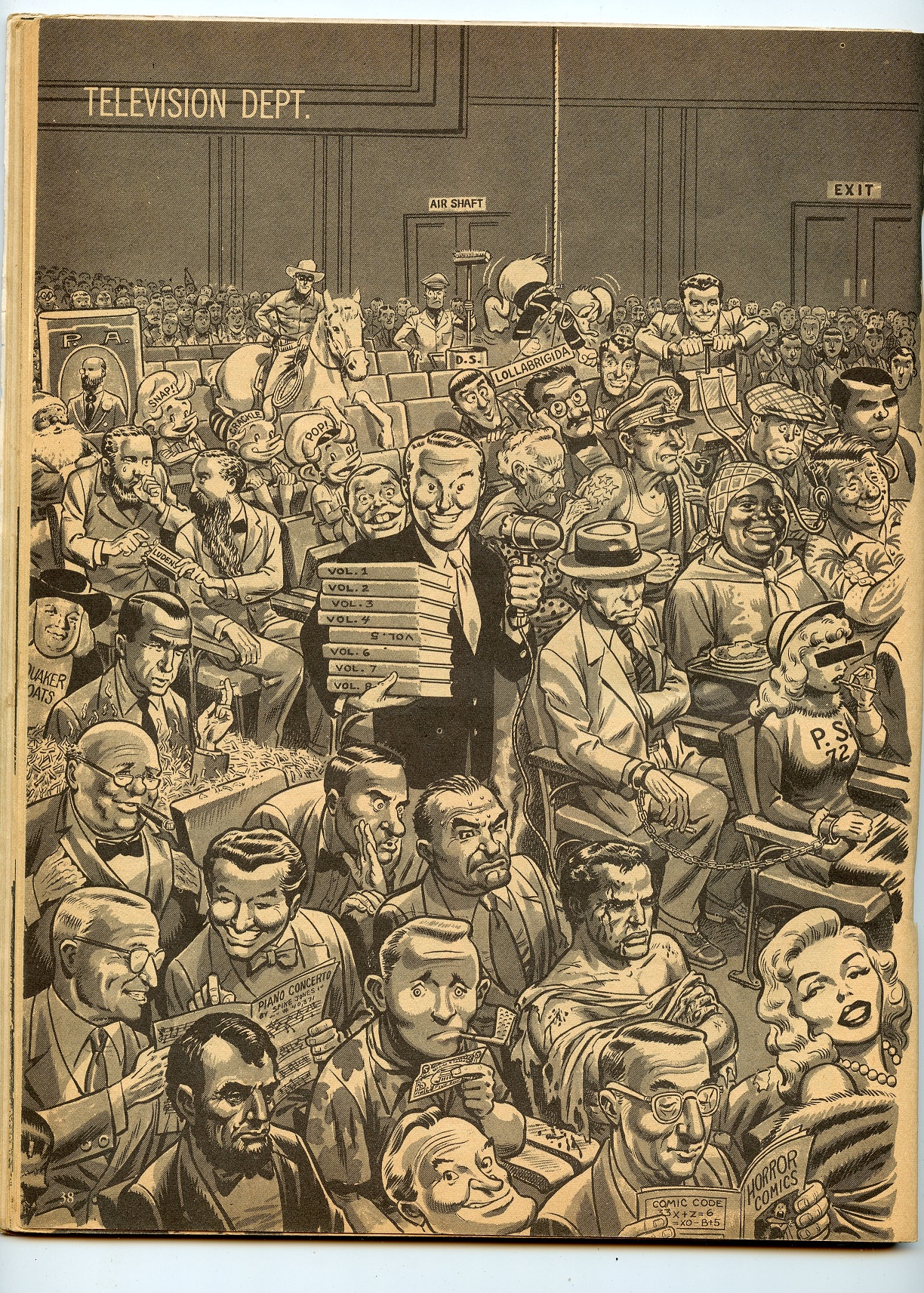 Tom Swiffft and His Electric Ping Pong Ball
Anasprin
Rubbaban
Bind-Aig Plastic Strips
Jell-y
#25 Ipuna Toothpaste
Radiodetectiveland
Leave Me or Me Leave
Confidential Information
Mad Awards for Television Commercials
Crazyroot Cream-Oil Hair Tonic
NDDDS
Kennt Cigarettes
Ol' Craw Whiskey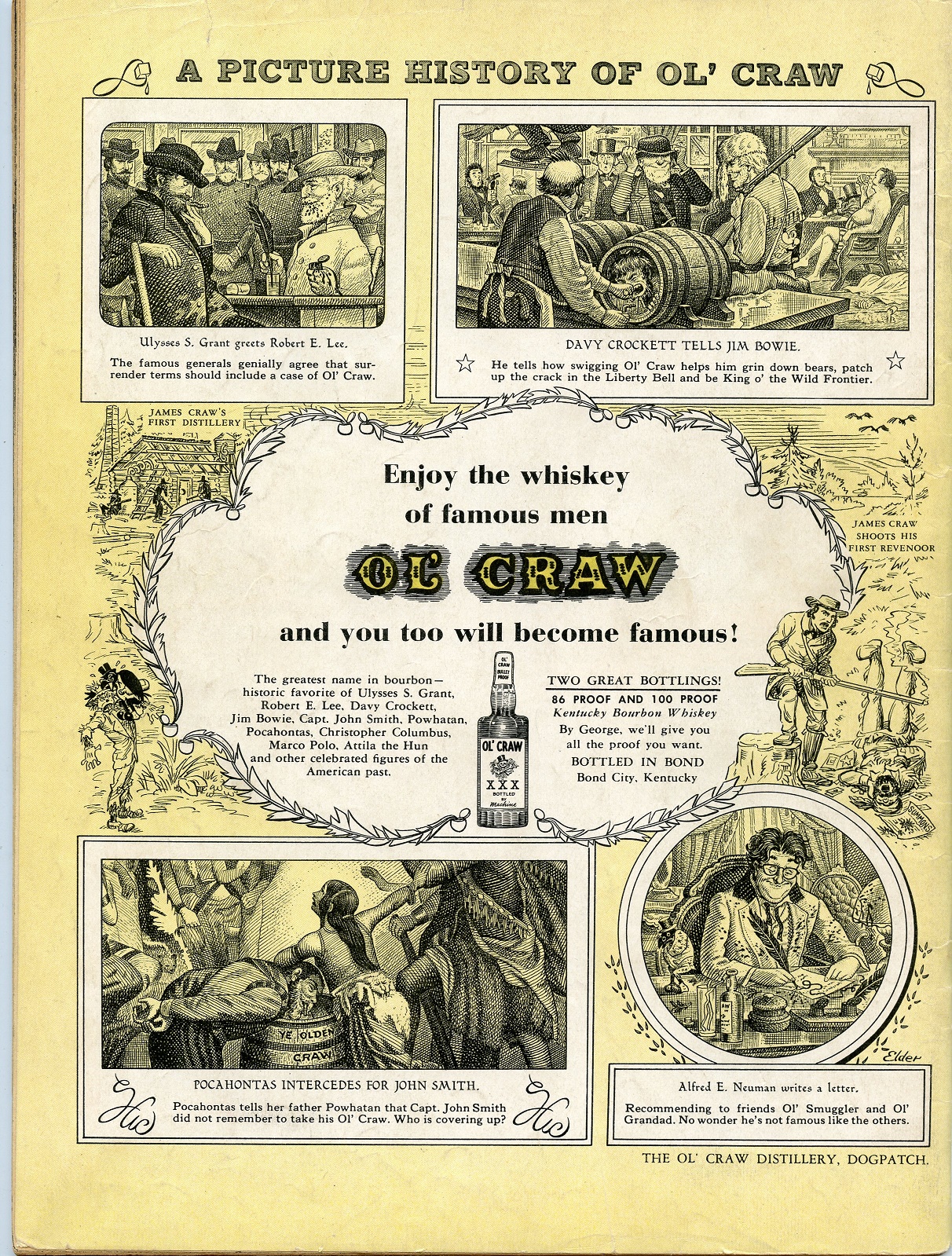 #26 Armstronger Tire
Ads Exploiting the Davy Crockett Trend
Confidentially
The Seven Itchy Years
Sanofranized
Canadian Clubbed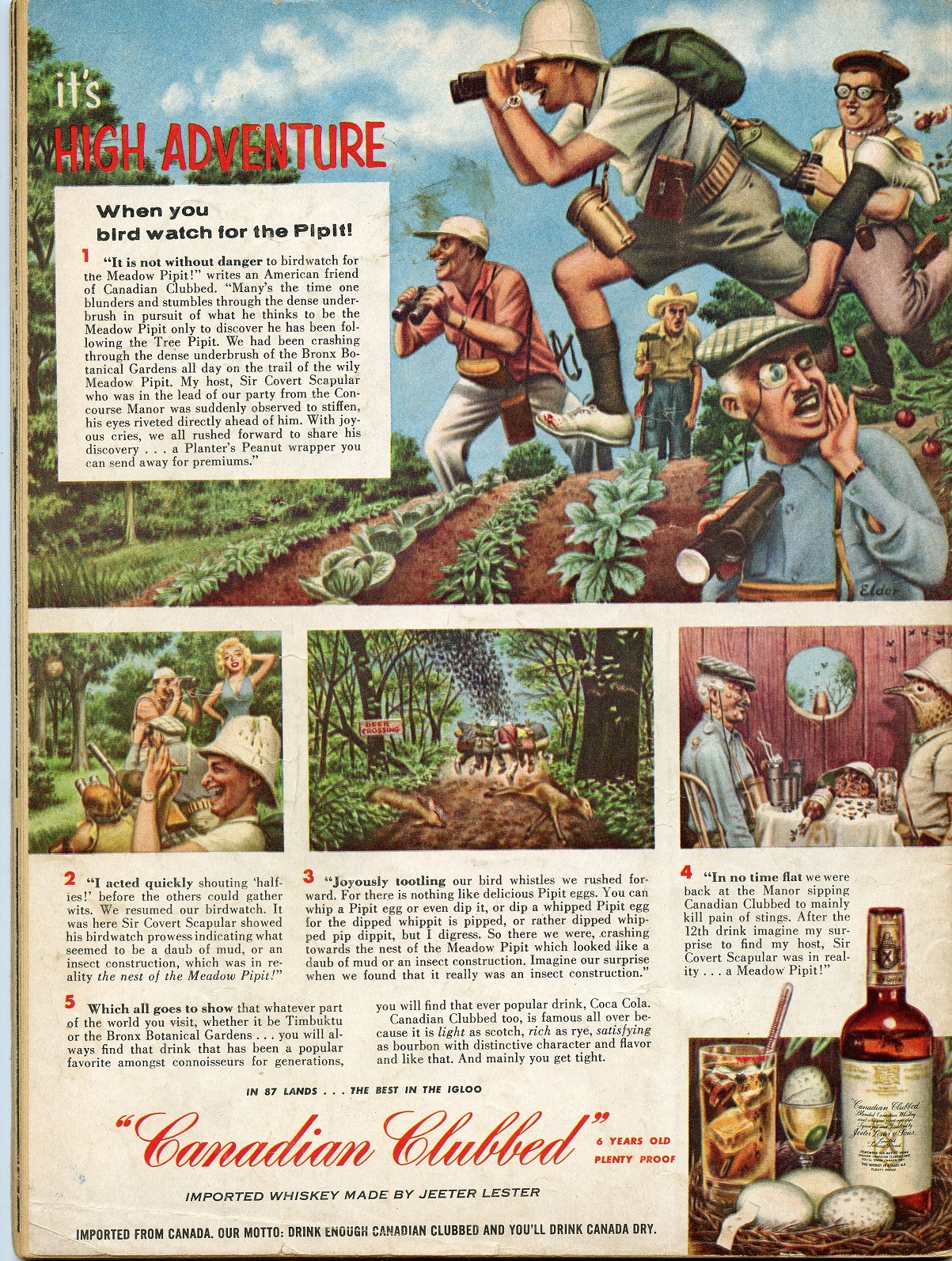 #27 Marlbrando Tattoo Needles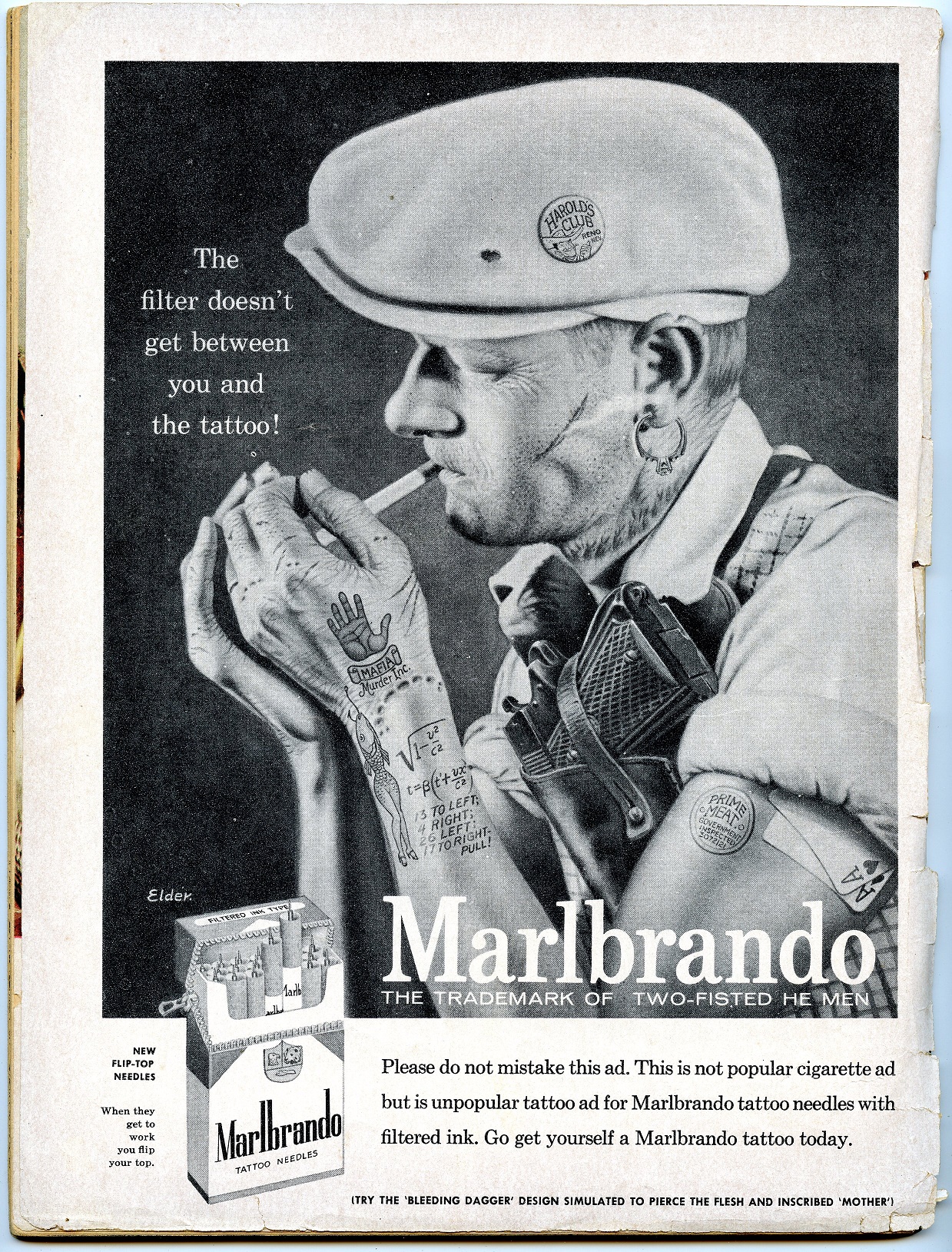 Cartoon Digest
Beautydreamy
The Ed Suvillan Show
Nightwatch
Beer Belongs - Enjoy It
#28 Billows Cotton-Pick Whiskey
Best Toothpaste and Frammistan
Children's Primer
Medical
Paper Doll Page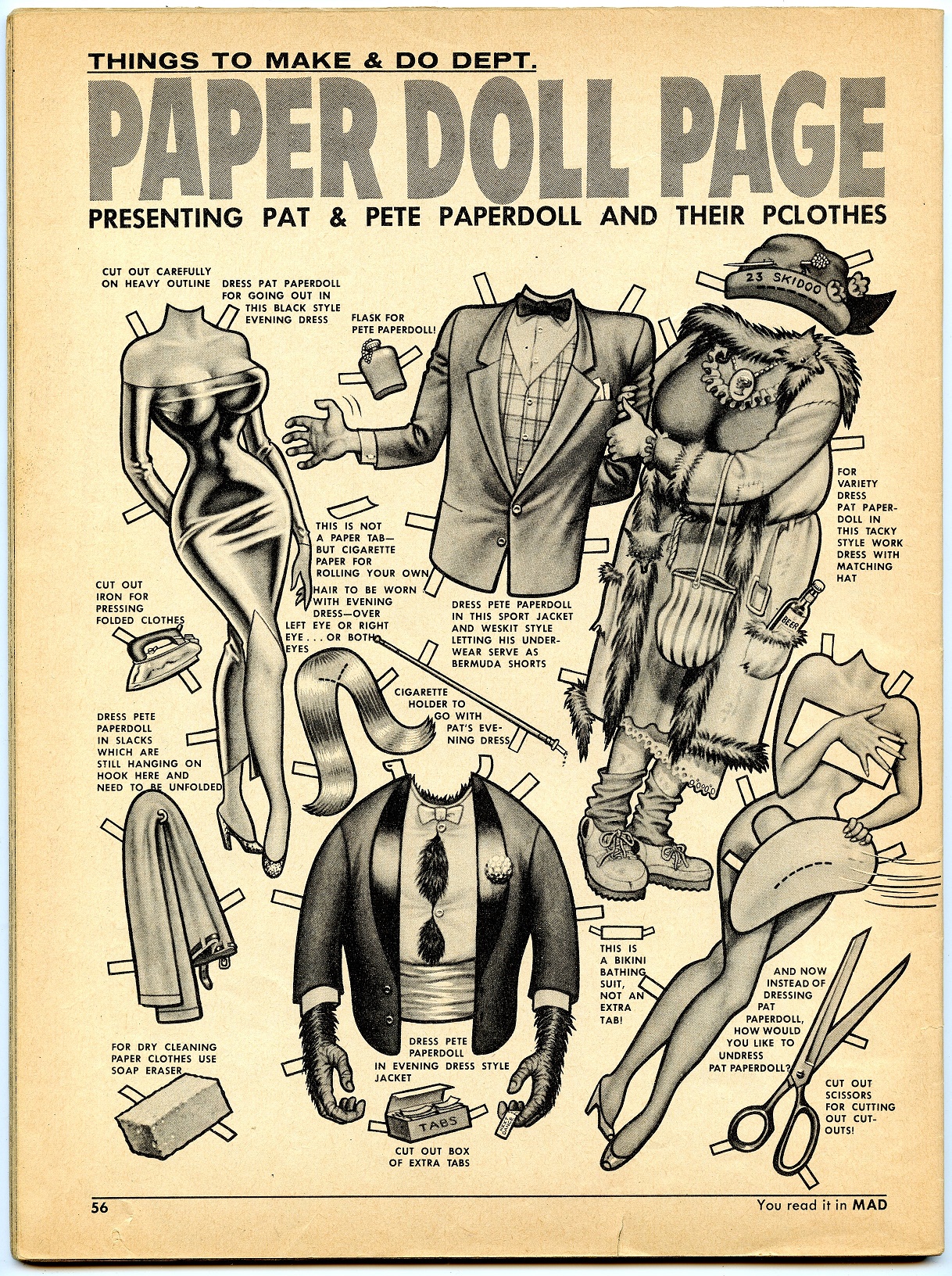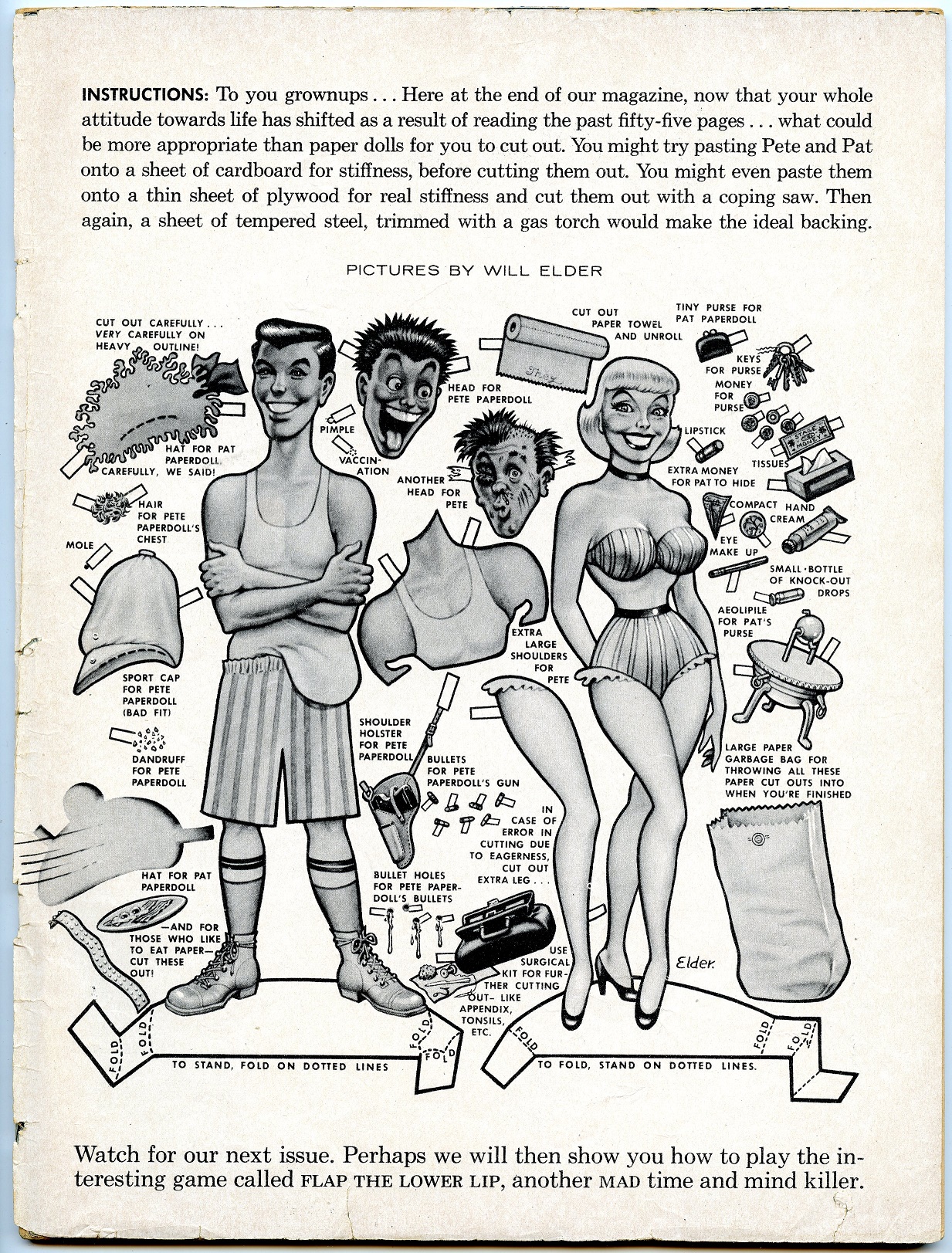 #29 Directions for Playing Gringo
Hot Weather Photos
Padst Red Ribbon
#30 Pulp Magazines
#31 Ink Blot Tests
Panic (1953-1955)
Although Kurtzman did not write the stories for Panic comics, his influence on Elder's art is obvious.
#1 The Night Before Christmas
#2 The Lady or the Tiger?
#3 Li'l Melvin
#4 Smiddy
#5 Tick Dracy
#6 The Phansom
#7 Mel Padooka
#8 Irving Oops
#9 Rx Migraine M.D.
#10 Captain Izzy and Washt Upps
#11 Mary Worthless!
#12 Charlie Chinless
Trump (1957)
The late Harvey Kurtzman (he was always late) was a fantastic, wonderful, brilliant writer of satire and parody humor. He grew out of the adventure comic business, pitched the satire comic (Mad) to William M. Gaines, and then took off on his own with or without the financial backing of others.
In the golden age of comics, the writer of comic stories was also the editor. He wrote an amazing number of pulp stories in a short period of time, communicated with the artists, and gathered the staff to complete the publications. It was generally accepted that the artists were the stars. The writers were distant seconds.
When Kurtzman departed from Mad, he took most of the Mad artists with him (Will Elder, Jack Davis and for one issue, Wallace Wood). He added the talents of Al Jaffee, Arnold Roth and others. Few would argue that the Trump staff was not superior to the Mad staff in 1956. With Hugh Hefner's money, Kurtzman published Trump #1 shortly before Mad #31 hit the newsstands. Mad's new editor, Al Feldstein had enlisted newcomer Don Martin and veteran artists Norman Mingo, Frank Kelly Freas and Bob Clarke. For its two issues, Trump was the better humor magazine (at twice the price).
The first few pages of Trump #1 were ordinary, but Kurtzman and Elder saved one of their best parody efforts for pages 8-11. The classic, full-color "Li'l Ab'r" was even better than the seven-page "Li'l Melvin" that appeared in Panic #3. In addition to "Shmee," "The Shmageggle," the "Foon" and lots of Daisy Mae jokes, the article includes the most amazing parody series I have ever seen. We are treated to "Jet Fizznick" which is a parody of "Hopalong Feaznick"which is a parody of "Foozless Foznick" the parody of Al Capp's "Fearless Fosdick" which is a parody of Dick Tracy within Capp's comic strip, Li'l Abner - no less than four levels of parody.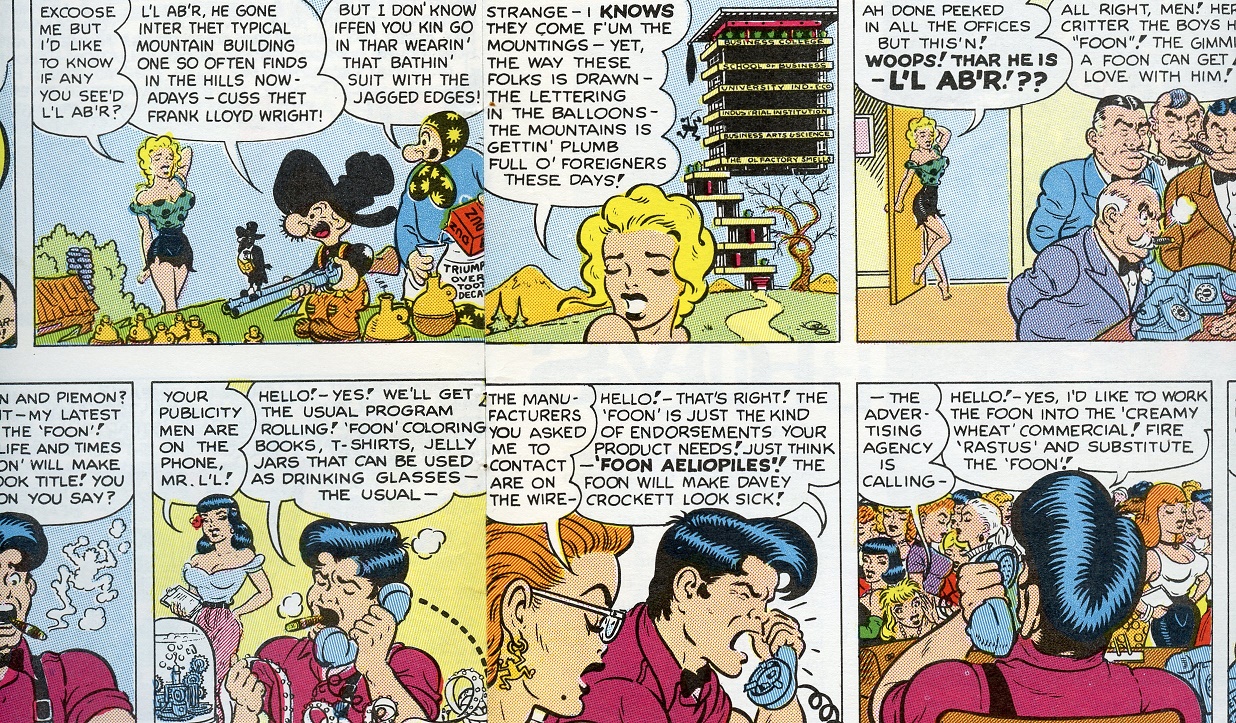 The centerfold of Trump #1 includes the equally amazing three-page "Epic" by Elder depicting a recreation of 1956 human culture based on artifacts such as hubcaps and fire hydrants. Alfred E. Neuman makes a brief appearance as a fish hunter. Several other Mad running jokes can be found in the issue including the aeolipile, veeblefetzer, chicken fat, Marilyn Monroe and the use of the word: "mainly."
Jack Davis was in great form with a six-page Rin Tin Tin parody, and Wallace Wood found time for a wonderful three-page Disney parody. The back cover by Elder is the classic "Breck" shampoo parody. Feldstein borrowed this idea a few years later for the back cover of Mad #90 (Frank Frazetta) with Ringo Starr replacing Hairless Joe.
Kurtzman delivered another excellent humor publication in March 1957 with the help of classic humorists Mel Brooks, Max Shulman and Doodles Weaver. But the humor quality did not matter. Trump #2 was dead on arrival since Hefner had pulled the plug based on the anemic sales of the first issue. It was his and our loss.
The main feature of the issue is the excellent, ten-page parody of Sports Illustrated wherein Kurtzman called upon the talents of Elder, Davis, Jaffee and his good friend Bernard Shir-Cliff. The movie parody ("Giants"), the comic strip parody ("Eti Quette") and Elder's ad parody ("Liptone Tea") are also terrific.
Etta Kett was a comic strip by Paul Robinson that appeared in newspapers for almost 30 years (1924-1954). Kurtzman and Elder had the ability to uncover the absurdities of Etta's ideal world. [JAM archive]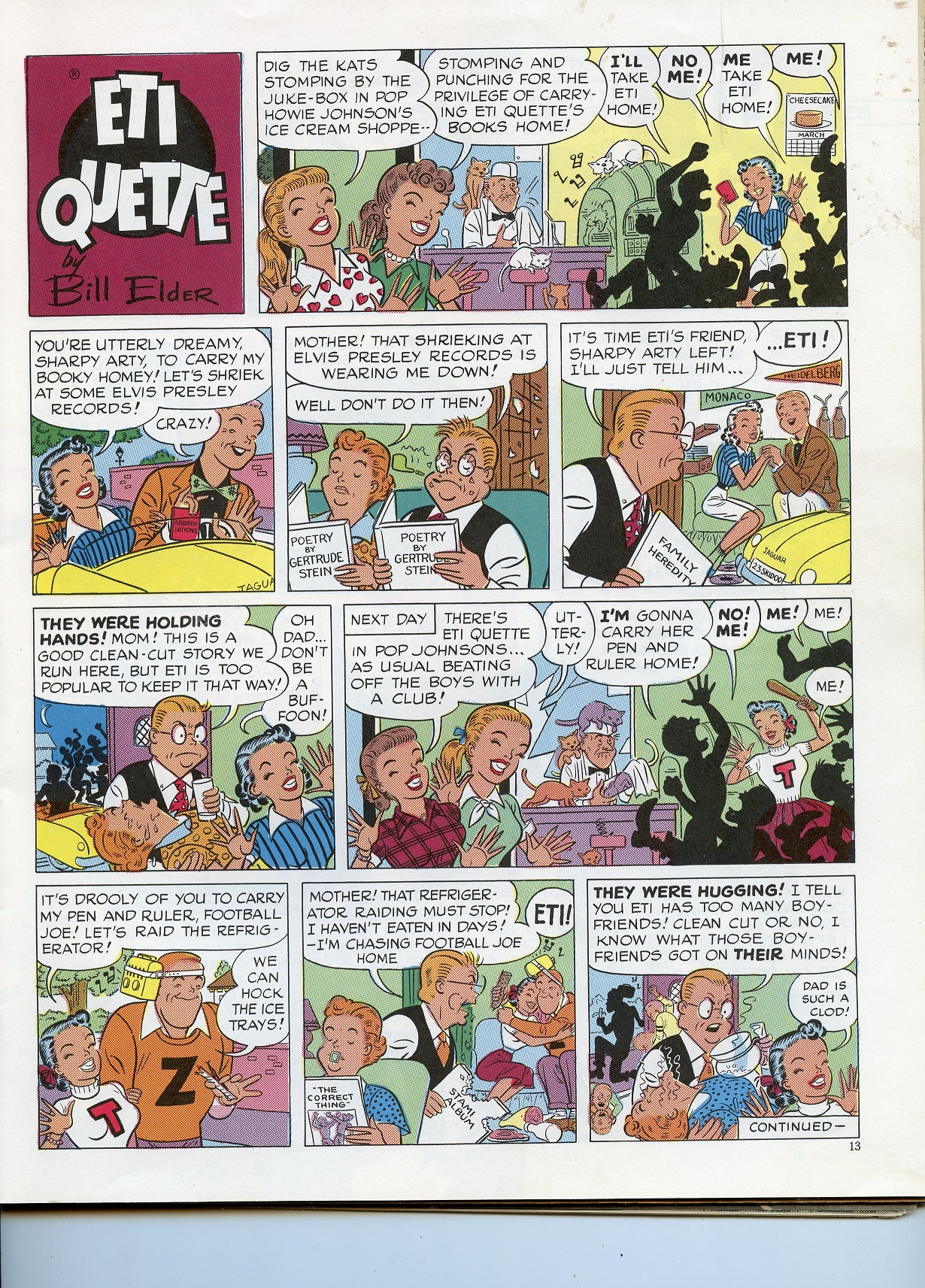 #1 The Fastest Gun There Is
L'l Ab'r
Our Own Epic of Man
Liquor Decanters
Beck
#2 Science Fiction
Eti Quette
Sporty Illustrations
Liptone Tea
Playboy (1957)
This article by Rolf Malcolm ("The Little World of Harvey Kurtzman") appeared in the December 1957 issue of Playboy. It was a tribute to the work of Kurtzman, or an advertisement for Humbug, or an apology for pulling the rug on Trump, or most likely, all of the above. Page 51 includes the excellent painting by Will Elder ("A Visit to Grandma's" - Norman Rockwell parody) that was supposed to be the cover of Trump #3 that never happened. The article contains seven pages of Kurtzman/Elder humor and two major lies. [JAM 9/20/2017]
1. "... EC's distributor went bankrupt and, in the ensuing financial upheaval, the Kurtzman Consort was soon out on its own, looking for another publisher." [Kurtzman quit after a control dispute with Mad Publisher Bill Gaines but he already had an offer from Playboy Publisher Hugh Hefner.]
2. "The publisher of Playboy soon discovered, however ... that the fans of satire, though fervent, are few: there are not enough of them to support a lush, costly publication [Trump] devoted to satire." [The two issues of Trump sold very well - 65% of 200,000 printed copies each. Hefner dumped Trump because Palyboy was in financial trouble.]
Other quotes from the article:
Roger Price: "Harvey looks like a beagle who is too polite to mention that someone is standing on his tail."
Stan Freberg (re Mad humor): "... brilliant lampoonery ... an example of pure and honest satire ..."
Editor of Allumination: "Mad is perhaps the first truly adult comic magazine."
Editor of Pageant: "... a very unusual comic book - Mad - has emerged as the leader of the latest trend. Mad is satirical and it's funny. And in a field normally dominated by horror and violence, this is such an unusual twist that Mad, in only 11 issues, has soared to a circulation of 750,000 ..."
Humbug (1957-1958)
The immediate, post-Mad efforts of Harvey Kurtzman (1957-1958) were interesting, if not successful alternatives to Mad. The 468 pages in thirteen issues of Trump (2) and Humbug (11) are excellent examples of the classic humor of the era. After Hugh Hefner closed his wallet, Kurtzman continued on a shoestring with basically the same staff. He took two giants from Mad (Will Elder and Jack Davis), added three future stars (Al Jaffee, Larry Siegel and Arnold Roth), got a little help from comic veterans (Wallace Wood and Russ Heath) and got some more help from some of his other friends (Roger Price, Stan Freberg, Mel Brooks, Doodles Weaver and Ira Wallach).
He wrote some terrific stories and made some terrible editorial decisions. I do not believe that Kurtzman was ever able to separate the two functions. He had some help in the Trump/Humbug days from Jaffee and Roth, both of whom delivered completed articles that required very little work from the editor. For their efforts, Harvey gave them the title: "Assistant Editor."
The quality of the humor in these thirteen issues was certainly better than many of the Mad issues of the same period, but few people knew about this (including me at the time). Whereas Trump and Humbug were absent from many newsstands, they also suffered from nearly non-existent cover art that buried them behind the great art of Mad's Norman Mingo and Frank Kelly Freas. Only three issues of Humbug (#4, #6 and #7) had covers to attract new readers.
Thirteen months after his last issue of Mad and five months after the last issue of Trump, Harvey Kurtzman presented Humbug #1 which could have been Mad #31 in a parallel universe. Will Elder and Jack Davis played major roles with excellent drawings of Kurtzman's movie, television and advertising parodies. Wallace Wood penned one page plus a terrific self-portrait, his last work for Kurtzman. As publisher, Kurtzman still had trouble with cover art ideas but the contents were excellent. "Doll-Baby" and "Twenty-Win" could have appeared in any issue of Mad. Will Elder gave us at least 75 caricatures in the great parody of Around the World in 80 Days. The small Humbug format did not do justice to the excellent Elder drawings. Can you imagine the volume of humor art that Elder would have produced if he had stayed with Mad? We lost at least 40 years of his inspired lunacy.
By issue number three, Kurtzman was in the groove with another comic magazine. Humbug #3 presented a movie parody ("O.K. Corrall"), a television parody ("You Are There Then"), three ad parodies, several illustrated short features, text fillers by Siegel and Wallach, and a letters page. The major feature of the issue was the five-page article on highways by Al Jaffee. Unlike the 23 Mad comics, Kurtzman had considerable writing help from talented humorists like Jaffee and Siegel. The format was set but how long would it be before Kurtzman would want to change it?
Humbug #4 presented two magazine parodies: the cover (Time parody) and "Consumer Retorts" written by Mad-superwriter, Larry Siegel. The cover was the best yet with Victoria on Jack Bailey's Queen for a Day. The movie parody ("The Cannon with the Passion") is a classic Kurtzman-Elder collaboration. As good as the post-Kurtzman Mad was to become, it never approached the craziness of Harvey and Will.
By the fifth issue, Kurtzman was showing signs of running out of ideas and almost missing deadlines. Humbug #5 included two recycled Mad parodies: "Bofforin" (Mad #24) and "Confidentially" (Mad #26).
Humbug #6 was the best Christmas issue by Kurtzman. He ended it with a six-page, updated Dickens tale that ends with Humbug staff caricatures by Arnold Roth. The cover by Davis was also great and Elder fans were treated to his amazing interpretation of a game show parody.
The launching of the Russian Sputnik satellite was such an event (October 4, 1957) not to be ignored by a humor magazine (or comic book). The Mad ("Sputnik Issue") was number 38 (March 1958) that was probably on the newsstands at the same time as Humbug #7. Kurtzman had the better cover. The Kurtzman-Elder "Frankenstien" is wonderful; Larry Siegel's "Hamlet" primer is a classic; and the Kurtzman-Davis western parodies are excellent.
The major part of Humbug #8 was the car magazine parody ("The Greese Pit") which utilized the artistic talents of Davis, Roth, Heath and Kurtzman, and the writing talent of Siegel. The magazine parody and the Kurtzman-Elder parody of Jailhouse Rock are the best of the issue.
Humbug #9 was the last of 44 classic satire comic books (Mad #1-23, Panic #1-12 and Humbug #1-9) that were all published in the 1950s.
Humbug #10 was bigger but not better. It was still 32 pages and a cover but the cover was a big mistake. Once again Kurtzman underestimated the importance of an attractive cover. The first Humbug magazine featured a clever little photo joke that looked like a fashion magazine cover. For a newer magazine-sized periodical on the newsstand, this was not the image that would win the quarters of teenage boys.
Missing from issue number ten were the classic movie and color comic strip parodies. The major article was the seven-page parody of a gardening guide. There seemed to be a lot of filler in this one with only half of the pages showing the creative drawings of his talented staff. The highlight of the issue was the photograph of Stan Freberg on the subscription ad.
By popular demand, the second and last issue of Humbug magazine was expanded from 32 pages to a Mad-sized 48 pages. But was it really an expansion? The last issue included 16 pages reprinted from Trump (with permission from HMH), four pages copied from Gulliver's Travels and four pages of letters. The amount of new material in Humbug #11 was actually reduced from 34 pages (including cover but not letters and ads) to 29 pages. The cover was red.
In retrospect, some of Kurtzman's editorial decisions were disappointing. He crammed 21 excellent drawings by Elder ("Randan") into two pages. This should have been a four- or five-page article. He also took 38 drawings by Davis ("T.V. Titles") and reduced them to fit three pages. In 1958, Harvey Kurtzman needed someone to tell him that Will Elder and Jack Davis were the stars of the show. [JAM archive]
#1 The End of the World is Coming - cover
du Moirier
The Keeper of the Gelded Unicorn
Twenty-Win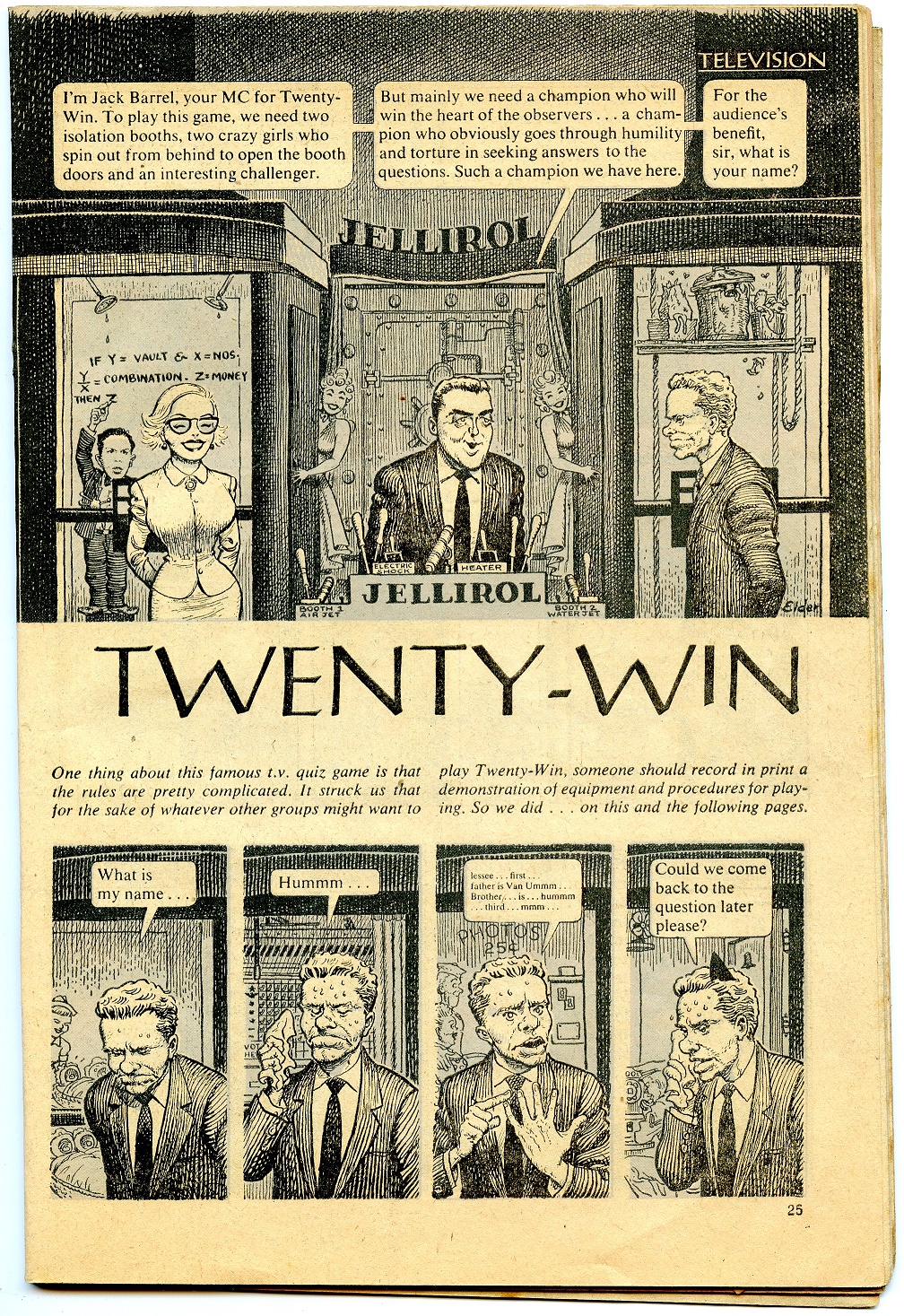 #2 Radiation - cover
Sportingman
The Fishtail
Around the Days in 80 Worlds
A Night at the Castle
#3 Humbug Medal - cover
Sheldon Morris
You Are There Then
bane
#4 Welcome to the Queen - cover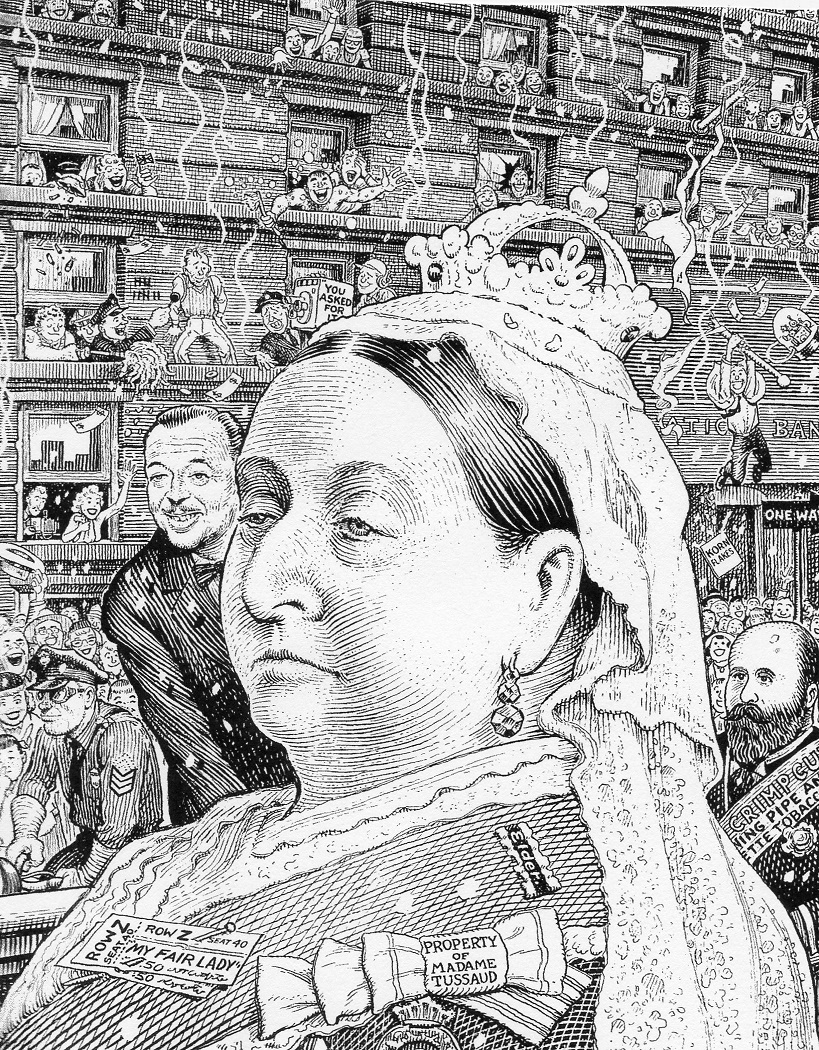 Channel
The Cannon with the Passion
Consumer Retorts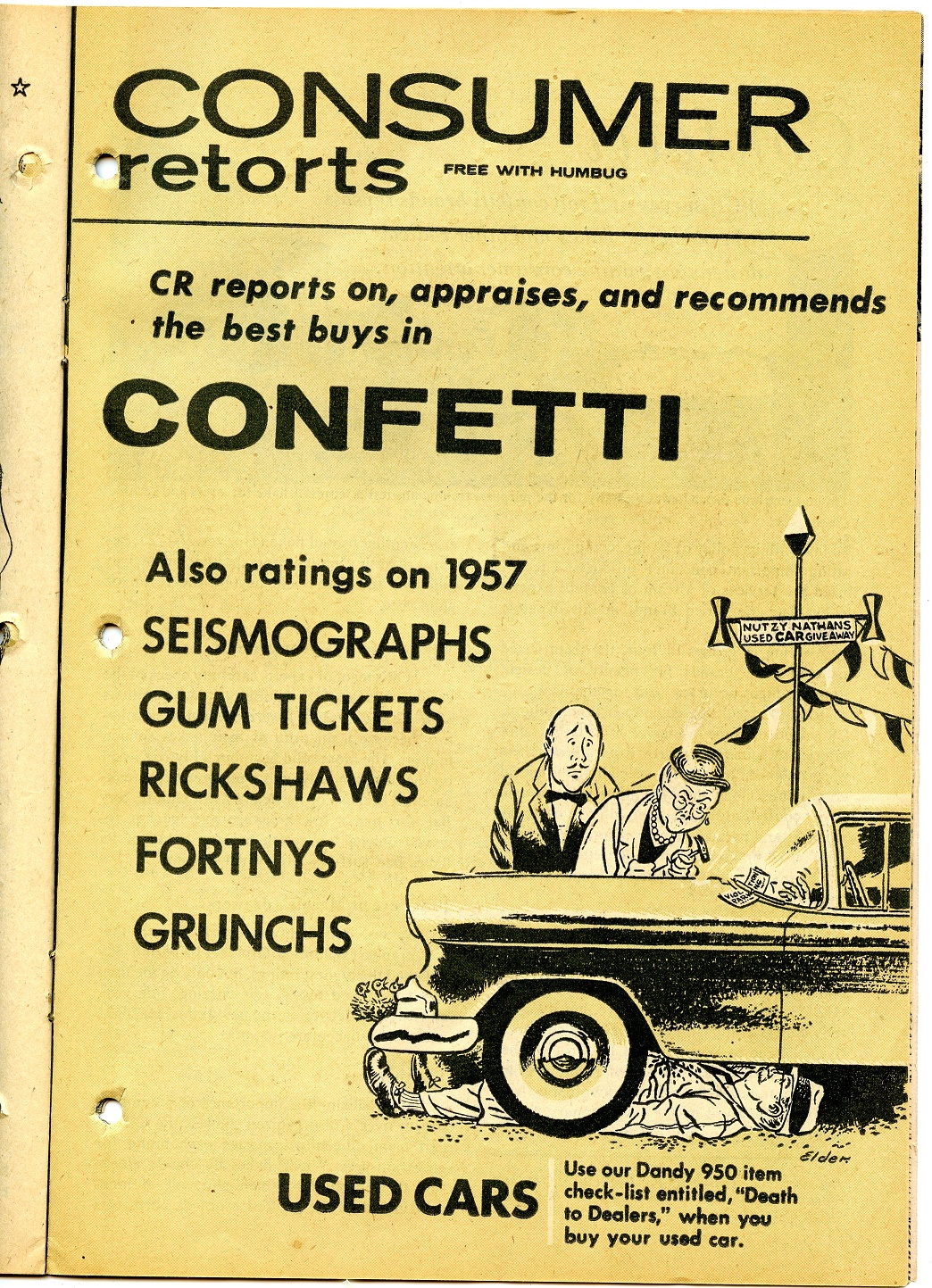 #5 Bofforin
The Day Murray Schneiderman Was Shot
Evolution in Publishing
Voting Machine
#6 Subscription Ad
Why Tell the Truth
The Humbug Award
#7 Galcream
Frankenstien and His Monster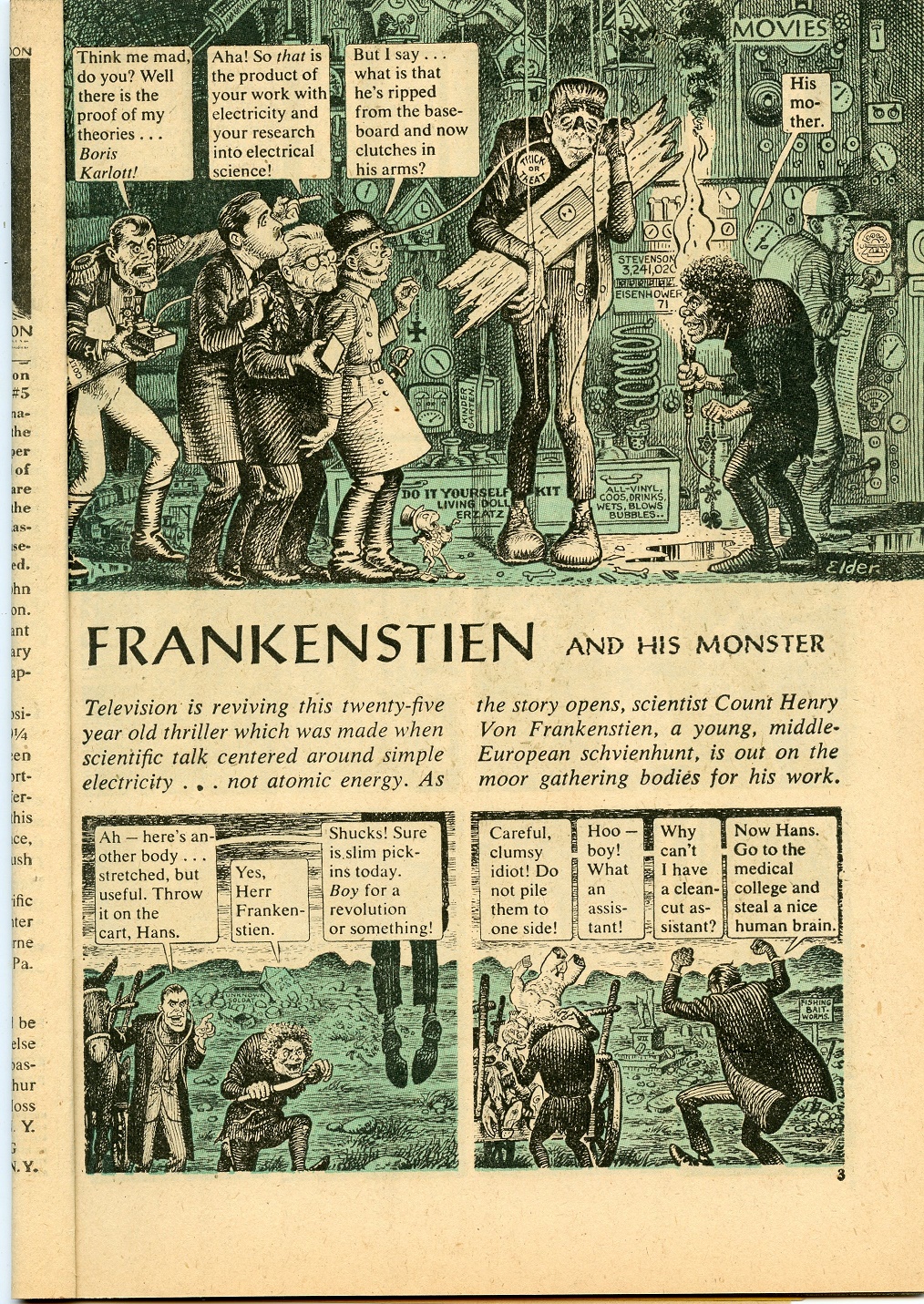 #8 Jailbreak Rock
For The Man Who Has Everything
#9 The Best Television Commercials 1958
Adhesive Bandages
#10 The Humbug Award
Streaked
Old Yaller
Humbug's Gardening Guide
Western Onion

#11 Randan
Muscle Magazines
Columnia Panel Club
Zasis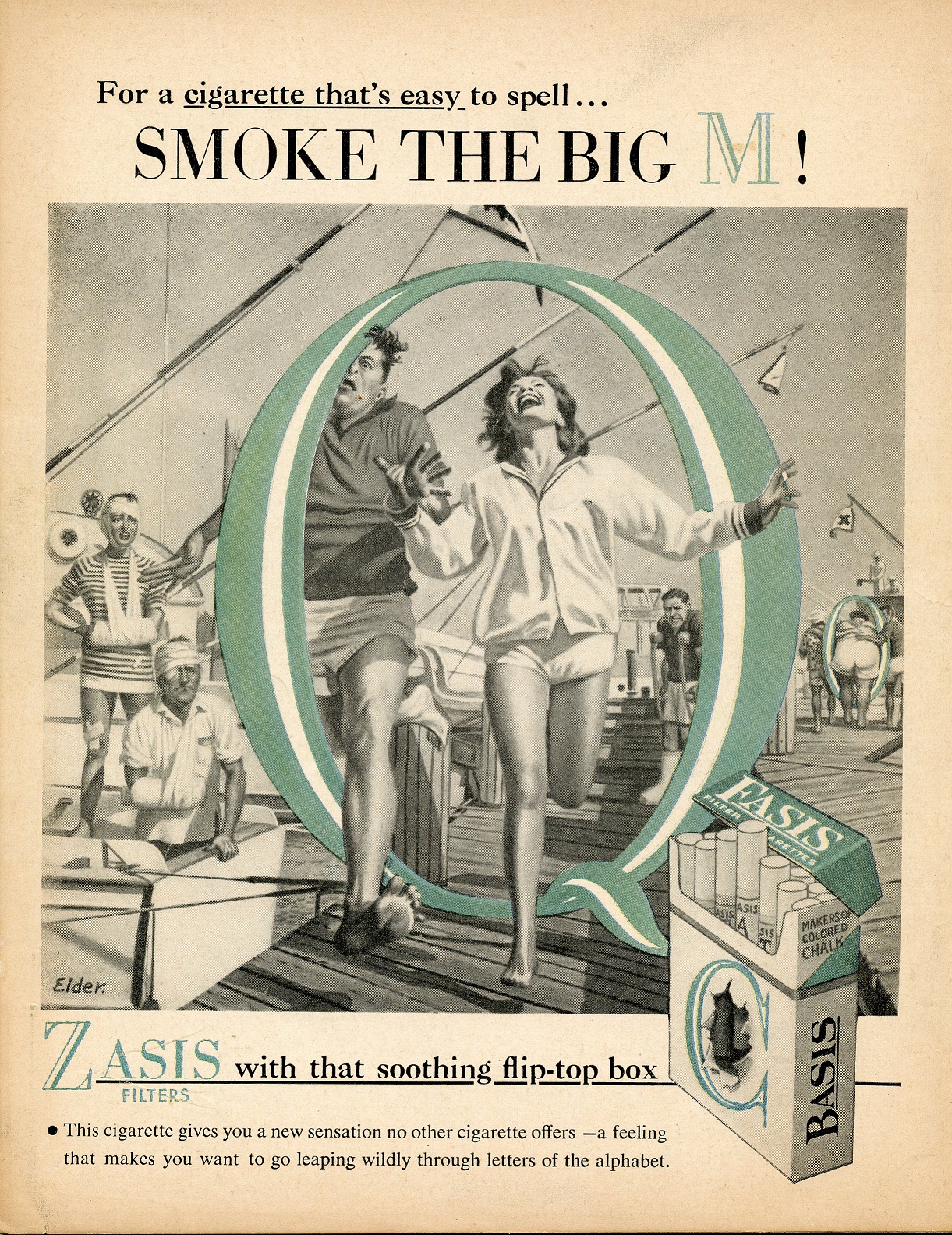 Pageant (1958)
"Conquest of the Moon" was the first Kurtzman/Elder job after the collapse of Humbug. This ten-page article in Pageant coincided with the fascination that the American public had with the U.S. Space Program after the Russians were first in space with Sputnik I in October 1957. Kurtzman and Elder had done some work for Pageant since 1954. After "Conquest," Elder did more drawings for Pageant while Kutzman went on to other things. Seven of Elder's articles have been reprinted in large format in The Mad Playboy of Art.
Jungle Book (1959)
Although Will Elder did not draw Kurtzman's stories in this book, the second story ("The Organization Man in the Grey Flannel Executive Suite") was the first of 110 adventures that Kurtzman wrote for "Goodman Beaver" and his sister, "Little Annie Fanny." Elder worked on the last 109 of them. In The Organization Man ..., Goodman is fresh out of college and going to work as a crossword puzzle editor for "Schlock Publications, Inc." Goodman comes in with positive ideas about the industry but soon learns the truth about the cut-throat corporate world. There is just a little of Kurtzman's experience with comic book publishers in this first story. For Harvey and Will, the goal was always to create a quality product in spite of the obvious profit-making goals of the powers-that-be. [JAM 9/3/2017]
Times Square (1960) - limited to 500 copies
Help! (1960-1965)
#1 - August 1960 Cover: Sid Caesar (1922-2014)
After the financial failures of Trump (two issues) and Humbug (eleven issues), Kurtzman decided to try a different format. To save money and to fill pages, he began to use the Italian fumetti ("little puffs of smoke") style by adding humorous captions to movie publicity photos that he could get for free. With 33 fumetti pages of the 64 pages, the first issue of Help! was the same length as his initial magazine version of Mad (#24 - July 1955). I am not a fan of the fumetti style and was not particularly amused by any of the 33.
In addition to the fumetti, the issue contained just six pages of original drawings and twelve pages of text by authors Robert Sheckley (1928-2005) and Rod Sterling (1924-1975). Scheckley's story ("Hunting Problem") was previously published in 1955 in the collection, Citizen in Space. Serling's story ("The Fever") was a curious selection for a self-proclaimed "humor magazine" since it was not at all funny but was the 17th episode (January 1960) of the first season of The Twilight Zone (1959-1964).
Unlike the first issues of Mad, Trump and Humbug, I found very little humor in the first issue of Help! The best of the issue would be the true story related by Sid Caesar on the editorial page. Jack Davis had one excellent full-page drawing ("Events You Don't Never Hear About") and Will Elder (1921-2008) filled two pages with a rather repetitive satire of television violence ("Television Tangle") mostly devoid of his usual "chick fat" humor. However, Kurtzman was back in the publishing business and nobody could predict what the next issue would bring.
Kurtzman's editorial assistant was 25-year-old Gloria Steinem. Her primary duty was to get free photographs of celebrities for the magazine covers. [JAM 4/15/2011]
#2 - September 1960 Cover: Ernie Kovacs (1919-1962)
The format of the second issue was nearly identical to the first. There was very little original material. The short stories were by Ambrose Bierce (1842-1914?) and William Tenn.(aka Philip Klass 1920-2010). Bierce first published his Civil War story ("An Occurrence at Owl Creek Bridge") in 1891. The depressing science fiction story ("The Liberation of Earth") by Tenn was published in a collection in 1953. Also reprinted was 13 pages from Kurtzman's Jungle Book ("Decadence Degenerated") which was a 1959 Pocket Book original. The only new material in the magazine were the four pages of "Beauty is Truth?" - an anti-female poem by Kurtzman with drawings by Will Elder; and one full-page drawing by Ed Fisher. In and around the drawings and text were 31 pages of fumetti. Without a doubt, Kurtzman was producing a magazine with the lowest overhead cost in the history of publishing.
The name of the journalist ("Etaoin Shrdlu") in the Jungle Book reprint was also a name used by Mad magazine beginning with issue #51 (December 1959). It is not clear whether Kurtzman or Mad editor Al Feldstein was first to use "etaoin shrdlu" as a joke name. [JAM 4/17/2011]
#3 - October 1960 Cover: Jerry Lewis
Humorist Roger Price (1918-1990) was featured in Kurtzman's first magazine (Mad #24) with "A Guide For Future Job Hunters." Price also had an article in the first issue of Trump ("Why Christmas Is Nice"), and is shown smoking a copy of Humbug magazine (and holding a copy of his Mad Libs) on the inside cover of the last issue of Humbug. In Help! #3, Price was the first celebrity to congratulate Kurtzman on his new venture in the magazine's first letters page.
Reprints in the issue were "Hands Off" by Robert Sheckley (1954), "Sredni Vashtar" by Saki (aka Hector Hugh Munro 1870-1916) that was first published in The Chronicles of Clover (1911), and "The Courtship of Miles Standish" by Donald Ogden Stewart (1894-1980) from 1921. Ed Fisher produced an eight-page fumetti "end of the world" story. Original illustrations in the issue were by Kurtzman ("They're Out There"), Elder ("Chess"), Davis ("Civil War Vignettes"), Paul Coker Jr. ("Atomic Preparedness"), and New Yorker cartoonist Bernard Wiseman ("The Last Night at Mingle Manor - Where the Messes Mingle"). The two-page drawing by Wiseman was best of the bunch. [JAM 4/18/2011]
#4 - November 1960 Cover: Mort Sahl
Each copy of the issue was sold with an actual, individual air sickness bag for those who become sick while reading the magazine. The feature eight-page, fumetti story (starring a very young Dick Van Dyke) was written by Bernard Shir-Cliff. Reprinted short short stories were by Talmage Powell (!920-2000), Charlotte Perkins Gilman (1860-1935), Anthony Brode (Punch magazine) and Algis Budrys (1931-2008). I had to look very hard to find the unsigned Will Elder drawing (page 46). I was not sure that Elder drew it until I saw that one of the camels was smoking a cigarette. Two pages of Jack Davis drawings were reprinted from Humbug. A classic drawing by Arnold Roth ("The Great, Wide Hunter") is on page 60.
Kurtzman used the same joke about the 1960 election that Mad magazine used for its double-cover issue (Mad #60 - January 1961). The magazine was designed so that the reader could remove one page after the election results were final to show that Help! was the first to predict the winner. Of all the photographs that are reprinted in a 50 year-old issue, it is interesting to note those individuals who are still alive today: Sahl, Van Dyke, Brigitte Bardot, Fidel Castro, Rhonda Fleming and Efrem Zimbalist Jr. There may be others by I do not recognize them. [JAM 4/20/2011]
#5 - December 1960 Cover: Dave Garroway (1913-1982)
Did we really need three pages of reprinted Little Nemo in Slumberland by Winsor McCay (1869-1934)? New material in the issue included a ten-page fumetti story ("Office Party") by Shir-Cliff starring Milt Kamen (1921-1977). Elder, Roth and Fisher provided good drawings. Nancy Kovack became the third "Kissie," after Help! #1 (unknown) and Jessica Walters (Help! #3). Kurtzman tried to work a Christmas theme throughout but it seemed to fall short. If I had been one of his readers in 1960, I would have been disappointed with the issue. [JAM 4/21/2011]
#6 - January 1961 Cover: Jonathan Winters (1925-2013)
Assistant Editor Gloria Steinem was the author of the fumetti story ("Beats-Ville USA") starring Roger Price. She also placed herself on the cover photo behind Winters. The cover photo was good. The best short story in the issue was "The Prize of Peril" by Robert Sheckley who predicted an extreme version of reality television long before reality shows became popular. The story was first published in 1958 and was the subject of a German movie mad-for-tv in 1970. I was very disappointed that there were no drawings by Will Elder in the issue. This was the first time since Mad #23 that Elder had not contributed to a Kurtzman publication. [JAM 4/26/2011]
#7 - February 1961 Cover: Tom Poston (1921-2007)
Gahan Wilson made his first appearance in Help! with the three-page "Shadow-Play" and Paul Coker drew Ethel Merman (1908-1984) on Broadway. Arnold Roth drew the half-page "The Optimist" but Elder and Davis were absent. What exactly was Kurtzman doing for issue number seven? Gloria Steinem wrote most of the preface and Ed Fisher wrote the fumetti ("Baby, It's Occult Outside") starring Tom Poston. Newcomer George Kirgo (1926-2004) wrote something that was "For the Birds." The only evidence of the Kurtzman wit were mediocre captions on 26 old photographs, if he wrote them. [JAM 4/28/2011]
#8 - March 1961 Cover: Hugh Downs
There were some positive changes in this issue. Will Elder returned with a five-page, 24-panel satire/parody ("Dogpatch Revisited") of the hillbillies of Al Capp (1909-1979) replete with Elder's signature cluttered panels and sight gags. The article, written by Ed Fisher, was careful to avoid drawings of the major characters in L'il Abner since publisher Warren did not have the budget for litigation. However, minor characters Lonesome Polecat and Hairless Joe did make an appearance on page 30.
Kurtzman borrowed two cartoonists, Shel Silverstein (1930-1999) and Phil Interlandi (1924-2002) from Playboy to fill five pages. Arnold Roth visited the grim reality of East vs. West Berlin. Orson Bean was the star of another dull fumetti story. And, 16-year-old Skip Williamson sold his first cartoon for "a munificent $5.00." Williamson became one of the pioneers of the underground comix movement with Bijou Funnies starring Snappy Sammy Smoot. [JAM 5/1/2011]
#9 - April 1961 Cover: Phil Ford (1919-2005) and Mimi Hines
The best article of the issue was "We Were Spies in a Ladies' Turkish Bath" by artist Susan Perl (1923-1983) and Gloria Steinem. Elder drew three rather strange full-page cartoons titled "Rottenville," "Secretsville" and "Fearsburg." The drawings are excellent but the humor is well hidden. Paul Coker drew the three-page "Double Agent K-9" by Jan Kindler that was equally obscure. It seems that Kurtzman was casting about to find a writer to feed his stable of artists. Other than himself, he rarely found a good one in the first year of Help!
Ed Fisher wrote the forgettable fumetti story that starred Ford & Hines. Much of the story was filmed in Steinem's apartment. [JAM 5/2/2011]
#10 - May 1961 Cover: Jackie Gleason (1916-1987)
Kurtzman's pattern continued. After nine consecutive monthly issues with 64 pages each, number ten was just 48 pages. Kurtzman started the Mad (#24) magazine with 64 pages then reduced it to 56 pages for issues 25 to 28. Both Trump issues had 56 pages. Humbug became a magazine with issue #10 with just 32 pages. The last issue of Humbug had 48 pages but most of the pages were reprints. Was it a deadline problem or a financial problem (or both)? There was also a signal of more changes to come: the issue number and year were removed from the cover. It appeared that future publications of Help! would not be restricted a monthly schedule.
I would not have minded if his publication had been reduced to ten pages if those pages were as good as "77 Pennsy Strip" drawn by the great Will Elder and probably written by Kurtzman. Elder filled his four pages with caricatures of political figures and movie stars as well the expected gags (look for Tarzan and Frankenstein's monster). Note that Fidel Castro has a package of Smith Brothers cough drops. In addition to Elder, original Mad artist John Severin returned for one page ("Troy"). The obligatory fumetti story starring Henny Youngman (1906-1998) was not worth the ink used to print it. [JAM 5/4/2011]
#11 - June 1961 Cover: Jane Mason ?
This may have been the least funny of all Kurtzman publications. The best pages were the Krazy Kat reprints from August 1937 and October 1938 by George Herriman (1880-1944). Jack Davis offered some excellent drawings of the Patterson-Johanssen fight but I could not find a scintilla of the humor that the cover promised. Jane Mason, the cover star appeared in an unfunny fumetti story with comedian Jack Carter. I tried to learn more about Ms. Mason. It appears that her acting career was short and that her main claim to fame was that of being the last girl friend of Ernest Hemingway (1899-1961).
The issue really suffered from the absence of Will Elder. Other than Davis and Paul C:oker's drawings of people holding newspapers, the only original drawings were in the $5.00 anything-goes section where future Mad magazine artist/writer Don (Duck) Edwing sold his first drawing.
Gloria Steinem was promoted to "contributing editor" but I did not see any evidence of a contribution. George Kirgo wrote two more pages of drivel. His writings seem to have no raison d'etre. This second 48-page issue showed that Kurtzman was struggling with the monthly format. [JAM 5/5/2011]
#12 - September 1961 Cover: Will Jordan
Issue twelve was two months late but it was worth the wait. The word "July" was blacked out in the top-left-hand corner and "Sept." was added to the top-right-hand corner. The good news was that the zany Kurtzman-Elder team of Mad comic fame was back with the first Help! adventure of Goodman Beaver ("Goodman Meets T*rz*n"). [A non-Elder Goodman Beaver story appeared in Kurtzman's Jungle Book (1959) - "The Organization Man in the Grey Flannel Executive Suite."] The page-one index promised a topless "J*ne" but the page 25 version of the same drawing was censored. The story opens with Goodman tied to a post by unfriendly natives. There are at least 14 Elder gags on the splash page including an unknown player throwing horseshoes at Goodman's post. The natives hear the call of the wild, "Hoo Hah!" which was the title of the first story in Mad #1. As T*rz*n arrives (smoking a cigar) to save Goodman, a small white girl with a bow in her hair is seen strolling through the jungle. T*rz*n calls his animal friends, which include Cheetah with a mop, a herd of pigs and the circus rejects, who subdue the natives allowing an escape. When they arrive at the tree-house, T*rz*n tells J*ne to "put top on" so she removes her bottom garment to cover the top. There are many birds and eggs in the tree-house. T*rz*n has an electric razor for his chest. An ape reaches through the window and grabs J*ne. Somehow, J*ne has found a piece of fur to cover her bare bottom. T*rz*n calls his animal friends againbut they decide not to help this time because a Russian couple has organized them into a union. Tarshanov has a medal pinned to his chest. The two jungle-men begin a contest of strength as a "bed pushing marathon" is seen in the background. T*rz*n, J*ne, Goodman and Cheetah decide to leave the jungle and get jobs in the U.S. The Nairobi Trio of the Ernie Kovacs Show and the native woman who has been chasing Goodman are also on the loading dock.
The naive personality of Goodman Beaver was eventually transferred to the persona of Little Annie Fanny when Kurtzman & Elder began to draw the classic strip for Playboy. Will Elder always said that the Goodman stories were his best work but I disagree. His drawings for Mad and Playboy would get my vote. When the Goodman Beaver series was reprinted in 1984, the panels were expanded to show the full glory of the Elder drawings. Most of them had the bottom third removed to fit the five pages allotted in Help!
I prefer the emphasis on comic drawing in issue #12 as opposed to the wordier early issues of Help! Gone were the old reprinted science fiction stories; and Kirgo's ramblings were confined to one page. John Severin contributed his second full-page drawing with a version of Pickett's Charge that included Abe Lincoln among the soldiers. Arnold Roth went to Russia and smuggled out a few revealing drawings. Al Jaffee made his first appearance in Help! although all four pages were reprinted from Humbug. And, unfortunately, the ever-present fumetti starring Jean Shepherd (1921-1999) filled space. [JAM 5/6/2011]
#13 - February 1962 Cover: unknown man and woman - "FOR ADULTS ONLY!"
What is this - a quarterly? With publication date five months after #12, the issue numbering was discontinued in favor of "Vol. 2 No. 1." Although the issue was late, the good news was that it contained seven pages of another excellent Goodman Beaver story ("Goodman Goes Playboy"). The bad news was that Kurtzman and the publisher were sued by the owner of Archie Comics over the parody of their characters. Kurtzman could certainly have won the suit but neither he nor publisher Warren could afford the legal fees to fight it. As part of the settlement, Kurtzman agreed to destroy back issues, to never reprint the story, and to give the original drawings to Archie Comics. Therefore, the terrific art by Elder was not included in the 1984 Goodman Beaver reprint except for a few drawings used for the introductory explanation. This was a tragic loss for classic humor fans who could only view this material by purchasing one of the rare original magazines that were distributed. I have two of these that are yellowing and chipping as the years pass.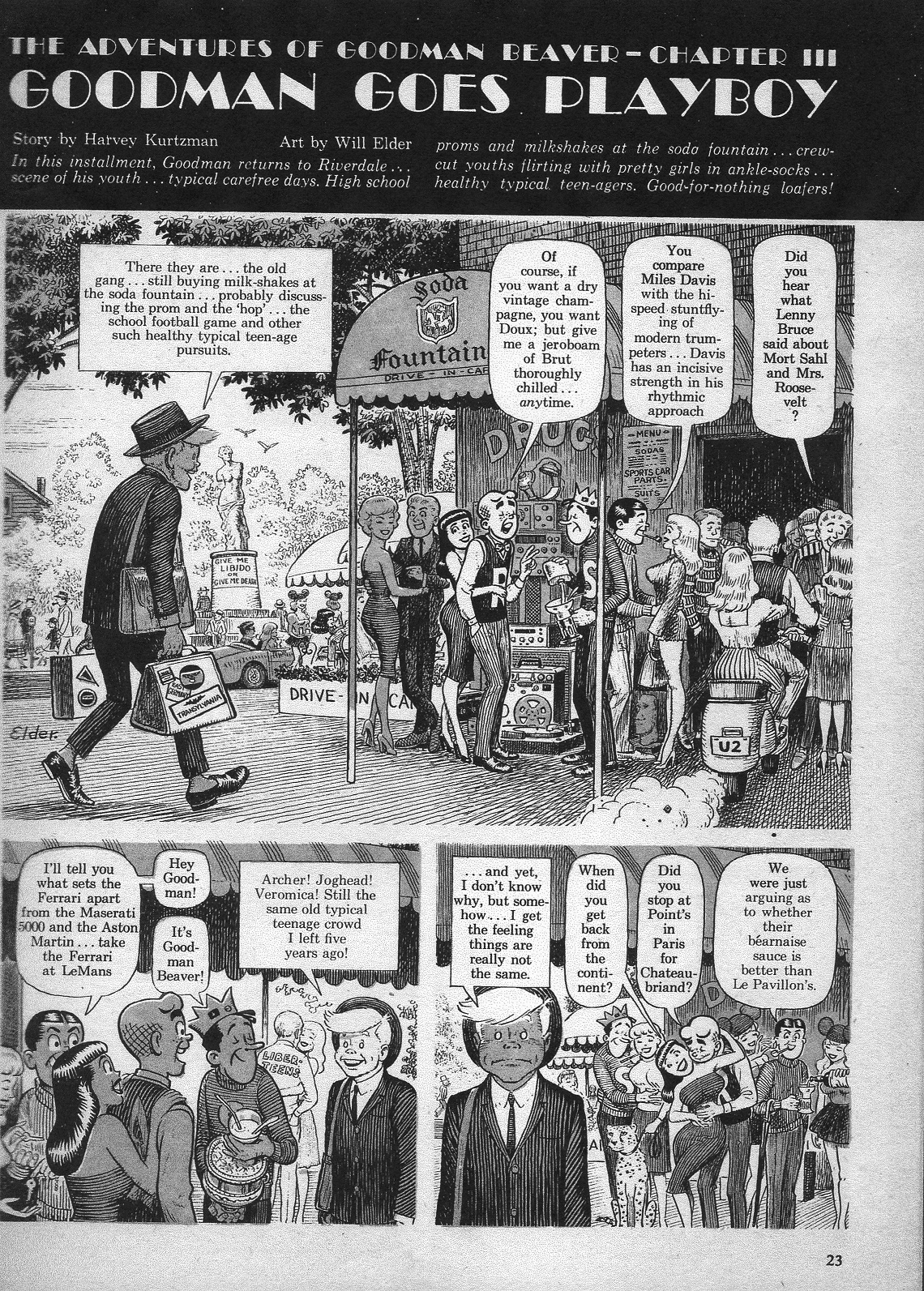 This issue also features the reprint of The Spirit drawing by the legendary Will Eisner (1917-2005). Eisner's stories were often a bit hokey and improbable but his black-and-white drawings were as good as any that the comic world has seen. [JAM 5/12/2011]
#14 - May 1962 - Cover: Jennifer Billingsley does the twist
Gloria Steinem has departed from this non-monthly publication that has now become "Goodman Beaver and some other stuff." In this adventure, Goodman has encountered Lloyd Bridges (1913-1998) in scuba gear. Who but Harvey Kurtzman would see the connection between Sea Hunt and Don Quixote? You really need a magnifying glass to see all of the Elder jokes in the background and underwater. My favorite is the cake mixer ride on the segregated beach. Some of the Elder jokes, like the underwater file cabinet (page 79 of the reprint) were cut to fit the magazine.
Underground comix (The Fabulous Furry Freak Brothers) superstar Gilbert Shelton published his first cartoon on page 41. [JAM 5/15/2011]
#15 - August 1962 - Cover: 23 Swimsuit Models
This is the issue that publisher Warren used to print an apology to Archie Comics for the parody ("Goodman Goes Playboy") that appeared in Help! #13. Kurtzman expressed his displeasure with that comment on the index page: "Harvey Kurtzman editor of all but apology; pg. 3." Goodman was back ("Goodman Meets S*perm*n") in one of the best and most unusual parodies of Superman that I have ever seen. In Kurtzman's parody, Supe has dropped out of the hero business because "everybody's rotten." L*is L*ne drives a transistor sports car, wears form-fitting clothing and dates a hedge-fund billionaire. Elder has filled every panel with his unsurpassed series of running jokes including the two-stage rocket that Supe uses to leap tall buildings. At the same time as Goodman was co-starring in his fourth Help! adventure, his sister (Little Annie Fanny) was making her smashing debut in Playboy.
Seven pages of the political drawings of Thomas Nast (1840-1902) were reprinted in this issue. [JAM 5/21/2011]
#16 - November 1962 - Cover: Jim Hampton ("Made in Japan")
This issue contains the final chapter of Goodman Beaver ("Goodman Gets a Gun") wherein Goodman accidentally impresses his circle of friends when they discover that he is wearing a gun. A major character in this episode is "Liz Taylbone" (parody of Elizabeth Taylor, 1932-2011). Taylbone had been married to "Nicky Hicky" and "Mikey Wildwood" and "Toddy Ayoe" and "Eddy Fishy" and "Richie Button" etc. Also appearing in the story was Don Knotts (1924-2006) in his "Barney Fife" role. Goodman tries to emulate Marlon Brando (1924-2004) but his friends are not impressed without the gun. Elder had fun with the beach scenes using sunglasses as bathing suit accessories, and frying eggs and boiling coffee on the back of a male sunbather.
There were two other notable articles with original art in this issue. Harvey Kurtzman provided a series of excellent drawings for his undercover review of a movie in-progress, Requiem for a Heavyweight (1962). And, Help! introduced Wonder Wart Hog, the soon-to-be star of underground comix by Gilbert Shelton. This version was tame compared to the X-rated Wart Hart stories of the future. This fourth issue of the second (now quarterly) volume of Help! was published with the position of "Assistant Editor" vacant. [JAM 5/22/2011]
#17 - February 1963 - Cover: Drama behind the door
Twenty-two-year-old Terry Gilliam, future member of Monty Python's Flying Circus, filled the position of assistant editor. His strange drawings ("Quick, Henry, the Flit!") filled page 12. Without Goodman, this was a very ordinary issue that relied heavily on the fumetti. The significant aspect of this issue was the reprint of 16 of the rare Lace comic strips drawn by Milton Caniff (1907-1988) in 1942 for our military boys fighting in WWII. The humor is weak but Caniff's artwork is excellent.
A letter of encouragement from underground comix genius, Robert Crumb was part of the editorial/letters section. [JAM 5/23/2011]
#18 - May 1963 - Cover: Fidel Castro lookalike is ready to play baseball.
There was one nice drawing by Jack Davis and a few by Arnold Roth but not much else. Without Elder, Help! is on the decline. I just think those fumetti stories are so lame and totally without the Kurtzman touch. Six pages were filled with reprints of some unfunny comics by Percy Crosby (1891-1964). [JAM 5/24/2011]
#19 - October 1963 - Cover: Cross-Eyed Woman
Oops! The magazine in not quite quarterly anymore. The fumetti, a parody of The Untouchables with young Woody Allen playing "Mr. Big" wearing a fake moustache, was the best to date. Vintage cartoons were missing but there were two pages of original Kurtzman drawings in his unique style. The drawings were on page 17, not page 8 as shown on the index. Strangely missing from the issue was the third episode of Wonder Wart Hog that was promised in the previous issue. Is it possible that Kurtzman heeded the advice of reader Pete Millar from the Letters page? There is an excellent drawing of Elizabeth Taylor and Eddie Fisher on page 37 but it is not signed. Who drew that one? This issue was better than #18 but it took five months to deliver. It appears that Kurtzman was preoccupied with the success of Little Annie Fanny. [JAM 5/25/2011]
#20 - February 1964 - Cover: Naked toddler reaches for the "Missile Button."
This one was just one month late and the Wart Hog has returned. The fumetti was a parody of West Side Story with beach bums replacing the street gangs. Some really old Mutt & Jeff cartoons were reprinted but the genius of Kurtzman was missing. The coverage of the "March on Washington for Jobs and Freedom" is an interesting slice of history but the racial jokes seem so inappropriate today. Other than the dancing surfers and the pie-throwing granny, the humor in this issue was lacking. [JAM 5/26/2011]
#21 - October 1964 - Cover: "Anniversary Issue" - 18 of the previous 20 covers (excluding #9 and #11)
It was five months late and it did not contain a single original story or drawing. This was just an excuse to reprint ten of the previous fumetti stories. The letters section was expanded to three pages making room for complaints about "The Golden Book of God." [JAM 5/28/2011]
#22 - January 1965 - Cover: Bald Beatles
Trimmed to 40 pages, the magazine is back with the promise of six issues per year. The future underground comix artists are the stars of Help! Robert Crumb provided eight pages with the first adventure of Fritz the Cat who does not yet have his name; and his artistic talent is displayed with his "Harlem" sketchbook. Gilbert Shelton's "Wonder Wart Hog" is back with another five-page, pie-throwing saga including caricatures of Dick Tracy, Stan Laurel, Oliver Hardy, Ben Turpin, Buster Keaton, Charlie Chaplin and the Keystone Kops. Skip Williamson added his Ajax ad parody. Kurtzman was really trying to keep this magazine going in some form but obviously, the demands of the Playboy gig had become the major obstacle. [JAM 5/28/2011]
#23 - March 1965 - Cover: Dancers
Wart Hog, worst fumetti story yet, Gahan Wilson, Milt Gross (1895-1953) reprint, etc. [JAM 5/28/2011]
#24 - May 1965 - Cover: Well-dressed man wading through water.
John Cleese before MPFC proved to be the best of all the Help! fumetti actors with his portrayal of a man who falls in love with a Barbie doll. Cleese and assistant editor Gilliam developed a comedic friendship that would continue for decades. R. Crumb was back with another two-page Fritz episode. The reprint cartoons were by T.S. Sullivant (1854-1926). [JAM 5/28/2011]
#1 Television Tangle
#2 Beauty Is Truth?
#3 Chess
#4 (Camel)
#5 Defectors
#8 Dogpatch Revisited
#9 Evil Towns That Never Were
#10 77 Penny Strip
#12 Goodman Meets T*rz*n
#13 Goodman Goes Playboy
#14 Goodman, Underwater
#15 Goodman Meets S*perm*n
#16 Goodman Gets a Gun
Executive's Comic Book (1962)
Four of the five Goodman Beaver stories from Help! were reprinted in this pocketbook edition published by MacFadden Books. The "Goodman Goes Playboy" was not reprinted here or in the 1984 volume because Kurtzman had lost the copyright in a legal dispute with the Archie people. [JAM 9/2/2017]
Little Annie Fanny (1962-1988)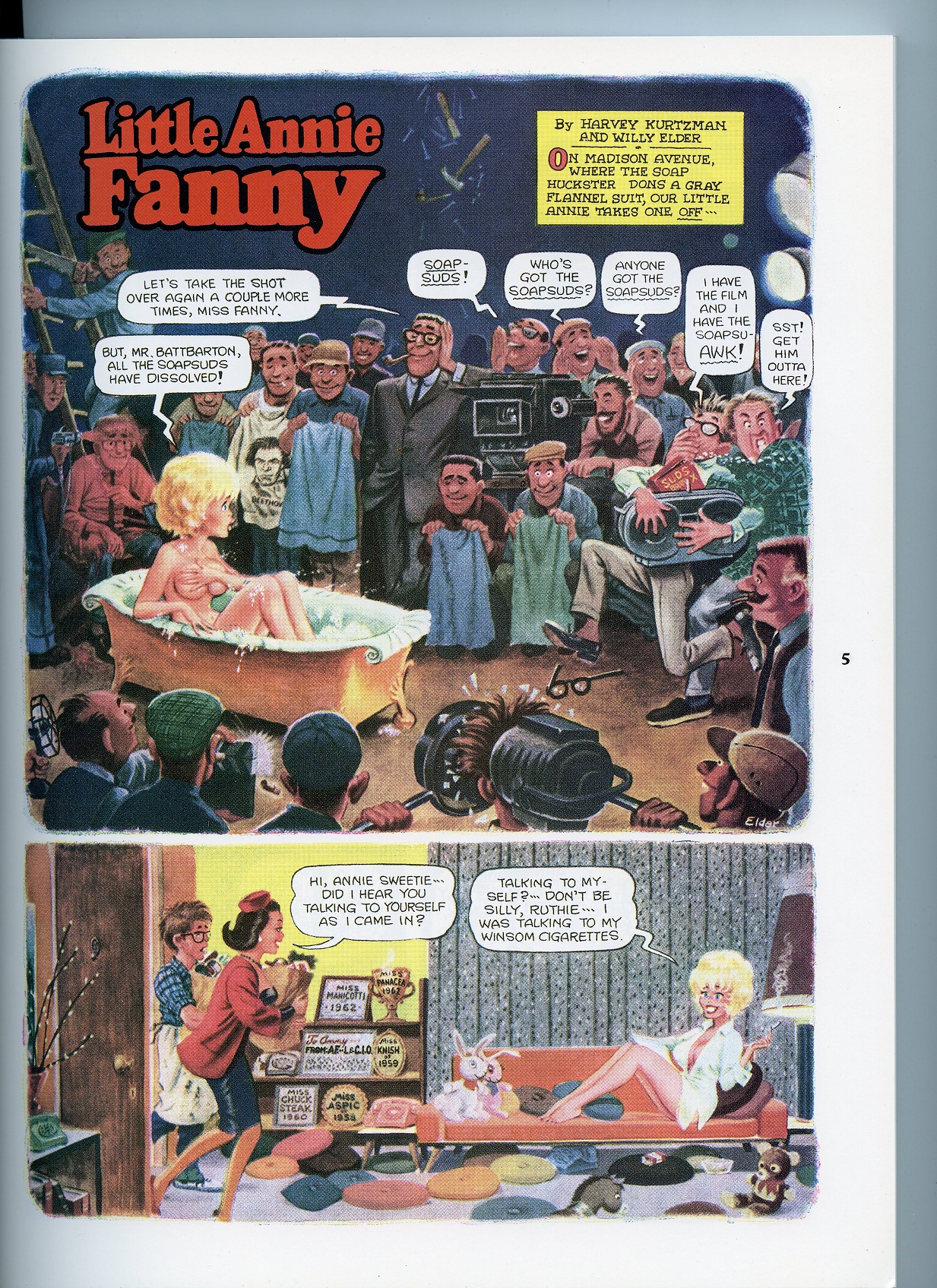 Although Harvey Kurtzman was not successful with the humor magazine (Trump) published by Hugh Hefner, he continued to send ideas to Hefner who was a big fan of the Kurtzman style of humor. In 1962, Kurtzman proposed a comic strip for Playboy with his Help! magazine character, Goodman Beaver (drawn by Will Elder) as protagonist. Hefner agreed as long as Goodman became a sexy woman and the stories featured an ample supply of Playboy-style sexy humor. Thus was born Little Annie Fanny - an amazing parody of Little Orphan Annie with a wonderful collection of pop culture parodies spanning 26 years and 107 issues of Playboy. The Hefner-Kurtzman association was a constant struggle for content (sex vs. humor) with the Playboy editors holding all the cards. However, the Playboy readers were the big winners receiving large doses of humor and improbable situations for the prurient interest with Annie, the ultimate playmate.

Kurtzman first introduced a sexy Annie in Mad comic #9 (1954) with his "Little Orphan Melvin" parody drawn by Wally Wood. In the final frame, Orphan Melvin changes out of her work clothes to reveal a buxom young woman. Little Orphan Melvin returned in the first Mad magazine (#24) drawn by Will Elder. However, Elder's parody was a modern young girl with normal eyes.

Sugardaddy Bigbucks (parody of Daddy Warbucks) appeared in January 1963 with other Little Orphan Annie comic strip characters who became a regular part of the series. Sandy made a token appearance as a photograph on Annie's mirror. Zany artist Will Elder managed to sneak many Annie reference into the backgrounds including leaping lizards and the real Orphan Annie and Sandy (from the back below the word: "Funky!") in a theatre audience in October 1969. Orphan Annie also appeared as a computer operator in December 1981.

The incomparable team of Harvey Kurtzman and Will Elder produced flawless parodies of pop culture targets including Doctors Kildare and Casey, La Dolce Vita, the Miss America contest, Ship of Fools, Flash Gordon, James Bond (and Sol Weinstein's Israel Bond), the Defenders, Dr. Strangelove, the Beatles (1965), KKK, the Olympics, Hair, Bobby Fischer, St. Tropez, tennis, body building, jogging, Star Wars, football, political conventions, Disneyland, Indiana Jones, Frank Frazetta's Conan (1985), wrestling, religion and much more. They also produced an excellent parody of the Beatles (1968) that was rejected by the editors. A portion of it exists in the Dark Horse publication of Playboy's Little Annie Fanny Volume 1. Along the way, the Kurtzman-Elder team found room for parody drawings of Peter Lorre, Liberace, American Gothic, Marx Brothers, Kennedys, Richard Nixon, Henry Kissinger, Goldwater, Rockefeller, Mort Sahl, Lenny Bruce, Elvis, Mona Lisa, Whistler's Mother, Liz Taylor, Robert Stack, Mr. Magoo, Hefner, Casey Stengel, Katzenjammer Kids, Lenin, Marlon Brando, King Kong, Captain Hook, Robinson Cruesoe, Martin Luther King, Popeye, George Wallace, Malcolm X, Joe McCarthy, Abraham Lincoln, George C. Scott, Creature from the Black Lagoon, Charles Atlas, Keystone Cops, Muhammed Ali, Raymond Burr, Hitler, Don Knotts, Melvin Belli, Harold Teen, Eisenhower, Frankenstein's monster, Superman, John Wayne, Bing Crosby, Lassie, Addams Family, Al Capp's Dogpatch, Batman, Captain Kangaroo, Mandrake, Mark Trail, Bob Dylan, Sonny and Cher, Castro, Mr. Clean, Olive Oyl, Krazy Kat, Snow White, J. Edgar Hoover, Dick Van Dyke, Frank Sinatra, Julia Child, Ralph Nader, Tim Leary, Dean Martin, Lee Marvin, Adam Clayton Powell, Charles DeGaulle, Mad Hatter, Gregory Peck, George Jessel, Warren Beaty, U Thant, Ho Chi Minh, Yoko Ono, Harold Stassen, Tweedledum and Tweedledee, Phantom of the Opera, Dick Tracy, Jiggs & Maggie, Blondie & Dagwood, Freak Brothers, R. Crumb, Golda Meir, Zorro, W.C. Fields, Spiro Agnew, the Shadow, Bob & Carol & Ted & Alice, Shirley Temple, Jimmy Hoffa, Snoopy, Mark Spitz, Dracula, Three Stooges, Tarzan, Farrah Fawcett, Bride of Frankenstein, Big Bird, Ayatollah, Mr. Bill, Lone Ranger & Tonto, Billy Carter, John Travolta, Liza Minelli, Arte Johnson, Telly Savales, Coneheads, Chuck Barris, Betty & Veronica, Mr. Spock, Sylvester Stallone, Arnold Schwarzenegger, Robert Redford, Mutt & Jeff, JFK, FDR, LBJ, Jimmy Carter, Reagan & Bonzo, Grace Jones, Wizard of Oz characters, Hulk Hogan, Dr. Ruth, Madonna, Gary Hart, Dolly Parton and Woody Allen.Clearly, Little Annie Fanny was not the comic strip that Kurtzman-Elder wanted to produce. However, there were many positive aspects of the association with Playboy. Will Elder had a high-volume distribution for his wonderful water colors. Harvey Kurtzman was able to satirize pop culture for 26 years. And, parody fans like me received a volume of excellent caricatures and sight gags that may not have seen print without the Hefner connection. It could have been better but it was still very good. [JAM archive]

Kurtzman and Elder created 104 episodes of Little Annie Fanny for Playboy magazine over a 26-year period. [JAM 9/2/2017]

TV Guide (January 5-11, 1980)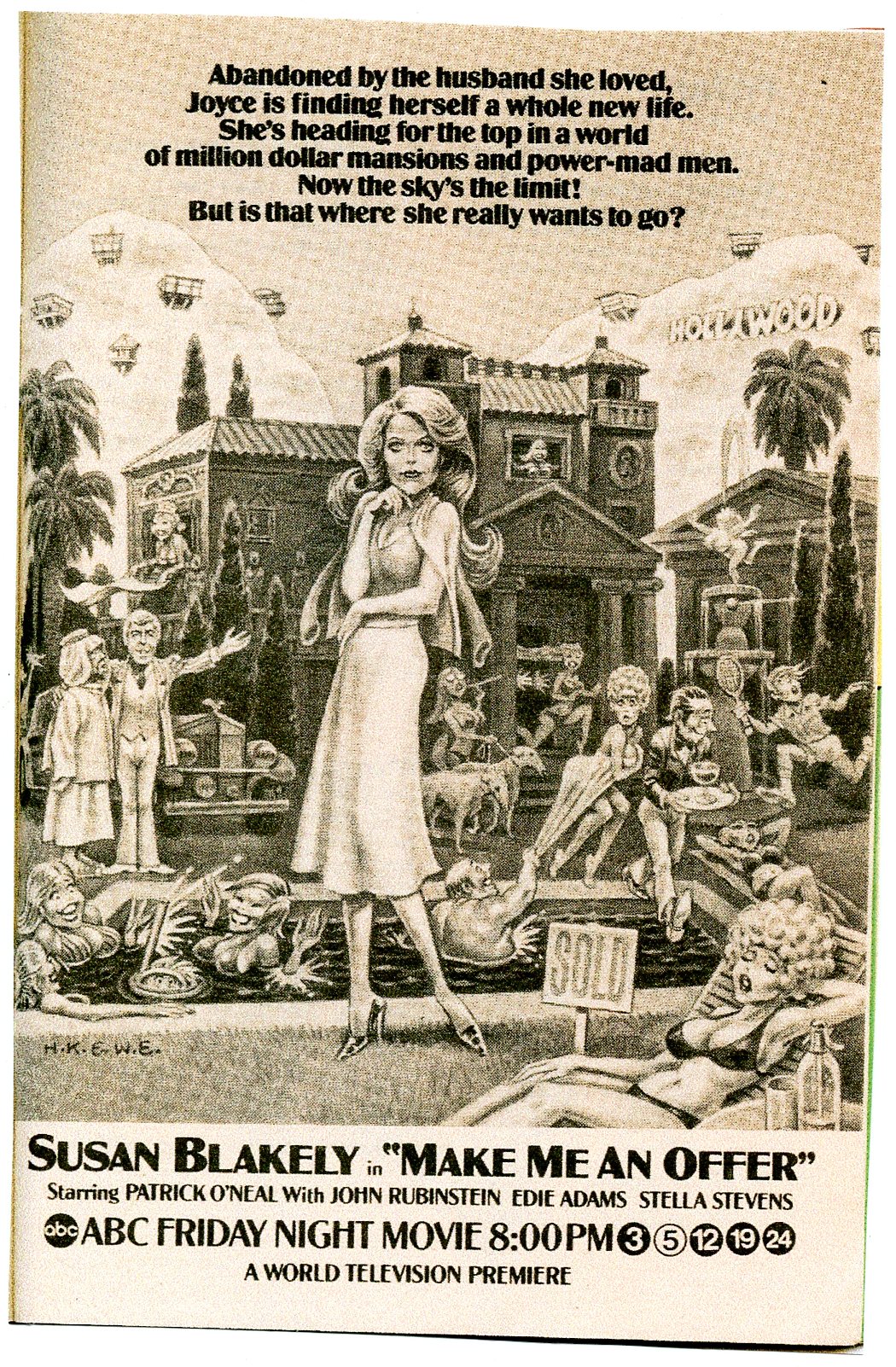 Comics Journal #67 (1981)
Kurtzman: "I felt that the comics business [1950s] had brought censorship down on its head because of the kind of thing the horror comics were doing. I always thought the horror comics were evil. At some certain point they'd turned sick, I thought, and I think they reached that point when EC was running short of classic book plots and had to turn inward; what came out was shear grue - ideas that sniffed of necrophilia."
Kurtzman: "... I proposed the format Mad, I proposed the title, made little title sketches and showed it to Gaines, and he said, 'Go ahead.' The format would make fun of comic books as they were at that particular period. So I had a 'horror' story and a 'science fiction' story and so forth. We used the physical format of EC - four stories, with the legal text requirement in the center. I gathered in my favorite artists, I wrote the stories, laid them out, and that is the God's honest truth on how Mad started, God damn it."
Kurtzman: "... Gaines was a very paternalistic guy. Paternalism has its good and its bad sides - it gives you a certain kind of security, but at the same time you always have to go to poppa. And we had a series of ever-increasing arguments, and finally I decided to ask for as much as I dared, and if Gaines didn't give it to me I was going to quit. So we had a confrontation and I quit because he didn't give me what I wanted. And I certainly can't say that I blame him."
Kurtzman: "... I don't tend to be so hard on Hefner. I think that Playboy had a lot to do with the male fantasy just as Cosmopolitan has to do with female fantasies, and I don't deny people their fantasies. I think we need them. We need to play make-believe. At what point does make-believe become destructive? That point undoubtedly lies somewhere between the Ku Klux Klan fantasy and The Wizard of Oz. I don't know where Playboy fits, but Playboy is male fantasy and knowing Hefner as I do I have a great respect for the man. He's not a dummy. He's a thinking, intelligent, progressive man."
Greg Potter: "In November of 1952, Kurtzman and Gaines produced the first issue of Mad which, with its 24th issue, became history's first black and white graphic story publication."
Steve Austin: "Harvey Kurtzman develops a rough storyboard, which is sent to Will Elder for spot gags. Harvey then constructs a tighter storyboard which is sent to Playboy for approval. Upon approval, Harvey draws the pencils on tracing paper, collects necessary reference material, and hands the page to Bob Price for lettering and masking. Then, Steve Austin traces the page onto bristol board and paints the preliminary water color. The page is then turned over to Will Elder, who does the painting, starting with light tones which are built up to a finished rendering. The page is returned to Harvey who makes corrections on a tracing paper overlay. Will Elder does the corrections and the page is completed."
Comics Journal #81 (1983)
This edition of the journal contains a 30-page interview with EC Publisher Bill Gaines wherein he tells the full story of EC and MAD. Although Gaines and Harvey Kurtzman were on friendly terms by 1983, Gaines took this opportunity to tell his side of the story. It appears that Gaines was the one with the better memory, Regarding the naming of MAD, Gaines brought proof that the terms: "EC's Mad Mag" were in use at EC by Gaines and Al Feldstein as early as 1950, two years before the MAD comic was published. At an editorial meeting, it was suggested that their new humor comic be named "EC's Mad Mag." Kurtzman made the decision to cut the title to one word. William Gaines (1922-1992) was very generous with his time and opinions in this interview. These pages constitute a very important phase in the history of comic books and MAD magazine. [JAM 8/11/2022]
Goodman Beaver (1984)
Four of the six episodes of young Mr. Beaver are reprinted in this book. The art is reproduced mostly in full-page format with art added to some of the panels. The first episode ("Organization Man in the Grey Flannel Executive Suite") was printed in Kurtzman's paperback original, Jungle Book. It was probably not included here because the art does not approach that of Elder. The other missing episode is "Goodman Goes Playboy" that was withheld because of the ongoing legal wranglings with those humorless suits at Archie Comics. The Playboy/Archie parody is probably the best of the six episodes. Every fan of Kurtzman & Elder should have this book in their collection and they should also have a copy of "Goodman Goes Playboy" to go with it. If you send a large-size to SASE to P.O. Box 66, Artesia, CA 90702, a friendly art collector might send you a copy.
Goodman morphed into Little Annie Fanny where he thrived in Playboy magazine from 1962 to 1988. [JAM 5/22/2011]
Mad (1985-1989)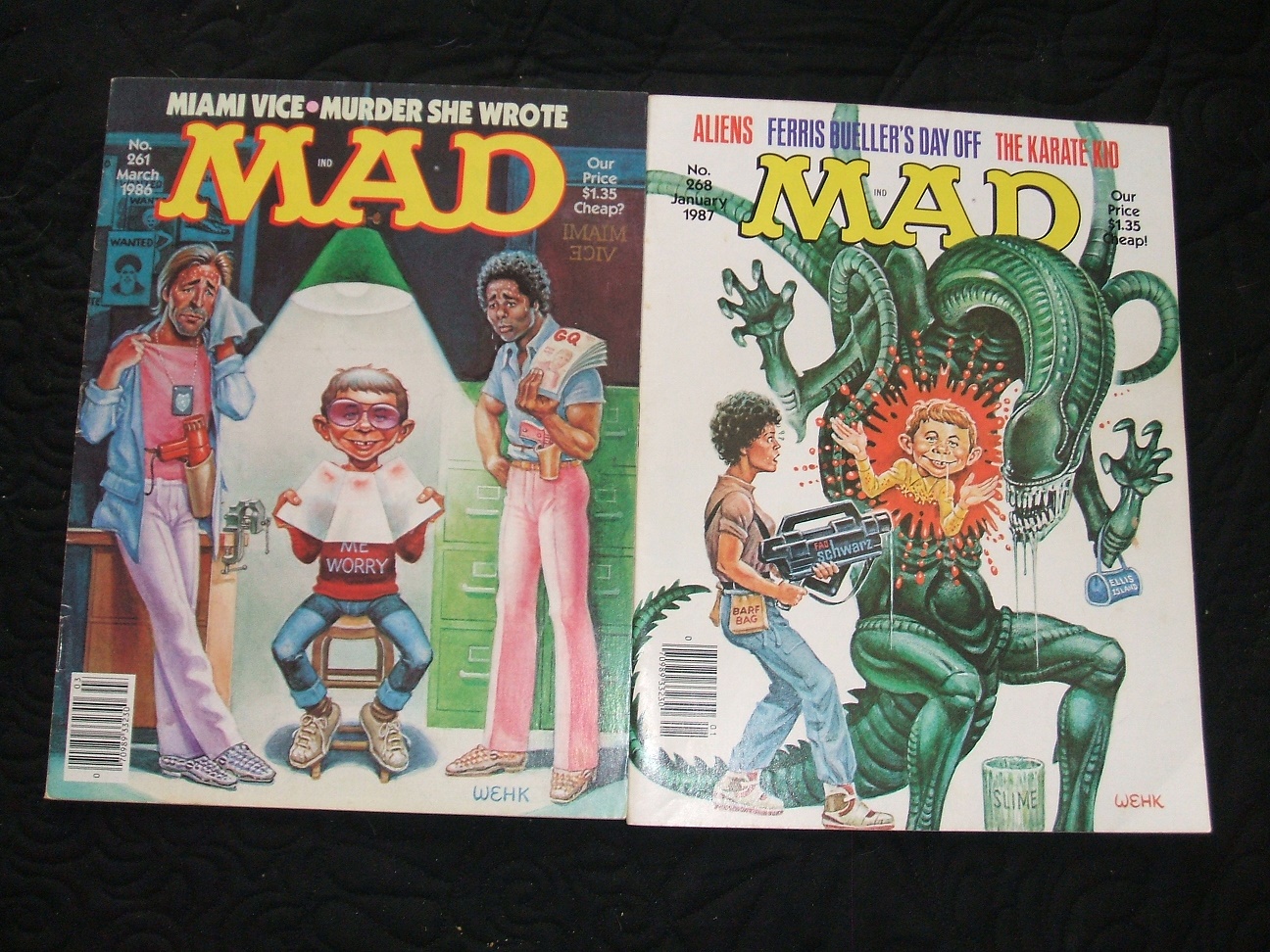 #256 Goetz Mask
#258 The Weinburger
#259 Rambo 2
#260 Traveler's Blues
#261 Miami Vice cover
Camouflage Tricks of City Animals
#263 The Day AT&T Went Too Far
#265 How To Pick Up Guys
Garbage Pail Adults
#266 We'll Make a Fortune
#267 Mad's Fearless Forecast for the Upcoming TV Season
#268 Aliens cover
#269 Fund Raisers That Never Made It
Mad Celebrity Madballs
#270 Banana Republic Dictator of the Year
#271 The American Ex-Pres Card
#272 Mad Visits an Organ Transplant Hospital
#273 A Mad Look at Some Widely Held Misconceptions (Kurtzman only)
#274 Why Owning a VCR is Better than Going to the Movies (Kurtzman only)
#279 All Purpose Video Game Instructions Kit (Kurtzman only)
#281 The Mad People Watcher's Guide to a Political Convention (Kurtzman only)
#284 Play Pictionary with the Mad Artists (Kurtzman only)
When Harvey And Will Returned To MAD
MAD's first editor, Harvey Kurtzman quit the magazine in 1956 after issue #28 because publisher, Bill Gaines would not give him more control and a large percentage of the product. Will Elder went with him. Kurtzman's demands were unrealistic. He was a great artist and writer but he had difficulty meeting schedules. He was a micro-manager who had very high standards for his creative work. Gaines hired Al Feldstein to replace Kurtzman and MAD thrived with sales that grew for years. Kurtzman struggled through Trump, Humbug, Help! and other projects but finally found a compromise at Playboy with Little Annie Fanny. Publisher Gaines commented in several interviews over the years that Kurtzman & Elder were always welcome to come back to MAD -- under his terms. And then, one day in 1985 it happened.
Al Feldstein and Harvey Kurtzman had been contemporary editors for EC Comics. Feldstein created numerous titles during that time. Kurtzman had two war comics (Two Fisted Tales and Frontline Combat). When Kurtzman started MAD, Feldstein started Panic (a direct but authorized copy of the MAD comic format). When the Comics Code Authority forced EC to shut down its horror and crime titles, Feldstein was unemployed. Kurtzman continued as editor of MAD, the magazine. There is no evidence that Feldstein and Kurtzman had ever cooperated on an EC project.
In an interview in 2000 (Journal of MADness #10) Al Feldstein said that he had wanted Kurtzman & Elder to return to MAD. He had one meeting with Kurtzman and his business manager (Harry Chester) while Kurtzman was editing Help! Kurtzman & Chester decided not to come back to MAD at that time.
In 1985 MAD was preparing for a change in editorship. Al Feldstein was planning to retire after editing 226 issues (#29-#254). Gaines named Nick Meglin and John Ficarro to be co-editors of MAD going forward. For two issues (#255-256), all three were listed as the editors. It did not seem like a coincidence that the Meglin-Ficarra team decided to bring back Kurtzman & Elder for MAD #256 as Feldstein was retiring. Following are the articles that Kurtzman & Elder drew during their brief return (19 issues).
MAD #256 - "MAD's 'Goetz Mask'" (page 35) - This is just a photo of Bernard Goetz, who shot four muggers in a New York subway, with a dotted line around the head. There was not much effort required to produce this page but it did serve as notice that Kurtzman & Elder were back. I suspect that the whole thing was created by Art Director Lenny Brenner after a short telephone call.
MAD #258 - "Where's the Beef? - The Weinburger" (back cover) - Al Jaffee came up with this idea that looks like it could have been part of a fold-in concept. Ronald Reagan's defense secretary (Caspar Weinberger) is shown in a clown suit holding a giant "hamburger" full of weapons with Reagan's weapons lab in the background. Elder probably added the "We Do It Ronnie's Way!" button; but other than that, his chicken fat jokes are missing. The five lab workers are in typical Kurtzman poses.
Kurtzman and Elder were moonlighting for MAD since they were still responsible for the Annie Fanny strips for Playboy until 1988.
MAD #259 - Rambo & Ronald Reagan (front cover) - Rambo is carrying a large hand-held missile while Reagan (with a smile) invites him to attack Central America. Elder added the Izod alligator on Rambo's bare chest plus a tic-tac-toe scar. Elder's Alfred E. Neuman is bracing for an explosion in the upper left corner.
MAD #260 - "Traveler's Blues" (pages 10-11) - Frank Jacobs wrote this parody of a Glenn Frey song for the first Kurtzman & Elder multi-page, multi-panel article for MAD since the 1950s. The sequence consists of 12 drawings of an airplane parked, getting hijacked and then exploding. The Elder touch can be seen in the small character who surround the plane. There is a camel with a reverse hump in the second panel. The pilots are surrendering in panel 7. In panel 8, the plane is flying into the moon while palm trees and a light pole are bending toward Mecca. When the plane lands on the desert (panel 8), passengers are throwing off clothes including one bra. There is a star of David in the night sky on panel 8. After the plane has exploded, two oil spouts appear in the final panel. The boys really did not have much to work with in this song parody.
MAD #261 - "Miami Vice" (front cover) - This cover with pink and pastel blue clothes is the best of the WEHK covers since the "Kate Keen" cover on MAD #5. Don Johnson has a hair dryer in his holster instead of a handgun. His badge is on a chain around his neck. Philip Michael Thomas is fanning himself with a copy of GQ magazine. Wanted posters in the background are for Ayatollah Khomeini, a shapely woman and an alligator. Alfred E. Neuman is enjoying his time under the interrogation lamp to work on his tan. And, there is a vice in the room. Elder was not generally known for caricatures but he could do them.
"Camouflage Tricks of Big City Animals" (pages 24-27) - Rurik Tyler wrote this one but Kurtzman & Elder did a great job of creating the urban animals. They also found ample room in the double splash for background humor. The "MOVE Headquarters" (Philadelphia) has a "Sweeney Todd Barber Shop" (demon barber of London). Everything has been stolen from the "Grand Opening" business. One of the black basketball players has an afro comb stuck in his hair. It is odd that the drawing is signed "W.E." without the usual credit to Kurtzman. The hood ornament on the real car is a revolver. This is a rather bleak ghetto scene by Elder. The close-up of the "newspaper pigeon" reveals a headline: "Keep N.Y. Clean - Eat a Pigeon Today."
MAD #263 - "Great Moments in Advertising: The Day AT&T Went Too Far" (back cover) - This is a six-panel ad parody featuring a telephone conversation between Presidents Ronald Reagan and Mikhail Gorbachev written by John "Prete" Ficarra. Reagan has photos of R2D2, C3PO and "Our First Phone" framed in his office, while Gorbachev with hammer-and-sickle birthmark has a frame painting of Rasputin. The boys showed great restraint for article that presented huge opportunities for chicken fat. This was the first of three back covers that co-editor Ficarra wrote for Kurtzman & Elder.
MAD #265 - "Garbage Pail Adults" (back cover) - This article was likely the result of a brainstorming session with editors Meglin, Ficarra, Charlie Kadau and Joe Raiola throwing in ideas. George Steinbrenner's "contracts" are on toilet rolls. Prince (rename "Prissy" be the editors) has a dog collar around his neck. The Ayatollah is smoking a cigar on a sword while his beard is on fire. One of his supporters has a shish kabob on his bayonet. Another is giving his leader the middle finger. Jesse Helms is watering money plants. Kaddafi is juggling hand grenades while he sinks into quicksand. South African Botha has a backwards telescope. Arafat has a hawk on his shoulder. And, John McEnroe is about to get a tennis ball in his mouth. The parody skills of WEHK were well-utilized for this concept.
"How To Pick Up Guys" (pages 46-47) - Their work on this Arnie Kogen article is the best of any they did in their short return to MAD. These seven panels are classics. Panel 1: Dagwood is in the background passing a man eating the hanging plant. Signs in the fast food hangout suggest the "Heimlich Meat Loaf" and the "Chuck Yeager Sandwich." Clerk is wearing a Viking helmet and a bun. Panel 2: At the football game is a robot holding a "Hi Tech" sign. Other signs are "Hoo U." and "I Hate Fottball Poster Made Cheap." The boy in the back needs to go to the bathroom. A man in the crowd is naked. Panel 3: A policemen on skis is chasing the naked man from panel two also on skis. Another skier is rolling in a snowball while a couple ski with the woman riding piggyback on the man. Panel 4: Crazy Eddie is wearing a straightjacket in the back of the computer store. The naked man from panel two is on one of the computer screens. Panel 5: Little Annie Fanny is on the exercise machine. An Oscar is among the health club trophies. Panel 6: Man in the background is touching the wrong melon. Woman in the foreground is carrying melons that look like her breasts. The supermarket worker is Goodman Beaver. He has been stamping price tags on fruit and the man's bald head in front of him. Panel 7: The woman in this panel is one of Annie Fanny's friends from the Playboy strip. Sign in the background points toward "Banned Books."
MAD #266 - "We'll Make a Fortune" (24-28) - Kurtzman & Elder went wild with this television parody written by Dick DeBartolo. This one has the look of their great parodies of the 1950s like "Howdy Dooit" (MAD #18), "Is This Your Life?" (MAD #24), "The Ed Suvillan Show" (MAD #27) and "You Are There Then" (Humbug #3). There are numerous audience jokes in the double splash - one of Elder's specialties. From left, man with flower pot on head, toothless man behind woman with extra set of teeth and cigar in her mouth, woman with sunglasses and giant hatpin, man with bald head shaped the same as man wearing wool hat, woman with woodpecker pecking her hat and baby who barfed on man behind them, man with finger in his nose, man with a very small head, a papoose, man with a hand coming out of his hat and three members of the "Hells Angles." On stage there is a framed one dollar bill worth $1,000. "Pat Somejerk" is almost hit by an arrow in the next panel and then a woman's sucker gets stuck to his tie. The wheel jokes start at the bottom of page 24 with "IRS" replacing one of the dollar amounts. The wheel then starts showing slot machine designs, backgammon, and the directions to Atlantic City. Meanwhile, the woman's sucker has removed Pat's belt as he escapes from her. On page 26 Vanilla's outfit changes to a flowered dress, then a striped blouse, a bathing suit, a military uniform, a cowgirl coat and then a tutu. When the second contestant arrives, Pat has the sucker stuck to the back of his head. In the next panel, the sucker has moved to the contestant's collar. The sucker with some of Pat's hair on it then moves to the wheel. In the final panel of page 26, the first contestant is now riding on the wheel. On page 27, Vanilla is on the beach where she is wearing a fur coat with five arms. In the background is a lighthouse with several boats that have crashed into it. There is a foot sticking out of a pile of sand next to the beach pail ("Taiwan Genuine Junk"). Now the wheel is a Monopoly game and then a tea set as Vanilla continues to change clothes in every panel. On the final page, the board letters include pi, two mugshots, M&M, a Hebrew letter and two hand signals. As the show is ending, Vanilla has eight arms. The male contestant is carrying all of the prizes and has just kicked Vanilla in the rear as a small dog jumps out of the letter board and onto the wheel.
My guess is that Dick DeBartolo did not recognize the final product.
MAD #267 - "MAD's Fearless Forecast for the Upcoming TV Season" (pages 22-23) - In this article written by Barry Liebman, the Pope is wearing a "B'nai Brith" button and President Reagan forgot his pants. The Pope's mitre is covering a strategic part of the painting behind him. Judge Pops Kane is cracking walnuts with his gavel. In the final panel, there are two sets of eyes spying on the crowd. Because of the format of the article, there are no running jokes from panel to panel.
MAD #268 - "Aliens" (front cover) - The alien has a handbag from "Ellis Island" and a slime bucket. Ripley has a barf bag and her weapon is from "FAO Schwarz."
MAD #269 - "MAD Celebrity Madballs" (back cover) - Nothing special here in another back cover idea by John "Prete."
MAD #270 - "Banana Republic Dictator of the Year" (pages 31-34) - Lou Silverstone wrote this article about a Central American leader. The dictator is wearing a "Bush in '88" hat. There are many holes in the wall including two that ruined a framed photo of a pretty woman. Two photos on the wall show the dictator in the exact same pose eating a chicken leg as he currently eating. There is a Latin pig in the clerk's drawer with writing on desk in Pig Latin. Next to the pig is a "White House Scapegoat." The trash can is an "Ed Meese In-Box." "Our First Banana" is framed in panel three. The interviewer's microphone and the dictator's chicken leg are switched. The clerk is drinking his wine. "Viva Revolution" and "Viva Zapata" are written on the walls. On page 32, a giant "Greetings El Presidente" bullet passes over their heads. And then another bullet ("Missed") passes from the other direction. The lettering on the interviewer's recorder changes in each panel (JVC, CIA, NBA, IOU, JDL, WWF, KKK, KGB, UPS). In the middle panel, the dictator blows smoke shaped like a banana. All of the rebels look exactly like the dictator. There is a bird's nest the opening of a large weapon and the sight target is a woman. "Viva Prohias" is written on the wall. On page 32, another large bullet "Missed Again!" The firing squad are pointing in different directions at a man and his dog tied to posts. The wall behind them has "Viva Papertowels" on it. In the prison cell grafitti is on every wall with a sign that says "Graffiti Forbidden." There is a centerfold of the fully-clothed dictator taped to the prison wall with pictures of fruit. On the last page, prisoners are wearing shirts that say " I Love Bernard Meltzer." As the interviewer is leaving town, there is a giant sign that says: "Need a Loan? Quick Cash? Call Col. Oliver North at 1-555-IRANSCAM." Gravestones are for "Liberal Party Members." The airplane is EL AL. The final panel shows the stewardess ("Viva Va Voom") and the interviewer hold a microphone with severed wire.
MAD #271 - "MAD's Modern Day Puzzlers" (pages 24-25) - The drawing for this article were all by Harvey Kurtzman.
"A TV Commercial We'd Like To See" (back cover) - Gerald Ford hits several golfers with his club and golf balls. He injures several Secret Service agents and then poses with Richard Nixon and Jimmy Carter. Nixon is wearing a bandage on his forhead.
MAD #272 - "MAD Visits an Organ Transplant Hospital" (pages 44-47) - This was Will Elder's last issue for MAD and it was a great one. Kurtzman & Elder took a Lou Silverstone script and drew an excellent double splash page with 13 panels to follow. Patients in this hospital include Frankenstein's Monster, the Invisible Man, a man who looks like a bird, a man with eyes in the back of his head, and a man with two heads at opposite ends. Observing doctors see, hear and speak no evil. A small boy is holding balloons shaped like lungs. Igor steals a brain while a dog steals a long piece of an intestine. Sign near the operating room is "Bodies by Fischer." In the panels, one of the doctors is an ape and another has made a mouse puppet from a glove while the patient pinches Cyndi Leper. A doctor uses a hand drill to open a wine bottle. A brain surgeon is wearing a "Burger Queen" bib while Harpo & Chico Marx are sharing one set of scrubs. A union seamstress is sewing the top of a patient's head. Another patient (holding flag and lottery ticket, and wearing Statue of Liberty hat) is resuscitated by a nurse who flashes him. The same patient is later seen with a party hat and horn holding a beer. Before examining the patient, doctor soaks the end of his stethoscope in ice. The operation is being filmed on "Gross & Barf TV." During the filming, the name of the station is changed to "Wretch & Barf." Will Elder died on May 15, 2008 of Parkinson's disease.
MAD #273 - "A MAD Look at Some Widely Held Misconceptions" (pages 22-23) - Harvey Kurtzman continued to contribute to MAD for five more issues without Will Elder. Kurtzman was an excellent artist with a signature style. He used carefully placed vertical lines to give depth and perspective to his drawings. In this article written by Mike Snider, Kurtzman stayed on script with a minimum of side gags.
MAD #274 - "Why Owning a VCR is Better than Going to the Movies" (pages 37-39) - Kurtzman always wanted his drawings to correctly show movement and action. His goal seemed to be to tell the joke without words. In these drawings, he uses hand gestures and motion lines to represent the story arc. Foregrounds and backgrounds are separated by the shading and lines. The petting couples at the bottom of page 8 are in an impossible configuration with five legs and five hands. Many of his women do not have noses. All of his sounds have exclamation points except for one small "yawn." Kurtzman's drawing of car driving at night is an excellent example of his minimalist but effective style.
MAD #279 - "All-Purpose Video Game Instructions Kit" (pages 36-37) - For this Frank Jacobs article, Kurtzman used black Pac-Man style computer characters over a lined and checked maze. Within the maze are rockets, spaceships, dinosaurs, army tanks and aliens chasing, screaming, shooting and running in a game from a different generation than his own. This seemed like an odd assignment for an old timer but Kurtzman made it work with a look like no other seen in MAD. It is impossible to capture the visual possibilities of a twelve to the twelfth power story grid. But like his border drawings on the cover of MAD #24, there is energy and action here that fits the purpose.
MAD #281 - "The MAD People Watcher's Guide to a Political Convention" (pages 24-25) - Kurtzman put hundreds of political types in this double splash page. He was not caricaturist. His characters are expressive but anonymous. His drawings create mood and situation. The drawing is meant to be viewed as a whole without attention to the details. Unlike Elder, he did not want to divert attention from the focus of the article. The Kutzman crowd is a gathering of personalities - all flawed but actively involved in the moment.
MAD #284 - "Play Pictionary with the MAD Artists" (page 15) - Kurtzman was called back for one more "Prete" article. This all-hands-on-deck experiment calling for 18 artists to each create drawing in 60 seconds. Six artists drew "Hitler's Mother" and six drew "Gluttony." Kurtzman was in the group of six who drew "Frank Perdue's Living Room." His drawing shows a sad chicken leg with a bowtie under a chandelier. It is a sad ending for a great artist and a great visionary who created a national treasure. Harvey Kurtzman died on February 21, 1993 of liver cancer. He was one of a kind.
My Life As A Cartoonist (1988)
This paperback original (Minstrel Pocket Book) is an honest autobiography that seems to be aimed at young readers. Kurtzman explains how he got into cartooning and details about the business. However, he completed omitted all referenced to his longest-running gig: writing and producing Little Annie Fanny for Playboy magazine. It is interesting that Kurtzman mentions his argument and parting-of-ways with artist John Severin after nine issues of MAD; but completely ignores his failed negotiations with Bill Gaines after editing the first 28 issues. The many examples of his art and writing in this short, 108-page book. [JAM 1/23/2019]
From Aargh! to Zap!: Harvey Kurtzman's Visual History of the Comics (1991)
Many have attempted to tell the story of the history of the comics, but Kurtzman does the job better with fewer words and more illustrations. [JAM 9/15/2017]
"... (Bill) Gaines and (Al) Feldstein homed in on a series of successful crime, horror and science-fiction titles, a line they renamed Entertaining Comics (EC). They were a good team with a unique system of ping-ponging ideas into shape. Gaines, an avid speed-reader, would devour fiction at night, cataloguing plots in a thumb-nail file of paper slips. In the morning, he and Feldstein would kick around ideas inspired by the file and rough out stories."
"Wally Wood was intense, immensely talented, and a particular slave to wrok. He poured forth a stream of fantasy and sex clothed in a multitude of textures and visual effects - space, machinery, vegetation, monsters."
"Will Elder, in particular, found his metier in Mad, laying down guidelines for the hundred-gags-per-inch art style that everyone now associates with the magazine ... When I was writing the Mad stories that Will illustrated, there was magic between us, and he would be inspired to go far beyond what I wrote for him ... Will would take my ideas and add twenty more sub-gags in the backgrounds. And they would be funny sub-gags; he would carry my stuff forward and enrich it by a multiple of ten. And more than anything else, whatever Willie did, he did it with originality."
"Little Annie Fanny, which runs intermittently in Playboy, is probably the most expensive comic strip ever produced, and the most expensive comic that ever will be produced. Annie ideas never came thick and fast, and I would often open up my storyboard to anyone who could offer good ones. I worked with everybody - people from the Playboy organization, friends, and professional writers and artists. Once a storyline started moving, I tried to pack it with as many sight gags as I could that were relevant to the story. Next I made a storyboard. From that I made blowups and color sketches and finished pencil renderings. I passed these on to Will Elder, and he changed everything, adding more ideas and coming up with his own renditions of my renditions."
Hogan's Alley (1994)
[Cullum Rogers] "You could even argue - in fact, I'm going to argue it right now - that [Richard] Nixon, Pat Oliphant and Harvey Kurtzman deserve most of the credit for the great wave of young cartoonists that swept into the nation's editorial pages in the '70s and '80s. In the '50s, Kurtzman combined a keen attention to detail with knockabout humor to magnify the cracks in the surface of grown-up reality."
Kurtzman Retrospective (1995)
Published two years after Kurtzman's death, this volume by The Cartoon Museum is an excellent tribute to the history of Kurtzman art. The book also includes a five-page chronological list of his work from 1939 to 1992, [JAM 9/15/2017]
The Mad Playboy of Art (2003)
Of all the books written about the creators of Mad, this is the best one. Will Elder's son-in-law Gary VandenBergh has perfectly captured the career and genius of the great artist. This book reprints examples of all of Elder's work and especially his collaborations with Harvey Kurtzman. I actually had some correspondence with Mr VandenBergh during the writing of the biography. He was dedicated to the project published by Fantagraphics on quality paper. This is how an artist's biography should be presented. Will Elder was a classic artist who also drew for the comics. Following are some quotes from the book. [JAM 9/17/2017]
Elder: "I never planned any specific direction. More importantly, Harvey's editing focused whatever energy I had into the proper channels. All my wild ideas were distilled into some organized sense. I believe that Harvey had the gift of editing and drawing out the best in us for Mad. Harvey was greatly responsible for encouraging my versatility and sharpening my sense of humor."
Al Jaffee: "Willy is one of the most natural funny men I have ever known. I think he is probably at the very top as a funny cartoonist. He's almost a Marx Brother in cartooning. He just has an instinct for what is funny in a drawing."
Terry Gilliam: "Willy's stuff in particular, the way he filled every inch of the thing with, just stuff, I thought, jokes on jokes on jokes. I don't know if anybody's really worked on that level as intensely as Willy did and it never seemed to distract from the center of the action."
Hugh Hefner: "I think that, to some extent, the artists have existed in the shadow of Harvey. But I think there is a very real awareness of the fact that Harvey and company changed the direction of visual art in America."
Kurtzman: "Willy was the funny one."
Elder [re Mad #22]: "Boy, that was a real rush job. We did that in about five seconds. We were running behind and needed something fast. So Harvey decided to devote an entire issue to me, because I was considered the crazy guy. It was a big mess, but a lot of fun to put together and rather experimental, using painted-on photographs and phony ads and so forth. Kind of a test run for the Mad magazine."
VandenBergh [re end of Kutzman's editorship of Mad] "Elder always quietly felt that Kurtzman's position was unreasonable, and there is evidence that, in retrospect, Kurtzman agreed. Had he accepted Gaines's offer [49% of Mad] he would've probably become rich. Still, at the time he couldn't lose; the door was now open to produce the most lavish humor magazine in history [Trump]."
VandenBergh: "Critics have accused Elder of living in the shadow of Kurtzman, to which Elder replies, 'We've grown on each other, like a fungus!' In fact, they were alter egos, part of a well-oiled machine. Kurtzman was a groundbreaking artist-writer-editor and Elder the quintessential artist-clown. Kurtzman gave Elder the framework in which to go crazy and Elder always went outside the frame. To the fans that say Elder never got the recognition he deserved, Elder says, 'That's very kind but I didn't need the spotlight. I was happy to be working and able to be there for my family. I never needed the praise of critics I didn't really care for.'"
Bill Gaines [re Panic]: "Sometimes Harvey loses sight of the fact that this was my Mad, that I had a lot of other magazines making more or less profits, some of them none ... Harvey felt we were competing with him, and I used to say, 'Harvey. We're not competing with you, we're all one company. The money comes from everywhere and it goes into a pot and from this pot we publish."
Kurtzman: "It was a very gllomy day when Trump folded. The gang was sitting around the Playboy offices, everybody staring at the wall feeling sorry for themselves ... We decided to pick up the pieces and do our own magazine. And it was one of those classic disastrous decisions, when four or five artists get together and say, 'We will do our magazine, it will be artistically magnificent,' and we did Humbug."
Elder [re Little Annie Fanny]: "The colors were like gems to me. I worked very hard to give them iridescence. I used a three-ply illustration board. The white board works as white paint. With oils you can pile things on, you can pile the light colors on top of the dark colors. In watercolor you leave the white board alone and you hit the dark spots first, If you wanted to build a nice, shiny white yacht like Daddy Warbucks raft, as some would call it, you leave it as the white board and you add, very subtly, wherever there's a reflection of the water, very light blue or greenish blue. But you don't touch the illustration board except to add form or shadow, You actually don't apply white paint on watercolor board unless you're adding last-minute highlights."
Comics Journal Library (2006)
Harvey Kurtzman became the seventh artist to be honored by Comics Journal in this manner. The main portion of the volume is reprinted from Comics Journal #67. The "War Comic Panel" transcript was reprinted from Squa Tront #8. Although the text is mostly reprints of interviews, there is an excellent variety of Kurtzman drawings here in large size and quality paper. Curiously, the "tribute" ends with an essay by Robert Fiore ("Mistah Kurtz He Dead") that is severely critical of the final 30 years of the artist's career. My question for Mr. Fiore is: What is your volume of work that compares with that of Mr. Kurtzman? [JAM 9/19/2017]
Kurtzman (1959): "To me, the biggest reason for living is to be able to contribute."
Kurtzman (1965): "... I always feel responsible ... for any of my work. I may be kidding myself, you know, but I like to have this illusion of a grand raison d'etre. I have to feel that I'm not hacking for money."
Kurtzman (re leaving Mad): "Professionally, I was completely unhappy. I was feeling pretty low. Hefner was in town - this was early in his career, too - and we went out to lunch together. I was very impressed with him. He came on with all that gusto and optimism he was putting into his own book, and we just talked back and forth. His high opinion of my work did much for my ego at that lunch, and put me into just the right mood to go ask my publisher [Bill Gaines] for a substantial piece of the magazine as an alternative to my leaving. I didn't want a piece of the profits so much as I wanted voting stock ... a controlling interest in shaping the property. Well, predictably, he refused. And I quit."
Kurtzman: "I don't think getting rich has anything to do with your value to society."
Al Jaffee: "... Harvey was a control freak - a talented, brilliant control freak. He reminded me of a master Hollywood director, who'd reshoot an entire sequence costing thousands of dollars just because a certain detail didn't come out quite right. Who can argue with that type of integrity?"
Kurtzman (1982): "When I do good work, it's a high in itself. When you do a good piece of work and you can lean back and it looks good, makes you laugh and sing and dance, it's its own reward. You don't try to get high to do the thing, you do the thing and it makes you high."
Kurtzman (re Alfred E. Neuman): "This is the most asked question in my life. Alfred E. Neuman was something I picked up off the bulletin board in a friend's publishing house. Bernard Shir-Cliff had this ting on his wall. We used it in Mad. It seemed to be a photograph ... big around as a silver dollar. His name wasn't Alfred E. Neuman. Alfred Newman was the name of a music arranger in the '50s that Henry Morgan used to use when he wanted a non-entity. He called this faceless person Alfred Newman. And so did we. We literally had a no-face portrait we called Alfred E. Neuman. The readers, however, insisted on calling the 'What Me Worry?' face Alfred E. Neuman ... as near as I can make out, the best explanation as to where he came from was that he was an illustration from a medical text of a person deficient in iodine."
Kurtzman (re 'Is Little Annie Fanny still artistically fulfilling?): "No, not really. To this day, I don't know how to extricate myself from Little Annie Fanny. There's no place to go, really."
Tales Calculated to Drive You Mad - Artist's Edition (2012)
The Artist's Edition contains full-size, mostly-uncolored reproductions of original artist drawings from the 23 Mad comics. This volume allows comic fans to appreciate the spectacular drawings of these artists as they were first seen the publisher, and before to comic-book size and printed on cheap paper. The book includes a foreword by Terry Gilliam and a short biography of Harvey Kurtzman on the last page. [JAM 9/22/2017]
Following are the contents of this edition: (artists in parantheses)
Hoohah! (Jack Davis)
Gookum! (Wallace Wood)
Mole! (Will Elder)
Shadow! (Will Elder)
Outer Sanctum! (Will Elder)
Smilin' Melvin! (Wallace Wood)
Lone Stranger Rides Again! (Jack Davis)
Bat Boy and Rubin! (Wallace Wood)
Little Orphan Melvin! (Wallace Wood)
Face Upon the Floor! (Jack Davis and Basil Wolverton)
Flesh Garden! (Wallace Wood)
Mad Reader! (Basil Wolverton)
3-Dimensions! (Wallace Wood)
Prince Violent! (Wallace Wood)
Movie ... Ads! (Wallace Wood)
Plastic Sam! (Russ Heath)
Restaurant! (Will Elder)
Bringing Back Father (Will Elder and Bernard Krigstein)
What's My Shine! (Jack Davis)
Meet Miss Potgold (Basil Wolverton)
Howdy Dooit! (Will Elder)
Mad #1 cover and rough (Harvey Kurtzman)
Mad #4 cover and rough (Harvey Kurtzman)
Mad #6 cover and rough (Harvey Kurtzman)
Mad #8 printed cover and rough (Harvey Kurtzman)
Mad #10 cover and rough (Harvey Kurtzman)
Mad #2 cover (Jack Davis)
Mad #3 cover (Harvey Kurtzman)
Mad #5 cover (Will Elder)
Mad #9 cover (Harvey Kurtzman)
Mad #11 cover (Basil Wolverton)
Mad #12 cover
Mad #15 cover (John Tenniel)
Mad #16 cover (Harvey Kurtzman)
Mad #18 cover (Harvey Kurtzman)
Mad #21 cover
Mad #22 cover (Harvey Kurtzman)
Superduperman page 1 (Wallace Wood)
Beware of Imitations (Jack Davis)
House Ad (Wallace Wood)
The Man Who Created Mad and Revolutionized Humor in America (2015)
This book is a gift to all fans of classic humor. For anyone who loves Mad magazine in particular, or comics in general, this is a must-read biography. Author Schelly has completed an exhaustive series of interviews with those who knew Harvey Kurtzman and combined them with his research of existing interviews with Kurtzman and others who have passed. Kurtzman changed the comics industry forever and influenced a large portion of the writers, editors and artists who are performing today. I have read many accounts of Kurtzman's life and works but this book is the first to put it all together. [JAM 6/6/2015]
Trump: The Complete Collection (2016)
In January 1957, Hugh Hefner panicked; walked into the hospital on the day the Harvey Kurtzman's third child was born; and stopped production of Kurtzman's new magazine. Trump #3 was going to be the biggest issue yet with 64 pages (like MAD #24), with a spectacular Norman Rockwell parody cover painted by Will Elder, and an elaborate centerfold feature ("The Flexagon") that was never completed. Over the years, Hefner's excuse for canning Trump has changed: "too costly"; "not enough fans of satire"; "could not meet deadlines"; "not good for advertising". But the magazine concept was quashed too soon for any of these reasons to be true. In my opinion, Hefner fired Kurtzman because Hefner knew that he could not micro-manage two magazines at the same time. Kurtzman's Trump was going to look better and be better than Hefner's Playboy. Five years later, Hefner found a way to micro-manage Kurtzman by including his work in Playboy. Hefner demanded advance approval of every panel of 104 Little Annie Fanny adventures over a 26-year period. [JAM 9/23/2017]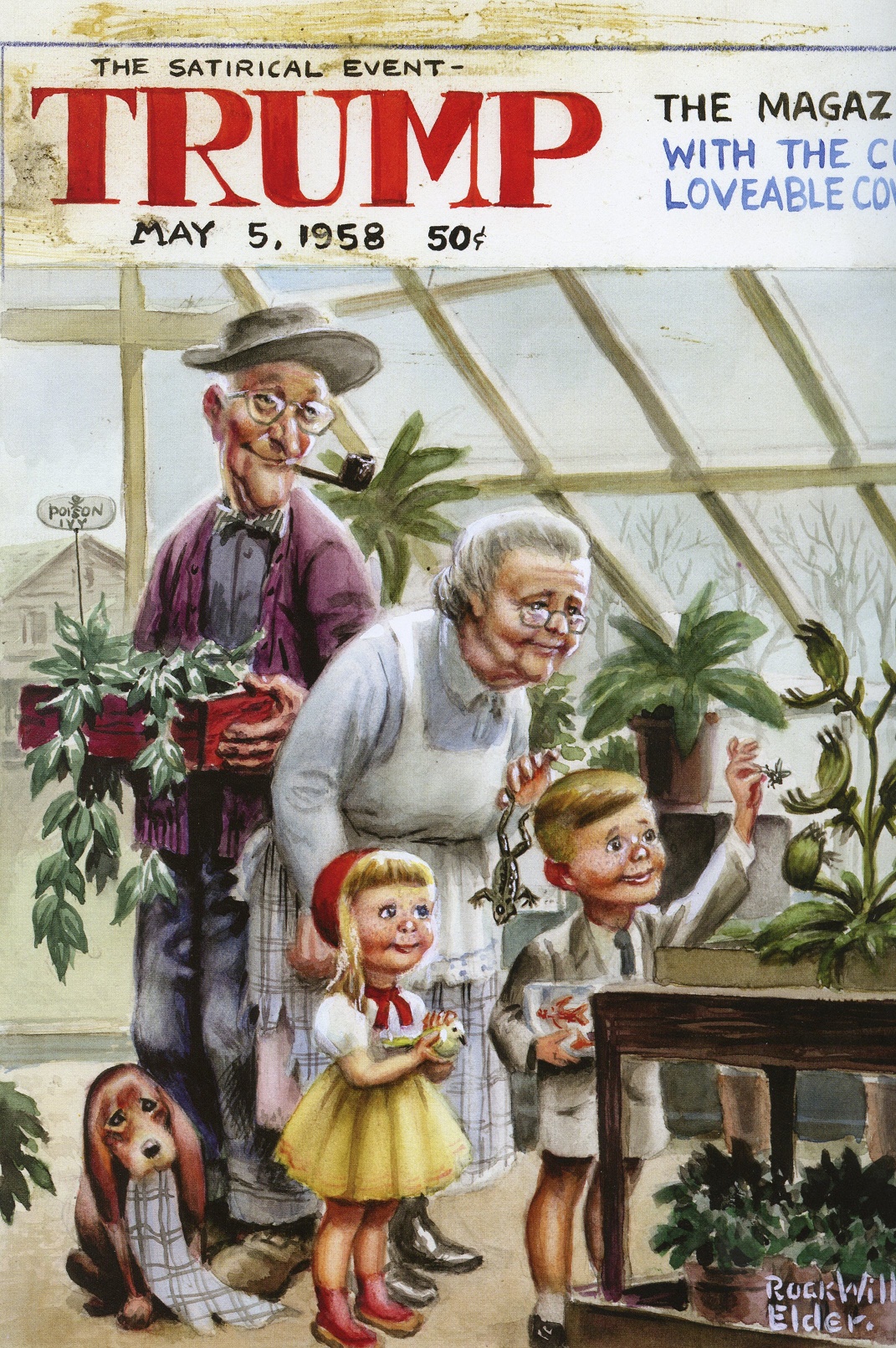 The PS Book of Fantastic Fictioneers: A History of the Incredible (Two Volumes) by Pete Von Sholly (2019)
Biographies of Kurtzman [bio by William Stout] and Elder [bio by Gary Vanderbergh] are included among the 120 "fictioneers."
"Kurtzman was funny, his art was funny, and he got right to the point when he drew! He also collected a pool of stellar talent at EC comics and directed them all like a maestro. I saw him give a talk at Comicon about his drawing technique. He took written questions from the audience and George DiCaprio wrote a card asking, 'What would you do if you were invisible?' Kurtzman eventually got to the card, read it aloud and looked at the audience with a confused smile and said, 'What kind of question is this??? I would go right to the girls' locker room. What do you think I would do???'" - Von Sholly
"Will Elder was the funniest of all the MAD cartoonists. As great as the others were he made me laugh out loud the most! And he was a HELL of an artist -- his bogus ads, which appeared in MAD magazine and his later rendering on Harvey Kurtzman's Little Annie Fanny showed he could paint like a master. His restless creative genius filled his cartoons with hilarious little extras; an Elder strip was always packed with wall to wall puns both verbal and visual. Will Elder was a genius. Period." - Von Sholly
[Also by Harvey Kurtzman]
Nuts! (1985)
Unknown to many, the two issues of Nuts! may be the rarest of all books edited by Kurtzman. It seems that these were aimed at young adults. The covers are good; the artwork is OK; but the humor is just not Kurtzmanesque. Where is the edge? Where is the creativity? And, really, where is Will Elder??? If I had known about these in 1985, I would have run to the bookstore to get them. Obviously, there were plans for regular (monthly?) issues. And, even though though both issues had second printings, it appears that low sales killed Kurtzman's last attempt at a mainstream periodical. There are many drawings here in the Kurtzman style but I wonder if he drew any of them at all. The unsigned drawings were probably done by Kurtzman assistant Sarah Downs who knew how to approximate Kurtzman's style. Nuts! may hold a special place in the heart of diehard Kurtzman fans, but his heart was not in it. [JAM 11/29/2017]
Strange Adventure (1990)
Although this was published as a hardbound book, the seven stories by Harvey Kurtzman (1924-1993) could have been placed in any of the Mad comics from the 1950s. The artists chosen by Kurtzman were competent and their artwork is excellent but, missing from the volume are drawings by the great Will Elder (1921-2008) who collaborated with Kurtzman in Mad, Trump, Humbug, Help!, Little Annie Fanny, and Mad again. Three of the stories ( "Shmegeggi of the Cave Men," "A Vampire Named Mel," and "The Super Surfer") seem to be perfect for the Elder style. William Stout and Dave Gibbons did a good job with "Shmegeggi" and "Surfer", respectively, but I have never been a fan of Tom Bunk's art ("Vampire"). He fills the panel with clutter but it lacks the artistic style and clever humor of Elder or Wally Wood (1927-1981). Bunk seems to think that the funniest thing he can imagine is an eyeball outside of its socket. In "Shmegeggi," Stout added dinosaurs smoking after dinner, the lead character (who looks like Goodman Beaver) wearing tennis shoes, Alley Oop, Fred Flintstone, Alice the Goon, Lost Boy Foxy, and cavemen wearing tattoos and sports uniforms. The story by Kurtzman imagines the first man to discover weapons of mass destruction (clubs and rocks). In "The Super Surfer," Gibbons revives one of the earliest Mad jokes - an 8-ball in space (also shown on the cover by Stout). This superhero parody places every known superhero comic star in the story about a super planet including the geriatric Justice League of America. The best joke in the book may be the Braille eye-chart on page 38 (think about it). An added bonus at the back of the book are copies of the actual storyboards that Kurtzman prepared for the artists, including "Drums Along the Shmohawk" that Kurtzman drew. These pages show the amount of preparation he did as a comic book editor and how he facilitated the jobs of the final artists. In addition to seven feature stories, there are two excellent introductory tributes by Art Spiegelman and Robert Crumb, and a full-page action drawing by Jean Giraud (aka Moebius). This book was truly a gift from Mr. Kurtzman as he approached the end of his amazing career. [JAM 12/7/2011]
Hey Look! (1992)
Long before he started Mad and before he started working for William Gaines at EC, Harvey Kurtzman was creating some filler pages for comic books - mostly the Timely Comics edited by Stan Lee. Many of the original, one-page strips were lost or destroyed but Kurtzman fans like John Benson were persistent in their effort to recover 150+ "Hey Look!" gems and publish them for the first time in one volume shortly before Kurtzman died in 1993. The Mad (and Trump, Humbug, Help!, Goodman Beaver, Little Annie Fanny, etc.) humor is evident in these early HK jokes that are 100% HK and without compare in the history of comic book classic humor. This volume also collects "fillers": "Pot-Shot Pete", 'Genius", and "Egghead Doodle". Your Kurtzman collection is woefully incomplete without this wonderful collection by a comic book genius. [JAM 6/9/2015]
Hogan's Alley #8 (2000)
[Kurtzman re Europe in the 1960s] "Wasn't that wonderful? They treated us like real artists!"
Harvey Kurtzman's Jungle Book: Essential Kurtzman Volume One (2014)
Although it was a commercial failure, the thirty-five-cent 1959 Ballantine paperback with 144 original pages written and drawn by Kurtzman was highly-regarded by cartoon art experts as one his greatest publications. Evidence for this exists in the fact that 55 years later, the book is celebrated by the issuance of this Kitchen Sink $24.99 elegant hardback volume. The original title was "Harvey Kurtzman's Pleasure Package" but a description might be: "Too Cool for the Room." The reprint of Jungle Book shows the drawings in a larger format on quality paper as the creator originally intended. This volume truly is an artistic classic that must be preserved for the ages. Following are a few from comments added to the reprinted edition.
[Gilbert Shelton] "In the end, though, I still feel that Kurtzman is the greatest of all the comic book humorists."
[Denis Kitchen] "While comic book circulations [1956] were generally in steady decline and the medium was being widely reviled by the media, parent groups and politicians for its alleged delinquent effect on young readers, MAD's sales were surging, and both the publication and Kurtzman were getting great press. MAD's success, in large part, was because it wasn't just kid stuff or mindless genre filler like the vast majority of comics of the time; MAD's humor was intelligent, and it's loyal enthusiasts included college students, adults, and even intellectuals."
[Harvey Kurtzman] "The package itself was rinky-dink. It was small and printed on bad paper and the printing itself was two cuts under the pulps. On top of that, I did the art on sheets of blue-lined paper. It was an experiment. The printer assured me that the lines wouldn't show up, but of course, they did. Still do. The gray wash reinforced the blue and so the thing is noticeable. It was a case of experimenting with a form before all the bugs were out."
[Denis Kitchen] "... if Kurtzman's fans had it in their power most would certainly trade twenty-five years of lavish Annie Fannies for just a few more magnificent solo works akin to Harvey Kurtzman's Jungle Book."
[Art Spiegelman] (1986) "A Kurtzman formula: you say something true, but high-minded - preferably a couple of things true, but high-minded, to set up the rhythm. Then you deflate the whole lofty mess by saying something really true, but base and down-to-earth. You point out that the Emperor is nekkid, that mortals are driven by greed and lust. And preferably, you do it with a vaguely self-deprecatory Yiddish cadence so that nobody gets too mad at you for telling your truths. ... and, if you're Harvey Kurtzman, you do it with impeccable timing and a tight sense of structure of Keaton that leaves the reader with not just a laugh, but insight."
[Harvey Kurtzman] (1986) "Of course, I'd been deep in the publishing business for years, putting together winners and losers. Here (Organization Man ...), I was probably thinking of Martin Goodman of Timely [which became Marvel]. for whom I once did a puzzle page."
[Peter Poplaski] "I don't think when you say Jungle Book isn't funny, that it's necessarily a negative statement. Kurtzman went for laughs, but beyond that was his compulsion to tell the truth behind the warm fuzzy surface of our favorite TV shows, comic characters and the like, to pull it out of our juvenile little hands and show us in his wacky way that it was just a banal, ridiculous commercial contrivance."
[Robert Crumb] "Cartoonists are ground down by the relentless demands of the medium. few escape this fate, though with us fine artiste-cartoonists it's not quite as brutal, so maybe our creative energy can have a chance to revive itself periodically. I dunno ... Maybe ..."
[Anthony Bourdain] "As a stylist, as an illustrator, as an innovator of layout, as a storyteller, he made everything that came before inadequate - and everything after transformative."
[Also by Will Elder]
Chicken Fat (2006)
This is a volume of sketches that Elder drew while he was waiting for the next Kurtzman project. This is an interesting tour through the mind of an artist with a special look at the Elder family. [JAM 9/18/2017]
True Believer by Abraham Riesman (2021)
[Kurtzman] (about working together again with Stan Lee): "Just like old times." [Lee] "Just like old times. You do the work and I'll take the credit!"