1969
In the last week of January of 1969, I completed classes for a Bachelor of Arts degree (Mathematics) from California State University at Long Beach (then known by most students as "Long Beach State"). My draft status was immediately changed to "1A" so I started to look for options. On February 11, I joined the U.S. Navy under a program that allowed me to wait four months to report to boot camp in San Diego. I was in camp from June 10 through August 11. During that time, I wrote letters to several family members. The letters and one barracks radio were our only contact with the outside world. After boot camp, I was assigned to the Naval Air Technical Training Center near Memphis, Tennessee.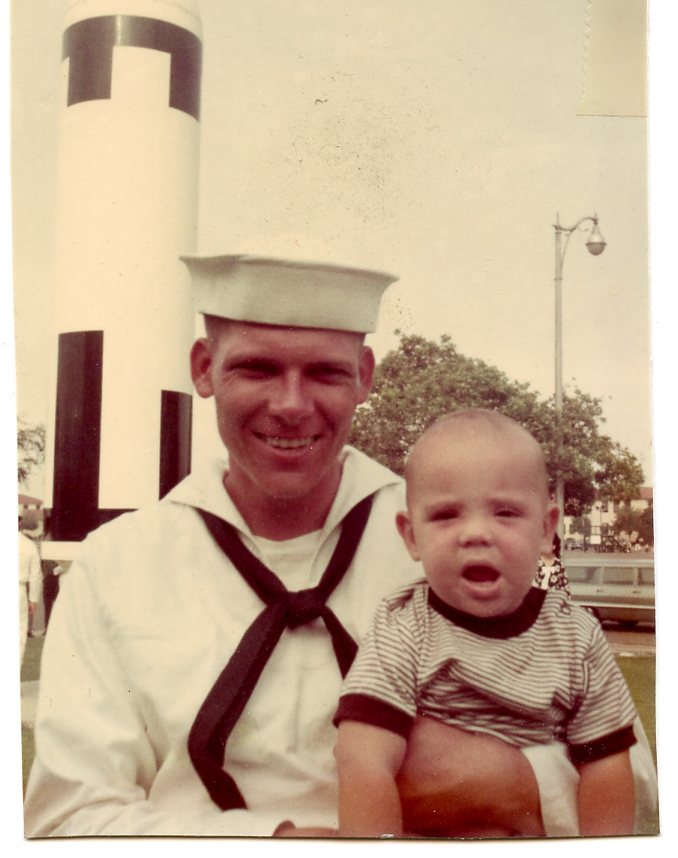 Following are some of the letters I received during that time.
Nyla Maxine Booth Moore is my mother. She wrote in a very neat left-handed handwriting. When I was in boot camp, she sent me the Dodger box scores that I requested. My parents were living in Norwalk, California on Studebaker Road at the time.
(June 13, 1969) "Dear Jerry, I can't think of very much news since you left. Betty Lou just read me your letter over the phone, sounds like they are keeping you busy. I'm sending you Linda's letters, she's been writing one a day (like vitamins). Also baseball standings, etc. Let me know if I'm sending the right thing. I've enrolled in Anthony Schools, 7 weekx of classes, then a series of tests and they say I'll be ready. I sure hope so. I go to school Monday & Wednesday nights and can use their study rooms 4 nights a week if I want. Linda is remembering to feed Tiger real good, haven't had to remind her once. Daddy bought Linda boots for the desert and you should see her marching around in them "to break them in." Ha! Just showing off a little is all. Well, I'm trying to close accounts on my "special letters" and starting books on our "regular letters of administration," so I'm knee deep in books wondering where to start. When can we come to visit or can we? Let us know. Lots of Love, Mom."
(July 17, 1969) "Dear Jerry, Sorry I haven't written in a couple of days, but believe me we've had a "gay" (ha!) old time the last couple of days. It all started Wednesday when Kathy decided not to go to the dentist and cancelled her appointment to take Judy down to Long Beach to straighten out Ed's state income tax for '67 & '68. They just got to the building when Kathy slipped and fell on the asphalt bending her left leg under her, the fall split her knee open like a ripe tomato! She went to the rest room and washed it off, taped it together with a bandaid. Finished 1/2 hour of business (all the time Kathy minding Karen for Judy), then back to the car, stopped at the bank and the gas station, to Judy back to the house (Kathy's) dropped her and the baby off, then went to the doctor's to get it sewed up. Took him an hour of surgery to mend the tendons, muscles, cartilage, etc. Then they called me and said she wasn't too bad, Judy thought! Ha! I took off and picked up Bonnie to drive Kathy's car home, then I took Kathy over to Studebaker hospital for x-rays, after that 1-1/2 hr. wait finally got Kathy home at 3:30 p.m. (She fell about 11 a.m.) To top things off as we were helping Kathy into Jim's easy chair, she leaned back just as I was lifting her leg up on the footrest and she caught my little finger on my right hand (thank goodness) in the hinge on the footrest and now I'm nursing a swollen finger, the nail is almost completely black today, looks like I'll lose a fingernail eventually. How's that for a way to spend a day? We had to go rent crutches for Kathy as she won't be able to use her left leg for 4 to 6 weeks anyway. Then she'll probably be lucky if she doesn't have permanent damage due to the tendons being cut. Well, we all survived in spite of it all. How are your feet surviving? Hope the bandaids helped. Linda is thrilled to death, she's babysitting 2 of Inez's grandsons today. You'd have thought she was going to Disneyland she was so excited this morning. Inez and her daughter-in-law are cleaning a house Inez bought for a rental, so Linda's job is to keep the boys (3 and 5) busy outside. I have one more class, then I can start testing to see how much I know. Then I'll send for my date for the test. The schools says wait till I take a few tests and see how I do, must get 80% or better before they want us to try the state test. I boat Brian a plastic boat yesterday about 3 foot long that he can use as a swimming (?) pool and later in the big pool or even as a sand box in the winter if you want, he is a little leery at first, but once he's in and wet he's fine. We'll have to get more film and catch him at play. Well, must close for now, it's almost noon and Women's Council has their luncheon today. See you soon. Lots of Love, Mom, Dad & kids."
(September 16, 1969) "Dearest Jerry, Guess what! The Dodgers are in 1st, at least for a few hours until the game tonight. Jim Healy says its by 1/1000 of a per cent, don't know how they figure it though. Betty Lou's case has been put off again by John's lawyer, he was in the middle of another case and couldn't make it. Mr. Licker says next time (Oct. 2) we'll try to force them to go ahead, but that will be up to the judge. I've got my date for the Broker's tests, the 11th & 18th of October. Wish me luck, I may need plenty of it. Betty Lou is having lots of trouble with Tiger nowadays, she had a friend, Victor over Sunday afternoon playing pool on the back patio and Tiger sneaked over and bit him, laid a finger open, then Monday he wouldn't let Linda and Cindy in the back gate, growled and snapped at them till Betty rescued them. Today he scared the meter reader so bad Betty Lou let him in the back door. She had let him out the back gate and closed it, so Tiger ran around to the front gate and cornered the man and wouldn't let him out. You can imagine she's pretty unhappy with him right now. Betty Lou is baby sitting Kenneth 2 days a week now and makes herself $6 a week. Brian is walking a little now and then by himself, at least Dad and Lou say he is. I haven't seen him walk since two weeks ago. Then only 2 steps. I've got the morning off tomorrow so will try to get the things you asked for in the mail. It sounds like you have time to enjoy your bowling a lot more now, I sure hope you get on a league, it's so much more fun in a league, at least to me. Wish I had time to go back to bowling. Maybe you'll want one of your bowling shirts one of these days. Well, I must take off for school again, I've started a class at Cerritos on R.E. Finance, along with Helen and Inez. Maybe we'll find out how to get money. Ha! Lots of Love, Mom, Dad & all. P.S. I'll be praying for the Dodgers."
(September 20, 1969) "Dearest Jerry, I finally got your things packed up and will mail them first thing Monday morning. Sorry, I'm so slow but things have been pretty hectic around here. I knew Chuck Connors wasn't one of your favorites, but I got a few laughs out of the article and thought you would too. I guess I told you about all the troubles with Tiger last week, well, the Edison Co. notified us they won't extend services to us after this if we can't arrange for their meter readers to get in without "danger to their person." Dad and Lou read that and Thursday before I came home they took Tiger to the pound. Lou said the man there told them the reason Tiger was mean was he was getting paralized in the rear legs. Said we'd have really had a mean dog in another week or so. Anyway we had to do something. I'm sorry to say, Lou came home and cried like a baby. Linda, thank goodness, is taking it real good, but then she has her rabbits. Lou went and bought Linda a white female, her black Josephine turned out to be a Joe. So now the white one is Josephine. I called Grandma today and she was real unhappy about Tiger and I know you are too. I've wished and wished there was another way, but Dad says it's all we could do and it is hard to live without electricity these days. I really don't know how the girls talked Dad into rabbits but he probably thinks he'll take them to the desert eventually. I wasn't here when the rabbit came. Excuse the grease on this page, Linda gave me some popcorn right on top of it. If you need any money to come home on Xmas just let me know and we'll find it somewhere. I can't imagine Xmas without you, we probably try to fly down there if you couldn't come home, but that would be just about out of the question this year. Next year will be different, we keep hoping. We just don't have any idea of when this probate will be over. The advertising period of 4 months just started Sept. 4th and I thought it would be over in October, but the bank didn't get the papers straightened out and back to Mr. Wheeler till Sept. 4th. So we're 3 months behind what we thought we were, some deal, huh? Guess we're destined to wait and wait and then wait some more. I almost made Dad write you, but he keeps saying I do a better job, so I gave up. Well, I must close and try to find time to study, I've started Cerritos again on Tuesday nights and still Mondays & Wednesdays at Anthony's till test time. Do you think I'll ever make it through the trial, the tests and probate? I'm not at all sure, I've got to do something for my nerves (like maybe quit pulling hair out). Well, so long for now, write soon. Lots of Love, Mom, Dad & all."
(September 23, 1969) "Dear Jerry, Linda received your souvenir from the fair, she was really surprised and happy with it. She is home with a bad cold today, guess she went barefooted too long and it's been a lot cooler here than the usual September. It'll probably be real hot about the first of October. Dad and I went visiting Sunday and saw Harold & Jean Cobble and their girls and in-laws and grandchildren. They have three, 2 girls and a boy and are expecting another. Vicki Jo has the boy (4) and the 1 year old girl. Gloria Jean has a 4 year old girl and expects another baby soon. We even saw the old folks (Jean's parents). They sure have aged, must be 5 yrs. since we've seen them. Dad tells me Shirley Miller has been bedded with hepatitis, says she may be in bed for several months. No Kaiser hospital would take her in, they just said no treatment for it, just put her to bed till nature takes its course. Her type is contagious so nobody is to visit her, wouldn't that be terrible, at home for months and no visitors! On second thought maybe it wouldn't be too bad, I might enjoy it. The office is doing almost nothing right now. Business has fallen off everywhere. Still my R.E. Finance teacher says the 70's will be best of all R.E. booms. Hope we can hold out that long. Gary says he will leave after income tax this year, so we won't be bothered with him after the first of the year. He's going north to Fresno, his in-laws are there. Have you found out what avionics is yet? When does school start? I guess I'll be almost thru school by the time you start, except for the one finance class. We almost were ready to quit that last night, we (Helen, Inez & I) thought the teacher would "sing" us to sleep, he was so quiet the first night, we thought he didn't know anything, five minutes before the "break" the second night he taught us more about the "Truth in Lending" bill than we'd learned from other sources since July 1st. The second half he showed us how to use it to our advantage in convincing people to invest in Real Estate and here all the time we'd been cussing the bill. Well, you live and learn. I'm on the late shift tonight with school afterwards, so will probably only work two hours, if you can call going over and sitting work! Must close for now, haven't had a letter all week, when are you writing? Ha! Lots of Love, Mom, dad & all. P.S. Your last letter (not air mail) made it in one day! Mom."
(Friday, October 3, 1969) "Dearest Jerry, Well, we got one day in court over with, but will go back Dec. 5th for the final trial. Betty Lou, John, Chuck and Donna Hilliard were the only ones called to testify yesterday. You would have been proud of your sister, she was the "star of the show," made the other three out as liars and the judge practically said he didn't believe them. The judge told John the last thing before court adjourned, "Mr. Eddy, if there is support ordered here, there will also be visiting rights and I want you to consider this boy your own and really feel that he is yours." That statement alone just about made my day. John's grandmother left the court in tears when Brian started smiling at her and playing over the back of the seat. Brian even had Chuck, Donna and Mrs. Hilliard playing with him. Vivian sat there and enjoyed the show, and wondered why she'd been so scared and they never even called on her, so her and I rather enjoyed the whole thing. Dad had to take Brian out in the hall as he got too noisy and he missed the whole testimony. All Chuck and Donna had to say was Betty said it was either chuck or John in a letter to Chuck on the 7th of Jan. '68, funny thing was we had three letters from Chuck to Betty after that and up to Feb. 20, '68 and he doesn't say anything about her letter in those and don't you think he'd either stop writing or write and deny it, if she had written such a letter? Our lawyer brought that out right away! Also the judge said any support ordered would be retroactive to Oct. 2 as this thing had gone on so long. The reason he put the trial off till Dec. 5th, it'll be almost Betty's 21st birthday and he can give her custody, without naming Dad as guardian. I guess you heard about the earthquakes up north, Inez nearly drove us crazy yesterday as her son & family had just left to drive right through there with a truck, car and trailer. They finally called and said they slept right through it, but saw a lot of damage driving through Santa Rosa that morning. Well, I guess all "good things" must come to an end, Ed got "ratted" on for taking home too much navy equipment, he had neon lights, cans of paint, tool chests and heaven only knows what else, so he got a buddy to call Judy long distance before the ship got in yesterday, and she had to take down the lights, sockets, etc., load up the car and dump it all in a canyon. Serves him right in a way, and I still don't know what they did with all the hams he brought home, maybe they weren't stamped U.S.N. But now he's relaxed he got rid of it before they could search the place. They had said they were going to get search warrants when the ship docked. Well, we sure had a busy day and hope to get off to the desert about 3 today. Will be thinking of you. Hope you will be home soon to go yourself. We'll probably write you from Las Vegas Sunday or Monday. Loads of Love, Mom, Dad & all. P.S. Jim says how about sending him a couple of '69 plain pennies, if you get them. Mom"
(October 25, 1969) "Dear Jerry, This message comes to you from Nyla M. Moore, Licensed Real Estate Broker. How about that! I made it, believe it or not! I'm not sure I do believe it myself, but it sure feels good. The address of the Department of Motor Vehicles is 9320 E. Alondra, Bellflower. I sure enough had forgotten, so put it in while I'm still thinking of it. I'll write you tomorrow and send yout the Trojan scorecard and anything exciting about our teams I can find. Linda wrote you about my broker's coming thru before I ever got home from work this afternoon and I only worked till 1:30. It'll really be "Ernie eat your heart out" as I called Don Wheeler and he said as soon as my license comes back we'll get rid of Ernie, the sooner the better, then I'll be getting that 10% for running the business. I'm going to be hiring right after the first of the year, as one of the gals is closing her office and all her girls want to come over to our office to work. I think you've heard me talk about Mildred Barlow haven't you? She wants to work part time for me, too. Still haven't heard whether Virginia got hers or not, they weren't home this morning when I called to give her a message, so she doesn't know yet that I got mine. Remember that little bottle of champagne we brought home from Gene's apartment, Lou put it on ice as soon as she got the mail and we'll have a short toast tonight, might even be a swallow for the three of us! Ha! Nevertheless I think it's rather appropriate to drink it on this particular occasion as I think Gene would have been just as happy as we are over it, don't you? Glad to hear you're already trying for advancements, it's the only way to make more money and get easier jobs, too. Well, the gang is coming over to play cards tonight, so I'd better close and get busy. Loads of Love, Mom, Dad & all "Yippee"
(October 26, 1969) "Dear Jerry, We went to the Valley (Woodland Hills) near Alice's place to a 75th birthday party today, I don't know if you know Mrs. Rasmussen, but Jim, Alice and I sure do, remembering that far back is really something that makes you feel your age. Her son John looks as old as she does. saw Alice and Jay there, they have a new Datsun pickup. Now as Dad says he's the only one who can't afford one now. But maybe it won't be long, before he can I hope! I'm enclosing the whole article on the Trojans game, as it's all I could find about the game. Hope it's what you wanted. Linda went to a slumber party at Jill's dressed as Phyllis Diller and I want you to know, she was a real hit, nobody guessed who she was till she started talking , not even Evelyn. She didn't go to sleep till 4 a.m., so now she's in bed and it's only 7 p.m. She may even be rested for school tomorrow! Hasn't been any news since yesterday so I haven't much to write about. I still don't feel like a broker, but maybe I will someday. Ha! Still haven't heard a word from the Watsons, although Helen told me Floyd told her Virginia didn't get her results as yet. The Watsons also didn't bother to congratulate me as yet, I didn't really expect them to, although most everyone else has called me. Well, must be about time to close. I've run down for this time. Loads of Love, Mom, Dad and all."
(November 11, 1969) "Dearest Jerry, This is one evening you'll be glad you weren't home. Evelyn is here having her hair and three wigs dyed! I'll just bet you can imagine the smell! By the way she says to tell you "hello." Betty Lou had a proposal and has five months to make up her mind. Jeff Penrod asked her to marry him and live in Oklahoma when he gets back from Alaska and out of the army. Jeff's two old aunts are giving him 55 acres to farm somewhere in Oklahoma if he helps them farm their land. Lou doesn't say whether or not she's all that interested, but she says she's thinking it over. I don't know if you ever met Jeff or not, he's 6'2" and red headed. He might even be able to handle her! As if anyone ever will. Your mom is one step closer to being a Realtor, just got my application in to the board with the initiation fee ($400) that took a little doing, now all I can do is wait for them to accept or reject me. Do you want to bet which they'll do, with that kind of initiation fee? Virginia still hasn't shown her face, she sends Floyd in on her floor time. She hasn't worked at all since July, guess we'll have to get rid of her! Man, that'll be the day! Ernie is having an Open House at his office Friday, champagne and "horse de overs" as he calls them. Guess I'll have to show up for a few minutes, but Helen says she won't and Inez is wavering, but will probably go just to show him she holds no grudge. No kidding though we'd like to be rid of Ernie & the Watsons, but that's probably too much to wish for. Linda had the day off school today, so Cindy stayed all night, then Kenneth came at 8:30 and believe me, I left, went on caravan and fooled around at the office till I thought Corinne would have picked up Kenneth, but didn't stay long enough, got home in time to catch Dad trying to cope with Corinne, Kenneth, Linda, Lou, Cindy, Jill and Vickie (whoever she is, one of Linda's friends I think). Then when we got rid of them along comes Evelyn, (that's and improvement?). Well, somedays we're just not lucky as we could be. Not a bit of news around here so will close for this time. Loads of Love, Mom, Dad & all."
(November 19, 1969) "Dearest Jerry, Here it is Wednesday already and I don't know where this week has gone. Just one month till you come home, won't be long now. We had a nice dinner & afterwards cake for Grandma and Jim's family and Alice & Jay came in time for cake, etc. Everyone seemed to enjoy it. Bonnie found out Ken has to go to school in Kansas City for 3 months to get the job he wants, so don't know yet what effect it will have on the Jan. wedding. Depends on whether or not she can go to Kansas City too. Should know more by the time you get home. Lou has started watching for the mailman every day, so maybe this is serious with Jeff! Ha! Only time will tell. Gloria Vernon (next door to Kathy's) is engaged, and her folks are just furious, said how could she bring something like that home! They sure are sour on the boy, not to mention Glory! Guess you just can't please everybody, in fact I sometimes wonder why we try. Brian is a pretty cross little boy tonight, seems to be catching a cold, although it could be his lower molars, they sure have his gums swollen. Hope he's a little better tomorrow. Linda also says she is feeling bad, but don't know if that's for attention or not. The bank auditors are finally coming out tomorrow to audit the office, it's about time. They were supposed to be out in July, oh well, you know how slow they have been, they aren't in any hurry at all. Floyd claimed to have a heart attack right after the bank called. I think it was nerves, he laid down on the couch all of two minutes, then got up and said it was all right now. What kind of a heart attack can anyone get over in two minutes? Ha! Well must close, it's past bedtime, but I hadn't written since Sunday, so had to get a few lines off to you. Loads of Love, Mom, Dad and all."
(Thanksgiving, 1969) "Dearest Jerry, It sure was nice talking to you only I couldn't think of much to say. Grandma said to tell you we'd all have a bite for you, nice, huh? Grandma and Lou sure kept it a secret though, I couldn't imagine who'd be calling me on Thanksgiving. It's six o'clock here and everyone has gone home, meaning Grandma, Judy and Karen. Karen and Brian wouldn't take any naps but were really good anyway. We even played a new game I learned from Helen called "in-between." We'll teach you how, maybe, if you'd like to learn, you might know it's a gambling game. I'm supposed to tell you for Grandma that Jerry West sprained his ankle last night and the only thing that he hasn't done this year is break his nose. Brian is already in bed, he was so tired when they left. He spent a lot of time today walking around in Grandpa's slippers, he can just barely manage them. It was so warm here today that Linda has been running around in barefeet and shorts and we had every door and window open to cool the house off from the heat of the oven. I hope we save some of this weather for you when you get home. Well, I can't think of any more news, so will close for this time. Loads of Love, Mom, Dad & all."
(November 26, 1969) "Dearest Jerry, Guess what? Your mom is not only a Broker, but she is also a Realtor, Active Member Norwalk-La Mirada Board of Realtors! How about that? Theey accepted me after a personal interview in which all they asked me "was I going to vote for myself," I said "yes," they said "you're in!" I saw Mr. Wheeler today, he said the Watsons were in last week and they wanted to keep Ernie till probate closes, but he sent Ernie a 30 day notice anyway! Ernie also had a fit, he wants an audit of the books! He's getting it, too, but only because the bank had already started it, as of last Thursday, anyway, it had to do it anyway. Also Mr. Wheeler is starting the advertising for our DBA (doing business as) or fictitious name. That also takes 30 days and then Orr & Day Realty will be operating under my name only! Other than that there isn't much news, only I did ask around till I found out where to get the part for your watch. Do you want me to try and buy it and send it or wait till you get home? I don't know if I'd have to have your watch or not for fitting it. Well, hope you have a nice holiday even if I can't have you here. We're all counting the days till the 2oth. Won't be long now. Loads of Love, Mom, Dad, etc."
Marian Margaret Pfister Booth (1903-1971) was my mother's mother. She came to live with us in Norwalk, California after my grandfather, James Orval Booth (1902-1954) died suddenly from a brain aneurysm. Our grandmother was like a third parent for my sisters and me. My grandparents lived in Hiawatha, Kansas. After the Great Depression, they drove from Kansas to California with their children: James, Nyla (my mother) and Alice. My grandfather worked for the Richfield Oil Company. My grandparents were living in Bellflower, California when James Orval died in 1954.
(June 19, 1969) "Dear Jerry: - I wish you wouldn't be so slow about writing. You see how fast I am, don't you? Thanks so much for writing to me. I enjoyed your letter so much. Alice was sorry she didn't get to see you but said if you wrote her once in a while she would sure answer. The men folks straightened my rug and it looks pretty good now. Glad to know the food is good, I'm afraid I couldn't eat much in 15 min. But imagine you will speed up each day so that you get your share. So far as I know everyone is O.K. Take care of those feet, and write when you have time. If not I'm sure Mom will tell me how you are. Love, Grandma"
(June 30, 1969) "Dear Jerry: Have been putting off writing. Hoping you would be back in your old co. Since you didn't make it I'll write & hope it catches up with you. You probably are in a new outfit. Do you have to start all over again? Maybe by the time you get home I'll have my dump pretty well fixed up. Got the bedrooms curtains up. Some petunias planted in that window box. Bought a blue flowered love seat to replace the pink sofa. Can't get it till the 19th of July. If I can get up enough ambition I may paint the front door today. Looks as if summer has arrived. Have had sun all day for 3 days I believe. It does warm things up a bit. I suppose the 4th will be just another day for you? Alice wanted me to come out there but I doubt if I do unless someone else wants to go and that isn't likely. Lots of love and good luck. Grandma"
(Friday a.m. July? 1969) "Dear Jerry: Just a few lines to let you know I'm still kicking around. I do have one small piece of news. Had the radiator on the old klunk repaired. It's pretty nice not to have to put water in every time i go some place. I don't know how Kathy walked but she won't be for about 5 more weeks now. Went to see her for a few minutes after work yesterday. Betty Lou & Brian were there. I think you will be home in time to help some more with the walking bit. Mom was in Long Beach taking an exam. You didn't really say how your feet were. You must have a lot of walking to do. I can't imagine that many room mates, but I don't suppose there is ever a dull moment. My love seat didn't show up last Sat. I don't have a thing but folding chairs to sit on. If it doesn't come tomorrow I'll have to see what's holding it up. Alice & Jay got the old davenport a week ago tonite. It's about time for the mailman so bye and Lots of Love Grandma"
(Friday a.m. July/August? 1969) "Dear Jerry: I'm sorry I'm so tardy about answering your nice letter. It's been so hot that I'm sorta dragging. They sure do keep you busy, but you are just learning how busy some of your ancestors were in building up this nice or awful world, whichever way you look at it. I would love to see your graduation. I don't have to work on Thursday which would help. I just don't get along too good when it's so warm and I wouldn't want to spoil the day for the rest of the family. I'll have to decide when the time comes. I would guess that you will be in the air part of the Navy. see you soon, Love Grandma"
(Thursday eve August? 1969) "Dear Jerry: I was happy to get your letter even if it was a short one. I hear that Ed is to be the Royal Baby when the Hornet crosses the Equator. Believe it is because of that belly. We may see the event on T.V. They cross on the 15th, wouldn't that be a sight. Do you get radio & TV now? You asked me if I am still an Angel fan. Yes but I wish they would win more of the close ones. I've about given up on them. The Dodgers are doing O.K. I love them too. Haven't seen any of the family for a couple of weeks. May go calling on them this weekend. Have your feet healed completely yet? Write when & if you have time as mother will tell me how you are. Lots of Love Grandma"
(Tuesday a.m. September? 1969) "Dear Jerry: - Think it's about time I at least said hell-o. I hear that Memphis is having its troubles again. Have you seen any of the protests or do you stay clear of it all? I wish today was over and I'll bet there are others including the President on down. Next weekend would be nice to skip. Thanks for the birthday card it was a beauty. Wish I had that much hair. Haven't heard from your folks for over a week. Was down to Judy's last night and she hasn't heard from Ed yet. Heard on radio that the Hornet had left Hawaii. It's time to go to work so will try to do better next time. Too bad about Wilt. Guess the Lakers will be just another team. Love, Grandma"
(September 24, 1969) "Dear Jerry: What in heck happened to those Dodgers? I hardly have time to sleep anymore what with baseball, football & the new programs. I'm afraid the Dodgers are out. So I hope the Giants can do it. I like the way the Rams are starting out. I liked the graph you sent, it tells the story loud & clear. I think most letters go by air now except maybe at Christmas time. Bet you boys have a time at the fair. Didn't you ever go to the L.A. County Fair? I haven't heard from J.C. since your Mom, Kathy, Judy & I were up to see Alice. I suppose she told you about it. I'm afraid when a family gets as big as ours we are bound to have problems right along with most of the human race. Your mother seems to have more than her share tho. You certainly should do fine in your school work. Hope you will tell me all about it. The bowling too. I expect most towns east of the Rockies look pretty old & dirty. I'm afraid we are getting about as bad and I don't like it. Our weather has been lovely, a little fog some nights. What kind of winter does Tenn. have? Or have you asked or heard yet? I love your letters, they make my day for me so write if you have time. Love Grandma"
(October 5, 1969) "Dear Jerry: - How do you like the playoffs so far? I am now rooting for the Mets. If they keep hitting as they have been, how can they lose? The Twins & Orioles are really putting on a show. Sorry about the fair and how you do talk about Memphis! I get a laugh every time I think about covering it with snow, the more the better. Have had a sore throat for 2 weeks a virus that is on tour out here. It seems to have helped my ear so I'm hoping and hoping. The past 8 mos. were sure long ones. I hope it don't take so long to cure the throat. How about the girls back there? Any cute waves running around the base? (Monday morning) Here it is 9 a.m. and I have to wash my hair and scrub the kitchen before time to get parked in front of the T.V. lots of love Grandma"
(Friday noon November? 1969) "Dear Jerry: Received your nice letter Wed. I don't know if you will believe me when I tell you all that has happened to the Lakers or you may have read most in the papers I send you. On last week's road trip, J. Egan pulled a groin muscle and came home after one day. The next day Elgin came home same injury. Then Robeson who was doing very well at center injured the tissue around the Achilles tendon so he was out. Erickson sprained his ankle. Has been out a week. Except for cut in one eyebrow Jerry was whole till the last game at Milwaukee. He made 5 points and he sprained an ankle. He came back and tried to play in the 2nd quarter but could not. Egan & Lynn was the bench. So Egan managed to play the game out. For almost 2 weeks the only healthy players have been Counts, McCarter, Garret, Hewitt and Lynn & Jerry till last game. They expect Baylor & Erickson back tomorrow nite or Sunday. If it keeps up they might have to suit up Hearn, Mullany, Cooke & Schaus. So much for the Lakers. You surprised your folks alright with your call. Judy, Karen & I were there. Jim & rest of them went to the desert. Alice had 15 at her house. I made 7 pies, 2 for each family and I have 1 in refrig. Hope you had a nice weekend, and I think the Rams & Gabe will be it this year. The Michigan & Ohio State was one of the best games I ever looked at even pro games. Think Michigan might blow USC right out of the Rose Bowl. Judy, Betty & I went to see Alice Wed. p.m. J.C., Sue & little Susie were there, got pictures of the 3 together. J.C. is going to have to go back to hospital and have the fingers done over. Jan was hit on her head with a volleyball Tues. Gave her a whiplash. She still doesn't feel very good. Hope you can understand this. Had a rough 3 days and am a little dizzier than usual. How do you spell it? Love & can hardly wait to see you. Grandma"
(Monday a.m. December? 1969) "Dear Jerry: I guess this will surprise you but I forgot in my last letter to tell you what I was able to find out about Xmas presents. It isn't much but I did hear Betty Lou say Linda would like records and that Mom could use house slippers size 8 and Brian will like anything. I'm having a rough time too, so far I have blouses for Betty & Linda. Dresses for Karen & Susie and blocks for all 3 babies. Well, the Lakers lost a close one again last nite to the Bulls 114 to 116. You just won't believe that game. Baylor & Erickson still could not play. Did you know they traded Hewitt for Happy Hairston? Last nite was his 2nd as a Laker and he was their star. West played all but a few minutes and made his 39 pts. but his ankle bothers. They started Robeson at center then Counts, & Mike Lynn all fouling out so the game ended with Hairston at center. To top it all off it went into overtime. At the end, West & Egan were still in at guard. With a few seconds left for 1 last play Erickson had to go in & stand there so they would have 5 men. I just can't remember who else hung on for the other forward but they certainly made a game try. When they all recover they should be very tough, hope it won't be too late. We'll be counting the days till you get home. Lots of love Grandma"
Alice Booth Coon is my mother's younger sister. Her handwriting is really quite good.
(July 24, 1969) "I'm like Grandma, I hope you can read this hen scratching! Dear Jerry, I, "we," were glad you took the time to write to us. We know, from all the boys who are in service from our neighborhood, how much of your time is taken up by duties. I really had a good recovery, but then a planned operation is so much better than an emergency. Aunt Kathleen sure had a miserable time with her knee. Jay's youngest sister-in-law had an operation the day after I did & she took much longer to recover. Jay was in the base hospital just after we were married & it was his feet, too. He had an infection from second-hand shoes. We have only been going to swap meets once a month at the Rose Bowl. J.C. had 3 calls at the draft board. He had hypertension high blood pressure each time. He is classified 4-A now. Jon just turned 18 last Friday so he will register soon. Rita has been working for the last year and a half at Planning Research Corp. in Westwood. She isn't going in for anymore education (as yet). Jan has finished one year & 1/2 summer school of Jr. college. She is just majoring in Home Ec. Rita's major was Library Science. She got an A.A. degree in it. She is working as library clerk. I hope you like your duties as much as one can. Your rating sounds good. I hope we get to see you while you are home. As I remember it, we never did get to see Judy whenever she came home. The moon trip was sure something, wasn't it? I'm so glad they got home safe. We are all well & hope you are the same. I can't say the same about our cars. Rita's needs a new clutch & ours just had a new generator & then this morning Jim put 5 gals. of water in the gas tank. Oh, well!! Write soon or better yet see you soon, Love, Aunt Alice & all."
Betty Booth (1902-2002) was the second wife of my maternal grandfather's brother (Glenn Booth 1903-1987). Aunt Betty was a proper, well-educated woman who wrote long letters in an elegant handwriting. Aunt Betty and Uncle Glenn did not have children but always had pudgy, yappy dogs. All of the cousins visited Betty in Hesperia, California for her 100th birthday party. At the party she told me that all of her friends were gone and that she should go also. She died two weeks after the party.
(Wednesday Night July 30th, 1969) "Dear Jerry: I didn't realize it's been over two weeks since we received your most interesting letter. How time flies. We were so very pleased to hear from you, but sorry to hear about your mother's fall on the kitchen floor. We earnestly hope she didn't hurt her back too badly. Sometimes the shock is worse than the fall. She probably was stiff for a week. I remember last Christmas in this house and our first snowfall. I rushed out on the back patio, intending to make a snowball to toss at Glenn. As I reached down to grab a handful of snow, my feet went up from under me, and I sat down, so nice and easy, on the snow covered patio. I marveled that I didn't hurt myself, but do you know, the next several days I was so stiff and sore I could hardly move. So I'm sure your mother felt it for days. We hope she is completely over it by now. We were very happy to hear that you may be stationed either in San Diego or Long Beach. How nice that would be for you and your family. Close enough so you could see each other often. You say you'll have 14 days leave and you hope you'll be able to visit us and try out the golf course. We hope so too. We would be delighted to have you, and although Glenn doesn't golf, my brother Hap said he'd be glad to play golf with you. So please come if you possibly can and stay as long as you like. Yes, Jimmy and Kathleen spent the night with us on the way home from their Desert Retreat. We so very much enjoyed their stay and wished they could have spent more time with us, but Jim had to be back to work the next day. They both looked great. We hope your folks will come up for a visit with us and we've also asked your Grandma to come and stay a week or more with us. We would enjoy them all so very much. They tell us Judy is very pleased with her home. We were wondering if her husband was on the Hornet when they picked up our moon walkers. We two keep busy around here. Glenn waters every morning and every evening, especially his fruit trees. My brother Charlie laughingly refers to it as "Glenn's Orchard." We have one peach tree, one apricot, one apple and one pear. I have a tiny foot-high fig tree with two, hard little figs on it. Glenn also has some watermelon vines, but every time we spot a tiny melon, it's gone the next day, so it's either squirrels or chipmunks getting into our watermelon patch. My gladiolas are blooming, much to my surprise, as I'm not much of a gardener. Our little poodle "Mimi" ties us down a lot. She's such a baby, can't bear to have us out of her sight. Even when Glenn leaves the car to go into the post office or market, she cries and whimpers until he gets back. She sure is Daddy's girl. Saturday night we had dinner on Hap's patio, it was a lovely night out. The phone rang just as we came home. It was Harold calling, asking us if we'd like to take a ride with them to Lake Forest, in the Laguna Hills near the El Toro base, to see his sister Marie Lydick and Dale. We told him we'd enjoy it. They picked us up at 9:30 a.m. Sunday. Marie made lunch for us, then took us on a tour of model homes in the area and to their clubhouse on the shores of the lake. All very lovely. Marie's two-story house is very modern and very spacious and, of course, very beautifully furnished. But the houses are only three feet apart, and if one sneezes in one's house, I'm sure the neighbors hear it. I looked out of every window and from her upstairs bedroom balcony and all I could see was two-story houses on all sides, people, traffic, noise. Later, Glenn and I remarked to each other, how much we came to love our wide open spaces, our hills and mountains, our squirrels and chipmunks, rabbits and quail, smog-free - quiet and serene. Now I can understand why your Dad and Jimmy want to get away from it all when they retire. Once you have had a taste of living in the wide open spaces, it's hard to go back to the din and traffic of the cities. Walter and wife bought up here at the same time we did and after living in the city all his life, he thought he'd try his hand at farming on his little half acre. Well, now, he has been supplying us with Kentucky string beans, Oregon string beans, summer squash, zucchini squash, corn on the cob and soon will be giving us watermelons, cantaloupes, tomatoes. His watermelons are big as footballs so far. One of our neighbors has been sending us apricots off her trees. I've made apricot pies, apricot tarts, apricot cobblers and gave some away as we couldn't look at another apricot. Now the engineer from Lookheed's at Burbank, who has a couple of peach trees whose branches are so loaded with peaches they are sagging on the ground, told us to go over and help ourselves to peaches. So what more do we want up here? We have wonderful neighbors. Hope you can read my scribbling, Jerry, I'm writing this on my lap in my rocking chair. Glenn has gone to bed. He's not much of a hand at writing, but he does enjoy hearing from people. So do write again when you have a spare moment. I know they'll keep you busy there and if you write to all your relatives you won't have time for much of anything else. We hope you are through boot-camp and the going is easier now. Well, I'd better start to close and hie myself off to bed as we are picking up Walt & Kate tomorrow morning and going to Victor Plaza to market and shop. Hope you are feeling in the best of health. Take care of yourself. Give our love to all the family when you write them. None of us correspond. I do hope they'll be coming up to see us soon. And Jerry, do try to come up on your leave. We'll try our darndest to make your stay a pleasant one. We would love to have you, so do come. Bye for now, with love from Glenn and Betty. P.S. Thursday morning: Was just having breakfast this morning when the neighbor brought over another big bag of apricots - Yipe.
(August 12, 1969) "Dear Jerry: Received your letter of August 2nd and were very happy to hear from you, although very sorry to hear that you are not going to be stationed in Southern California. It would have been so nice for everyone if you were kept on this coast. And if you are sent overseas we hope it will be as far as possible in the opposite direction of Vietnam. I don't think they are making any headway with their peace talks in Paris, as tonight's news said the Commies are really shelling South Vietnam. I'm so glad you enjoyed my letter, Jerry. You write a pretty nice letter yourself. Glenn and I enjoyed it very much. We were happy to know your Mom is alright after the fall she had, and hope all the rest of the family are well, your Dad, sisters, Grandma and little Brian. Glenn and I have been wondering what happened regarding Kathleen's mother as she was taken to hospital at the time Kathleen and Jim spent the night with us. We hope it was nothing serious. How has the weather been in San Diego? It gets quite hot here. Victorville registered 106 degrees the other day and I'm sure it was the same in Hesperia, but we stay indoors during the hot part of the day, with the cooler on, therefore the heat doesn't bother us. The mornings and evenings are lovely, so nice and cool. After dinner, Glenn waters, and then we sit on our patio until nightfall enjoying the cool, clean, fresh air. My brother Charlie writes that the smog and humidity in L.A. have been awful. Marie Lydick's brother Harold had dinner with us last Saturday evening. His wife Myrtle and her sister Olga have been up in Napa, Calif. for over a week, as their son Bob's wife had a little girl. So Myrtle and Olga went up to help take care of things while Bob's wife was in hospital. Of course they all are elated that this new addition to the family is a girl as they have two boys. Myrtle and Olga then drove to see their sister Hilda at Lake Tahoe. Hilda's husband Eddie McHann, has been ailing for some time and was in hospital, and passed away while they were visiting him. Harold tells us Myrtle won't be home now until after the funeral. As long as it was his time to go, how nice it was that Myrtle and Olga were with their sister Hilda at the time. I'm sure your Grandma would be interested in knowing this, therefore am writing about it. Harold looked sort of bushed. Of course he is taking medication to keep his blood thin, on doctor's orders, as he, too, has been a patient in hospital, recently, with a couple of blood clots in his leg. And they can be serious. Well, Jerry dear, we so hope you'll be able to spend some time with us on your leave. We would love to have you, and would try our darndest to make your stay enjoyable. Glenn is about to drive to the post office to see if we have any mail there, as we still have a post office box, in addition to the country style one we have at roadside in front of our house, so I'll have him mail this for me. Thank you , Jerry, for writing to us. We, so very much, enjoy your letters. We will keep on hoping and praying for the very best for you during your time in the service. Give our love to all the family when you write, and we are looking forward to seeing you our way soon. Love to you dear from Glenn and Betty. P.S. In our yard this morning were two chipmunks and a bevy of quail. Cute rascals, all of them.
(Tuesday Morning October 21, 1969) "Dear Jerry: Received your letter and as always very happy to hear from you. I suppose by now, you are deep in your school work. We hope you like it as well as you thought you would. We, too, were surprised at the number of recreational facilities you have at the base. They are all up your alley, bowling, golf and pool. Only hope you'll have enough leisure time to enjoy them all. We were happy that you have a good chance of being stationed at a naval air base in Southern California. How wonderful that would be to be so close to home, at least within driving distance - eh! We were sorry you lost your dog [Tiger]. We know you'll miss it when you get home. A person certainly gets very attached to them. Our little Mimi is fine now. We thought we were going to lose her. We had her spayed and of course she wasn't feeling too good. But on Sunday morning she was terribly sick. Vomited all night. Next day, on a Sunday, we tried to get in touch with a vet as ours was gone on vacation. We finally located one in Apple Valley. Two hours before our appointment, Mimi began to perk up. By the time 4 p.m. rolled around and we entered the vet's office, she began to bark, in no uncertain terms, at the vet. He looked at Glenn and me as though we were crazy thinking our dog was so sick. He examined her, found everything normal, then asked what we had fed her the night before. Glenn told him that I had been munching on Cracker Jacks and Mimi begged for some, so I fed her a few kernels. Vet said that was what upset her. So it cost us $8.00 to find out she had an old-fashioned belly-ache. Now she is fine again and full of mischief. We were saddened Friday by the death of my brother Hap's poodle Gigolo. He had a bad habit of racing down the hill toward the school bus and barking his little head off. He always managed to stop short just within their property. This time he was running so fast he couldn't stop, hit the bus wheel head-on. Killed instantly. Glenn helped Hap bury him as Hap was beside himself. He loved the little fellow so much. Well, I do believe Winter is upon us. We have been having beautiful weather, crystal clear. But this morning there is a chill in the air and we have great dark clouds in a blue, blue sky. It is a beautiful sight. I don't think it will rain as the clouds are quite high. I must get my sweet pea seed planted. Mrs. McGee gave me the seeds. She has already planted hers. My brother Charlie came up to see us a week ago last Saturday. Then on Sunday my sister and son and his new wife came up. We had a lovely visit. Her son (my nephew) since he married has moved into an apartment, so he brought back to us, all the garden tools we had given him when we sold our house on Daphne and moved to an apt. So Glenn and I have been busy in our garage trying to straighten it out. We nailed up some boards, then put up nails and hooks and hung up our hammers and saws etc. Now when we need them, we know where to look for them. Ha -Glenn is kept busy with mowing and watering his lawn and plants. They are certainly planning big things for this valley. They are busy scooping up the ground for the man-made lake they are going to have on Bear Valley Road, not very far from us, and on the way to Apple Valley. They are selling lakeside lots at $16,000.00. Then the lake being built on the Feather River project is nearing completion. Will have boating, water skiing, winter and summer sports. That is about 8 miles from us as the crow flies, about eleven miles by road. We can hear them blasting. Then on Hesperia Road and Bear Valley Road, in three months, they are building apartments, shopping center, etc. which will run into the millions. Our acre, which we purchased in 1955 is on Hesperia Road. I only hope they will keep big projects out of Hesperia. We love the calm, quiet serenity of this place as it is now. Well, Jerry darling, we hope you like your work and surroundings, and hope it won't be long before you are sent back to all of us on the West Coast. Haven't heard from anyone, so are hoping all your family are well. Brian must be getting pretty big by now. Give them all, our love. Glenn and I, finally, drove up to Yucaipa to see Joe and Marie Barnes. They are both okay - except Marie is totally blind. Joe keeps the house in good order. It's pretty hard on him as he has to wait on her hand and foot. But they were both very cheerful. Jerry, you write that you enjoy your visits to our home. That delights us as we, so very much, enjoy having you. Only wish you were closer so you could come up often. Yes, we still have our squirrels and chipmunks. I haven't seen any rabbits lately, but I'm sure they are still around, as the big white Samoyed dogs of our neighbors, spot them and chase them all over our hillside, which gets our little Mimi all excited and she too, has to put in her two-cents worth of barking. All in all, life is very easy and pleasant for us here. We really love it, being away from all the traffic, smog and turmoil. Some friends of mine, just recently moved into their new home up here, are leaving for a six week tour of the Orient and Hawaii, so I promised them I would water her house plants once a week while they are gone. Another couple, I knew thirty years ago, are renting up here. He has emphysema and doctor told him he has to live in the desert. Her mother came up and promptly bought a $25,000.00 home up the street from us. So we already have friends and relatives around us, which makes it very nice. Glenn is going to post office, so will have him mail this for me on the noon mail. We hope you will write again. It's so very nice hearing from you. Take care of yourself, dear, and enjoy yourself as much as possible, and I'm sure it won't be too long before you are back home. I know you are missed as you miss all of them. It will be great when you go home for Christmas. Will close for now and will write again. Our love to you dear and keep well and happy. Love Betty and Glenn"
(December 8th, 1969 Monday Morning) "Dear Jerry: Received your letter of November 24th and were happy, as always, to hear from you. We were happy to know you were doing so well in your school work. But then we knew you would. So you've been in your first snow storm. How about that - and did you enjoy it? It won't be long now, now, before you'll be in California, on Christmas leave, and then you'll enjoy California weather again. I only hope the lovely weather we've been having keeps up, so it will be nice during your stay at home. I know how your whole family must be looking forward to having you home again. Yes, your Mom called us to tell us she passed her brokers tests. We, both, were so very happy to hear it as we sure were pulling for her. We know she'll make a fine broker. You say Brian is growing up and keeps them all running. Yup, he's in that stage now where he is curious about everything. He'll want to explore every nook, cupboard and drawer in the house. He'll keep his mother busy. And Linda must be busy too, what with two rabbits and a fish named "Zonk" to take care of. That name "Zonk" is really something - eh!! Tell Linda we have plenty of cottontails and Jack rabbits roaming our hill and exciting our little Mimi. She barks her little head off at them and at the quail, who are out in full force again. Mary and her son and his new wife were up from L.A. for Thanksgiving. My brother Hap had us all at his house for Thanksgiving dinner. The weather was perfect, so we all had a very enjoyable day. Are looking forward to seeing them again at Christmas if it doesn't snow. Harold's wife Myrtle called us to tell us that Marie Lydick's husband Dale had a malignant tumor on his lower intestines. He underwent surgery last Thursday morning and the doctor told Marie they got it all, although they had to cut off about six inches of his intestine. Harold and Myrtle are fine. We see them quite often as they are not very far from our place. Glenn also stops in to see Harold at the Cadillac agency in Victor Plaza. We watched the Huntington Park parade last Saturday night on T.V. They really put on some parade, each year. Very colorful. Glenn and I haven't been doing too much of anything outdoors lately. Will wait until Spring. He does water everything. My Fall flowers were lovely. The pink and white Chrysanthemums bloomed profusely, also some sort of lavender-flowered bushes, which Mrs. McGee had given me to plant. I still don't know what they are. Was told they are of the Daisy family. Whatever they are, they are very pretty and the blooms covered the entire bush. Now my yellow Chrysanthemums are bursting into bloom, also my crimson ice-plant. Hope they don't freeze as the nights are quite chilly. The snows are low on Mt. Baldy and at Wrightwood which makes the skiers happy. Well, darling, I hope all your family are well, including your Grandma. And we so hope and pray you will be stationed in California so we could run up to see you, or you could spend a leave with us. I doubt if we will make it during Christmas week. Glenn so hates to drive in heavy traffic anymore. It's like pulling teeth to get him to drive me into San Bernardino. It's heavy with traffic too, almost as bad as L.A. Have your folks and Jimmy and Kathleen been up ti their desert place in Arizona, lately? Well, Glenn will be going to post office soon and I'll have him mail this so it can go on the noon mail. Want to dash off a few lines to my brother Charlie yet, so will close for this time. Have a wonderful Christmas leave with your family, and perhaps soon you'll be stationed out here so you'll see them often. Take care of yourself dear, and write when you find a spare moment. We are always so happy to hear from you. Give our love to everyone at home. And love to you from Glenn and Betty"
Betty Lou Moore Wolfe is my younger, middle sister. She was 20 years old and had a son (Brian) who was ten months old when I left home. She now lives in Kingman, Arizona. She has two children, Brian and Kimberly and two grandchildren, Kendra and Kylie (daughters of Kimberly and Ryan). Her son Brian is married to Melissa. They are expecting a child this year.
(June 20, 1969) "Dear Jerry, Court was postponed again, until August 12, at 1:30. The other lawyer cancelled it again. What a bummer! Dad and Linda leave Sat. for the desert. Mom and I will be sunning here and there and shopping. On Friday last week we got your first letter at about 1:00 and at 2:30 your clothes came. Your 11 cents and 4 life savers are in your blue L.B.S.C. mug. Then at about 4:00 we got your radiogram over the telephone telling us you arrived safely. Have a nice vacation!!! Love, Lou. P.S. I hope you can read the letter.
(July 6, 1969) "Dear Jerry, I taught Brian how to blow his nose, and inhaling & exhaling through the nose. It's so cute. Doug said to say Hi! and to tell you to take it easy; four years is four years no matter how hard you work. Brian is not walking yet, but he's trying real hard. He climbs on everything. He walks around the coffee table holding on. In five days Brian will be eleven months old. Boy how time flies. Brian would rather blow his nose than walk, I guess. Believe it or not, I cleaned my room all up yesterday. It looks pretty good. Mom got a new dining room set. It cost $50. It was a $300 set. This lady was getting rid of her furniture & it's real nice. We were spray waxing them last night and then some of the wax got on the kitchen floor and Mom fell flat on her back. Mom has been having back trouble and she thinks it's a bleeding ulcer. If so, it's due to all the tensions that have been shoved on her. Dad wants to get Mom a Cadillac after he gets his truck. Well, I guess I'll sign off now. Take it easy and have a nice vacation. Miss you. Love, Lou & Brian."
(July 11, 1969) "Dear Jerry, Last night I went to a baby shower and won a gift for remembering more things on a tray of 15 baby items than anyone. I won some stationary but its in hot pink so I won't use it for writing you. Brian's 11 months old today; he crawls on his hands and knees now. He's trying so hard to walk. Yesterday he knocked the desk chair over on himself. Well, the Dodgers seem to be doing O.K. Brian knows how to open the kitchen cupboards. What a terror! I haven't gone out as yet and don't have enough time. Mom and Dad have this lined up: Sat. - Poker or Rook; Monday & Wednesday - school; Friday - cards at Cornie's; Tuesday & Thursday - its Rook or Pitch usually unless I give them three days notice. So until Mom gets her broker's license, it will be a little hard. Take it easy and will see you soon. Love, Betty Lou & Brian. P.S. Brian still looks at your tv chair in the living room as if he's looking for someone. Like maybe he does miss you."
(July 26 1969) "Dear Jerry, How are you? I haven't said that to you for a while. Sorry I haven't written you but there's really not much to say. Ditto for Linda. I'm really sorry but there is not much to write. Brian is trying very hard to walk. He says bye-bye, ma-ma and da-da. He waves hi and bye. I bleached my hair blonde. In fifteen days, Brian will be 1 year old. In 16 days we will be going to court. In 19 days we will be there for your graduation. Brian and I normally stay home when Mom & Dad & Linda go somewhere because Brian doesn't sleep very well somewhere else, but you're different and special so we will be there. Bob and I are breaking off because all he thinks about is himself and bowling. Maybe someday I'll find someone right for me. The way I feel right now, I had my chance and blew it. You wouldn't understand right now but someday maybe we will talk about it, but I don't think I blew it with John. He just wasn't the right one for me. I'm down in the dumps now and must go. I'm sewing and it's 11:20 p.m. and I want to finish up before I go to bed. Sorry I'm writing so fast. I hope you can read this letter. Have a nice vacation. Find me a husband while you're there. Ha! Ha! Love, your sister, Lou. P.S. Brian looks at your rocker when he's standing there. He misses you too."
(September 1969) "Hi! Low! Brian is fine. He's trying so hard to walk. He takes 6 steps at a time. I'm sorry about Tiger, but there was nothing else I or anyone could do. I took him to the pound. The guy said that Tiger's back legs would be paralyzed in 6 months to a year. The worms had really got to him. He said the pills we were giving him didn't do him any good. I don't care who he bit; my memory of him will always be with the shaggy dog that ran licking Dad in the rear end and playing with us so happy. I hope you're not mad at me for taking him to the pound, because no matter what I may have said I loved that dog and no other dog could replace him. What is Memphis like? Is it a hick town? Sorry about the Dodgers. I guess it was the shock of Tiny Tim getting married and missing a game for the honeymoon must have shocked them so bad they couldn't concentrate on the game. I don't know if you heard. He's 46 and he married a 17 year old girl. Well, October 2, we'll try to make it to court again. I hope this time we'll make it. I'm sorry I didn't write sooner but there wasn't much to say, and I was afraid you were mad at me. Well, I guess I'll sign off now. Take it nice and easy. God bless you. Love, Brian & Lou. Take care of yourself."
(November 1969) "Dear Jerry, Did you hear about Jerry West? Just in case you didn't, I'll tell you. In the first period, Jerry flipped over the back of a guy on the other team and fell on his head. He had 10 stitches above his eye. (I think it's his left eye.) And then he came back before the end of the period and made a 45 foot basket just before the buzzer went off. But they lost the game 102-110. (What a bummer.). Brian has 10 teeth and 2 more on the way. His gums are swollen and he's crabby. Wait till you see him walk. You won't believe it. I feel like I'm the only one who's ever watched a little boy grow up. (Isn't that dumb?) The rabbits have been turned over to me. I can't wait to see new born bunnies. Linda's already tired of them. In one month I will be twenty-one and an adult. I can't wait. I think it's kind of neat. Mom & Dad are taking me to La Brique for lobster and Donna is taking me to Baby Huey's to dance. John C. is in Calif. doing his show. I watch him about twice a week. I still babysit Kenneth on Tuesdays and Thursdays. Brian and Kenneth play outside on sunny days. They get dirty but have a ball. I suppose Mom told you about Jeff. So I won't. Dad's talking about sending Brian and me to Aunt Jewell's for about a month in the Spring. I think it would be fun. You probably know I'm the maid of honor in Bonnie's wedding. Well, I'm wearing a formal of pink velvet and chiffon sleeves. (Big deal). My spelling is horrible as usual. I hope you can figure out what I'm saying. Saturday at nine in the morning I go for a lie detector test. It doesn't bother me too much except I never had one before. December's a very busy month for me. The 5th is court, the 12th is my birthday, the 18th Tiny Tim gets married on the Johnny Carson Show, the 19th you come home, 20th is Vivian's parents' Christmas party, and then Christmas is the 25th. Hopefully, court will all be over with on the fifth and everything will be back to normal. Well, I'm going to sign off now. Keep up the good work. God bless. Love, Lou and Brian. P.S. Mom's pretty fabulous isn't she. Moore & Day sounds great to me. Sorry I only own a pink envelope."
(December 1969) "Dear Jerry, Well, the case is over. We lost, but we won. The judge said there was an element of doubt so he couldn't name John father of Brian. But he told John he knew if he was the father or not. Then we left the court room and John and his grandmother were out there really crying. So I think he really wanted to be named father so he could come and visit us, and maybe I'd forgive him. The reason I think this is because 2 nights before court, John called Vivian and was asking her who I went out with after he left for Vietnam; and who I was dating now; if I was serious about anyone; and if I was a good mother. Viv told him I was a good little mother. When he left for Vietnam, I waited for him and the rest is Betty's business. If you want to know, ask her. Well, you can draw your own conclusions. I have. When John strated crying, I knew he wanted to be named father. Jerry, the night you come home they have your poker game set up, but that's the night of Viv's parents Christmas party. Do you mind if I go to it? If you do, I won't go. I figure you'd be playing cards and would not miss me but it's up to you. Dad said to tell you he will be waiting for you at the airport. If he could, he'll be right in front of your exit from the plane. Well, I'm going to sign off now. Love, Lou & Brian."

Linda Lee Moore Hartman is my youngest sister. She was eleven years old when I left home. She now lives in Henderson, Nevada with her husband Rick. She has three sons: Eric, Kyle and Paul; two daughters-in-law: Sabrina and Carmen; and two grandchildren, Leo and Levi [born today 4/21/2010] from Eric & Sabrina.
(June 10, 1969) "Dear Jerry, Read [with an arrow] Today I am doing a Canada notebook at home, and boy oh boy how I wish you were here. I won't touch a thing in your room if I don't have to. You know the black bowler it is holding your watch. I happen to look up and it was ticking. Of course it still is. Please tell me if you can read it. I will remember to dust your trophies once a week. Love, Linda"
(June 11, 1969) "Dearie, Jerry, Today I got boots just like Daddy's only smaller. When you get home you can hear me play Anchors Aweigh and in 10 days we will be leaving to go to the desert. I will never forget to write to you I am sure, Love, Linda"
(June 12, 1969) "Dear Jerry, Every week I will send you my bowling games so you will know what I have been doing. We put your Playboy books away. So my friends won't bother them. Good luck. Love, Linda"
(June 13, 1969) "Dear Jerry, It was a very nice letter. When are you going to send a picture? Please do. You will soon be getting another letter. Do you have a gun? See you soon. Love, Linda"
(June 14, 1969) "Dear Jerry, I got a few new things today to wear to the desert. There is only three days of school left. I got Daddy a pocket flash light for Father's Day. I will know what you got him tomorrow. Linda. P.S. I love you"
(June 15, 1969) "Dear Jerry, Daddy said thank you that money will come in handy. Mom and Dad got Brian a catapillor with 10 legs one of those you blow up it is three times as big as Brian it is red, black, blue, white and orange also green and the lips are pink. Didn't go to bowling because I had the stomach flue. Love, Linda. P.S. Would you believe I will dust your trophies once a month."
(June 16, 1969) "Dear Jerry, I was looking at your awards and one said Miss Soto. She is still at our school only married. We got 2 of your letters. What time do the lights go out? Please send a picture. Love, Linda"
(June 17, 1969) "Dear Jerry, We had our party today and I was in a play. My name was Mebe. I just don't know what to say right now so better go now. Love, Linda"
(June 18, 1969) "Dear Jerry, I am still counting the days. I have been playing my flute all of today and I know Twinkle Twinkle Little Star by heart and I can do Jingle Bells by heart and Anchors Aweigh. Love, Linda XXXXX"
(June 19, 1969) "Little old wine maker me. Dear Jerry, Today I did do your trophies today man is that a job. I did everything because Dad told me to because he wants everything spic and span before we leave. I haven't got much to say so I better start dumping trash good-by for now. Never stop thinking of you. Love, Linda"
(June 20, 1969) "Dear Jerry, Do you have heating controls? Well! I don't suppose I need it in the summer. I don't think you'll mind but I am going to use your canteen O.K.? Kisses XXXXXX and many more. Love, Linda"
(June 25, 1969) "Dear Jerry, I am sorry I haven't wrote to you but I had a lot to do on this trip. I saw 2 snakes, one was a gopher snake, 4 chipmunks, 7 jackrabbits, 3 lizards, 3 cottontails. I loved your picture thank you very much. We did not take Tiger. I am sure glad your hair grows fast. I got a new sting ray bike. Dad shut both garage doors and stayed there for a long time and it has hand brakes, 3 speed bike. It is purple. We will soon buy some film. We might be able to come down and go to the San Diego Zoo, which I have never seen before. Will send picture as soon as we can. Love, Linda"
(June 26, 1969) "Dearie, Jerry, I noticed you wanted to know who went to the desert. Bonnie, Dad, Jim, Dale, Kathy, Cindy, and myself. I haven't got much to say but get out of the ward. P.S. You got a Mad Magazine and television guide. Spanish (amor) Linda"
(July 11, 1969) "Dear Jerry, Today! We are going swimming if it's not too cold. It doesn't seem like summer at all. It's been so ugly this summer. After that I am going to a watermelon feed it costs 15 cents for all the time it lasts. Well I haven't got anything to do much around here. I might spend Sat. thru Mon. or Sun. thru Tues. at Grandma's house but next week I am babysitting not Brian either. Inez and some other people are going to paint a house, and I get to baby sit for Inez. They are her grandsons one is three and one is five both boys. I will babysit them in the backyard and she is going to give us a big picnic lunch to eat. Bye for now love always, Linda"
(July 14, 1969 4:45) "I love you. Dear Jerry, Right now I am at Grandma's. I have been over here since Sunday. I am staying till Thursday I mean Tuesday. Tuesday I am going to go to work with nothing more to say -- Love, Linda"
(August 9, 1969) [typed] "Dear Jerry, I am sorry I have not written in so long but there is not much to say. Today at bowling I got a 116, a 138 and a 119. We have a tape you made at the radio station and it won't work at all. We fixed up my playhouse we painted it and fixed it all up. I just can't wait to see you. I sure don't want to go back to school. Next week I will see you so I am not worried. Always thinking of you, Love little sister, Linda"
(September 9, 1969) "Dear Jerry, We got a rabbit from Holly. She moved today, and so Daddy let me have her or him. We call her or him Josephine like the lady plumber. I missed my dentist appointment yesterday so I am going Friday. Our rabbit came with food and a cage and two bowls. Right now he's eating a carrot, lettuce, crab grass and regular food, alfalfa." [Linda]
(October 25, 1969) "Dear Jerry, I haven't been doing very great in bowling at all last week. My scores were 69, 116, 102 this week even worse, 78, 99, 101. At school 23, we went to a carnival and I got a autograph dog, a pin with a ball and pin looks like this ... [drawing] sort of like that. At Cerritos they had a concert and 55 people from our school got to go. I was one of them. It was real nice. Mom got her BROKERS LICENSE today, and we are all glad tonight. Jill is having a Halloween party and I am going to be Phillis Diller. You know one of those cigarette holders that looks like this [arrow to drawing]. I have one and some fake cigarettes. They are only fake with powder coming out. Not much more to say but: [arrow] Say la ve. Well I tried. Good-by Love, Linda. P.S. Doing real great in school."
(November 13, 1969) "S = Satisfactory A = good Dear Jerry, I have been doing a lot lately. 11 in the past two weeks. Tomorrow I have to go to an assembly and talk about what they do in court I think! Today Mr. Simms brought some human brains and also a rabbit's lungs , liver, heart, and there was a rabbit brain they did something to it so that it was hard and we got to hold it. On my report card I got S. on Science, S. on Reading and Math. My worst subject is History and I got A. In the middle of February we get to go to camp. I been practicing my flute. Betty tells me it's quite a bit of fun going to camp. But I will find out and tell now what I did and what I got but will write before that and also see you before that. I will try to write more often. I did tell you about my fish didn't I? Well I decided his name is Zonk. That's all for now. Sa la ve (ha) (ha) (ha)! just kidding. Love, Linda. P.S. Maybe some day I will learn Latin or whatever."
(November 23, 1969) "Dear Jerry, I have a lot to tell you. Yesterday I got in bowling 87, 119, 97. I have a lot to look forward to this year like you coming home and Christmas. Also going to camp. This coming Saturday Betty is going to take me to Griffith Park to ride horses. Today I went to the fair and I went on this ride and something hit me on the head. I grabbed it and it was a check book worth $750. So I held it and asked a lot of people what their last name was and it wasn't them. I saw a man at the ticket booth. He was asking if anyone turned something in. I couldn't hear what he said so I ran and asked him what his name was and it was the same as the check book so he game me a dollar. I had $1.46 when I left and when I came back I had $1.11. Pretty good huh? P.S. I will send you the answer to my little story. I went to St. Ives remember. Bye. Love, Linda"
(December 4, 1969) "Dear Jerry, Boy oh boy did I have a experience. Well to start with I got a brilliant idea last Sunday night and what I did was I had Betty write for me you know how fancy she writes. I had her write one clue to the treasure. Besides that I used pattern paper as you can see. We put the first clue in a old old book. (look at clue 1). Well that was Daddy's letter box. We put the box in the attic. (look at clue 2). Well in the furnace of course it said (look at three). Betty said they wouldn't believe it but you know Cindy and Jill. Remember we just had Thanksgiving before that so I cleaned the bones and dried them also dirtyed them up and put an X on one also on another bone had had Blackbeard died 1718 signed John Lafitte. This was all done in ink marker like the papers. I put dirt on the bones and chest, then put the bones on top of it, by the way you know that little black chest Daddy has with the old coins in it. We used that and put jewels plus the coins in it and locked it. In the first book was the key. Well Monday! we came home. Jill and I went and got Cindy. I said Betty what can we do and she said look at old books and leave me alone to make it sound real. So I gave them one and me the one with clues and key. I said look and Betty read it. So we went looking all of a sudden I remember. When I helped Daddy put up the antenna in the attic so I went up and said I found it in a real excited voice another clue just like the other one. You can look at the clues as I go. I saw that book in the bookcase. I went to the furnace and found the last clue but they didn't know that. I went in Mom's room and Cindy was afraid so Jill and I went down and Jill said I see something and I looked . I screamed BONES real loud to make it sound real. We got up out of there FAST. Jill and Cindy were crying. I said better go down and bring everything up. Cindy said Don't go down there. I said I better. I finally opened the chest and Cindy and Jill said this should be worth lots of money. Cindy said can I show my Mom. I said sure. The bone she took had about Blackbeard on it and you could tell it was just written. Betty she is really showing her Mom hurry catch her. By the time I told the real story Bobby and Dot were laughing at her. remember your question after this. Probably forgot. Well it was Where was the farm? at Montgomery Wards. Love, Linda. P.S. I hope you liked my story."
Audrey was the junior bowling organizer at Dutch Village Bowl in Lakewood, CA. She supervised the best junior bowling program in Southern California. I never met Audrey's husband but I knew her daughter, Carol who was also a junior bowler.
(July 27, 1969) "Dear Jerry - I received your letter yesterday when I got home from work and really was pleased to hear from one of my Bowling Sons of the Past but will always be considered as one of my Bowling Sons. Please excuse the tablet paper but I am at work and it is so slow that I decided to get this letter answered before I let it slip my mind. I just looked at the calendar and see that Aug. 15 is on Friday, one of my working days but believe me - my thoughts will be with you on your Graduation day. I really have a queer day here at Cove (Bowl). Monday - off - Tues - 4pm - 1am - Wed - off - Thurs - 4pm - 1 am - Friday - 4pm - 1pm [sic] - Sat. - 9am - 6 pm- Sunday - 1pm - 1am - As you can see working these hours and also being city Secty for the Long Beach Jr. Bowling Association I really don't have too much time for anything else except eating & sleeping. Last weekend was really a wild one for me. The State Jr. Bowling Convention was in San Francisco area and as 1st delegate I had to attend. I left Cove Bowl at 5pm Saturday and was seated in the meeting at 7:30pm - Then Sunday the meeting took up at 9am and adjourned at 3:50pm. I walked in the front door of Cove at 5 minutes to 6 and I went to work until 1am. I can't believe it is possible that your little sister is 11 years old. It seems like yesterday that she was about 2 years old. Those are the things that make me realize I am getting really older. Bob Crame is in charge of the Junior program at Clark Center. I don't know if you remember him or not. He ran around with Terry Hirt a lot. My summer Junior Program here at Cove has dropped off a lot. But it will grow in the winter again. I have a 12 team Adult Junior League on Thursday night at 6:30. It is a Hcp M/4. Really it is one of the best Summer Leagues in this house. I have lost contact with so many of the ex-Juniors from D.V. (Dutch Village Bowl) since I am not working there any more. Debbie Stewart won the trip to Washington this year for the Graduating Seniors. She sure is one happy girl. I will never forget the year that Phil (McAfee) and Sharla won it. Tom Sears and Marilyn Travis were married the first part of July. Marilyn has given up bowling but Tom is bowling in the Cal Classic. Gary Murphy married Dottie Hofstetter's daughter and they have the cutest little boy. He looks just like Gary. Briggs and Wendler are married and have families. The last I heard Pat Cullen had not married. Paul Milstead isn't married either. Dan Rodgers is a father now. Every Xmas I get a real nice card and picture of Phil from his parents. I sure do miss all the good Junior action that we had at Dutch Village. Mostly I miss the All Western Tournament (Labor Day). Dick Hoerner refused to let anyone else have it because he said it belonged to D.V. He said they would have it there this year. Well here it is nearly the 1st of August and no-one has heard anything about it. This year would have been the 8th Annual All Western. Anyway Jerry I can sure have some of the best memories of Junior Tournaments that anyone could ask for. I will tell you why I left D.V. They hired John Ireland as a Bowling Manager well he was all right to begin with but he sure became unbearable as time went on. He was on my back constantly to help him with his work and by 10:30pm he was really loaded. He drank like a fish. One Wed. nite he jumped all over me about nothing at all and I told Dick that I quit. He said for me to see him Thursday. Well I went in early Thursday to see him but he was playing golf and Friday was my day off. Well I went in Saturday he called me in the office and said that we would have to part our ways if I was going to quit every time something happened. Then he said that he was only the General Manager and John was the Boss over the employees. Well, Jerry, that was enough for me so I walked out Dec. 7 and have only been back once since I left. I didn't do anything until the end of March and I called out here to Cove one Monday morning, came in Tuesday nite to see the owner and started work Wednesday night. This is sure a strange area. It is really metropolitan - Samoans, Mexicans, Philipinos, Colored and Guamanians. They have a band in the Bar over the week-end and almost every night over the week-end when the Band is here there is some sort of a fight. You asked about Carol. Well she was engaged to Jack Olson and 10 days before they were to be married she broke it off. She said she wasn't ready for this married life bit. Now she has been going with Dave Milstead for quite a while and they are serious. She went to Beauty College and worked until last Aug. On Aug. 29 she was in an auto accident and got a bad whiplash. The Dr. just released her the first of this month to go back to work. She hasn't found a job yet. She bought a horse and has been spending most of her time. As you remember she was quite a horse lover even as a small child. My gosh Jerry I just looked back and found I had written six pages. I better quit before you get tired of this scribbling and throw it all in the waste basket and give it up. But every time I start to sign off, I just start writing again. Mike Seaver was in to bowl yesterday. He is a member of the PPA and LA All Stars. Well, Jerry, take care and maybe I will get to see you when you get home on leave. Please be sure and write again- Love as Ever Audrey."
This is a photo of me and nephew, Brian (one year old) at my graduation from U.S. Navy boot camp in San Diego. [JAM 6/11/2020]