Gore Vidal (1925-2012)
Williwaw (Gore Vidal) - Panther Books Ltd. - (1946, 1965) - 191 pages
This first novel by Gore Vidal was written during World War II in 1944 when Vidal was 19 years old. Vidal was serving as a warrant officer on a Dutch Harbor patrol boat in the Aleutian Islands. The story is not about combat. A "williwaw" is a sudden, hurricane-like storm that lasts for a short period (two days in the book) along the northern Pacific coast of Alaska. The small patrol vessel is surprised by a williwaw during a two-day trip from Dutch Harbor to Arunga. Although Vidal later explained that the story is complete fiction and that he never encountered a williwaw, his description of events puts the reader right in the middle of the storm. The secondary story here is about one of the sad love triangles that occurred numerous times between members of the military and one woman during wartime. Considering the shortage of available women in any port during WWII, these scenes must have played over and over again. In this short novel, Vidal effectively develops the characters of many men he probably met during that time. This first published effort fore-shadowed the works of Vidal who became one of the greatest American writers. [JAM 5/22/2019]
"Williwaw is well told, the picture of man and events is vividly engrossing." [Eleanor Roosevelt - New York World Telegram 1947]
In a Yellow Wood - E.P. Dutton & Company, Inc. - 1947 - 216 pages
Vidal went to work for a publisher after his time in service. This novel is about a young man (Robert Holton) who is working in an office after his time in service. The story is about one day in Mr. Holton's life. But, it is a very important day. It is the day when he makes a decision about the future of his life (Frost's "Yellow Wood"). For Vidal, the transition came early in his life. He joined the army instead of going to college. He had already had two novels published by the age of 22. He thrived with one occupation: writer for his entire life. He loved "the novel" and the written word. He continued to write and publish for over 65 years. There are many coincidences in this transition day for Holton. But such is the essence of the novel when such themes can be pursued in a single volume. This is a book about the lives of young men and women in the 1940s. [JAM 1/20/2020]
The City and the Pillar - E.P. Dutton & Co./Ballantine Books - (1948/1979) - 199 pages
At a time when most of our homosexuals were "in the closet" and many others were being persecuted or prosecuted for their behavior, Vidal wrote this semi-autobiographical novel about a young, confused homosexual man and the people he knew in his early twenties. Two of the characters (Jim & Sullivan) are based on Gore Vidal as a young man and as an established author, respectively. A third character (Bob Ford) is certainly also based on Vidal's young friend, James Trimble who died in World War II (1945). For all of its notoriety, there is really not much that happens in this story. It is basically about the meanderings of a young man in search of meaning in his life. He met people. He left people. And then he returned to many of them with unsatisfactory results. In my opinion, the young Vidal felt that he had to write this story to be true to himself. And, Gore Vidal was always a fearless truth-teller. [JAM 2/14/2020]
The Season of Comfort - E.P. Dutton & Co. - 1949 - 253 pages
Eighteen years before his "Narratives of Empire" series, author Vidal wrote this book about the family of Vice-President "William Hawkins" who served from 1925 to 1929 with President Calvin Coolidge. The actual VP was Charles G. Dawes but that did not matter in Vidal's first attempt at political fiction. The story follows three generations of the Hawkins family that closely mirrors the actual experiences of the Gore family. Substitute VP Hawkins with Vidal's actual maternal grandfather, Senator Thomas Pryor Gore and everything falls in line. The protagonist (Grandson Bill Hawkins) was a painter (not a writer) who was attracted to a young man in prep school (Jimmie) and joined the military during World War II instead of going to college. However, the primary conflict in the book is the interaction between Bill Hawkins and over-bearing mother, Charlotte. Their disputes culminate in a 12-page parallel thought/dialog exchange that represents their final personality splits. It was hard to tell where Vidal was going with this volume until the young Hawkins started to resemble a young Eugene Luthor (Gore) Vidal. After reading the modern works of this great author, it is interesting to see how he got there. Gore Vidal thought that he was one of the last great novelists. I agree. [JAM 3/20/2020]
A Search for the King - E.P. Dutton & Co./Ballantine Books - (1950/1978) - 196 pages
Author Vidal combined history with 12th century mythology to tell the story of King Richard I (Lionheart) on crusade through the eyes of his troubadour, Blondel. The adventure includes kings, dukes, knights, robbers and creatures: dragons, unicorns, giants, werewolves, and vampires encountered during a perilous trip across feudal Europe. During the mid-19th century it was common for publishers to gather favorable reviews of an author's previous book and place them on the dust jacket of his subsequent book. [JAM 5/9/2020] Following are reviews for this novel that were included with Dark Green, Bright Red:
"Here Mr. Vidal is at his best ... as projector of a myth as old as the Grail legend, the myth of the questing hero." The Nation
"It is a little epic written in prose of crystal clarity." N.Y. World-Telegram & Sun
"... in a chaste, spare, intelligent and essentially pictorial style which frequently achieves a vividness equal to that of the best of the imagist poets." Edward Wagenknecht, Chucago Tribune
"Gore Vidal proves again that he is a master stylist." Washington Star
"There are magnificent passages in the novel which recreate the medieval world." Boston Herald
"Blondel's mainstay in life is his overwhelming devotion to his king. This devotion dominates the story and is repeated to some extent in the affectionate friendship between Blondel and his page, Karl. The others - the silly courtiers and enraptured women - form a playful and grotesque frieze about this central reality. Mr. Vidal's writing is lucid and pleasant and persuasive, as one might imagine one of Blondel's ballads would be," The New Yorker
"The result is a kind of dream fabric, and yet, thanks to Mr. Vidal's talent as a novelist and his marvelously simple, clear, direct and at times memorable prose, the narrative conveys a feeling of reality without benefits of archaisms ... he happens to be perhaps the most delicately sensitive of all our young writing men who have come out of the war." Samuel Putnam, The Saturday Review of Literature
Dark Green, Bright Red - E.P. Dutton & Co. - 1950 - 307 pages
Viva la revolucion! In this novel, Vidal takes us to an unnamed Central American country where the former dictator is mounting a revolution to return himself to power with the help of U.S. corporate money, some spiritual advisors, thousands of poor/unreliable native soldiers and one U.S. officer turned mercenary who acts as the protagonist of the story. Author Vidal is fearless in choice of writing subjects as his talent forces him to jump from one genre to another with each book. How could he possibly know what is happening in Third World Latin America at the age of 24 with only his brief naval history in WWII? But somehow he makes it work. He was a master at writing dialog between seemingly unrelated individuals. Also, in this story he switches narrators at times to reveal the unspoken thoughts of major characters. As this ragtag army advances upon the fictional cities of "Nadatenango" and "Tenango", the suspense grows and the reader cannot possibly guess the ending of a book that was written 70+ years ago. The character development is excellent and the characters are believable. Enjoy the ride. [JAM 8/25/2020]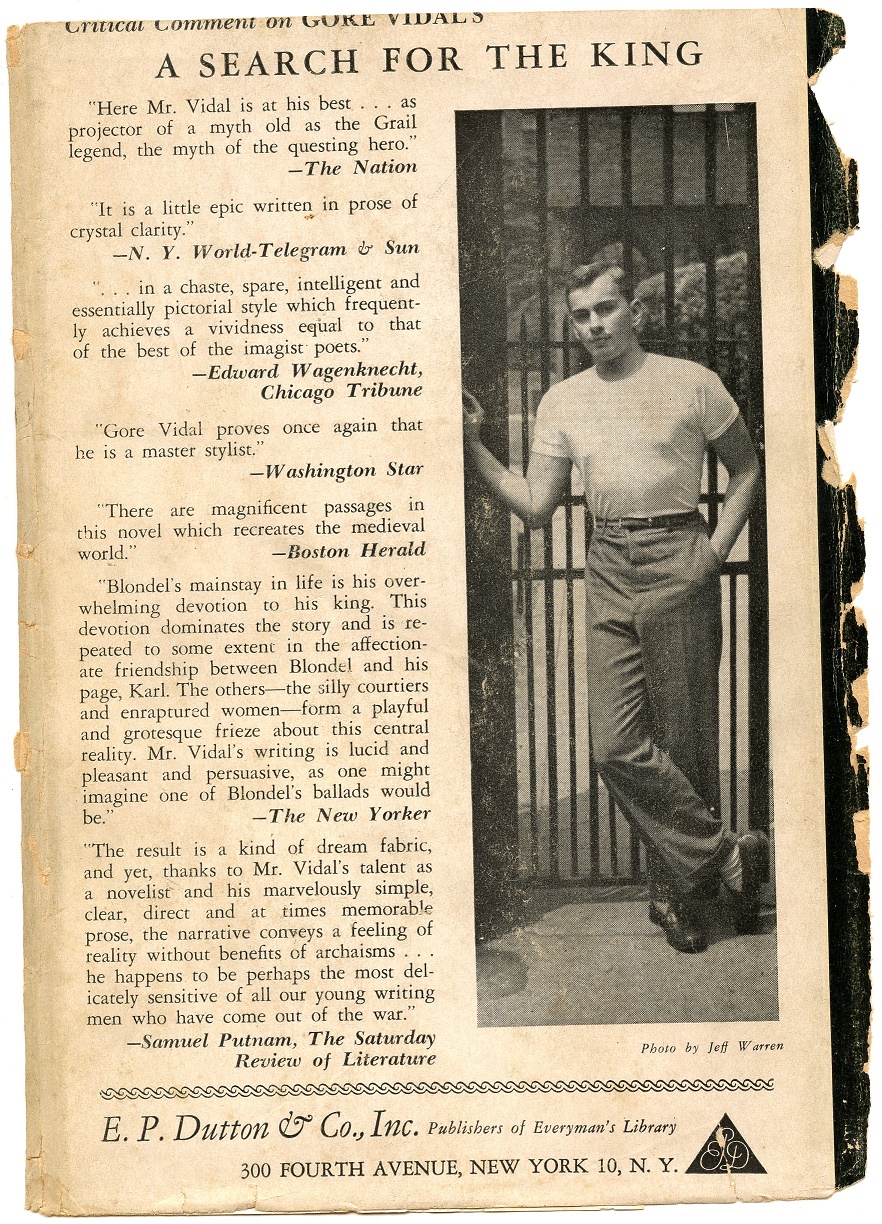 A Star's Progress - 1950 - 134 pages
This book was written with the pseudonym, "Katherine Everard" and later reprinted in paperback with the nonsensical title, Cry Shame! The story is about the life of a movie star who could have been Marilyn Monroe if she had been born in Mexico. Vidal and Monroe were the same age and he probably knew her during his screenwriting days. It is a short novel that can easily be read in one day. The eerie part of the book is that Vidal seems to predict the star's (Monroe?) ending that would not occur until 1962. [JAM 8/26/2020]
The Judgment of Paris - E.P. Dutton & Co. - 1952 - 375 pages
Author Vidal had published six novels by the age of 24 (1946-1950) and had established himself as one of the greatest young American novelists of the day. Then, he did not publish in 1951. The protagonist (Philip Warren) of this novel is an American young man from New York with means (from his family?) who decides to take a vacation for a year in Europe (and North Africa) for no apparent reason. Unlike Vidal, Warren is strictly heterosexual preferring the company married and childless women who also have the means to meander about the expensive cities of Europe whenever they desire. However, Philip Warren finds himself in uncomfortable, homosexual situations over and over again. It seems that this unique lifestyle was one with which the author was quite familiar. Although Vidal had usually written his novels from one location, the footnote for Judgment reads; "Edgewater: 21 August 1950 -- Key West -- Berrytown, New York, 21 June 1951." There seemed to be gaps in the story (written in three "parts") and it shows. What is the story here? There does not seem to be much conflict or intrigue to capture the reader. It starts, continues and ends without resolution except for the decision to go back home. From the distance of time (70 years), the novel seems to serve only as justification for a long European vacation and to keep the author's name active in book circles. According to the dust jacket, the novel "has retold the ancient legend of the Golden Apple" but who would know or care about that? The dust jacket also calls it: "a major novel" but biographers generally skip over this one when discussing Vidal's early works. No matter the failings of the story, the wit, philosophy and writing skills of Gore Vidal are in full display as always. If nothing else, the pages merely add to the history of a great writer. Here are some of his observations: [JAM 9/9/2020]
"Both murder and grand larceny, if conducted on large enough scale, are universally applauded, blessed by all our institutions; while even the laws governing sexual behavior vary from time to time ..."
"... I believe in the fact of the universe, that we are part of a structure which never changes though its component parts continually change ... I resent the messiahs who try to rearrange the elements of each man's nature to conform with some particular private vision of excellence."
"... when he was a child, he'd often awakened alone and desperate in the impersonal night, trying to visualize what nothing must be like, what it would be like to no longer be himself ... the dream had changed very little over the years, the terror and the despair remained as he realized that one day he would die, that he would not be."
"The fiction of a partisan deity has become so transparent that even the most educated are able to see through it, to see the infinite impersonal void beyond this world ..."
"Communism is obviously impractical while Socialism is much too functional and, though inevitable, not a happy prospect: the world as a nursery."
Death in the Fifth Position - E.P. Dutton/Random House Vintage - 1952/1979 - 144 pqges
After establishing himself as a novelist, Vidal suddenly started to write pulp novels under various pseudonyms (Katherine Everard, Edgar Box, Cameron Kay). This was the first of his "Edgar Box murder mysteries." The prima ballerina, who everyone hated, was dramatically murdered during a performance causing all of the other characters to become suspects. With Vidal's writing skill, any one of the characters could have been the murderer. So, do not try to guess. Just go with it. Vidal may have used the pseudonyms because of the criticism he received for the controversial sexual descriptions in The City and the Pillar. As a young homosexual, Vidal was more comfortable writing about the type of people he knew. He tried to create "straight" characters as protagonists, but his heart was never in it. This novel had to be quite racy for 1952. His dialog and plot execution were excellent as always. He was a pioneer of many genres. [JAM 9/30/2020]
Thieves Fall Out - Gold Medal Original/Fawcett Publications (paperback) - 1953 - 153 pages
Vidal wrote this thriller/spy novel under the pseudonym, "Cameron Kay" in the same year that Ian Fleming wrote his first James Bond novel (Casino Royale). However, Vidal was the much better writer. Vidal could write like Fleming (and others) but Fleming could never write like Vidal. The protagonist is a former smuggler, wildcatter, soldier and merchant marine who finds himself battered and broke in a seedy hotel room near Cairo, Egypt. To earn his next meal, he falls in with a group of local smugglers but soon finds himself in a much larger scheme involving international thieves, a beautiful countess, the daughter of a Nazi officer, and the intrigues & political complications of crooked, post-war Egypt. Vidal had visited North Africa in 1951 before writing The Judgment of Paris under his own name. Apparently, he was also inspired to write this fast-moving pulp novel at the same time. The "Gold Medal Originals" were the first to put the manuscripts of relatively unknown authors into paperback form. Hundreds of these paperback originals were published in the 1950s and beyond. [JAM 10/10/2020]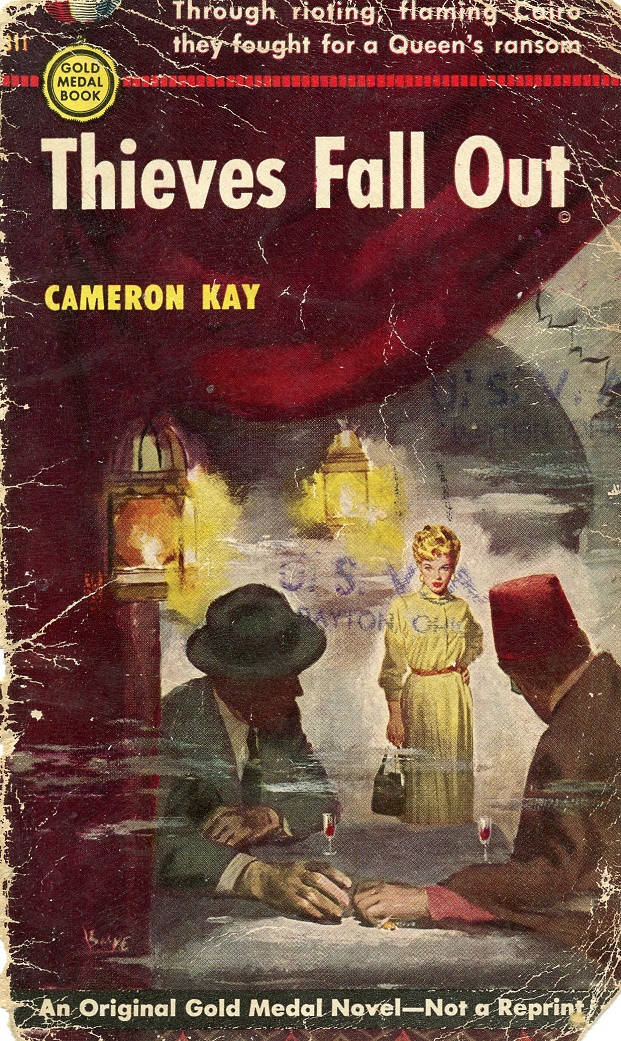 Death Before Bedtime - Dutton/Random House (reprinted in Three by Box) - 1953/1978 - 157 pages
This is the second of three "Edgar Box" murder mysteries. The protagonist, publicist Peter Cutler Sargeant II is once again embroiled in the mystery surrounding an untimely death of a new client. And this time, there is no doubt that the victim will be the old senator who plans to run for the presidency. Senator Rhodes is conveniently murdered in his large home that is filled with friends and family members loaded with motives for the deed. These mysteries are formulaic but author Vidal plows through them with competence. Of course, the police detective assigned to the case is totally incompetent, causing amateur sleuth Sargeant to conduct the informal investigation with so many coincidences landing at his feet. No reader could consistently guess the outcome of these murders because a writer as skilled as Vidal could easily turn the evidence toward anyone in the house, including the butler. While reading these mysteries, I have wondered why Vidal would spend time on such drivel which certainly were beneath his abilities. Was it for the money? Or, was he trying to prove a point? Among the volumes of respected works from him, his five pseudonymous novels are the most curious for me. [JAM 10/21/2020]
Death Likes It Hot - Dutton/Random House - 1954/1978 - 147 pages
The final Edgar Box mystery is more of the same. Once again our publicist is trapped in a large house full of strange people who keep dying left and right. I suppose that Vidal could have kept cranking out these puzzles fictions for his entire writing career like Agatha Christie. But, I am certainly glad that he did not. There were better worlds to conquer. [JAM 10/24/2020]
Messiah - Dutton/Ballantine - 1954 - 201 pages
Scholars who discuss novels about dark futures usually cite Aldous Huxley's Brave New World (1931) and George Orwell's 1984 (1949). A Clockwork Orange (1962) by Anthony Burgess was added to the discussion after the shocking 1971 movie by Stanley Kubrick. However, none of these novels came as close to a prediction of the future as Vidal's mostly forgotten book about a death-cult religion that surpasses Christianity in the USA, Europe and beyond. The author started this book in 1947 after the fall of Adolf Hitler and rise of a new media (television). Portions of the story remind me of the dysfunctional actions of the current Trump administration. Consider the following passage:
"The Congressional Committee ... did not dare to even censure him ... partly from the fear of the vast crowd which waited in the Capitol plaza and partly from the larger, more cogent awareness that it was politically suicidal for any popularly elected Representative to outrage a minority of such strength."
There is also an eerie discussion about child separation that seems to be more realistic than the Huxley model:
"Nothing is good. Nothing is right. But though (he) is wrong, it is a new wrong and so it is better than the old; in any case, he will keep the people amused and boredom, finally, is the one monster the race will never conquer ... the monster which will devour us in time. But now we're off the track. Mother love exists because we believe it exists. Believe it does not exist and it won't. That, I fear, is the general condition of 'the unchanging human heart.' Make these young girls feel that having babies is a patriotic duty as well as healthful therapy and they'll go through it blithely enough, without ever giving a second thought to the child they leave behind in the government nursery."
Vidal's protagonist is a writer named "Eugene Luther" which was his given name. Toward the end, a major character summarizes the novel with three words: "Gene was right." [JAM 12/11/2020]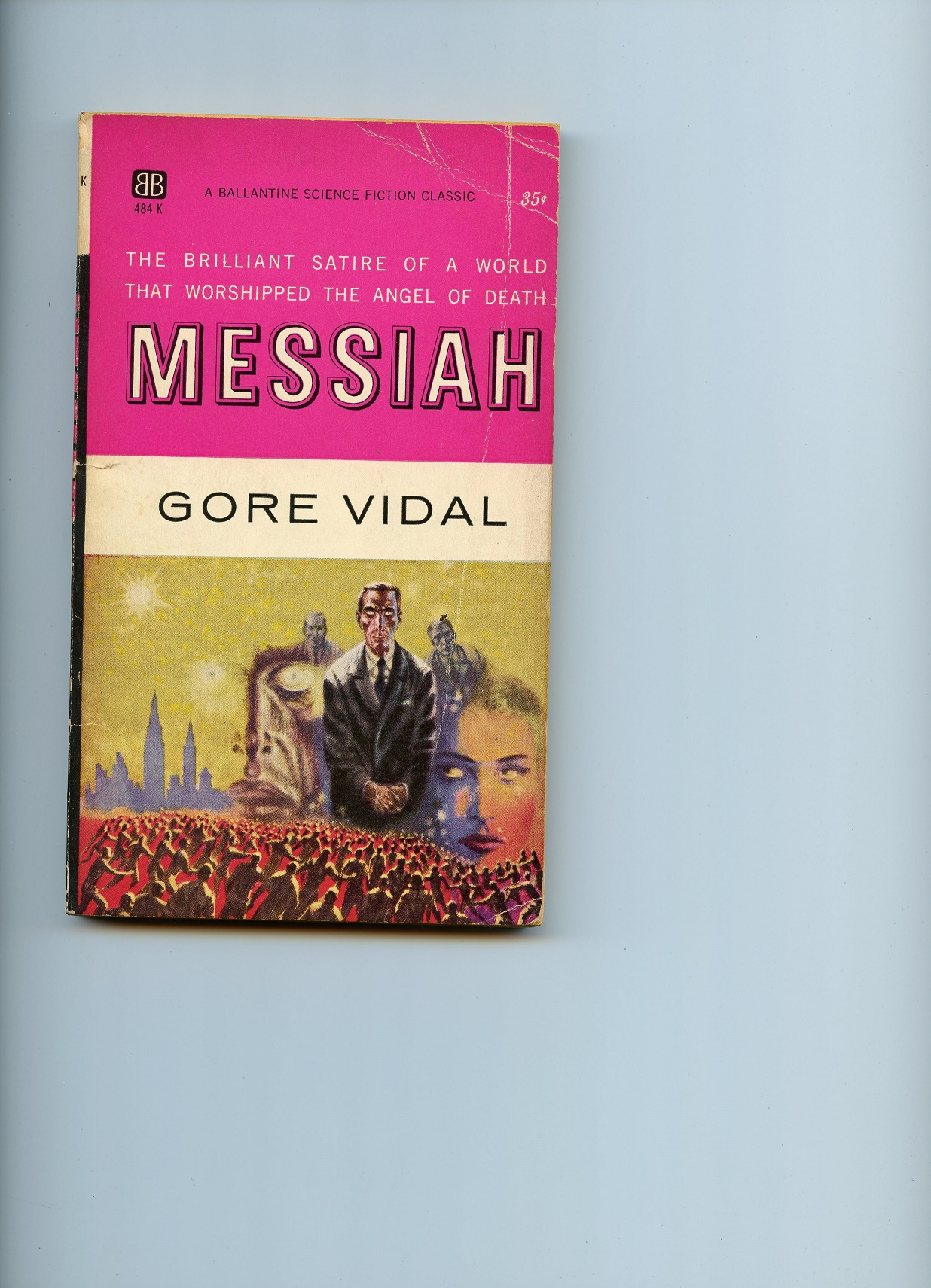 Visit to a Small Planet - Little Brown & Company/Signet - 1956/1960 - 127 pages
After publishing 13 novels in less than ten years, Vidal decided to shift his attention to writing for the screen, small and large. He often expressed his opinion that "the novel was dead" but would return to it in the decades to come. Visit to a Small Planet was first designed as a teleplay in 1955 but then reworked in 1956 for a stage play directed and acted (Kreton) by Cyril Ritchard in 1957. And then, the story was grabbed by Hal Wallis and reworked as a movie screenplay and a Jerry Lewis vehicle in 1960 (to Gore Vidal's dismay). The text is Vidal's first attempt at political satire and science fiction at the same time. The story is about an alien time-traveler who drops into 1957 by mistake and proceeds to start a major war just for the fun of it. It is possible that this concept inspired author Robert Heinlein to write Stranger in a Strange Land in 1961; although Heinlein's alien takes a weird sexual turn as in most of his syfy works. The characters in the play are well-developed with many pages of smart dialog for all. Vidal offered subtle political opinions in this pleasant story that presaged his non-fiction works and commentary. [JAM 1/29/2021]
[from Rocking the Boat (1962)] "I was obliged to protect an eighty-thousand-dollar investment, and I confess freely that I obscured meanings, softened blows, and humbly turned wrath aside, emerging with a successful play which represents me very little."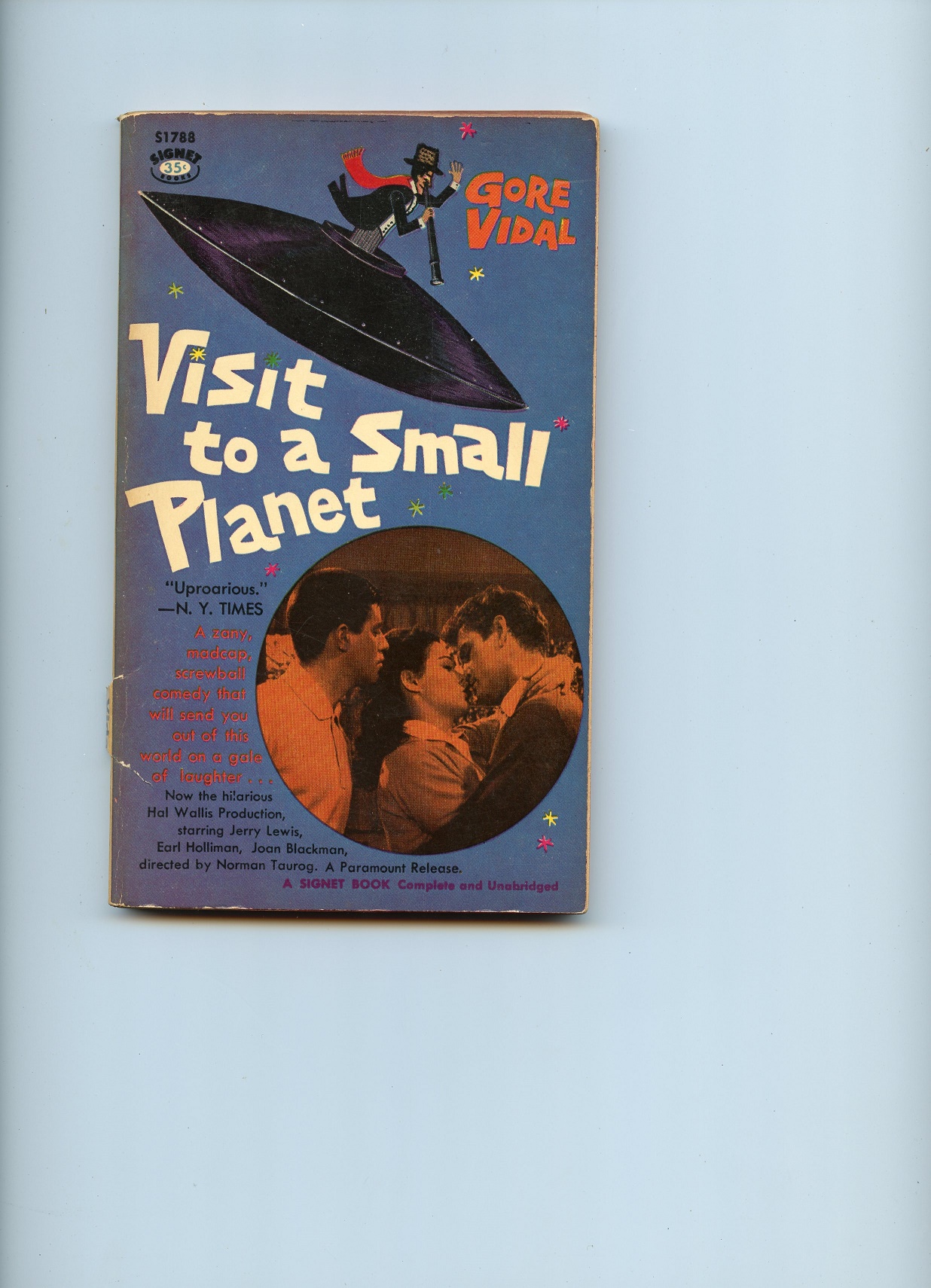 A Thirsty Evil - New American Library/Signet - 1958 - 143 pages
Vidal published 13 novels from 1946 to 1954 but then worked on screenplays and stage-plays until his 14th novel (Julian) was published in 1964. This volume of seven short stories was written between 1948 and 1956; but they seem less like short stories and more like unfinished works to me. The paperback cover (third printing) is identified as "A Signet Novel" but it certainly is not. The book title and the cover drawing do not seem to apply to any of the stories within the book. Vidal fans must have been disappointed at the time. I believe that Vidal's writing career was in transition when he agreed to allow the publication of this collection of stories. Buyer beware. [JAM 1/7/21]
The Best Man - Little Brown/Signet - 1960/1964 - 128 pages
Vidal could write any style of fiction but his specialty was political novels. He also became a prominent liberal commentator in print and on television. This teleplay that became a screenplay is an early example of Vidal's talent for describing the insides of presidential campaigns through dialog. The story describes the ending of the 1960 party primary between the two most prominent contenders just days before an open convention. Neither of the candidates is John Kennedy or Richard Nixon but many of the actual political figures of the day are mentioned. The candidates (Russell & Cantwell) are flawed in many ways but Vidal recognizes that all candidates are flawed. The contest gets decided primarily by maneuvers that occur behind the scenes. In his introduction, Vidal wrote: "If (candidate) had stolen money, got a girl pregnant, run away in battle, taken dope, been a Communist or a member of the Ku Klux Klan, (opponent) might be reluctant to bring the matter up, but he would certainly not hesitate to save himself, especially if he were convinced the charges were true." Both candidates struggle with such moral decisions. And, today these decisions seem trivial compared to the current state of political dirty tricks. [JAM 2/8/2021]
[from Rocking the Boat (1962)] "Contrary to rumor, I was not writing about Adlai Stevenson, Richard Nixon and Harry Truman. There were elements of these men in each of the characters but no more. At a crucial moment in our history I wanted to present to an audience of voters a small essay in Presidential temperament."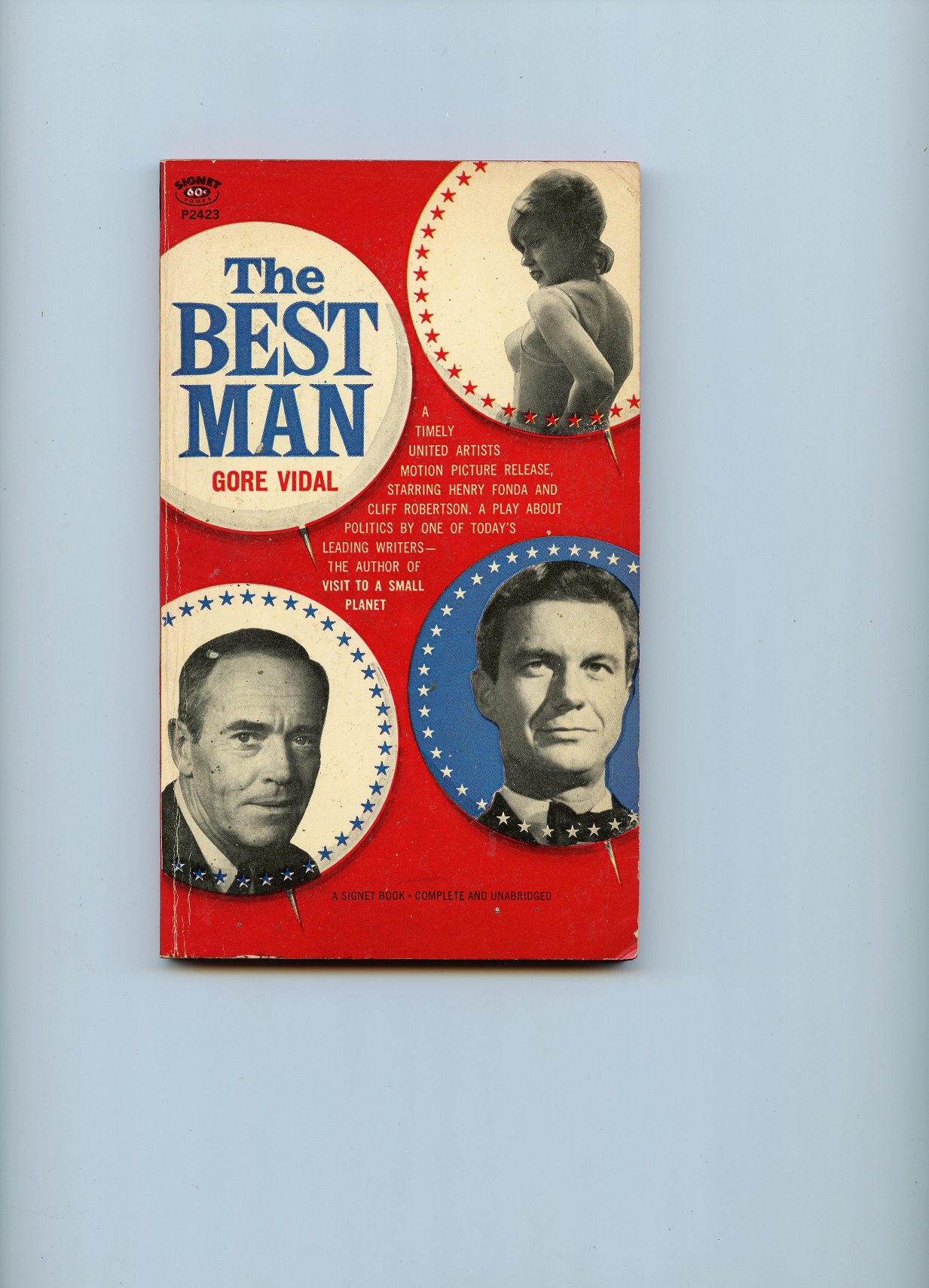 Rocking the Boat - Little Brown/Dell - 1962/1963 - 330 pages
Gore Vidal had been making his living as a novelist and a playwright for 16 years when this first book of non-fiction was published. As he was ever opinionated, Vidal found time to comment on politics, theater, books, etc. His articulate and uncensored views found their way into magazines, newspapers and television. By 1962 he had become a celebrity/novelist and a potential political candidate. This first collection of his opinions shows his range at an early age. At the back is an "Appendix" that clarifies some of the early reviews and how they were received. The most significant essay is "Ladders to Heaven: Novelists and Critics of the 1940's" (New World Writing #4, 1953) wherein Vidal first released his take on the state of the novel and writers in the 1950's. Following are some selected quotes from the collection:
[on John F. Kennedy 4/9/1961] "... he is very much what he seems. He is withdrawn, observant, icily objective in crisis, aware of the precise value of every card dealt him. Intellectually, he is dogged rather than brilliant." [Note that Vidal was dead wrong about 1960's politics. He predicted that JFK would be reelected in 1964 to be followed by his brother in 1968. But he could not have anticipated the assassinations to come.]
[on J.D. Salinger] "I am sometimes charmed by the minor talent of J.D. Salinger, but when he puts on his Great Author suit I think one should point out that it doesn't fit."
[on Arthur Miller] "Arthur Miller ... writes of himself not seriously but solemnly. With paralyzing pomp, splitting his infinitives and confusing number, he climbs the steps to the throne, with the enemy syntax crushed beneath his heavy boot ..."
[on Tennessee Williams] "Williams was really a slob, devoted to success, pretending to be a real artist while swinging with the Broadway set ..."
[on writers] "Carson McCullers, Paul Bowles, Tennessee Williams are, at this moment [1953] at least, the three most interesting writers in the United States. Each is engaged in the task of truth-telling (as opposed to saying the truth, which is not possible this side of revelation)."
[on criticism] "Since Jerome Lawrence is an acquaintance of mine and a most amiable man, I suffered real discomfort in giving him such a bad notice. And this, by the way, is the most difficult part of being a critic. What do you do about people you like whose work is not good?"
[on literature] "... one must recall that the great times for literature and life were those of transition: from the Middle Ages to modern times by way of the Renaissance, from dying paganism to militant Christianity by way of the Antonines, and so on back to Greece."
[on the novel] "It is is a possibility perhaps even a probability, that as the novel moves toward a purer, more private expression it will cease altogether to be a popular medium, becoming, like poetry, a cloistered avocation -- in which case those who in earlier times might have written great public novels will be engaged to write good public movies, redressing the balance."
[on love in writing] "Yet while ours is a society where mass murder and violence are perfectly ordinary and their expression in the most popular novels and comic books is accepted with aplomb, any love between two people which does not conform is attacked."
[on Ayn Rand] "Ayn Rand is a rhetorician who writes novels I have never been able to read. She has just published a book For the New Intellectual ... it is a collection of pensees and arias from her novels, and it must be read to be believed ... This odd little woman is attempting to give a moral sanction to greed and self-interest, and to pull it off she must at times indulge in pure Orwellian newspeak of 'freedom is slavery' sort ..."
[on dictatorship] "... if ever there was a people ripe for dictatorship it is the American people today [1958]. Should a homegrown Hitler appear, whose voice, amongst the public orders, would be raised against him in derision?"
There is so much more that could be quoted in this short volume. Vidal always had much to say. [JAM 2/20/2021]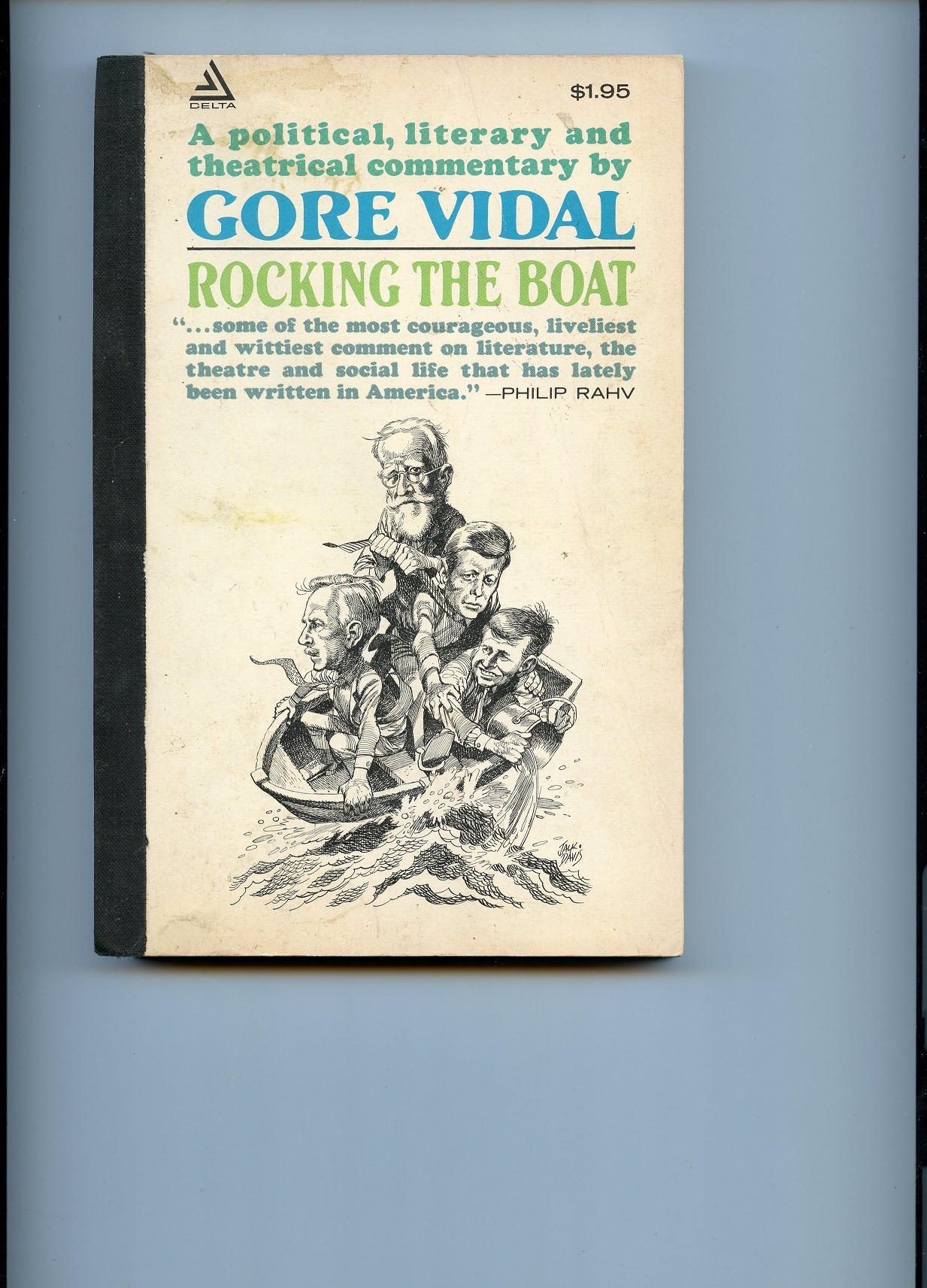 Romulus - 1962 (play)
Julian - Little Brown/Vintage - 1964/1992 - 503 pages
This is the first great work of historical fiction by author Vidal. The novel was started in 1959 and finished by Vidal in 1964 in Rome. In my mind, this outstanding volume exceeds the entirety of the seven-volume "Narratives of Empire" published in 1967-2000. This may have been his greatest accomplishment by recreating the biography of a 4th century Roman emperor from the accounts that exist. I was especially taken by discussions of the Galileans (Christians) versus the Hellenists (worshipers of the old gods). Although Julian was a Hellenist, he was the first to declare the freedom of religion within the empire. Both beliefs were shown to be preposterous of course, but I suppose there has always been a need for some spiritual order. Julian was a true leader who always led his armies into battle and usually against enemies with larger number of combatants. Vidal brought the 4th century alive for 20th century readers. [JAM 3/26/2021]
Reflections Upon a Sinking Ship - Little, Brown and Company - 1963-1968 - 255 pages
Vidal's essays and book reviews during the turbulent 1960s reveal a profound knowledge of the political landscape of the day. These critiques were primarily written between the two Kennedy assassinations when the author was expecting RFK to be elected in 1968. The signature essay of the collection is "The Holy Family" wherein Vidal expressed his unfiltered opinions about a political family (Kennedys) that he knew very well. Vidal always wrote freely and honestly about subjects of consequence. Many of his opinions are just as valid today as the day he wrote them. Following are his comments are his comments about drug use from the preface of the book. [JAM 4/21/2021]
"... the American attitude towards drugs is absurd. There is no doubt in my mind that marijuana is less dangerous to the user than alcohol, and should be made legal. In fact, all drugs should be made available (with due warning as to their effect), and those who want to kill themselves should be allowed to do so, the rest will soon get the point and not take them ... there cannot be many secret iodine drinkers in the land. Of course the question still remains: is it a good thing deliberately to numb and derange the senses? I suspect not. But since most lives are bitterly boring, men crave the anodyne, and it is no business of the state to deny anyone his dreams or even death."
Washington, D.C. - Little, Brown and Company - 1967 - 377 pages
Vidal started this novel in 1962 while John F. Kennedy was president. Vidal and JFK were good friends. It appears that Vidal stopped work on the book when JFK was assassinated 1963. Obviously, the time was not for a book about a politician (Clay Overbury) loosely based on the late president. Vidal switched gears and finished Julian in Rome in 1964 and then returned to this novel. [JAM 6/23/2021]
[Re-read] This is the first volume of Vidal's "Narratives of Empire" series set at the beginning in 1937 during Franklin Delano Roosevelt's second term as President of the United States.
One-I: The fictional Sanford family: Peter (16), Enid (19), Frederika (mother) and Blaise (father) are hosting a party to celebrate the defeat of FDR's plan to pack the Supreme Court with four additional justices. Blaise is a wealthy heir to a clothing manufacturing fortune who has also invested in railroads and the semi-fictional Washington Tribune newspaper. The guest of honor is fictional Senator James Borden Day (similar to actual Senator Henry F. Ashurst who blocked the plan in committee). Senator Day comments that FDR's plan failed because real Senate Majority Leader Joe Robinson (1872-1937) died before he could bring the bill to a vote. Peter Sanford partially witnesses his sister's sexual encounter with a congressional aide in the poolhouse during the event.
One-II: Senator Day ponders his political future. Day and his aide, Clay discuss presidential fund-raising while preparing for a meeting with Vice President John Nance Garner (1868-1967). Businessman Nillson repeats an offer to pay for the presidential campaign in exchange for an approval of a deal for the sale of Indian land. Senator repeats his vow to not accept bribes. Daughter, Diana Day likes Clay but Clay is dating Enid Sanford.
One -III: Clay has an encounter with Secretary Dolly from Senator Day's office. Then, Clay goes to a party where he meets Harold Griffiths (poet/critic), Enid, Nillson and Blaise. Nillson lobbies for the Indian land sale. Blaise tells Clay to stay away from Enid. (IV) Enid and Clay eloped to Maryland and then (V) they went home to see her mother and father. Blaise offered Clay $100,000 to get the marriage annulled but rejected the offer because it would not look good on his resume. (VI) The marriage is announced at a luncheon. Everybody is surprised. Diana Day cries. Nillson gives Senator Day a check for $250,000. He tears it to pieces.
Two-I: Sen. Day consults a fortune teller. Dewey has not been invited to the state dinner. Day and Clay discuss FDR and the 1940 presidential campaign (II) Peter visits Harold at the Tribune. Helen Ashley Barbour, society editor is there. FDR will meet King George VI. Peter meets Diana and Billy Thorne who wants to start a socialist magazine. (III) Clay meets the Texans One congressman makes Clay and offer re a land deal. Clay calls Nillson. (IV) FDR holds a state dinner for King George with guests: VP, Sen. Day, Blaise et al. Sen. Day contemplates a meeting with Hitler. Discussions move from Hitler and war to the prospective land deal. Day remembers other elections and the prices paid.
Three-I: Business meeting - Day, Clay, Nillson & Judge Hooey. FDR signs the Aid to the Democracies bill. And, FDR will seek a third term and choose Wallace instead of Day as VP. Clay will run for House (2nd district) to replace McClure. Diana has married Thorne with wooden leg and no job. (II) Enid tells Peter that she wants to divorce Clay. Peter ponders his future while studying Burr in college. Father and son discuss the Lend-Lease bill (approved March 1941). (III) Senator Day votes "nay" on Lend-Lease but it passes 60-31. Day meets with his mistress (Irene) after scolding Clay for having an affair. The senator suffers a stroke.
Four-I: Peter and Billy Thorne are working at the Tribune. Hitler is ravaging Europe. Japan has bombed Pearl Harbor (December 1941). (II) Senator Day rushes to Congress but FDR will not consult with him. Clay decides not to run for Congress but becomes a captain in the U.S. Army. Nillson calls Judge Hooey to get a new candidate for the 2nd district.
Five-I: Peter and Diana meet at the home of Millicent Smith Carhart. Thorne has testified against Nillson. FDR starts his fourth term, Clay's friend Scotty died in Saipan. (II) Senator Day wins another six-year term. Day meets with Blaise. Clay is in Guam. Blaise supported FDR and now the formation of the United Nations. Nillson meets Day at his senate office where he tells Day to stop the attacks from Thorne. Day will support UN. Peter helps Thorne and Diana to get money from Irene Bloch for their socialist magazine. Day tells Thorne to back off from the Nillson indictment or be exposed as a Communist. (III) Day renounces isolationism [Vidal comments that "psychiatry is pseudoscience"] A party is held at Laurel House for financier Irene Bloch. Blaise reads an article to the group (written by Harold Griffiths) about Clay to receive the Distinguished Service Cross for heroism in the Pacific war.
Six-I: FDR is dead. Clay returns from the war. (II) Two issues of American Idea have been published. Clay visits Peter, Diana and Thorne. (III) Clay and Enid talk divotce. Clay plans to run for the House seat. Ar war's end, the U.S. is now "the last empire on earth." Blaise suggests that Enid be declared insane. (IV) Germany surrenders. Truman is described as "mediocre." Peter and Harold discuss the war and politics. (V) Enid is home from the hospital and sober for now. They argue and then Enid shoots at Blaise.
Seven-I: Enid is back in the asylum. Clay is reelected. The bullet missed Blaise and hit the painting of Aaron Burr. Clay is dating Elizabeth Watress, daughter of Schuyler Watress. Peter visits Enid who is painting and planning her escape. (II) Truman is reelected (1948). Thorne is gone. Day and Peter discuss the nuclear bomb. (III) Harold is arrested by the vice squad. Clay chases them away. Clay meets Elizabeth in New York; then Truman, Thorne and Irene who tells Clay that Enid is dead. (IV) Enid had stolen the doctor's car and sped toward Mexico while drinking when she hit a cow truck. The funeral: her lawyer claims that Clay was not a hero.
Eight-I: Clay announces his candidacy for the Senate in 1950. The press asks him about the McCarthy hearings. (II) Senator Day breaks his shoulder in a fall. Day meets Clay who reminds him that Day took a bribe from Nillson. (III) Thorne testifies to HUAC. Day drops out of the 1950 Senate race. Peter is determined to cause Clay to lose by revealing that he is a false hero. (IV) The Korean War begins. Clay and Blaise discuss how to deflect Peter's story. Clay narrowly wins the Senate seat by rejoining the army to fight the war in Korea. Senator Day jumps to his death in the Potomac River.
Nine-I: Laurel House has been sold to Irene (Bloch) and Ogden Watress. Clay is married to Elizabeth. They have an open marriage. McCarthy has fallen. Eisenhower is the president. Peter and Clay have a long conversation as Clay tells him that he will write a book with the assistance of Peter's socialist magazine writer (Aeneas) who thinks Clay could be VP in 1956 with Adlai Stevenson, and later, president (1960?). (II) Clay remembers that Enid had told him that she and Peter had an incestuous affair. (III) Peter and Blaise discuss the alliance between Clay and Aeneas. [JAM 6/23/2021]
Myra Breckenridge - Little, Brown & Company - 1968 - 277 pages
I know that I read this book when it was released in paperback but I could not remember the storyline until I restarted it. I do not remember if I saw the 1970 movie with Raquel Welch. I guess that there are no brain cells remaining from that period in my life. This book was marketed as a racy novel or upscale pornography, but it is tame by comparison with novels that have followed. The movie tried to be a comedy. Vidal's literacy and sense of humor shine through everything he wrote. A common complaint of his is repeated on page 2: "The novel being dead, there is no point to writing make-up stories." By 1968 Vidal had concluded that he had to be outrageous and creative to sell fiction in the 1960s. I had only read through ten chapters but had already tagged several of his brilliant insights. For example, he seems to have predicted the rise of Reagan or that other guy in Chapter 10: "Not only are the male students drawn to violence (at second hand), they are quite totalitarian-minded, even for Americans, and I am convinced that any attractive television personality who wanted to become our dictator would have their full support." After a promising beginning, this novel devolves into the sexual fantasies of a transgender rapist. But Vidal was correct about the state of the novel at the time. His book was number seven on the New York Times list of best-selling fiction for 1968. However, the awful movie was a critical and box-office failure in 1970 in spite of the all-star cast that included Welch (1940- ), Farrah Fawcett (1947-2009) and Mae West (1893-1980). Although Vidal feared for the demise of the novel, we have many very good writers today. But, Gore Vidal may have been our last "great" novelist. [JAM 8/23/2021]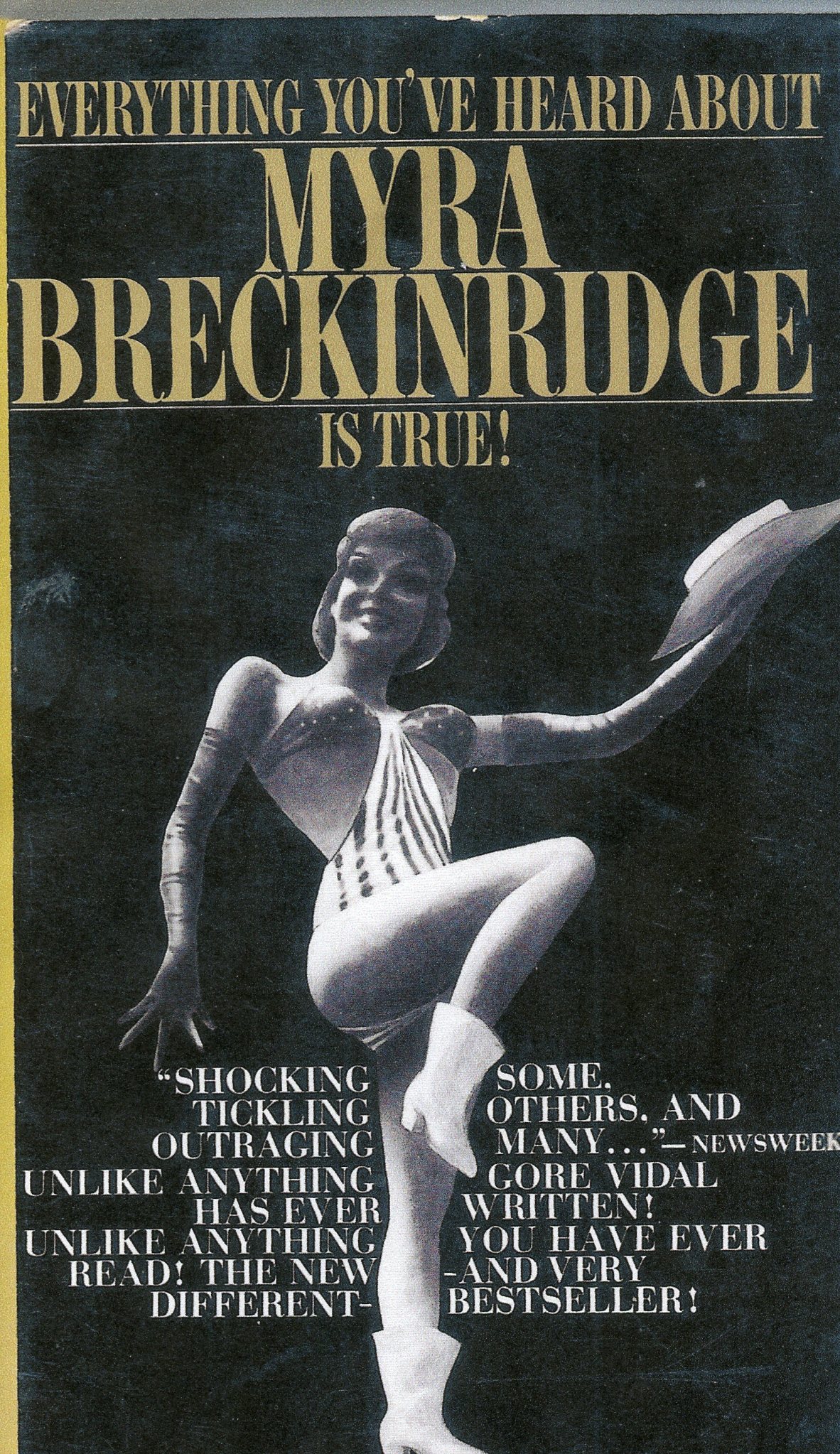 Weekend - Dramatists Play Service - 1968 - 87 pages
In the 1960s and beyond, Vidal was obsessed with the inner workings of U.S. politics. He wrote several plays about the process. In this one, he examines the Republican candidates for president in 1968 to replace Lyndon Johnson in real time. Two fictional senators are vying to keep Richard Nixon off the Republican ticket. The drama of the play surrounds the actions of the leading candidate after his son reveals that he plans to marry a black woman before the election. Vidal does an excellent job of examining and revealing the racial prejudices of the day and how this one event could cause the downfall of one candidate. In addition to the central issue, Vidal also makes amazing predictions about political corruption ("You would do anything to help him ... even steal records from the ... Democratic National Committee."), future presidents ("I can't believe that you want Ronald Reagan to be President?"), and futures wars ("The world knows that any President who attempted to commit this country to another Viet Nam would himself be promptly committed to a mad house ..."). [JAM 9/7/2021]
Sex, Death and Money - Bantam - 1968 - 269 pages
Bantam packaged this book to look like a sequel to the best-seller, Myra Breckenridge but it is anything but that. It appears that Bantam just threw this odd collection together to cash in on the demand for the work of a popular author. Certainly, most of the buyers were exposed to some essays and book reviews they had never seen; if they bothered to read through it. Eleven of the 26 "chapters" are directly copied from Rocking the Boat published by Little Brown in 1962. The only new material in the book is the five-page preface from which the title is taken. The various essays in the book bear little connection to each other although each is well written and well worth the time spent to read them. Following is a passage from the preface: "Sex, death and money are the essential interests of the naked ape. Sex involves the race's continuation ... Death is the constant terror, while money provides not only food and shelter but also makes it possible to exercise power not only over our physical environment but over others, a high concern of primates who find hierarchy necessary and the indulgence of private will the greatest delight." [JAM 9/22/2021]
Drawing Room Comedy - 1970 (play)
Two Sisters: A Novel in the Form of a Memoir - Little, Brown & Company - 1970 - 256 pages
While still basking in the success of Myra Breckenridge (and still contemplating the "death of the novel"), Vidal challenged himself to create his next novel from several unlikely components: the screenplay process, a Greek tragedy, bisexuality, incest, flashbacks inspired by a notebook, and placing himself as a major character in the story. This is not what Vidal fans were expecting but it works. This book flows easily and can be read in one day. However, it was the genius of Vidal that made it work. When he was grinding out a living by turning various works into screenplays, and hating it, he wrote this story about how difficult was the process while incorporating a completely invented screenplay (that could be a stage play) about three siblings vying for power in ancient Greece. The novel is not as lurid as Myra but does deal with the controversial subject of incest and his bisexual love affair with the very talented identical twins, Eric & Erika. Vidal always claimed that "everyone is bisexual" and he portrays himself as one in the novel. But, I believe that Vidal always feared women and the complications and inconveniences that come with relationships with them such as children and domesticity. It is not hard to see why the book is not regarded as one of his best, but I enjoyed his creation of a novel form like no other. [JAM 10/21/2021]
(on American writers) "This unreality [the clumsy products of our meagre civilization as pardigms for all the world to admire and imitate] has had a bad affect on our writers who tend -- like everyone else -- to read less and less but when they do read are driven to the study of American writers ... (they) want to be not good but great; and so are neither."
(on Kurt Vonnegut, Jr.) "... would I like to adapt for the screen Slaughterhouse-Five ? A nice irony. Vonnegut is, the press tells us, the current favorite of the young, supplanting Golding and Salinger and Tolkien. I think I know why. Though his style is easy to the point of being imbecilic, his creative imagination is -- what is the reviewer's phrase? -- first-rate and fills the need of the young for fantasy, for alternative worlds to this one. Last year they were Tolkien elves, this year they can learn not to fear death because it is simply a violet light, as creatures from another planet assure us, since one is able to scan one's life at any point, if things are bad in the present simply go backward or forward in time."
An Evening With Richard Nixon - Vintage Books - 1972 - 157 pages
In his spare time, Vidal wrote this excellent play about the political life of Richard Nixon (pre-Watergate) mostly using actual quotes. It is a brilliant summary. In my mind, this is the definitive early biography of Nixon. It it also a brief and accurate account of U.S. politics (1950-1970). The post-1970 biography of Nixon is easier to write: Nixon wins second term by a landslide in 1972; the War in Vietnam rages; Agnew is forced to resign; Ford replaces Agnew; Nixon is forced to resign in 1974 as a result of his goons breaking into the Watergate offices of the DNC prior to the 1972 election; Ford replaces Nixon; Ford pardons Nixon; North Vietnam wins the war; Nixon writes books and walks on the beach in San Clemente. [JAM 10/23/2021]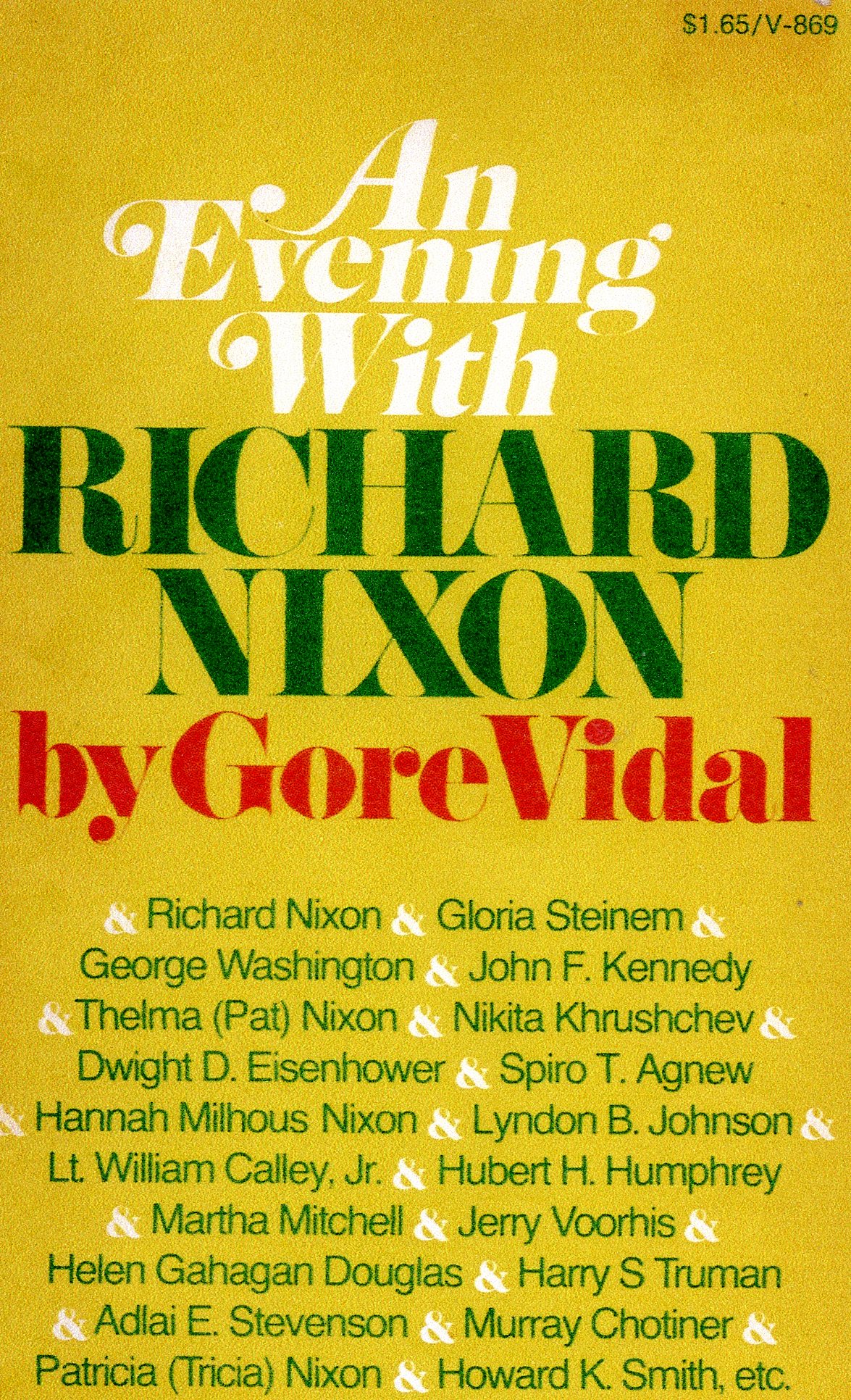 Homage to Daniel Shays: Collected Essays - Random House - 1972 - 449 pages
Daniel Shays (1747-1825) was a soldier and farmer who led the rebellion in Massachusetts in 1786 over taxation and debt-collection policies. Shays was convicted and sentenced to death for his actions, but was pardoned in 1788. The title essay is one of 44 in this collection that covers two decades (1952-1972) of book reviews and magazine articles by Vidal. This last essay discusses the political landscape in 1972 as Richard Nixon ran for a second presidential term against George McGovern. Vidal thought that McGovern had a good chance to win and that Nixon's "Southern Strategy" would not work. He was wrong about both. Nixon won and then the Watergate scandal raged for two years. The most interesting (to me) essay in the collection is "Manifesto and Dialogue" wherein Vidal tackled the world problems of overpopulation, starvation and pollution. His solutions to these problems were rather drastic: creating an "Authority" to control procreation, early education and food distribution. In the 50 years since he published his manifesto, only China has taken such measures with their "one-child" policy. With these essays, Vidal showed his fearless attitude toward truth and the authors & politicians of the day. His popularity had peaked in an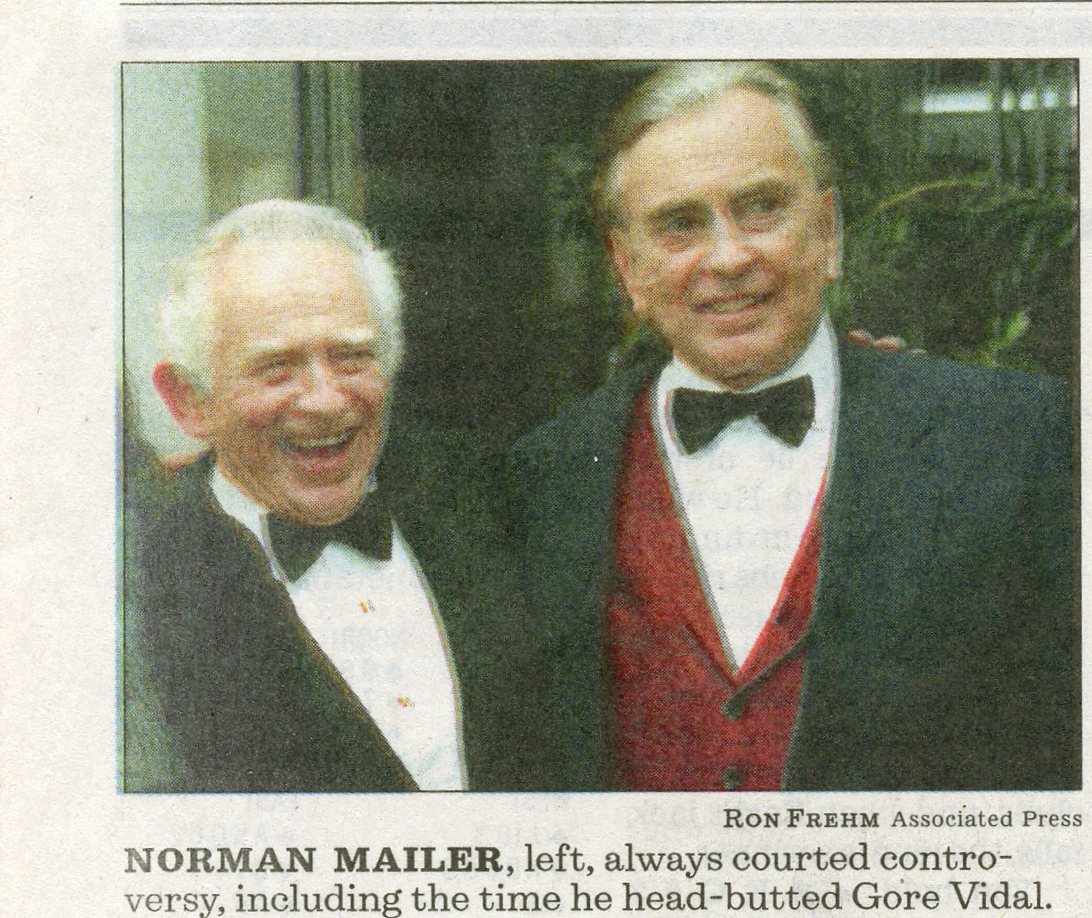 age when people still read books. After twelve novels and several books of collected short stories, plays and essays, reviewers were already writing about his career even though he had 40 more years of writing to come. Although many of these "essays" were previously printed in other volumes, it is good to see them preserved in chronological order. [JAM 1/13/2022]