Gore Vidal (1925-2012)
Williwaw (Gore Vidal) - Panther Books Ltd. - (1946, 1965) - 191 pages
This first novel by Gore Vidal was written during World War II in 1944 when Vidal was 19 years old. Vidal was serving as a warrant officer on a Dutch Harbor patrol boat in the Aleutian Islands. The story is not about combat. A "williwaw" is a sudden, hurricane-like storm that lasts for a short period (two days in the book) along the northern Pacific coast of Alaska. The small patrol vessel is surprised by a williwaw during a two-day trip from Dutch Harbor to Arunga. Although Vidal later explained that the story is complete fiction and that he never encountered a williwaw, his description of events puts the reader right in the middle of the storm. The secondary story here is about one of the sad love triangles that occurred numerous times between members of the military and one woman during wartime. Considering the shortage of available women in any port during WWII, these scenes must have played over and over again. In this short novel, Vidal effectively develops the characters of many men he probably met during that time. This first published effort fore-shadowed the works of Vidal who became one of the greatest American writers. [JAM 5/22/2019]
"Williwaw is well told, the picture of man and events is vividly engrossing." [Eleanor Roosevelt - New York World Telegram 1947]
In a Yellow Wood - E.P. Dutton & Company, Inc. - 1947 - 216 pages
Vidal went to work for a publisher after his time in service. This novel is about a young man (Robert Holton) who is working in an office after his time in service. The story is about one day in Mr. Holton's life. But, it is a very important day. It is the day when he makes a decision about the future of his life (Frost's "Yellow Wood"). For Vidal, the transition came early in his life. He joined the army instead of going to college. He had already had two novels published by the age of 22. He thrived with one occupation: writer for his entire life. He loved "the novel" and the written word. He continued to write and publish for over 65 years. There are many coincidences in this transition day for Holton. But such is the essence of the novel when such themes can be pursued in a single volume. This is a book about the lives of young men and women in the 1940s. [JAM 1/20/2020]
The City and the Pillar - E.P. Dutton & Co./Ballantine Books - (1948/1979) - 199 pages
At a time when most of our homosexuals were "in the closet" and many others were being persecuted or prosecuted for their behavior, Vidal wrote this semi-autobiographical novel about a young, confused homosexual man and the people he knew in his early twenties. Two of the characters (Jim & Sullivan) are based on Gore Vidal as a young man and as an established author, respectively. A third character (Bob Ford) is certainly also based on Vidal's young friend, James Trimble who died in World War II (1945). For all of its notoriety, there is really not much that happens in this story. It is basically about the meanderings of a young man in search of meaning in his life. He met people. He left people. And then he returned to many of them with unsatisfactory results. In my opinion, the young Vidal felt that he had to write this story to be true to himself. And, Gore Vidal was always a fearless truth-teller. [JAM 2/14/2020]
The Season of Comfort - E.P. Dutton & Co. - 1949 - 253 pages
Eighteen years before his "Narratives of Empire" series, author Vidal wrote this book about the family of Vice-President "William Hawkins" who served from 1925 to 1929 with President Calvin Coolidge. The actual VP was Charles G. Dawes but that did not matter in Vidal's first attempt at political fiction. The story follows three generations of the Hawkins family that closely mirrors the actual experiences of the Gore family. Substitute VP Hawkins with Vidal's actual maternal grandfather, Senator Thomas Pryor Gore and everything falls in line. The protagonist (Grandson Bill Hawkins) was a painter (not a writer) who was attracted to a young man in prep school (Jimmie) and joined the military during World War II instead of going to college. However, the primary conflict in the book is the interaction between Bill Hawkins and over-bearing mother, Charlotte. Their disputes culminate in a 12-page parallel thought/dialog exchange that represents their final personality splits. It was hard to tell where Vidal was going with this volume until the young Hawkins started to resemble a young Eugene Luthor (Gore) Vidal. After reading the modern works of this great author, it is interesting to see how he got there. Gore Vidal thought that he was one of the last great novelists. I agree. [JAM 3/20/2020]
A Search for the King - E.P. Dutton & Co./Ballantine Books - (1950/1978) - 196 pages
Author Vidal combined history with 12th century mythology to tell the story of King Richard I (Lionheart) on crusade through the eyes of his troubadour, Blondel. The adventure includes kings, dukes, knights, robbers and creatures: dragons, unicorns, giants, werewolves, and vampires encountered during a perilous trip across feudal Europe. During the mid-19th century it was common for publishers to gather favorable reviews of an author's previous book and place them on the dust jacket of his subsequent book. [JAM 5/9/2020] Following are reviews for this novel that were included with Dark Green, Bright Red:
"Here Mr. Vidal is at his best ... as projector of a myth as old as the Grail legend, the myth of the questing hero." The Nation
"It is a little epic written in prose of crystal clarity." N.Y. World-Telegram & Sun
"... in a chaste, spare, intelligent and essentially pictorial style which frequently achieves a vividness equal to that of the best of the imagist poets." Edward Wagenknecht, Chucago Tribune
"Gore Vidal proves again that he is a master stylist." Washington Star
"There are magnificent passages in the novel which recreate the medieval world." Boston Herald
"Blondel's mainstay in life is his overwhelming devotion to his king. This devotion dominates the story and is repeated to some extent in the affectionate friendship between Blondel and his page, Karl. The others - the silly courtiers and enraptured women - form a playful and grotesque frieze about this central reality. Mr. Vidal's writing is lucid and pleasant and persuasive, as one might imagine one of Blondel's ballads would be," The New Yorker
"The result is a kind of dream fabric, and yet, thanks to Mr. Vidal's talent as a novelist and his marvelously simple, clear, direct and at times memorable prose, the narrative conveys a feeling of reality without benefits of archaisms ... he happens to be perhaps the most delicately sensitive of all our young writing men who have come out of the war." Samuel Putnam, The Saturday Review of Literature
Dark Green, Bright Red - E.P. Dutton & Co. - 1950 - 307 pages
Viva la revolucion! In this novel, Vidal takes us to an unnamed Central American country where the former dictator is mounting a revolution to return himself to power with the help of U.S. corporate money, some spiritual advisors, thousands of poor/unreliable native soldiers and one U.S. officer turned mercenary who acts as the protagonist of the story. Author Vidal is fearless in choice of writing subjects as his talent forces him to jump from one genre to another with each book. How could he possibly know what is happening in Third World Latin America at the age of 24 with only his brief naval history in WWII? But somehow he makes it work. He was a master at writing dialog between seemingly unrelated individuals. Also, in this story he switches narrators at times to reveal the unspoken thoughts of major characters. As this ragtag army advances upon the fictional cities of "Nadatenango" and "Tenango", the suspense grows and the reader cannot possibly guess the ending of a book that was written 70+ years ago. The character development is excellent and the characters are believable. Enjoy the ride. [JAM 8/25/2020]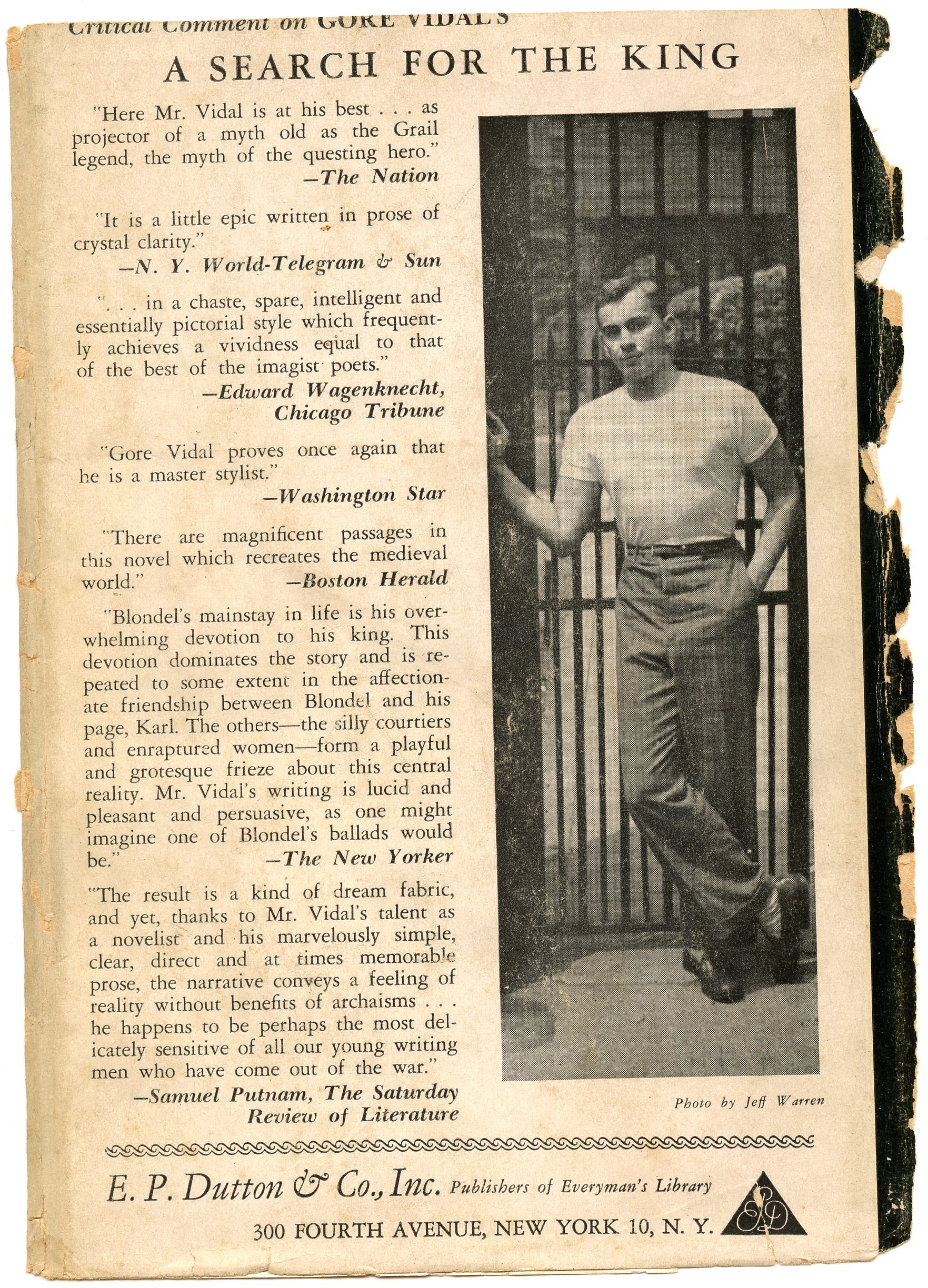 A Star's Progress - 1950 - 134 pages
This book was written with the pseudonym, "Katherine Everard" and later reprinted in paperback with the nonsensical title, Cry Shame! The story is about the life of a movie star who could have been Marilyn Monroe if she had been born in Mexico. Vidal and Monroe were the same age and he probably knew her during his screenwriting days. It is a short novel that can easily be read in one day. The eerie part of the book is that Vidal seems to predict the star's (Monroe?) ending that would not occur until 1962. [JAM 8/26/2020]
The Judgment of Paris - E.P. Dutton & Co. - 1952 - 375 pages
Author Vidal had published six novels by the age of 24 (1946-1950) and had established himself as one of the greatest young American novelists of the day. Then, he did not publish in 1951. The protagonist (Philip Warren) of this novel is an American young man from New York with means (from his family?) who decides to take a vacation for a year in Europe (and North Africa) for no apparent reason. Unlike Vidal, Warren is strictly heterosexual preferring the company married and childless women who also have the means to meander about the expensive cities of Europe whenever they desire. However, Philip Warren finds himself in uncomfortable, homosexual situations over and over again. It seems that this unique lifestyle was one with which the author was quite familiar. Although Vidal had usually written his novels from one location, the footnote for Judgment reads; "Edgewater: 21 August 1950 -- Key West -- Berrytown, New York, 21 June 1951." There seemed to be gaps in the story (written in three "parts") and it shows. What is the story here? There does not seem to be much conflict or intrigue to capture the reader. It starts, continues and ends without resolution except for the decision to go back home. From the distance of time (70 years), the novel seems to serve only as justification for a long European vacation and to keep the author's name active in book circles. According to the dust jacket, the novel "has retold the ancient legend of the Golden Apple" but who would know or care about that? The dust jacket also calls it: "a major novel" but biographers generally skip over this one when discussing Vidal's early works. No matter the failings of the story, the wit, philosophy and writing skills of Gore Vidal are in full display as always. If nothing else, the pages merely add to the history of a great writer. Here are some of his observations: [JAM 9/9/2020]
"Both murder and grand larceny, if conducted on large enough scale, are universally applauded, blessed by all our institutions; while even the laws governing sexual behavior vary from time to time ..."
"... I believe in the fact of the universe, that we are part of a structure which never changes though its component parts continually change ... I resent the messiahs who try to rearrange the elements of each man's nature to conform with some particular private vision of excellence."
"... when he was a child, he'd often awakened alone and desperate in the impersonal night, trying to visualize what nothing must be like, what it would be like to no longer be himself ... the dream had changed very little over the years, the terror and the despair remained as he realized that one day he would die, that he would not be."
"The fiction of a partisan deity has become so transparent that even the most educated are able to see through it, to see the infinite impersonal void beyond this world ..."
"Communism is obviously impractical while Socialism is much too functional and, though inevitable, not a happy prospect: the world as a nursery."
Death in the Fifth Position - E.P. Dutton/Random House Vintage - 1952/1979 - 144 pqges
After establishing himself as a novelist, Vidal suddenly started to write pulp novels under various pseudonyms (Katherine Everard, Edgar Box, Cameron Kay). This was the first of his "Edgar Box murder mysteries." The prima ballerina, who everyone hated, was dramatically murdered during a performance causing all of the other characters to become suspects. With Vidal's writing skill, any one of the characters could have been the murderer. So, do not try to guess. Just go with it. Vidal may have used the pseudonyms because of the criticism he received for the controversial sexual descriptions in The City and the Pillar. As a young homosexual, Vidal was more comfortable writing about the type of people he knew. He tried to create "straight" characters as protagonists, but his heart was never in it. This novel had to be quite racy for 1952. His dialog and plot execution were excellent as always. He was a pioneer of many genres. [JAM 9/30/2020]
Thieves Fall Out - Gold Medal Original/Fawcett Publications (paperback) - 1953 - 153 pages
Vidal wrote this thriller/spy novel under the pseudonym, "Cameron Kay" in the same year that Ian Fleming wrote his first James Bond novel (Casino Royale). However, Vidal was the much better writer. Vidal could write like Fleming (and others) but Fleming could never write like Vidal. The protagonist is a former smuggler, wildcatter, soldier and merchant marine who finds himself battered and broke in a seedy hotel room near Cairo, Egypt. To earn his next meal, he falls in with a group of local smugglers but soon finds himself in a much larger scheme involving international thieves, a beautiful countess, the daughter of a Nazi officer, and the intrigues & political complications of crooked, post-war Egypt. Vidal had visited North Africa in 1951 before writing The Judgment of Paris under his own name. Apparently, he was also inspired to write this fast-moving pulp novel at the same time. The "Gold Medal Originals" were the first to put the manuscripts of relatively unknown authors into paperback form. Hundreds of these paperback originals were published in the 1950s and beyond. [JAM 10/10/2020]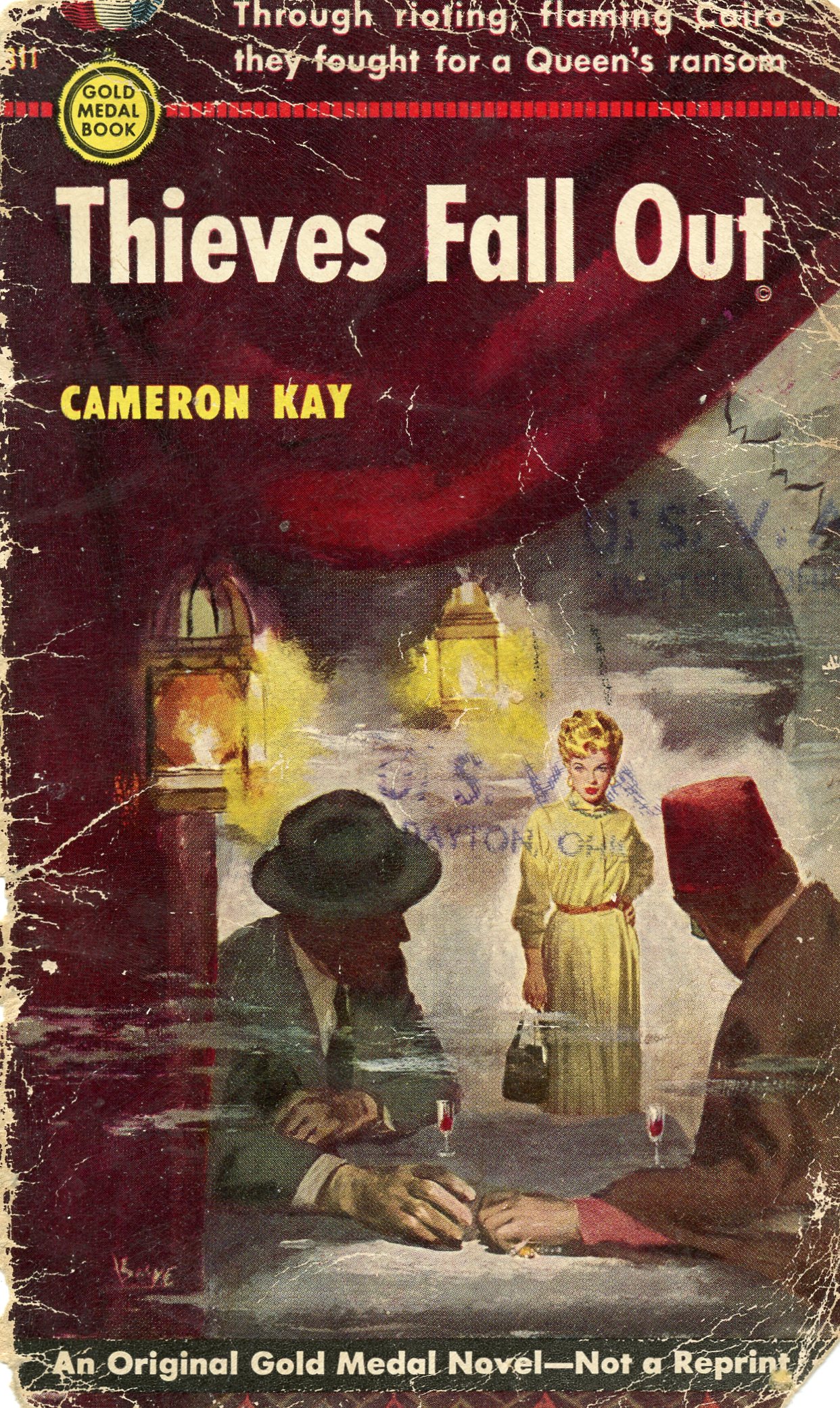 Death Before Bedtime - Dutton/Random House (reprinted in Three by Box) - 1953/1978 - 157 pages
This is the second of three "Edgar Box" murder mysteries. The protagonist, publicist Peter Cutler Sargeant II is once again embroiled in the mystery surrounding an untimely death of a new client. And this time, there is no doubt that the victim will be the old senator who plans to run for the presidency. Senator Rhodes is conveniently murdered in his large home that is filled with friends and family members loaded with motives for the deed. These mysteries are formulaic but author Vidal plows through them with competence. Of course, the police detective assigned to the case is totally incompetent, causing amateur sleuth Sargeant to conduct the informal investigation with so many coincidences landing at his feet. No reader could consistently guess the outcome of these murders because a writer as skilled as Vidal could easily turn the evidence toward anyone in the house, including the butler. While reading these mysteries, I have wondered why Vidal would spend time on such drivel which certainly were beneath his abilities. Was it for the money? Or, was he trying to prove a point? Among the volumes of respected works from him, his five pseudonymous novels are the most curious for me. [JAM 10/21/2020]
Death Likes It Hot - Dutton/Random House - 1954/1978 - 147 pages
The final Edgar Box mystery is more of the same. Once again our publicist is trapped in a large house full of strange people who keep dying left and right. I suppose that Vidal could have kept cranking out these puzzles fictions for his entire writing career like Agatha Christie. But, I am certainly glad that he did not. There were better worlds to conquer. [JAM 10/24/2020]